I saw some beautiful strawberries at the supermarket (the only place I can go to at the moment), a couple of weeks ago.
Needless to say I immediately started thinking "Mmm what should I bake with them?", then this idea came up.
Ladies and gents, say hello to the best (see below why;)) strawberry muffins recipe you could hope for! Soft, delicious and enriched with whole wheat flour!
---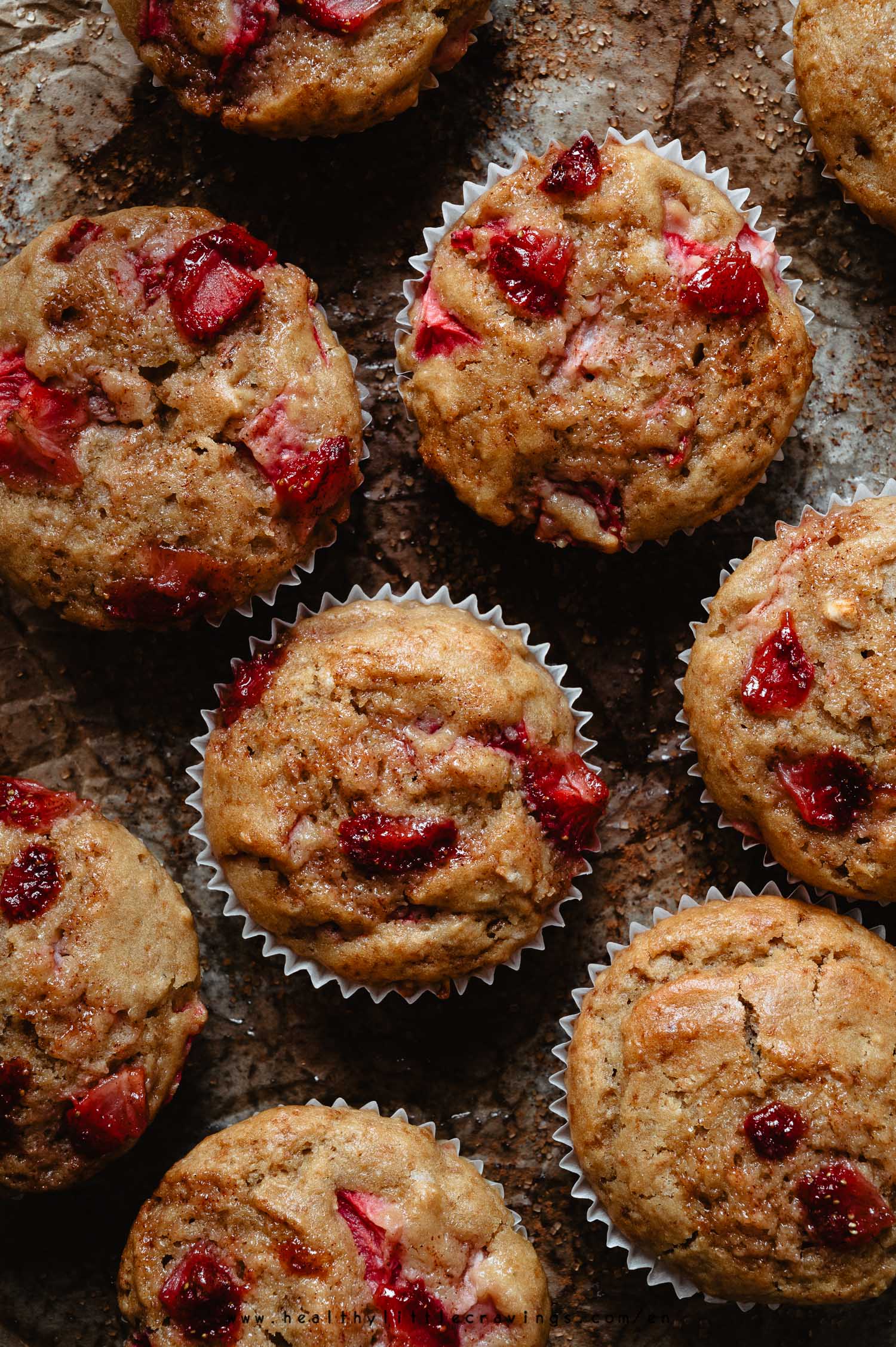 This strawberry muffins recipe couldn't be easier...
First of all: I love easy recipes. I loooooove them. I mean, what's more satisfying than a simple, quick, delicious dish? Oh, wait, yeah: a simple, quick and delicious dessert 😉
If you know me even just a bit, you know that I always love to break down the process into a few steps.
Therefore, here's how to make this easy strawberry muffins recipe in 3 steps (technically 4):
Combine wet ingredients
First cream ricotta and eggs together, then add sugar, vanilla and oil.
Add dry ingredients
Add flours, cinnamon powder, baking powder, salt and chopped strawberries, then stir without over-mixing the batter.
Make the syrupy topping
Add fresh chopped strawberries into a small pan, then also add honey and cinnamon powder. Cook for a few minutes until syrupy.
I swear, this adds the extra touch.
Bake (check for doneness)
Bake these delicious healthy strawberry muffins for about 25 minutes, or until a toothpick inserted in the center comes out clean (a few crumbs are ok).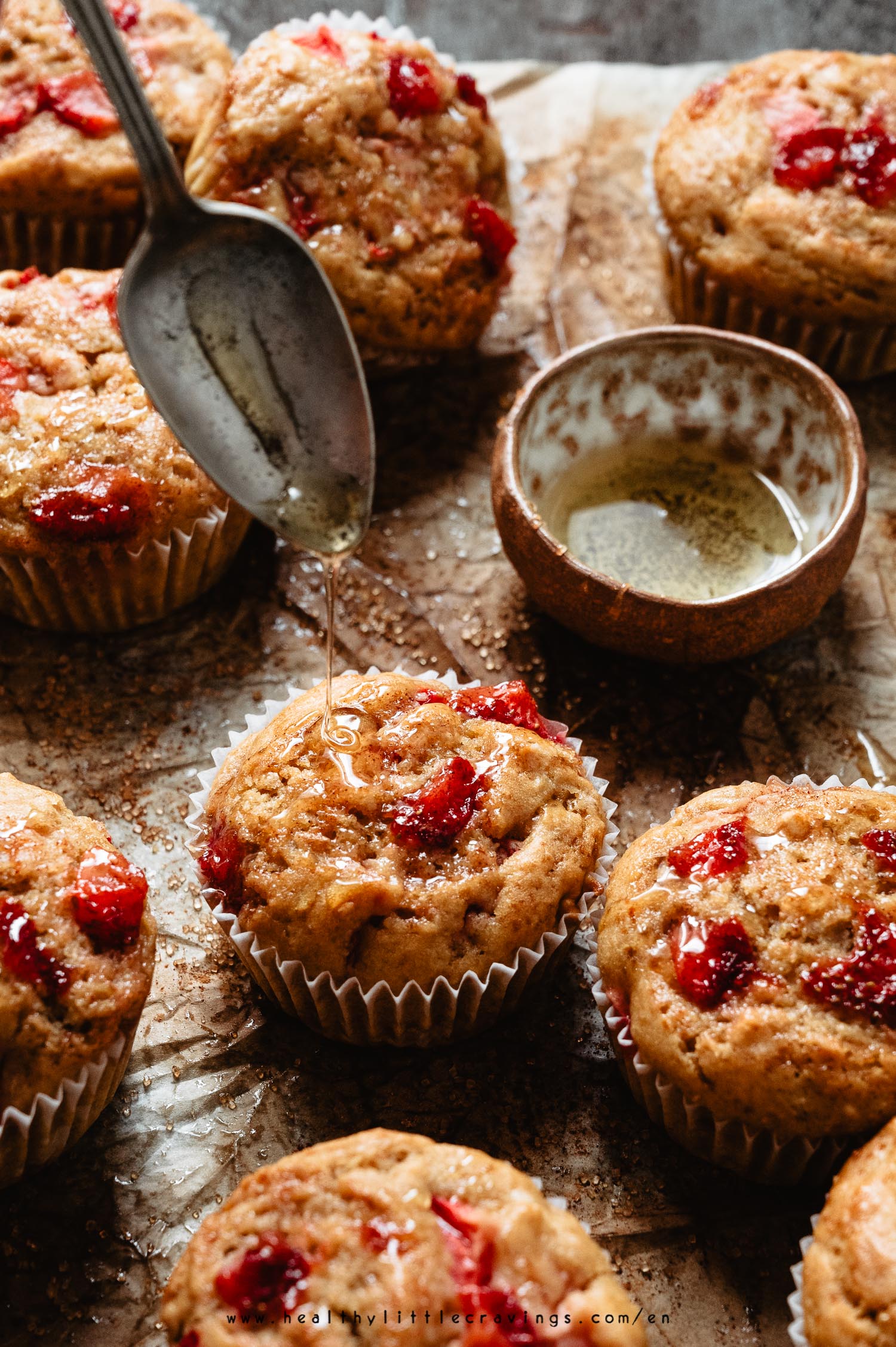 Important notes about this strawberry muffins recipe: texture and flavor
This strawberry muffins recipe needed to be tested a few times before reaching perfection. Luckily I got an amazing result at the second attempt: I tested different amount of sweetener, flour and fruit, until I got the perfect result.
FLOUR
I tested these muffins with type 1 flour, which is less refined than all purpose (or 00), and then a combination of all purpose and whole wheat.
The latter is known for absorbing more liquids. Despite this, the muffins were great! Soft and moist, because of the right amount of fats.
Whole wheat flour also makes your muffins more nutritious.
SWEETENER
The first time I've used honey, the second time I've used raw brown sugar. Both are great but sugar gave that extra touch, in my opinion.
STRAWBERRIES
The first time, I've used 100 grams of those beautiful strawberries I found at the supermarket (read the intro), that unfortunately turned out to be very bland and tasteless.
Consequently, the second time I've doubled the amount of fruit and used amazing Italian strawberries. The difference was noteworthy!
Pretty obvious: the tastier your strawberries are, the better these muffins will be and the less sweetener you will have to use.
BATTER'S TEXTURE
If the texture of your batter is pretty thick, not thin, then it's the right consistency.
Your muffins will be so moist and delicious! Almost creamy.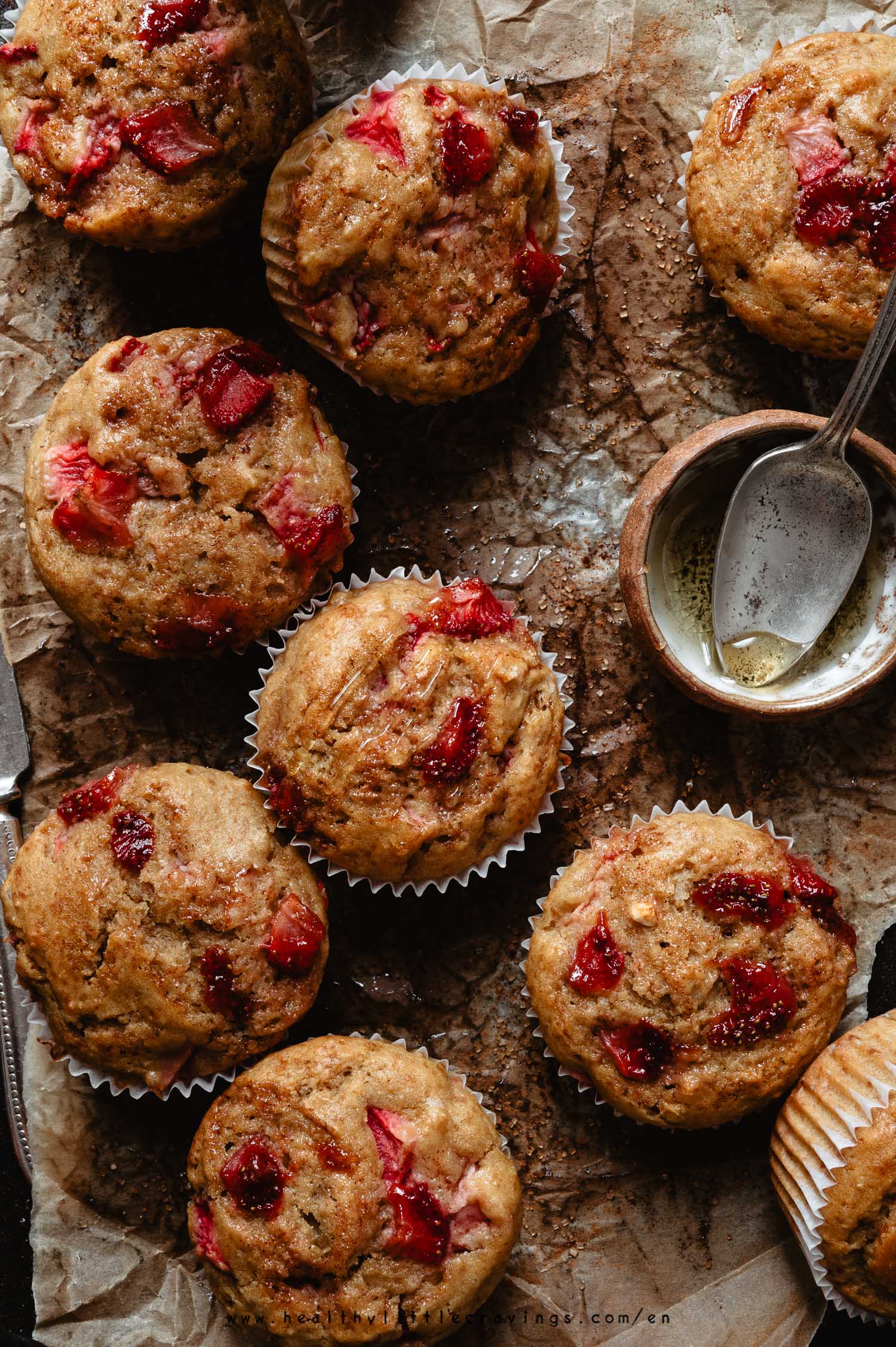 How do you make muffins moist?
Ahhhh I love answering these kinds of questions, because they allow me to "investigate" the science behind desserts;)
The short answer is: FATS. A moist muffin contains enough fat. Seems logical, right?
And technically, it's because oil or butter "coat the flour's absorbent starch granules, minimizing the ability to absorb moisture in the finished muffins" (source).
Moreover, to increase moisture, you can use "key" ingredients like:
buttermilk or greek yogurt instead of milk (in this recipe I'm using ricotta);
raw brown sugar or honey instead of regular sugar;
zucchini, carrots or fruit will help making your muffins more moist too (yep, that's why these carrot muffins and these zucchini chocolate ones are soft and moist!;))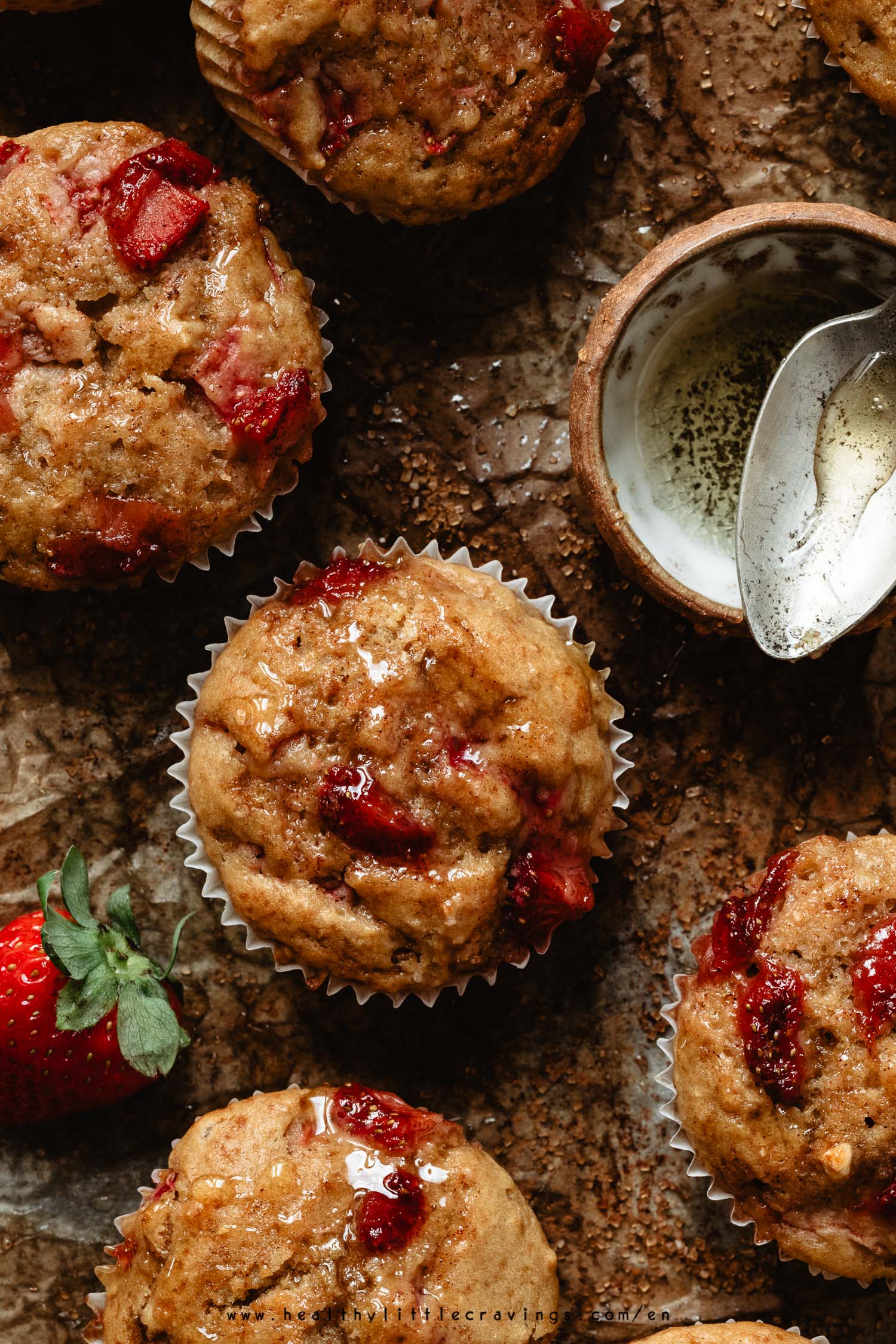 And how do you make muffins fluffy?
Nothing new here: as I mentioned in the fluffy pancakes post (I highly recommend reading it), if your goal is softness then you need something that traps air, and that is gluten, our "structure".
By mixing your batter, gluten's proteins will start bonding one with each other and form a network (= structure).
Bubbles will be trapped and you will obtain soft muffins.
It's important though to not over-mix the mixture: if you over-mix, the tighter the structure becomes and the toughest your muffins will be.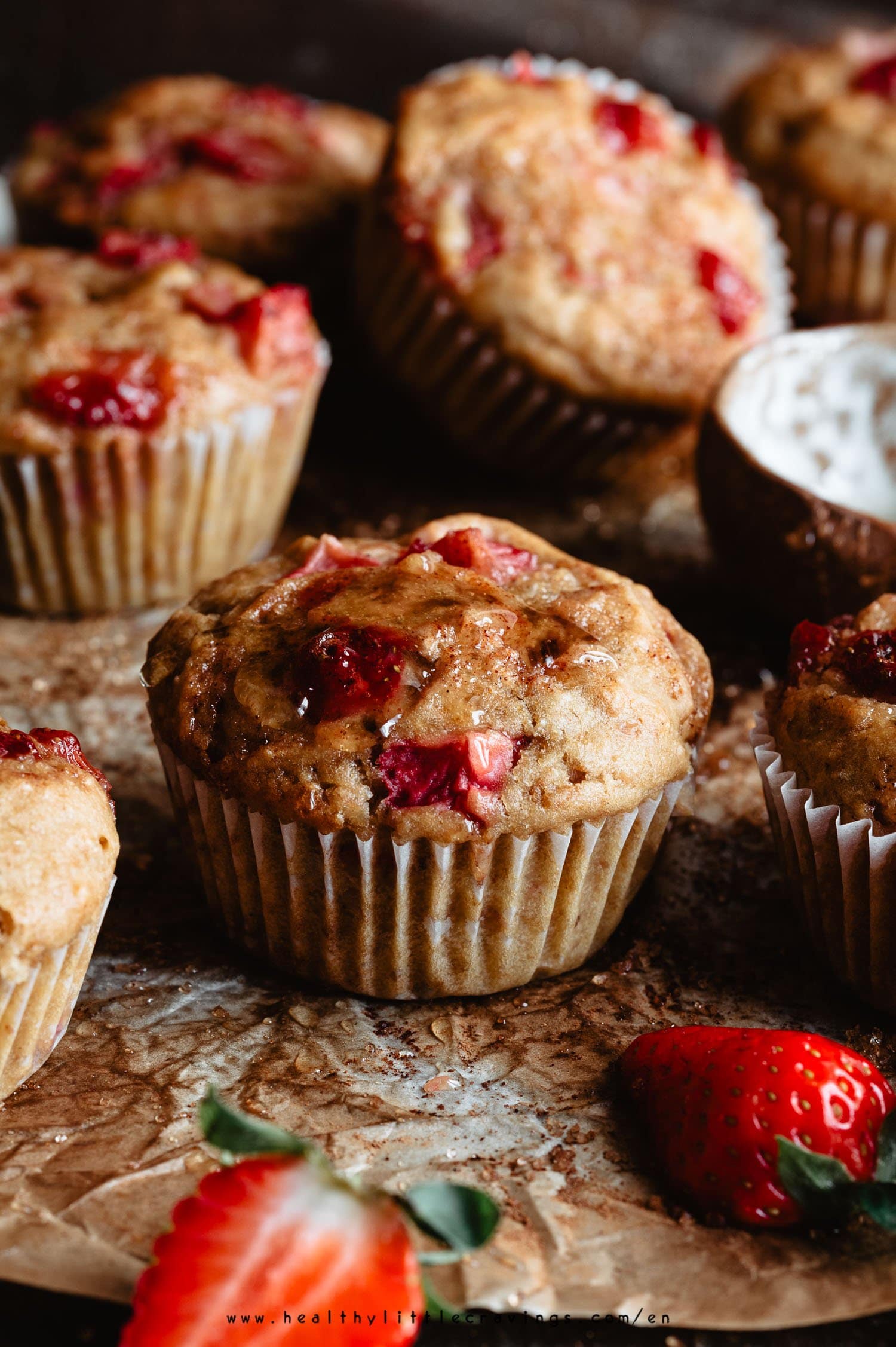 How do you fix dried muffin batter?
When developing recipes for blog or clients I usually test once, then if something didn't work I take note, so I can adjust it next time.
When I get dry muffins/cake, I usually add more oil, butter, whole milk or raw brown sugar until I get the right consistency.
It's all about looking at your batter and adjusting it.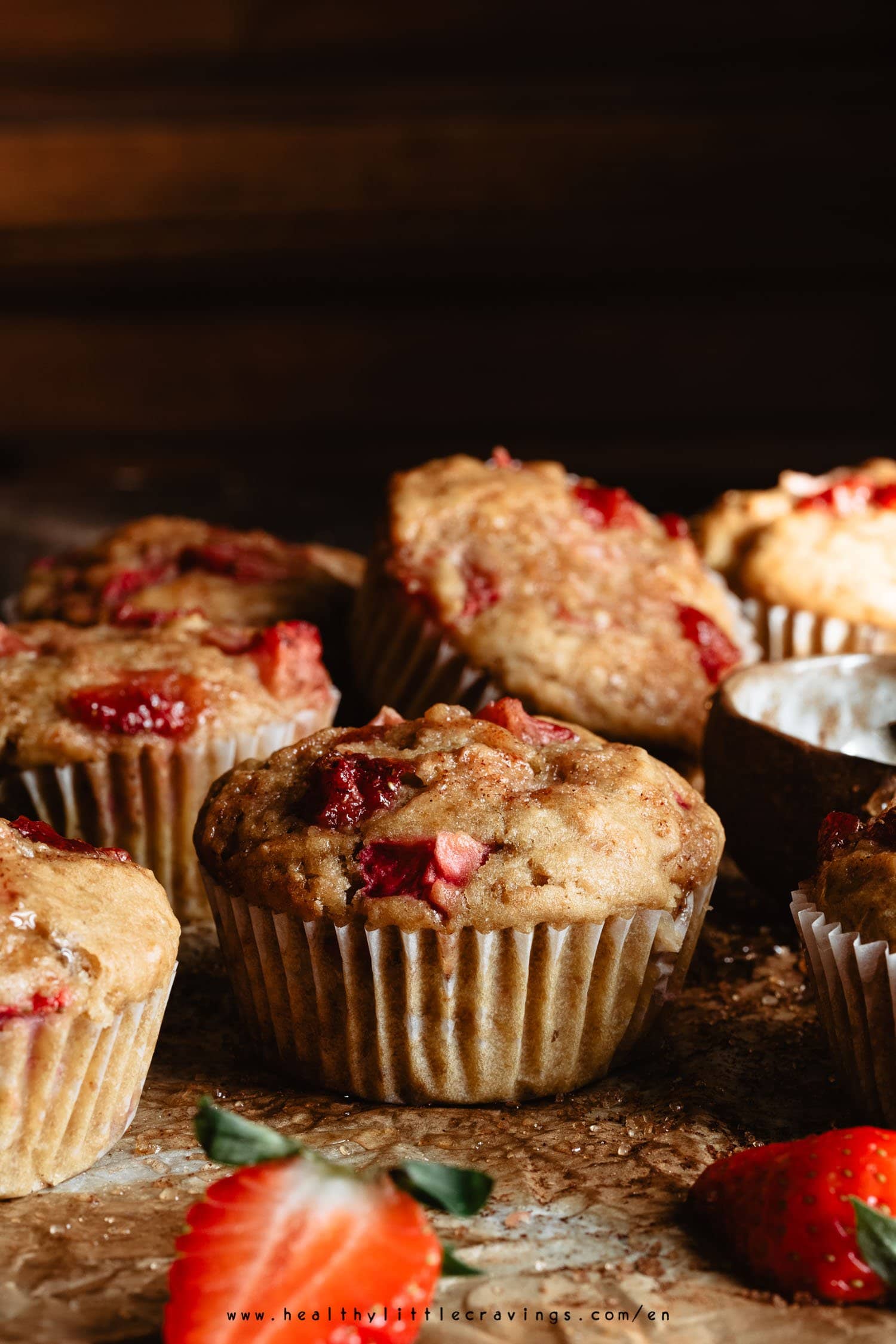 ---
Do you have other questions?
It's not easy to answer all the questions you may have, so PLEASE leave a comment below and I'm glad to reply! Thank you.
---
If you make this recipe, please be sure to give it a rating and leave a comment! It would make me so happy! 🙂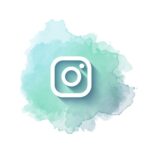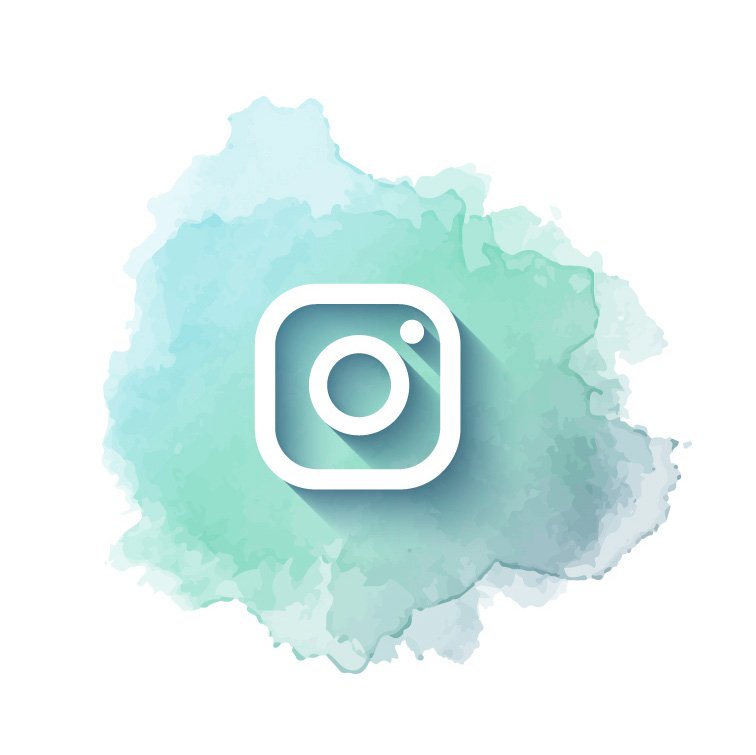 Remember: if you try one of my recipes, tag me on Instagram or DM me the photos!
---
Don't forget to pin and share this easy and delicious recipe!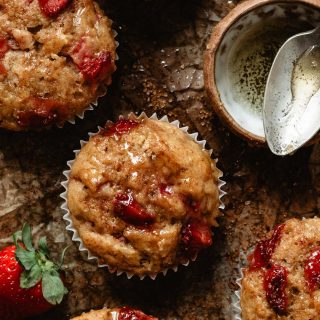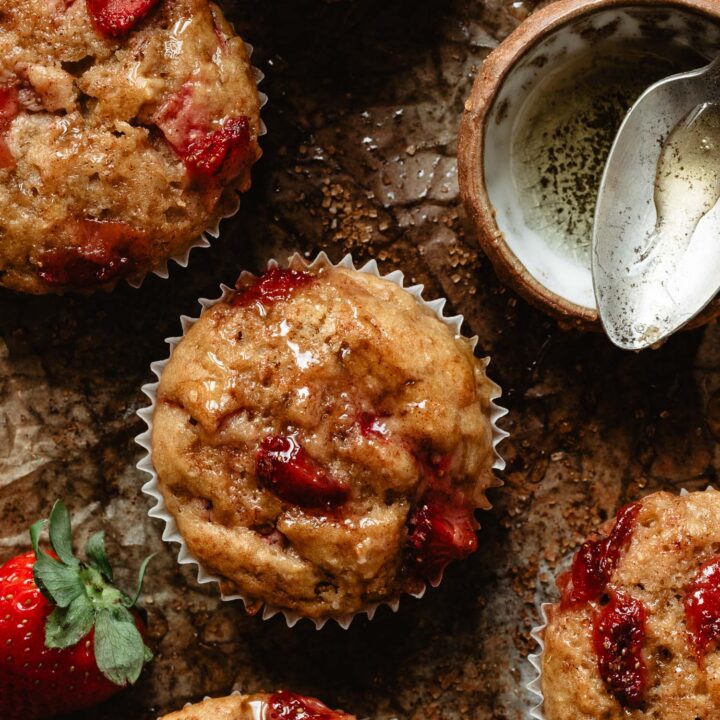 HEALTHY STRAWBERRY MUFFINS WITH WHOLE WHEAT FLOUR
Strawberry muffins with a touch of honey and cinnamon powder, enriched with whole wheat flour. Delicious! An explosion of flavors.
Print
Pin
Ingredients
2

Eggs (at room temperature)

160

gr

Fresh ricotta cheese

90

gr

Raw brown sugar

1 or 2

teaspoons

Vanilla extract

50

gr

Oil

75

gr

Whole wheat flour

75

gr

All purpose flour

a pinch

Cinnamon powder

10

gr

Baking powder

a pinch

Salt

200

gr

Chopped fresh strawberries
To top your muffins:
50

gr

Fresh strawberries

1

tablespoon

Honey

a pinch

Cinnamon powder
Instructions
Preheat the oven at 180° C (355° F).

Into the bowl of a stand mixer, add ricotta and whip it for a few seconds until creamy, then add one egg at a time (use medium speed) until incorporated.

Add sugar, vanilla, oil and whisk again for a few seconds.

Gradually add flours, cinnamon, baking powder, salt and strawberries, and stir using a spatula just until combined and not more. DO NOT overmix.

Pour the batter into muffin tin, fill muffin cups three-quarters of the way full.
If you want to make them even more delicious:
Add strawberries, honey and cinnamon into a small pan and cook for a few minutes until syrupy (they should look like a jam).

Pour this jam on top of the batter.

Bake your strawberry muffins for about 25 minutes. Check with a toothpick: if it comes out clean, your muffins are done!

Place them on a cooling rack to cool down.

Optional: garnish with a drizzle of honey
---
Loved these muffins? Try these carrot cake muffins as well: soft, easy and delicious!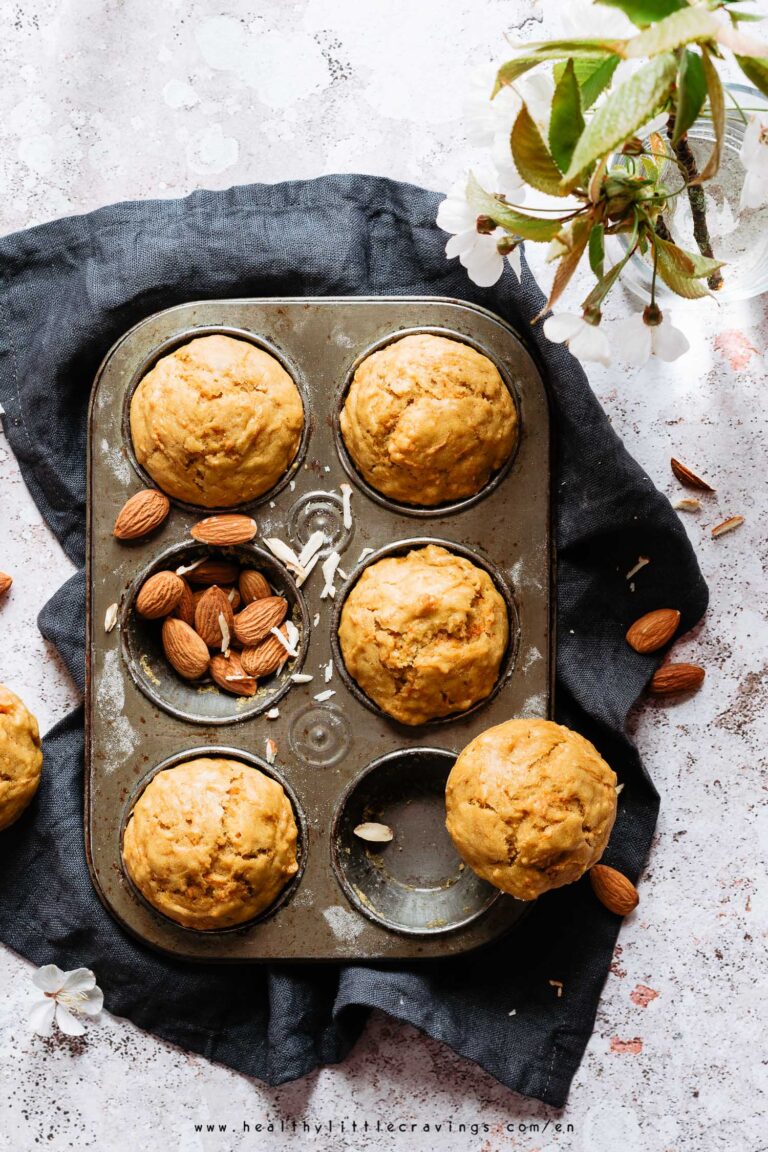 ---
© Healthy Little Cravings – Roberta Dall'Alba.
I own all content and photos' copyright.
Before using my photos and recipes, please email me.
If you would like to republish a recipe, please link back to this post and re-write the instructions in your own words.