This year, Spring has a different flavor. In terms of how we're living it, and how we're spending time. Ordinary Spring would call for long walks in the nature, between tweeting birds and blooming cherry trees. Instead, all of a sudden, everything changed and we're trapped inside.
You know what didn't change though? Food.
And, to me, one of the most Springy foods out there is asparagus.
So, friend, today I'm sharing an easy asparagus quiche recipe, enriched with smoked salmon, perfect for lunch!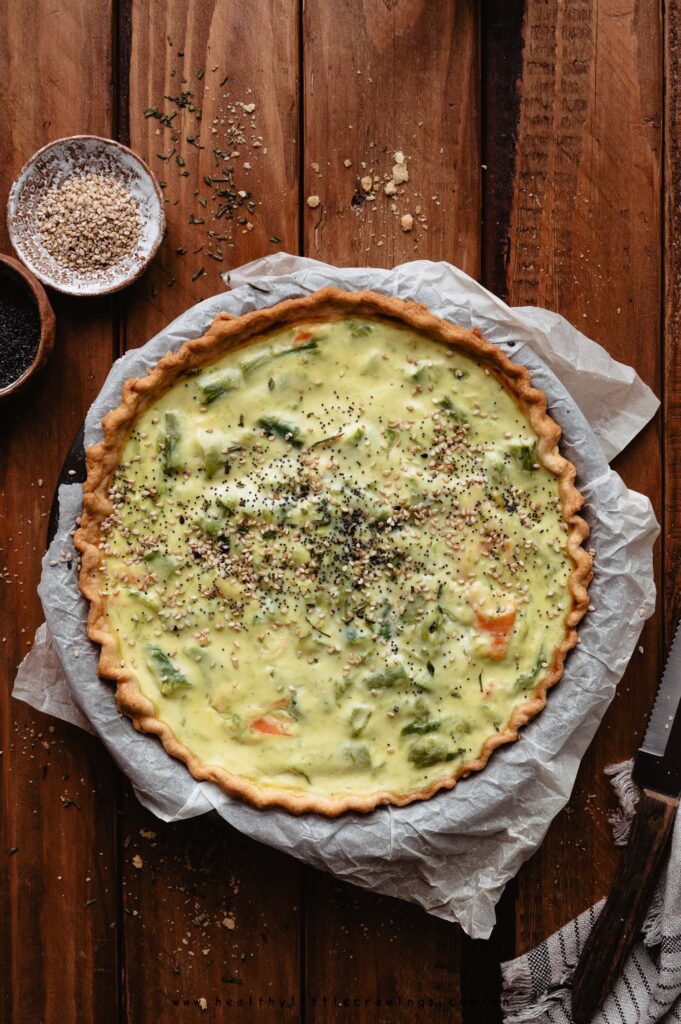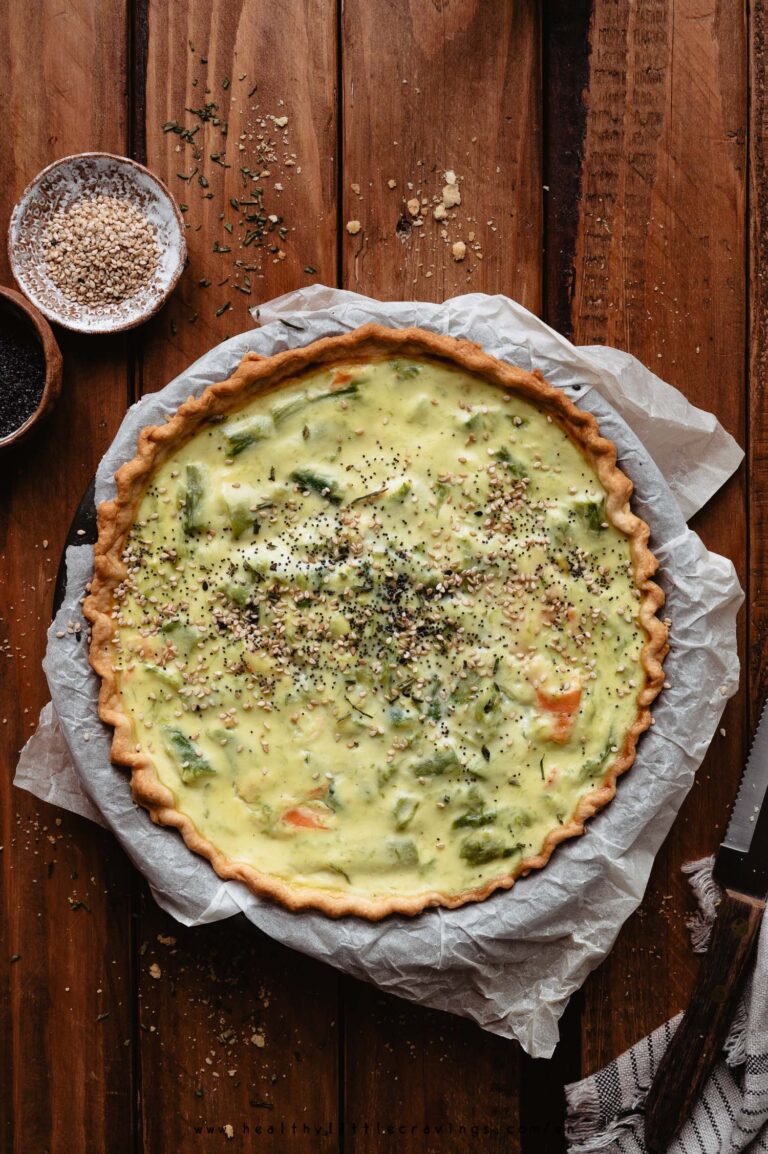 When I say
EASY

asparagus quiche recipe, I really mean it. Why?

First reason-not-reason: basically, my whole blog is based on easy, doable, "foolproof" recipes. And this is no exception.

Second: this asparagus quiche recipe is long (takes 1 hour and 20 minutes), but it's not complicated.
In fact, you only have to:
Blind bake the crust
Make the filling (takes 2 minutes - 10 if you also want to cook asparagus)
Bake quiche
Yep. That's all.
The first time I tested it, it took me a bit more just because I made my own shortcrust pastry from scratch (I followed this recipe).
The second time instead I wanted to test a store-bought crust version. Both were good, but the homemade version is always better (it was also cuter than this one;))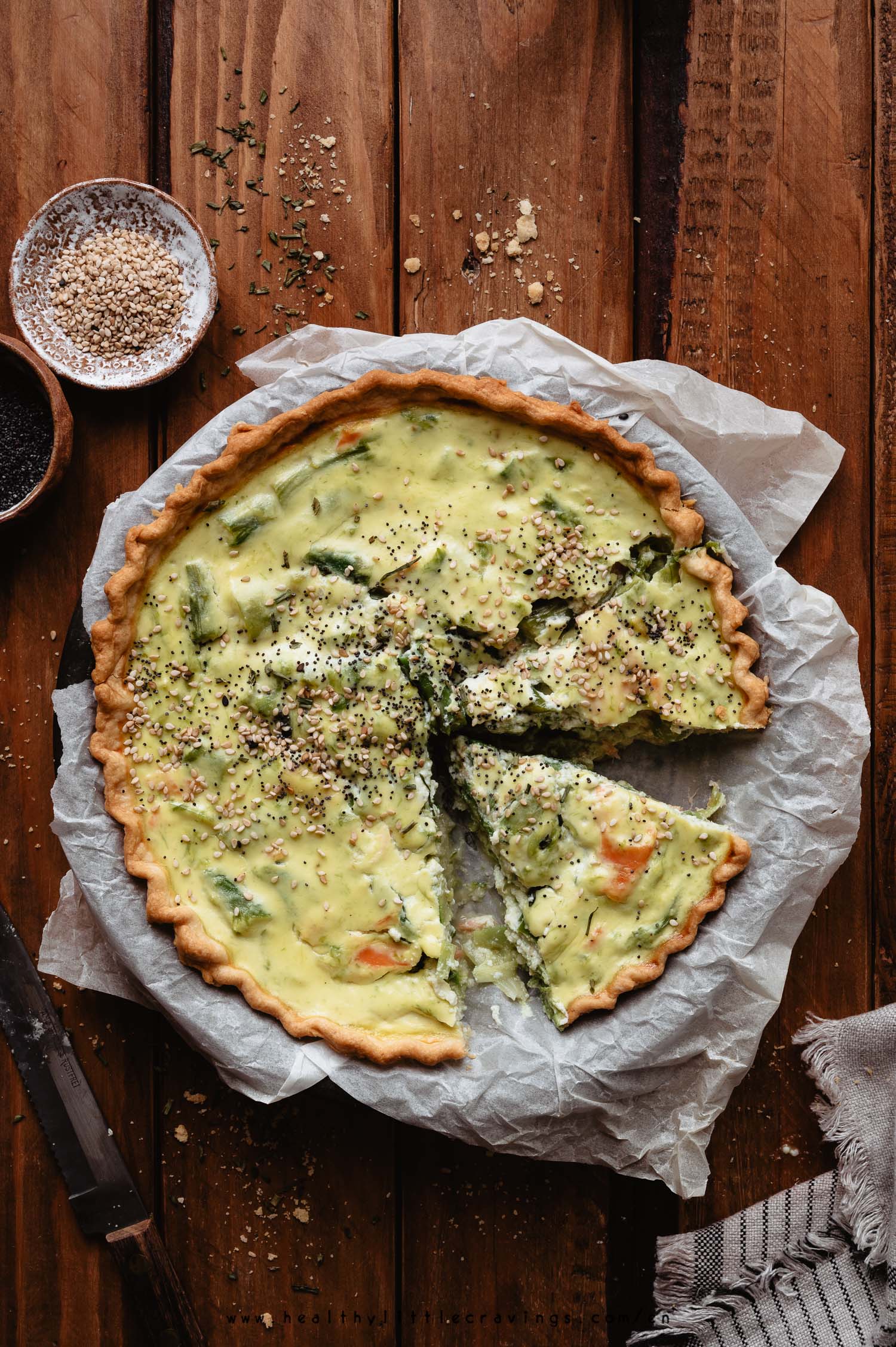 Also, I've tested this recipe with both cooked and raw asparagus.
First time I've used fresh asparagus: I cleaned them, chopped them and then put into the filling without pre-cooking.
Next time, I've used frozen asparagus that I cooked before using them into my filling.
The amount can vary from 200-250-300 grams, doesn't make a huge difference.
To sum up: if you want to "complicate" things, then make your crust from scratch and cook the veggie before making the filling. Both will take a bit more time.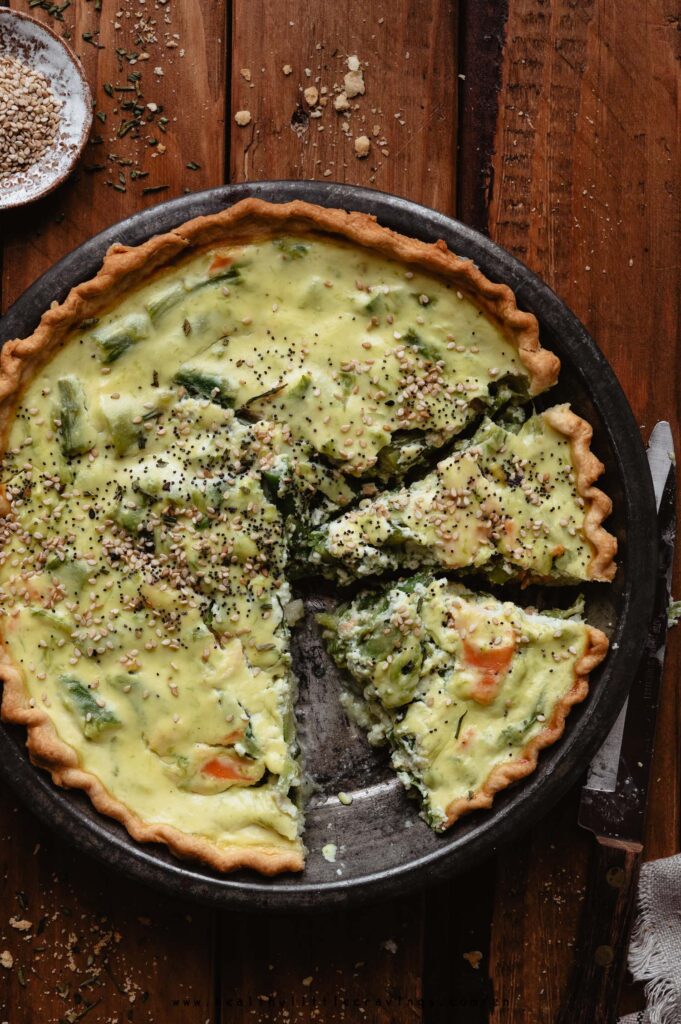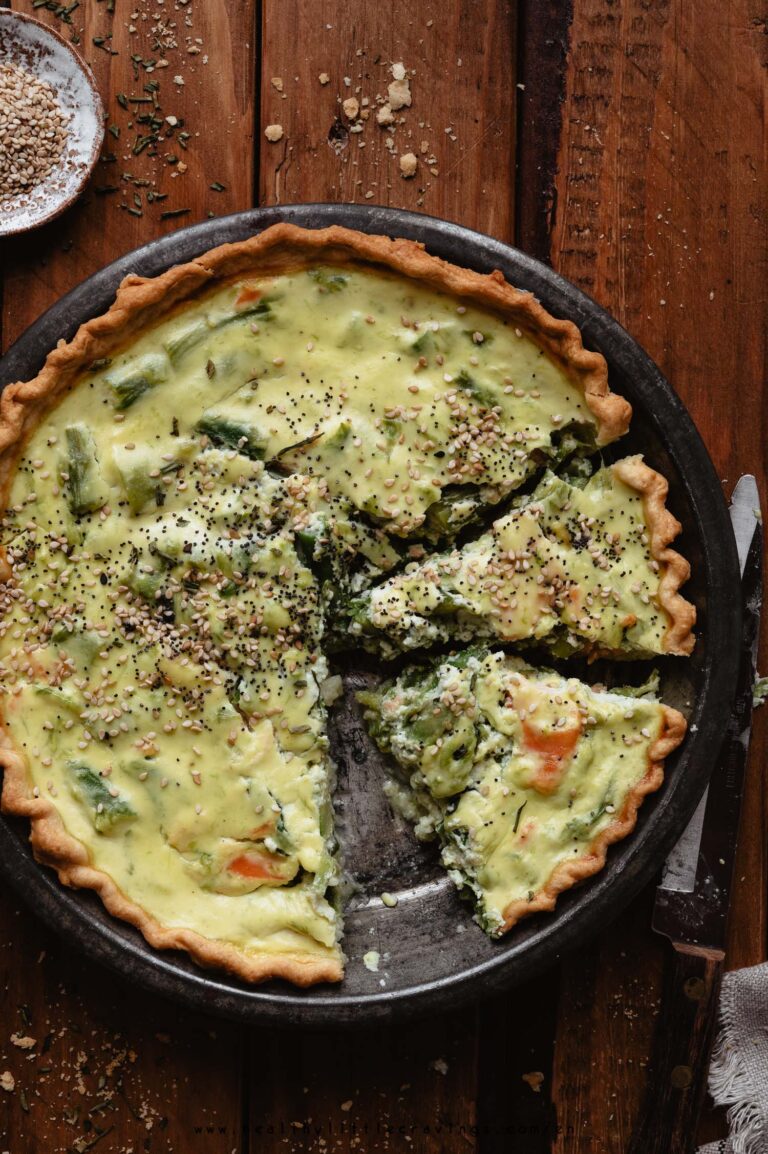 In addition, I have to say this asparagus quiche recipe could easily be vegetarian.
I've tested the filling once using prosciutto crudo di Parma (dry cured ham, not sure about the translation), and once using smoked salmon. We loved both!
However, if you don't want fish or meat, just omit them but remember to add salt into the creamy filling.
Can you make a quiche ahead of time?
Yes and no.
What I mean is: you can pre-bake your crust (also 2 days before serving quiche), but I don't recommend baking the whole dish in advance.
Despite this, if you bake it for lunch and then you have leftovers, it's ok to store them into an airtight container, in the fridge, for a couple of days.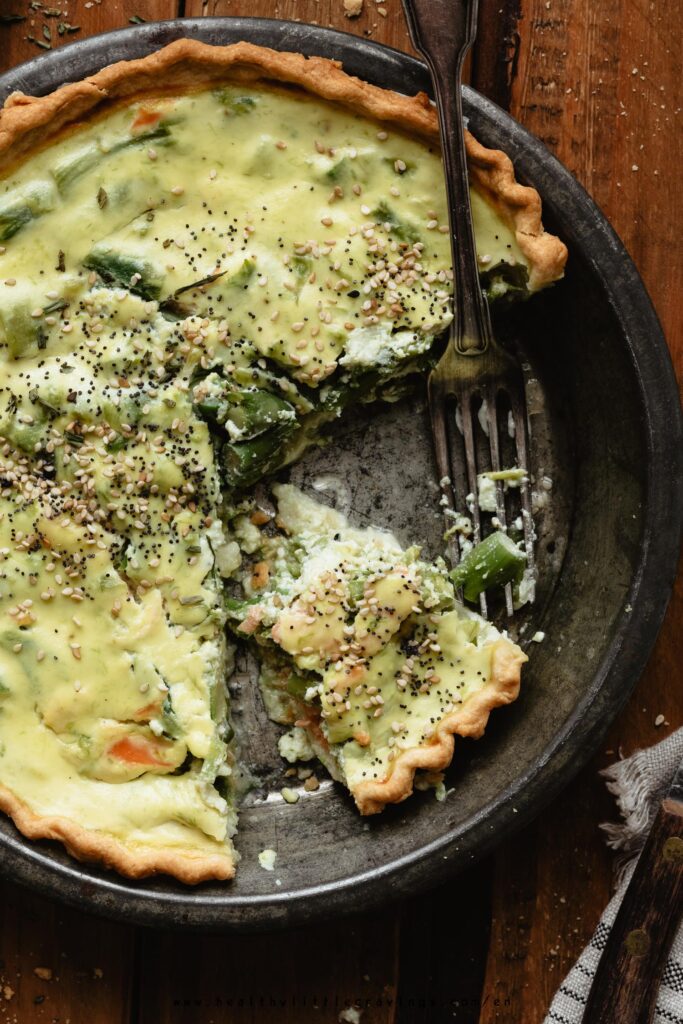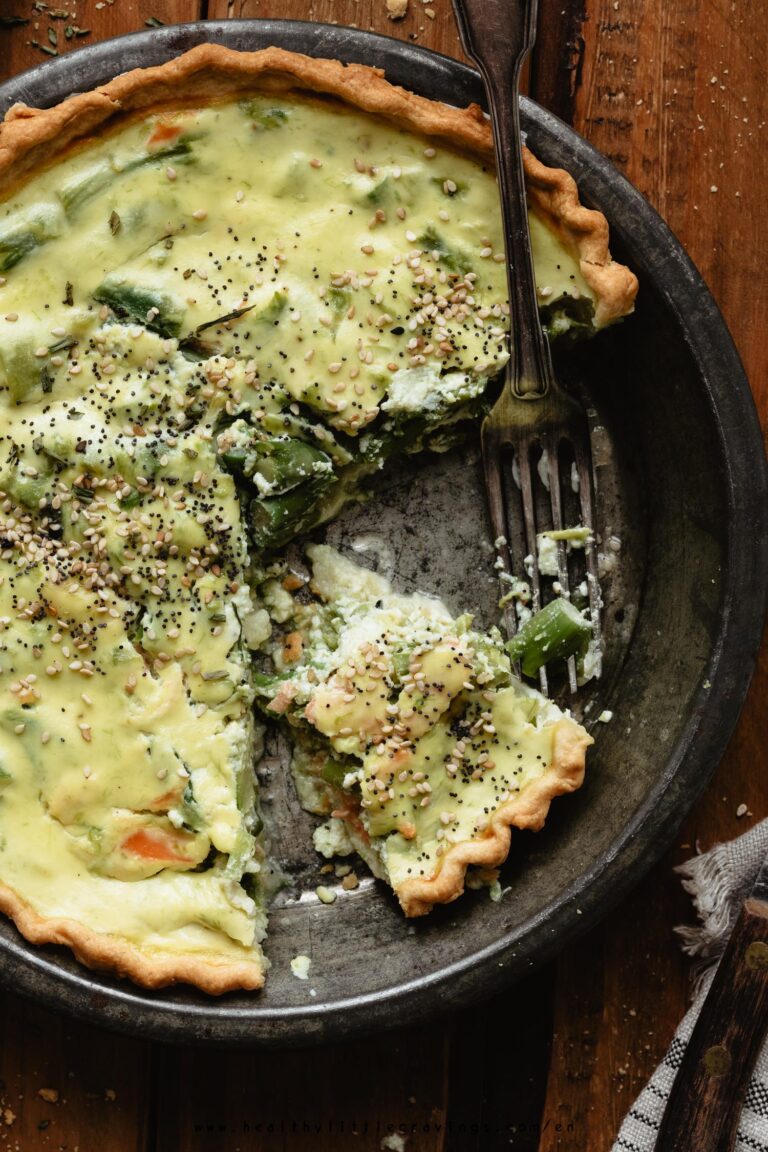 How to store and reheat quiche
As I just mentioned, you can store this asparagus quiche into an airtight container in the fridge, for a few of days.
We had some leftovers on Friday, then ate the second half on Sunday.
I simply reheated it using my microwave. If you don't have it, try using the oven: cover with foil and bake at low temperature (150° C / 300° F) for a few minutes.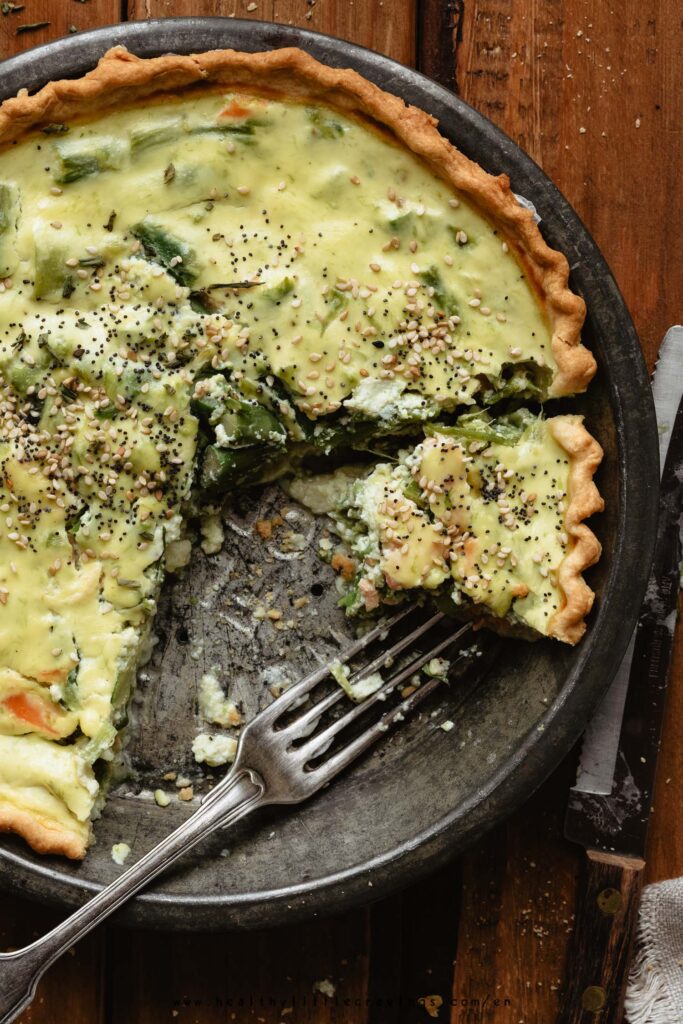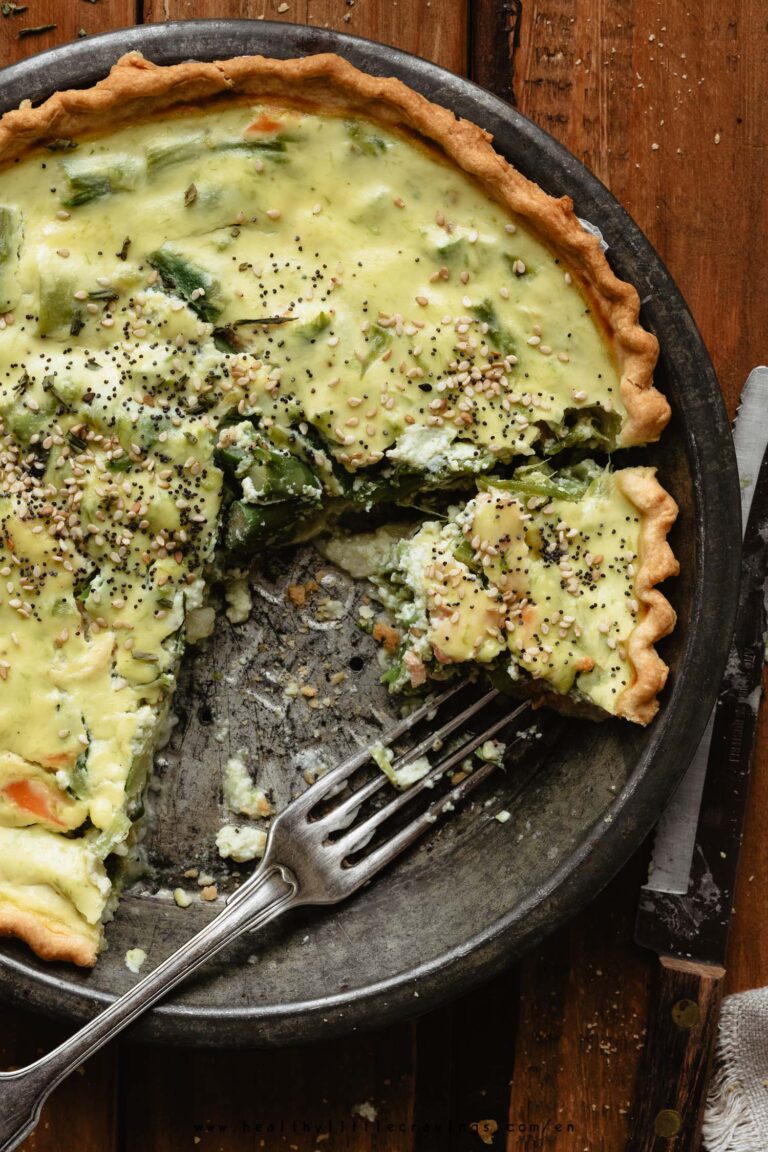 What should I serve with this asparagus quiche recipe?
I consider my quiche recipe a "complete main dish".
If you look at the ingredients you'll notice there's everything you need:
Carbs: crust
Fats: salmon
Proteins: salmon, eggs, ricotta
Fibers from veggies: asparagus
Therefore, I say you don't have to add extra food. A quarter of this quiche is enough for a person (but remember I'm not a nutritionist).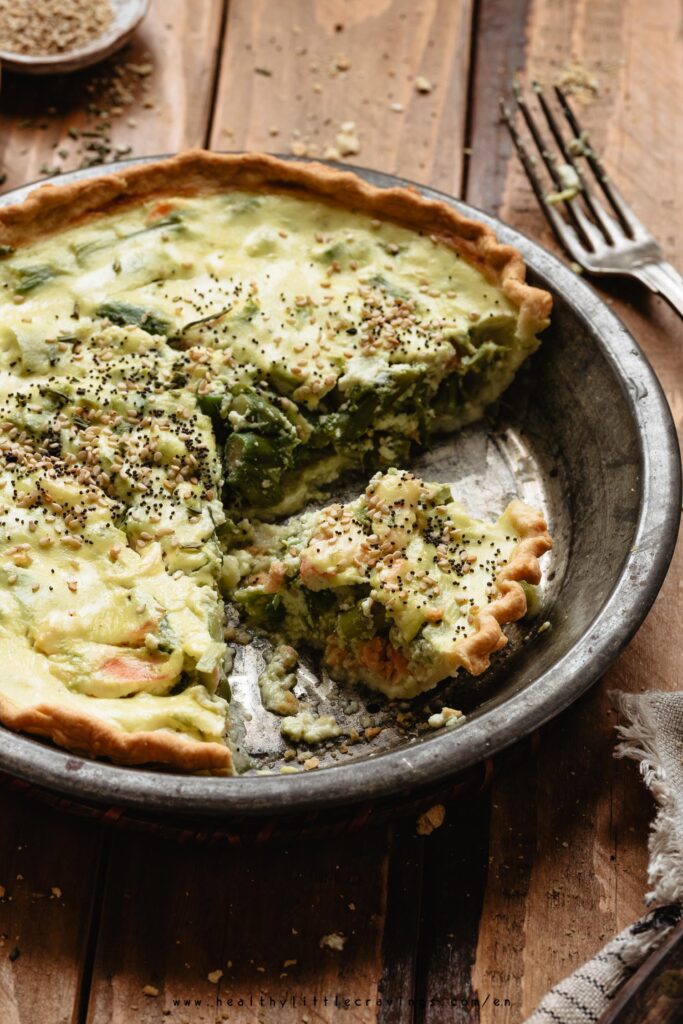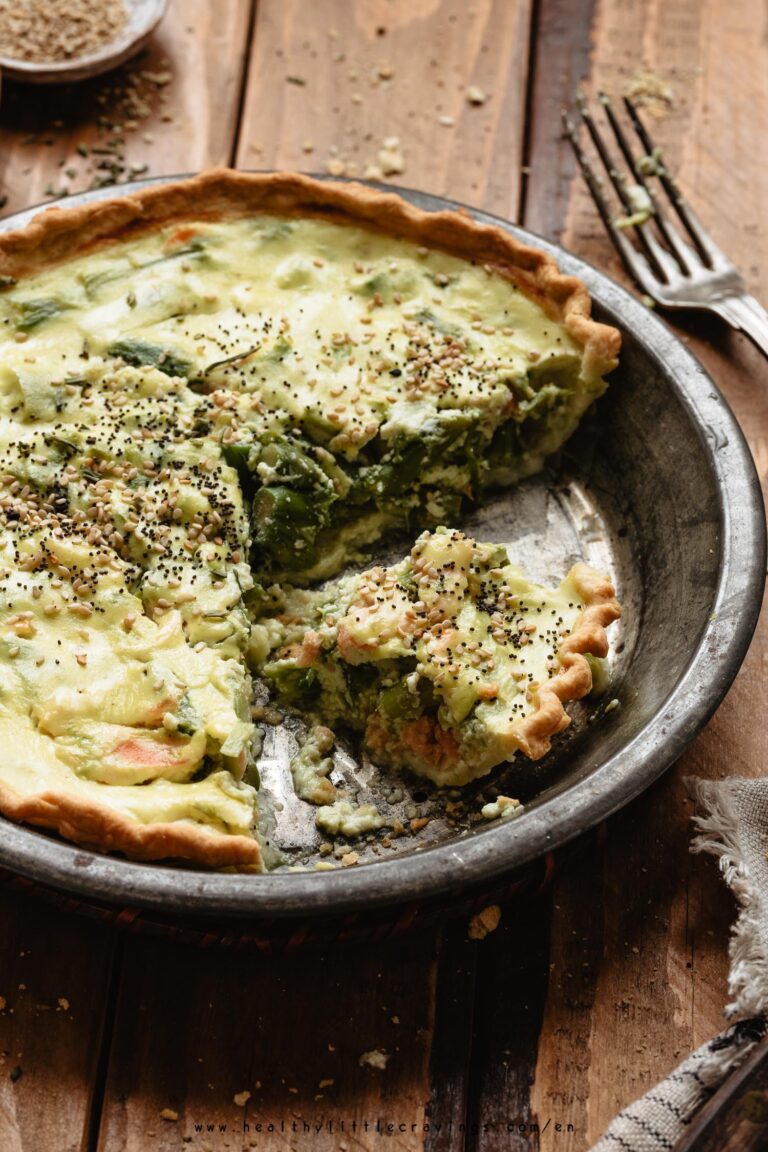 ---
Do you have other questions?
It's not easy to answer all the questions you may have, so PLEASE leave a comment below and I'm glad to reply! Thank you.
---
If you make this recipe, please be sure to give it a rating and leave a comment! It would make me so happy! 🙂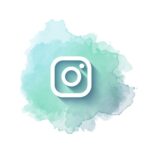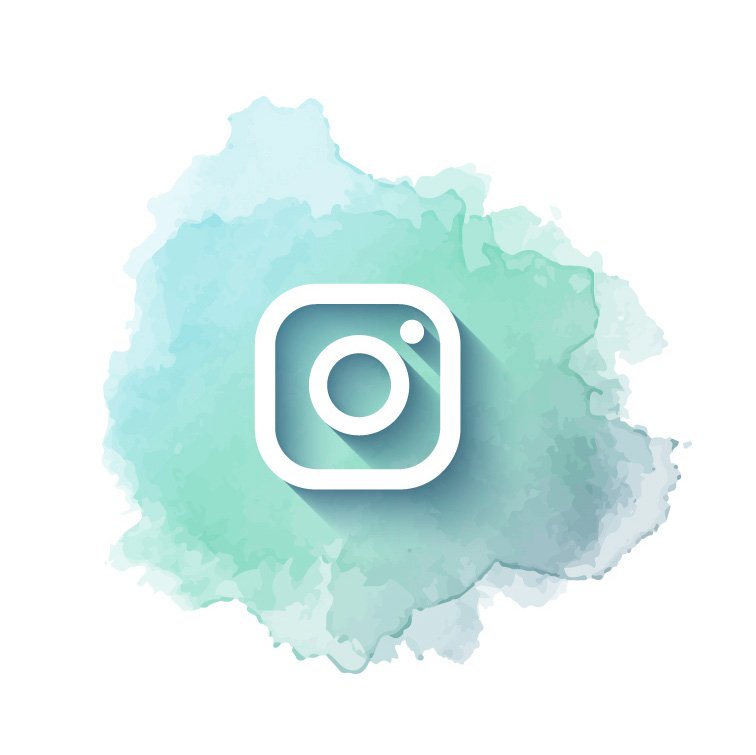 Remember: if you try one of my recipes, tag me on Instagram or DM me the photos!
---
Don't forget to pin and share this easy and delicious recipe!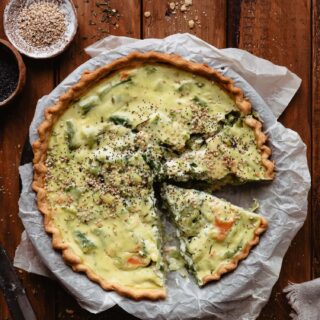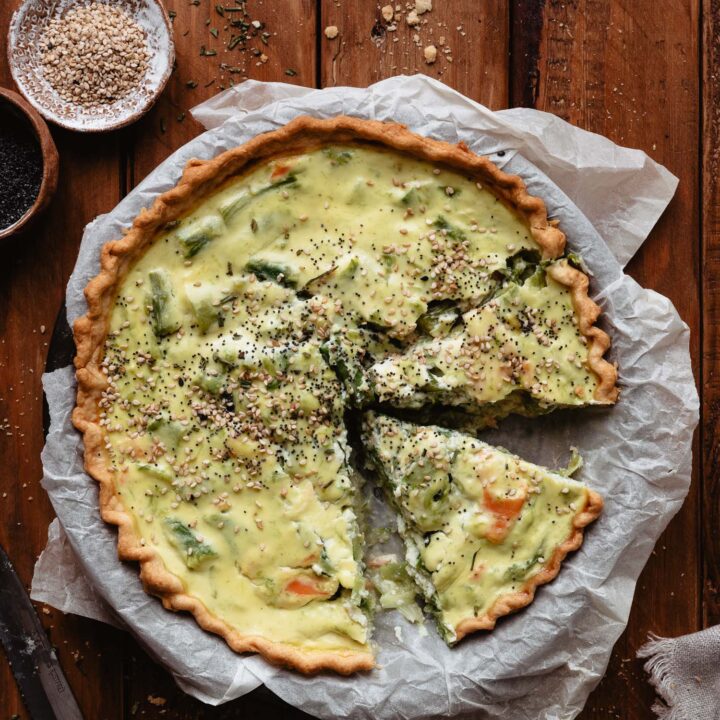 EASY ASPARAGUS QUICHE RECIPE
A delicious and easy asparagus quiche, perfect for lunch. The extra touch? Smoked salmon (or Prosciutto crudo di Parma). Oh, but you can also keep it vegetarian.
Print
Pin
Ingredients
2

Eggs

220

gr

Fresh ricotta cheese

90

gr

Milk

Black Pepper

250

gr

Fresh or frozen asparagus

50

gr

Smoked salmon or prosciutto crudo di Parma

one package

Homemade or store-bought shortcrust pastry

-

(mine was 230 gr)
Instructions
Preheat the oven at 180° Celsius (355° F).

Roll out homemade or store-bought pastry, then fit into a 9-inch pie dish (like this). Prick the bottom of the crust with a fork.

Blind bake for about 20 minutes.

In the meantime, prepare the filling: combine eggs, ricotta, milk, black pepper, cooked or raw asparagus (I've tested with both), smoked salmon (or prosciutto).

When crust is ready, fill with quiche filling.

Bake for about 50 minutes (yes you can do the toothpick test here too!).
---
Loved this quiche? Well, save this asparagus tart: it's easy and delicious. Just like this quiche!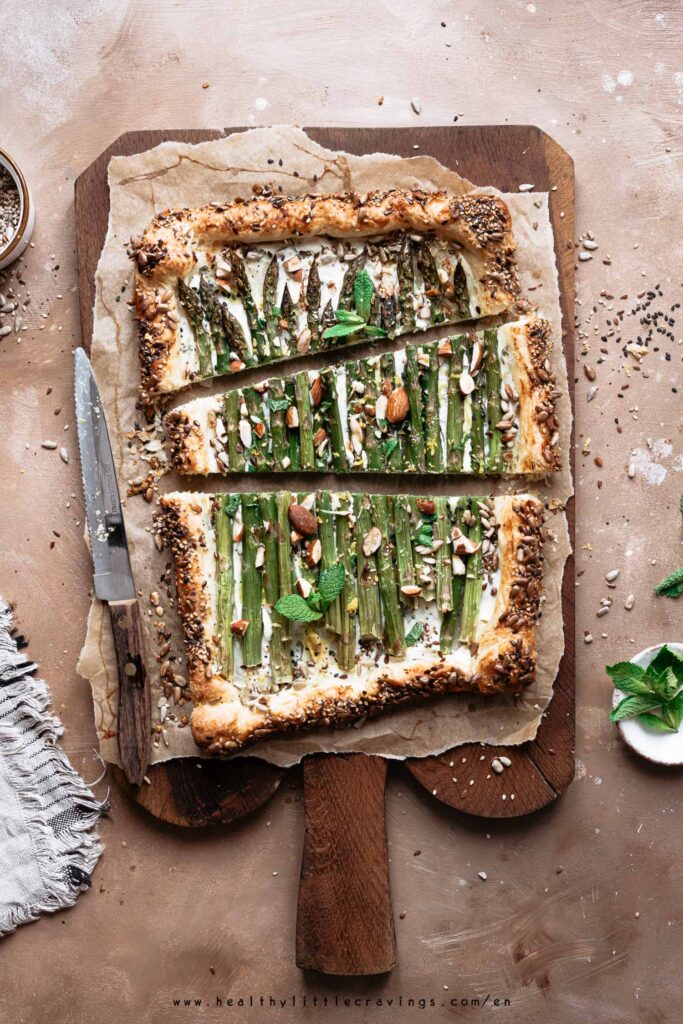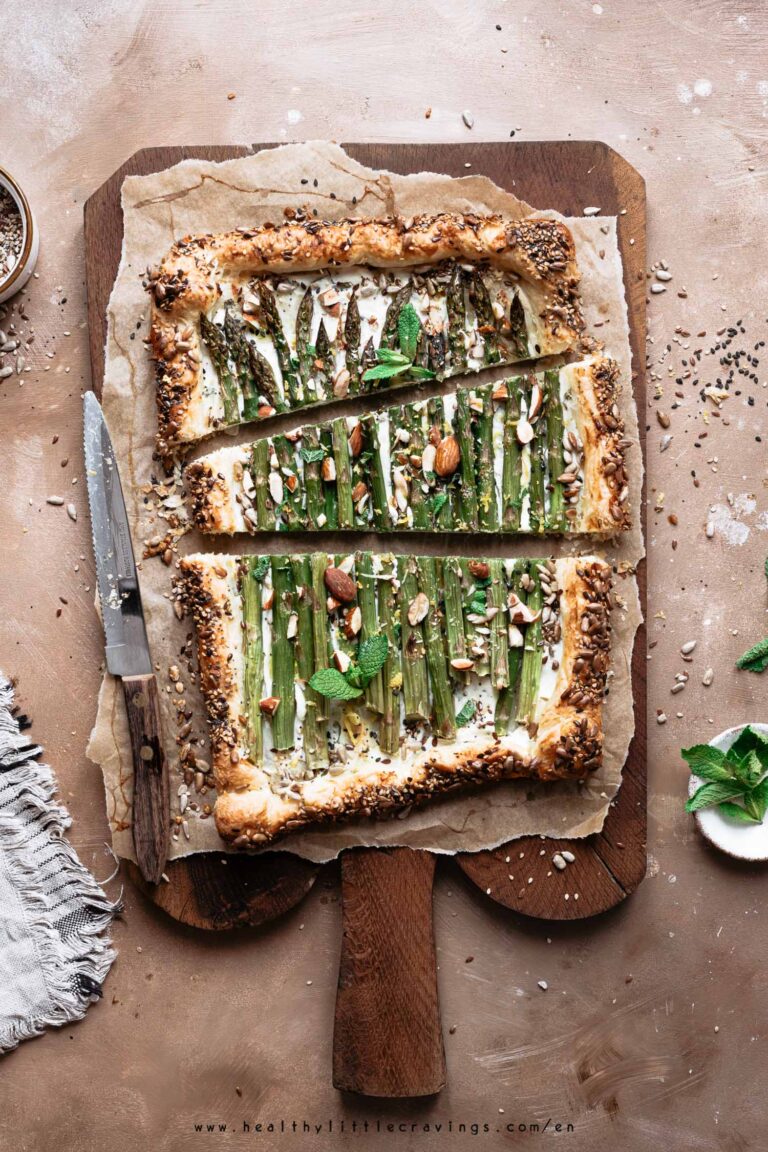 ---
© Healthy Little Cravings – Roberta Dall'Alba.
I own all content and photos' copyright.
Before using my photos and recipes, please email me.
If you would like to republish a recipe, please link back to this post and re-write the instructions in your own words.