Right now, nothing excites me more than writing (and editing photos for) this post about this easy but effective cookie box for Christmas.
It's definitely the post I've been waiting to share since last year. Meaning I started thinking about it in 2018, when I saw this photo by one of my favorite food photographers, Bea Lubas. And if you're wondering "Is it inspired by Bea's box?"...oh, definitely!
---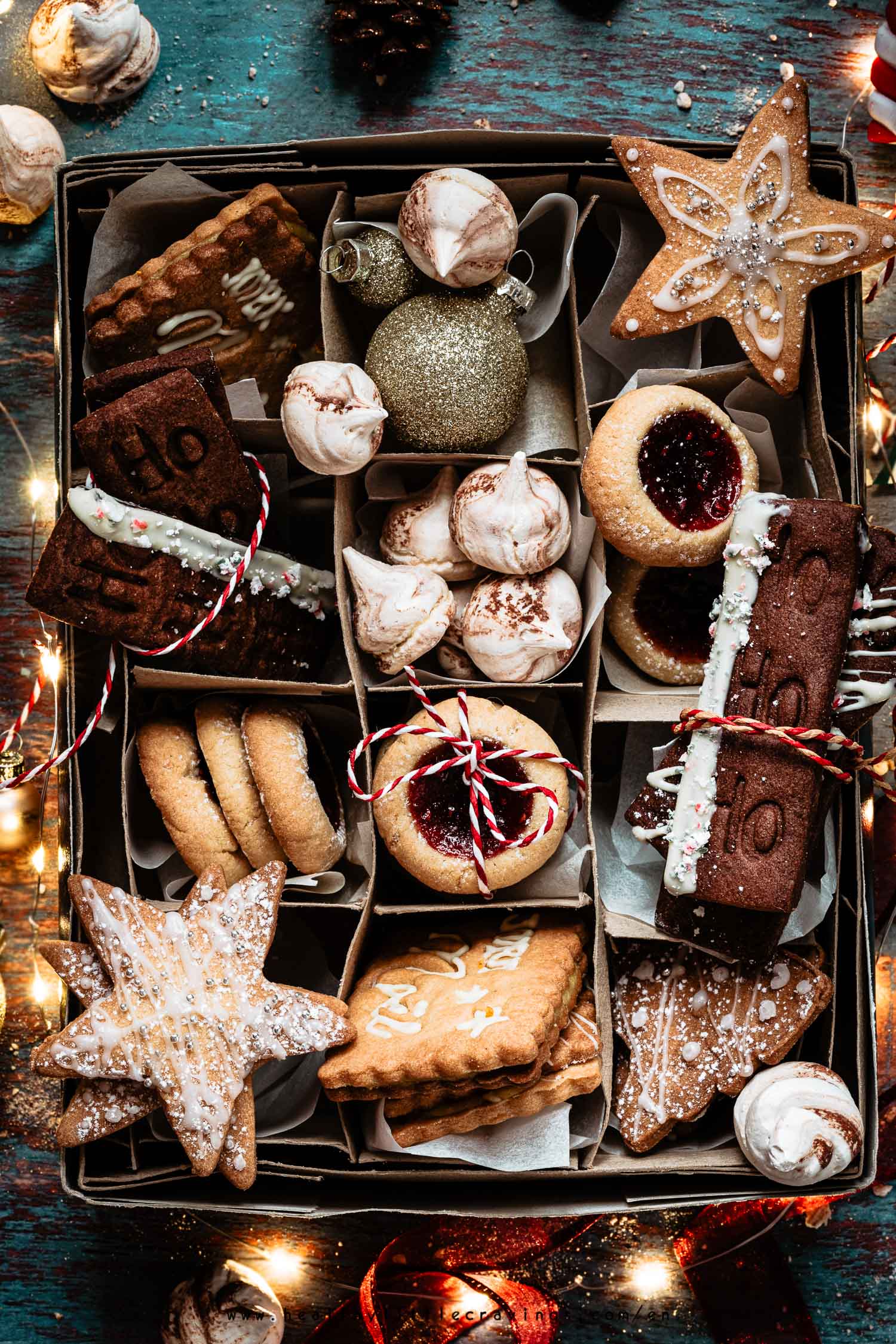 The NO-STRESS cookie box for Christmas
The LAST thing you need during this time of the year is adding more stress. I have to be honest though: Christmas, to me, has never been stressful.
Maybe because I've never felt the pressure to make gifts at all costs (I'm probably surrounded by understanding people?), maybe because Christmas to me only means family and laughter.
Many people instead feel stressed.
Anyway, back to the no-stress cookie box for this Christmas.
Why I called this "NO-STRESS", you saying?
Easy: I created this box full of baked goods with only ONE dough. So, all these cookies use the same recipe as a "base". Then I've simply changed shape and flavors. And...
Magic: you'll obtain the best and easiest box!
I'm sure you will find this genius (ok, self-praise?)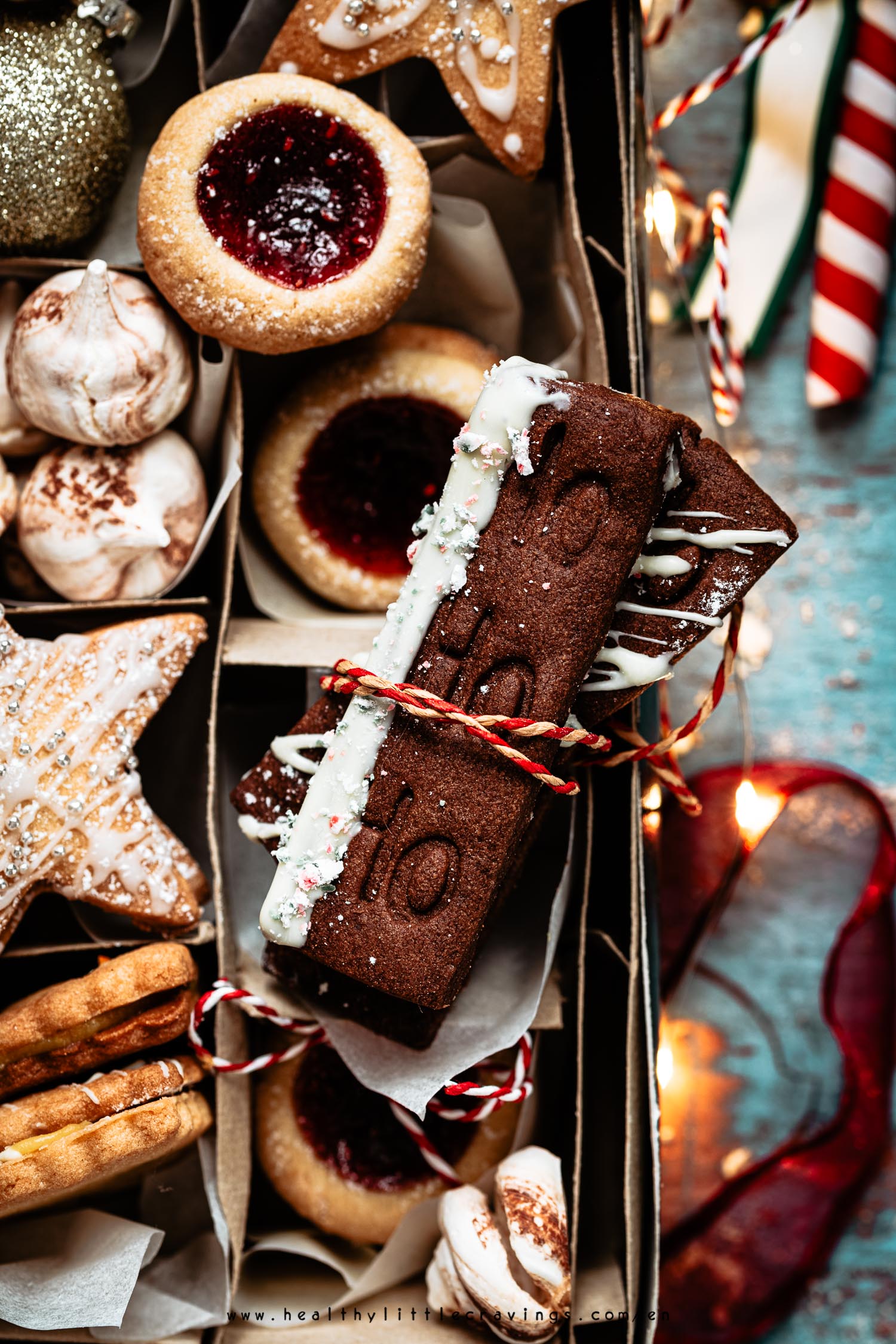 Start with the easiest: Christmas cookies with basic icing
As I mentioned above, all these cookies have the same dough in common. It was inspired by mom's strawberry pie recipe that I posted last May. I simply left baking powder and vanilla out to prevent the shape to ruin itself.
Do you consider yourself a beginner? Want to prepare some easy Christmas cookies? I mean, simple but cute?
Well, this first recipe is for you (and for everyone actually).
Just shape them using cute cookie cutters (I bought mine on Etsy, this is the shop - not an affiliate), combine water + icing sugar, decorate and you're done!
If you have extra time, try royal icing (with egg whites).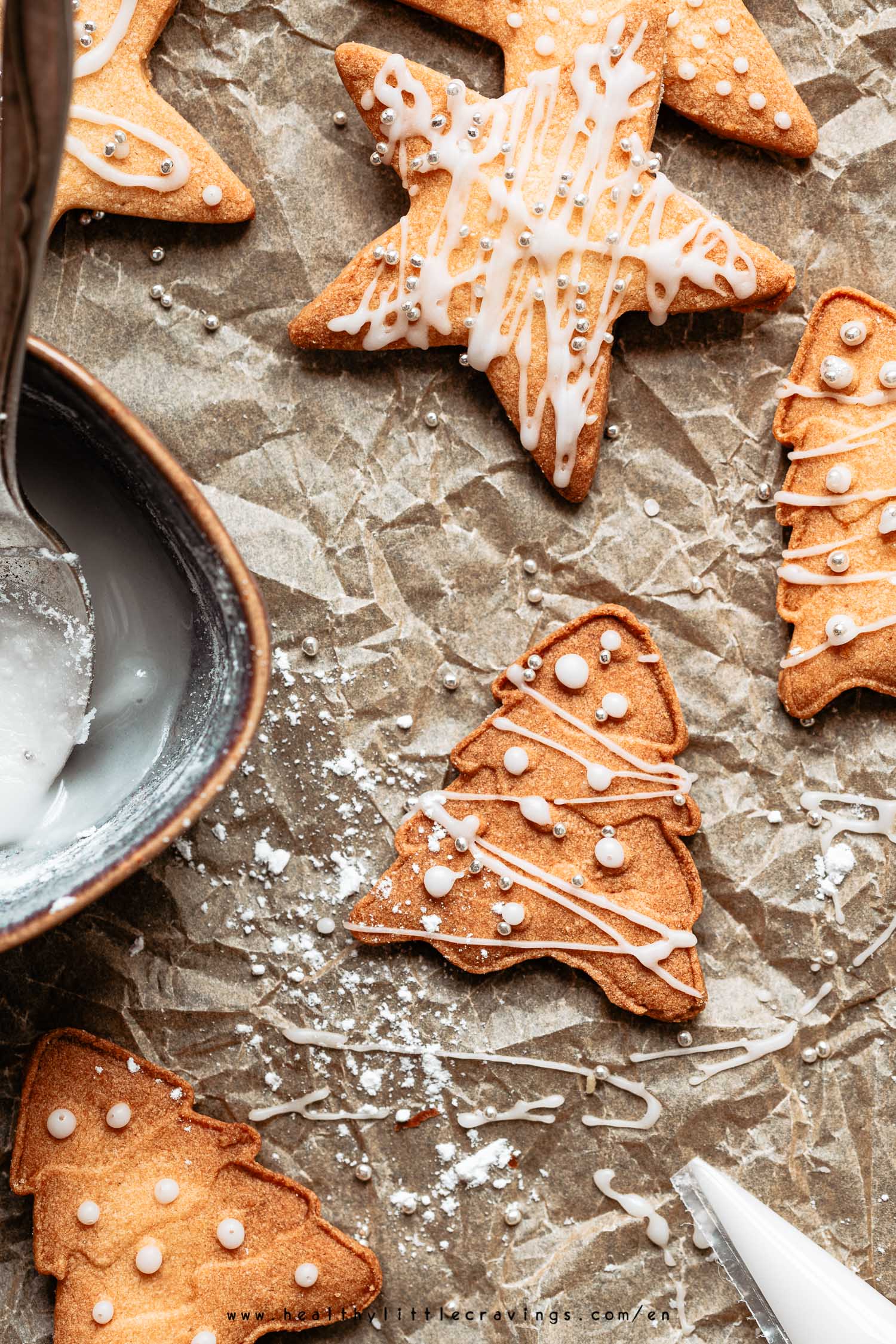 Please any crowd with these raspberry thumbprint cookies
Who doesn't love raspberries? I could eat TONS of them. Same goes for raspberry jam.
That's why I included these raspberry thumbprint cookies in the box. They remind me of jam cookies my mom used to make when I was younger. Or those I used to find in store-bought metal boxes.
At first, my idea was to make linzer cookies, but I didn't have the right cutters.
Anyway, these are a crowd-pleaser believe me! (Mom loved them;))
Peppermint cookies for Christmas? Just perfection.
Seriously: if "perfection" was a cookie, it would be a choco-peppermint one. These are my absolute favorite from this box.
The dough? Told ya: it's the same! I only added unsweetened cocoa powder and peppermint extract (I've used the one by Nielsen-Massey).
Pay attention not to add too much extract though, otherwise the consistency will change.
The cherry on top? Melted choc and pieces of mint candy cane. Delish!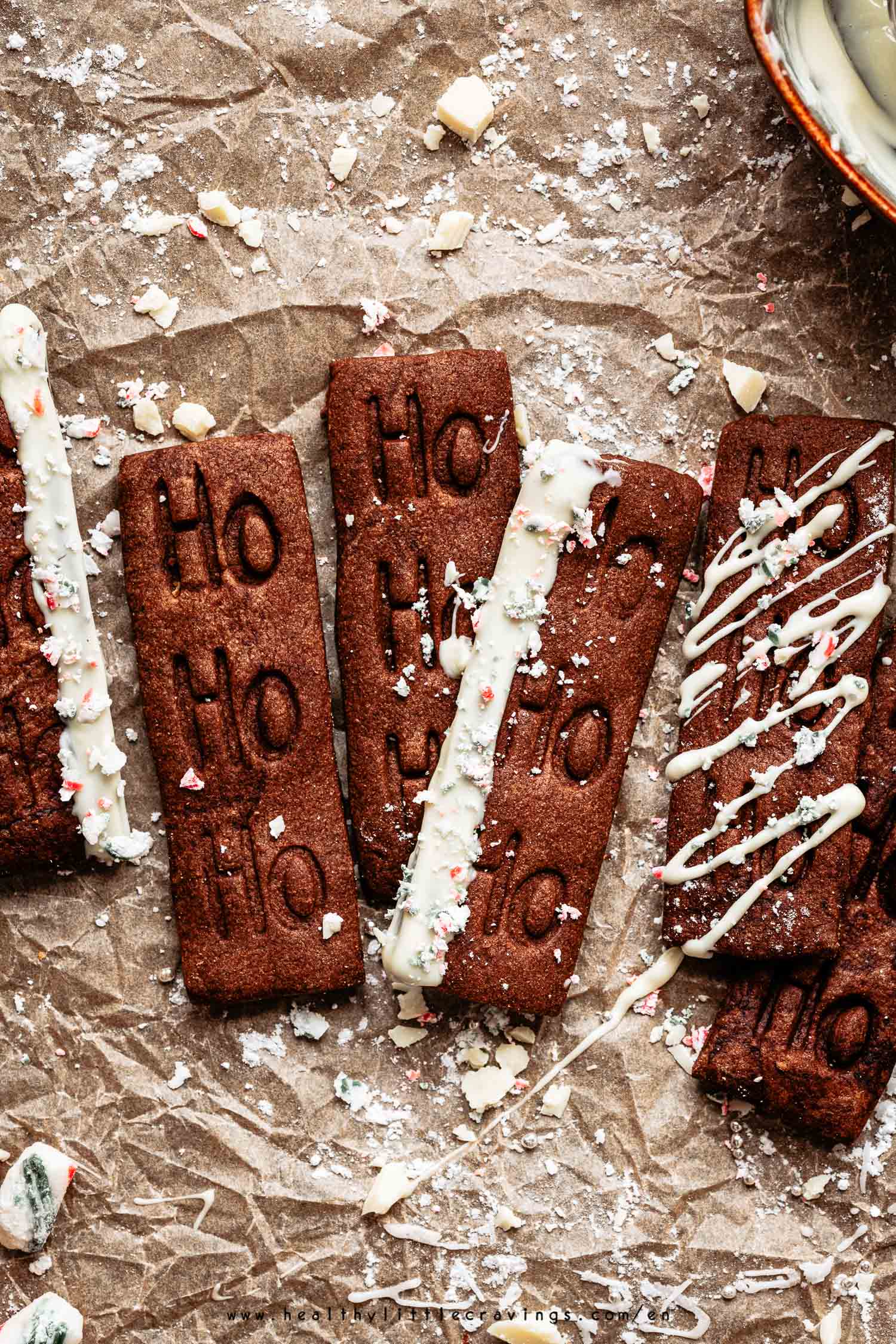 The "fancy": orange curd cookies.
Wish a Joyeux Noël with these fancy orange curd cookies!
Curd recipe is by my friend Laura by Tutti-Dolci. I made it for the first time in March/April, and I loooooved it (I made Linzer Cookies back then)
If you want to surprise your family and friends I definitely recommend these.
Remember though, since they're filled with curd, they won't last as long as the other ones.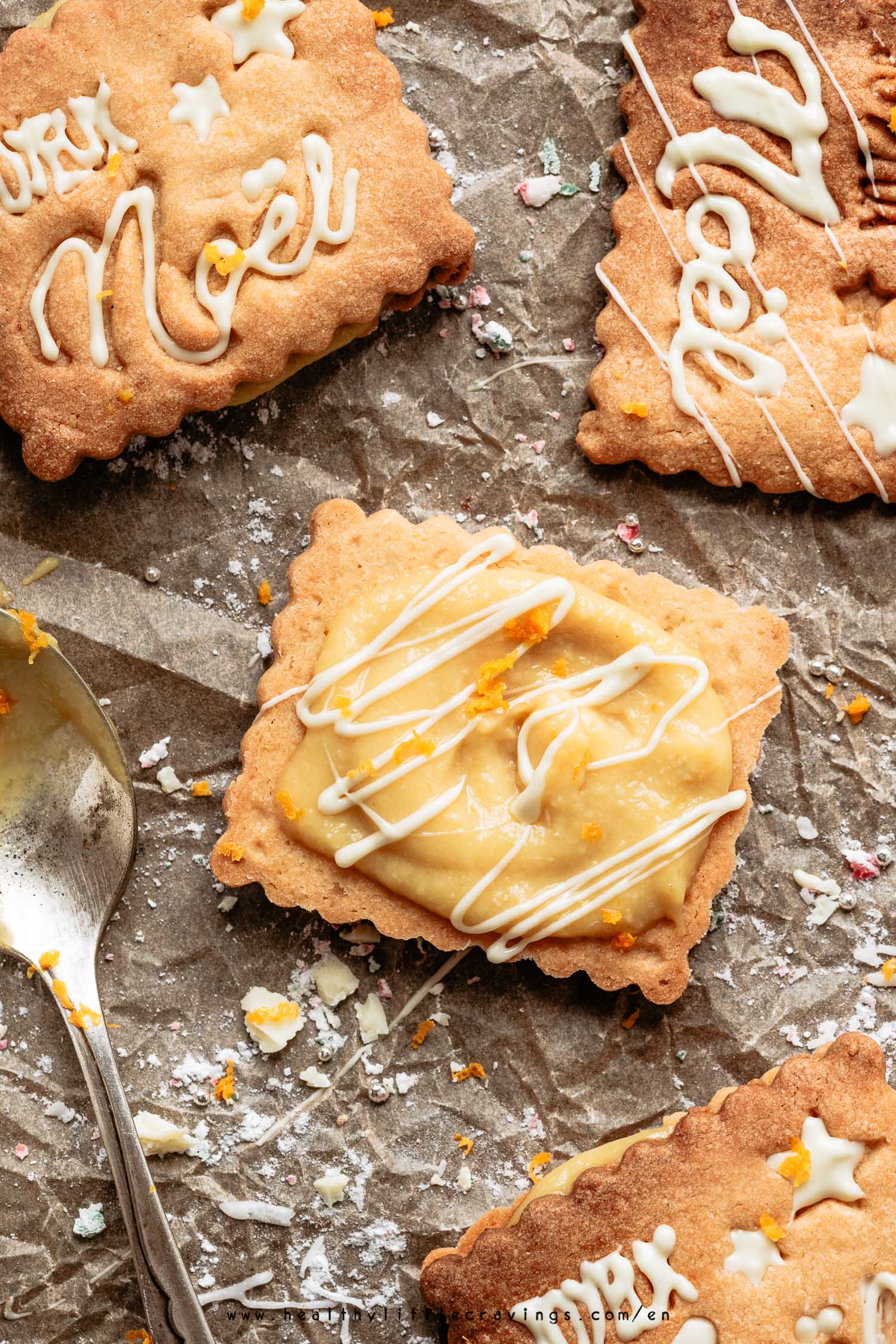 Last but not least: how to box cookies for Christmas
Do you think I made all these cookies just to create a blog post? Well, yes, kinda. I mean, I didn't ship them.
BUT...
I love creating homemade gifts for friends and family and cookies are the perfect present also to send via postage.
So, here's how to box cookies for Christmas if you also want to send them: (this is what I personally do)
Make them cool completely then gently wrap them up with parchment paper;
Wrap them using cute cellophane bags (I use something like these);
Choose a cute paper box and line it with bubble wrap so the cookies won't move during shipping;
Put the cookies inside and seal it;
Lastly, put your box into another cardboard box, lined with other bubble wrap to protect the cookies even more;
Seal the box with tape and tape and tape.
Don't forget to write FRAGILE on top! (Couriers are careless sometimes)
Don't forget to tell me if you ship them!;) Did you make people happy?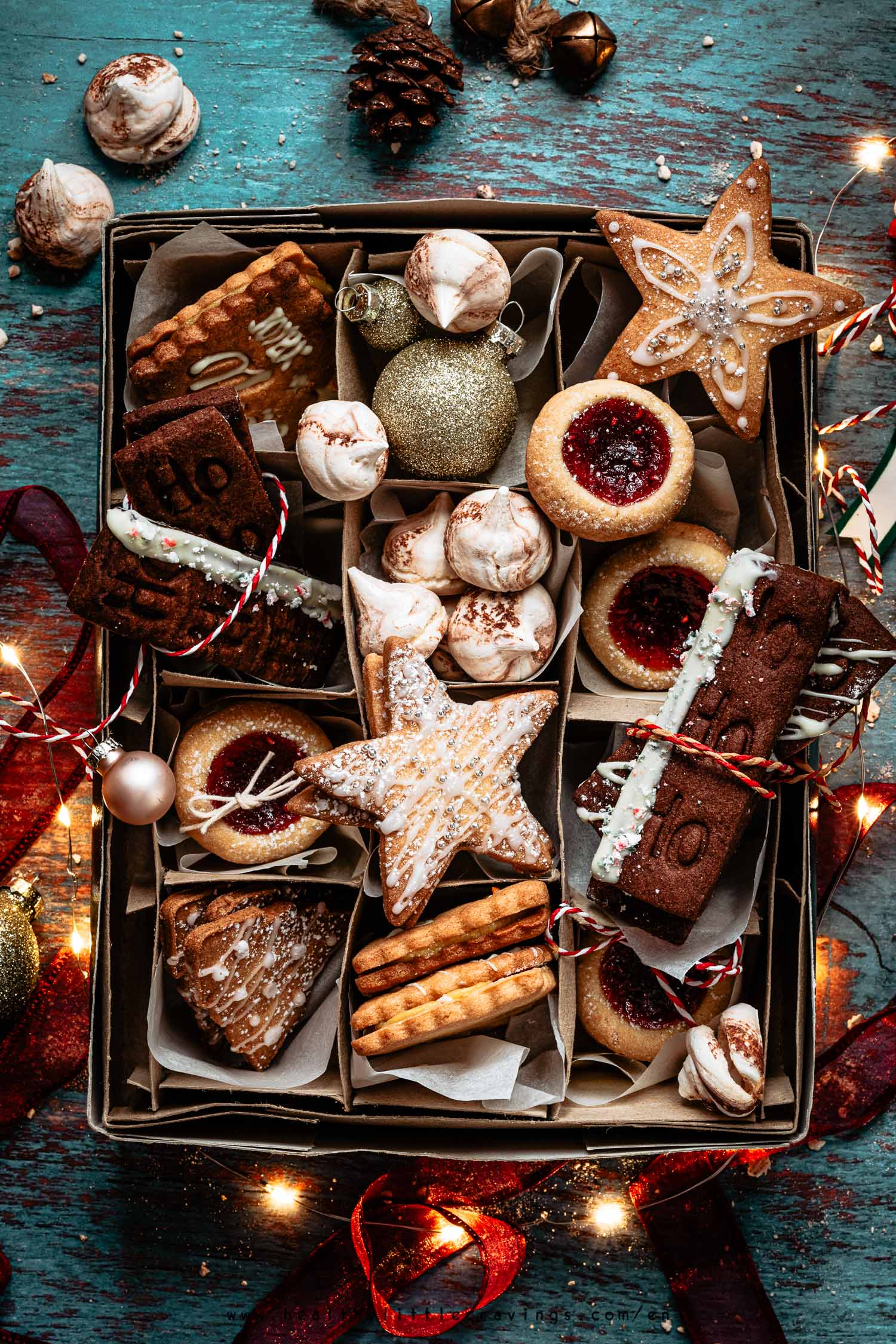 ---
If you make this recipe, please be sure to give it a rating and leave a comment! It would make me so happy! 🙂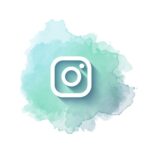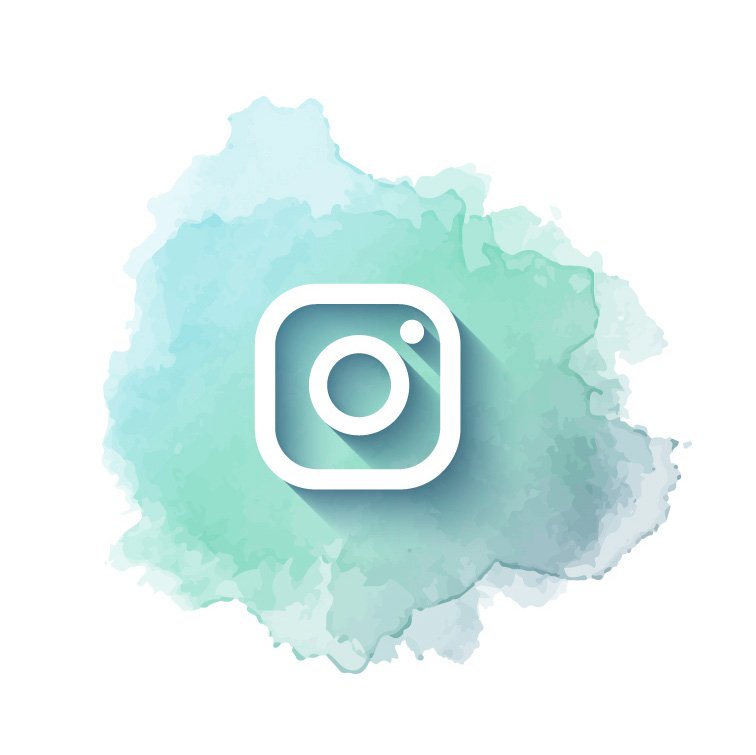 Remember: if you try one of my recipes, tag me on Instagram or DM me the photos!
---
Don't forget to pin and share this easy and delicious recipe!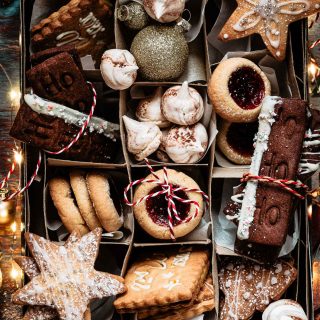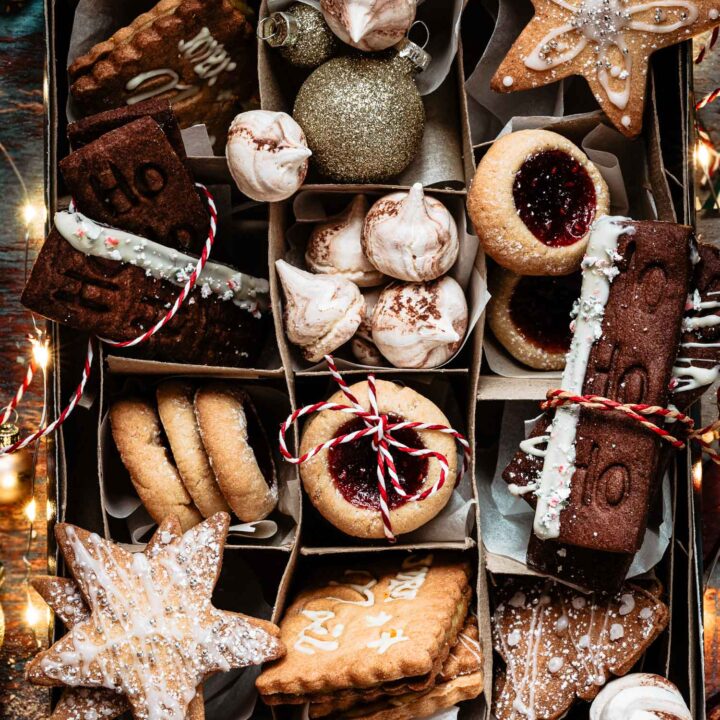 COOKIE BOX FOR CHRISTMAS / EASY SUGAR COOKIES
1 dough, 4 different cookies: with this sugar cookies recipe you'll be able to build your NO-STRESS Christmas Cookie Box!
Print
Pin
Servings:
50
(but depends on the size/shape)
Ingredients
For the dough:
250 gr

Organic all purpose flour

100 gr

Powdered sugar

140 gr

High quality unsalted butter

2

Egg yolks

2 gr

Salt
For the thumbprint cookies:
For the peppermint cookies:
¼ teaspoon (or half)

Peppermint extract

5-7 gr

Unsweetened cocoa powder

White chocolate & Peppermint candy cane to decorate
For the orange curd cookies:
1 and ½ teaspoon

Orange zest

3 tablespoons

Fresh Orange juice

30 gr

Light brown sugar

a pinch

Salt

1

Egg, at room temperature

2 tablespoons

Unsalted butter, cut into small pieces
Instructions
For the dough:
Add flour, sugar, butter, yolks, salt to a food processor and blitz until you get a crumbly mixture. Take it out.

Divide the dough in 4 parts of 130 gr each.

Add cocoa and peppermint extract to one part and knead it until you obtain a nice dough (not too much! Heat is the enemy of this dough!)

Add orange zest to another part and knead (ditto).

Let them chill in the fridge for one hour.
Add all the ingredients, except the butter, into a pot. Whisk.

Turn on the heat (low) and keep whisking. Then gradually add the butter.

Whisk until you get a creamy consistency.
For the cookies:
Preheat the oven at 180° C / 350° F.

Take the dough out of the fridge, one piece (130 gr) at a time.

Roll out to a thickness of half a cm on a floured surface or using two parchment paper sheets.

Cut into shapes using a cutter, and arrange the cookies on a baking tray, lined with parchment paper. Let chill in the fridge while you prepare the other cookies.

When your tray is full of cookies, bake the first batch for about 18-20 minutes.

To make thumbprint cookies: divide into 10 balls then gently press in the center of each ball, using your thumb or the rounded back of a teaspoon. Fill with raspberry jam.

Shape all the cookies and bake.
Garnish peppermint cookies:
Garnish with melted white chocolate and peppermint candy cane.
Ice cookies (easy icing):
Combine water and icing sugar until you obtain a thick "paste". Decorate.
Fill orange cookies:
Fill the cookies with orange curd.
To box the cookies:
Please follow instructions in the post.
---
Don't forget to pin and share this easy and delicious recipe!
---
Liked this recipe?
Try these gingerbread cookies, they're gluten free!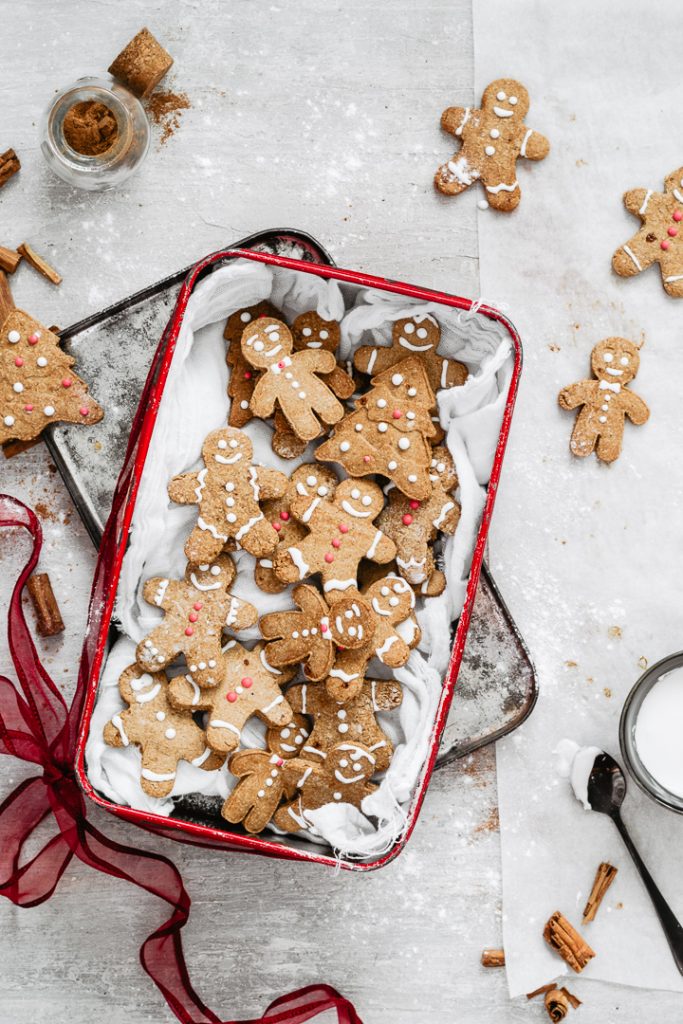 ---
NOTE: This post contains affiliate links which means I make a commission off of the links with no additional cost to you. Thanks for supporting me!
---
© Healthy Little Cravings – Roberta Dall'Alba.
I own all content and photos' copyright.
Before using my photos and recipes, please email me.
If you would like to republish a recipe, please link back to this post and re-write the instructions in your own words.