Food is love and comfort. And sometimes what we really need is just quality time, and quality comforting food. That's one of the reasons why, today, I'm sharing with you the best chicken pot pie in phyllo dough.
It's just the PERFECT comforting weeknight dinner: that crunch of the dough + the creaminess of the filling, perfection!
---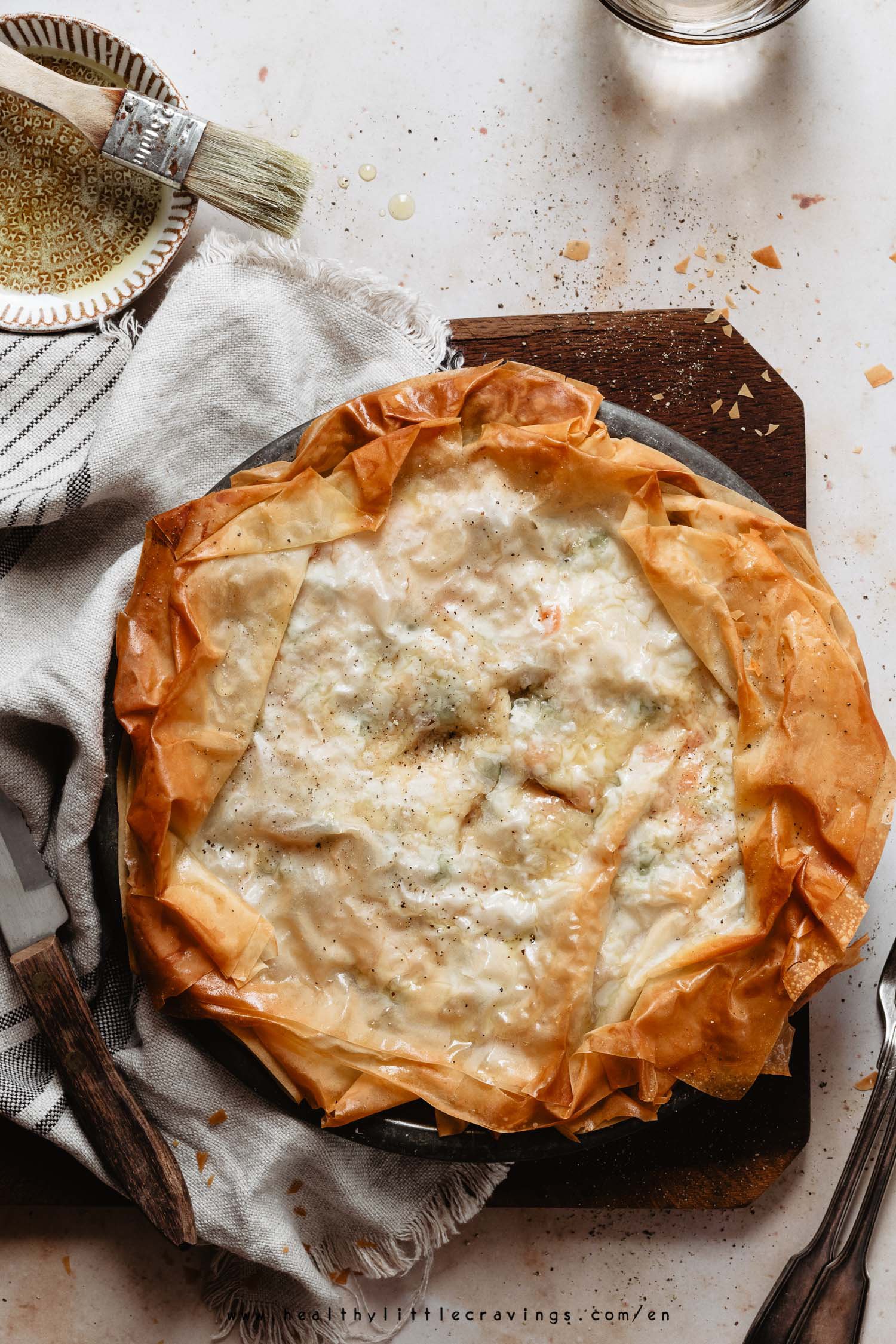 What is chicken pot pie?
First of all, I'm sure you all know what it is, come on. I'm not here to "insult" your intelligence by explaining what it is, lol 😆 . But I'm here to highlight the differences between the classic one and my chicken pot pie in phyllo dough.
The classic chicken pot pie is usually made with: a delicious buttery puff pastry pie crust, and a filling made with butter, flour, chicken broth, milk, chicken meat (or turkey) and vegetables (carrots, celery, peas...).
My version instead calls for:
a light, flaky phyllo dough instead of puff pastry, tiny bit of oil instead of a large amount of butter (which is OK sometimes by the way, I am definitely not against butter);
some delicious packed-with-benefits homemade chicken broth (ok ok, you can also buy some good quality one).
That's it! Easy phyllo pastry chicken pot pie, with just a few ingredients.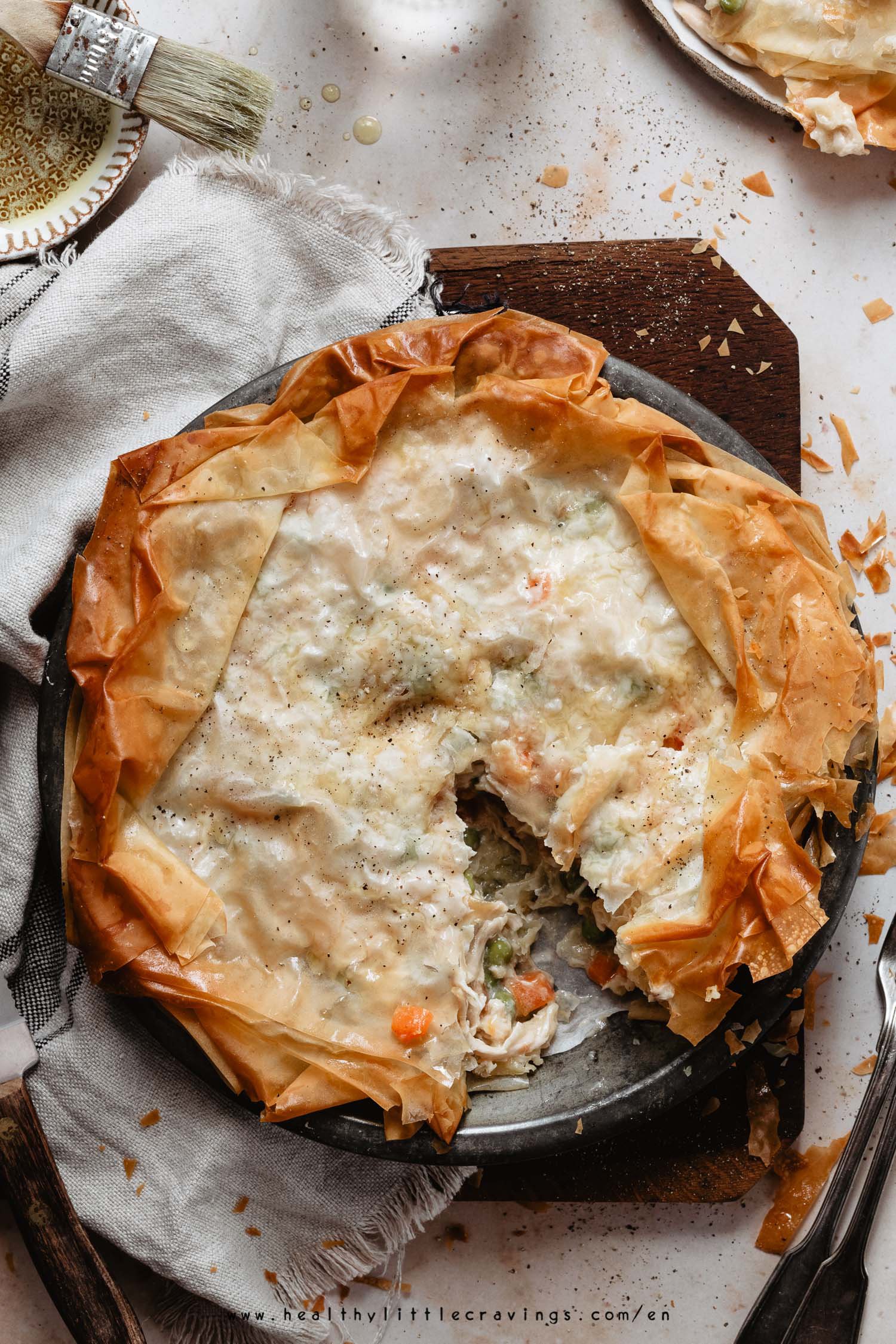 Phyllo crust chicken pot pie recipe ingredients
When I made this phyllo crust chicken pot pie for the first time, I absolutely LOVED how I threw together an incredible meal in under 1 hour (prepping + cooking + baking included), with few simple ingredients, that is nourishing and lasts for more days (if you're a couple, like us). Here are the ingredients you'll need for my chicken pot pie recipe with phyllo dough:
Phyllo sheets
Instead of using puff pastry indeed I opted for phyllo, to create a lighter version of this comforting dish. Result? Just wonderful. It sure is less "sturdy" when you slice it and pick up, but nothing too difficult to eat.
The water + oil emulsion will be used to make the layers more crunchy.
Chicken + chicken broth
Now, this is the fantastic thing here: you can use whatever chicken leftovers you have.
I usually make my broth like explained in this video. Then usually use all the roasted and boiled meat to make phyllo crust chicken pot pie or chicken soup. Perfect no waste recipe.
In this case I had 150 g of meat to use and then, separately, cooked about 250 g of chicken breast. Of course if you don't have some meat from homemade broth, just use breast or shredded store-bought rotisserie chicken. Instead if you have 400 g (14 ounces) of boiled meat, use it! Again, no waste.
Vegetables
This is also why I find this healthy chicken pot pie recipe irresistible: it contains veggies, carrots and peas in this case, and you don't even realize it. You can add cubed potatoes too. Ideal when you have kids.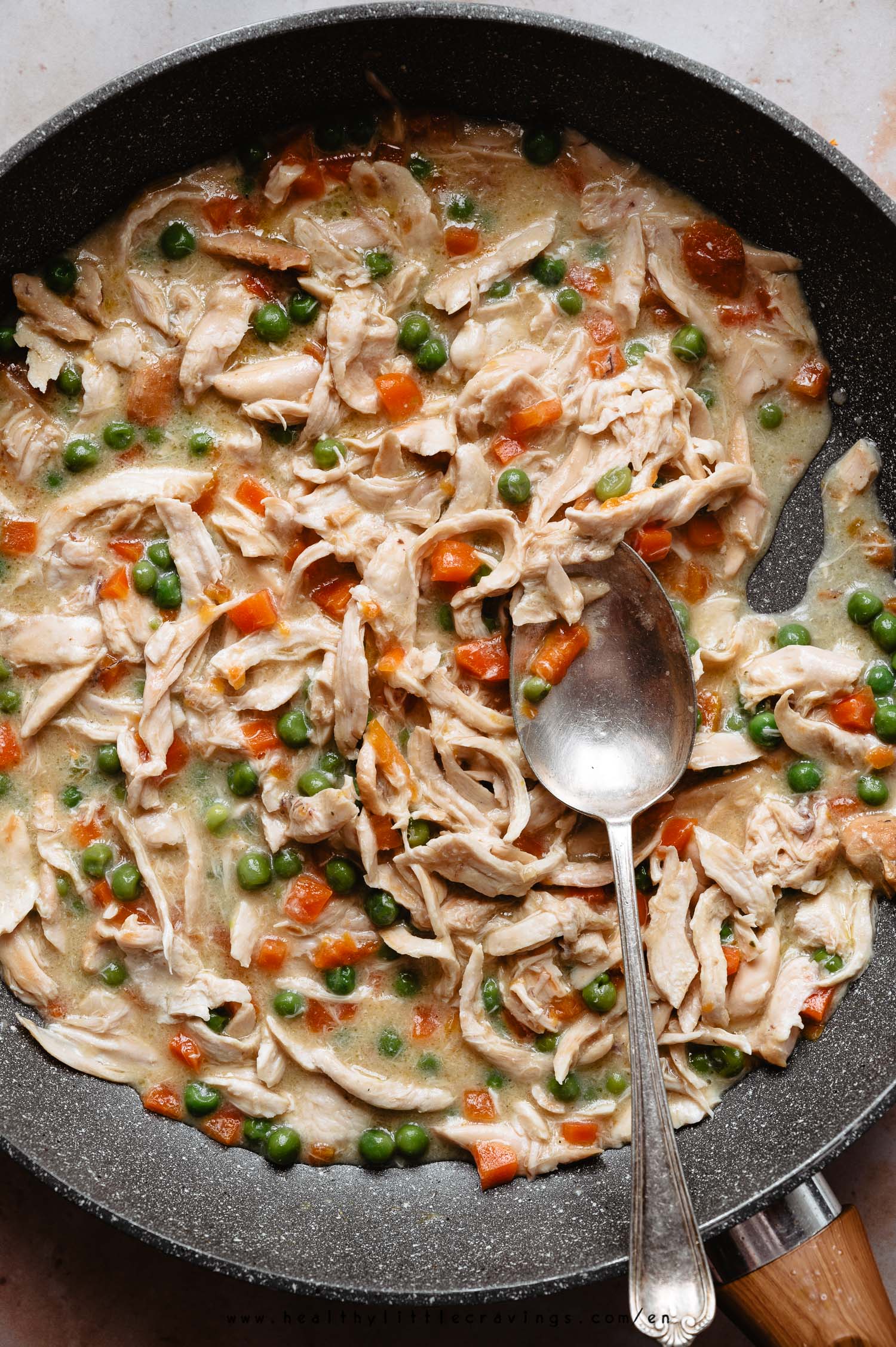 Cook's tip: how to make a CREAMY phyllo pastry chicken pot pie
Because it's a lighter version of chicken pot pie recipe, we're not using heavy cream. Instead to make it creamy we're using a combination of milk and cornstarch. Result? Try it then come back and tell me:) no need to use cream anymore. Also, if you add potatoes you'll have extra starches so extra creaminess.
Another tip: you can absolutely prepare broth and filling in advance, then store it in the fridge.
How do you make phyllo chicken pot pie from scratch?
I've been wanting to make an easy, healthier, nutritious version of chicken pot pie for ages. Now, here it is.
You know that I love making easy recipes during the week. Mainly because, even though I work from home, most of the days I don't have a lot of time to dedicate to lunch and dinner (absurdly, uh...). Yes, I test recipes for my blog and clients, but then I need my everyday meals to be quick and simple.
And this healthy chicken pot pie is SO EASY to make from scratch. The steps are basically three: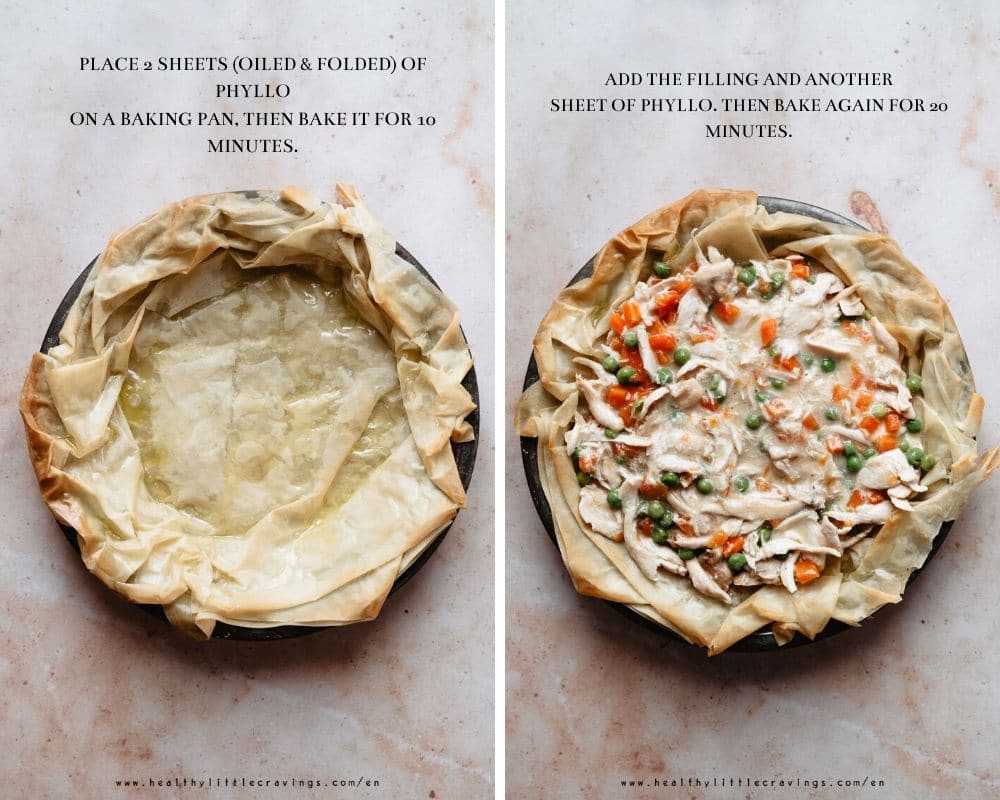 1. Blind bake the crust
In order not to make the bottom soggy, I prefer baking my phyllo crust BEFORE filling it. I bake it with convection oven at 180° C (355° F) for 10/15 minutes.
When you'll cut it, it's going to be a bit messy anyway, but at least you won't eat a soaked crust. Tip: if the edges are browning too much, cover them with tinfoil.
If the phyllo you bought is frozen, let it thaw in the original package in the refrigerator (place it into the fridge the night before).
2. Prepare the filling
While your crust is baking, prepare the filling: cook the chicken for a few minutes and, in the same pan, make the creamy sauce (you'll cook peas and carrots in the same pan as well). If you want it more liquid, add more chicken stock and/or milk.
3. Bake the whole pie
When the crust is ready, add the filling, then cover with another phyllo sheet and...bake until golden brown. Easy, uh?
[Another step (the very first) would be to prepare homemade chicken stock.]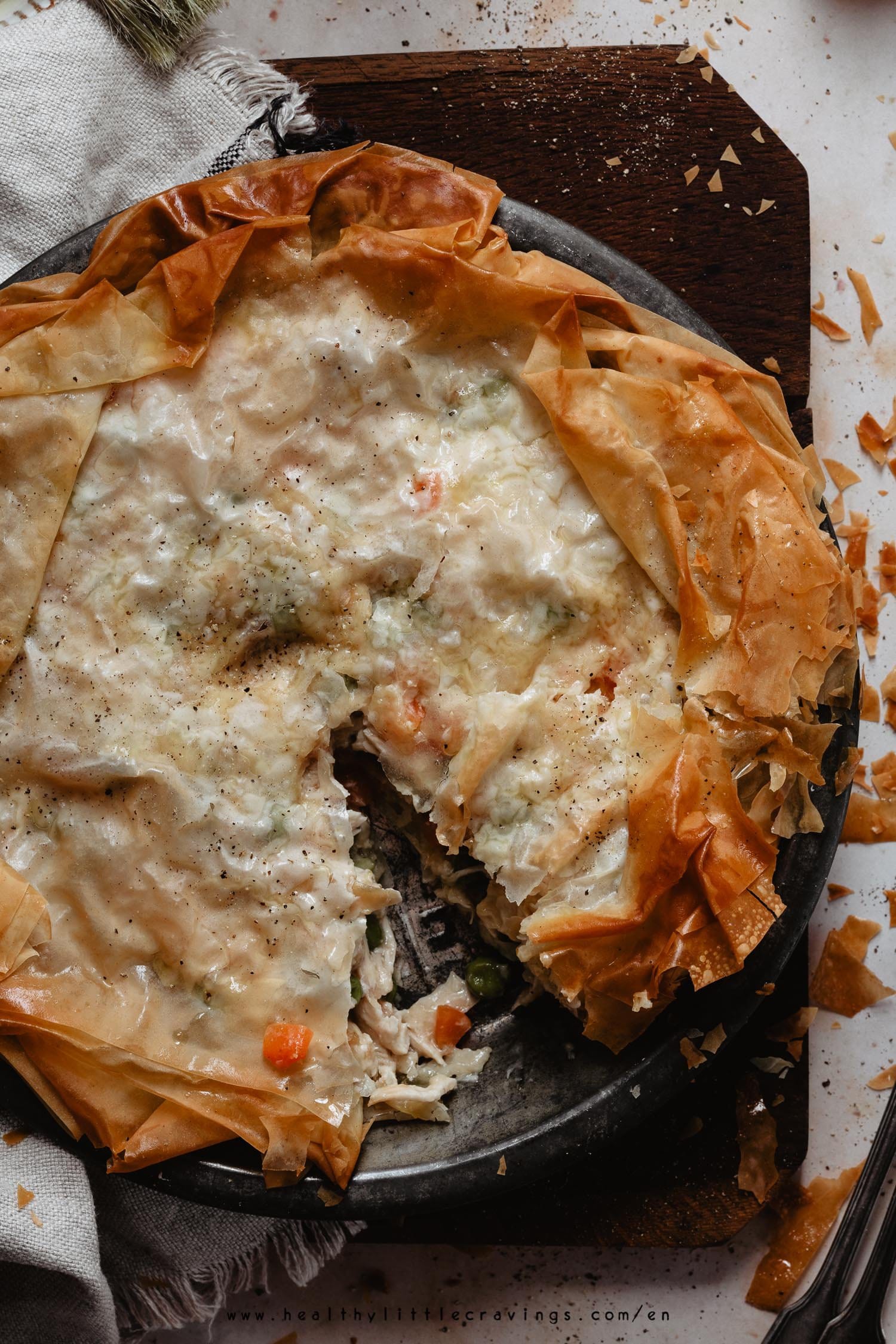 Is chicken pot pie healthy for you?
It sure is! As mentioned before, I've only used a small amount of fats in the filling and to brush each layer of phyllo dough. Also, phyllo dough itself is definitely lighter than puff pastry.
The filling? It's only made with a bit of oil and cornstarch, homemade chicken stock, milk, chicken meat, carrots and peas. And that's all.
Not complicated, not filled with heavy ingredients. Me and boyfriend ate it all, but you can also divide it and serve it to four people. Your choice!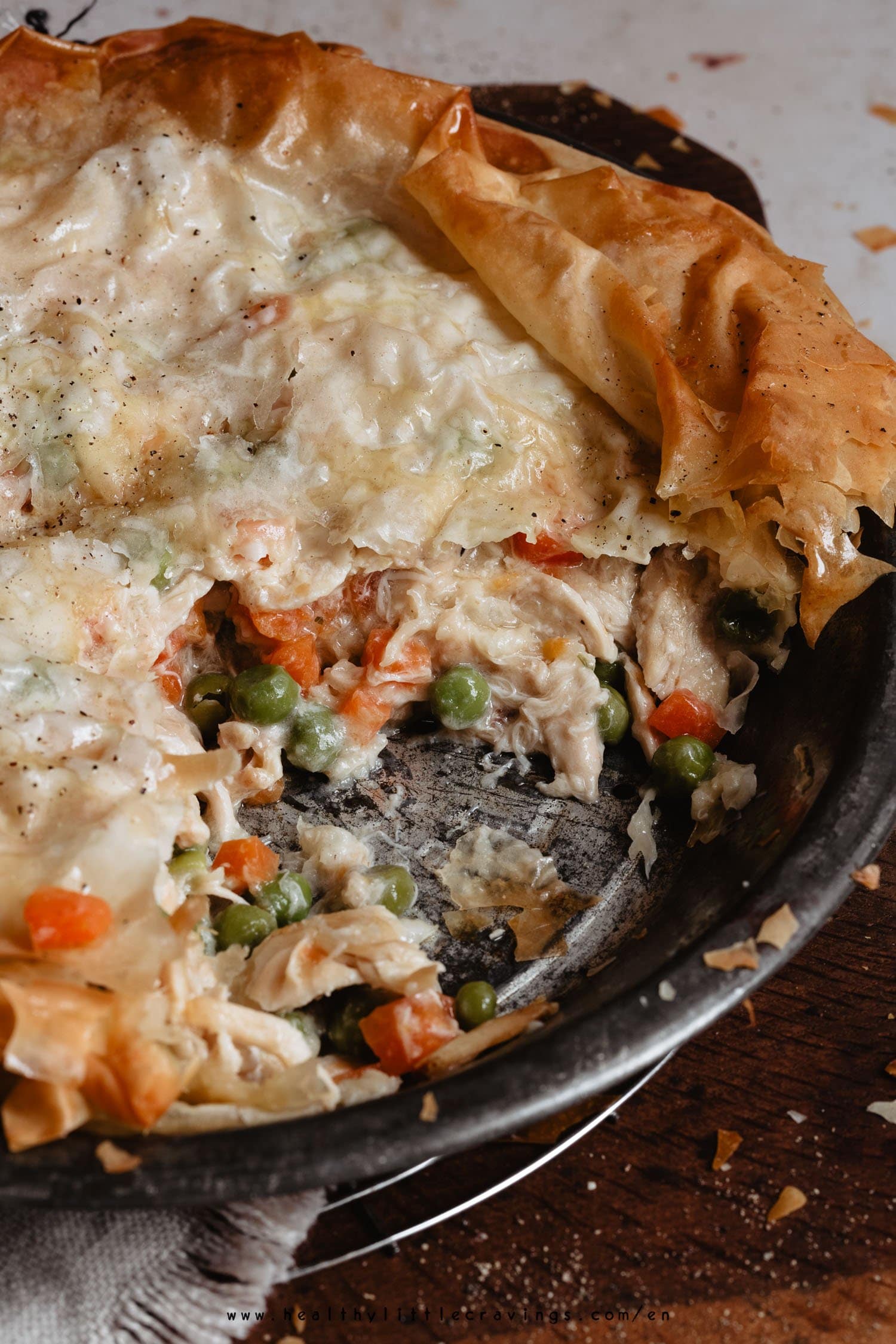 Can I use puff pastry instead?
You can absolutely use puff pastry, for a richer version. Choose between: double crust (simply follow the instructions for this recipe and substitute phyllo dough), top crust only (add your pie filling to the pan then top with a layer of puff pastry, press to seal, bake).
Can I prepare this pie in advance?
Absolutely. In this case though I recommend that you prepare the filling, pour it into a pie pan, then refrigerate. When you're almost ready to eat, brush some phyllo sheets with oil + water emulsion, then place the sheets on top of the pie pan, seal the edges and bake. It will end up being a "top crust only" type of pie.
How to store chicken pot pie
Simply put it into an airtight container and store it into the fridge for up to 2 days. When it's time to eat it, reheat it in the oven at 150°C (300°F)/microwave, until it's warm again. I would recommend eating it sooner though. Sooner is better.
You can also freeze it, then thaw and warm up. But, once again, better prepared right before eating.
---
Do you have other questions?
It's not easy to answer all the questions you may have, so PLEASE leave a comment below and I'm glad to reply! Thank you.
---
If you make this recipe, please be sure to give it a rating and leave a comment! It would make me so happy! 🙂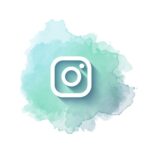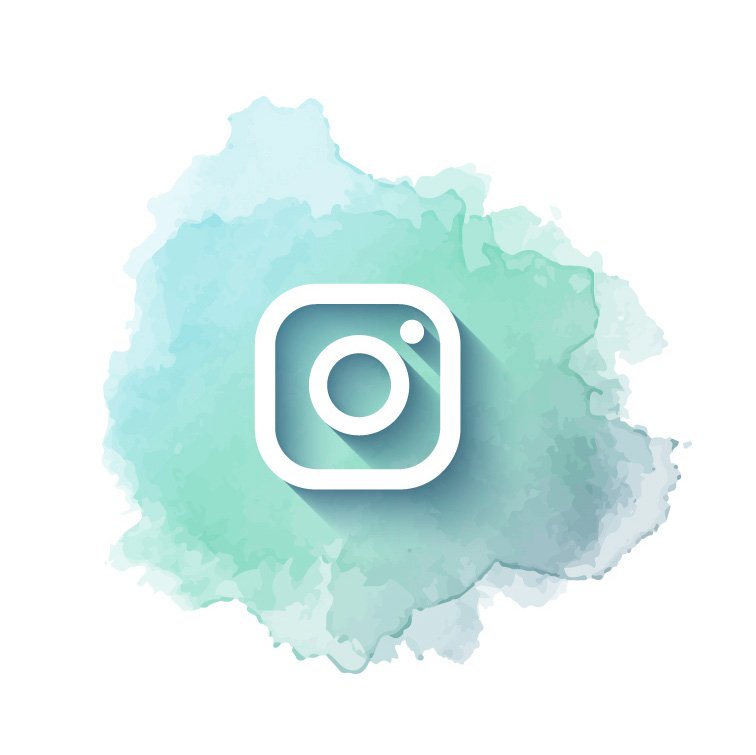 Remember: if you try one of my recipes, tag me on Instagram or DM me the photos!
---
Don't forget to pin and share this easy and delicious recipe!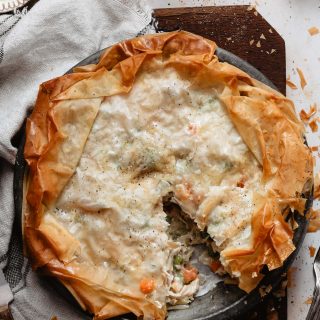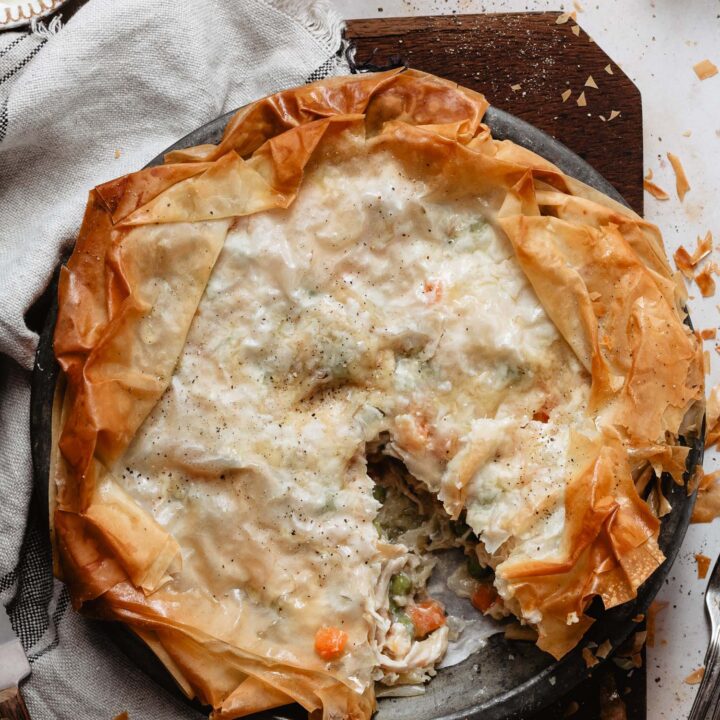 Best Healthy Chicken Pot Pie In Phyllo Dough
A delicious and comforting recipe made healthy: chicken pot pie with crunchy phyllo sheets and a creamy filling!
Print
Pin
Servings:
2
people (or more)
Ingredients
3

Phyllo sheets

Water + oil emulsion

14

ounces

Chicken

- (read the post to know what I've used) - 400 g

1

tablespoon (and a bit more for cooking)

Extra virgin olive oil

1

tablespoon

Cornstarch

9

ounces

Homemade chicken stock

-

(or store bought) - 250 g

3.5

ounces

Milk

-

100 g

3.5

ounces

Chopped carrot

-

100 g

3.5

ounces

Frozen peas

-

100 g

Salt and black pepper
Instructions
Prepare the bottom crust:
Preheat the oven at 180° C (355° F), convection.

If we don't want a soggy bottom crust, we need to blind bake the phyllo dough at least for 10 minutes, until slightly crunchy.

Brush one phyllo sheet with a mixture of extra virgin olive oil and water, then fold it in half.

Place it on a pie tin, then brush it again with the mixture. Repeat with another phyllo sheet (for a total of 2 folded sheets, on the bottom)

Bake it for about 10 minutes or until slightly crunchy and golden. (see photos in the post)

TIP: if the edges get too dark, cover them with tinfoil.
In the meantime, prepare the filling:
Set it aside. In the same pan (low heat), pour 1 tablespoon of oil and 10 gr of cornstarch. Whisk.

To avoid lumps, gradually add chicken stock and immediately stir.

Now add milk, chopped carrots, frozen peas, salt and pepper. Cook for about 8 minutes or until the peas are softer.

Add cooked chicken and turn off the heat. Cover.
Assemble the pie:
Take the pie pan out of the oven, add the filling.

Take another phyllo sheet and brush it with the mixture of extra virgin olive oil and water, then fold it in half and place it on top of the filled pie pan. Cut slits on top, like you'd do with an apple pie.

Brush with extra olive oil and bake for about 20 minutes or until golden brown.
---
Chicken lover? I beg you, try these chicken potstickers 🙏
---
© Healthy Little Cravings – Roberta Dall'Alba.
I own all content and photos' copyright.
Before using my photos and recipes, please email me.
If you would like to republish a recipe, please link back to this post and re-write the instructions in your own words.