Want to surprise your partner or kids? Or your guests at brunch?
Then learn how to make FLUFFY pancakes. When I say fluffy, I mean SUUUPER FLUFFY. You could sleep on them! lol
Curious? Keep reading all the secrets (it's actually science).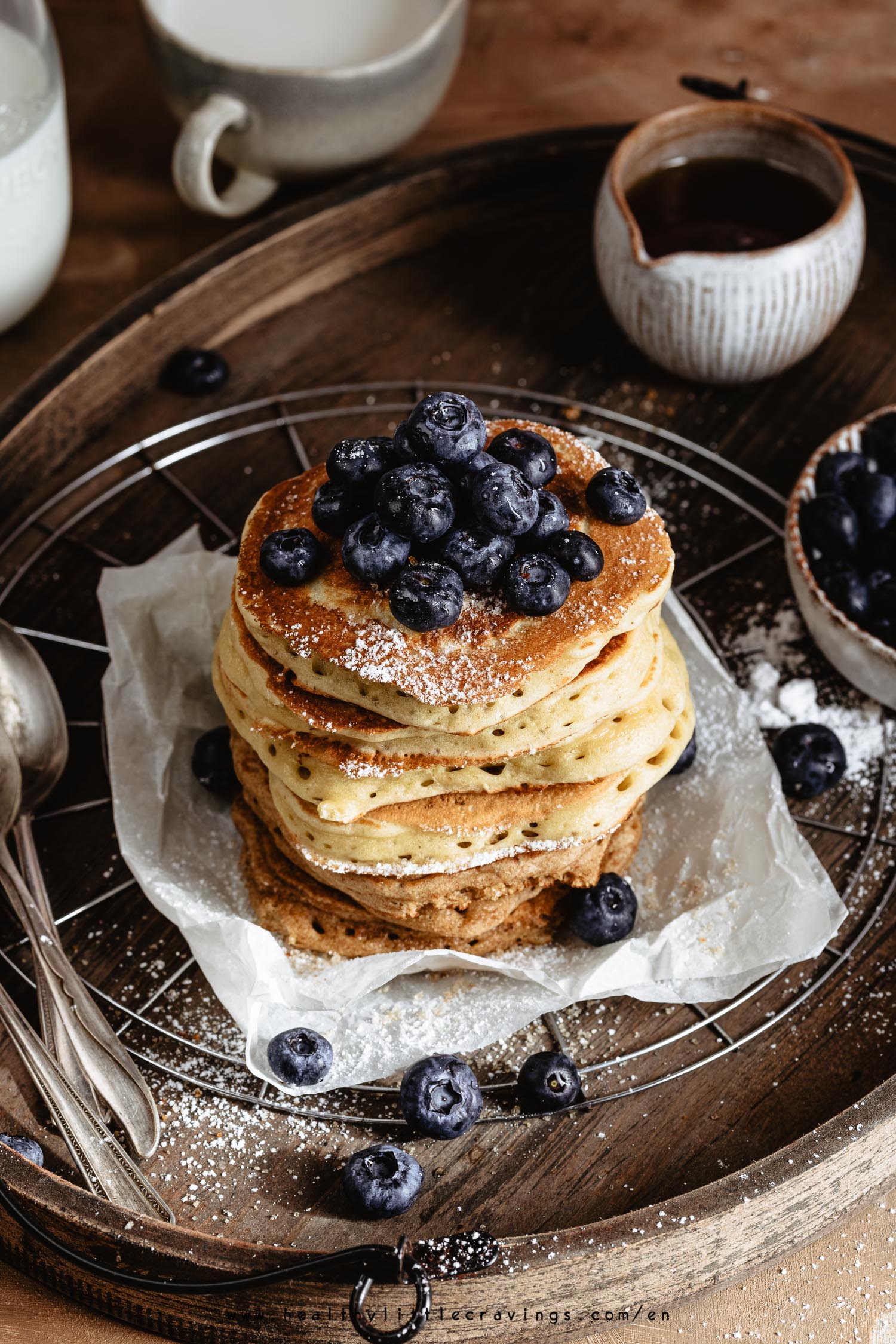 The science of pancakes: all the "secrets" to the perfect recipe
I'm a bit of a "science nerd" in the kitchen. I've always loved understanding what's the science behind each food, especially baked goods.
It's all about chemical reactions (so cool). It goes without saying that if you learn how those reactions work, you will be able to develop a better recipe.
This time I decided to understand what makes a pancake fluffy and what doesn't.
For the past few weeks I've been reading a certain amount of articles on the web, then compared what they all said (I'm going to list the sources at the end of the post).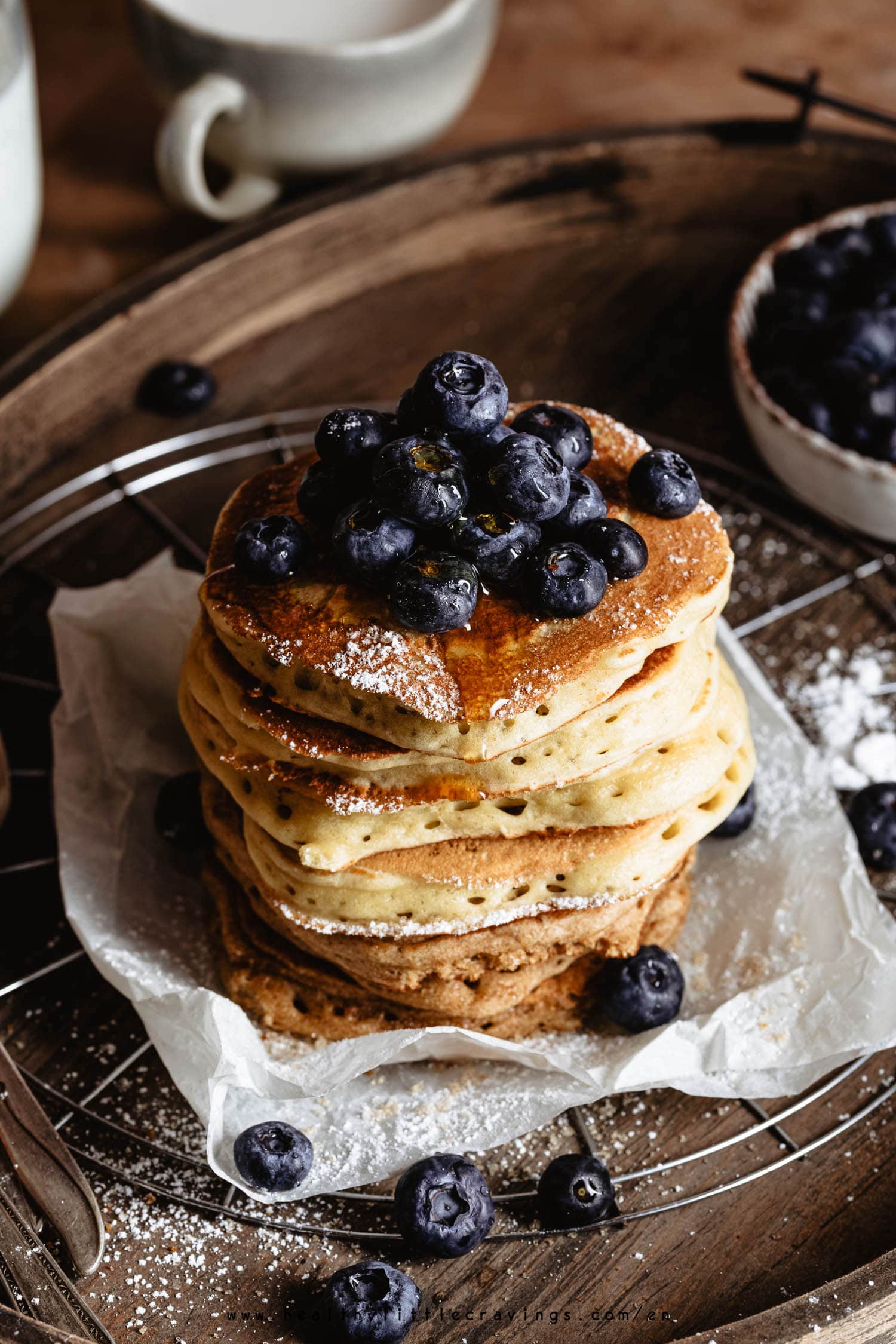 I'll try to explain the science of pancakes following a logical path, to make it easier for you to understand.
Here's what I found out (some things were new to me, some weren't).
GLUTEN
Think about your goal: if you want fluffy pancakes that means you need something that "traps" air. That 'something' is a structure, that structure is built by gluten.
Gluten is contained in your flour and it's "activated" (= molecules bond) when you add liquids.
If you stir, gluten proteins start bonding one with each other. They basically form a network (= structure)
That network will hold bubbles in it.
REMEMBER THOUGH: you don't want to over-mix the batter because the more you move gluten proteins, the tighter the network becomes. That would mean tough pancakes.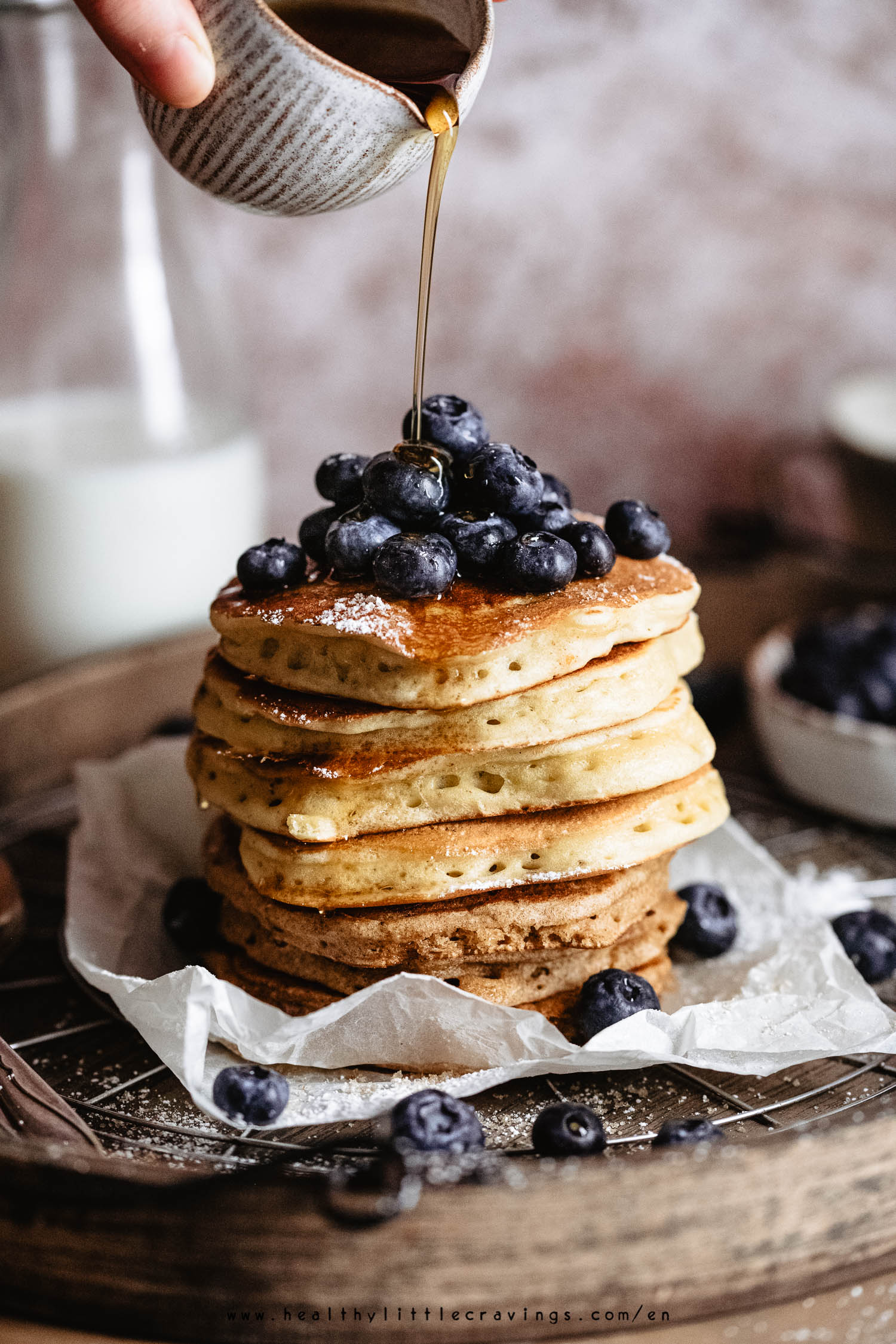 LEAVENING AGENTS
If you know some baking basics you know that leavening agents, such as yeast, baking powder, baking soda but also air and steam (both contribute to the rising), cause the expansion of batter and dough because they release gases.
In this recipe there are 3 agents: air from beaten fluffy eggs* + sugar, baking powder and bicarbonate of soda.
They create bubbles and bubbles will be trapped by the gluten network.
*You can also whisk yolks + sugar, and beat egg whites until stiff.
HEAT
Another thing that contributes to bubbles is heating. Easy-peasy: when the batter is heated, gases will be released.
The pan needs to be hot hot so it can cook our pancakes quickly and bubbles will hold their shape.
When flipping them, flip them gently otherwise air pockets will collapse.
SUGAR AND FAT
Both sugar and fat (oil or butter) prevent from forming too much gluten (sugar actually slows its development). Remember: too much gluten = tighter network = tough pancake.
So, want a sugar or fat free pancake? You may sacrifice a bit of softness.
THICKNESS OF THE BATTER
If you have tried making pancakes at least once, you know that:
Runny batter = batter spreads out = thin pancakes
So we need a thick batter.
A thicker batter is the result of less liquids.
If too thick though, it will make your pancakes "heavy", not fluffy (don't try to add more flour!).
As suggested by TheSpruceEats, a good way to obtain a thicker mixture is to substitute milk with Greek yogurt, which is not runny as the former.
My recipe calls for a combination of the two.
So from now on remember that the keyword is BUBBLES. You want bubbles!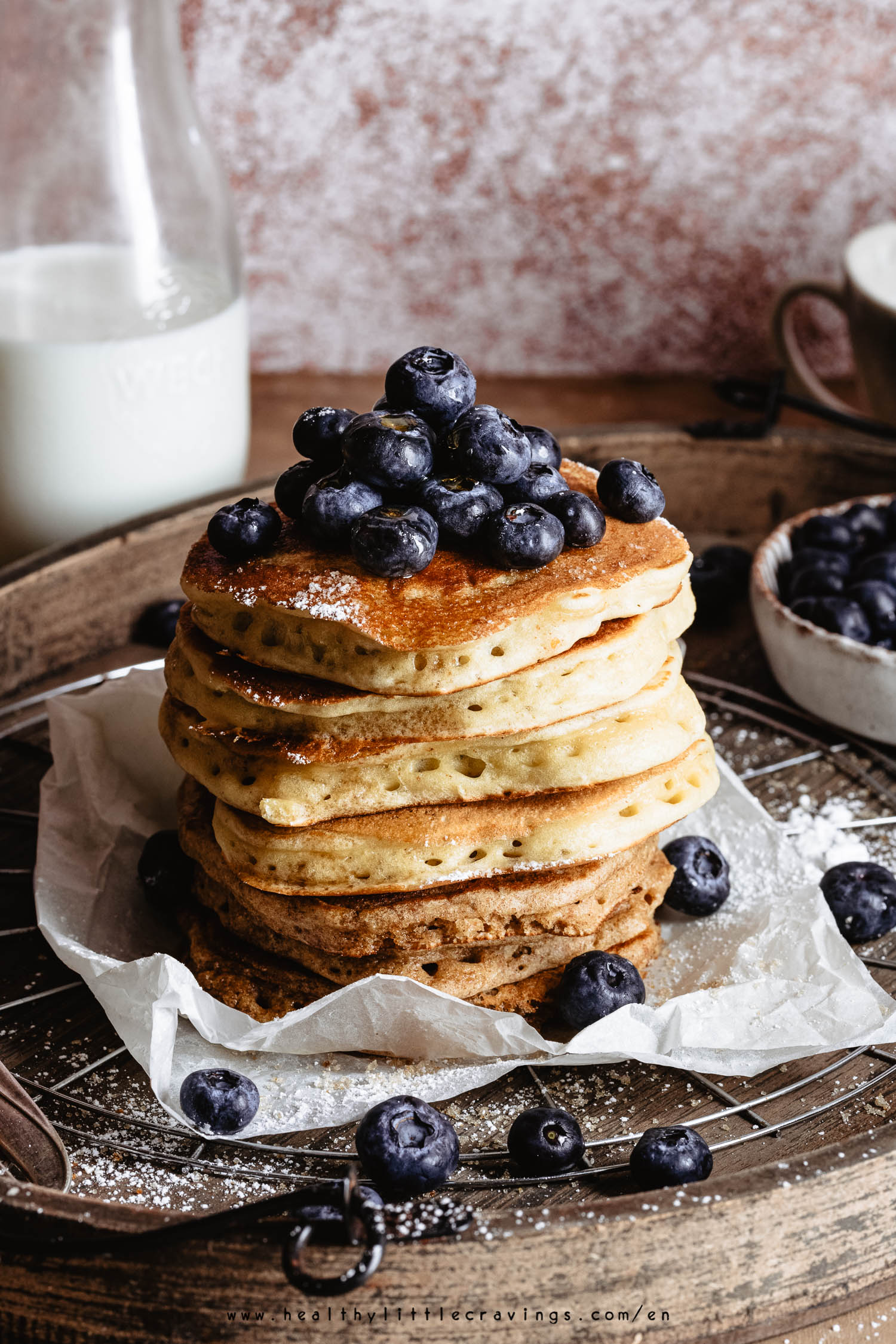 Let's learn how to make FLUFFY pancakes from scratch
Straight to the point.
How do we make the softest pancakes you'll ever eat?
And what do we need?
A SCALE (I cannot stress enough its importance)
Two bowls and whisk (even better, stand mixer)
Spatula
Pan
Flipping spatula
And then, simple ingredients like:
Flour (all purpose or whole wheat)
Egg
Sugar
Melted butter (or oil, but butter has unique flavor)
Yogurt
Milk
Baking powder
Baking soda
Salt
STEPS:
First beat your egg and sugar (I've used light brown) until nice and foamy. See this photo?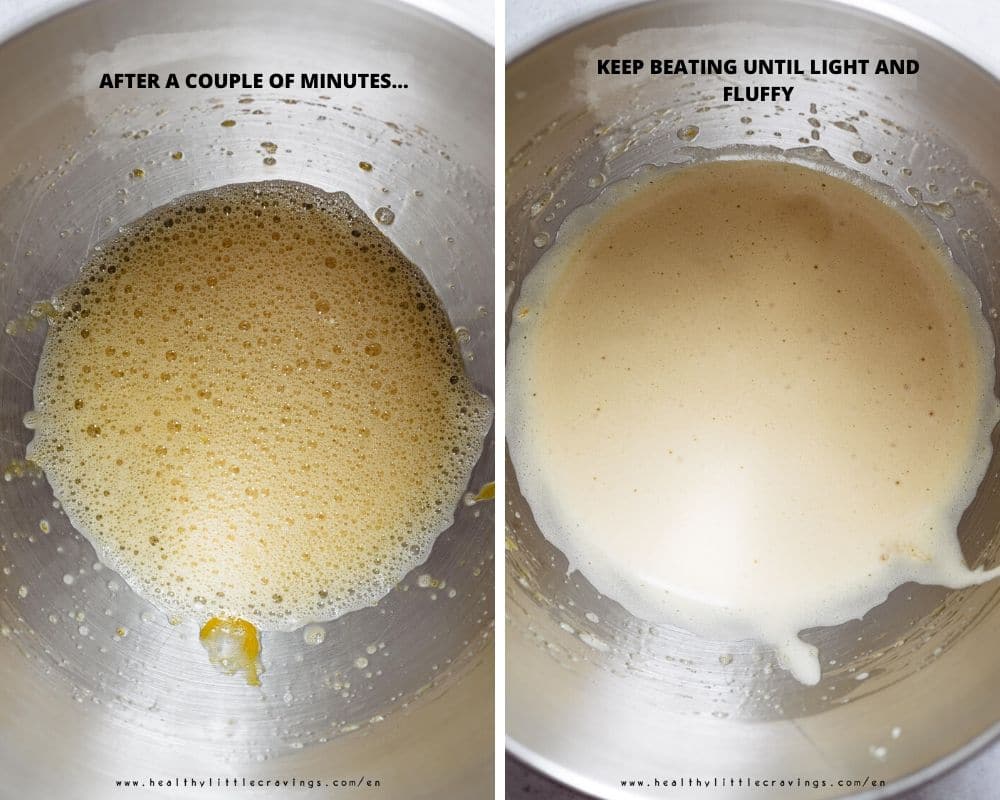 Add butter, vanilla, yogurt, milk and give a stir (gently)
In another bowl, combine dry ingredients, then add wet ingredients.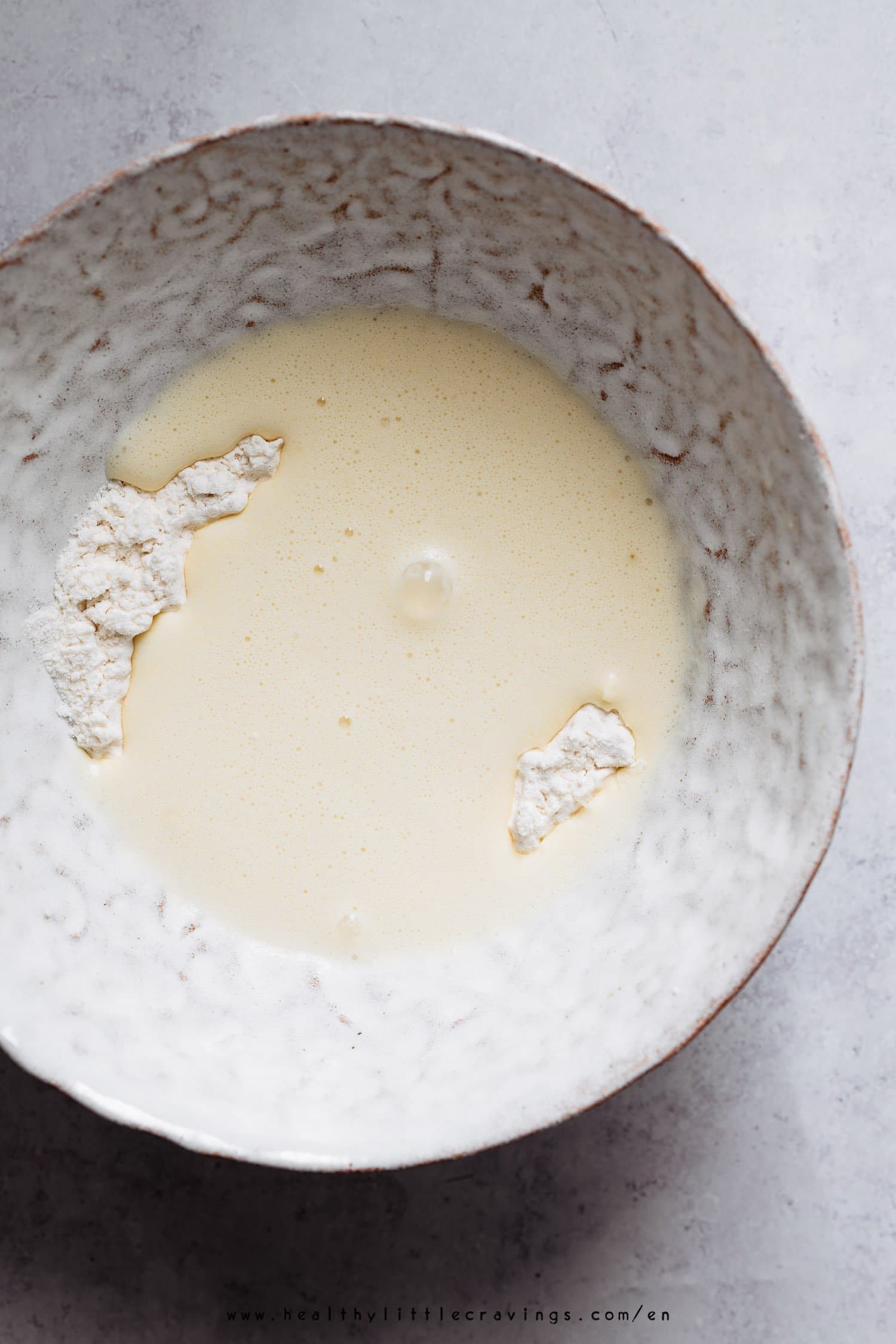 Now GENTLY stir until just combined: a few lumps are ok!
NOTE: watch your batter. Is it TOO thick? Add a tiny drop of milk! See this video? I then added a touch of milk, to get the perfect consistency.
If using all purpose flour, let batter chill a few minutes (while pan is heating).
If using whole wheat, don't let it chill (whole wheat has more proteins = already more gluten).
Heat the pan, grease it and scoop some batter on it.
While cooking, you should see bubbles on the surface. When you see them and the bottom is cooked, GENTLY flip them.
Same old story: in life and while cookin' pancakes, be gentle😉
Why are my pancakes not fluffy?
First of all, if you've been reading every single paragraph in this post, congrats. At this point you should know the answer and you can go read the recipe! 🙂
If for some reasons you're here just to know why your pancakes are not fluffy and you are only reading this paragraph, I highly suggest you to read all the rest and try to understand what's not working.
In short, a few reasons why your pancakes are not "pillows":
Over mixed batter
Thin batter (too much liquids)
No sugar or fats
Batter chilled too much
Pan wasn't hot enough
Flipped with too much energy (be gentle!)
Watch how fluffy these are!
Well, friend, you just learned how to make FLUFFY pancakes, aren't you so happy?! Go try!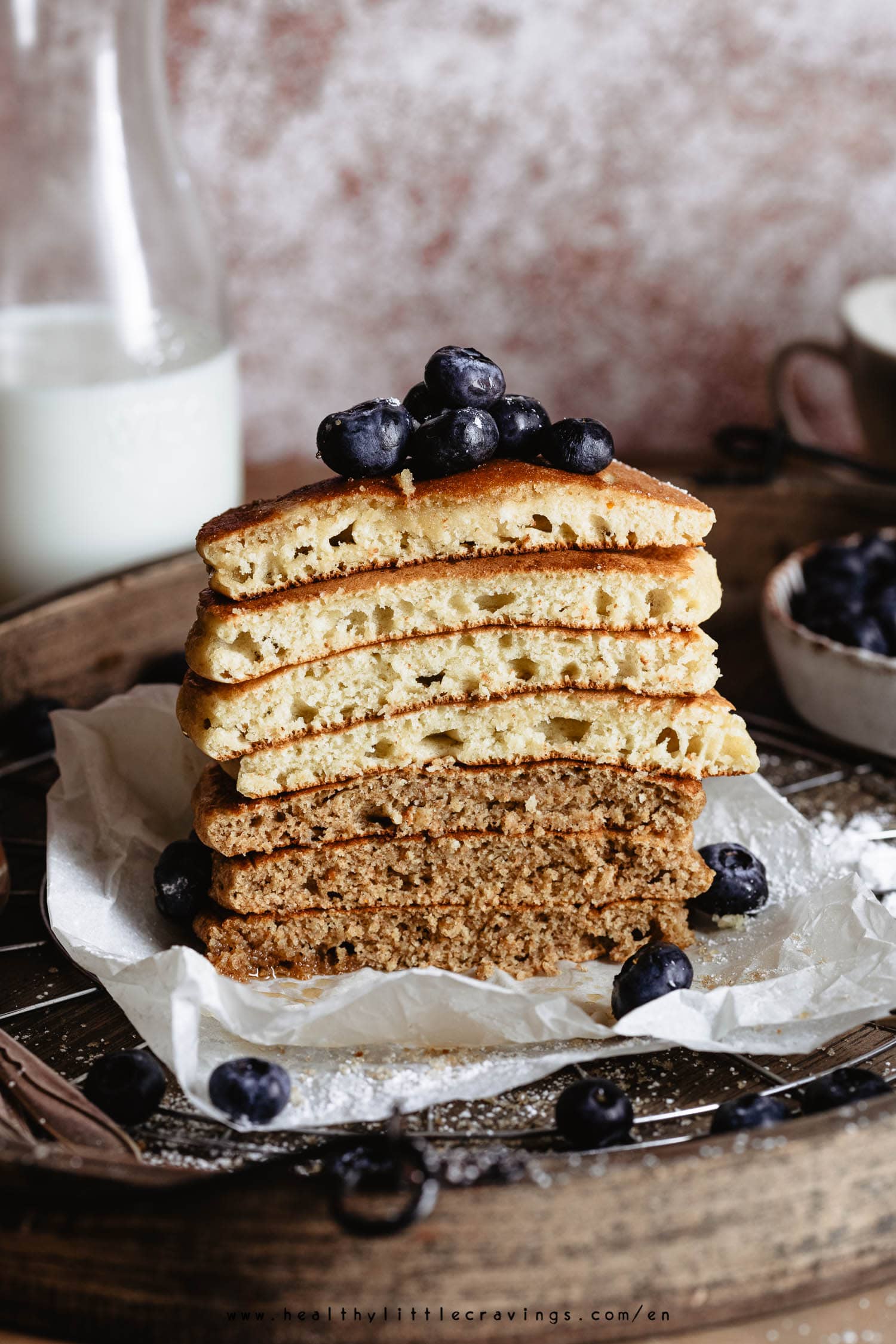 ---
If you make this recipe, please be sure to give it a rating and leave a comment! It would make me so happy! 🙂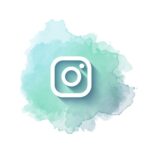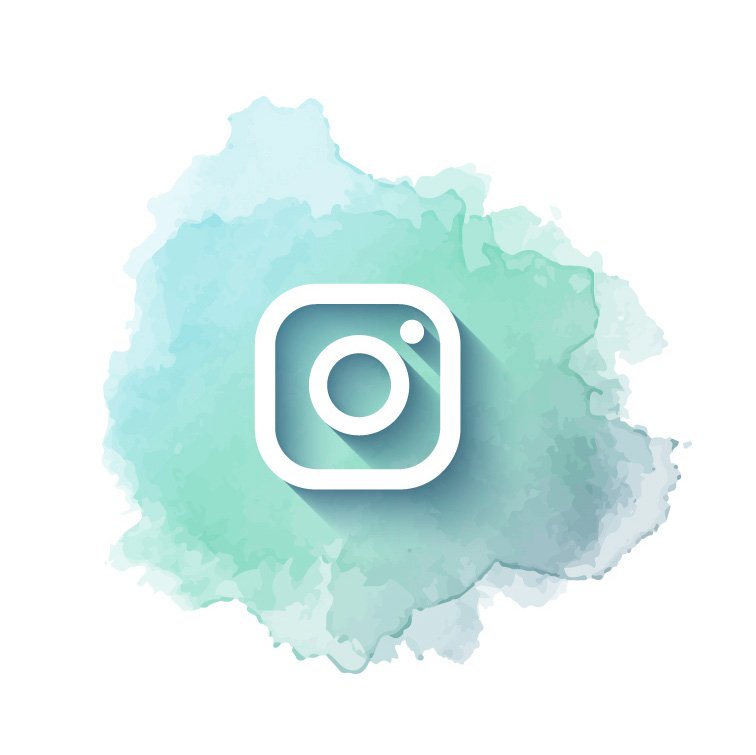 Remember: if you try one of my recipes, tag me on Instagram or DM me the photos!
---
Don't forget to pin and share this easy and delicious recipe!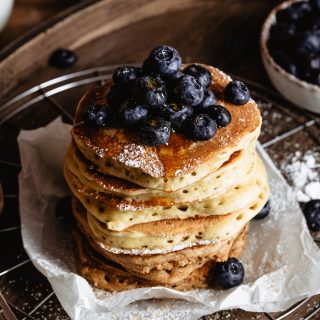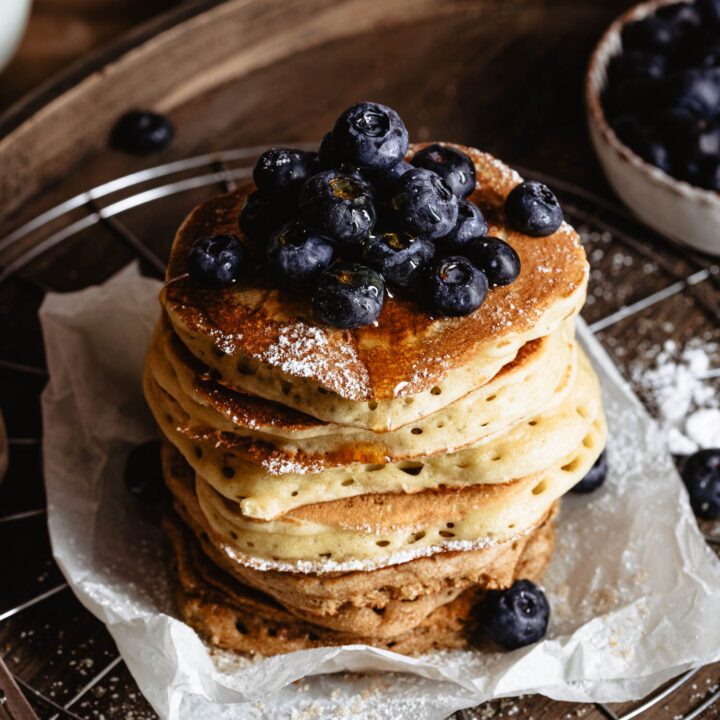 (HOW TO MAKE) FLUFFY PANCAKES RECIPE
All the tips and tricks + recipe to make the FLUFFIEST pancakes EVER. No I'm not kidding you.
For better result you NEED a scale.
Print
Pin
Ingredients
Fluffy pancakes with all purpose flour:
1

Egg (at room temperature )

20

gr

Light brown sugar

20

gr

Melted unsalted butter (at room temperature )

Approximately 1

teaspoon

Vanilla extract

80

gr

Greek yogurt (at room temperature )

90

gr

Milk (at room temperature )

140

gr

All purpose flour or 00 flour

-

(I usually use 00 flour)

1

teaspoon

Baking soda

1

teaspoon

Baking powder

a pinch

Salt
Fluffy pancakes with whole wheat flour:
1

Egg (at room temperature )

20

gr

Light brown sugar

20

gr

Melted butter (at room temperature )

Approximately 1

teaspoon

Vanilla extract

80

gr

Greek yogurt (at room temperature )

90

gr

Milk (at room temperature )

120 gr

Whole wheat flour

-

(you may have to adjust the amount)

1

teaspoon

Baking soda

1

teaspoon

Baking powder

a pinch

Salt
Instructions
Follow these steps for both recipes:
Using a whisk or even better a stand mixer, beat 1 egg and 20 gr of light brown sugar until light and fluffy. Let that air to incorporate! The more the better.

IF you're doing this by hand, you'll need a bit of patience.

Add 20 gr of melted butter, vanilla extract, greek yogurt, milk and whisk.

In another bowl, combine flour, baking soda , baking powder and salt, and stir.

Add wet ingredients to dry and GENTLY fold using a spatula (watch the video in the post above!)

Stop stirring as soon as it's incorporated but with a few lumps. DO NOT OVER MIX.
If making whole wheat fluffy pancakes:
Heat a pan while making the batter, do not let the batter rest.

Grease it with some oil (spread it evenly all over the pan).

Pour the batter using an ice cream scooper or about ¼ of a cup. If necessary, gently spread with a teaspoon.

Cook one side until bubbles come to the top, then gently flip and cook other side.

Always use medium heat and lower if needed
If making all purpose fluffy pancakes:
While the pan is heating, make your batter rest.
Nutrition
Nutrition Facts
(HOW TO MAKE) FLUFFY PANCAKES RECIPE
Amount Per Serving (1 person)
Calories 442
Calories from Fat 117
% Daily Value*
Fat 13g20%
Carbohydrates 68g23%
Protein 17g34%
* Nutritional information is only an estimate. The accuracy of the nutritional information for any recipe on this site is not guaranteed.
---
If you liked these pancakes you will absolutely need to try these gluten free pancakes!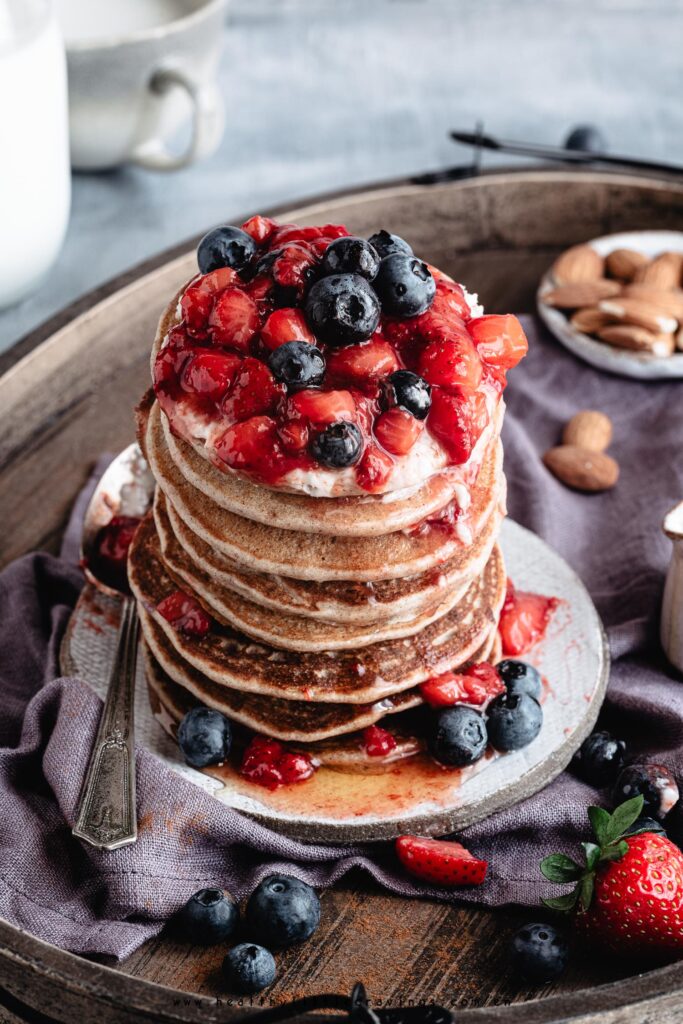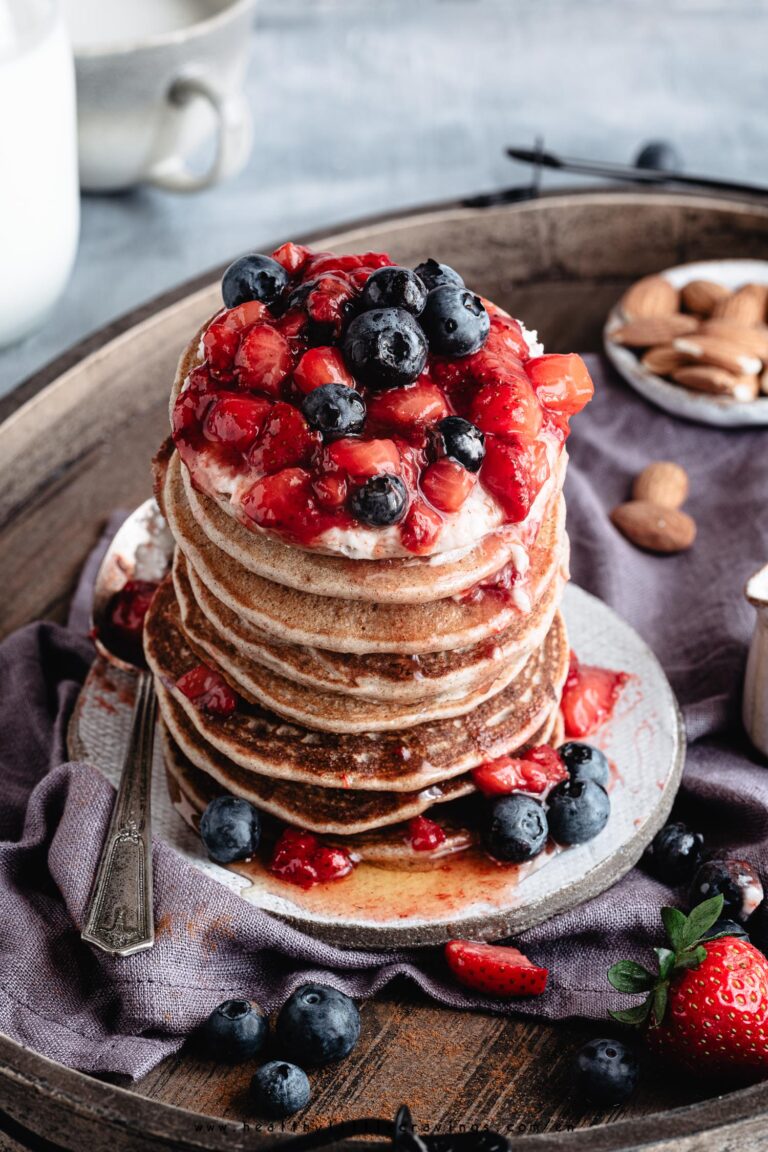 ---
© Healthy Little Cravings – Roberta Dall'Alba.
I own all content and photos' copyright.
Before using my photos and recipes, please email me.
If you would like to republish a recipe, please link back to this post and re-write the instructions in your own words.
---
SOURCES: