Has it ever happened that you found a ginormous amount of zucchini in the fridge? OOPS. Well, it happened to me a couple of weeks ago: I accidentally bought an extra bag of zucchini, when I already had some at home. So, is there anything better than some nutritious and healthy zucchini chocolate chip muffin to eat as a snack or have at breakfast? Try them, I think they will dumbfound you!
Short version of the recipe here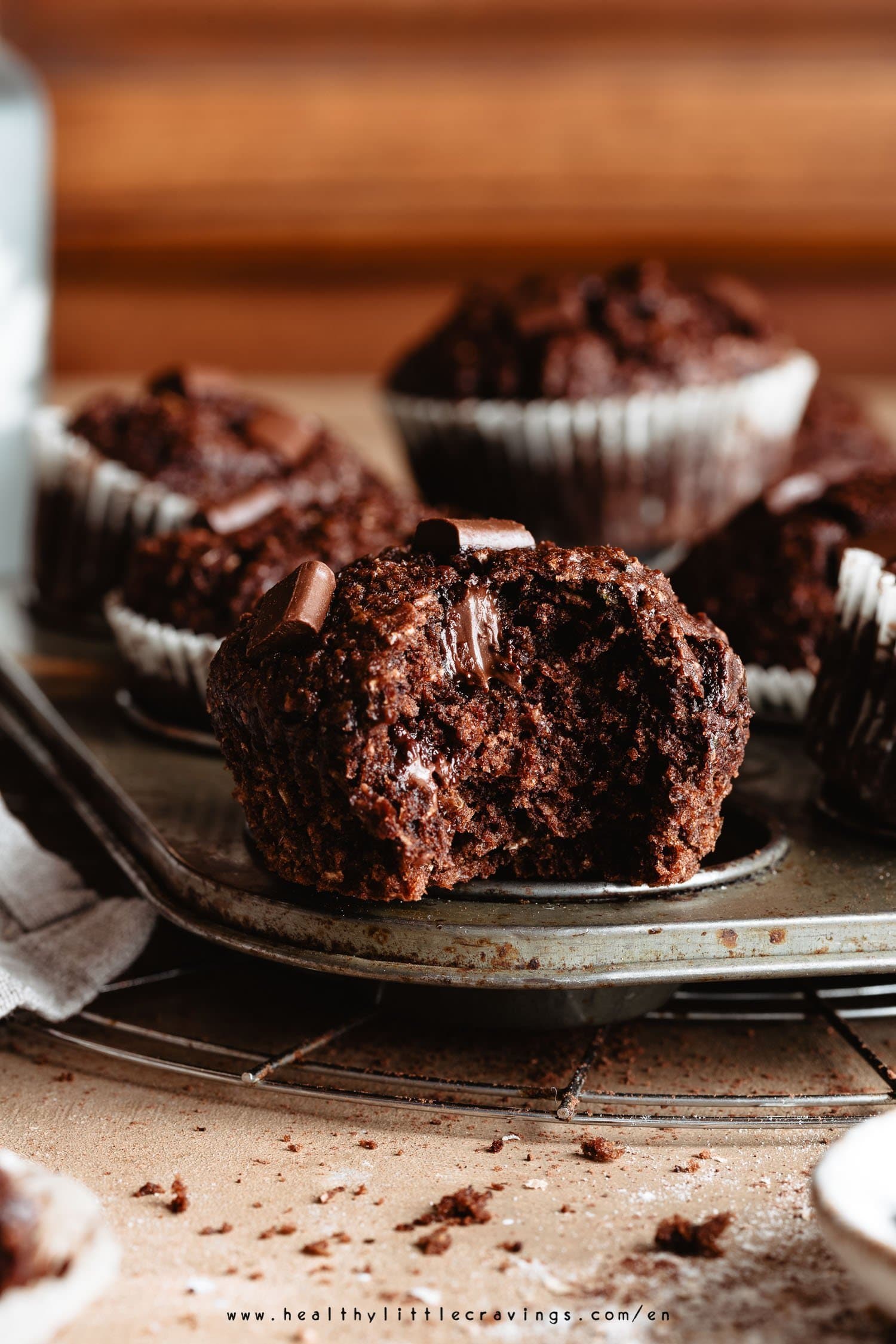 Drooling
healthy

zucchini chocolate chip muffin

I know some people are skeptical when it comes to putting veggies into a dessert.
But if you're here that's because you probably intentionally looked for a recipe like this and already know that veggies are perfect with desserts!

To be precise: zucchini and carrots are ideal when it comes to baking.
They give amazing moist texture.
Carrots also give a sweeter flavor (just like pumpkin, which also change thickness).

Zucchini instead have a more delicate flavor and, if shredded, they completely disappear into the batter.
In fact, zucchini are 94% made of water. So their structure, with the heat, will break down and disappear.

Anyways, when tasting these for the first time, people could never tell they're so healthy: they're made with brown sugar, whole wheat flour and...a veggie! (sorry, just to repeat in case you forgot!).

Remember though, that healthy and nutritious food can also be scrumptious!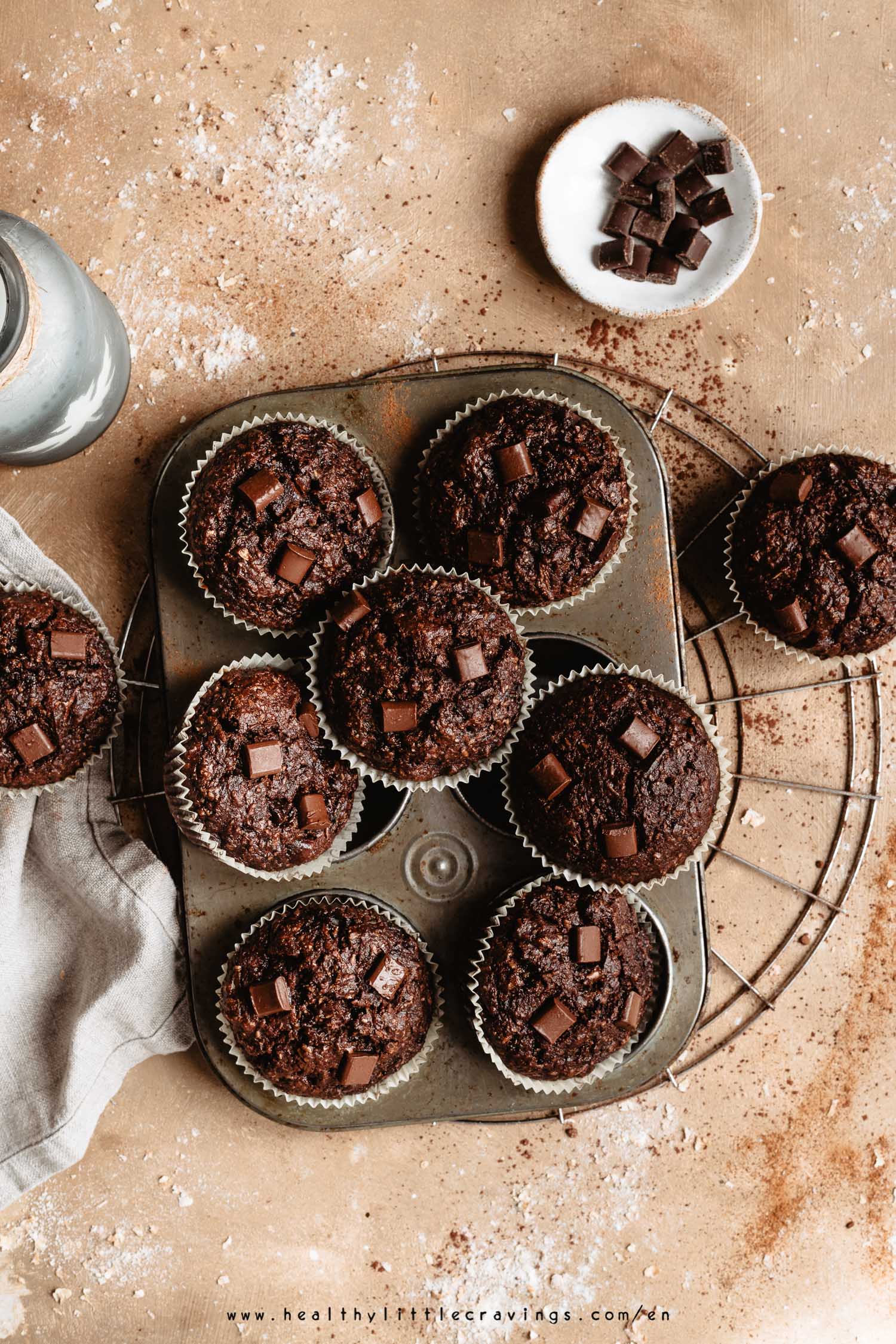 What to do with zucchini (a few delicious ways)...
Just because we're on the subject, I'd love to give you some other ideas in case you have extra zucchini in your fridge (these are all easy zucchini recipes!) and you don't want to make 10 batches of my healthy chocolate zucchini muffins.
With this amazing and nutritious vegetable you can make:
Zucchini thick creamy soup (mom made it last week);
Frittata with zucchini chunks (or shredded);
Zucchini waffles (I've tried in the past, I should definitely post the recipe!);
Sautéed zucchini with poached egg;
Roasted zucchini (maybe with potatoes as well!);
Marinated zucchini salad (simply season raw zucchini with lemon and salt, let marinate then eat);
Zucchini chocolate bread (duh)
...
You can also use this veggie in quiche, galettes, pizza, tarts... let imagination run wild!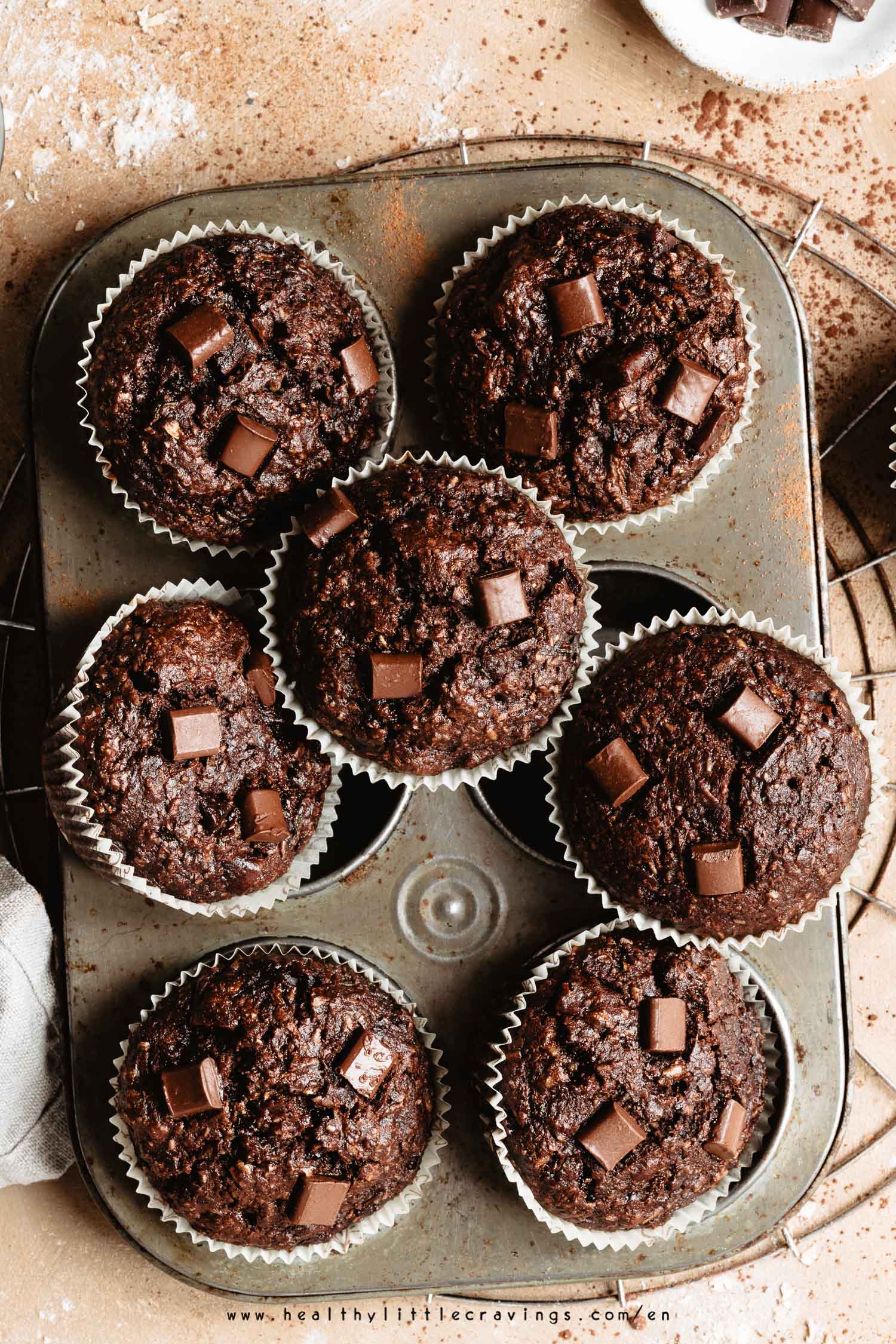 Zucchini chocolate muffins FAQs
On my blog you will always find easy recipes, and this is also very simple. But you may have some questions so here are the answers. Remember to write a comment below if you want to ask any other thing!
Do you peel zucchini before grating?
In my opinion (and experience), in this particular recipe for zucchini chocolate chip muffins, there's no need to peel them before grating. If the skin annoys you, though, peel it.
Of course if the zucchini have been waxed to extend shelf-life, peel them.
How do you shred zucchini for zucchini bread/muffins?
You have a couple of options:
- use a hand grater;
- use a food processor with the grating attachment.

Simply clean your zucchini, cut both ends off of them and shred!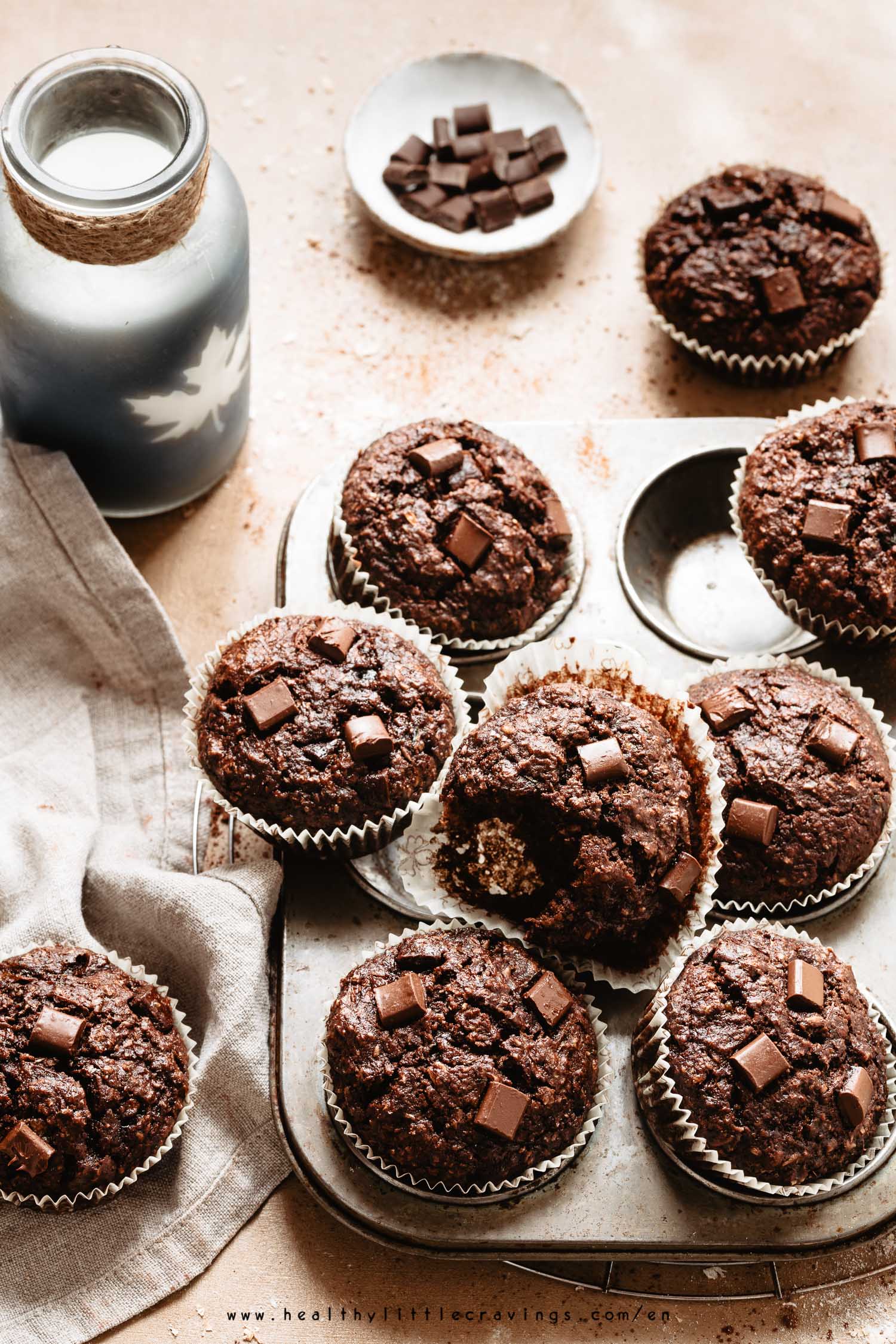 How do you know when zucchini muffins/bread is done?
Easy, just like any other cake: test doneness with a toothpick, if it comes out clean (no batter) you're good to go! Test a couple of minutes before the end of timer (18 minutes in this case).
How do you store zucchini muffins?
Desserts, here, never last more than ⅔ days lol
Anyway, I always store them into an airtight container into my microwave/oven (not in use of course) at room temperature.
Some people also freeze zucchini muffins/bread, I've never tried but give it a go.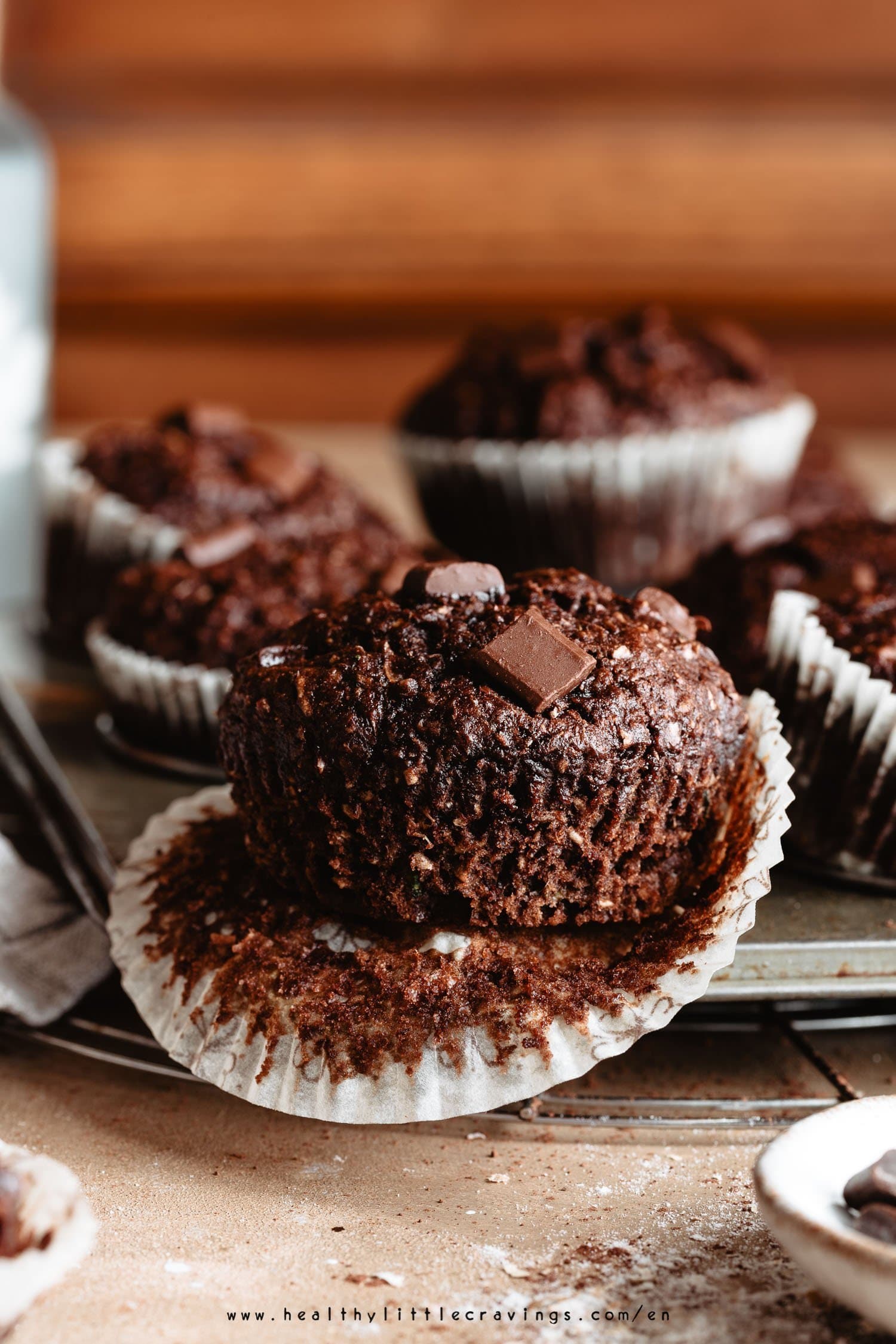 ---
If you make this recipe, please be sure to give it a rating and leave a comment! It would make me so happy! 🙂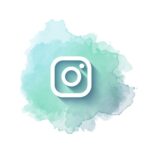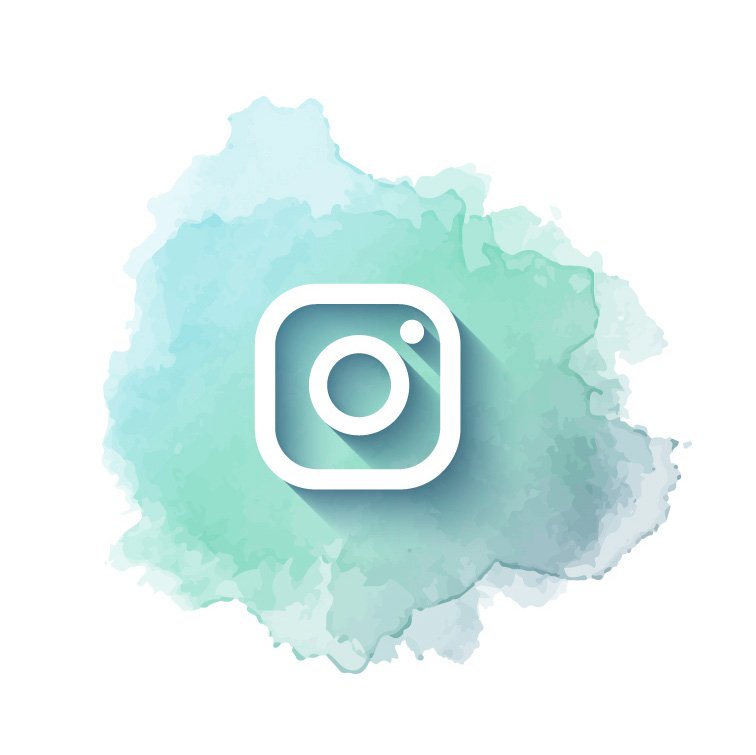 Remember: if you try one of my recipes, tag me on Instagram or DM me the photos!
---
Don't forget to pin and share this easy and delicious recipe!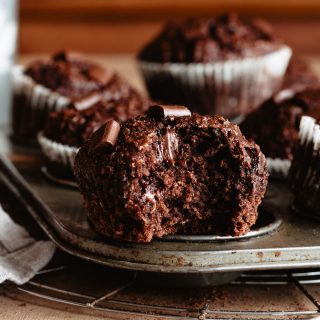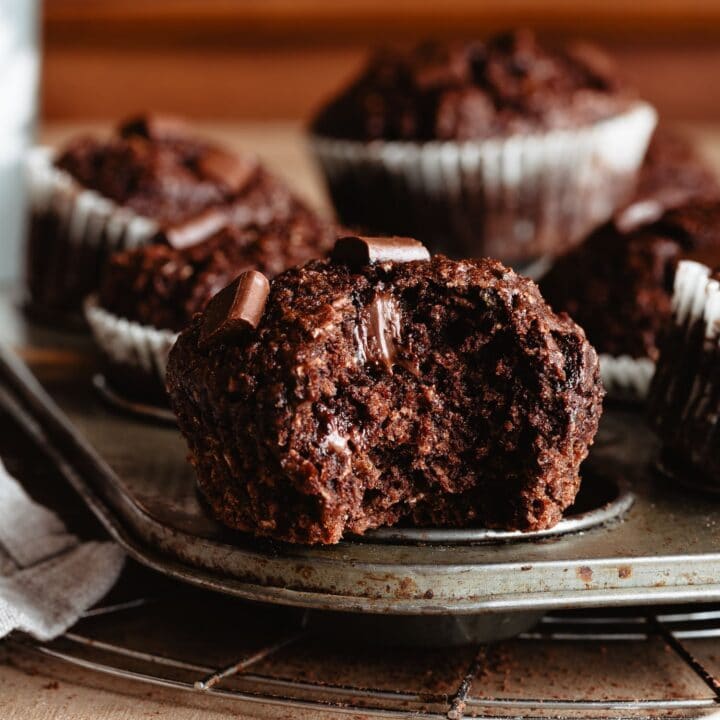 Zucchini Chocolate Chip Muffin
Delicious, moist and nutritious, these healthy zucchini muffins with cocoa powder and chocolate chips turn out to be the perfect snack or breakfast! You'd never guess these are made with zucchini (and organic whole wheat flour!)
Recipe adapted from My Baking Addiction
Print
Pin
Ingredients
1 and ¼ cup

(135 gr)

Whole wheat flour

¼ cup

(20 gr)

Cocoa powder

½ tsp

Baking soda

½ tsp

Salt

½ tsp

Ground cinnamon

½ cup and 2 tablespoons

(85 gr)

Brown sugar

½ cup

(75 gr)

Vegetable oil

1

Egg

1

teaspoon

Vanilla extract

1 cup

(140 gr)

Grated zucchini

½ cup

(40 gr)

Chocolate chips or chunks
Instructions
Preheat oven to 175°C/350°F

In a bowl, whisk flour, cocoa powder, baking soda, salt and cinnamon. Set aside.

Using a hand or stand mixer, mix egg, oil, sugar and vanilla until combined.

Gradually add dry ingredients into the wet mixture and mix until combined (do not overmix).

Fold grated zucchini and chocolate chips.

Add the batter to a muffin tin (lined or greased), fill each ¾.

Bake for about 20 minutes or until a toothpick comes out clean.

Optional: drizzle some chocolate on top.
---
Liked this recipe?
Try my extra soft CARROT MUFFINS! Scrumptious!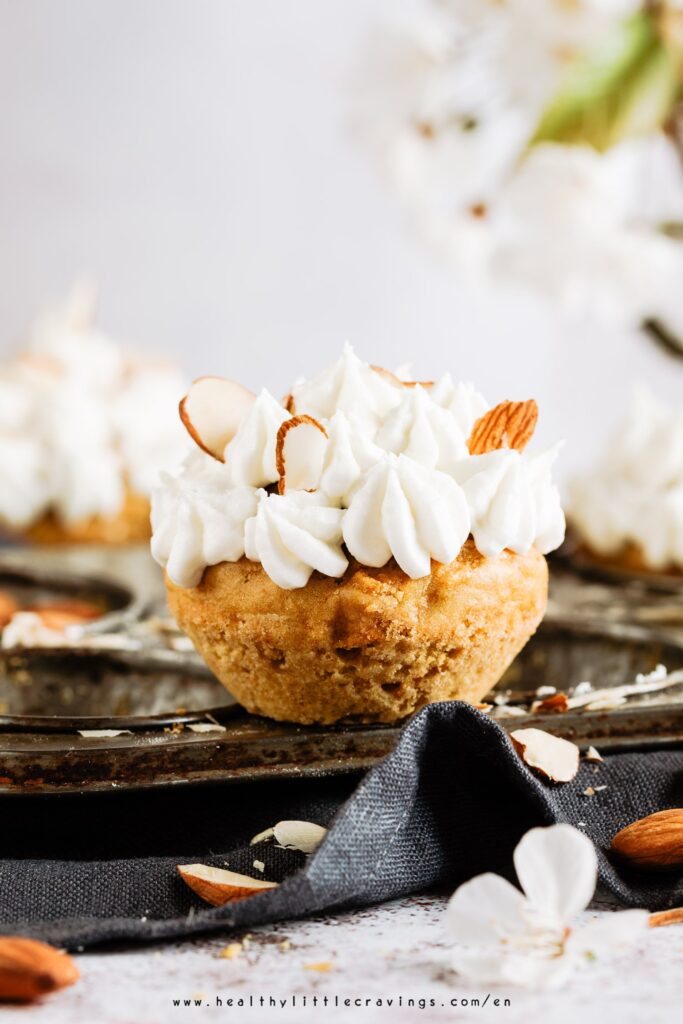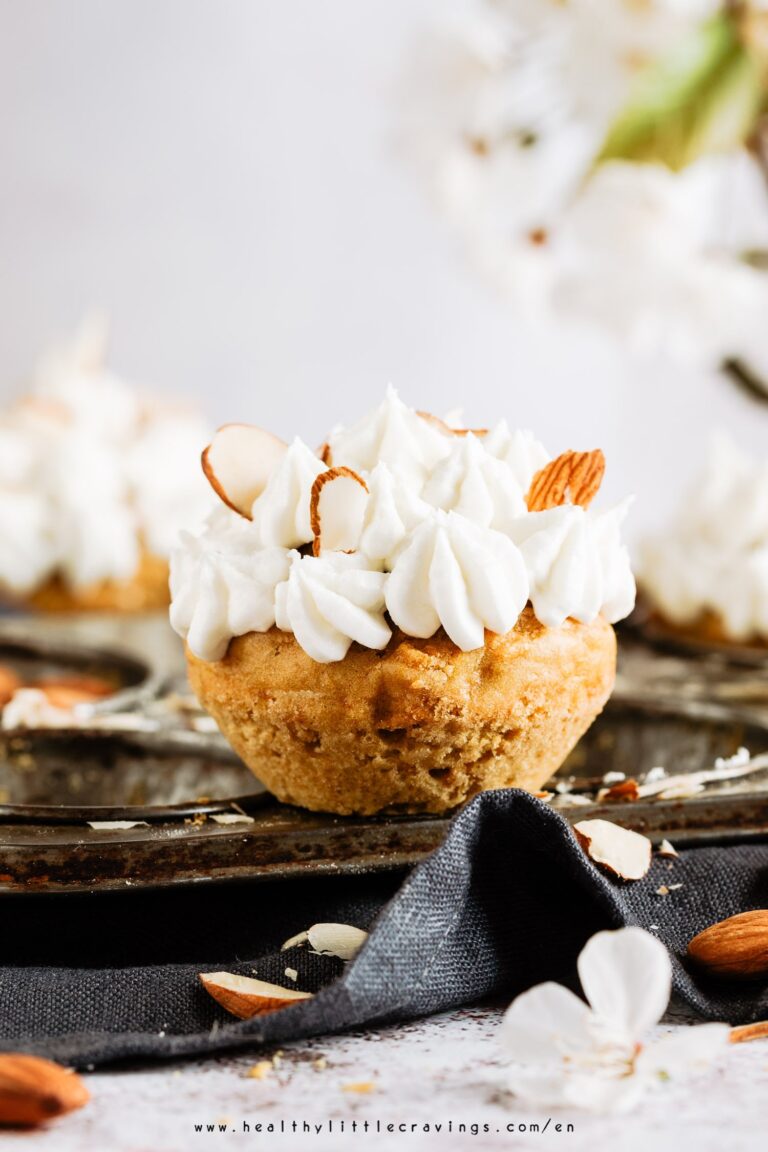 ---
© Healthy Little Cravings - Roberta Dall'Alba.
I own all content and photos' copyright.
Before using my photos and recipes, please email me.
If you would like to republish a recipe, please link back to this post and re-write the instructions in your own words.