This post is also available in:

Italiano
A delicious and healthy variation of the classic Strudel: prepare apples and berries!
---
Still not sure if I love traditional recipes or mainstream ones. Yup, I'm a bit bipolar in the kitchen. But to be safe, I'll keep experimenting and making both classic foodstuffs and more trendy ones. Take this berry strudel for example. Not sure if my American friends here know what strudel is: it's a typical dessert of Austrian cuisine, also common in many other European cuisines (here in Italy, for example, in Südtirol area).
The dough – can be shortcrust, puff pastry or thin strudel pastry – is usually filled with apple, cinnamon, raisins, pine nuts and sugar. Fun fact: they say that strudel dough should be "so thin that you can read a newspaper (or love letter) through it". Anyway, you guessed right, it's just delicious.
Ready to give apple strudel a twist?!
I'd call this 'strudel with a twist'or 'last minute strudel for Christmas'. Not that berries are Christmassy, I mean, they're obviously not in season now. But just look at the color! Isn't it perfect for festivities?! It sure is!!!
I had this clear image in mind when I started developing the recipe: I wanted berries to pop and evoke the Christmas spirit. I wanted something light that everyone could enjoy at the end of a heavier Xmas meal. Plus, berries have the perfect sour flavor to "degrease" the palate.
I've tested this recipe multiple times to get the best result. In the first two attempts I used phyllo pastry and only berries without apples, because I wanted to be crispy and light. If you use phyllo instead of puff pastry, just layer 5 to 10 sheets and brush with coconut oil  between one layer and the other.
The main issue I had with it was that – since I rolled it – the layers on the inside remained undercooked. I think, though, that if you'll give the shape on the photo, this won't happen.
The third time I tested the recipe, I used a combination of apples and berries, plus breadcrumbs to absorb the excess liquid. It came out perfect and my mom – that usually doesn't appreciate sour food – loved it!
So, in case you were looking for a last minute easy peasy dessert, here you are! A delicious & light berry strudel with apples and cinnamon that everyone will love!
---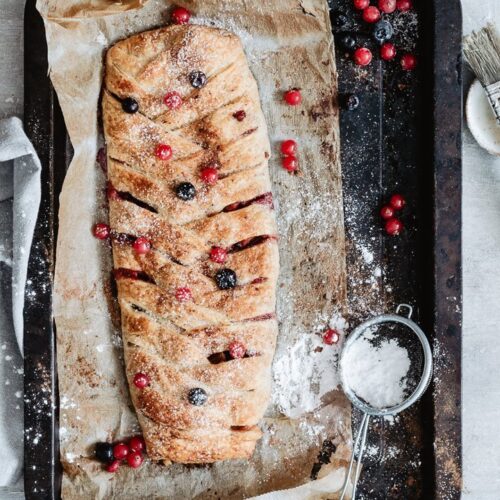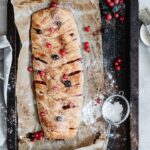 BERRY STRUDEL
A delicious and healthy variation of the classic Strudel: prepare apples and berries!
Ingredients
85 gr

Frozen berries

Approximately 250 gr

Apples

(1 apple and a half)

Cinnamon

to taste

Lemon (zest + juice)

15 grams

Raw brown sugar

one tablespoon and a half

Breadcrumbs

230

gr

Puff pastry or phyllo pastry
Instructions
Preheat your oven at 200°C.

Meanwhile, wash you berries and put them into a bowl with 10 gr of sugar and a pinch of lemon zest (about half a teaspoon - or more!). Set them aside.

Clean and peel the apples, then chop them and put them into a big bowl with cinnamon (to taste), a drizzle of lemon juice and 5 gr of sugar.

Roll out the pastry dough (for the phyllo version see post) onto parchment paper and put some breadcrumbs in the middle of the pastry lengthwise leaving a small space on top and bottom, then arrange the apple filling on top of the breadcrumbs.

Strain the liquid from the berries and place them over the apples.

Cut the pastry as shown here and fold into a braid.


Brush with some butter or egg yolk, sprinkle some sugar and cinnamon on top and bake for about 45 minutes or until golden brown.