Who knew a mushrooms leek quiche would be so delicious? Perfect dish fo Christmas!
---
Want to know what my days look like these days? Ginger, lemon, paracetamol (a couple of pills only), ginger, lemon, hot tea, ginger, lemon, fresh-squeezed orange juice. Yup, as soon as the temperatures dropped, I caught a cold. So each morning now starts with a ginger shot (recipe by @alphafoodie, you can find it on her story highlights) and a ton of kleenex.
But this does not prevent me from testing recipes in these last few days: look at this savory mushrooms leek soup, isn't it perfect? I wish you could have a taste!
A super tasty mushrooms leek quiche
When I took the first bite it was an explosion of flavors, an assault on the senses: the leek was perfectly "integrated" with the mushrooms, and the mushrooms were just right soft but not mushy. Plus, since I've used ricotta and milk instead of cream, the filling was not heavy at all!
Heavy cream usually gives a lot of creaminess, but I love using ricotta instead, to keep it more healthy-ish and light but still nutritious.
Many quiche recipes call for many eggs (4/5/6 eggs), it clearly depends on the size and depth of your mold, but I found that 3 was the perfect quantity (I didn't want them to prevail).
Regarding the crust: I really wanted to try this recipe I found on Sister Mag a while ago, but you can use your favorite (or buy it, but come on it's easy to make it from scratch). This time I wanted a classic crust, something buttery, and I must say Rachel's recipe satisfied my "request".
A note: its' not a quick recipe. This is the second quiche I share here on the blog, and like I mentioned last time (here) you first have to blind bake the crust and then bake the filling. So yeah, it takes time (around one hour and 15 minutes), but trust me it's definitely worth it.
If you decide to make this for Christmas, give it a try a few days before so you'll be sure you like it!
---
Remember: if you try one of my recipes, tag me on Instagram or DM me the photos! 
---
NOTE: This post contains affiliate links which means I make a commission off of the links below with no additional cost to you. Thanks for supporting me!
---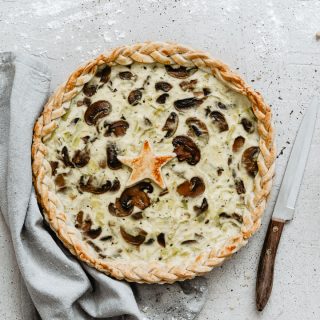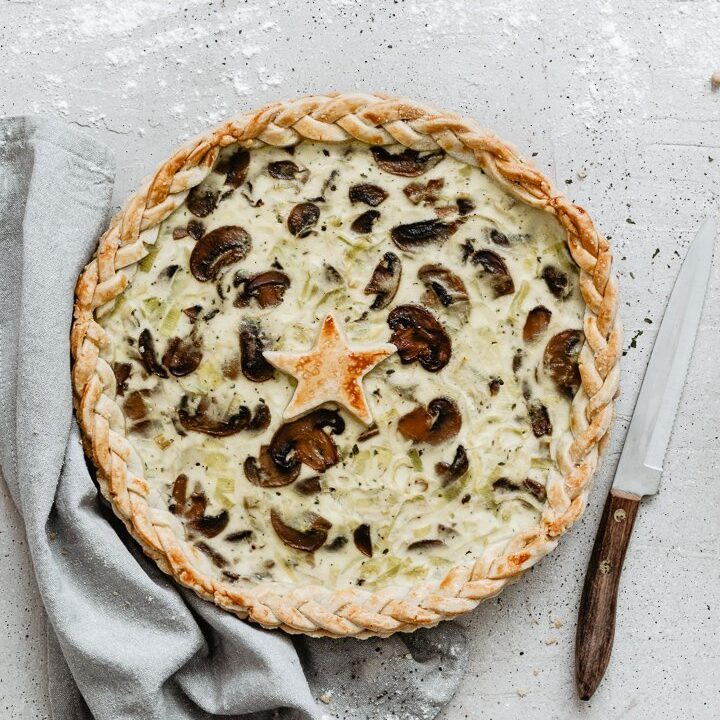 MUSHROOMS LEEK QUICHE
A delicious light mushrooms leek quiche with fresh ricotta instead of heavy cream: perfect dish for your Christmas menu or your everyday life!
Print
Pin
Ingredients
For the mushrooms:
500

gr

Champignon mushrooms (also called white button mushrooms)

-

- not cleaned

2

tablespoons

Extra virgin olive oil

half a

teaspoon

Salt

Parsley

-

to taste

a clove

Garlic
For the leek:
approximately 200 gr

Leek

Extra virgin olive oil
For the creamy filling:
3

Eggs

75

gr

Milk

250

gr

Ricotta

Salt

Pepper
For the crust see notes below
Instructions
For the mushrooms:
Clean your mushrooms: wash them roughly under running water to remove dirt, then dry with a cloth. Place the mushrooms on a clean cutting board, and slice (remember to remove the dirty bottom)

Cook them in a large pan with oil, salt, garlic and parsley - 5 minutes at high heat, keep stirring.

Lower the heat, cover with a lid and cook for about 15/20 minute. Remove the excess water and the garlic clove, and set the mushrooms aside.
For the leek:
Clean your leek (see here how)

,

slice it and add it to the same pan you used before.


Cook it for about 5 minutes at medium heat (keep stirring) with a drizzle of olive oil
For the crust:
You can buy it or make it from scratch: I've used this recipe that I found on Sister Magazine, by Rachel Korinek. If you want to avoid butter, try this one.

Both crusts need blind baking, meaning you have to cook your crust first and then crust + filling. I blind baked my crust for about 15/20 minutes at 180°C, then lowered the temperature at 160°C to cook the filling.

I've used a 27 cm (10 inches) pan, but it was 3 cm deep (similar to this one). Rachel used a 21 cm pan, 5 cm deep.
To make the filling:
Into a bowl, add 3 eggs and whisk slightly, then add ricotta, milk, salt and pepper. Stir and add leek and mushrooms.

Add the filling to the crust and bake at 160°C for about 55/60 minutes.
Notes
To make the crust choose your favorite recipe: I've used this by Rachel Korinek.
The decoration is totally optional.