It's that time of the year: you're either using up the berries in your fridge, or you're buying more so you can freeze them for Fall/Winter. I'm doing both. But I'm also making delicious things just like this one-dough crumble blueberry pie, with a touch of cardamom because WHY NOT. It was AMAZING.
---
This recipe is inspired to Sally's baking addiction one.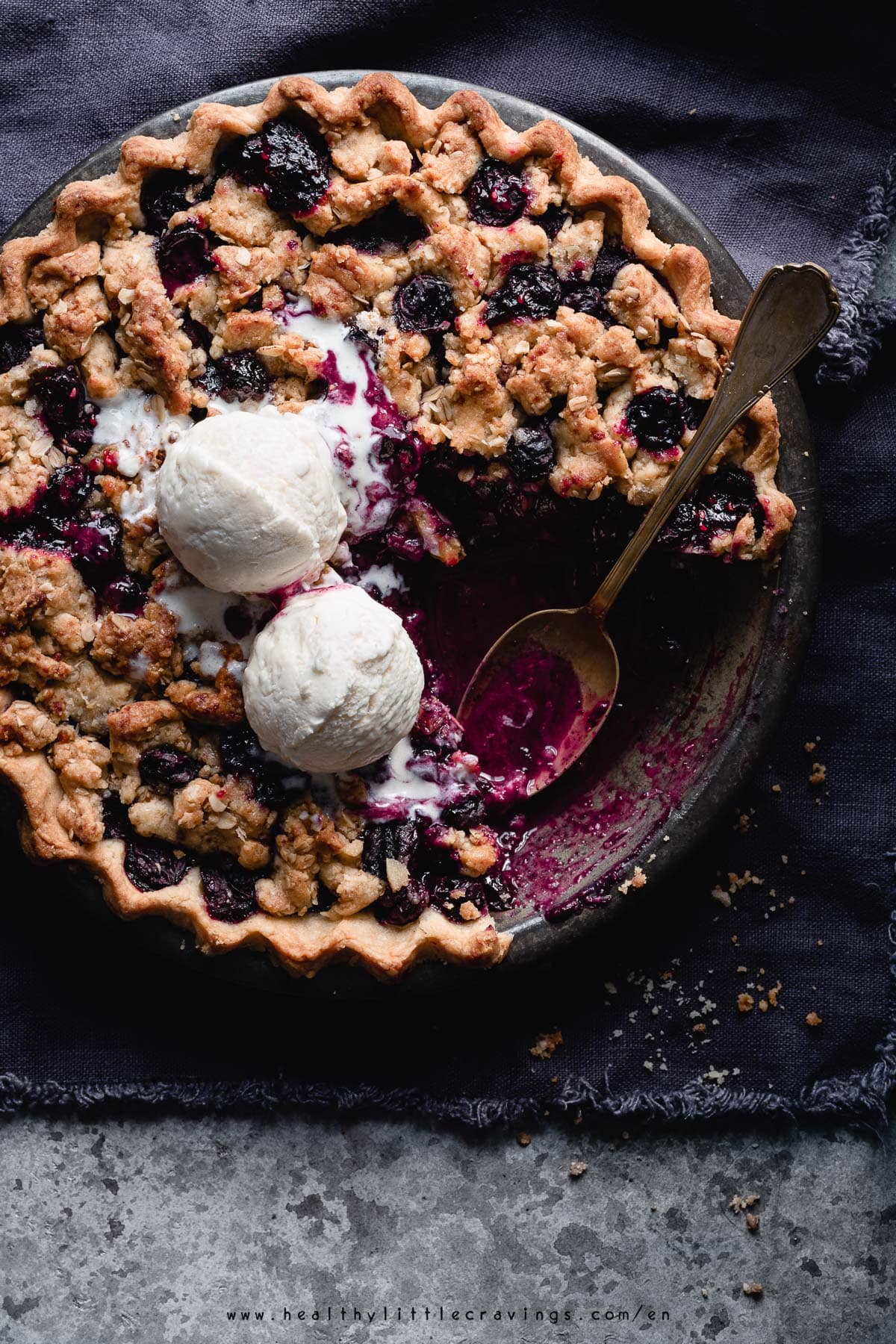 The secret to bursting blueberry pie filling?
Use fresh berries instead of frozen + use lemon zest. Whole fresh blueberries indeed will hold their shape better, frozen ones will kinda shrink. Personally, when I take a bite, I want to feel the whole blueberry in my mouth, that will "explode" while chewing.
Can I use frozen berries instead?
You absolutely can BUT, here's the thing: frozen berries will release water, this will make your filling soupy and the crust will need more time to bake. Your choice.
Ingredients to make this crumble blueberry pie
This crumble blueberry pie calls for the classic - and very simple - ingredients: pie crust, blueberries and a few other things. Let's see:
Crust. I made my (actually, my mom's) fail-proof pie crust, with a couple variations. I swear it's impossible to fail. I talked about it here, here and here. It's a "pasta frolla" made with all purpose flour, white sugar, unsalted butter, one egg, salt and vanilla. That's it. Want to make it even more delicious? Add lemon zest.
Filling. To fill this delicious crumble blueberry pie we will need fresh juicy blueberries, sugar, cornstarch/flour, lemon zest and cardamom powder.
Topping. Here's the trick: we will use the

same

pie dough, and only add brown sugar and a few tablespoons of oats;)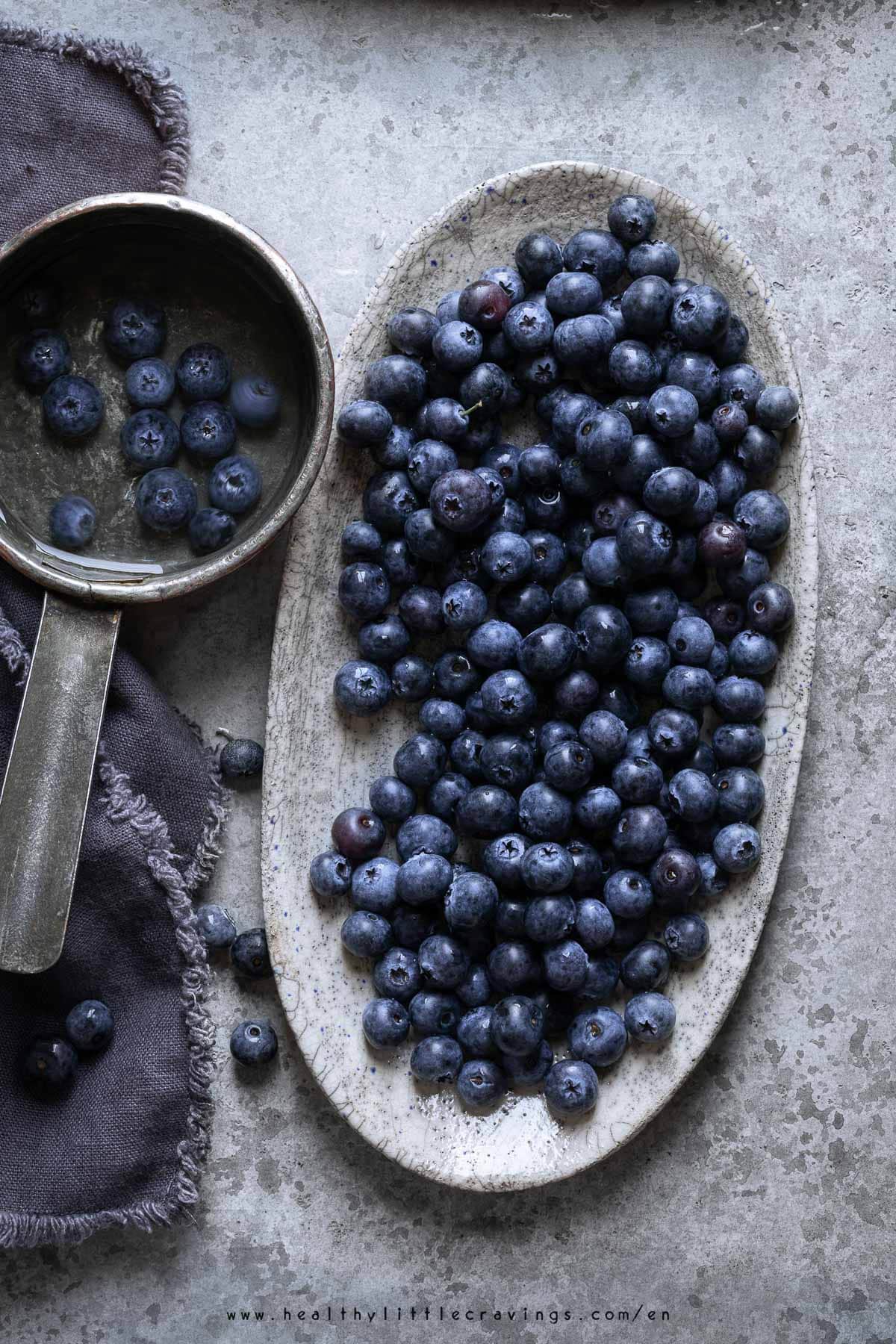 How to prepare the pie
On the Internet you can find a lot of recipes, but what makes this one "unique" (even though nothing is unique these days :)), is that we're going to use the SAME crust to make the crumble.
Crumble is usually made by rubbing butter into flour & sugar until you have a light breadcrumb texture. If you overwork it, the risk is to get a heavier dough. In my recipe the pie crust won't have the same consistency but we will still...crumble it on top and it will be very similar.
Prepare the crust and let chill
I usually prepare my pie crust (ahem, sorry, mom's pie crust) with my stand mixer or food processor. I add all the ingredients, then pulse until I get a nice and malleable dough.
I then flatten it using my hands (so it will be easier to roll out later), cover with plastic wrap and let chill into the fridge (for a minimum of 30 minutes).
Roll out crust
When you're ready to make it, dust the work surface with some flour (or use two parchment paper sheets) and roll out ⅔ of the crust to a thickness of 8mm (⅓ inch). Place it into your pan and let chill into the fridge. Set aside the remaining (let soften to room temperature).
I've used a vintage pie pan for these photos, so I've used some parchment paper to line it. There's no need to, if you use a non-stick one.
Prepare the filling
Into a big bowl, combine blueberries, sugar, cornstarch or flour, lemon zest and cardamom powder. Then stir with a spoon, and set aside for a few minutes. You could also add some lemon juice, but I didn't use it because I didn't want extra liquid.
Prepare crumble, assemble and bake.
Now that the remaining ⅓ of pie crust is softened, place it into a bowl and add brown sugar and oats. Rub until you get a more crumbly consistency (remember though it won't be as crumbly as...crumble).
Add the filling to the pie crust then spread the crumble on top. Bake for 25 minutes at 200°C (392°F) then lower temperature to 185°C (365°F) and bake for 20 more minutes. If it becomes too dark on the surface, cover with aluminium foil and keep baking.
Let cool down for about 3 hours (this was recommended by Sally in her recipe, to which mine is inspired), so the filling get thicker.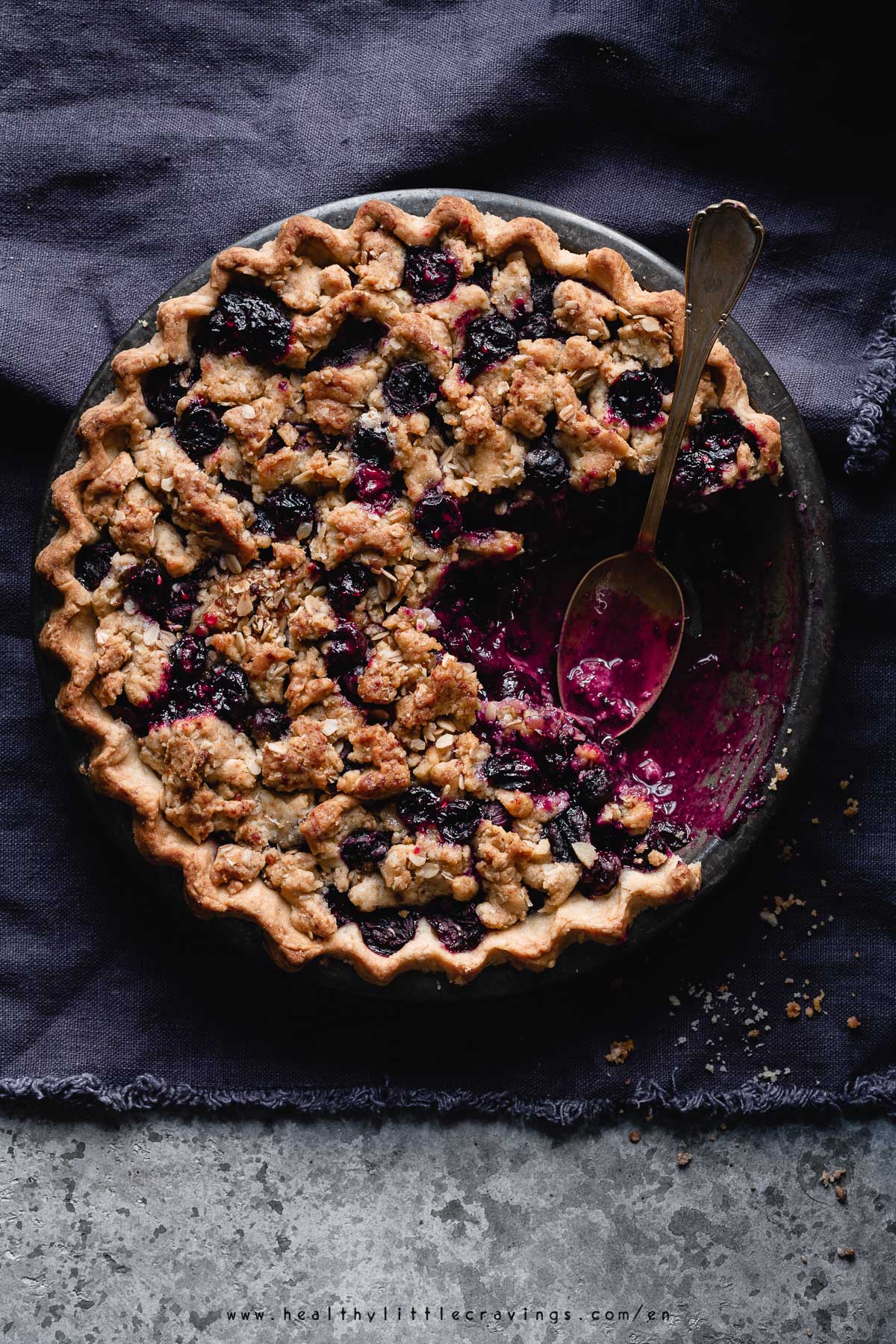 Can I let this pie crust chill overnight?
Absolutely, that's what I did here. Make sure though that when you take it out of the fridge you let it reach room temperature, or you won't be able to roll it because it's too hard. Alternatively, let chill for at least 30 minutes and goooooo!
Recipe variations
Let's say you don't want to eat blueberries, or maybe you don't like them (uhm...). Or you don't have them (you wouldn't be looking for this recipe on Google then). You can make this crumble pie with other berries: raspberries, strawberries, blackberries... I haven't tried, but if you do please let me know!
When I make strawberry pie though I like to use my mom's recipe. Go check it out, it deserves all the love.
How to store this blueberry pie
This blueberry pie is best served immediately after cooling. So if your intent is to serve it later, I recommend that you prepare it about ¾ hours earlier so the filling will set.
You can also serve it warm with a bit of vanilla ice cream on top;) to die for!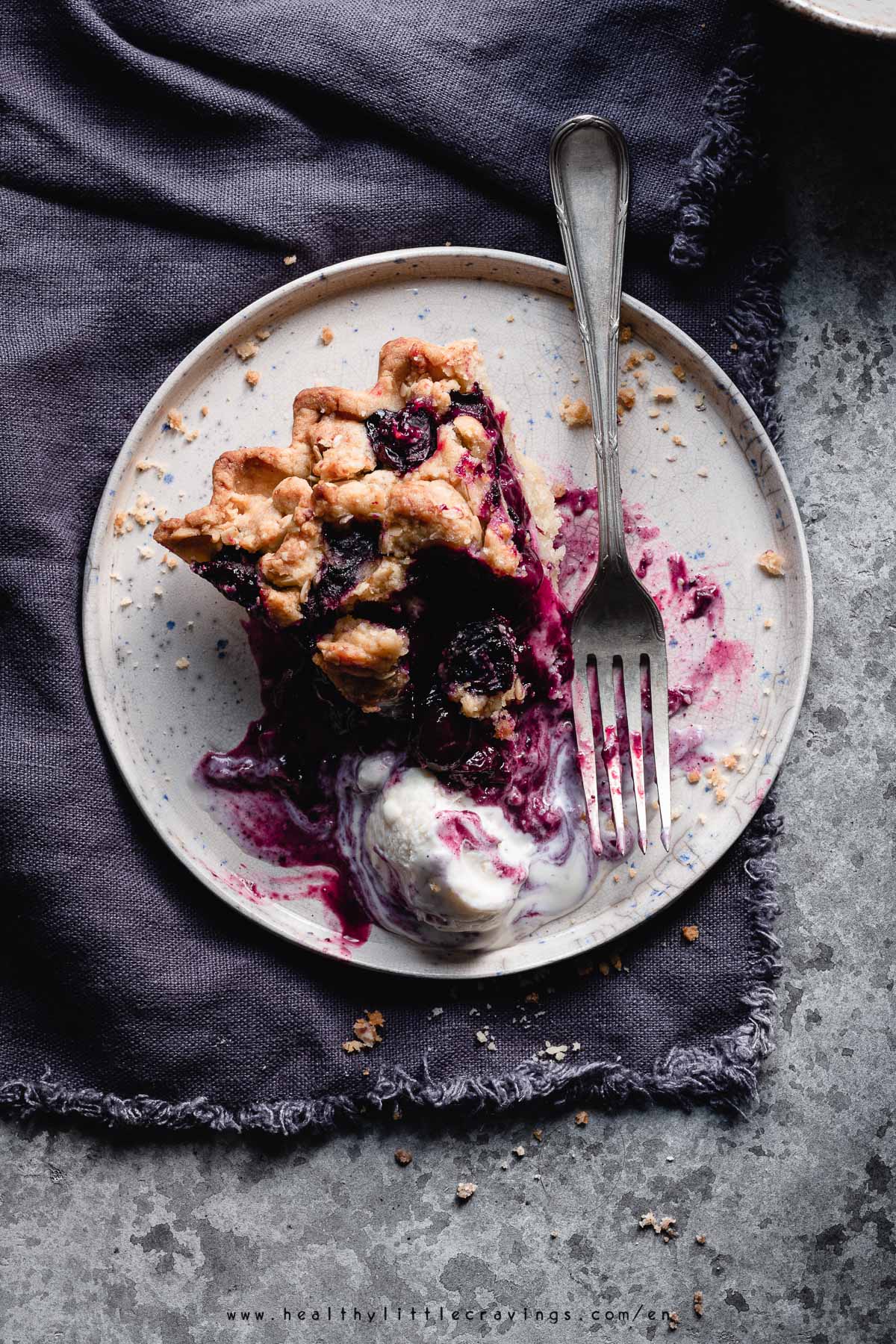 ---
If you make this recipe, please be sure to give it a rating and leave a comment! It would make me so happy! 🙂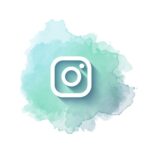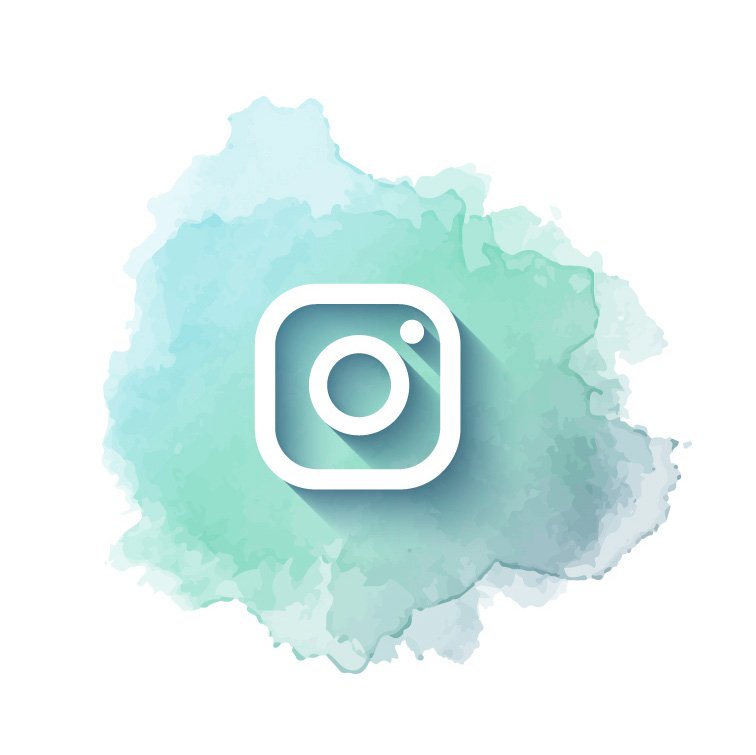 Remember: if you try one of my recipes, tag me on Instagram or DM me the photos! 
---
Don't forget to pin and share this easy and delicious recipe!
---
Crumble Blueberry Pie With Cardamom
A delicious Summery pie with bursting blueberries and a touch of cardamom for a fresher flavor.
Print
Pin
Ingredients
2 and ¾ cups + 2 tablespoons

All purpose flour

-

(I use 00 flour) - 360 g

⅓

cup

White sugar

-

60 g

2 sticks* MINUS 2 tablespoons

Cold unsalted butter

-

200 g (*american stick)

1

Egg

⅓

teaspoon

Fine table salt

-

2 g

1

teaspoon

Vanilla extract
Crumble (to add to the dough):
1.5

tablespoons

Brown sugar

3

tablespoons

Oats
Blueberry filling:
4

cups

Fresh blueberries

-

600 g

⅓ cup + 1 tablespoon

White sugar

-

80 g (use flour for a thicker filling)

5

tablespoons

Cornstarch/Flour

-

40 g

Zest from ½ lemon

1

teaspoon

Cardamom powder
Instructions
Dough:
Add flour, sugar, butter, egg, salt and vanilla extract to a food processor, then pulse until you get a nice malleable dough.

Flatten it with your hands, cover with plastic wrap and let it chill overnight or for about 30 minutes. I made it chill overnight.

The day after, take the dough out of the fridge and, if it's too hard, let it soften until malleable.

Take approximately ⅔ of the dough and roll it out on a slightly floured surface (use parchment paper if it's too sticky, but it shouldn't) - Set aside the remaining ⅓ of crust.

Transfer it into a pie pan lined with parchment paper. Crimp the edges of the crust then place it in the fridge while preparing the filling.

Preheat oven at 200° C (392°F).
For the filling:
Into a bowl, combine blueberries, sugar, cornstarch, lemon zest and cardamom powder.

Into a bowl, combine the remaining pie crust (which should be way softer and malleable at this point) with brown sugar and oats. It has to be crumbly but not too much.

Add the crumble to the pie then bake for 25 minutes.

Lower the temperature to 185°C (365°F) and bake for 20 more minutes. If it becomes too dark on the surface, cover with foil and keep baking.

Let it cool down so the filling thickens, then serve with ice cream.
---
If you loved this crumble blueberry pie, check out also these super delicious ones!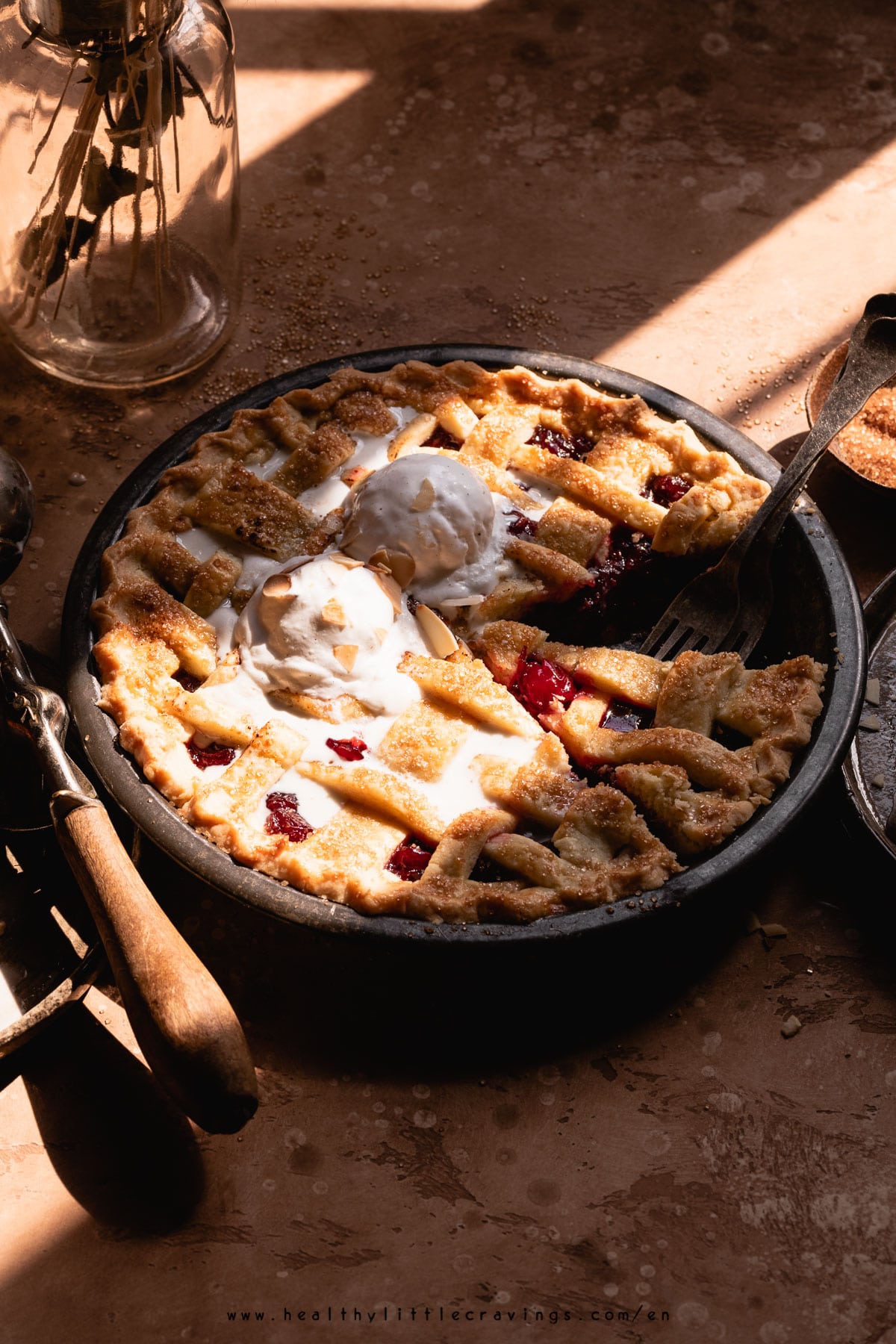 ---
© Healthy Little Cravings – Roberta Dall'Alba.
I own all content and photos' copyright.
Before using my photos and recipes, please email me.
If you would like to republish a recipe, please link back to this post and re-write the instructions in your own words.