Oh come on, I know you've tried those store-bought hot chocolate mix at least once. You're guilty, I am guilty!
Now, let's think WHY we bought them: surely because ours didn't get as thick, right?
Well, I'm here for you and I'm so ready to share my secret behind the creamiest gluten free hot chocolate perfect for everyone, also those who suffer from celiac disease.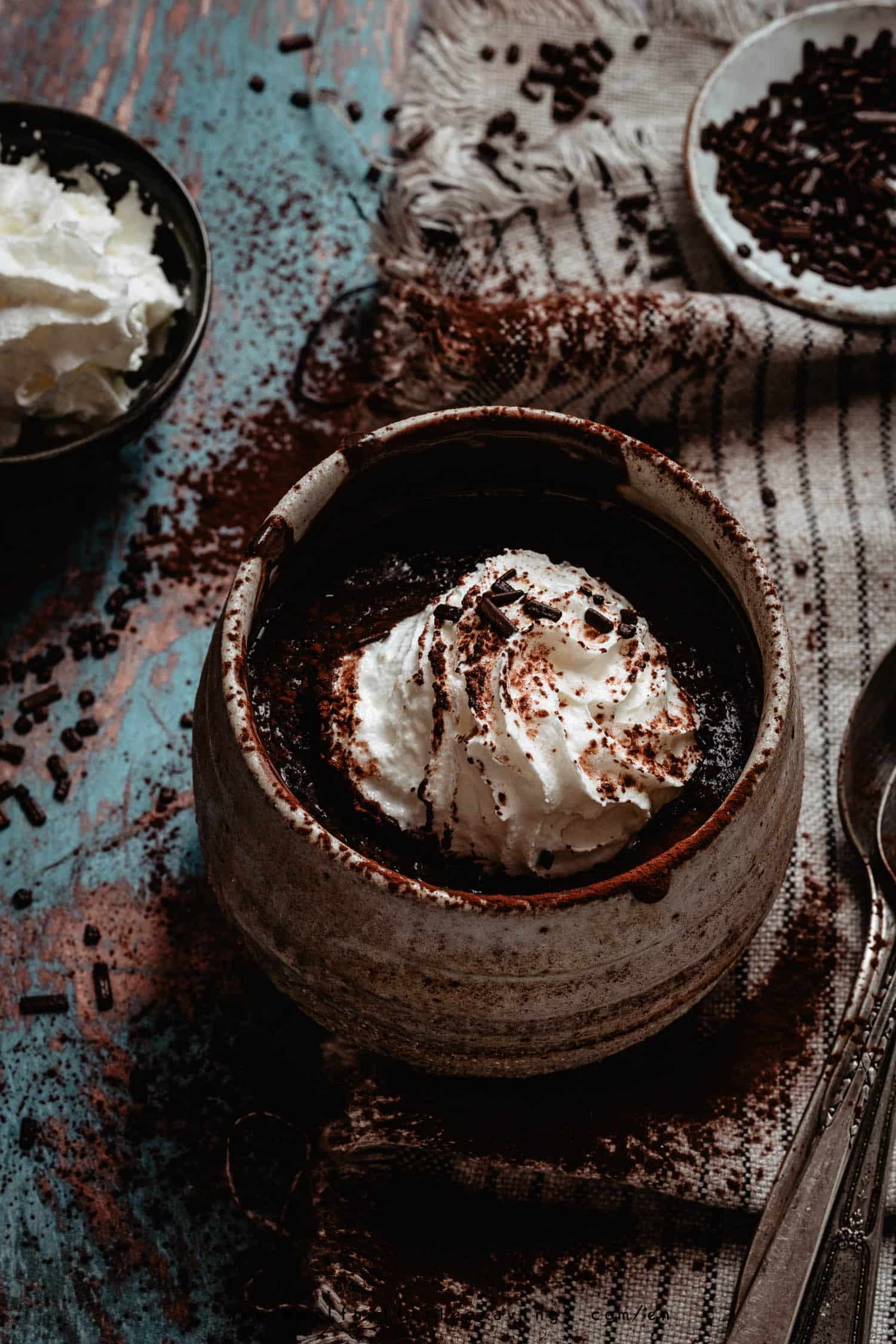 How to make the
creamiest

gluten free hot chocolate ever (and yes it's easy)

On these freezing days, the only thing that I really enjoy drinking and gives me relief - mainly because my hands are aaaalways so cold - is a hot beverage.
In the evening, I drink fruit/chamomile infusion, but during the day a thick hot chocolate is what I need (not every single day, but when I look for a comforting drink).
I promise: if you'll try this, you'll never get back to the store-bought ones!

Original hot chocolate calls for all purpose flour (my mom uses all purpose, for example).
But one day I wanted to test rice flour and cornstarch, since they're used as a thickener. And guess what?! It came out creamy, thick, extra chocolatey and balanced.

Please, please, pleeeease try it!!! You'll thank me forever!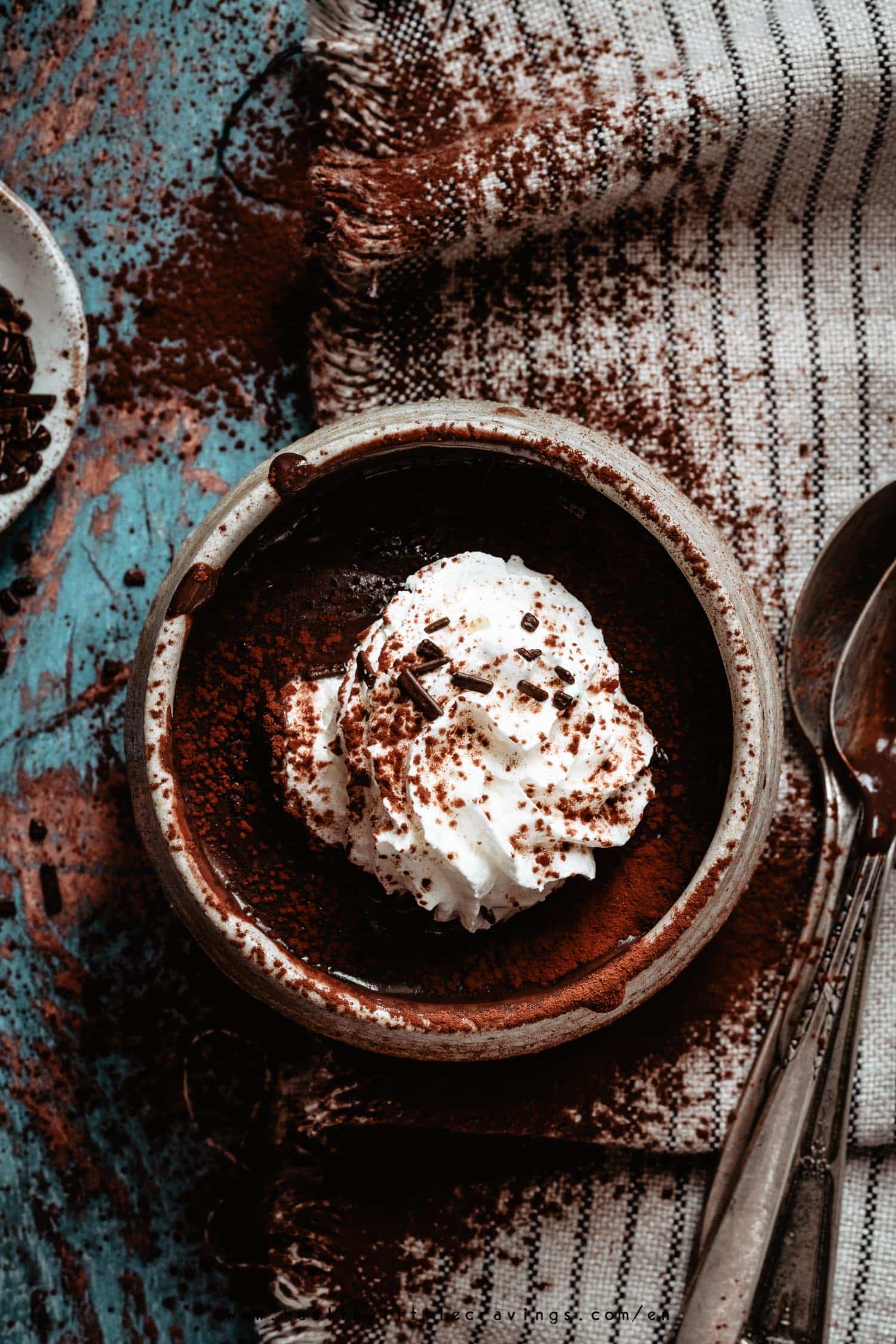 What's better for hot chocolate, milk or water?
MILK. No. Doubts.
Both me and my mom have always made hot choc with milk. I've tried a Colombian version (chocolate caliente), but I still prefer the one with milk.
It's richer in flavor and more nourishing.
Don't try to swap milk for water in this recipe, otherwise you won't have the same result.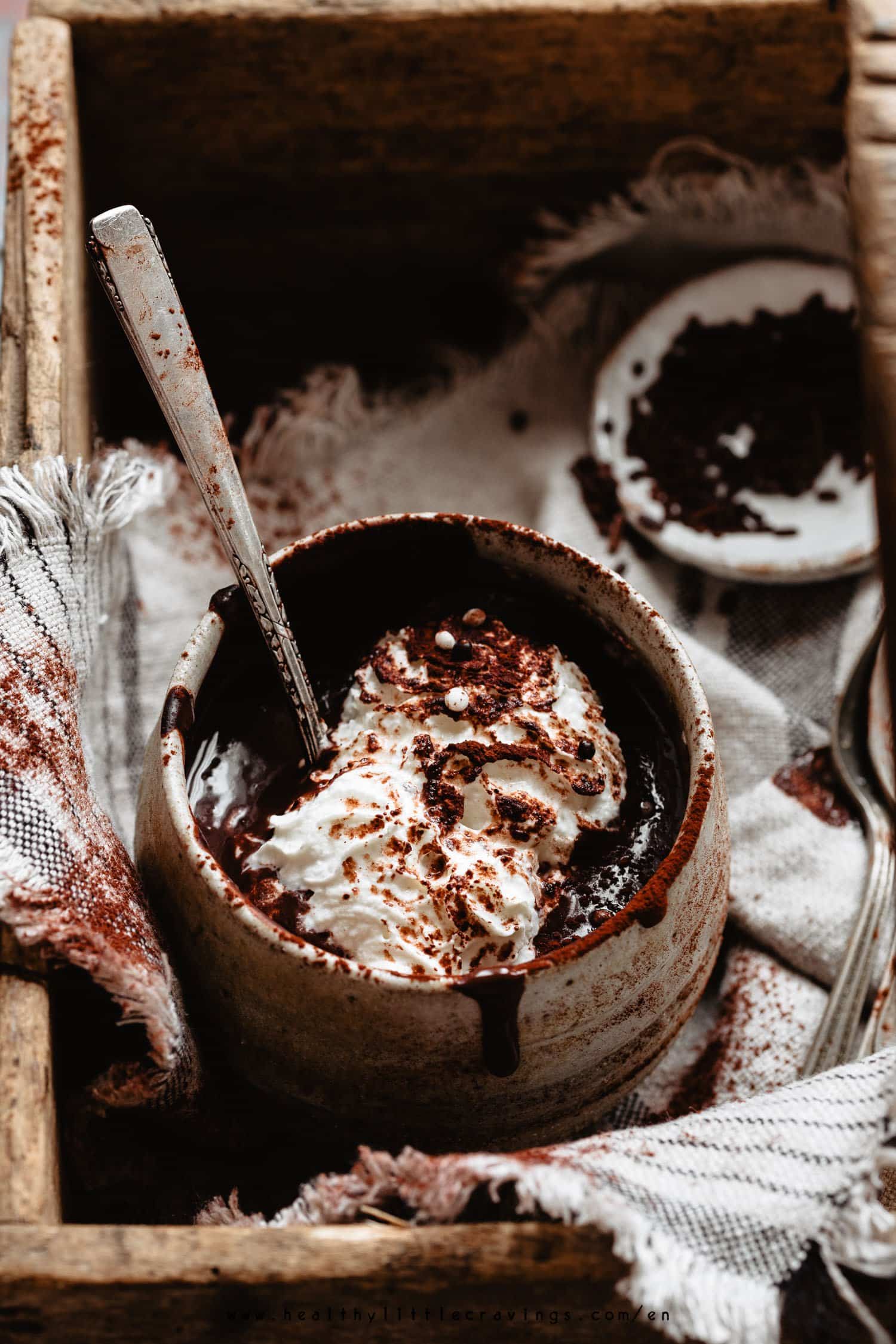 Whats the difference between hot cocoa and hot chocolate?
I'm Italian and we only have one word to define this amazing beverage: cioccolata calda, literally 'hot chocolate' (even though we rarely use chopped chocolate in it). So I thought hot cocoa and hot chocolate were synonyms.
I just recently discovered that they are two different things:
Hot cocoa is made from milk, sugar and cocoa powder (+ other flavors);
Hot chocolate is made from melted chocolate and hot water, milk or cream (+ other flavors)
TheKitchn says "the result is a rich, thick beverage that tends to be less sweet than hot cocoa, but more decadent. Sometimes it can be pudding-like"
So I guess my recipe is a combination of these two. It's more a hot cocoa but with chocolate chunks in it and a thick consistency.
So, can cocoa powder be used for hot chocolate?
Now, technically, if you use cocoa powder it has to be called hot cocoa.
But, who cares lol we don't want to be so rigid right?
If you follow my recipe you can add cocoa powder and skip chunks.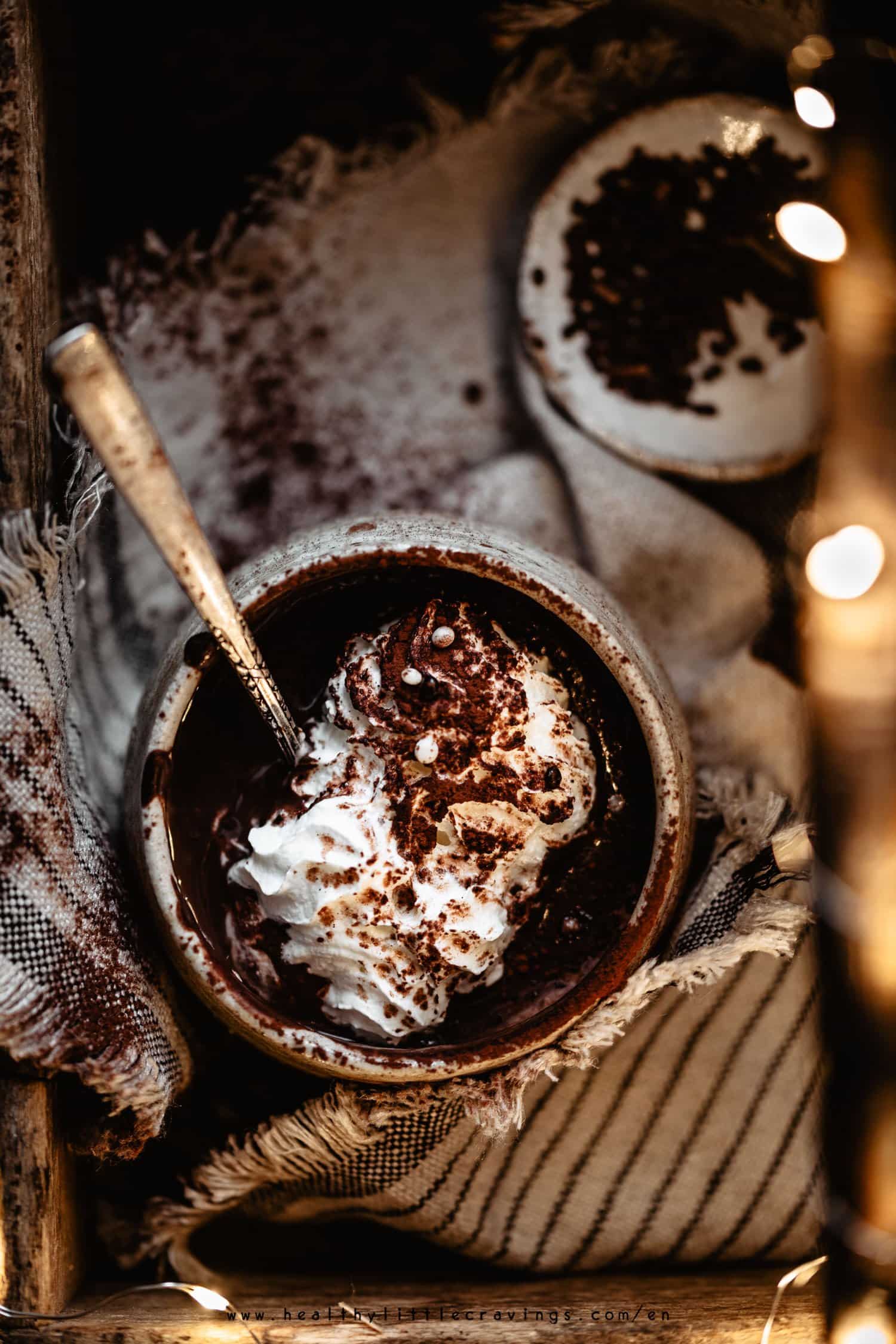 Gluten free hot chocolate mix - the perfect edible Christmas gift.
Oh, friend, you should know this gluten free thick hot chocolate is also the perfect edible gift, I mean look at the photo below! So cute.
Since it's gonna make every one drool, why not gifting your friends with cute little tubes/jars?
Look at them, with that cute stopper: the perfect single-serving cocoa!
Now you're thinking 'Where the heck can I find those tubes?' - you know the answer, Amazon ! Or just buy cute little bottles (like these) ! If you don't want to buy stuff, use some ordinary jars...they'll be perfect as well (just increase amount of ingredients).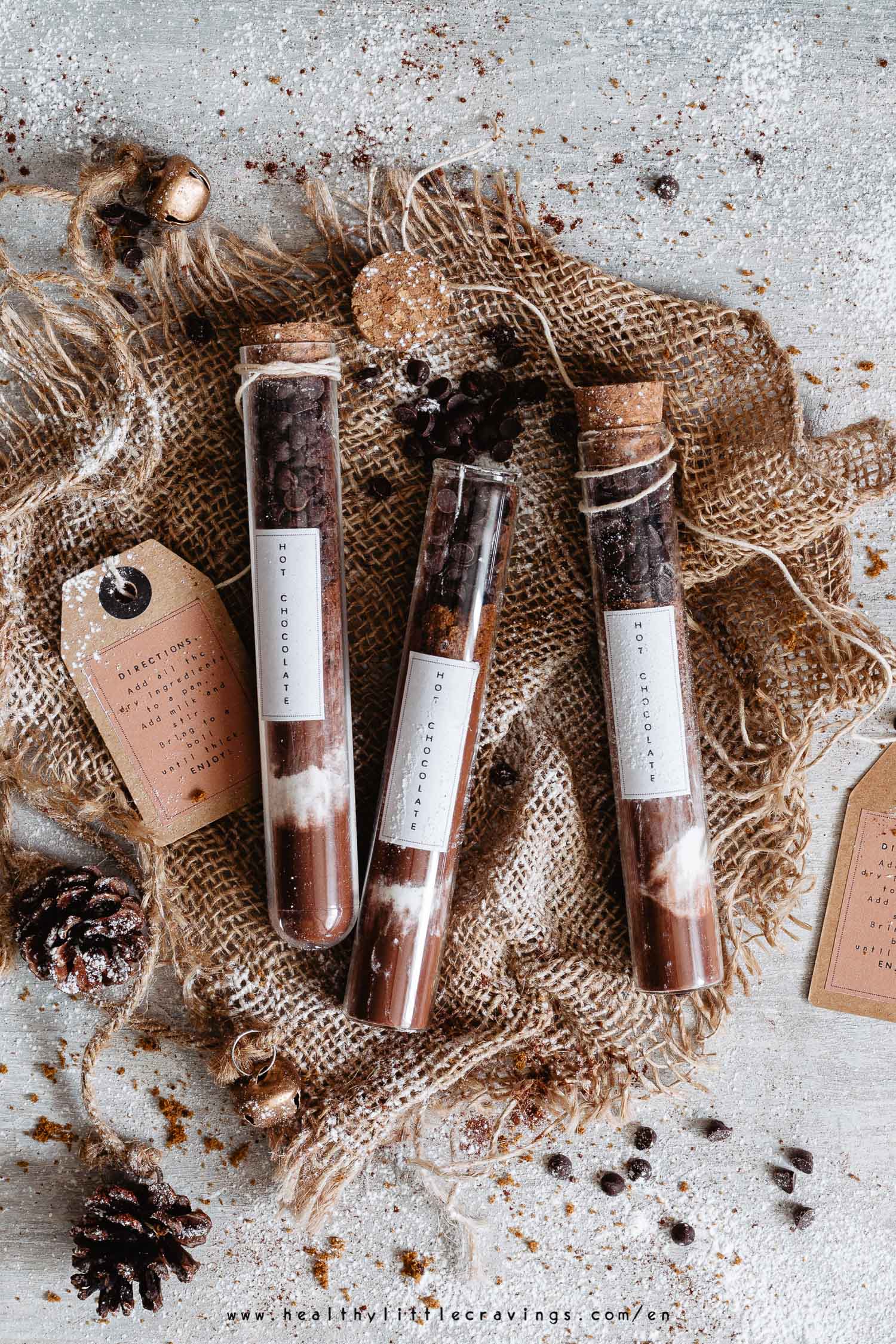 To prepare it:
just layer all the dry ingredients, close, then write the directions (find them below) on a card, and you're done.
VERY IMPORTANT**: if you gift this to a celiac friend, be sure you don't touch any ingredient with gluten (like all purpose flour) or you will contaminate food.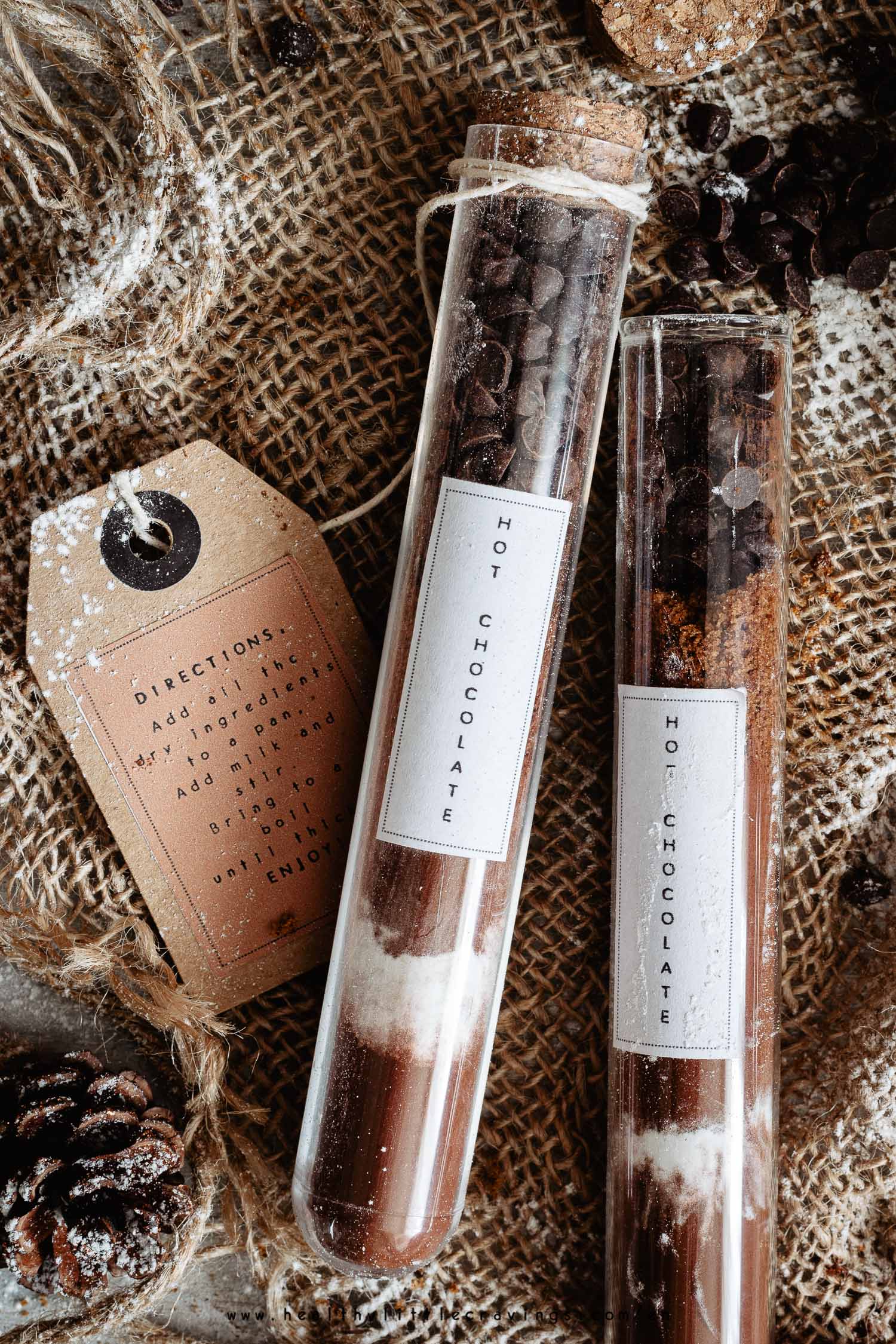 Ehy, there's also a gingerbread hot chocolate recipe!
Have you ever tried gingerbread hot chocolate? NO?! Well, you should.
You don't know what you're missing. Just add cinnamon, ginger and nutmeg and you'll have a super Christmassy hot choc!
Let me know how this gluten free hot chocolate turns out and in the meantime: have yourself a merry Christmas!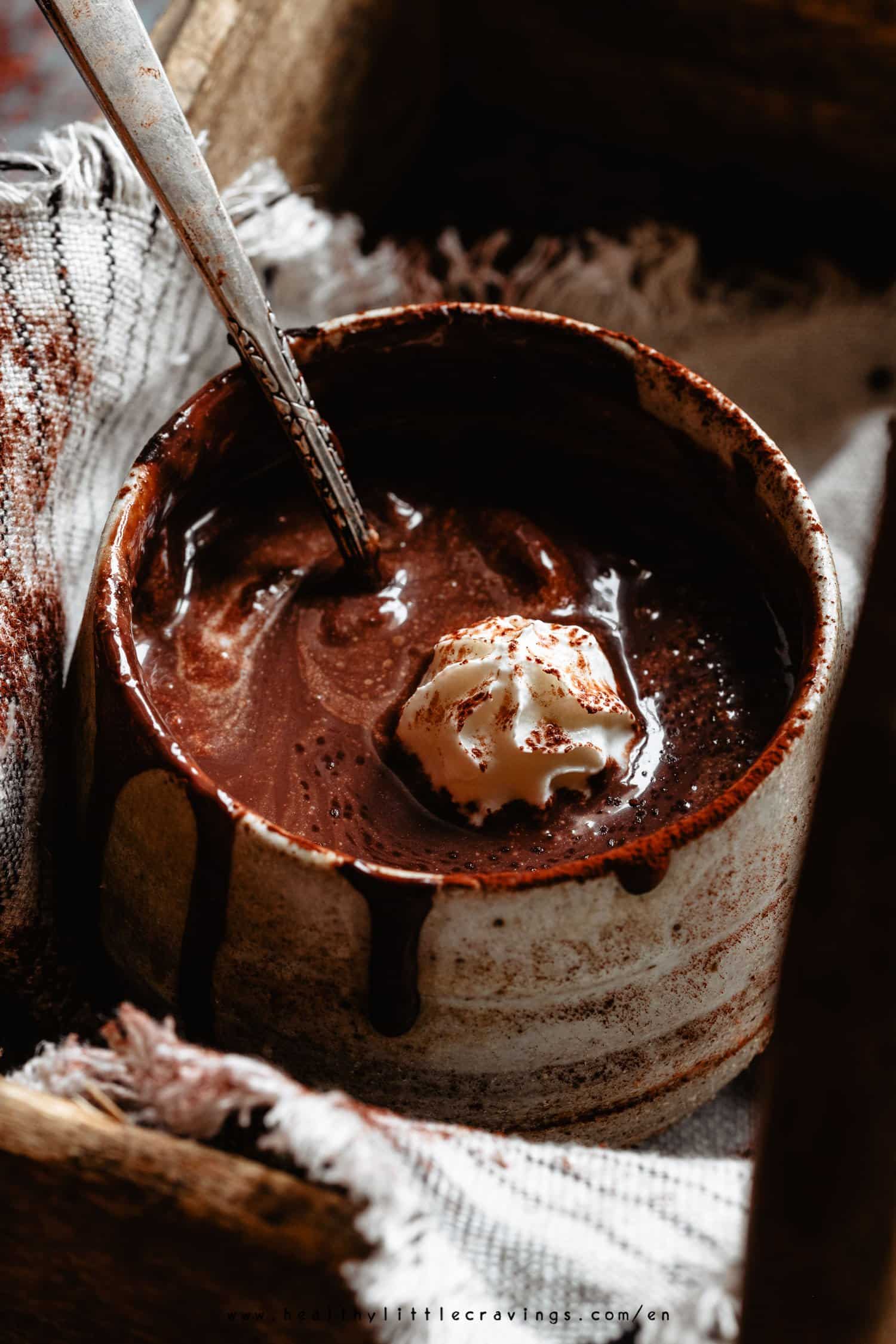 ---
If you make this recipe, please be sure to give it a rating and leave a comment! It would make me so happy! 🙂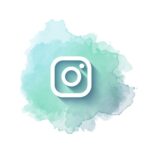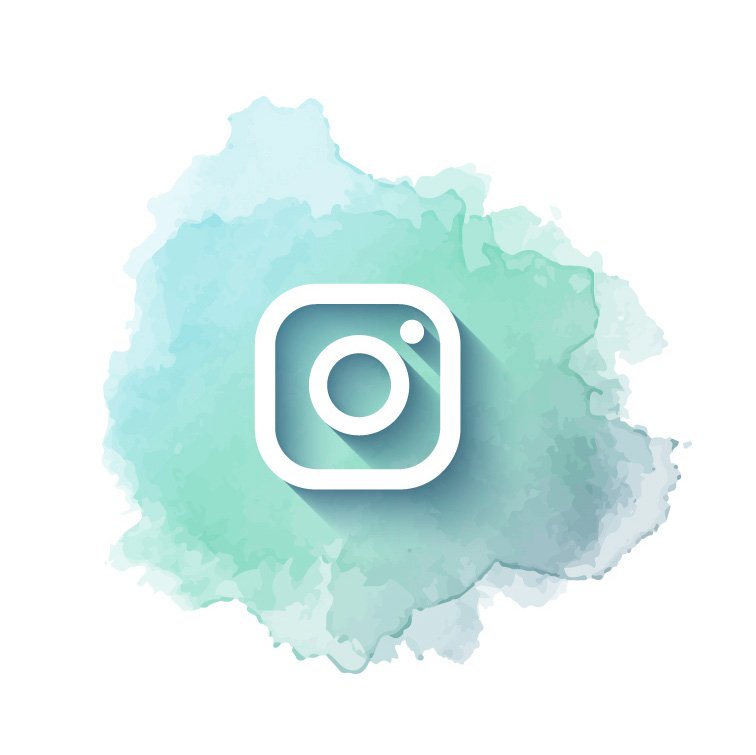 Remember: if you try one of my recipes, tag me on Instagram or DM me the photos!
---
Don't forget to pin and share this easy and delicious recipe!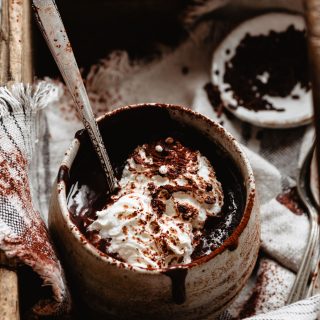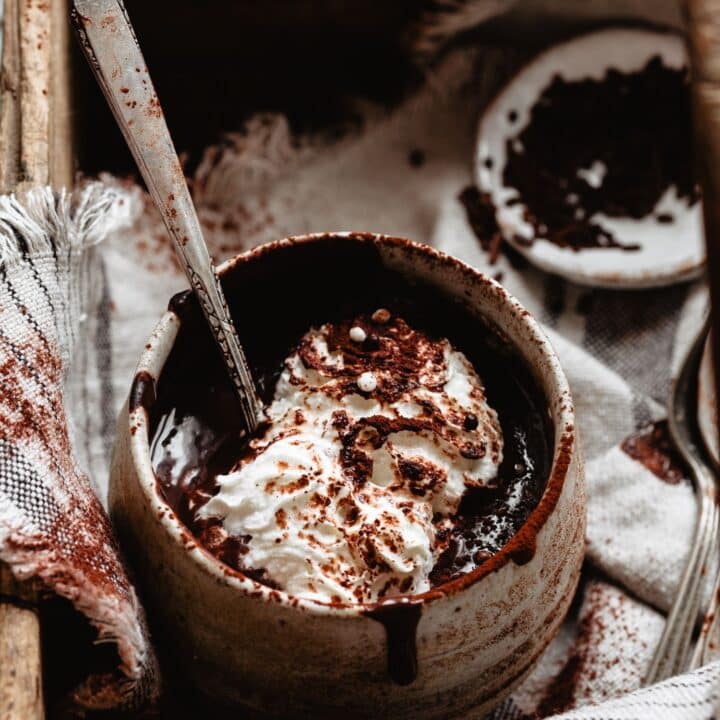 CREAMY HOT CHOCOLATE
The creamiest gluten free hot chocolate: made with rice flour or cornstarch!
Print
Pin
Ingredients
300

gr

Milk or plant milk

30

gr

Unsweetened cocoa powder

1

tablespoon

Cornstarch

2

tablespoons

Raw brown sugar

-

DO NOT add sugar if you use marshmallows

35

gr

Dark chocolate or choco chips
For the gingerbread hot chocolate:
1

teaspoon

Cinnamon powder

a pinch

Nutmeg powder

a level teaspoon

Ginger powder
Instructions
To make the edible gift:
Layer all the dry ingredients into a jar or tube**, close.

**In this case, you small chocolate chips.

Write the directions on a card: "Pour the dry ingredients into a pan, add milk/plant milk and stir with a whisk. Turn on the heat and bring to a boil (at low heat), keep stirring. Turn off the heat as soon as it gets creamy

"
If YOU want to make this thick hot chocolate at home:
In a pot mix cocoa powder and cornstarch/rice flour with a drizzle of milk, until you get a creamy consistency.

Add the rest of the milk, turn on the heat and bring to a boil (at low heat).

NOTE: keep stirring otherwise it'll stick and get clumpy.

Add the sugar (unless you add marshmallows later).

As soon as it boils, it should be ready and thick. Remove from the heat.

To make it even more delicious add dark chocolate!
---
Liked this recipe?
It's even better if you dunk in it one of these gingerbread cookies!;)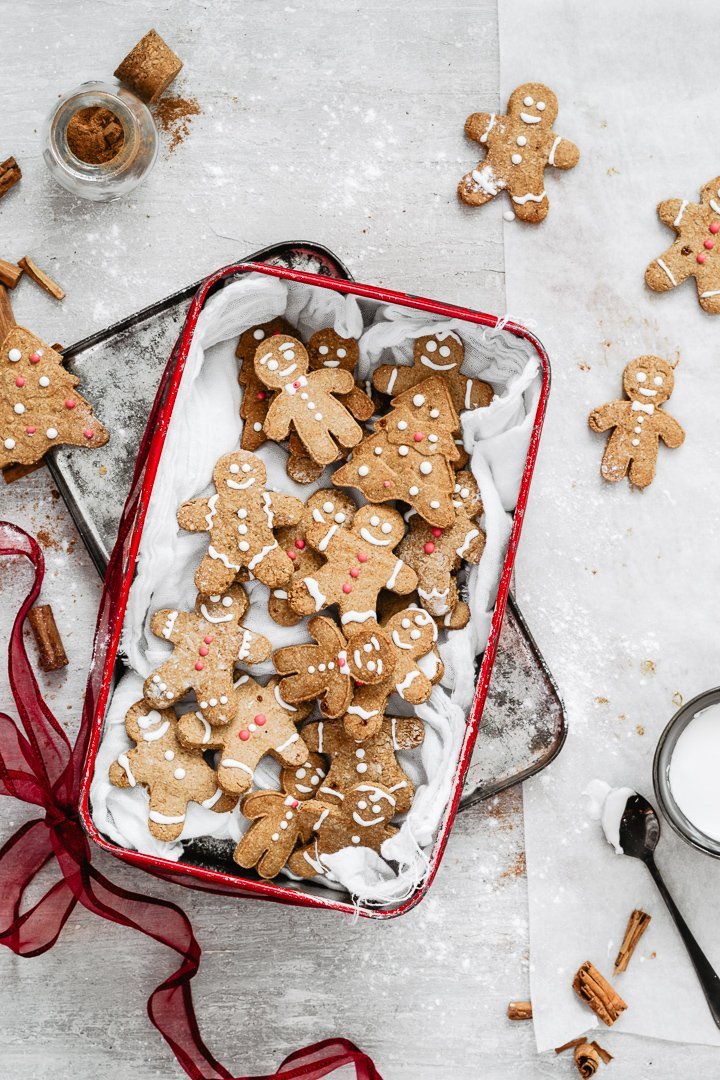 ---
NOTE: This post contains affiliate links which means I make a commission off of the links below with no additional cost to you. Thanks for supporting me!
---
© Healthy Little Cravings – Roberta Dall'Alba.
I own all content and photos' copyright.
Before using my photos and recipes, please email me.
If you would like to republish a recipe, please link back to this post and re-write the instructions in your own words.