Are you team "I-use-the-oven-in-Summer-despite-the-heat"? 'Cause I am, and today I have a recipe for you.
This Summer pie/tart/crostata (whatever you wanna call it): pine nuts, whipped feta and zucchini pie, for those who cannot live without their oven.
The best thing though is that we only have to blind bake the crust, everything else is raw!
Enjoy!;)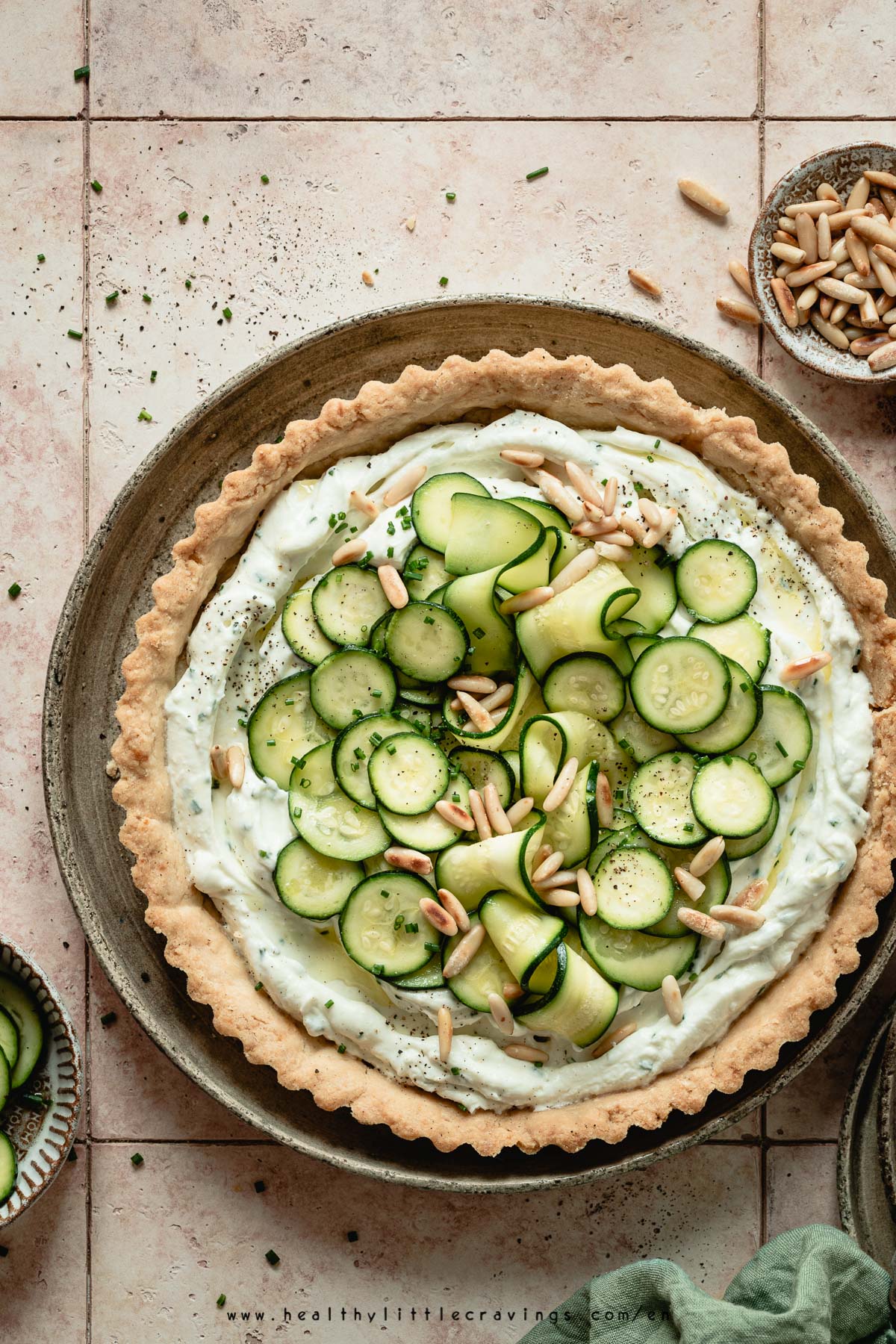 A delicious zucchini pie perfect for Summer gatherings...
This zucchini pie (or tart) screams Summer, from the whipped feta to marinated (with lemon) zucchini.
I don't know about you but when I think about feta cheese, my mind goes to watermelon feta salads and Greece.
And Greece is synonym for Summer, to me.
What about those marinated zucchini, with lemon and delicious extra virgin olive oil? SO refreshing and perfect when weather outside is too hot to grill/sauté on the stovetop (a city in southern Italy broke a record a few days ago: 48.8° C - 120° F 😅).
There's one thing I cannot live without though: the oven. You may think it's contradictory but it's not: when I sauté/grill I have to actually BE next to the stovetop. When I bake instead I can put the pan into the oven, close the door and leave the room. That's it.
Now, I know you're going to see that long recipe card at the end of the blog post and you're going to think "Oh, this is too long, it will take forever to make!"
Wrong.
It's all about making the pie crust and then blind baking it (more about this below). While the crust is baking, you can prepare both the feta and the zucchini.
BEST THING? You can prepare everything in advance, then assemble right before serving to family and friends!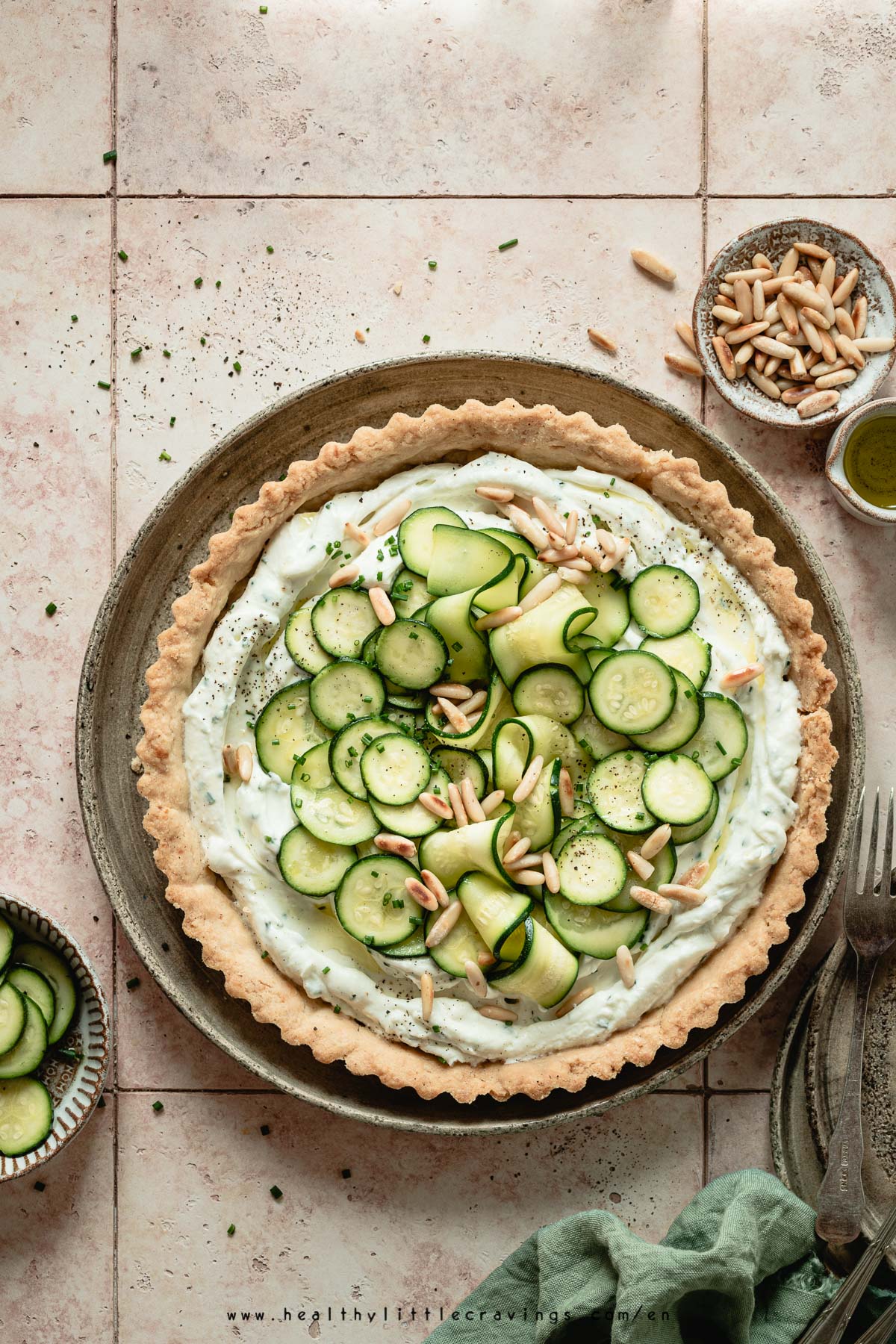 Do I need to (fully) blind bake my crust?
Yes, because we only need a baked pie shell (well, unless you want to bake everything together - crust, feta, zucchini - but I haven't tried that yet).
If you're not familiar with it, to blind bake simply means to bake without a filling.
You can do that partially (then fill and bake again), or fully like in this case.
How to blind bake a pie crust:

There's something we need to pay attention to, when blind baking.
Because the fat melts and creates steam, the dough is going to puff.
To avoid that, we need to weigh down the crust using pie weights, dry beans, rice (raw) or another pie pan (smaller) like I did. Remember to cover the dough with parchment paper BEFORE using those weights.
So, to sum up: first step is rolling out the dough, then gently lift it and place it into the pan. Roll the rolling pin over the top of the pan to remove the excess dough.
Pierce a few holes in the base, using a fork, and freeze again.
Heat is the enemy of any buttery dough.
The more the fat melts before baking, the less it will melt during baking, the less steam is going to create and the less flaky our crust will be.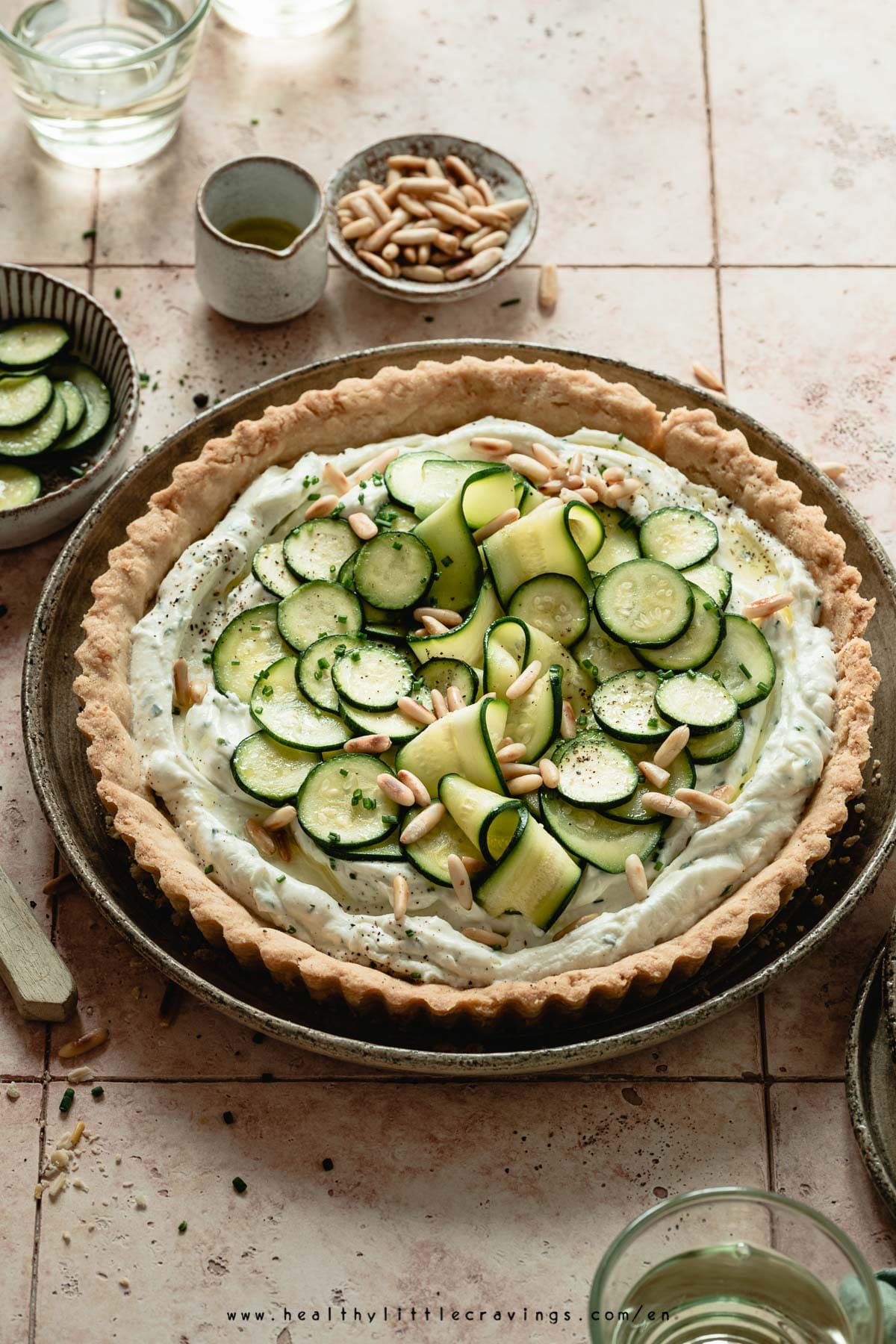 Why marinated zucchini?
Is zucchini better to eat raw or cooked?
My idea at the beginning was to bake everything together.
But then I decided to marinate my thinly sliced zucchini to have a crunchy and fresh component and I loved it (I am confident you'll like it too!)
Because raw zucchini are not that flavorful, we are going to use a mixture of EVO oil, lemon juice and salt so they can soak and get allllll the flavorsss.
Now, of course the more you let them soak in the marinade, the better. So you can definitely prepare these in advance.
Just make sure they are thinly sliced, and to use organic high quality ones (and high quality EVO oil).
About raw vs cooked zucchini:
the easiest and probably healthiest way is actually eating them raw (which, btw, I didn't know until a few years ago). But hey, they're a vegetable so you can boil, bake, grill, steam, sauté and they will still be healthy!
P.S. tip for you: make more of these zucchini: you can use them in salads too!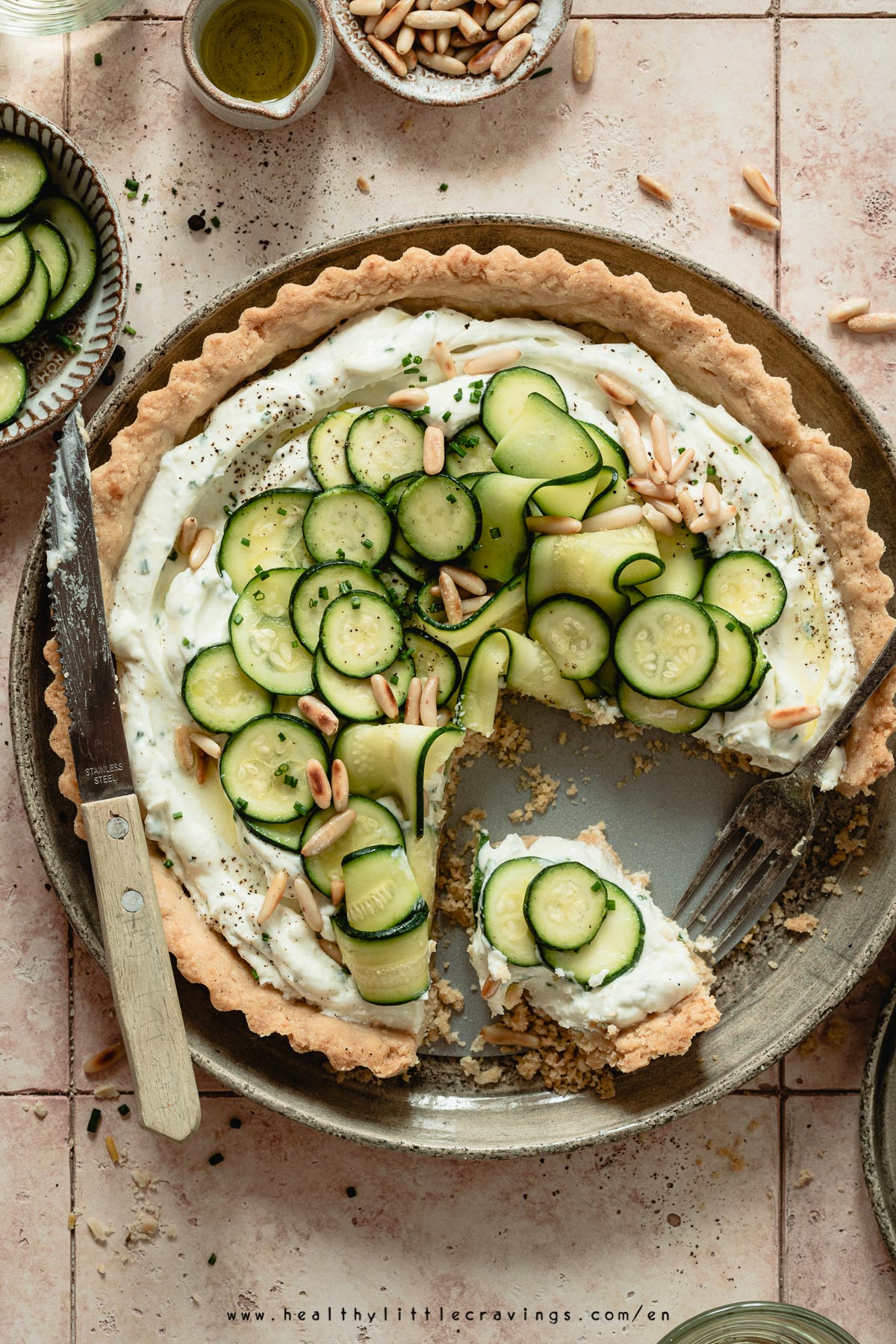 Can I substitute some of these ingredients?
You absolutely cannot substitute zucchini, otherwise the flavor changes.
You cannot substitute feta.
BUT you can use greek yogurt instead of cream cheese! It will be a bit more acidic, but you can compensate that with a bit more honey.
---
If you make this recipe, please be sure to give it a rating and leave a comment! It would make me so happy! 🙂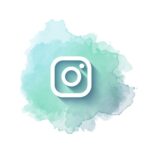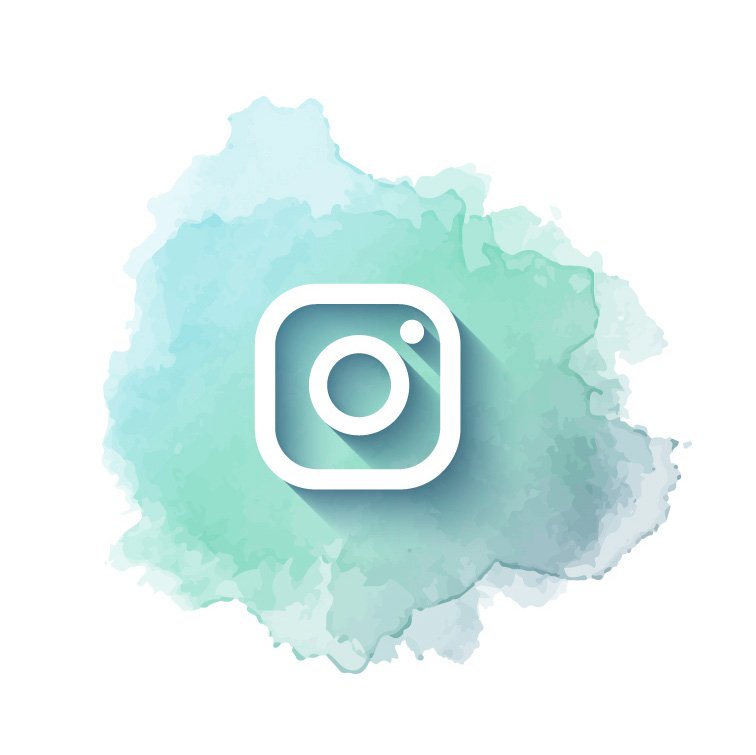 Remember: if you try one of my recipes, tag me on Instagram or DM me the photos!
---
Don't forget to pin and share this easy and delicious recipe!
Whipped Feta Zucchini Pie
A delicious Summery meal: creamy whipped feta with a touch of honey and lots of chives, fresh marinated zucchini and toasted pine nuts.
Print
Pin
Equipment
Pie weights, beans, rice or another pie pan, to blind bake the crust

Tart pan with loose bottom

Mandoline slicer
Ingredients
For the crust:
2 ⅓

cups

All purpose flour or 00 flour

-

280 g

1.5

stick

Very cold unsalted butter

-

170 g

4-5

tablespoons

Very cold water

1 tablespoon

Fresh lemon juice

pinch

Salt
For the marinated zucchini:
2

Zucchini

-

(depends on how big they are)

2

tablespoons

Extra virgin olive oil

1.5

tablespoons

Fresh lemon juice

pinch

Salt
For the whipped feta:
7

ounces

Feta cheese

-

200 g

5.5

ounces

Cream cheese

-

160 g

1

tablespoon

Honey

half

tablespoon

Extra virgin olive oil

1

tablespoon

Finely chopped chives

Pine nuts
Instructions
For the crust:
Cut the butter into very small pieces and place it into the freezer or fridge. The colder the better the result.

Into a mixer, combine flour, butter, icy water, lemon juice and a pinch of salt. I recommend adding the water gradually and adjust.

Pulse until you get a crumbly consistency (it looks like coarse almond meal). The secret is to work it very little so the butter doesn't melt.

Put the crumbly mixture on top of clingfilm, and work with your hands until you get a nice dough. Cover and let it chill in the freezer for 30 minutes.
In the meantime, prepare zucchini and feta:
Clean your zucchini, then thinly slice them using a mandoline slicer (about 2 mm thick) and put them into a bowl with oil, lemon and just a pinch of salt.

Cover, set aside and let marinate (we will use these after the crust is baked and cooled).

Now into a food processor, put feta, cream cheese, oil and honey, and mix until you get a fluffy consistency (it takes a couple of minutes)

Add minced chives, cover and set aside.
Blind bake the crust:
Roll out the chilled dough using a rolling pin, it has to be about ⅓ inch thick.

Gently lift pastry and put it into the pie pan (diameter of the one I used was 8.6 inches on the very bottom - 9.4 inches on the largest top part).

Roll the rolling pin over top of pie pan to remove excess dough then, with a fork, pierce a few holes in the base.

Set aside into the freezer for about 10 minutes and in the meantime preheat your oven to 390° F (200° C).

Place some parchment paper with pie weights, beans, rice or another pie pan on top of the dough so it doesn't puff while baking, and bake for about 40-45 minutes until golden (keep an eye on it!)

Let it cool completely, then garnish with whipped feta, marinated zucchini and toasted pine nuts. Extra touch: a little bit more honey!
---
Have some leftover zucchini? Try these DELICIOUS and easy chocolate zucchini muffins!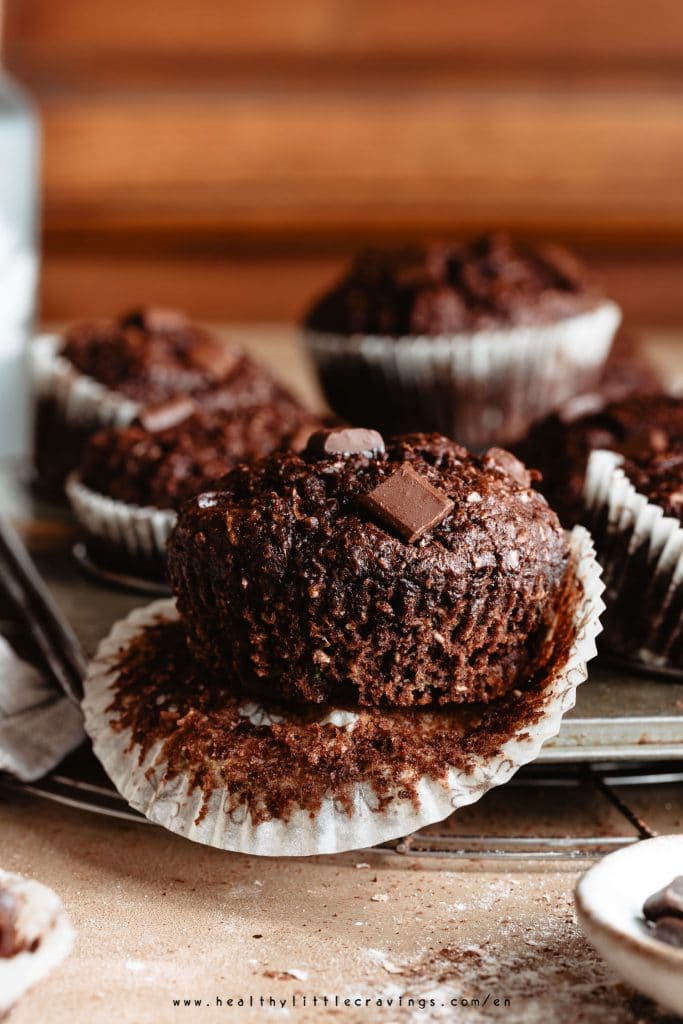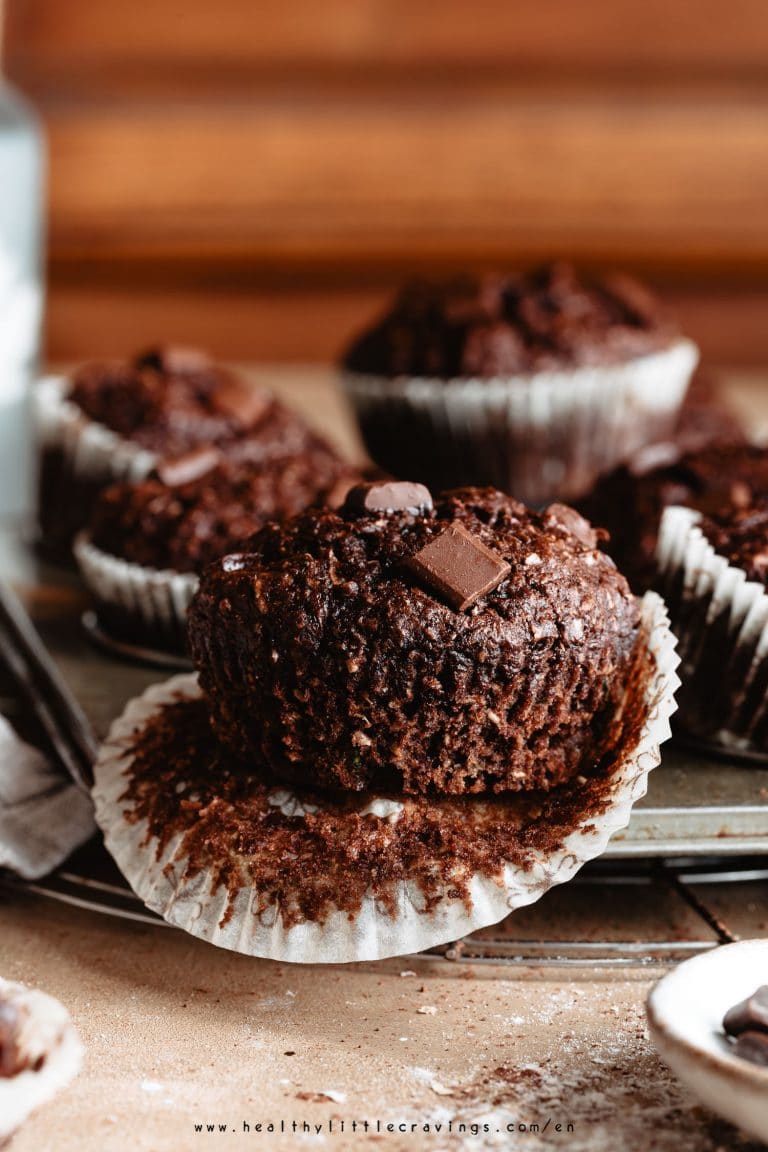 Or do you love savoury pies? I think you should try this tomato galette, another perfect Summer recipe!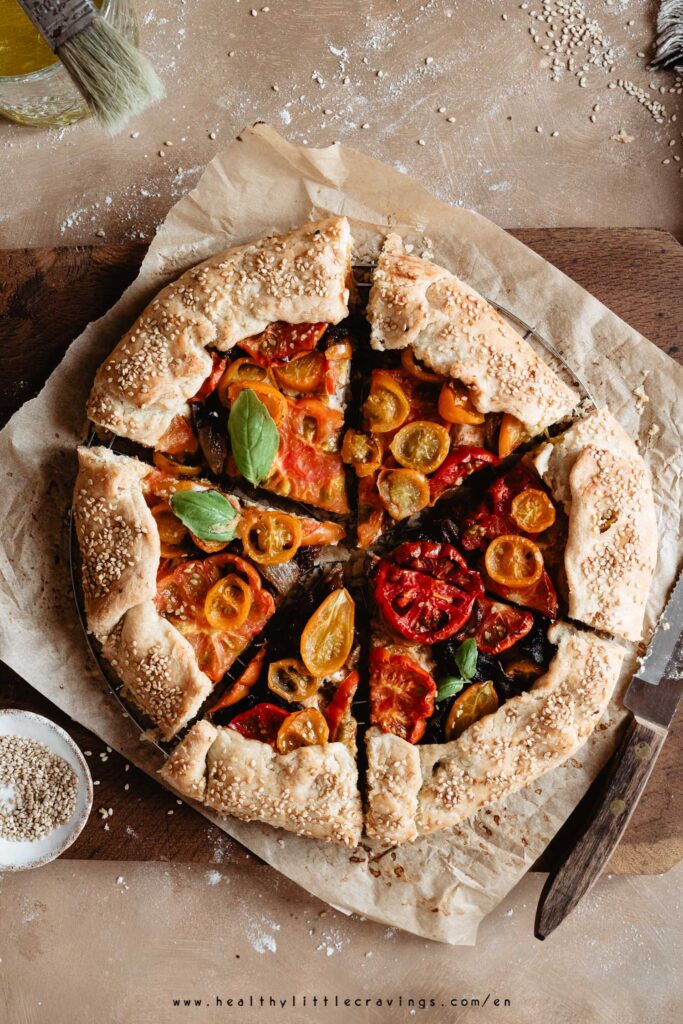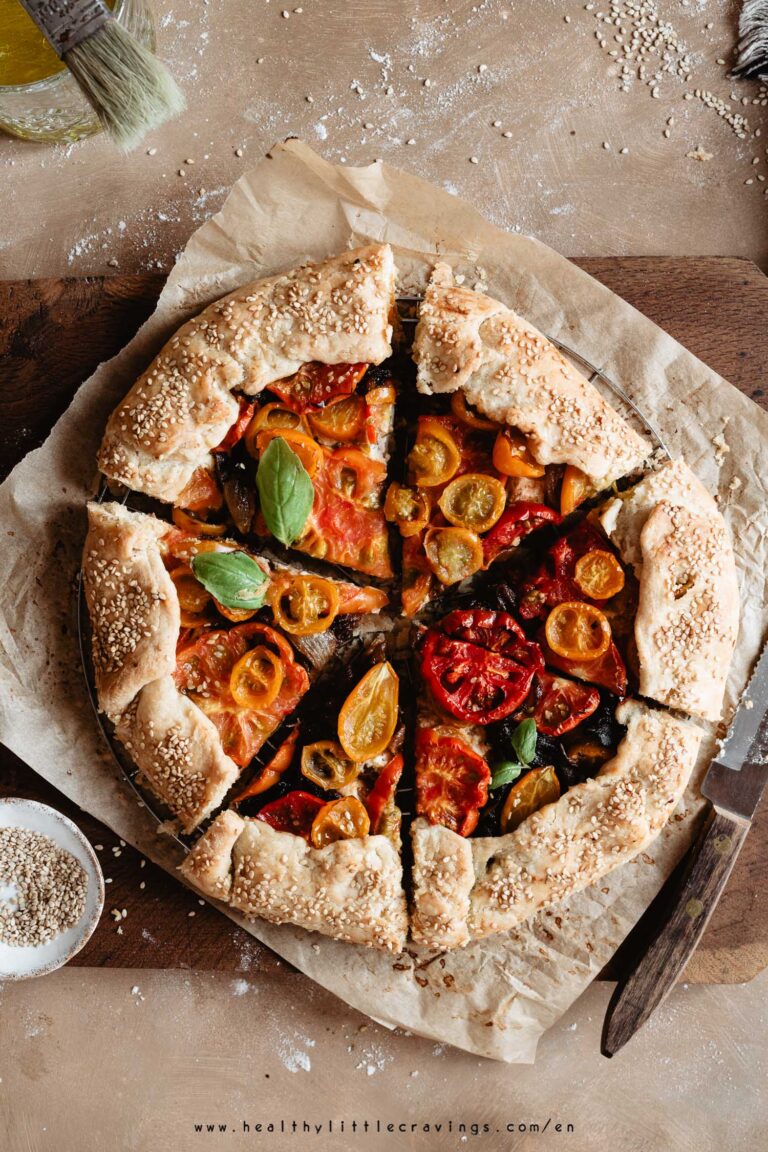 ---
© Healthy Little Cravings – Roberta Dall'Alba.
I own all content and photos' copyright.
Before using my photos and recipes, please email me.
If you would like to republish a recipe, please link back to this post and re-write the instructions in your own words.