A couple of weeks ago I shared my "famous" Mediterranean pasta salad and you truly loved it! A sweet girl even sent me a photo of hers, that she basically made immediately after reading the recipe (ah I'm so happy!).
But, even though it's Summer, sometimes we need something richer. Am I right?
This savory tomato galette with caramelized onion and goat cheese will blow your mind with its balanced flavors! It has sweetness, saltiness, a bit of sourness...everything your palate needs to party! 🎉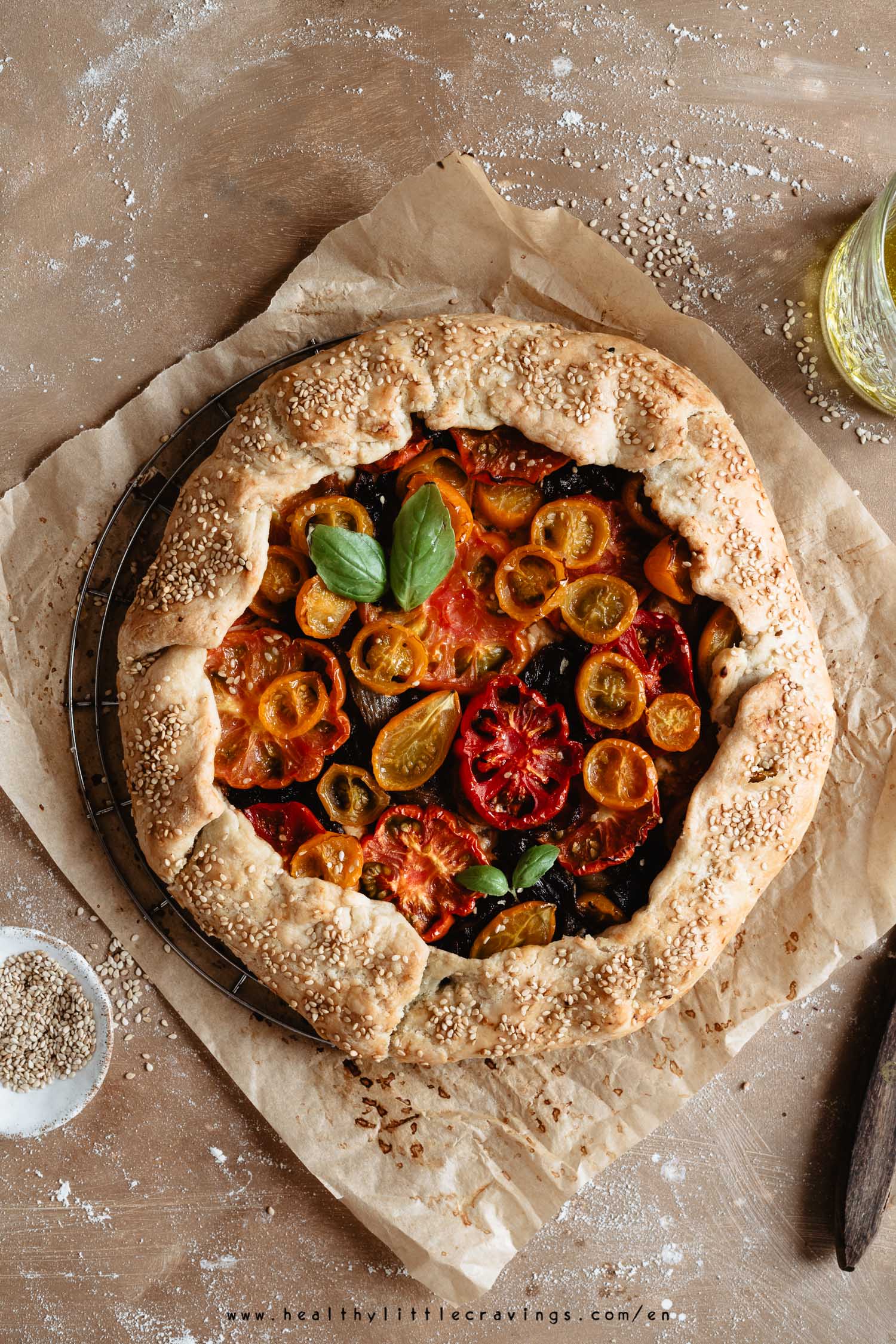 The perfect meal for family gatherings: this tomato galette!
Ever happened that you've been invited to some family or friends gatherings and you have absolutely no idea what to make?
Maybe you made do with store-bought pizzette, or just one pizza cut in squares, or maybe you chose to make puff pastry with smoked salmon, cream cheese and herbs (which I LOVE but after a few times it becomes...boring?)
When I made this savory tomato galette a couple of weeks ago, my boyfriend was working all day long so we couldn't eat it straight out from the oven.
But I knew this galette, both the crust and the filling, would have been perfect if eaten in the evening.
No need to heat up!
In other words, this galette is the perfect dish to bring at family (and friends) gatherings! Just bring with you a pizza cutter.
P.S. Of course you can eat it for your lunch or dinner with your partner/family. Store it in the fridge so you can eat it the day after!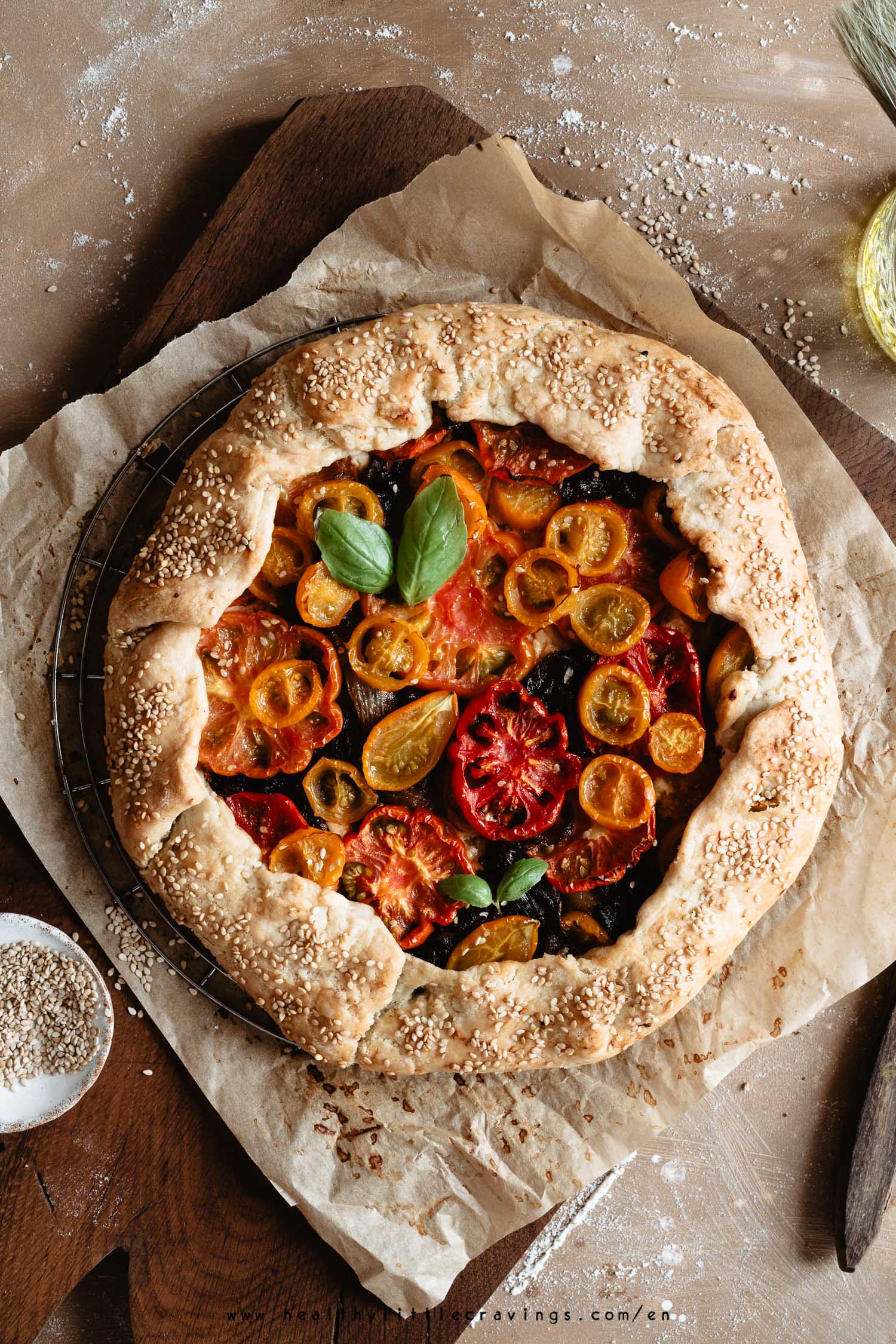 Why is butter so demonized?
I have to confess: when I made this savory galette, me and my boyfriend split it in two.
Yes, two.
Now, if you have already read the recipe and you do the math, that means that I basically ate 100 gr of butter (from the crust).
That's a lot.
I told my boyfriend I didn't want to, it was definitely too much. Do not misinterpret: I was not worried to gain weight. It was just a fact: eating too much of "something" is never healthy.
But we were hungry and we ended up finish it off.
Now, I'm not saying you should avoid it, neither you should eat 100 gr of butter all at once like we did.
I think though that nowadays butter is demonized.
Seems like everyone is scared of it.
When has this fear of butter born? Who said butter is not good for our health?
Premise: when talking about butter - in this post - I'll be referring to high quality one.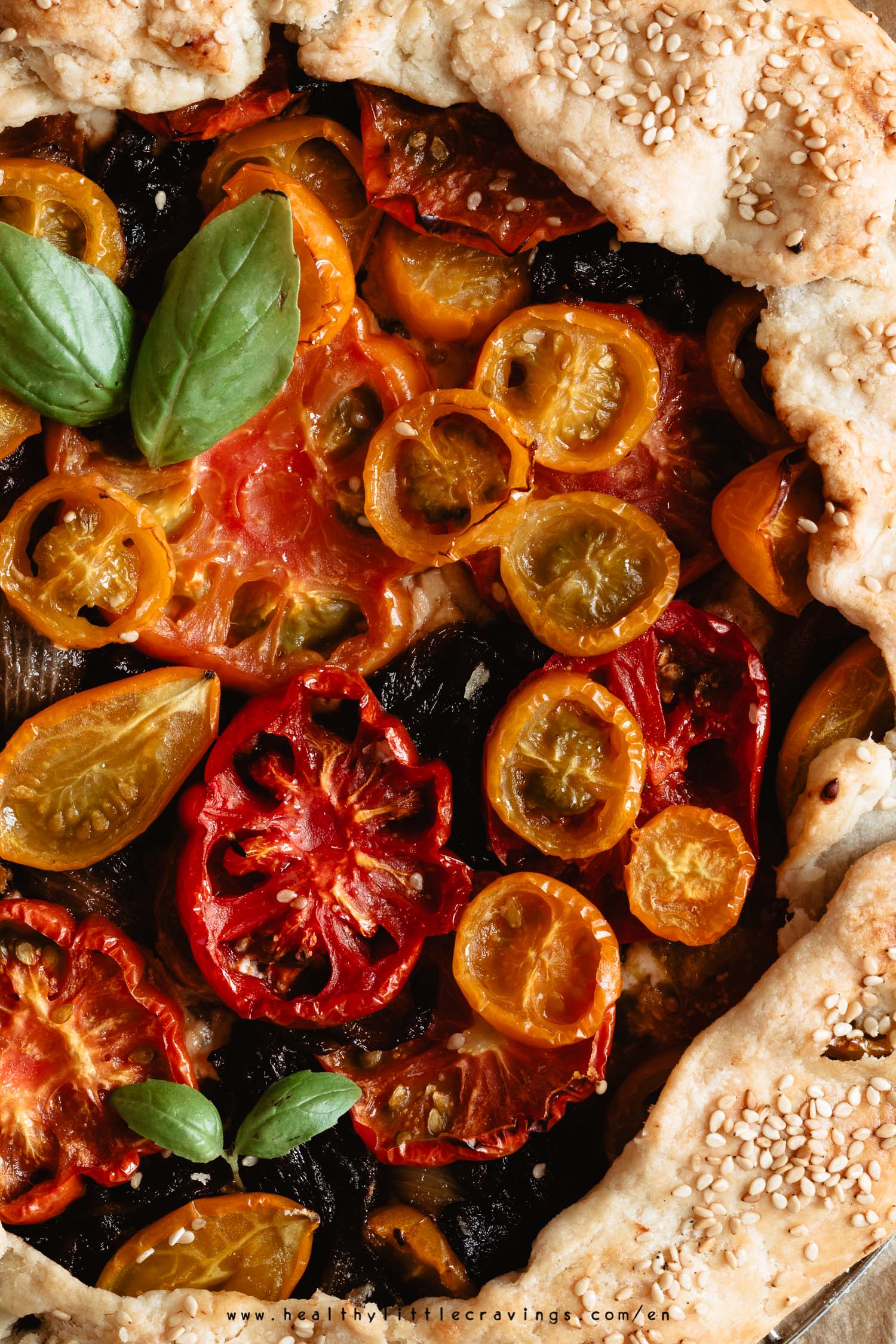 I'll give you 3 reasons why this fabulous ingredient is good, when eaten in moderation:
Butter is rich in important nutrients
It has fat-soluble vitamins like A, E and K.
Also minerals like calcium and phosphorus.

You don't need a lot to feel "satisfied" and full
Butter is high in calories and fats. But that's not always a bad thing: you just need a small amount in order to keep your belly satisfied longer.

It contains butyric acid
Butyric acid is a fatty acid which feeds our intestine's cells and helps reducing inflammation.
In moderation, it's good for it!

So, can we stop being scandalized when we find a recipe that involves butter (and yes, also on a healthy food blog like mine)?
Remember that butter is healthier than some other fats, like margarine for example.
How much butter is healthy per day? Some trustworthy websites say about 10/15 gr is enough.
Butter is fine in moderation. Enjoy the galette!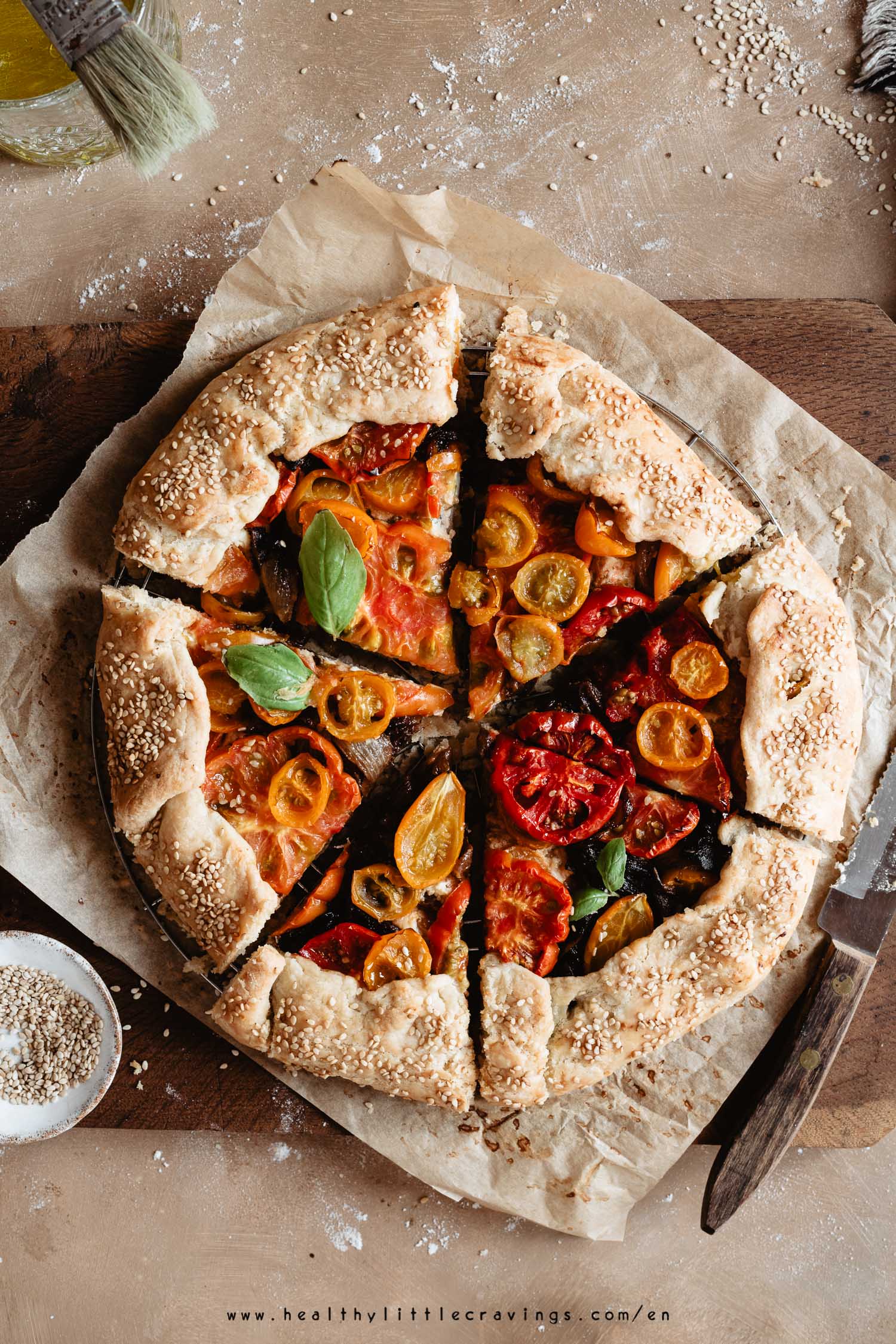 ---
If you make this recipe, please be sure to give it a rating and leave a comment! It would make me so happy! 🙂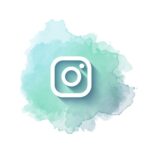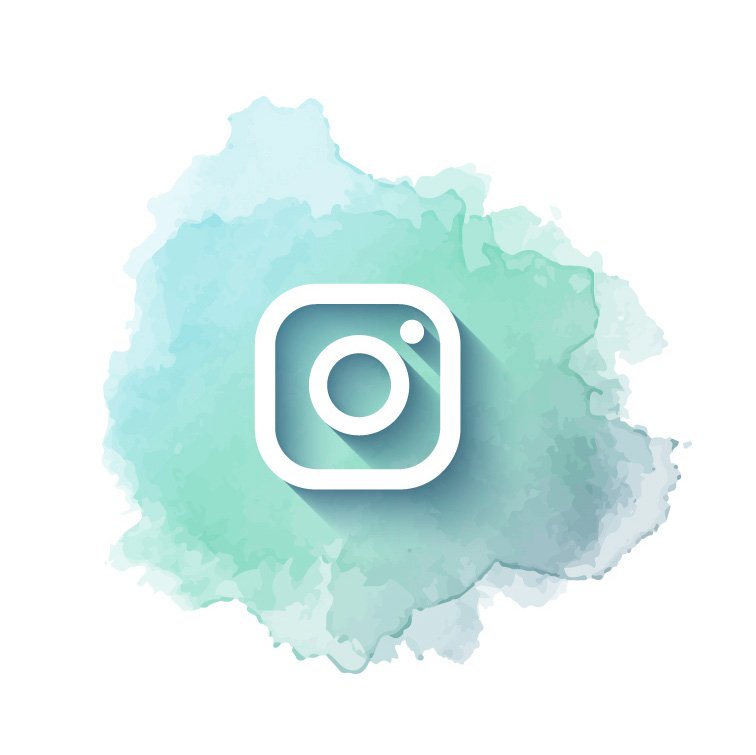 Remember: if you try one of my recipes, tag me on Instagram or DM me the photos!
---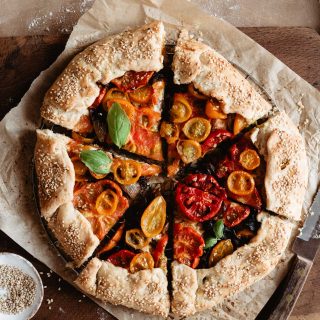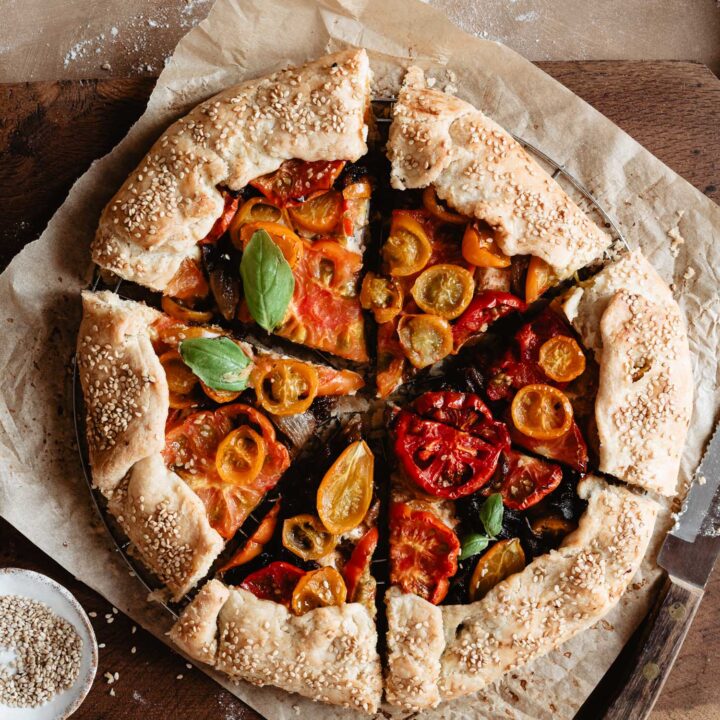 TOMATO GALETTE WITH ONION AND GOAT CHEESE
An extremely flavorful savory galette with different kind of tomatoes, a creamy filling and a buttery crust!
Crust recipe by Bigger Bolder Baking.
Print
Pin
Ingredients
For the crust:
325 gr

Organic all purpose flour

200 gr

High quality unsalted butter (frozen or very cold)

a pinch

Salt

Approximately 10 tablespoons

Cold water

1 tablespoon

Lemon juice
For the filling:
300 gr

Tomatoes (different varieties)

80/100 gr

Goat cheese

Thyme

Basil to garnish
For the caramelized onion:
1 big

Onion

about a couple of tablespoons

Extra virgin olive oil

a pinch

Salt

a drizzle

Balsamic vinegar
Brush the crust with:
Milk

Sesame seeds (to garnish)
Instructions
To make the crust:
I followed this recipe by Bigger Bolder Baking.

Gemma grates the frozen butter into the flour and combine all the ingredients by hand (that's what I did).

But you can also add all the ingredients to a food processor and pulse until you get a crumbly consistency, then put it on a floured surface and work with your hands until you get a nice dough.

Let the dough chill in the fridge for at least an hour (I left it overnight).
Heat up some oil into a pan, then throw the sliced onions and cook at medium heat without stirring.

When the bottom of the pan is brown, add salt and vinegar and stir. Keep cooking and stir every once in a while in order not to burn it.

After 10 minutes lower the heat and cook until they're caramelized. Set aside.
To assemble the galette:
Preheat the oven at 200° C (400° F).

Combine goat cheese and thyme.

Clean the tomatoes and slice them. Set aside.

On a floured work surface, roll out the puff pastry until you obtain a 30/35 cm disc.

Spread the goat cheese filling leaving the edges clear. Add caramelized onion and sliced tomatoes.

Close the galette by folding the edges over the tomatoes and pinching the joints.

Brush the crust with milk and sprinkle some sesame seeds.

Bake for 40 minutes or until golden brown.
---
© Healthy Little Cravings - Roberta Dall'Alba.
I own all content and photos' copyright.
Before using my photos and recipes, please email me.
If you would like to republish a recipe, please link back to this post and re-write the instructions in your own words.
---
Sources:
- Healthline
- Project Invictus
---