If I think about Summer in Italy, I think about two things: caprese salad and prosciutto e melone (prosciutto and melon). Two delicious ideas for a meal or as appetizer for a cocktail party.

I LOVE this combo, but I wanted to take it to the next level. And that's why I made these delicious and refreshing prosciutto and melon crostini with flavorful goat cheese (and herbs)!
If you like sweet and savory, you definitely need these.
(Also an amazing easy appetizer!)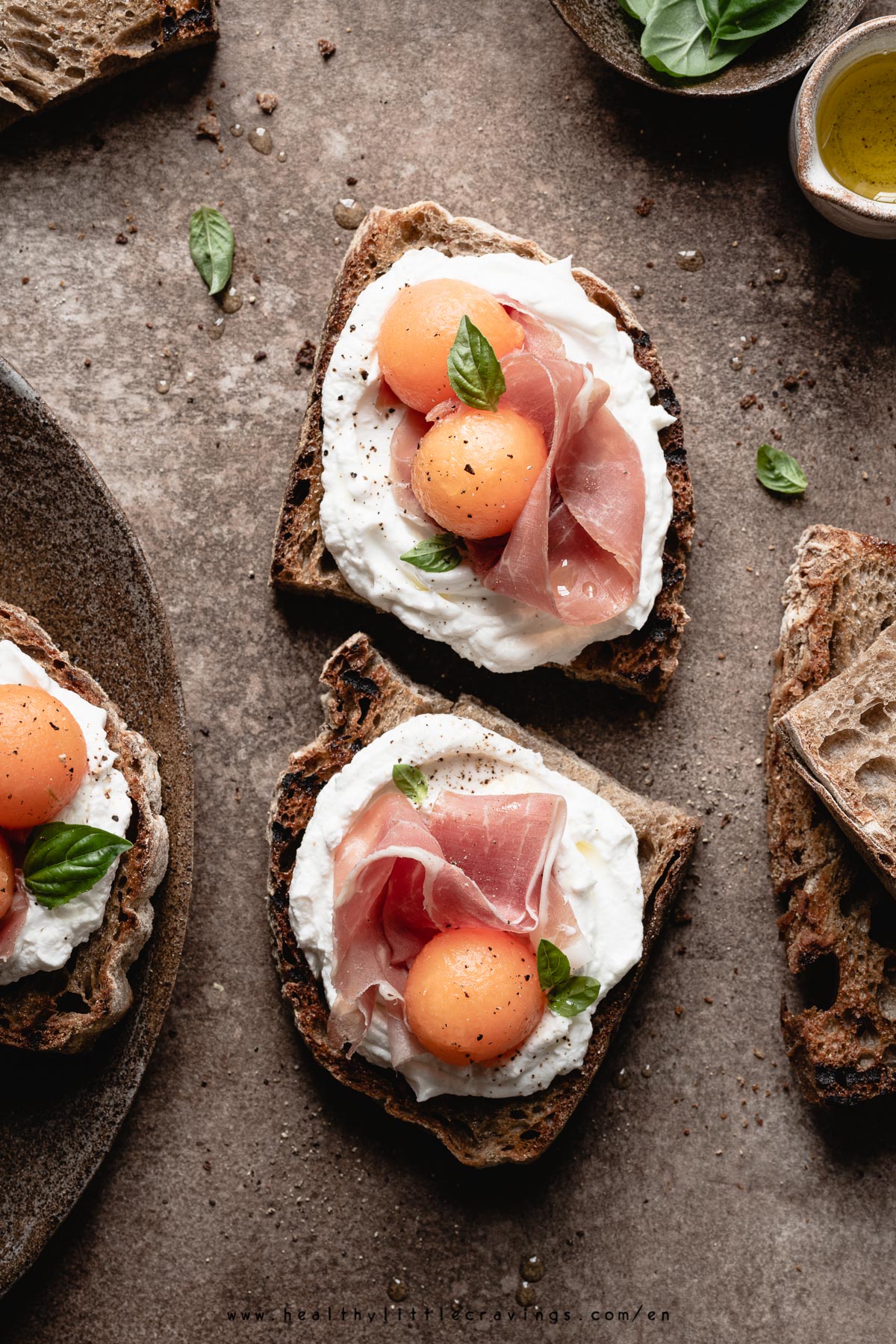 Where does melon and prosciutto come from? An Italian combo.
Ok, to be honest, I am not really sure it's a typical Italian combination.
But it reminds me so much of Summer in Italy. And my childhood too.
When I was a kid indeed I used to go on vacation to a nice place near Venice, called Caorle, and, in the hotel where we stayed, they ALWAYS served prosciutto e melone as an appetizer.
I found an article that says the origin of this combination comes from Ancient Greece, when people used to combine two contrasting elements, like sweet-savory, wet-dry, cold-hot. That is why prosciutto and melon works: it's a play of flavors, consistencies, texture.
Pay attention to quality of ingredients and...
The thing about these two ingredients is that they perfectly match: the fruity aromas of cantaloupe melon are amazing with the volatile compounds in ham.
Pay attention though: Niki Segnit in "The flavor thesaurus" says "don't overwhelm the ham with huge briquettes of melon, or use underripe melons - the lovely, buttery texture of a ripe one is half the point of the pairing."
And also: "But then it shouldn't be so ripe that its aroma catches like hair lacquer at the back of your throat."
So, yes. As usual, it's extremely important that you choose high quality ingredients: that include a ripe good cantaloupe (when you purchase it, take a moment: it should smell good already) and a tasty prosciutto crudo.
In my recipe, good goat cheese and sourdough bread are important as well.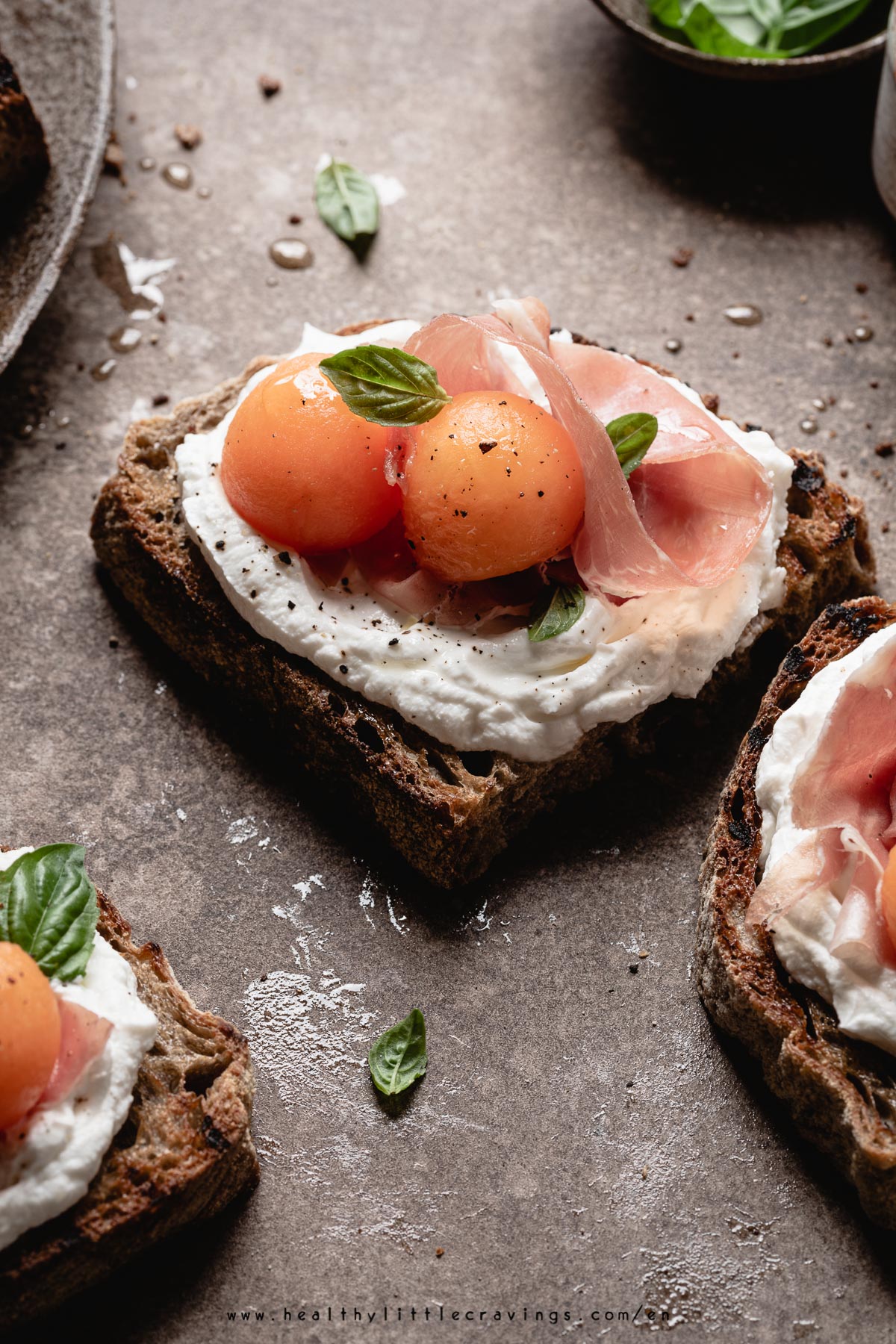 ...time!
Although we said the beauty of this combo is the contrast between sweet-savory, wet-dry and cold-hot, the ingredients shouldn't be too cold (or too hot. Best at room temperature).
But you should also avoid assembling everything too far in advance, otherwise prosciutto, being a salty ingredient, will draw out all the juice from the melon.
Also very important: toast your bread so you get those beautiful toasted aromas, but wait a few minutes before spreading the goat cheese and assembling everything.
HOW TO MAKE IT.
[Which melon should you use? And which prosciutto?]
This prosciutto and melon appetizer is one of those delicious recipes that you absolutely need to make in hot Summer days.
And it's super easy to prepare:
Toast
First brush your sourdough bread with a bit of olive oil. Toast it.

Cut the fruit
Cut melon chunks, or use a melon baller, like I did, for a funnier presentation.

Spread cheese
Spread the goat cheese on top of crostini.

Add prosciutto crudo
Finally add Italian ham (thin slices of prosciutto), then add melon wedges / balls.

Garnish
Top your crostini with a few drops of olive oil and fresh herbs. I also added a tiny bit of black pepper.
How about the fruit? Just use a good sweet melon.
I love Cantaloupe, but you can also use other varieties like canary or honeydew melon.
They're all good. Seriously, use your favorite melon.
About the types of prosciutto instead: I think prosciutto di Parma or San Daniele are simply the best.
Is there anything better than fresh melon and a slice of prosciutto in Summer?
We all love easy recipes, uh? 🙌🏻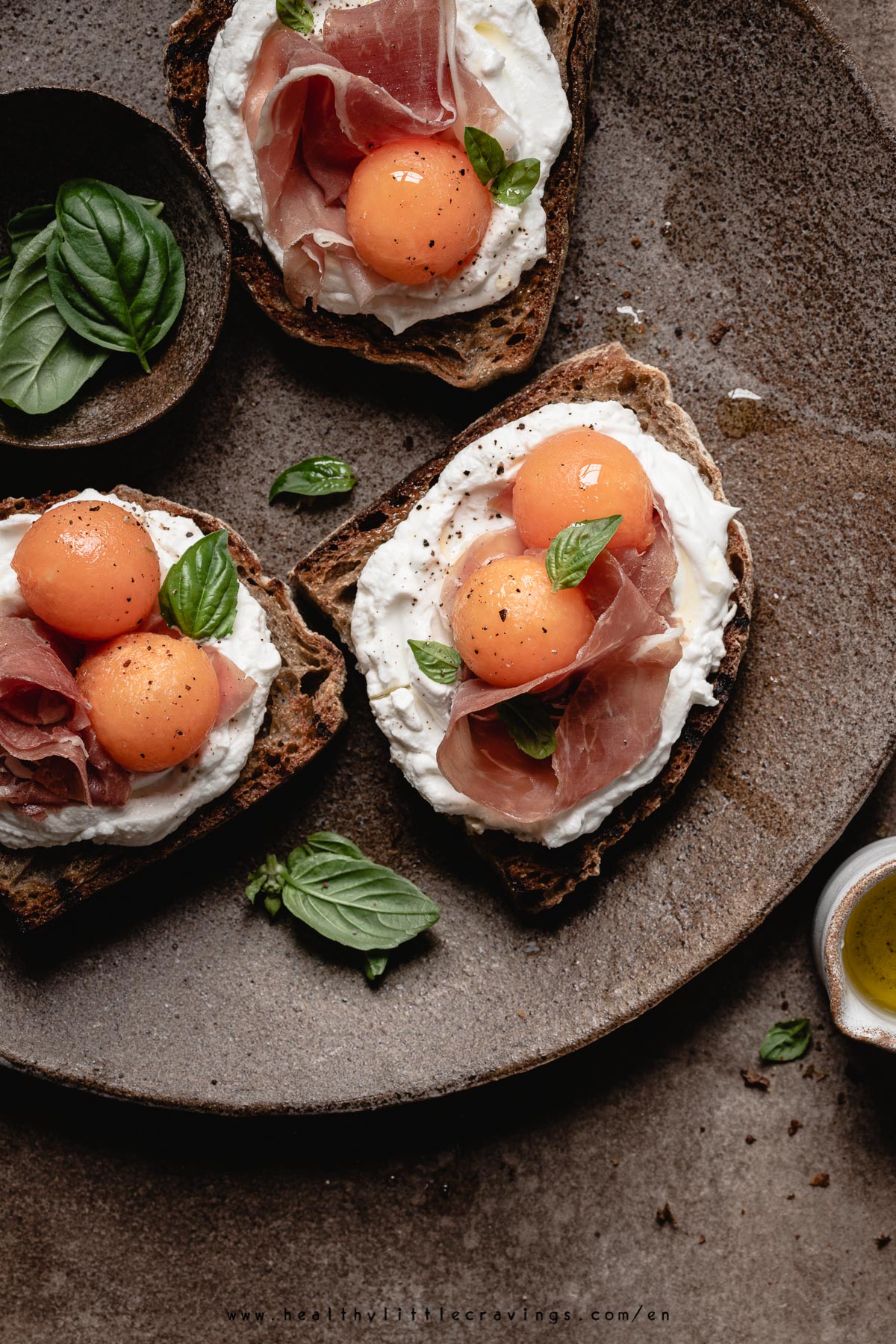 Prosciutto and melon is a great combo.
But...is prosciutto healthy to eat?
I love healthy recipes, but my philosophy is that everything is ok if eaten in moderation.
Personally, like I said in the charcuterie cheese board post (here), I don't eat cold cuts that much.
But when I do I treat myself (actually, ourselves, me and boyfriend - my cats instead eat the fat parts;)) with high quality prosciutto crudo.
That is what I invite you to do: buy quality cold cuts! Thank me later:)
P.S. In terms of completing the dish, I would pair these Prosciutto and melon crostini with a simple arugula salad, that will be amazing because of that slightly tangy flavor.
ENJOY (maybe also with balsamic vinegar, balsamic reduction or balsamic glaze on top!;))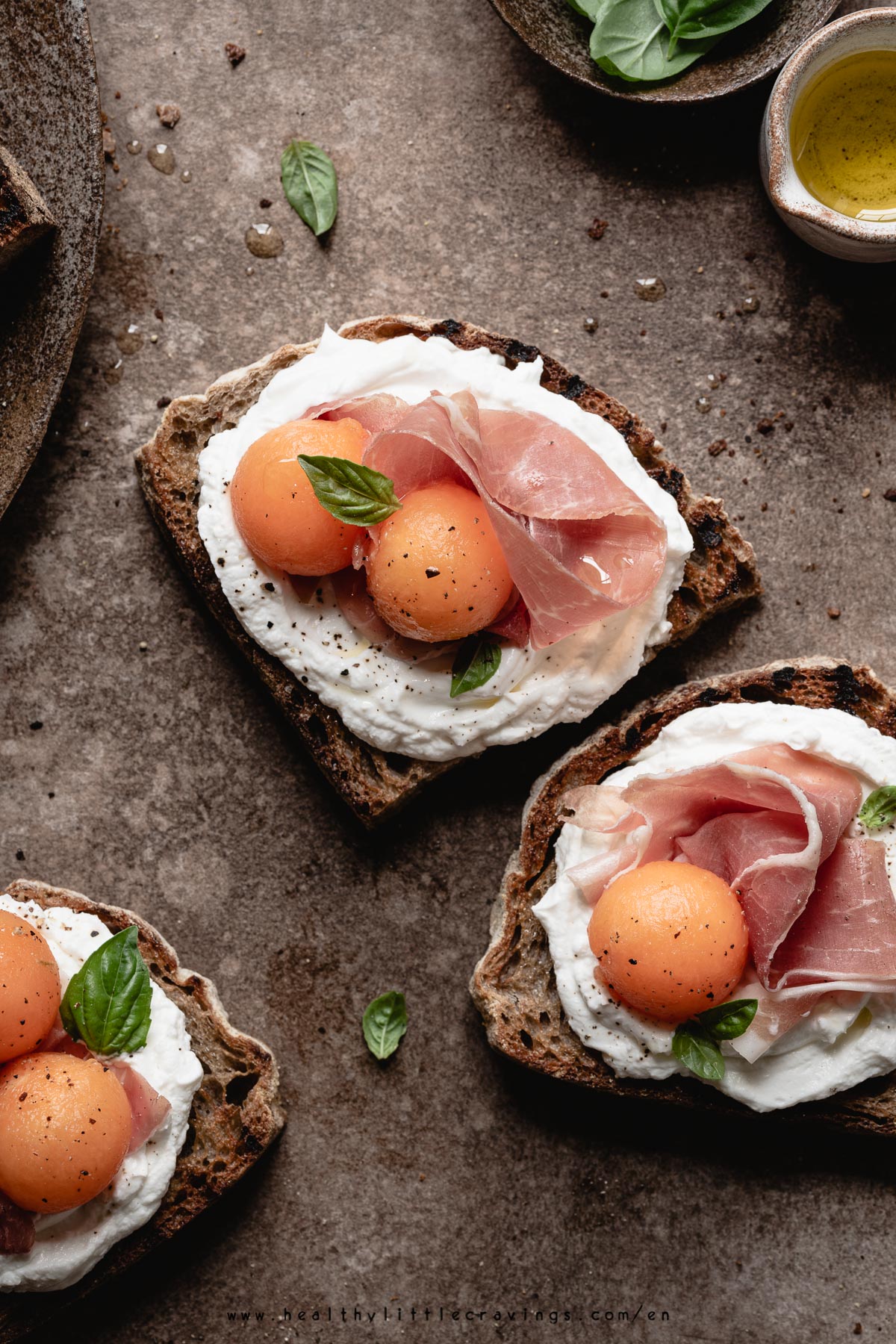 ---
If you make this recipe, please be sure to give it a rating and leave a comment! It would make me so happy! 🙂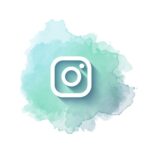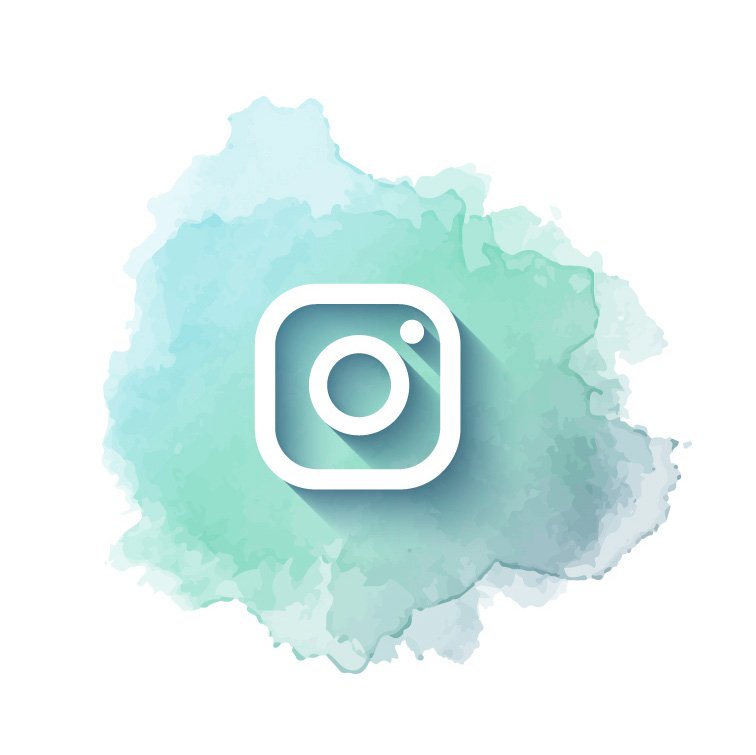 Remember: if you try one of my recipes, tag me on Instagram or DM me the photos!
---
Don't forget to pin and share this easy and delicious recipe!
Prosciutto And Melon Crostini
Take this amazing combo to the next level: try it on sourdough bread and with some creamy goat cheese.
Print
Pin
Ingredients
4-6

pieces

Sourdough bread

100

g

Spreadable goat cheese

-

adjust quantity if needed

100

g

Prosciutto crudo (di Parma or San Daniele are the best)

½

Cantaloupe melon (small)

a few leaves

Herbs (basil or mint)

a drizzle

Extra virgin olive oil
Instructions
Brush your sourdough bread with a bit of EVO oil.

Toast it on a very hot cast iron grill pan.

Cut your cantaloupe melon in slices or balls, for a funnier presentation.

Spread goat cheese on top of crostini.

Add prosciutto crudo, then add melon slices/balls.

Garnish with a few drops of EVO oil and fresh herbs. I also added a tiny bit of black pepper.
---
Do you like prosciutto? I think you cannot miss this charcuterie cheese board!
---
© Healthy Little Cravings – Roberta Dall'Alba.
I own all content and photos' copyright.
Before using my photos and recipes, please email me.
If you would like to republish a recipe, please link back to this post and re-write the instructions in your own words.