Ohhhh boy, what a week it has been! I honestly don't know how I'm finally finding some time to sit down and write a blog post.
Ok, am I sounding too dramatic?
Let me explain: we adopted a 70 days old kitten last week and I'm feeling like a new mom!
Why this premise, you saying?
Well, he "helped" me shooting these whole wheat hamburger buns the other day! Oh, he also licked them cause they're sooo good! (look at the pic!)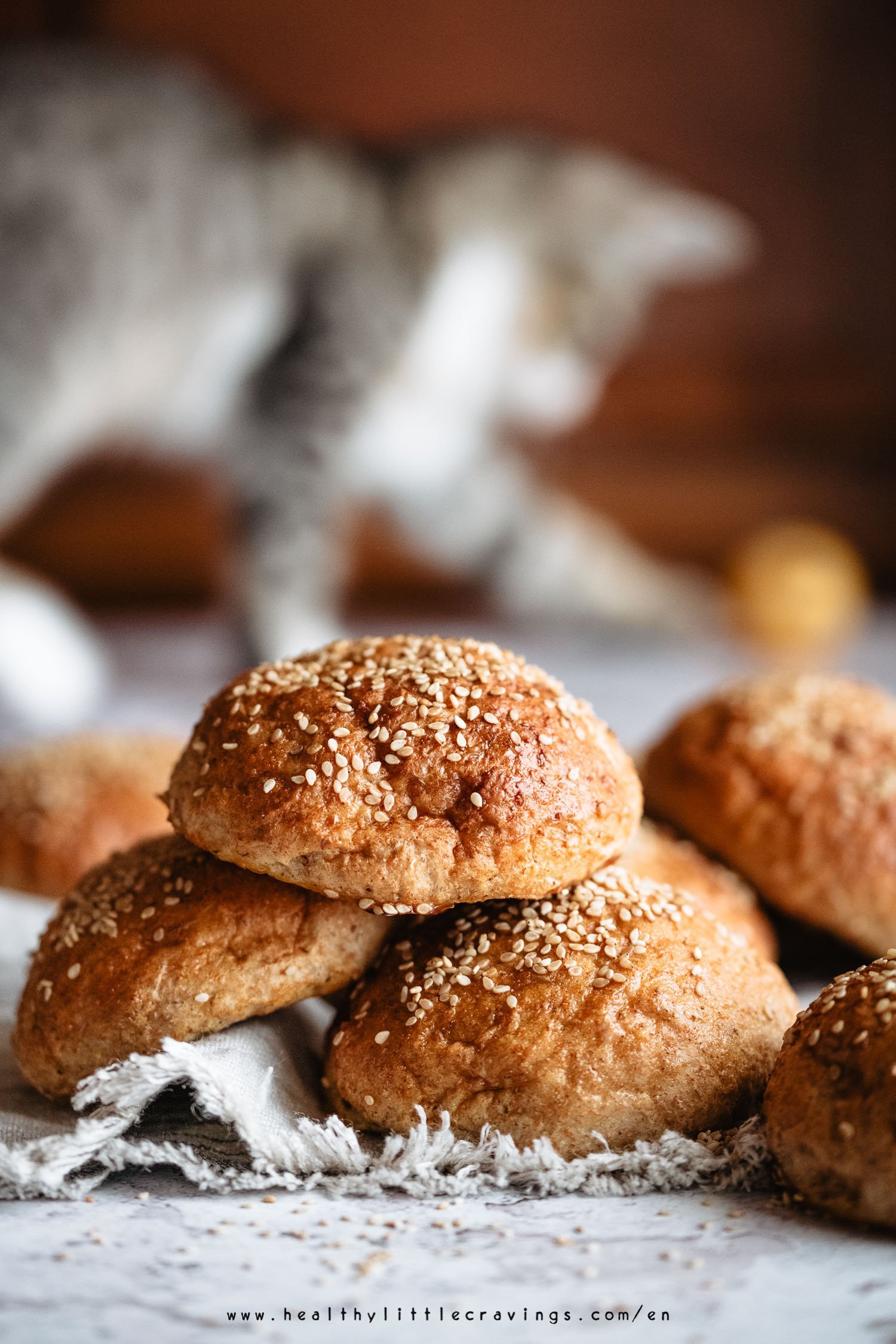 You have a burger, you don't have a bun. Then try these whole wheat hamburger buns!
This recipe was born last week, because I had a burger recipe ready (you can find it here), but didn't have any burger buns in my pantry or freezer. Actually, I never do, simply because I never buy processed buns at the store.
Carpe diem, don't miss the chance! I thought.
I immediately went to my kitchen, checked if I had all the ingredients (I didn't have milk, oops) and activated my bread machine.
Oh, no, right: I've made the water roux first.
I've basically used the same recipe I used back in March, when I made Hokkaido milk bread. Remember it? It was EXTREMELY FLUFFY and delicious! No wonder it's one of the most popular recipes on the blog!
And these came out super soft too (despite the whole wheat flour).
So, friend, if you were looking for a whole wheat hamburger buns' recipe for your delicious burgers, I'm glad to say you just found it!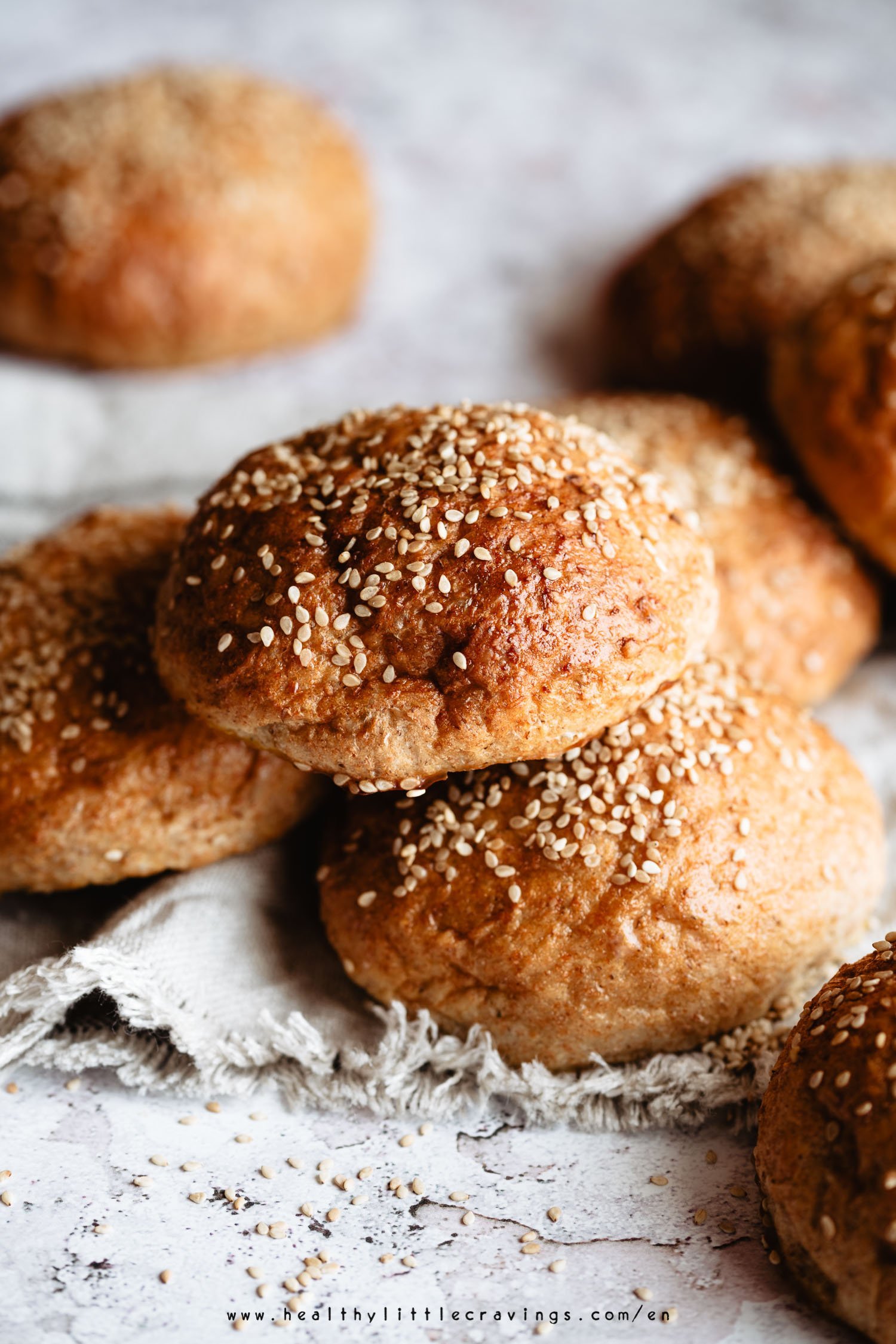 Tangzhong method for extra softness
Last week when I made these beauties, I decided, as I mentioned before, to follow my multiple-times-tested Hokkaido milk bread recipe.
For one main reason: I wanted soft hamburger buns, not tough! And I knew the Tangzhong was the answer to that.
I don't know if you're familiar with Tangzhong method, in case you don't please go read the Hokkaido bread post.
Briefly: it's a mixture of water + flour that gives the loaf extra softness. That's because together they will form a gel that will hold onto water into the dough and, because the liquids won't evaporate, you'll obtain a higher moisture bread.
How to make a water roux:
Tangzhong, a.k.a water roux, is so easy to prepare. You'll need 2 ingredients, a pan and a whisk.
Combine water and sifted bread flour into a small pan, then gently whisk;
Now place the pan over low heat on the stove;
Whisk all the time with a spatula or a tiny silicon whisk, until you obtain a thick gel-consistency mixture;
If you have a thermometer, measure it: it should reach 65°C/150°F;
Turn off the heat and let cool down at room temperature.
Easy uh? It takes 2 minutes and it gives your bread extra fluffiness.
Just make sure you prepare it in advance, so it has time to cool down.
Result? You'll have the best whole wheat hamburger buns ever!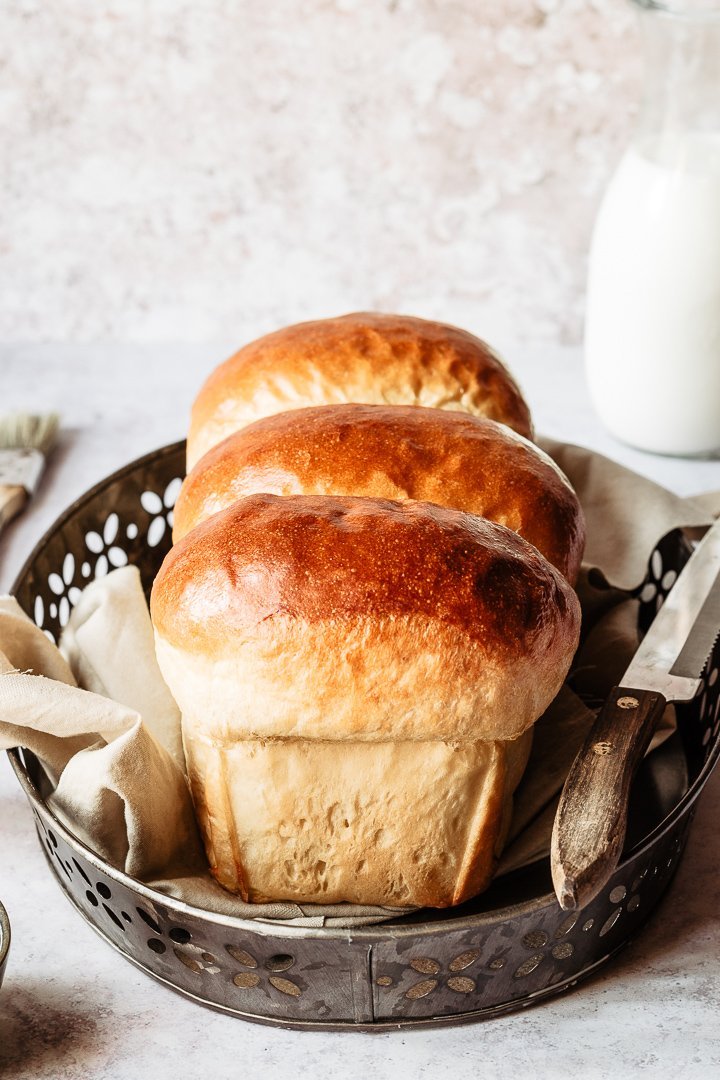 FREQUENTLY ASKED QUESTIONS about these soft hamburger buns:
What makes these buns soft and fluffy?
The Tangzhong method! As I mentioned above and in my japanese bread recipe back in March, the water roux will hold onto moisture and that will result in a softer loaf. If I were you, I'd start using it in every recipe from now on!
Does the whole wheat flour make the buns sturdy?
The texture of these whole wheat hamburger buns is a bit more dense than the regular ones made with bread flour. But they're not tough at all. Indeed, they're perfect for holding your burgers!
Can I use milk instead of water?
I encourage you to use it! Milk gives so much more flavor. I've made these with water just because I forgot to buy milk.
I'll test the milk buns recipe soon!
How long do these hamburger buns last?
The water roux method also makes your bread last longer. These wheat buns will last ⅔ days into a airtight container, but my advice is to freeze them so they will last weeks...months!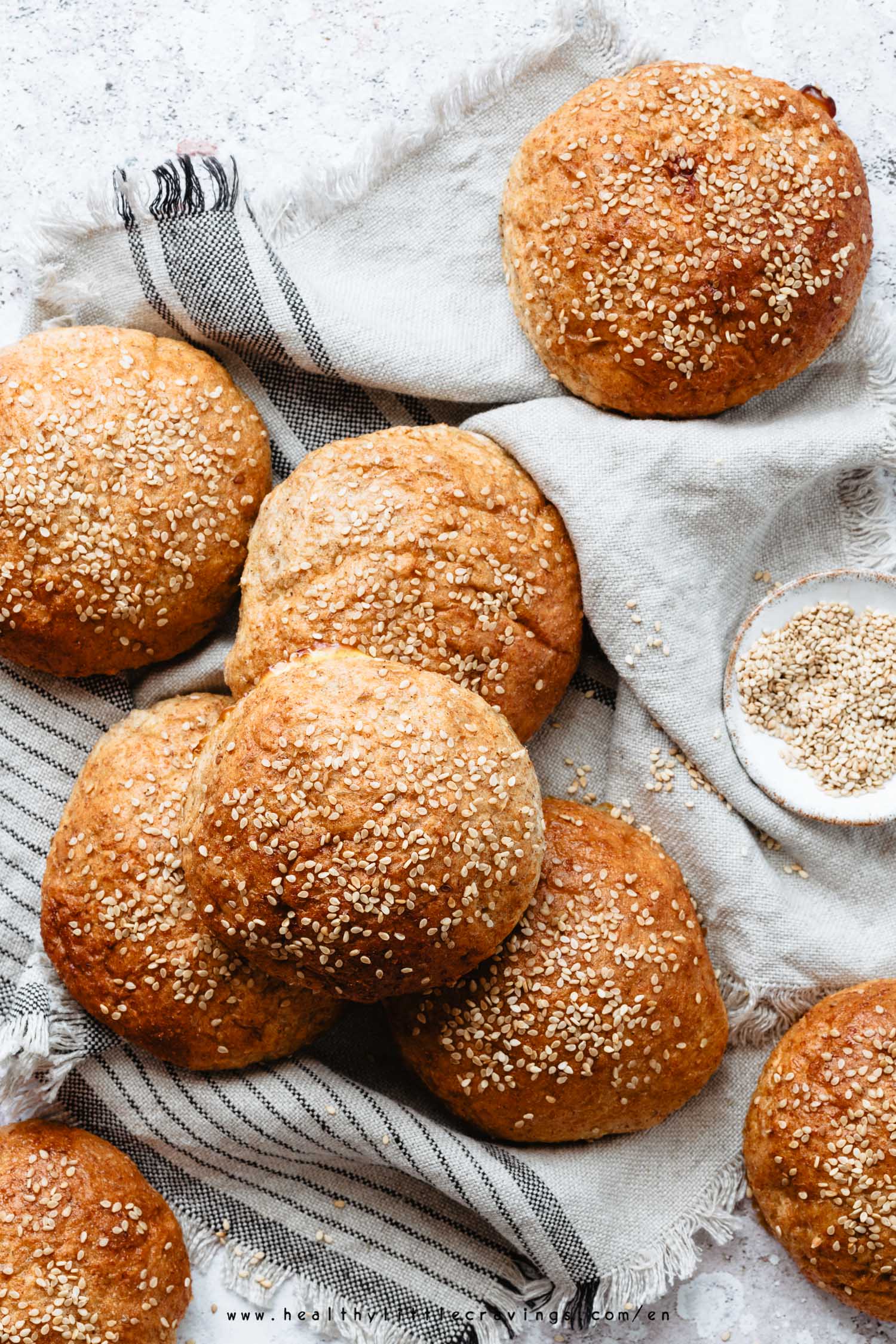 ---
If you make this recipe, please be sure to give it a rating and leave a comment! It would make me so happy! 🙂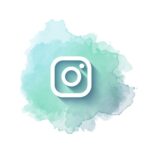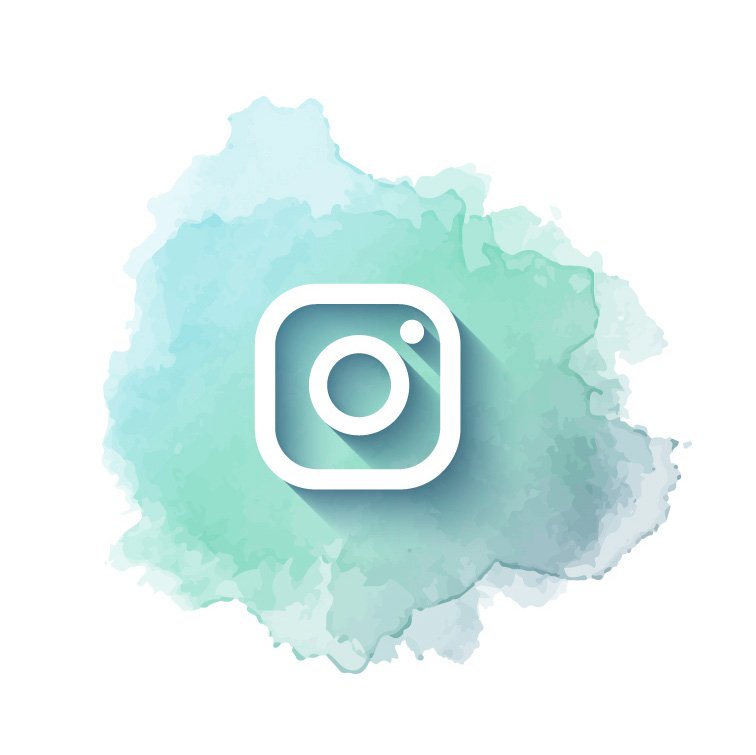 Remember: if you try one of my recipes, tag me on Instagram or DM me the photos!
---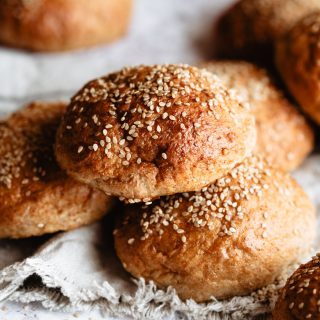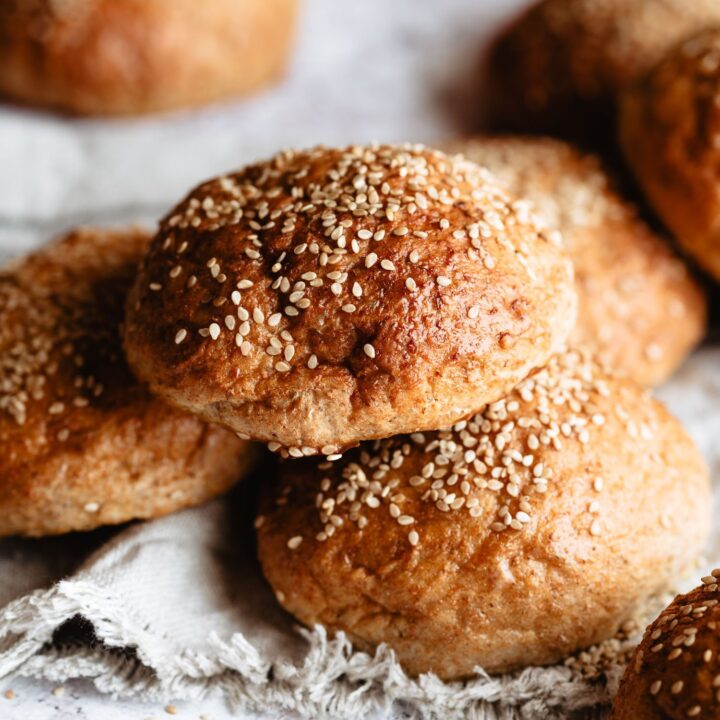 SOFT WHOLE WHEAT HAMBURGER BUNS
These burger buns are a healthier version of the regular ones: made with whole wheat flour, rich in fibers!
Print
Pin
Ingredients
For the Tangzhong (water roux):
25

gr

Bread flour

100

gr

Water
For the buns:
320

gr

Whole wheat flour

5

gr

Salt

30

gr

Brown sugar (or white)

5

gr

Dry yeast

120

gr

Warm water

-

at 35-40° Celsius approapproximately

5

gr

Condensed milk

Half Beaten egg

-

approximately 25 gr

20

gr

Extra virgin olive oil

5

gr

Water
To brush the top:
Milk

-

(or a combination of condensed milk and water)

Half Beaten Egg

Sesame seeds
Instructions
For the Tangzhong (water roux):
Start with the water roux: in a small pan, combine water and flour then whisk.

Place it over low heat on the stove and keep whisking with a spatula or a tiny silicon whisk, until you get a thick gel-consistency mixture (and it reaches 65°C/150°F)

Pour the water roux on a plate, cover with plastic wrap and let it cool at room temperature.
For the hamburger buns:
(I usually use a bread machine, but if you have a stand mixer that's even better. You can make them by hand too.)

Put whole wheat flour, sugar, salt into the machine and program it for "dough", press Start. Add dry yeast and 120 gr of warm water (ideally at 35-40° C / 95°-104°F).

Gradually add the beaten egg, condensed milk, Tangzhong and let incorporate.

Add the oil + water and let knead for 15/20 minutes.

Place the dough into a greased bowl, cover with plastic wrap and let it rise for 50 minutes in a warm place (in Summer, you'll probably need less time).

After the dough has doubled in size, press it - gently! - to degas it.

Divide it into 8 pieces (about 75 gr each) and roll them into balls. Cover and let them rise for 50 minutes.

Preheat your oven at 180°C (350°F).

Combine milk and egg, brush the buns and sprinkle some sesame seeds on top.

Bake for about 20 minutes or until golden brown.

As soon as you take them out of the oven, brush with more milk.

Let cool down on a cooling rack.
---
Loved this recipe? I've got another one for you, using the Tangzhong method: my Hokkaido milk bread recipe!
---
© Healthy Little Cravings - Roberta Dall'Alba.
I own all content and photos' copyright.
Before using my photos and recipes, please email me.
If you would like to republish a recipe, please link back to this post and re-write the instructions in your own words.