If I had to choose something to do endlessly for the rest of my life, this thing would be: baking these Swedish cardamom buns (also with cinnamon, of course).
I can't stop. I just can't get enough of them. They're SO FREAKING DELICIOUS and you should try them at least once in your life (and then you'll enter the vicious cycle lol)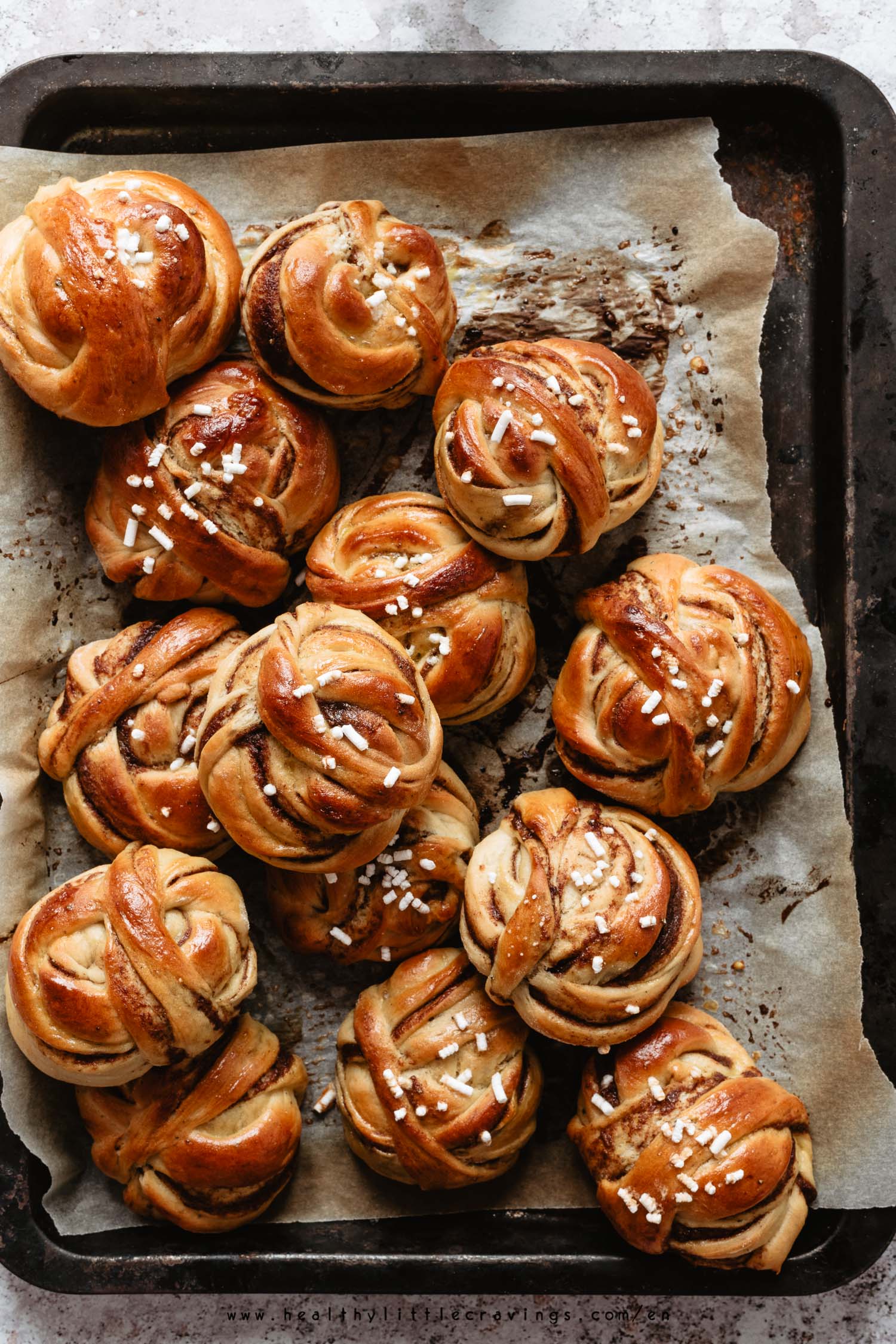 The "healthier" version of Swedish cardamom buns
Let me specify (in case you still haven't read a post on this blog): to me, "healthy" can also be a traditional kardemummabulle made with butter and regular flour, if enjoyed without worrying, if eaten in a cold afternoon in Sweden (or where you live;)) with your loved one/s.
Like this giant one, that we ate at Café Husaren, Göteborg, back in April.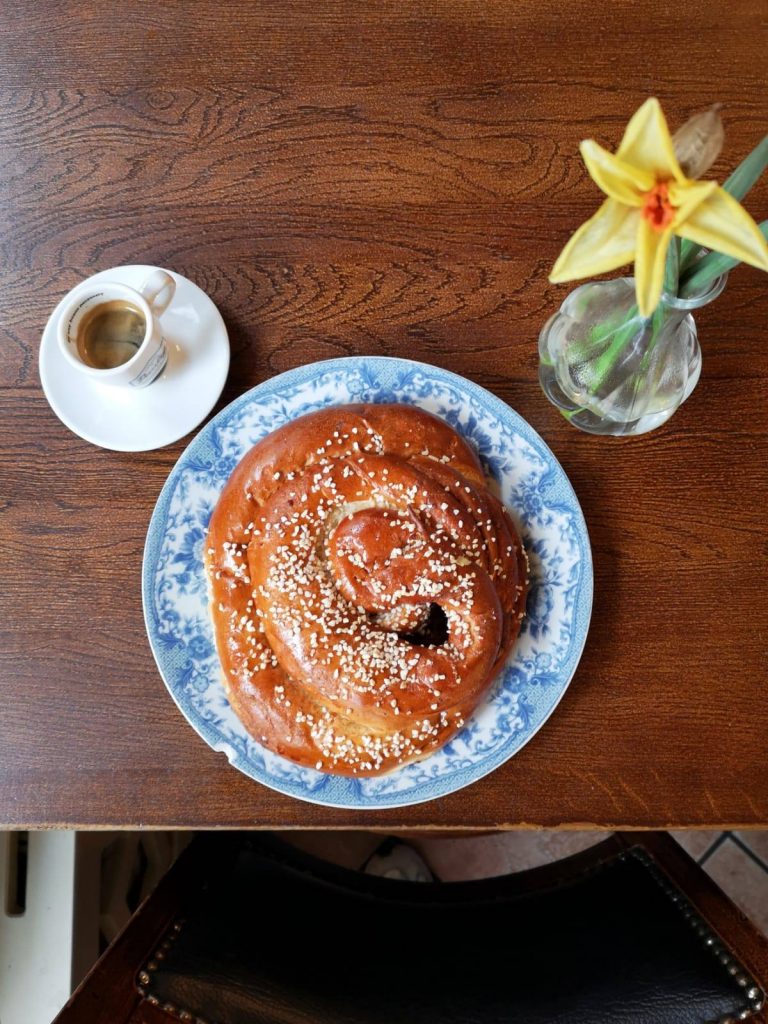 The "unhealthy" is in the quantity. I know what you're thinking: "You just shared a photo of a GIANT cardamom cinnamon bun".
Don't worry we divided it. Also, we only ate it twice and never again.
Anyway, the version I'm sharing with you today is way lighter than the original.
I haven't used any butter (the traditional recipe calls for 160 gr overall). Instead I have used oil + water into the dough and applesauce in the filling. Honestly, this filling is as good as the buttery one. Only waaay lighter and with less fats (even though I love fats).
I bet if you compared the two, you'd never guess which one is lighter. They're both extra delicious cinnamon cardamom buns.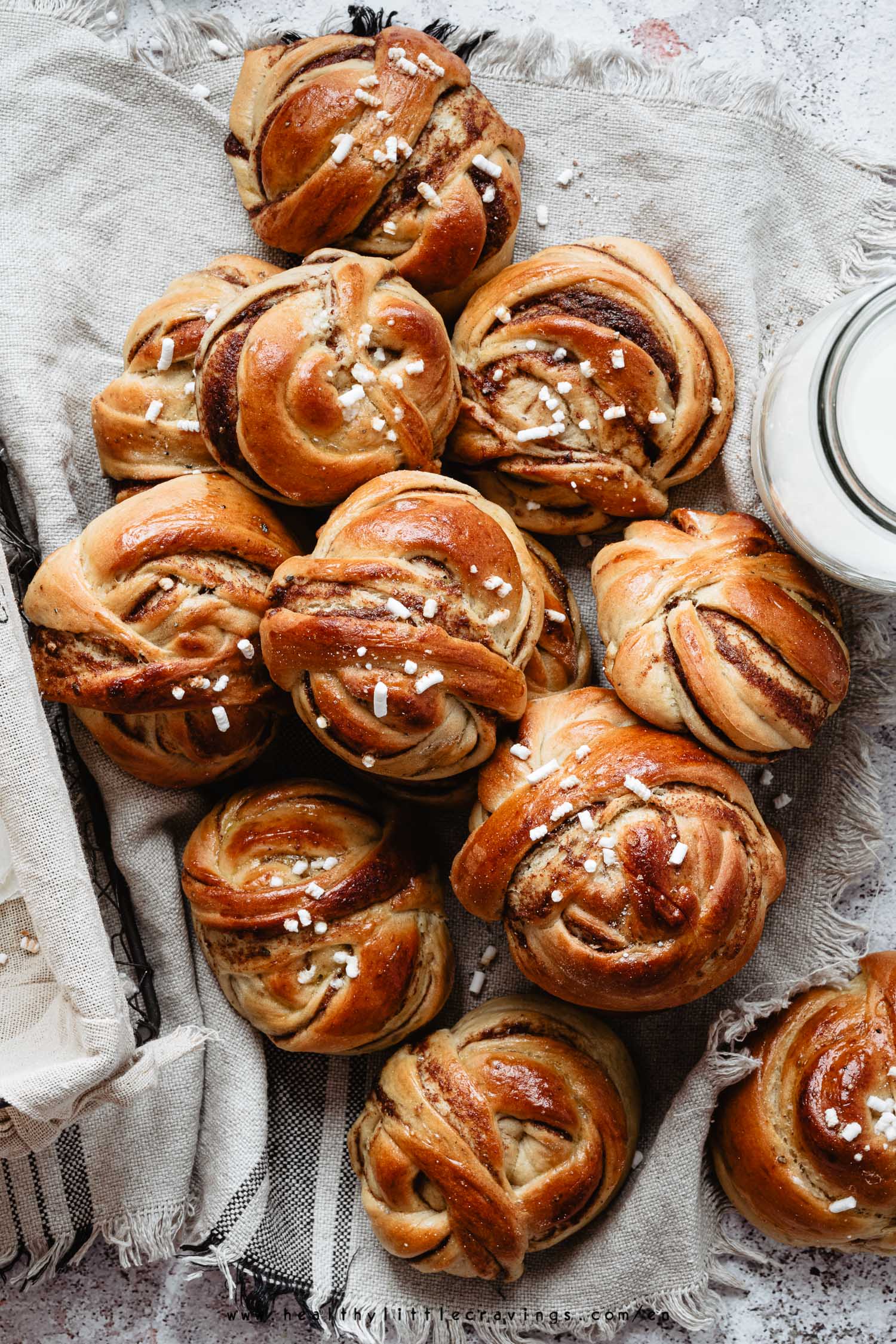 Can I say, though, that leaving out butter, a Swedish pantry staple, is like omitting a piece of Sweden? Ok, I said it.
What is cardamom bullar?
Bullar, plural of bulle, Finland-Swedish word for "rolls, buns".
When you try a kanelbulle (cinnamon bun) or kardemummabulle (cardamom bun) for the first time, if you close your eyes you can instantly be teleported to Sweden.
I'm especially in love with kardemummabullar, Swedish buns with cardamom and cinnamon in the filling.
If you'll ever visit Sweden, you'll find these in every bakery. There's nothing more typical than bullar! And make sure to have at least one breakfast with a cardamom (or cinnamon) bun, or you'll regret!
What does cardamom taste like?
When I tried these Swedish sweets for the first time, cardamom immediately took the lead in my "top 3 spices".
It has a delicious spicy, citrusy scent and a balsamic flavor (green cardamom is herbal and has notes of pine).
It will make everything so much better, trust me!
MY ADVICE: grind the seeds from cardamom pods, don't use already ground cardamom. it tastes way better if you grind it up yourself.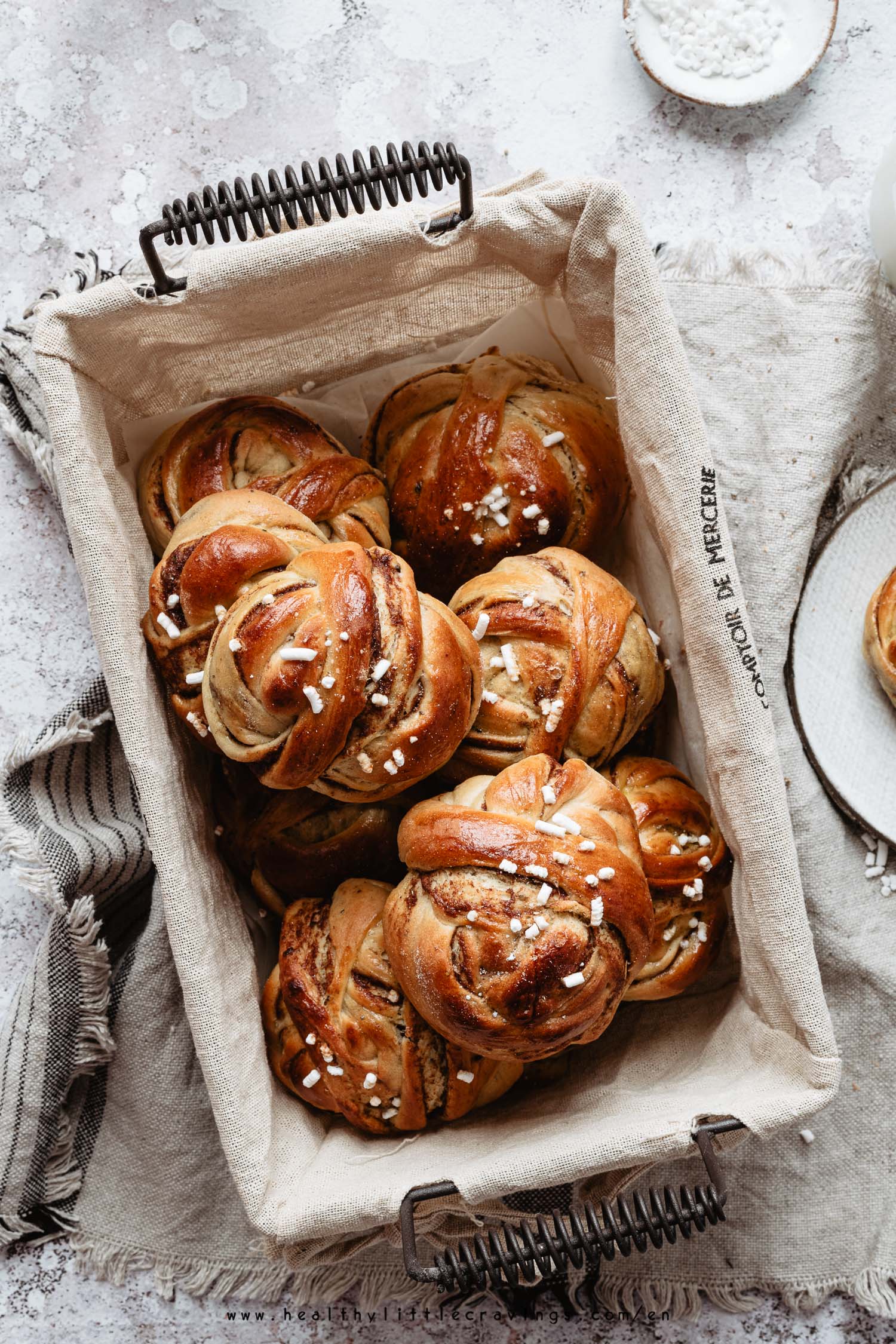 How to make these cinnamon cardamom buns?
The method is the same as my other recipe:
Prepare the dough and let rise:
Prepare the dough using your stand mixer or by hand. First combine the liquids, then gradually add the dry ingredients. Cover and let rise for 30 minutes.
While dough is proofing, combine all the filling's ingredients and let rest into the fridge.
Roll the dough out on a floured surface, try to roll it into a 40x50 cm rectangle. 35x40 cm is fine too (tested!)
Cut 16 stripes using a pizza cutter.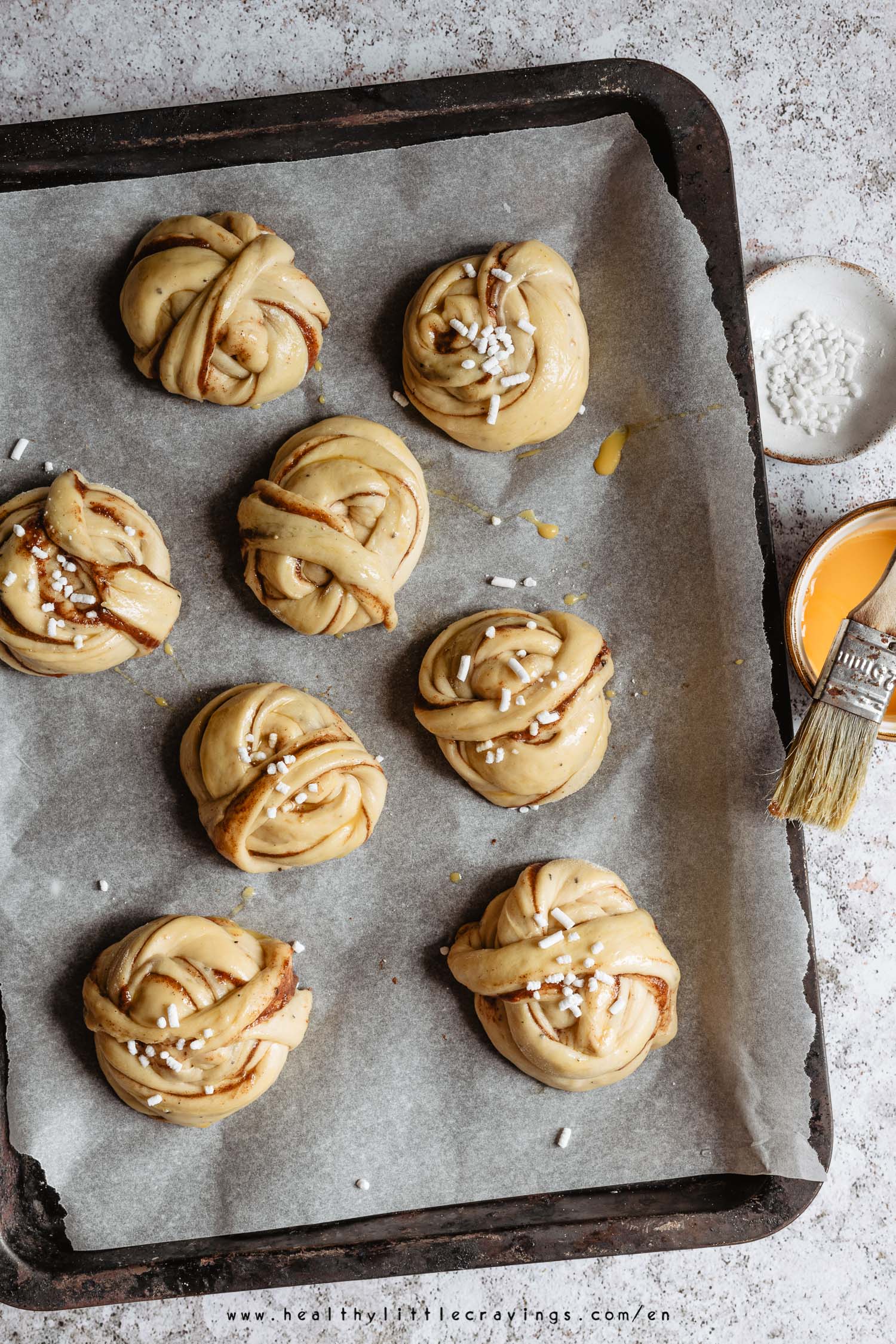 Twist each stripe, following the video on this page. Let rise for 30 more minutes.
Brush with egg, sprinkle some sugar pearls and bake for 10/12 minutes!
Ready to dig into these beautiful sweets?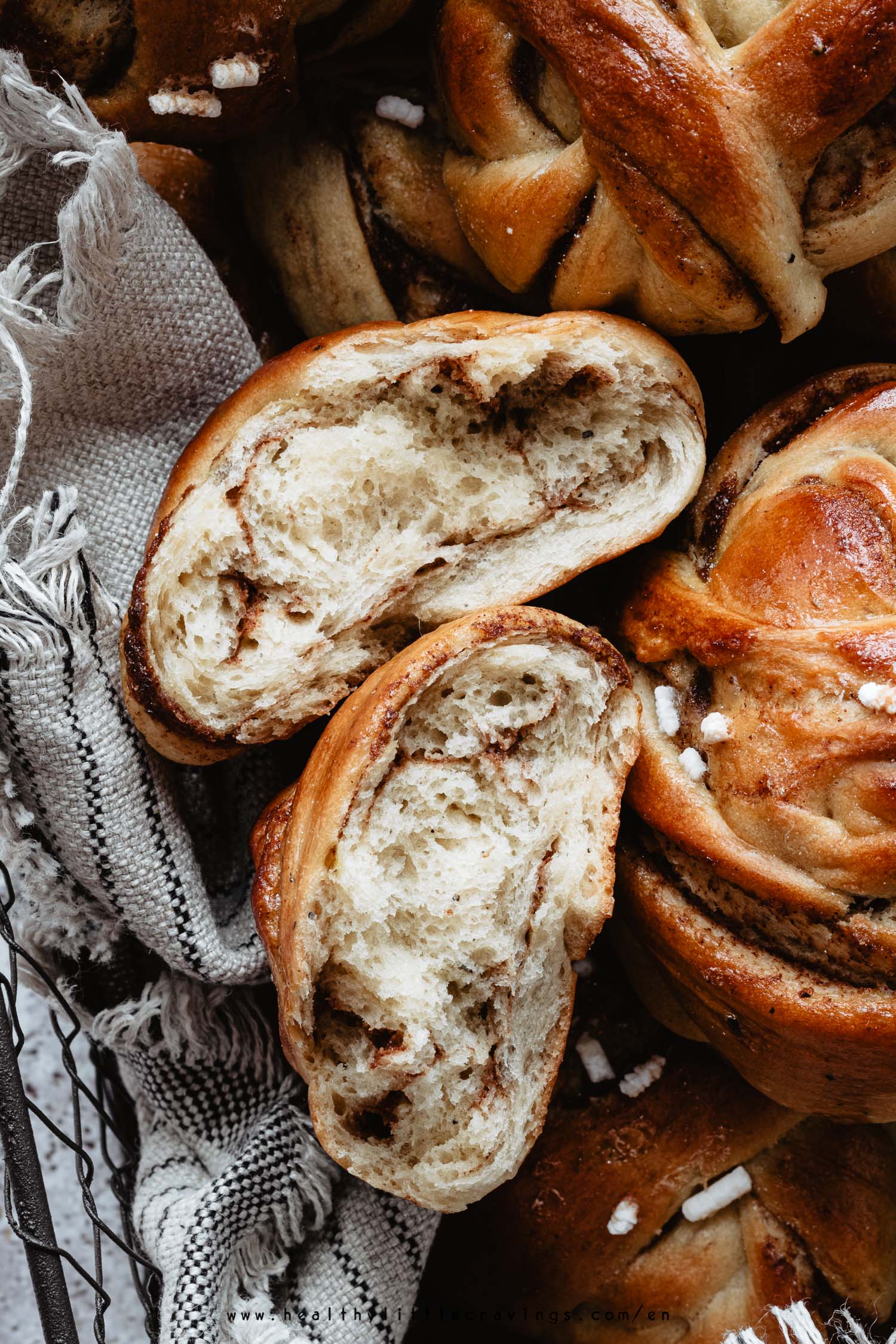 How to twist cardamom buns:
Learning how to twist a cardamom bun takes a little bit of practice.
When I made them for the first time, I watched videos over and over and I still ended up making a mess!
Then I thought: done is better than perfect.
Joking aside, there's seriously no need to make them perfect.
You just need to twist them the way you like (there are a few ways, not just the one in my video). The important thing is the yummy result.
Anyway, if you want to make it like mine, watch the video on this page.
You can also follow this video, or this one too.
Whatever you decide, remember to also have fun and don't worry about the mess!
---
If you make this recipe, please be sure to give it a rating and leave a comment! It would make me so happy! 🙂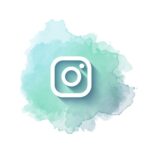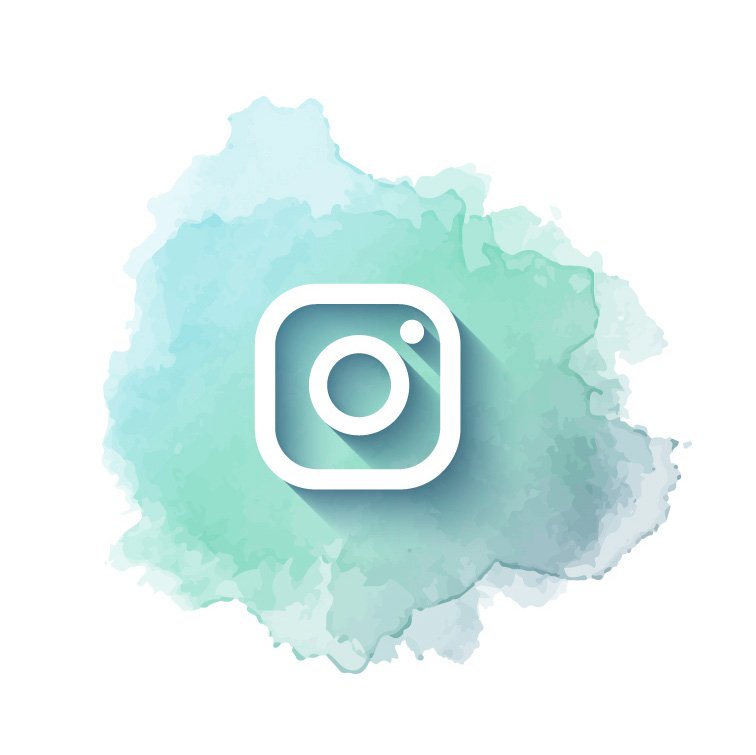 Remember: if you try one of my recipes, tag me on Instagram or DM me the photos!
---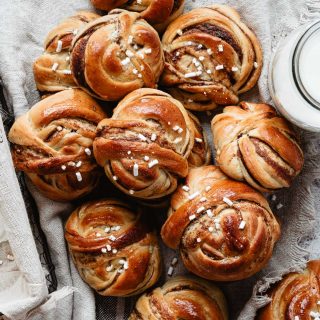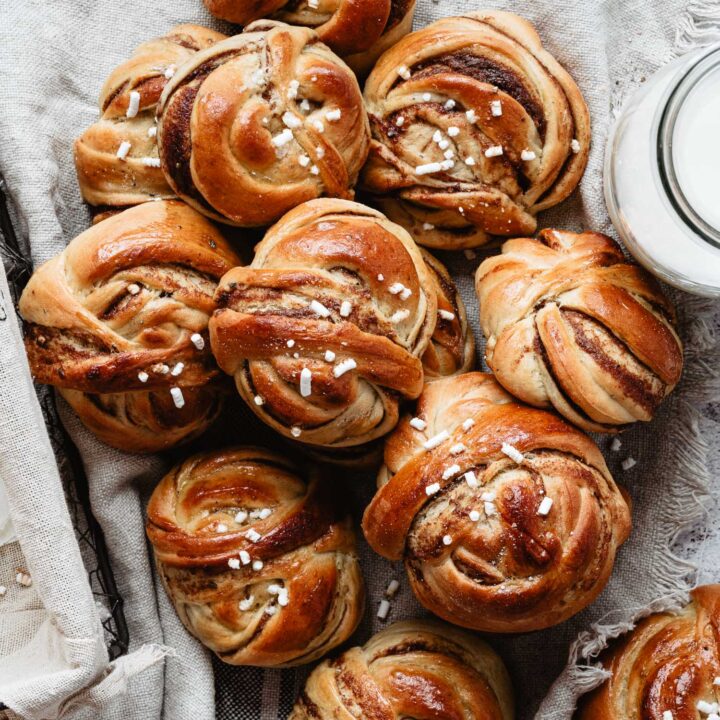 HEALTHY SWEDISH CARDAMOM BUNS
These kardemummabullar, aka Swedish cardamom buns, are made with Kamut flour, applesauce and oil instead of butter. You'd never tell they're healthier (let's say, lighter) than the original ones!
Print
Pin
Ingredients
Dough:
7 gr

Dried yeast

-

(you can also decrease the quanity, and increase proofing time)

1.5

cups

Whole milk (or water)

-

250 gr

2.3

fl. oz

Extra virgin olive oil

-

68 gr

1

tablespoon

Water

-

12 gr

¼ cup

+ 2 tablespoons

Brown whole sugar

-

40 gr

3

+ ⅓ cups

KAMUT®, Spelt or bread flour

-

+ extra to dust / 400 gr

2

teaspoons

Ground green cardamom

-

(a few pods)

1

teaspoon

Salt

half a

Beaten egg

-

25 gr
Filling:
3.5

oz

Applesauce

-

100 gr

½

tablespoon

All-purpose flour

1

tablespoon

Ground cinnamon

½

teaspoon

Ground cardamom

⅓

cup

Brown sugar

-

35 gr
Brush the top with:
½

Beaten egg

Sugar pearls

-

(optional)
Instructions
For the dough:
Warm up the milk (not too much), add dry yeast and whisk. Set aside until bubbly.

Pour it into a mixing bowl, add oil, water and sugar and start mixing at low speed with your stand mixer.

Grind the seeds of cardamom pods using a mortar and pestle (if possible).

In a bowl, mix flour, ground cardamom and salt.

Gradually add these ingredients into the mixing bowl and increase speed to medium.

Add half the beaten egg and keep kneading for 15 minutes. The mixture should be sticky and not too dry.

Cover the dough with plastic wrap and allow to rise for 30 minutes or until doubled in size.
Prepare the filling:
In a bowl, combine applesauce, flour, cinnamon and cardamom and sugar, then mix well. Let rest into the fridge.
Roll the dough:
Turn the dough out on a floured surface and roll it out to a 40 x 50 cm rectangle (35 x 40 is ok too).

NOTE: if too sticky, add flour. Pay attention to the bottom of the dough, it doesn't have to stick to the surface, otherwise you'll make a mess.

Spread the filling over the rolled-out dough, using a spatula. Fold the dough in half lengthways.

Using a pizza cutter, cut 16 strips widthways.

Take one strip and carefully twist it like in the video above.

Place the cardamom buns spaced well apart on the baking sheets, cover with a kitchen cloth and let rise for 30 minutes.

Preheat the oven to 200°C, brush each cardamom bun with half the beaten egg, sprinkle some sugar pearls, then bake for 10 minutes or until golden.
Nutrition
Nutrition Facts
HEALTHY SWEDISH CARDAMOM BUNS
Amount Per Serving (1 bun)
Calories 241
Calories from Fat 54
% Daily Value*
Fat 6g9%
Carbohydrates 38g13%
Protein 7g14%
* Nutritional information is only an estimate. The accuracy of the nutritional information for any recipe on this site is not guaranteed.
---
Don't forget to pin and share this easy and delicious recipe!
---
Liked this recipe?
Try the traditional Kardemummabullar recipe made with butter (delish!)
---
© Healthy Little Cravings - Roberta Dall'Alba.
I own all content and photos' copyright.
Before using my photos and recipes, please email me.
If you would like to republish a recipe, please link back to this post and re-write the instructions in your own words.