This is a MUST-HAVE for us every week. A staple in our weekly menu!
Today, my friend, I'll teach you how to make oven roasted peppers and I'll also share a recipe that *drooling while saying it* it's simply delicious in its simplicity: bread slices covered with creamy cheese (robiola) and garnished with the bell peppers you'll learn to make!
Ready?
---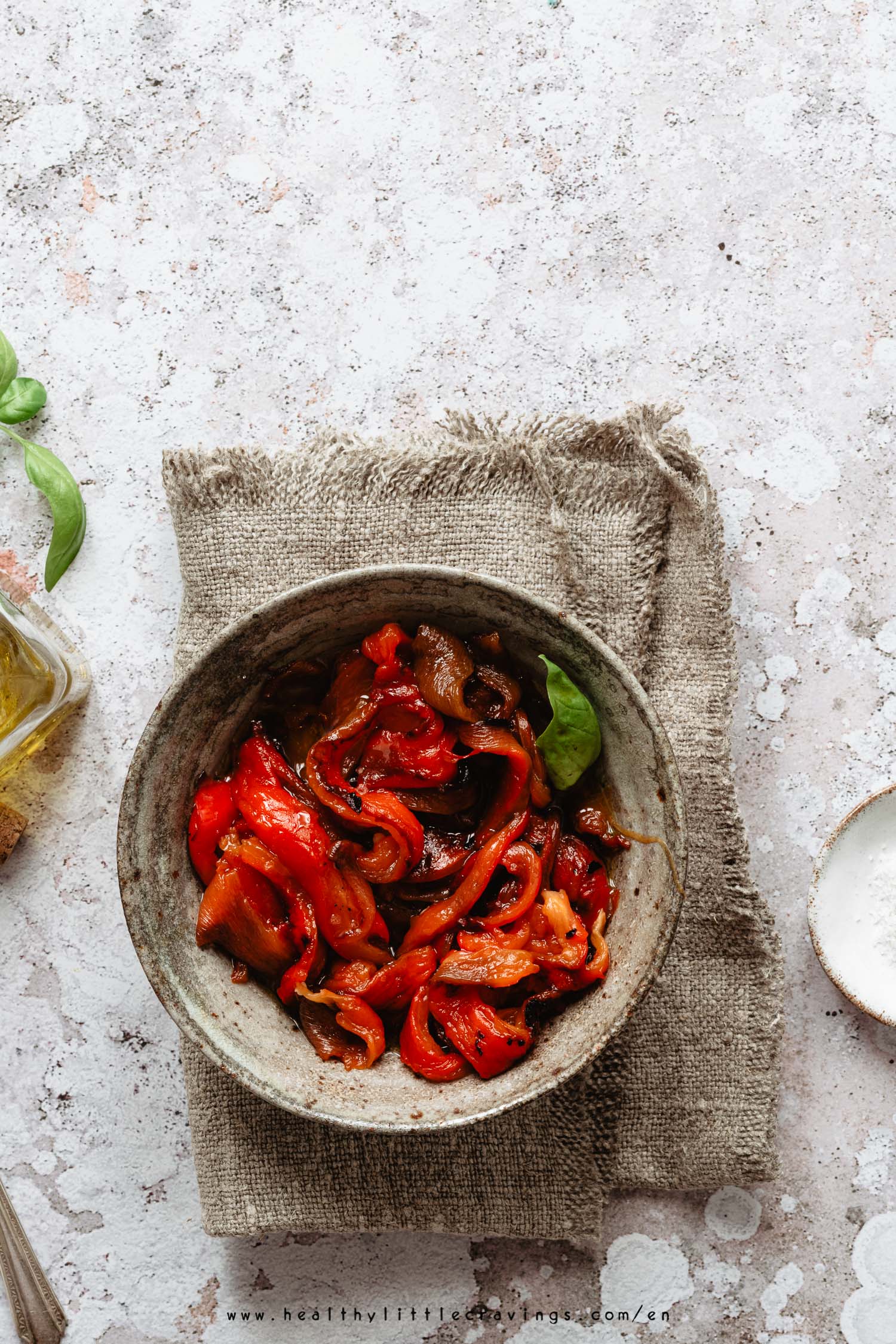 Oven roasted peppers 3 ways
Every food reminds of something.
I'm particularly connected to these oven roasted peppers, to be precise, I'm emotionally connected to these Italian roasted peppers in general (not just oven roasted).
That is because every single Summer, when we go visit my boyfriend's family in Siracusa (Sicily, Southern Italy), I find this roasted veggie EVERYWHERE: along the streets, at my in-laws' house, at the local market... (let me just find a picture that testifies that!).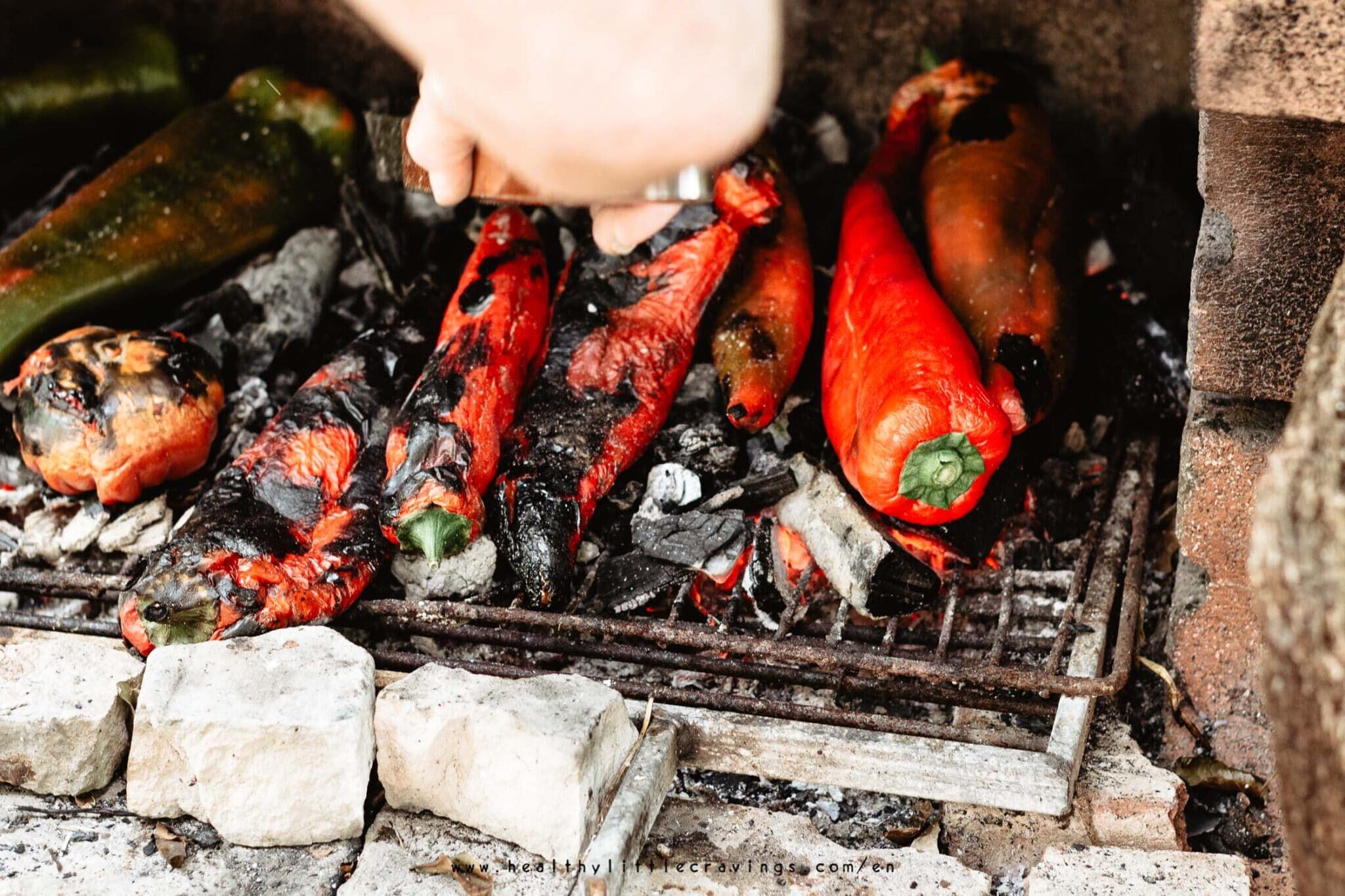 I'm obsessed with them: their rich flavor, their sharp intense smell. If you season them with fresh herbs, the herbs' flavor will be like...multiplied and intensified.
My in-laws' peppers are absolutely unequalled: they know which ones are best to use and how to grill them on the barbecue.
---
There are a few ways to roast peppers, and today I'm sharing 3 easy paths you can follow:
Use the oven with broiler option
That's what we're doing here. Remember that we have to reach the highest temperature possible, for this reason we're using the broiler option.
Cook for 20-30 minutes (depends)
Some people, also in Eastern countries, sometimes burn peppers using the gas burner on the stovetop.
Watch this video by AlphaFoodie (she's roasting eggplants in this case) and try!
Not my favorite method thought because it's a bit time consuming if you have to grill more than one veggie.
Use the outdoor grill/barbecue
If you're lucky enough to have access to an outdoor grill/barbecue, use it! Follow the same method: cook until the skin is blackened.
Time is variable.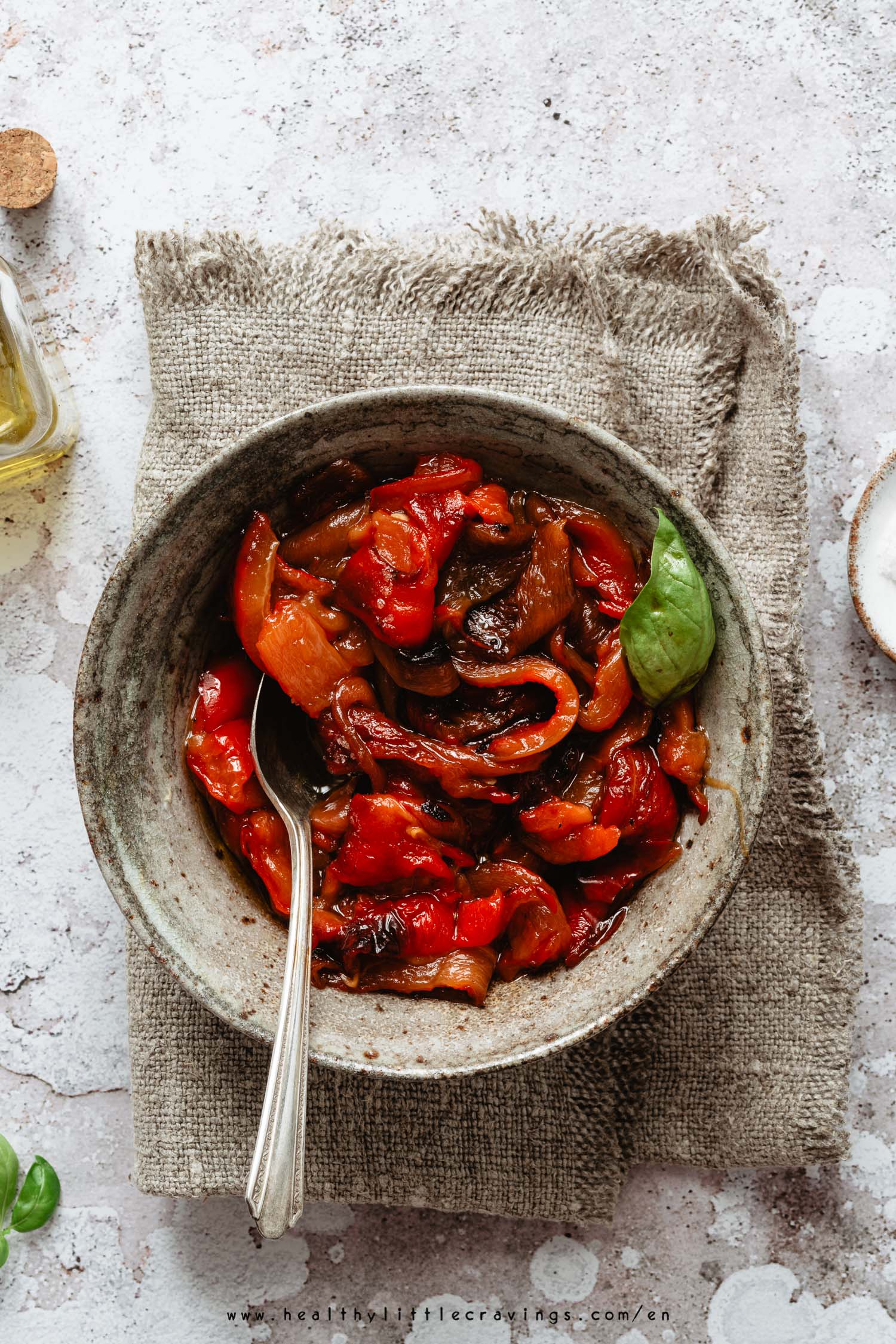 How to roast peppers in oven properly
Roasting bell peppers is not difficult AT ALL, and you'll end up having a flavorful side dish/appetizer. Follow these steps to make sure they turn out perfect.
Start by selecting the best peppers
The peppers you're going to use need to be plump. Their skin has to be unwrinkled, and the stems green.
Trust me: I've tried using older/too ripe peppers before and I ended up having literally nothing under that black skin.
Preheat the oven at 485°F - broiler option
Your oven has to be REALLY hot to simulate the flames. Use the highest temperature possible (my oven reaches 250°C/485°F).
Arrange the peppers on a baking tray and place it right underneath the broiler. Cook until the skin is blackened.
Keep an eye on them!
Let them steam from their own heat
This is essential: place the cooked peppers into a bowl and cover them. The peppers will deflate and become wrinkly and the steam will soften their skin. In this way, you'll be able to peel them easier.
Peel, let them cool down and season
Now remove the skins and stems. Break into slices and season your oven roasted peppers in olive oil, salt and basil (or other herbs).
DONE!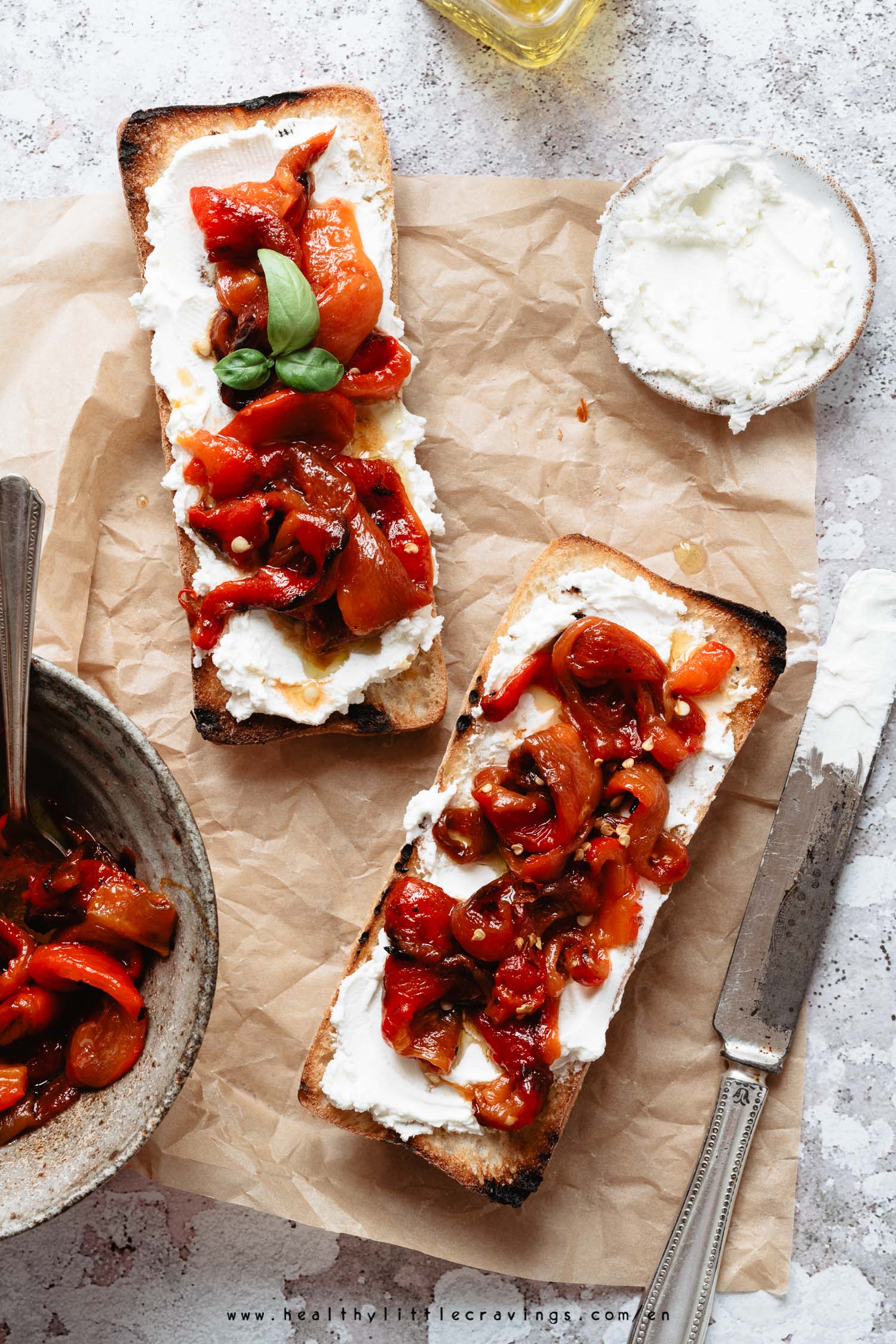 FAQs
Do you have to peel roasted peppers?
You sure have to. The charred skin is not ok for us and doesn't taste good.
How do you skin roasted peppers?
As mentioned above, make them "steam" from their own heat after cooking. The skin will soften and it will be easier to remove.
Easy!
How do I store roasted peppers?
We usually eat them immediately. If not, store them in the fridge in an airtight container up to 3-4 days or freeze them.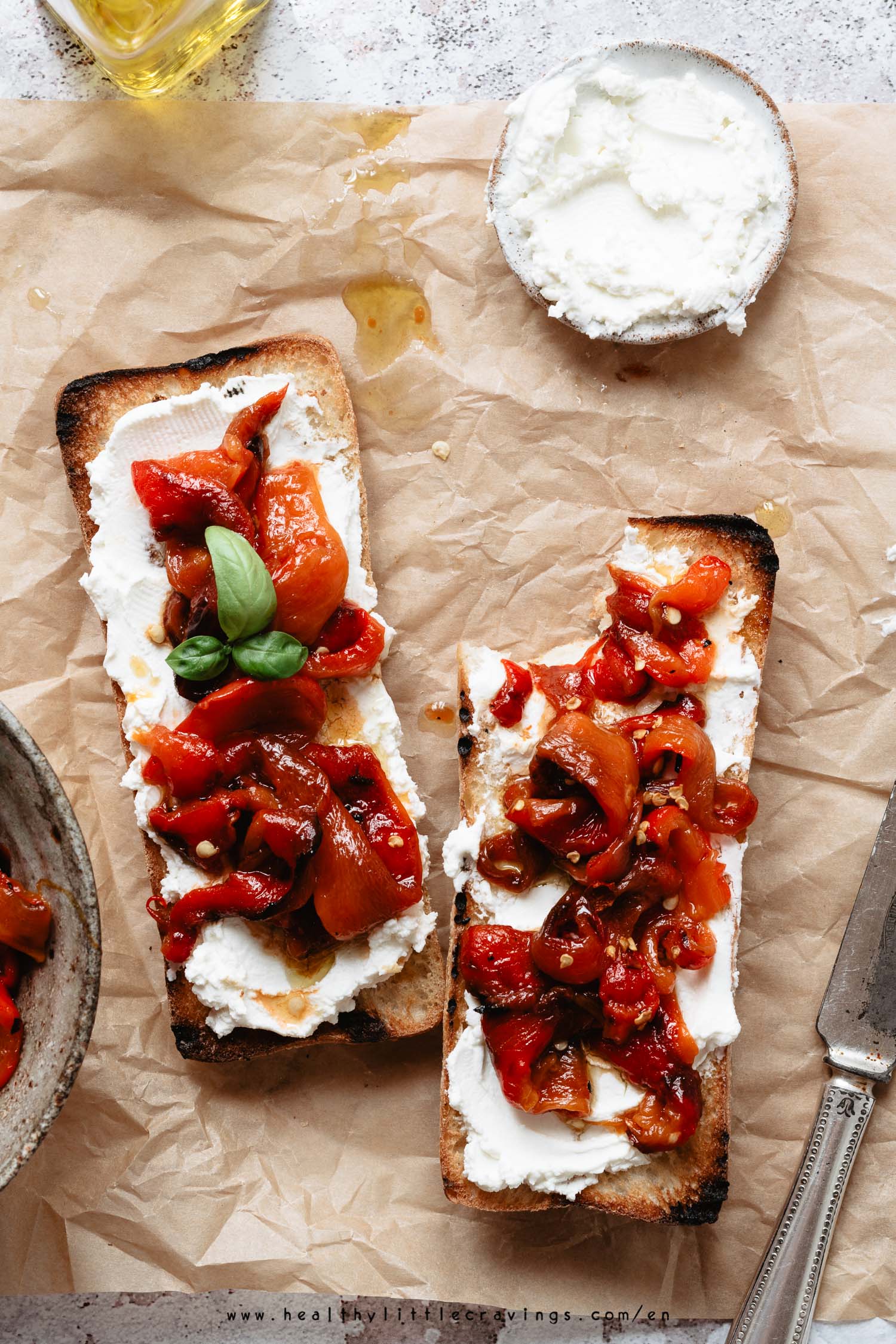 How to use roasted red peppers
Told you: the robiola and pepper toast you see above is a staple here. The flavors together are simply scrumptious.
If for some reasons you don't like bread (are you an alien? ;P) and creamy cheese like robiola, just know you can use these bad boys in so many dishes. A few examples I can think of:
use them in pasta salads;
as a side to poultry, meat, eggs;
to make hummus;
or pesto;
to make sauces/dips;
in savory tarts/pies;
soups;
...and so much more!
Go and experiment!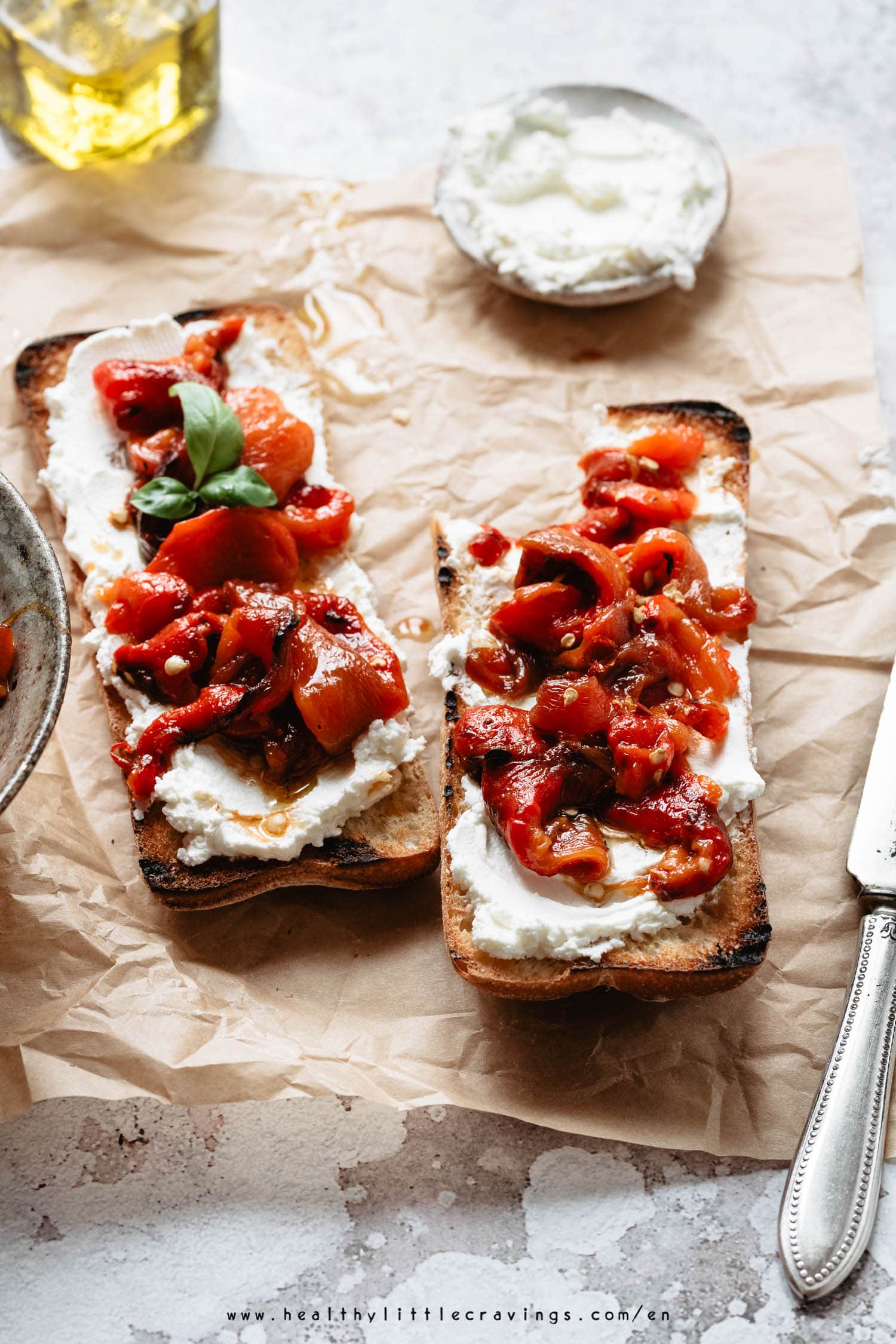 ---
If you make this recipe, please be sure to give it a rating and leave a comment! It would make me so happy! 🙂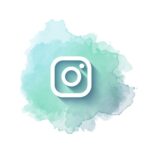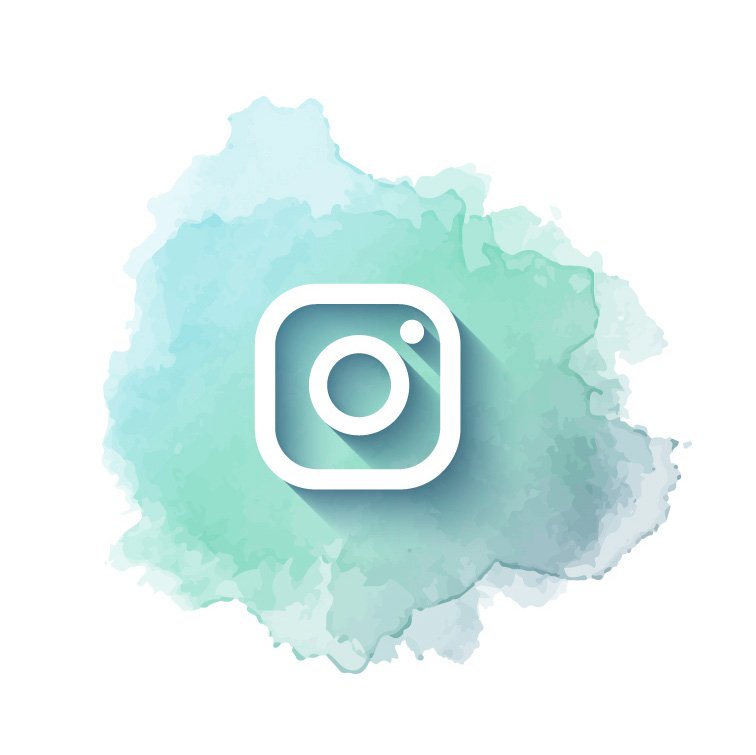 Remember: if you try one of my recipes, tag me on Instagram or DM me the photos!
---
Don't forget to pin and share this easy and delicious recipe!
---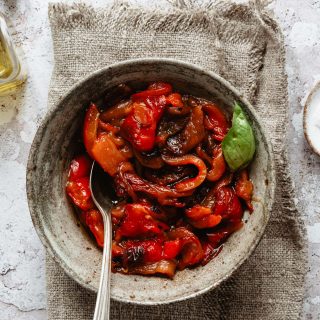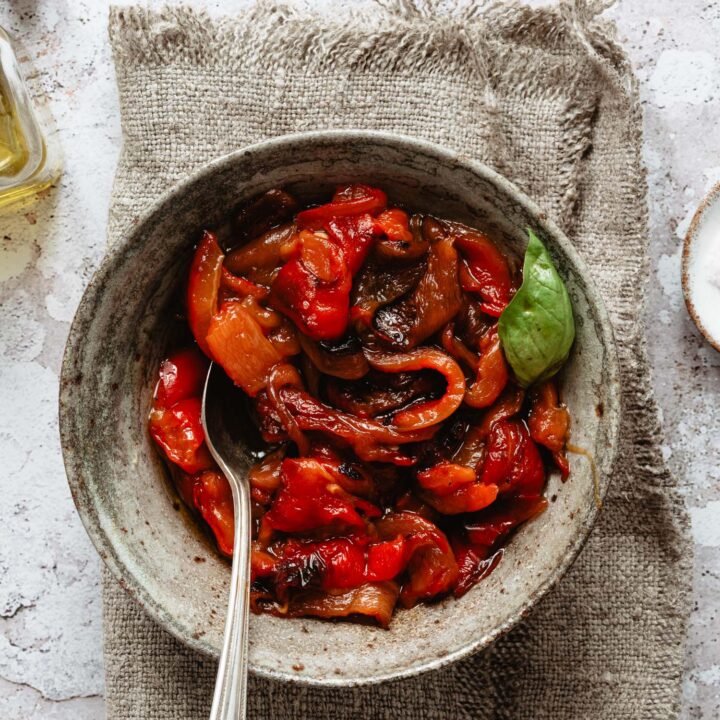 OVEN ROASTED PEPPERS AND CREAM CHEESE TOAST
Make delicious roasted peppers in oven and use them to season a toast with robiola cheese. Perfection!
Print
Pin
Ingredients
3

Bell peppers

-

Approximately 650 gr

30 gr

Extra virgin olive oil

Fresh basil or other herbs

Salt

optional

Chili flakes
To make the toast:
200 gr

Robiola cheese (creamy cheese)

4

Bread slices
Instructions
Preheat your oven at 250° C (485° F) with broiler option.

Clean you bell peppers. You now have two options: cook the whole peppers or cut each pepper in half lengthwise.

Place them cut-side down on a baking tray (lined or not). Cook them for about 30-35 minutes or until the skin is burnt.

Take them out of the oven, place them in a bowl/plate and cover with aluminum foil or another plate/lid. Let sit for about 15/20 minutes.

Remove the burnt skin and break the peppers into pieces.

Put them into a bowl, season with salt, oil and some fresh basil leaves. Set aside to develop flavor.
To make the toast:
Toast the bread, then spread the creamy cheese and garnish with roasted peppers.
---
Liked this recipe?
Try roasted peppers on these whole wheat buns (I already tried, guaranteed!)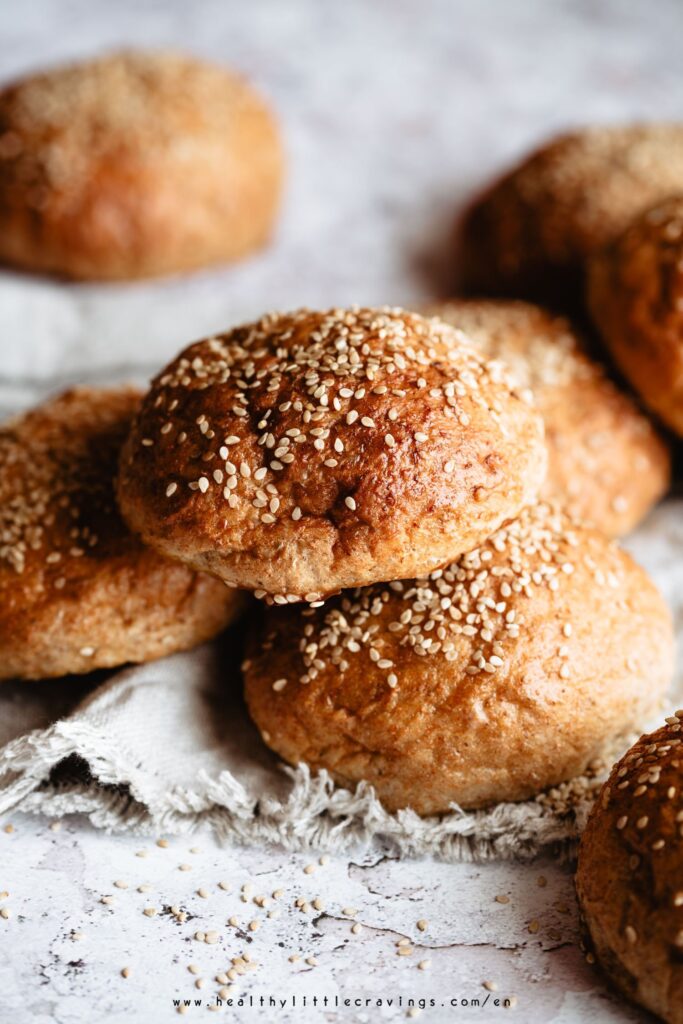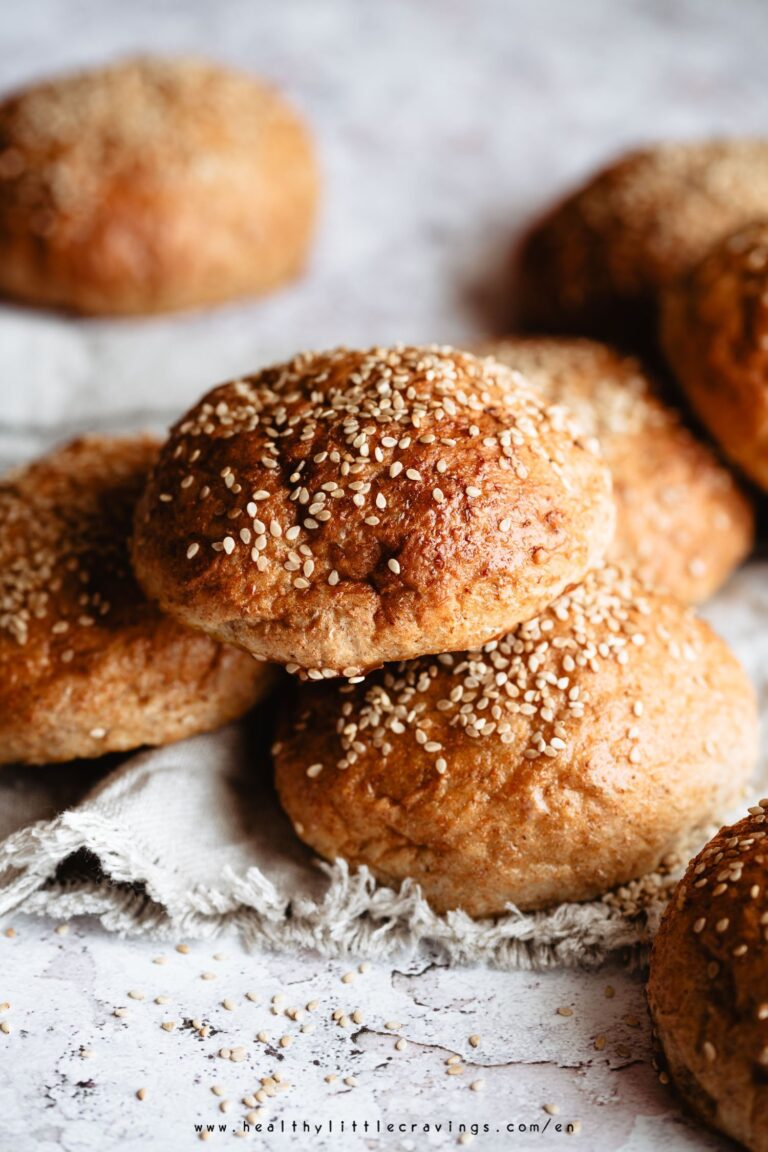 ---
© Healthy Little Cravings - Roberta Dall'Alba.
I own all content and photos' copyright.
Before using my photos and recipes, please email me.
If you would like to republish a recipe, please link back to this post and re-write the instructions in your own words.