In this post you'll find a refreshing recipe: non alcoholic kombucha cocktail with ginger, peach and mint!
---
Oh it's that time of the year again! Al fresco dinners, friends, laughters, cocktails, ice cream...
It's Saturday, today, and I'm super glad because tonight I'll celebrate with my friends and an homemade dinner (made by me!). I will prepare this super yummy focaccia bread and I will top it with fresh cherry tomatoes, olives and maybe some ham (because Enrico really loves ham. Plus, he will be happy I've mentioned him in this post!). Instead, they will bring some soft drinks and maybe some ice cream and other stuff.
These kinds of 'soiree' are my favorite. Good food and
I already told you in this post: I'm not really a party-goer, I'm definitely more on the "two friends and many laughs" side. Or movie nights with my love. I don't really enjoy loud music 'cause I can't talk and I can't listen. So, gimme some pizza and a friend (or boyfriend)...and I'll be the happiest.
Non alcoholic kombucha cocktail for the win!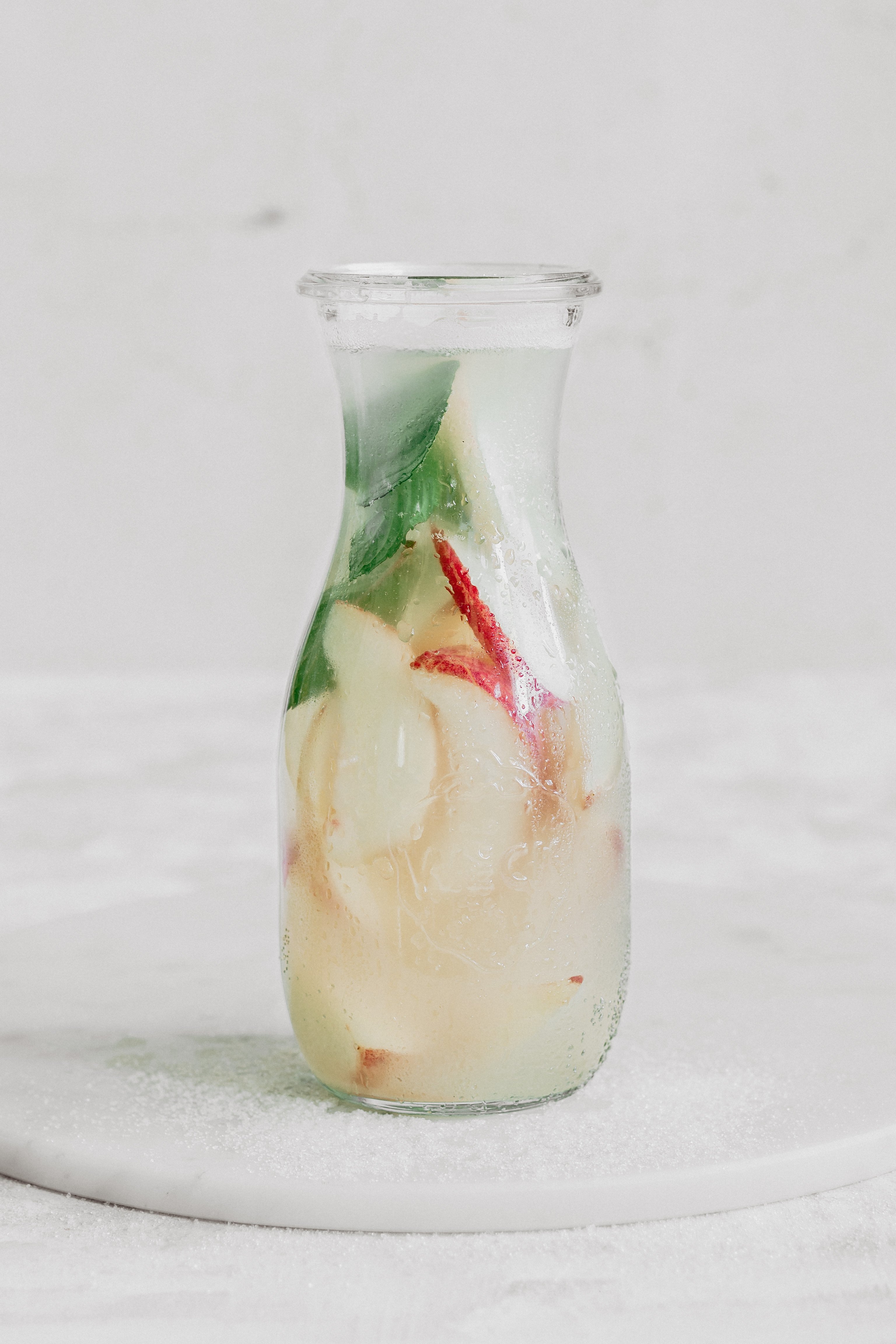 I'll be honest, I enjoy a drop of alcoholic drinks sometimes (not hard liquor though). Some high quality wine, beer or Spritz Aperol (which, by the way, originated here in Northeast Italy and it's served as an aperitif).
For a night like tonight's though an alcohol-free drink is way better, in my opinion. That's why I thought 'What about a non alcoholic kombucha cocktail with fresh fruit?'
Have you ever tried kombucha? I tried it for the first time one year ago. It was a new flavor for me...and I loved it!
You also know that I love "home-making" food so I've immediately googled how to realize it but I'll be honest, I was too lazy and I was not sure I would have drunk all that kombucha!). So, once in a while I buy it and I enjoy it with no other ingredients.
Instead, a few days ago, I decided to make...a cocktail with it! I added peach and mint leaves and it was sooo good.
So here I am today, sharing the recipe with you.
Also an excuse to...
Honestly guys, this was also an excuse to take some beautiful photos because beverage photography is so fascinating in my opinion. All those shades, the light that hits the glass, the glare... MAGICAL!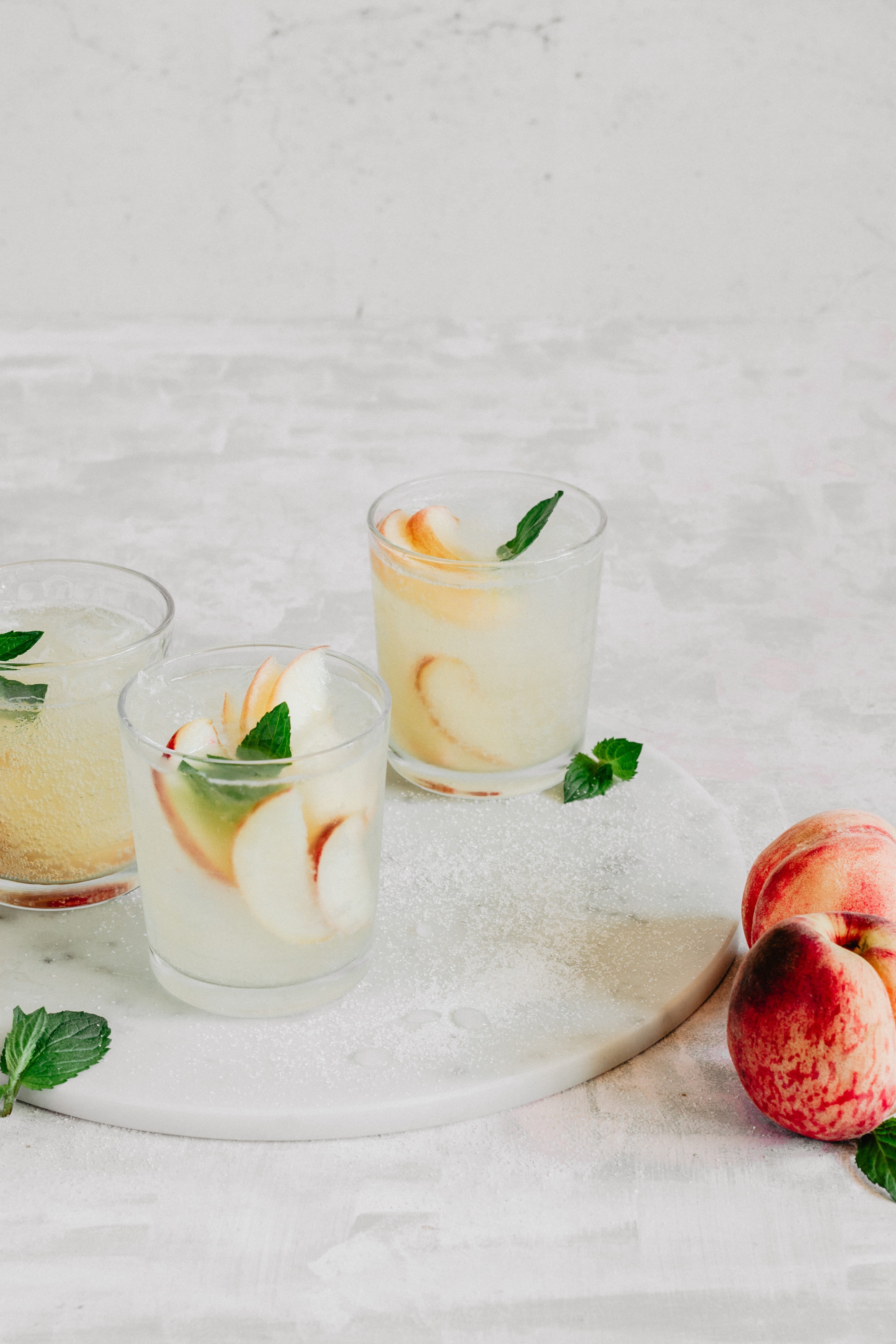 For my food photographers fellas here: don't worry I'll make a post about it because it's also so much fun!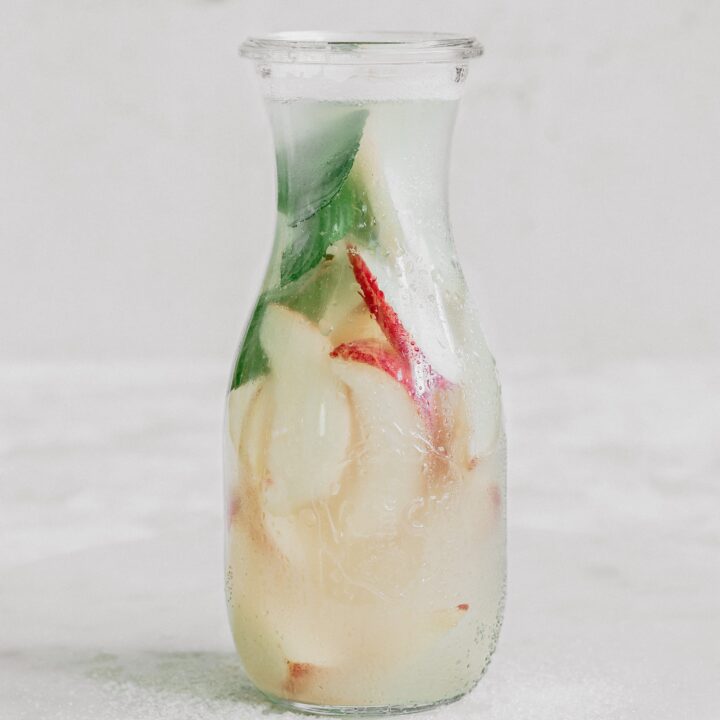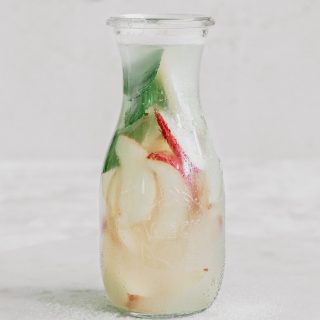 NON ALCOHOLIC KOMBUCHA COCKTAIL
The perfect refreshing drink for this summer: non alcoholic kombucha cocktail with peach, mint leaves and ginger!
Print
Pin
Ingredients
500

ml

Ginger kombucha

-

(or no flavor kombucha)

1

Fresh peach

Fresh mint leaves

Fresh ginger

-

optional
Instructions
In a pitcher, add the ginger kombucha, slices of peach, some mint leaves and some pieces of ginger (optional).

Stir and let chill in the fridge.