Ok, listen: if you're looking for a refreshing meal that doesn't require turning on stovetop or oven, because that is out of the question right now...you just found it! It's this vegan cucumber salad with tomatoes, capers, olives and a spicy vinaigrette that will bloooow your mind!
Ready to try it?!
---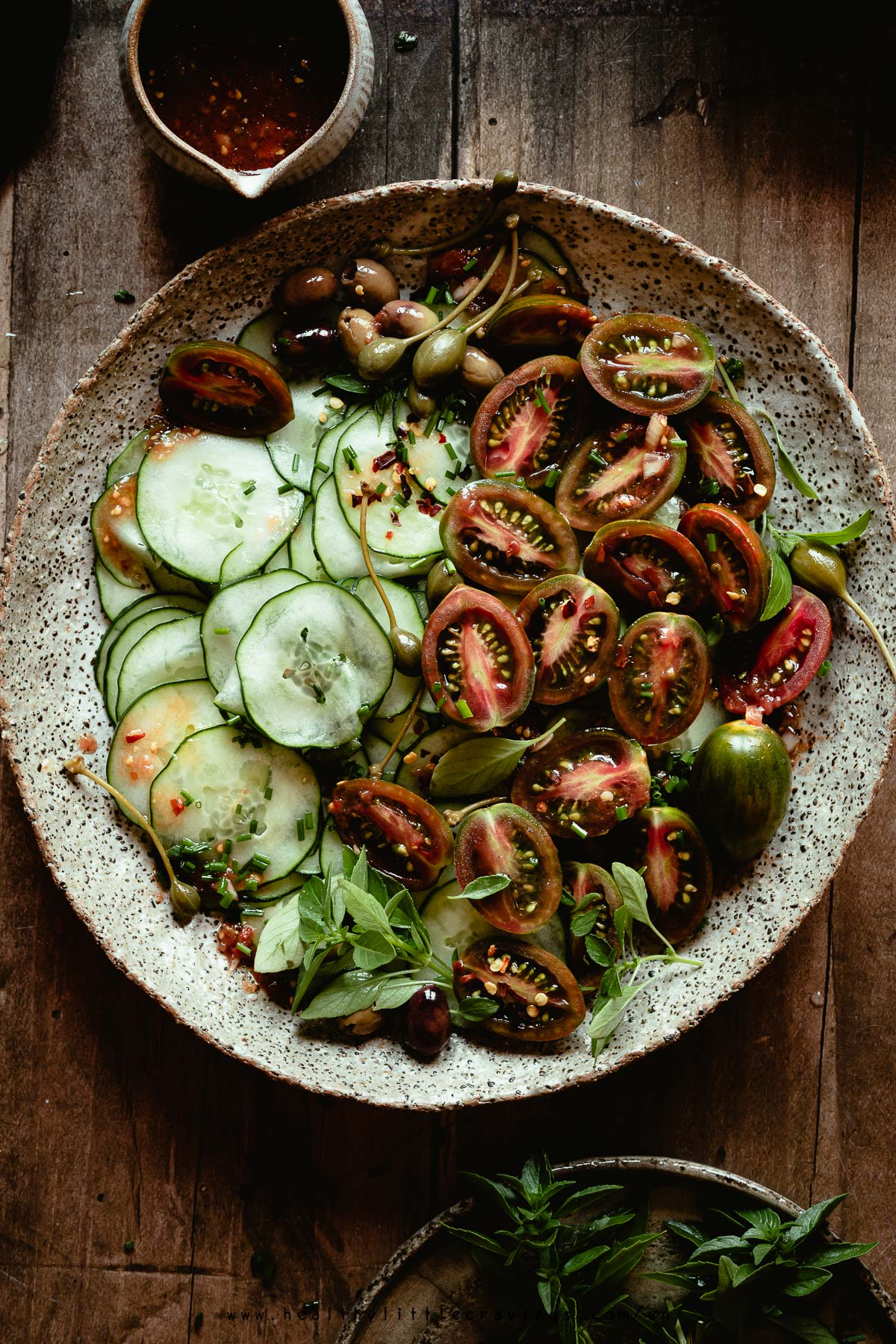 The key ingredient to make the best salad with cucumbers
Ah! Below you can find the life-changing, or better say SALAD-CHANGING, recipe. Vinaigrettes are life. I'm a huge fan of simply drizzling my salads with a good EVO oil and vinegar, and sprinkling a touch of salt.
But vinaigrettes have a super power: they literally transform the dish. If you nail the ingredients, if you nail the flavors, the ratio...success guaranteed.
For an assured win, I always say "Go with Samin Nosrat's vinaigrettes' recipes". I've talked about her book several times and won't stop (please check out all these posts, from salads to pie to loaf cake). It changed how I see food and flavors in general.
Moreover, she has a whole section of the book dedicated to vinaigrettes. Do yourself a favor and buy it. One of my favourite is the shallot one, but this one with tomatoes that I'm about to share is BEYOND!!! But I made it spicy:)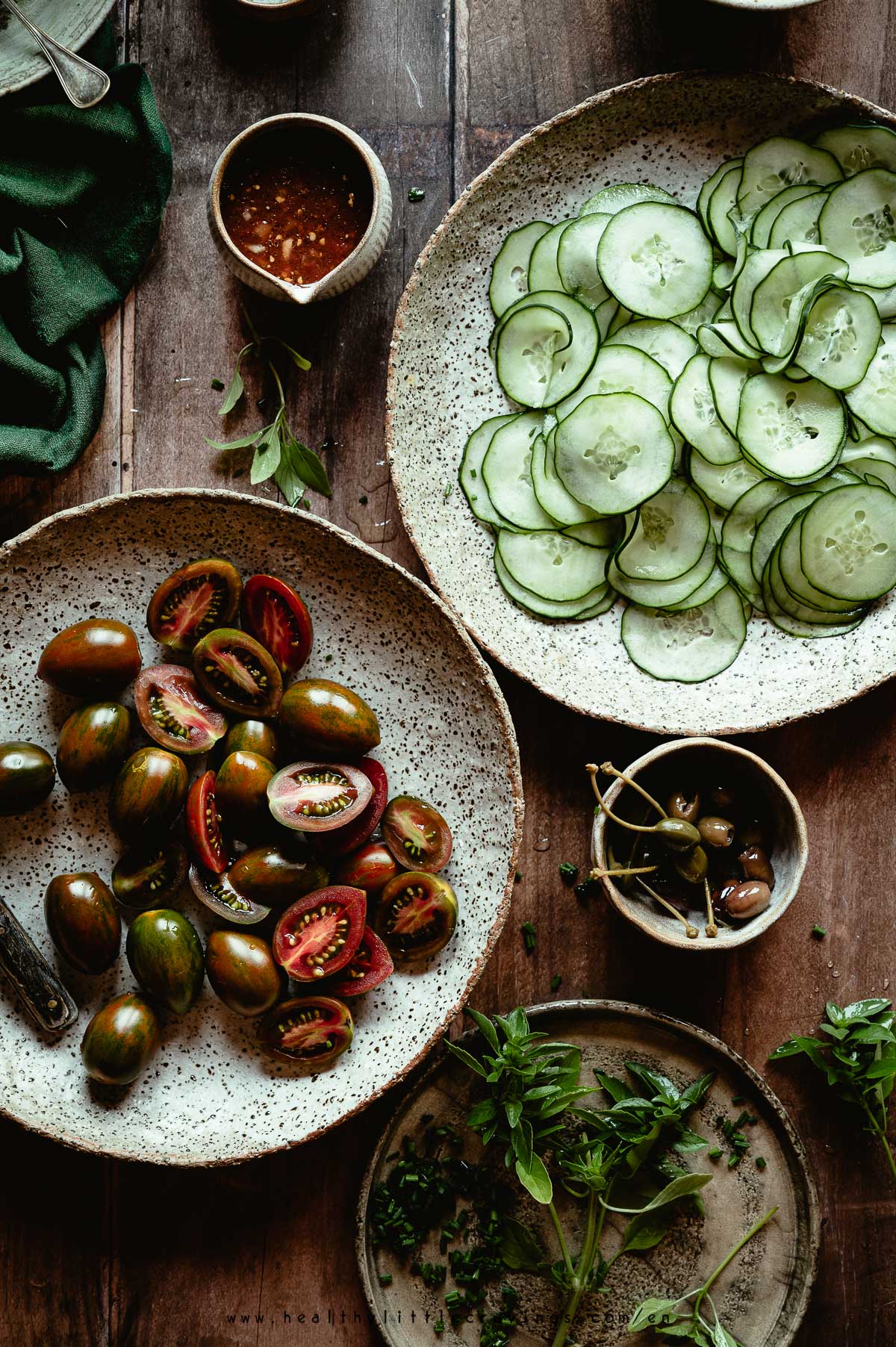 Recipe ingredients for a delicious tomatoes cucumber salad
It's quite obvious. To have the best cucumber salad with tomatoes you'll need the best ingredients. And by that I mean in season, possibly organic. Don't try to make this salad in Fall, Winter or Spring, it's not worth it (ingredients will probably be too watery).
Like I always say, the more simple the recipe, the better the ingredients need to be. Because you can taste every bit of them and if one is not good, your dish is ruined (my opinion).
Let's see what you'll need:
For the salad
Cucumber(s) - one big or two small ones (or more, of course)
Cherry tomatoes. I love Datterini tomatoes, very popular here in Italy. If you can find them, try them.
Olives. Whatever variety you can find, excellent source of fat. I like to use Taggiasche olives.
Capers. For styling reasons I've used these called "fior di cappero", which are also used for cocktails and they're stored in "salamoia" (brine). You can use capers cured in salt but make sure you desalt them well before using.
Basil and chives. I've tried this one with basil only and it's good but I love chives in general and in my opinion it makes this salad better.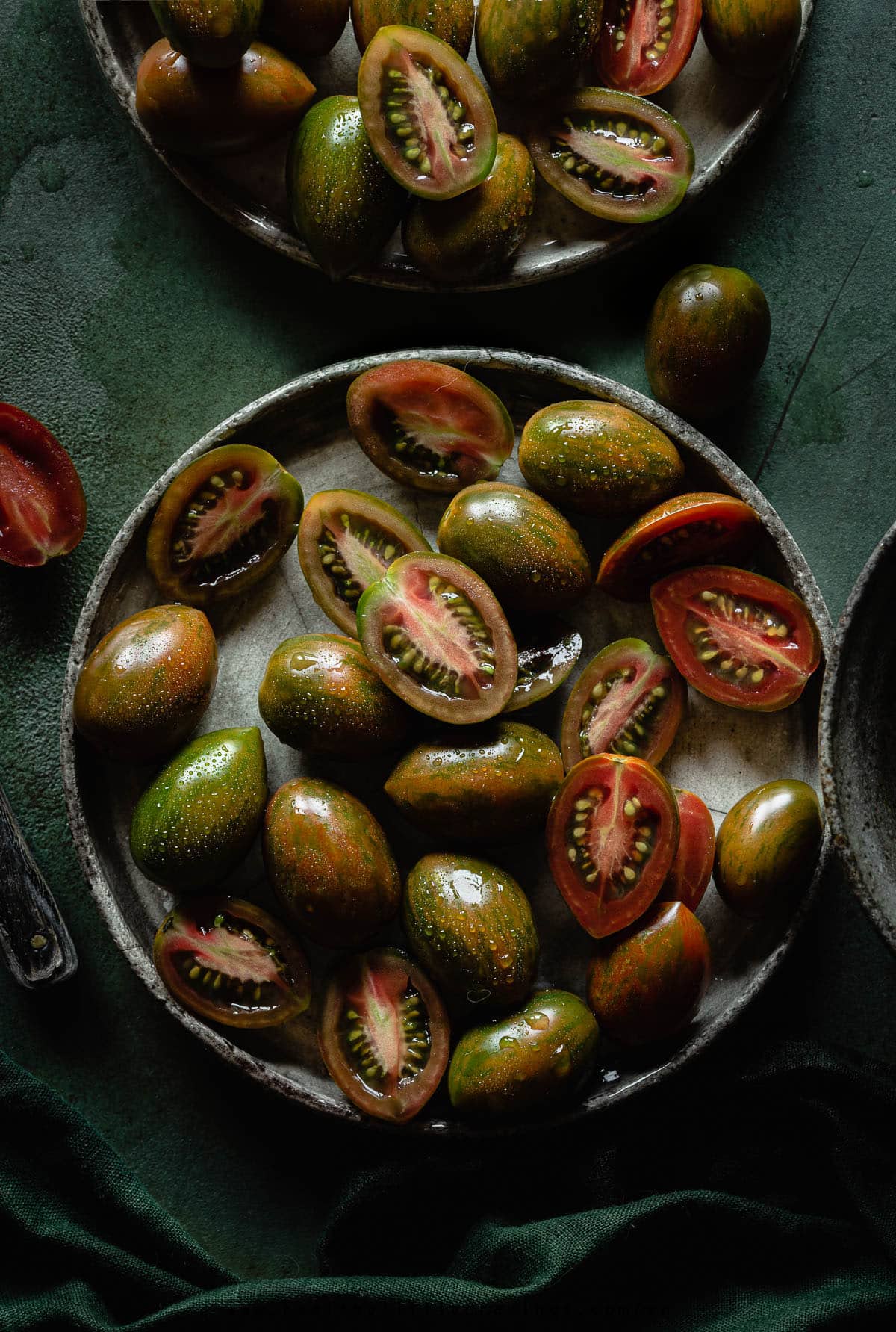 For the spicy tomato vinaigrette by Samin Nosrat
This cucumber salad with tomatoes would be nothing without this spicy tomato vinaigrette. And trust me, in Summer it's never enough tomatoes. These are the ingredients:
Shallots or onion/spring onion. The original recipe calls for shallots but I usually use whatever I have on hand. You choose!
Vinegar and balsamic vinegar. The original recipe calls for red wine but I use apple cider vinegar more often. I recently found coconut vinegar and I am loving it, it's delicate.
Tomatoes. YOU choose the variety here. I've used cherry tomatoes but the recipe calls for "Early Girl or other flavorful ripe tomatoes". Again, I choose what I have in hand. Cherry tomatoes were a bit a pain to grate, but it's somehow therapeutic eheh
Extra virgin olive oil, basil, garlic. Of course, to make it 100% italian:)
Chili flakes. For my version of this deliciousness. Because we need something spicy. I would also suggest to try a drop of Sriracha.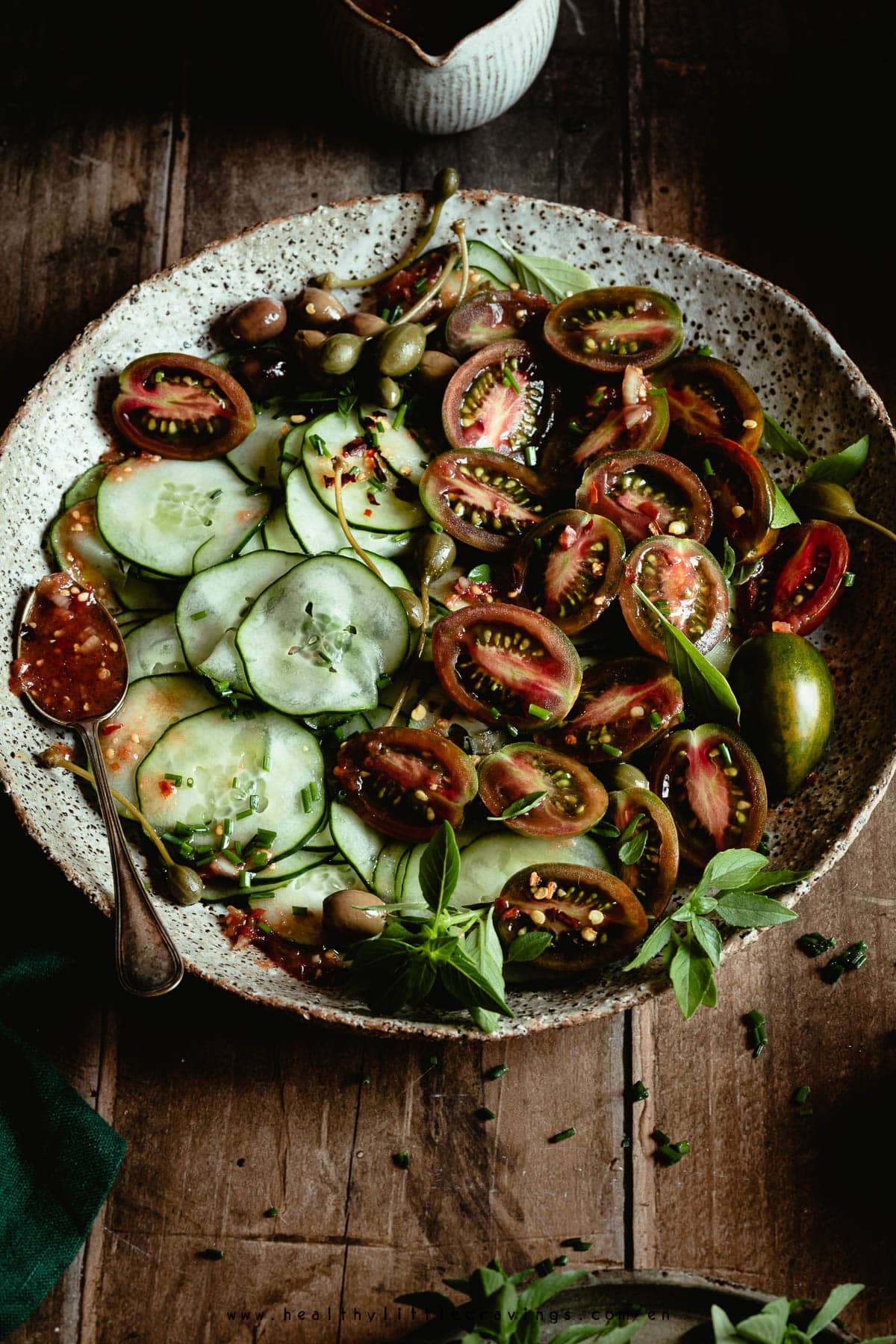 How to make the best cucumber tomatoes salad
Who am I kidding. It's nothing more than tossing the ingredients together. Actually, preparing the magical vinaigrette + assembling the rest of the ingredients.
That's all you need to prepare this amazing vegan salad. So I am going to avoid repeating the process here, just the recipe card and you'll find everything you need.
Recipe variations
You absolutely cannot skip cucumber, tomatoes, olives, capers and basil/chives. Instead you can try another dressing.
Another favorite of mine is shallot/spring onion vinaigrette (also by Samin Nosrat), the one I shared on this post of my feta cucumber salad last Summer.
Great additions are feta and croutons.
How Long Can I Store This For? Can I Make it Ahead?
I recommend making it and eating it right away, but it's also amazing if served after a few hours. Like, prepare it at lunch, serve at dinner. That is what I do the day I have to photograph the recipe.
Season it and you can store it into an airtight container for a day. If you plan to eat it a few days later instead, I would say to assemble it (cucumber, tomatoes, olives, capers, basil, chives), but drizzle the vinaigrette right before serving.
I am 100% confident you will enjoy this cucumber salad with tomatoes and all the good ingredients as much as we did. It's fulfilling, satisfying and good for your health, what's better than this?!
---
If you make this recipe, please be sure to give it a rating and leave a comment! It would make me so happy! 🙂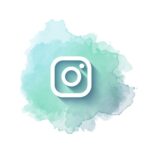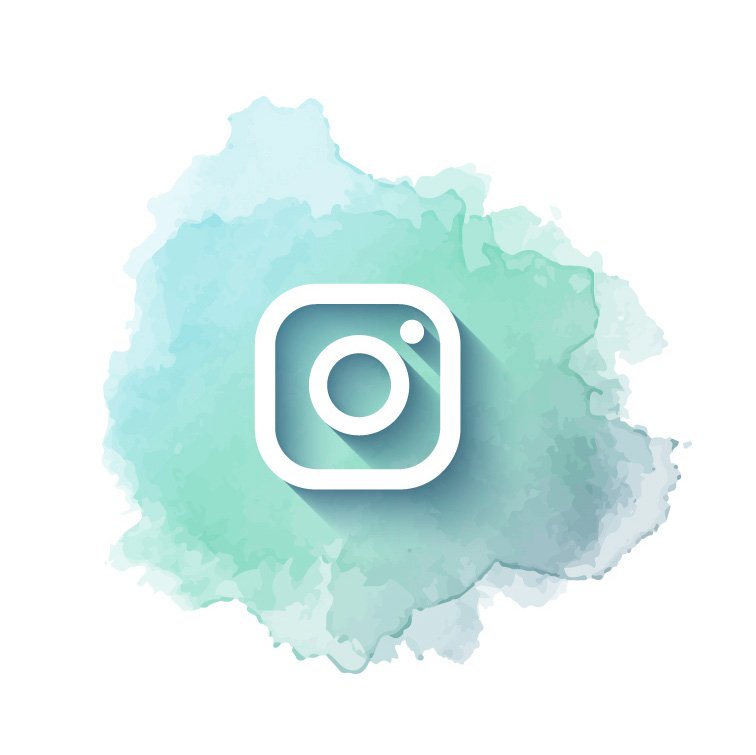 Remember: if you try one of my recipes, tag me on Instagram or DM me the photos!
---
Don't forget to pin and share this easy and delicious recipe!
Vegan Cucumber Salad With Tomatoes And Spicy Vinaigrette
A refreshing delicious salad made with simple ingredients. The vinaigrette gives that kick and makes it extra delicious!
Print
Pin
Ingredients
1

Big Cucumber

-

(or 2 smaller ones)

10

ounces

Cherry tomatoes

-

300 g

Olives and capers

-

to tasted

a few leaves

Fresh Basil & chives

Salt
Spicy tomatoes vinaigrette:* (adapted from Samin Nosrat book)
2

tablespoons

Diced shallots or onion

2

tablespoons

Red wine vinegar, apple cider or coconut vinegar

1

tablespoons

Aged balsamic vinegar

8

ounces

Tomatoes or cherry tomatoes

-

225/250 grams

5

tablespoons

Extra-virgin olive oil

Chili flakes, a few basil leaves & salt

1

Garlic clove
Instructions
Prepare the vinaigrette:
Into a bowl, add diced shallot/onion and vinegars, then set aside for about 10/15 minutes.

Cut tomatoes in half, grate the tomatoes halves with a large slicing holes grater until only skin remains.

You can also use cherry tomatoes like I did, but this will require more time.

Discard skins (read notes** to see what you can do). Add tomato pulp to diced onion and vinegar.

Stir then add oil, basil, a good pinch of salt and chili flakes to taste, plus one garlic clove.

Let stand for 10 minutes or more, then remove garlic.

Taste vinaigrette with a piece of bread, adjust salt and vinegar as needed.
Assemble the salad:
Slice the cucumber and cut your cherry tomatoes in halves.

Put them into a bowl, add capers and olives to taste, a few leaves of basil and diced chives.

Pour a few tablespoons of vinaigrette and toss, then taste and add salt if needed.

If you don't eat it immediately, store it into an airtight container and eat the day after.
Notes
* You will have Vinaigrette leftovers: you can store it in a jar and use it in the following days. It's AMAZING on top of a piece of toasted bread (might be my favorite thing in Summer!)
** Don't throw tomatoes skin in the garbage: store them into an airtight container/jar and next time you prepare pasta, add them to tomato sauce, then blend with a food processor.
---
Want to try a non-vegan version of this? Try this super refreshing cucumber salad with tomatoes, feta and shallot vinaigrette!
---
© Healthy Little Cravings – Roberta Dall'Alba.
I own all content and photos' copyright.
Before using my photos and recipes, please email me.
If you would like to republish a recipe, please link back to this post and re-write the instructions in your own words.