This Italian focaccia with tomato, basil and delicious burrata (or onions and rosemary, if you prefer) will completely BLOW your mind for how soft it is. The secret? ONE ingredient. Keep reading the post, then try it and let me know!
---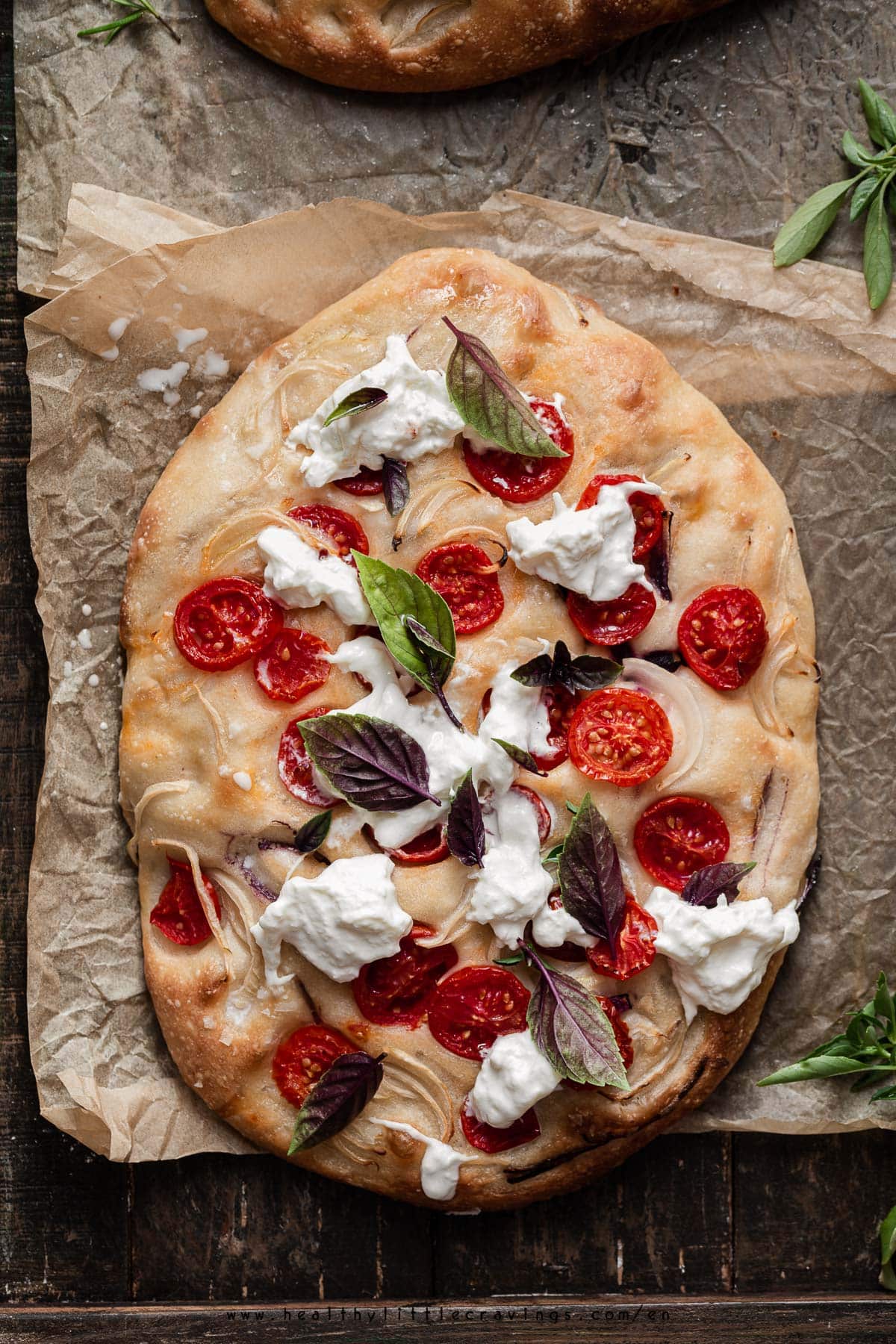 How can this focaccia be this soft?!
First let me say my focaccia with tomato and burrata is something out of this world. It's the perfect dish to prepare in case you want to bring something to a family gathering or for a dinner with friends. Indeed that's what I do, and it's always super appreciated (also easy!)
The "secret" ingredient to make focaccia soft
Second, I won't make you wait any longer, and I am immediately gonna tell you the secret ingredient that makes this focaccia super soft: A BOILED* POTATO.
That's right: I added a medium potato, that I previously boiled, into the dough. You see, potato is known for being starchy, and those starches attract and hold water. This increases moisture, and makes the focaccia...the opposite of dry! They say it also keeps the bread fresh and soft for a longer period.
*Instead of boiling you can also peel it, cut it and steam it.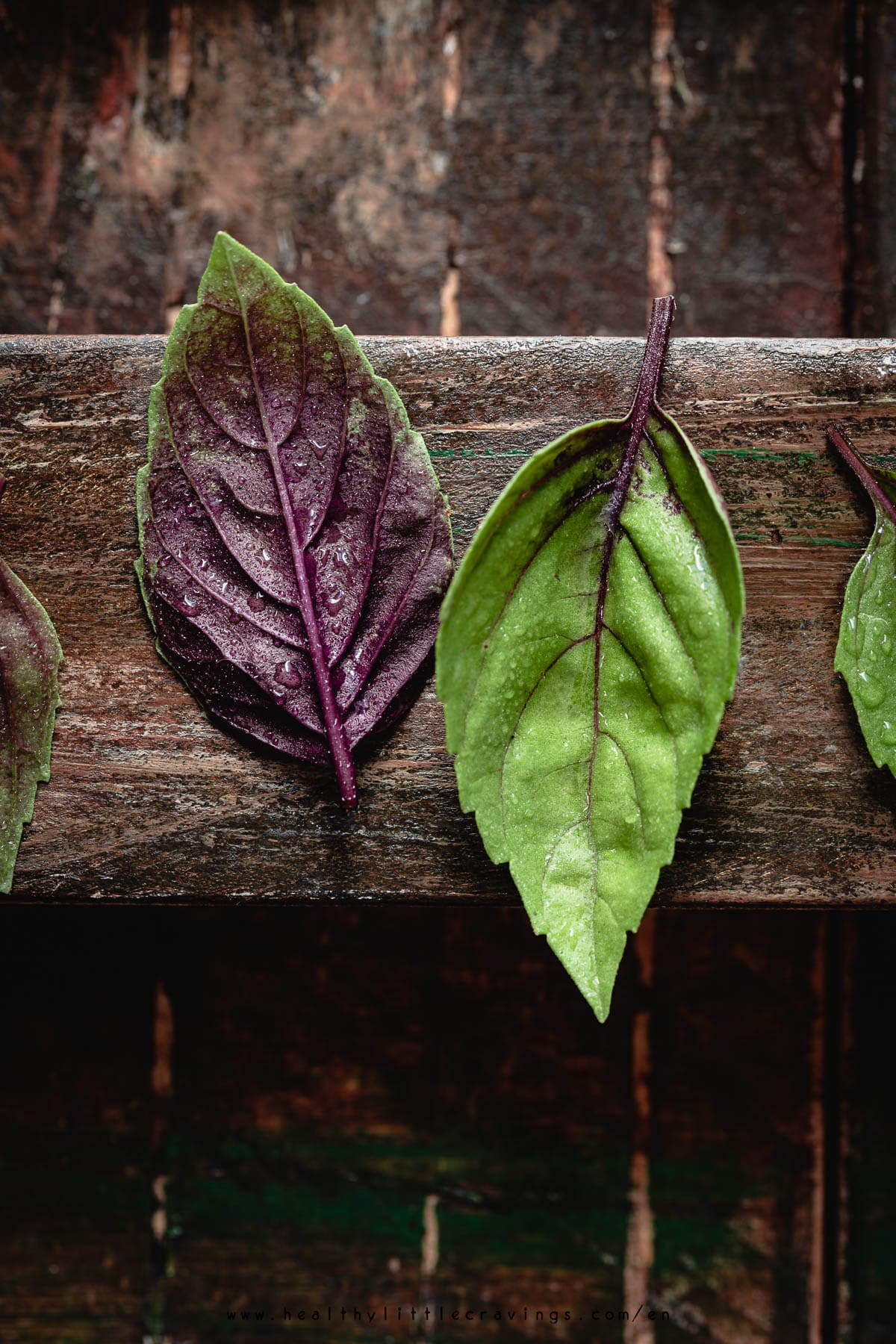 Ingredients to make my Italian focaccia with tomatoes
As usual ingredients are simple, but at this point you know that, especially when the recipe is this basic/simple, they have to be high quality.
This tomato focaccia calls for:
Flour. I've tried this with bred flour or all purpose (to be specific, 00 flour because I live in Italy). They both work. You can also substitute a small % with whole wheat flour (in that case increase moisture a bit).
Yeast. Of course. A note on yeast: we have what we call "lievito di birra" here (translates to "beer yeast"). The dry one (not the fresh) is similar to your instant yeast, because it doesn't need to be activated. In case you use active dry yeast, remember to dissolve it into water beforehand and let bubble.
Potato. I have tested this recipe with a common Yukon Gold (the equivalent we have here in Italy), I don't think the variety matters THAT much here.
EVO oil and toppings. Cherry tomatoes, burrata, onions, and EVO oil... trust me when I say to add a good amount of oil! You won't regret. Final touch is flakes of salt. Wanna overdo it? Prepare a rosemary infused oil: combine oil and clean rosemary into a pan, then cook over medium-low heat for 5 minutes. Let cool and remove sprigs.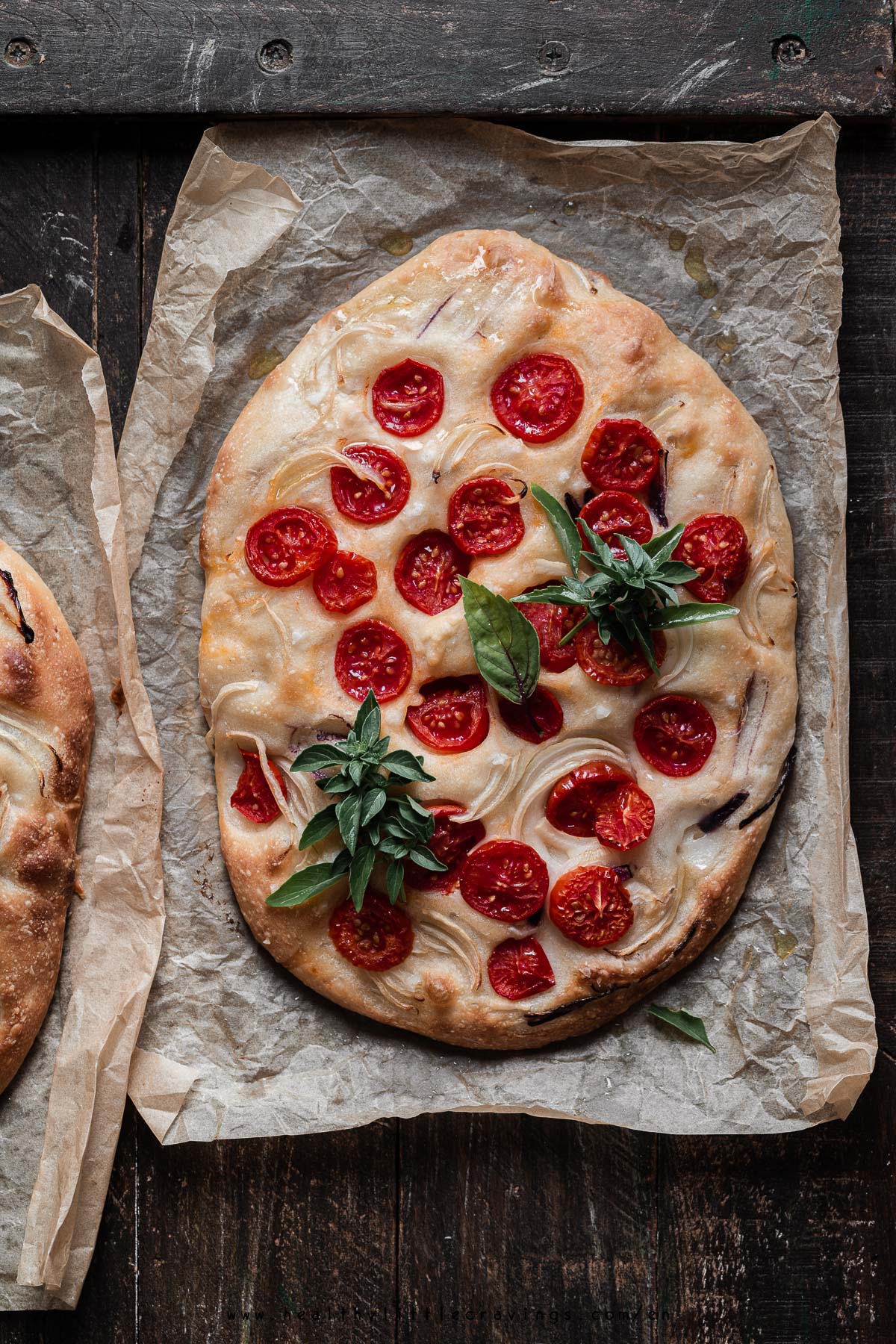 How to prepare it
Process is really simple. You can do it by hand or with a stand mixer. If you do it by hand, be patient and knead knead knead.
Boil potato
Remember to boil the potato in advance. This could be the only "pain in the neck" step here;) You have to do it in advance (also the day before!), so it has time to cool down.
Knead
Add flour and yeast, then pour water. Let incorporate and immediately add mashed boiled potato and EVO oil. Lastly add the salt. Keep kneading for about 8 to 10 minutes (read top tip below).
First proof + shape
Gently place the dough into a slightly greased big bowl, cover with a wet cloth or plastic wrap and let rise until it doubles, about 2 hours (it will take longer in Winter).
When doubled, gently spread it onto an oiled baking tray and shape it (as you can see in the photos, I "freestyled". You can also give a round shape).
Second proof + bake
Gently press the surface with your fingers to make some holes, then top with tomatoes (or raw onions slices!) and let proof for about 30-60 minutes.
Finally, bake your focaccia at 250°C (482°F) for 15-20 minutes or until golden brown. Let cool down a bit and serve with burrata and fresh basil.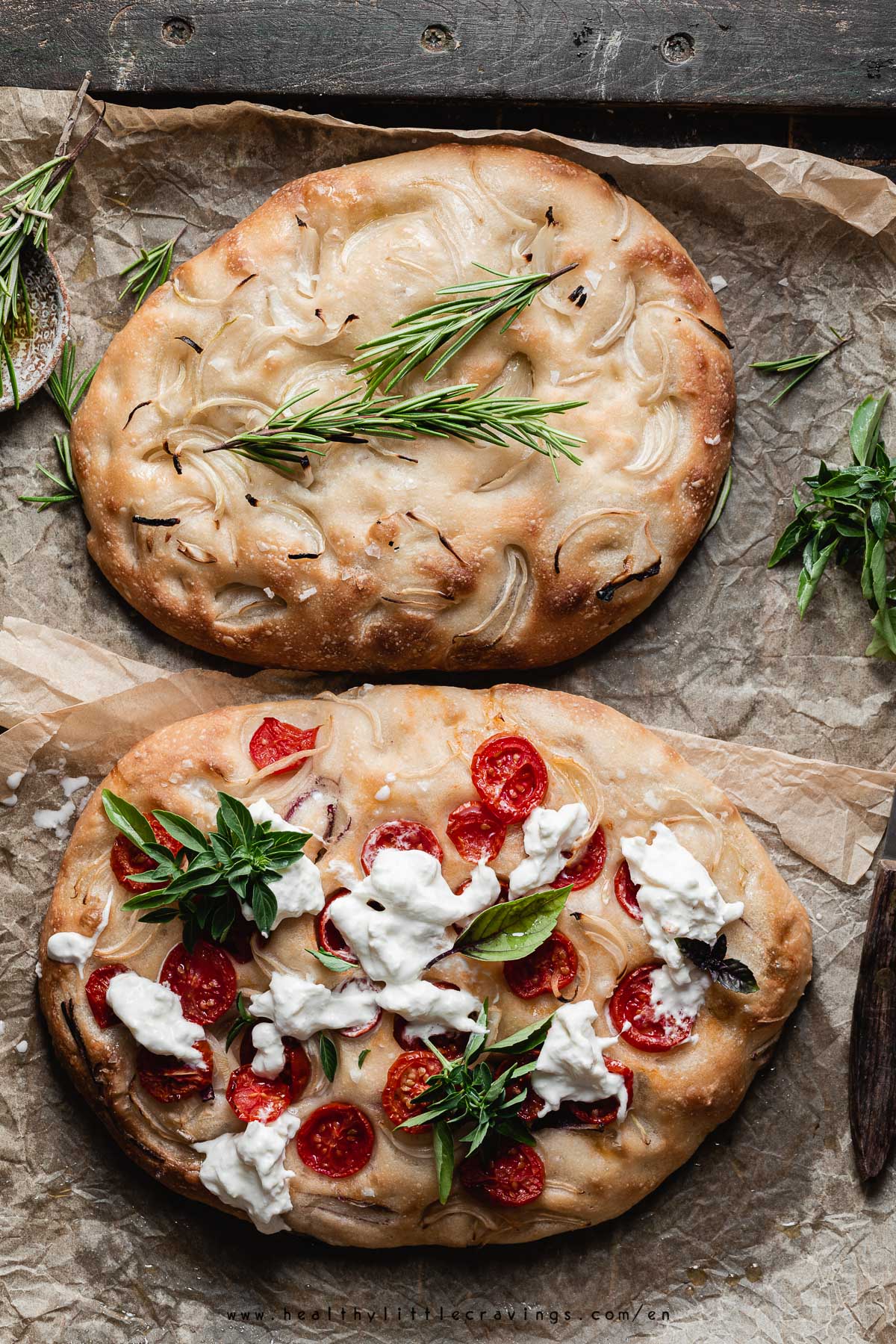 Top tip for a perfect dough structure
What makes the difference when it comes to the structure of a leavened dough is...gluten and how it develops.
To make sure the dough is well kneaded, take the windowpane test (I've talked about it here): after kneading take a small piece of dough, then gently stretch it with your fingers. If it doesn't tear immediately, then your dough is ready to be proofed.
Recipe variations - topping ideas
What if I don't want tomatoes on top? - I hear you saying. Well, first of all, we can't be friends. How can you not love tomatoes?!
Joking aside. This focaccia is amazing if you top it with sliced onions and rosemary. I usually slice the onions and add them to the surface, together with a bit of rosemary, then let the focaccia proof again. OR. To prevent the herb from burning, you can top it with onions and then use rosemary infused oil AFTER baking.
Olives are a great topping idea too. To make a Fall version, why not using very thin pumpkin slices?
How to store focaccia
Even if you could technically prepare it and set it aside for later, I genuinely recommend that you prepare it right before serving. If you wait too much it will lose its softness. After baking, wait until it cools down just a bit and remember to add basil and burrata. Then serve.
If you HAVE TO postpone eating this (unlucky you!), freeze it and then defrost it (and toast it on a pan) as required.
ENJOY!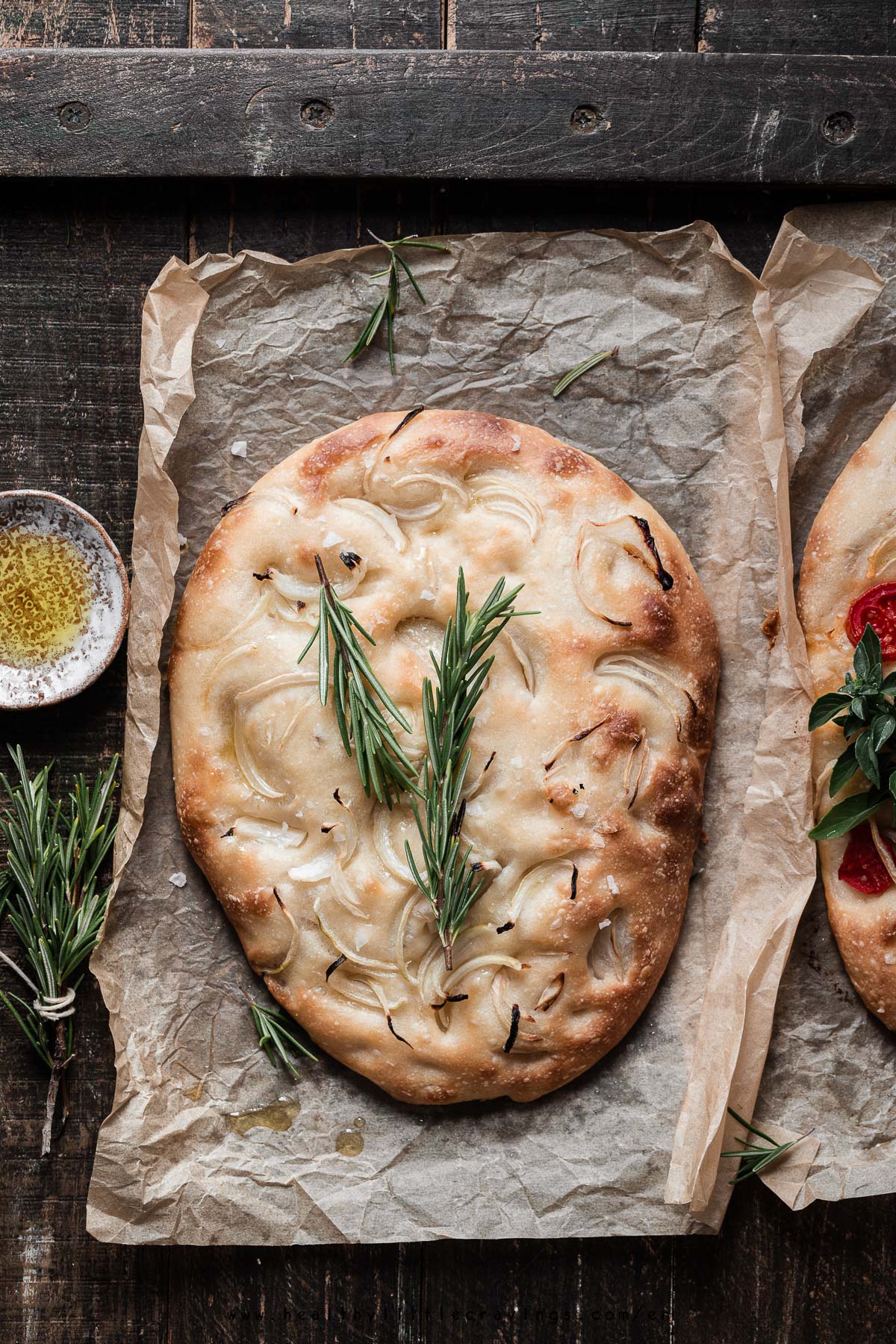 ---
If you make this recipe, please be sure to give it a rating and leave a comment! It would make me so happy! 🙂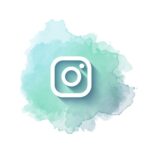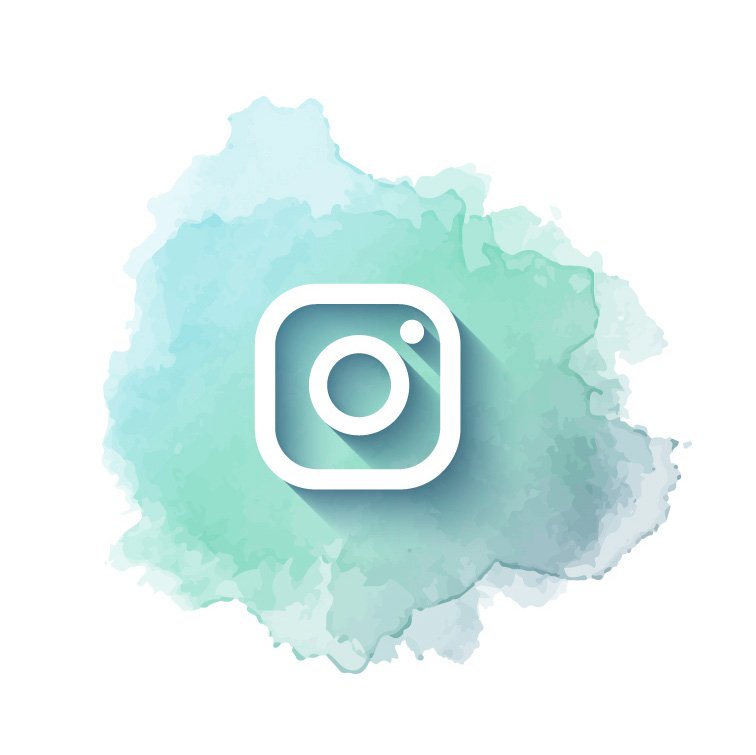 Remember: if you try one of my recipes, tag me on Instagram or DM me the photos!
---
Don't forget to pin and share this easy and delicious recipe!
---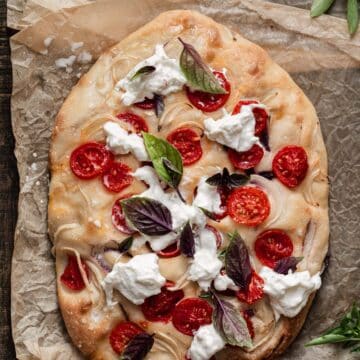 Focaccia With Tomato And Burrata
A delicious homemade focaccia with tomato and burrata: its softness - thanks to the boiled potato - will blow your mind.
Print
Pin
Ingredients
2 and ¾

cups

Organic bread flour

-

350 g

⅓

teaspoon

Yeast

-

1 g

¾

cup

Warm water

-

180 g

1

Boiled potato

3

tablespoons

Extra virgin olive oil

2

teaspoons

Salt

-

12 g

Cherry tomatoes, burrata, basil

Onion
Instructions
First, boil a potato until it's soft. Let it cool down, peel and then mash it.

To make this focaccia, you can either use your hands or a stand mixer.

Put the flour and yeast into the bowl of a stand mixer then pour water, activate at low speed.

Add boiled potato and EVO oil.

Let incorporate, then add the salt. Keep kneading about 8-10 minutes.

Let it rise, in a covered bowl, until it doubles.

In Summer, it'll take a little less (around two/three hours). If you make this focaccia in Winter, place the bowl inside the oven with just the light switched on.

When the dough has doubled, gently spread it onto an oiled baking tray. You can also divide it into two smaller focaccias.

Make some holes (not too deep) on the surface, put the sliced cherry tomatoes and oil. Sprinkle with oregano and let it raise for another hour.

You can also add onions and rosemary instead of tomatoes.

Preheat the oven at 250°C. Bake the focaccia for 15/20 minutes or until golden brown. Make sure to check the bottom.

Serve with burrata and fresh basil.
---
If you loved this super soft focaccia with tomato, I am sure these mini focaccias will be your new addiction from now on!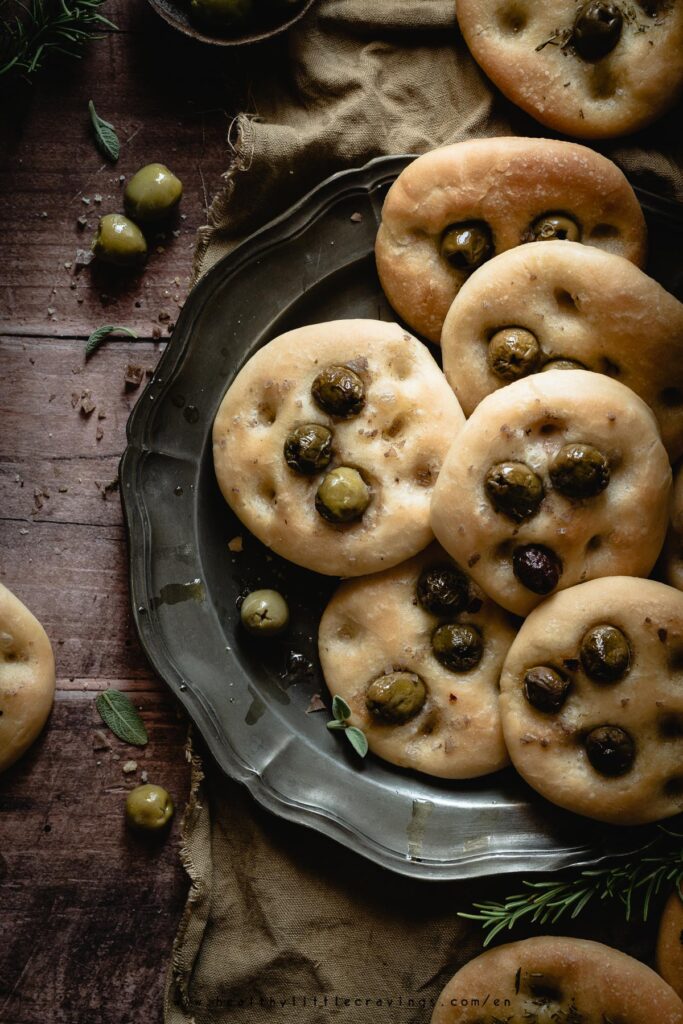 ---
© Healthy Little Cravings – Roberta Dall'Alba.
I own all content and photos' copyright.
Before using my photos and recipes, please email me.
If you would like to republish a recipe, please link back to this post and re-write the instructions in your own words