If I say that there's nothing better than cinnamon rolls/buns, do you agree with me? Yeah? Ok, then we can be friends!
Honestly, I just love them, by now you should know that I'm obsessed with them. Remember my classic Swedish cardamom buns (kardemummabullar)? And the healthier option? And these lingonberry ones?
Well, today instead I'm glad to share these healthy cinnamon rolls with a chocolate and orange filling! The word 'delicious' isn't enough, trust me.
[Why they're healthy, you saying? Read this post!]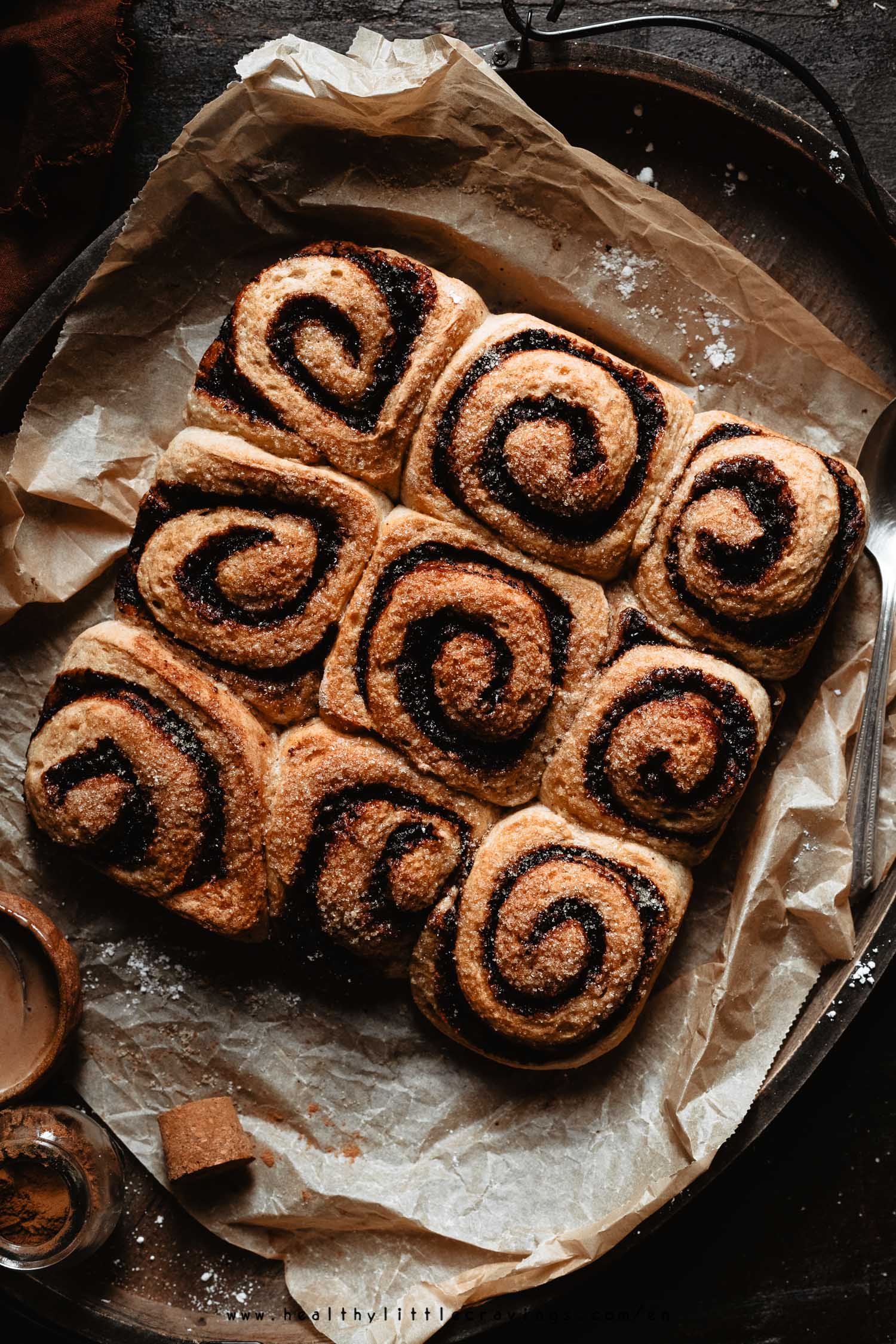 Healthy vegan cinnamon rolls with a delicious filling: what else?!
Oh gosh, where do I start from? They're too delicious to describe!
Ahem, ok ok the flavor: these rolls were so scrumptious that I wanted to eat half of the batch. Luckily I still have some self control and I only ate two. Kiddin', three (ops).
I don't know if you have ever tried chocolate & orange combo. In case your answer is 'no', you have to make up for it and try (it's bomb!).
Chocolate and orange together are simply amazing: the first is intense and rich, the latter is fresh, fruity, sour and slightly tangy. What I'm saying is: they perfectly balance one another.
It's a WIN.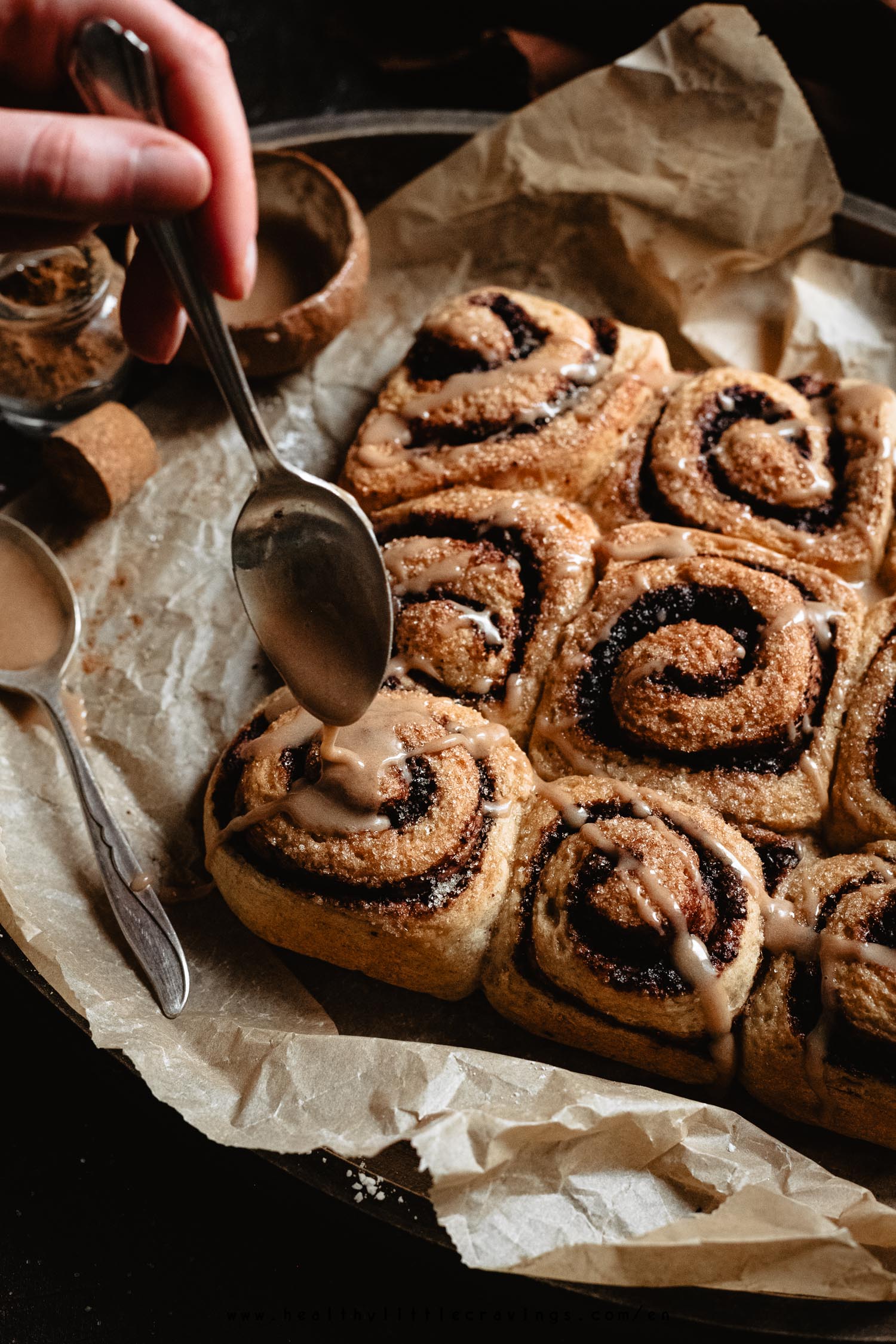 To make the filling I simply mixed sugar, cocoa powder, orange zest and... applesauce.
Yes, applesauce!
It was actually an experiment because I thought it would have tasted like apple, instead it turned out amazing (and no apple flavor!).
Regarding the softness of the rolls: despite the presence of whole wheat flour, they are so fluffy! I was pleasantly surprised.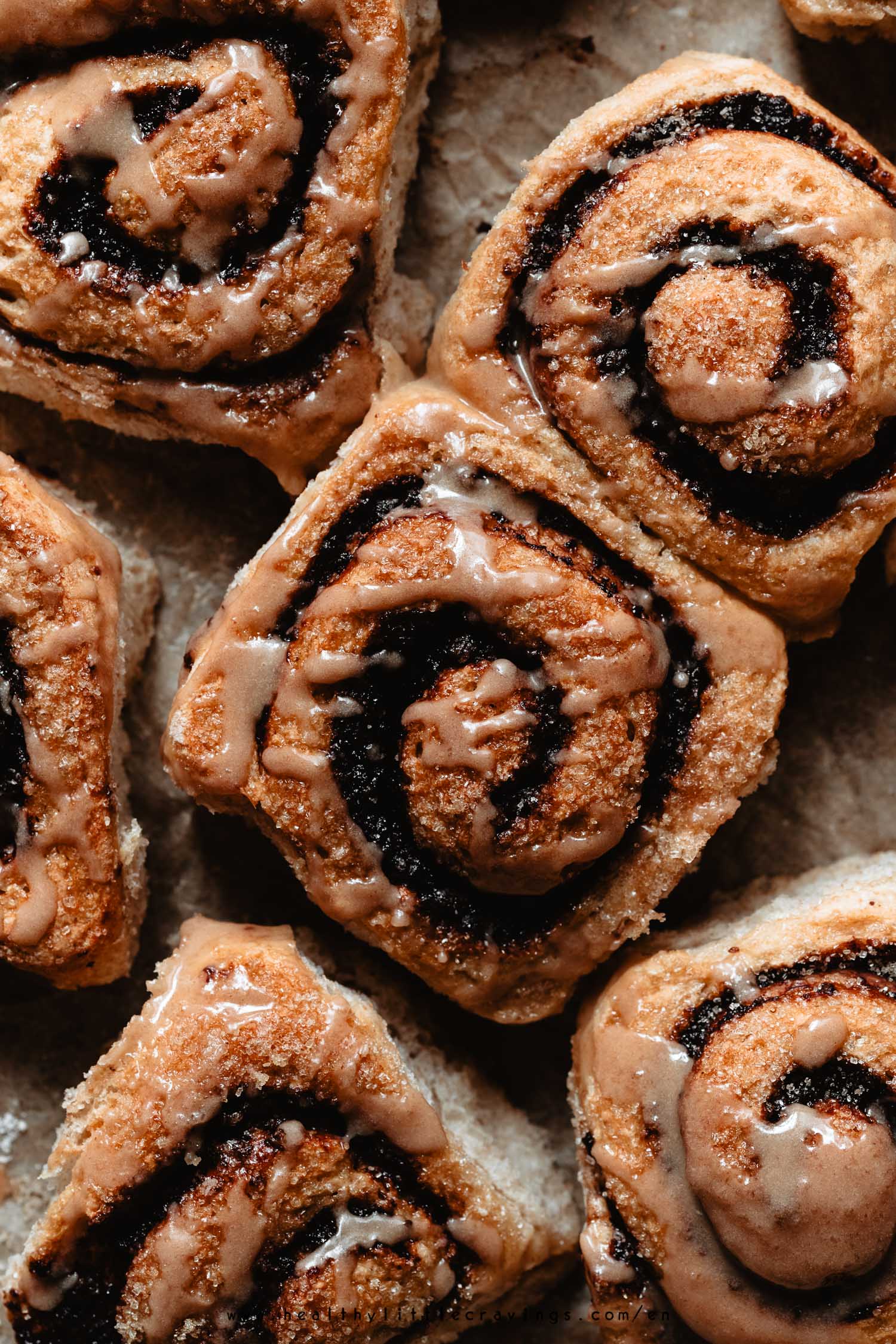 I called these "healthy cinnamon rolls" because I made them more nutritious by adding whole wheat flour, which is higher in fibers.
Yes it still has fats (they prevent dough from being tough).
Yes there's sugar. I've used raw brown sugar which is less refined.
YOU CAN'T bake if some elements are missing, sorry!
How to roll cinnamon buns and cut them
When rolling cinnamon buns/rolls, pay attention to your work surface: it has to be floured but not too much (we don't want tough rolls).
So, first: roll out the dough, then spread your filling.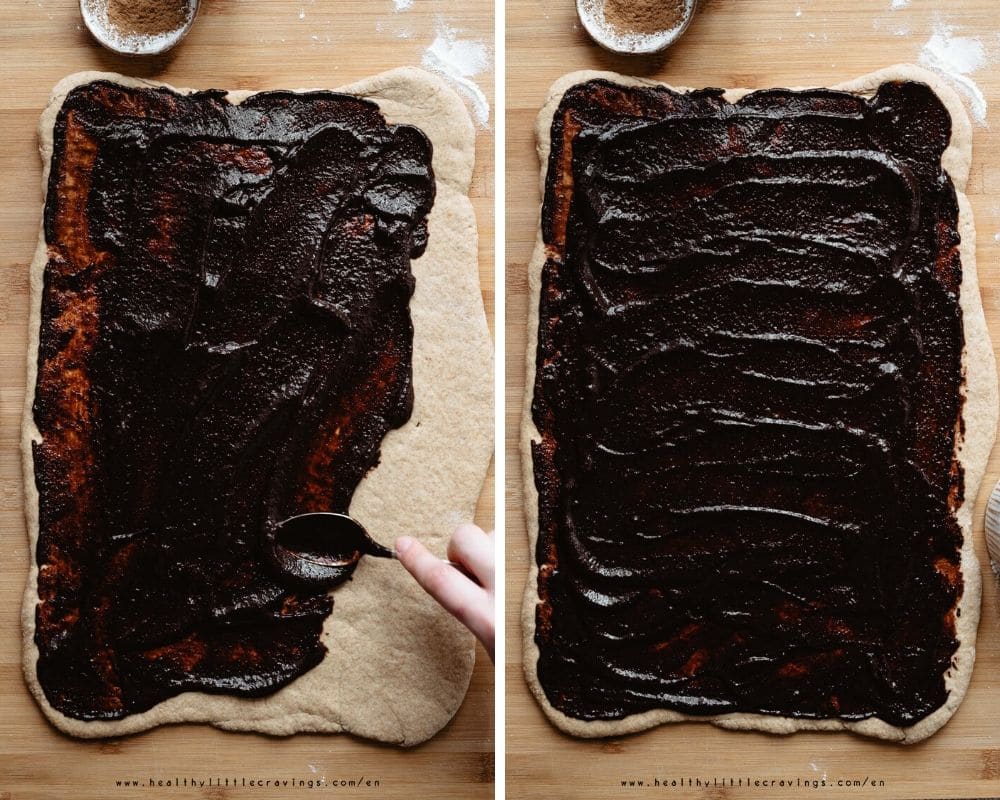 Start rolling it from the longer side. Roll it tightly.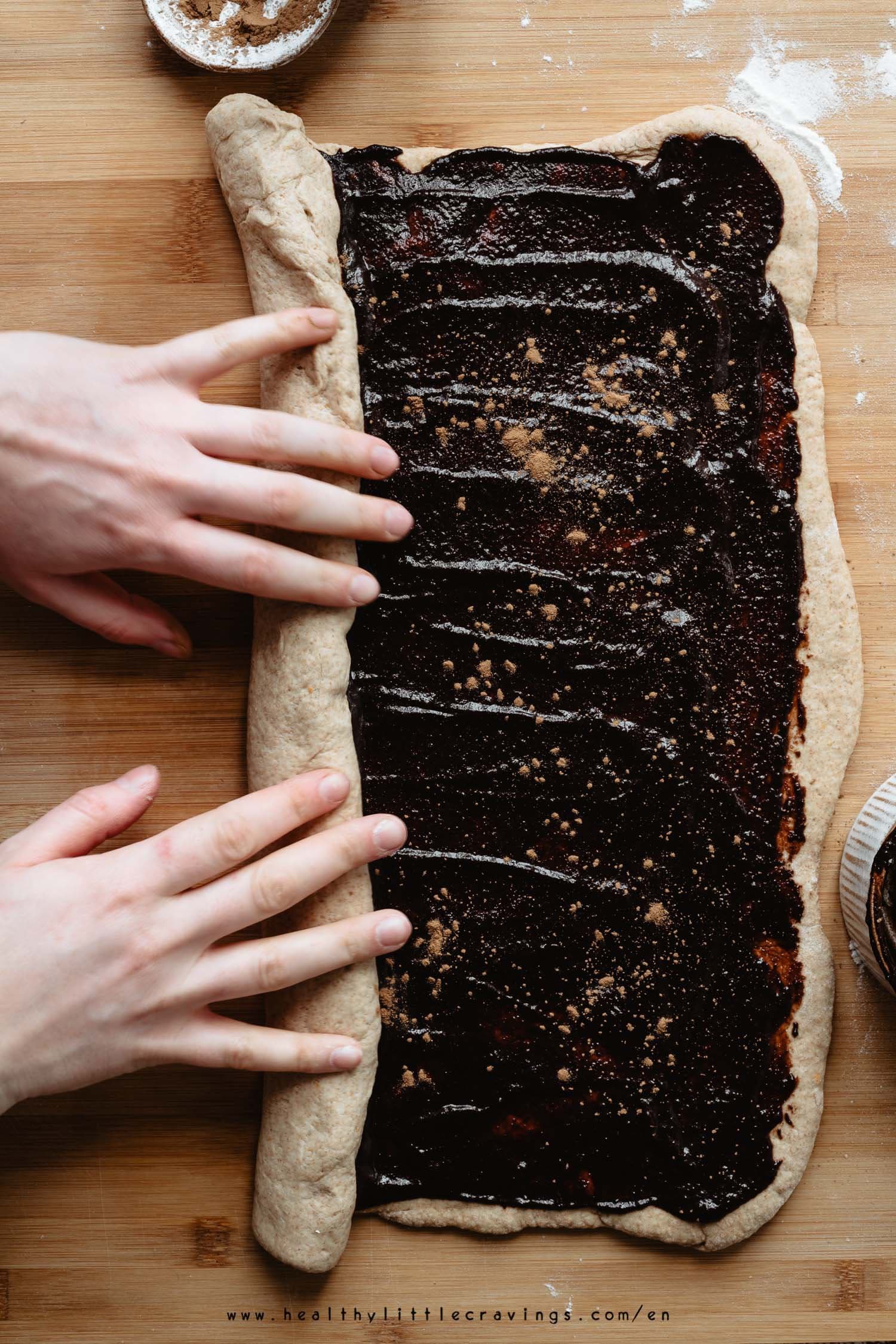 To cut the rolls use a cotton yarn, it will be easier. Watch this short video!
Why are your cinnamon rolls tough?
I love baked goods and at this point I've been making hundreds of rolls/buns etc. Luckily I rarely failed and threw all away (not being full of myself here, I'm telling the truth, boyfriend can testify lol)
It happened some times though that my cinnamon rolls were a bit tough.
Why?
If a baked good (buns, babka, also bread...) is tough that means:
Your dough has...too much gluten, and that is the result of a high protein flour.
These rolls have whole wheat flour but in a certain %, which allows to "lighten" the dough.
You over kneaded the dough. Kneading allows the gluten to develop, but you don't have to go too far.
Have you ever noticed that muffins and pancakes recipe say "do not overmix"? That's because if you over mix you will have tough muffins/pancakes. Same with baked goods.
You didn't use fats. They donate softness to the dough!
Even though they're not strictly necessary (bread do not have fats), if making buns/rolls I highly suggest enriching the dough with butter or oil.
If you follow this recipe you shouldn't have these problems. But your whole wheat flour may be different from mine.
Adjust the dough accordingly!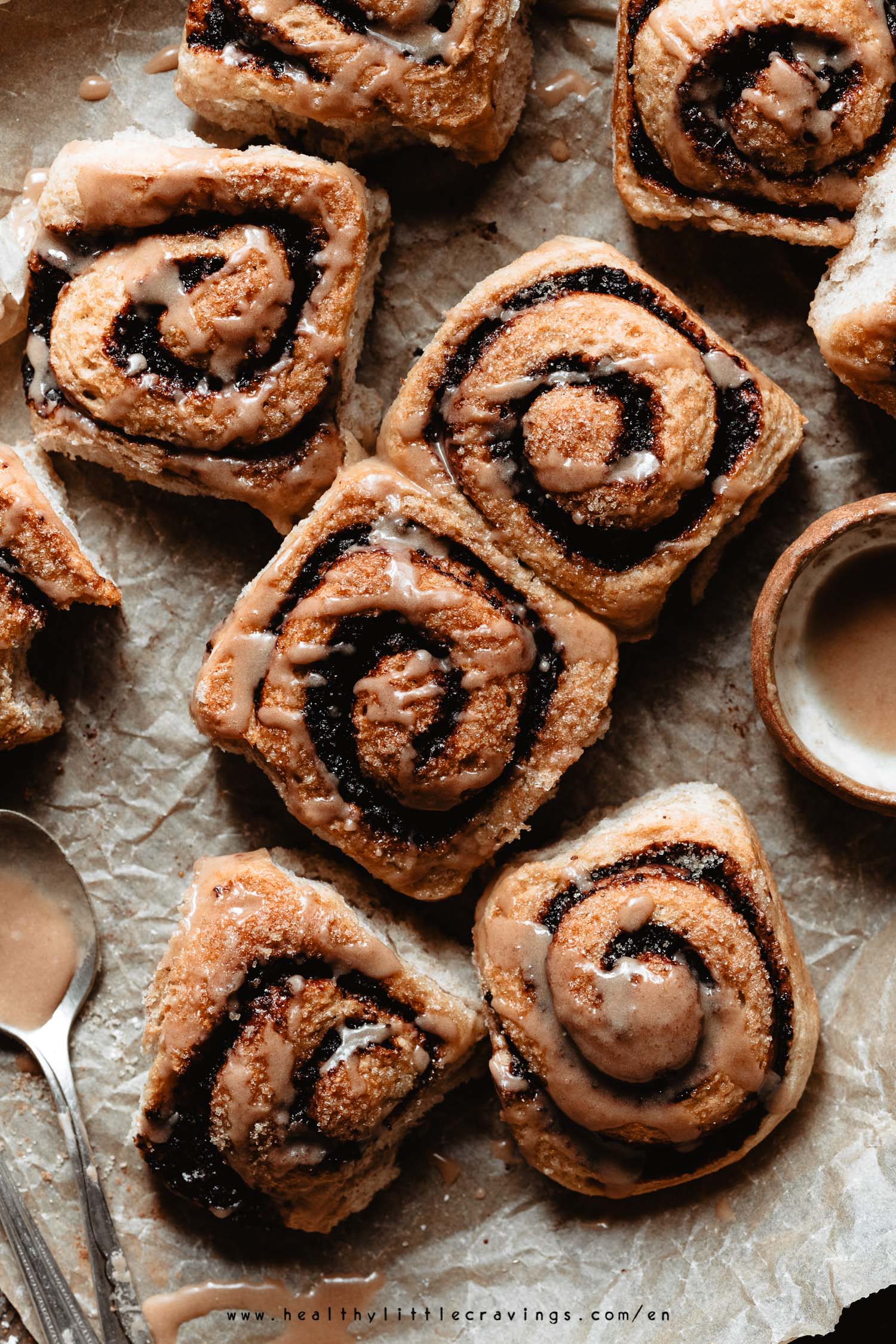 How do you keep cinnamon rolls soft after baking?
I usually store my baked goods into a airtight container if I'm sure I'm going to eat them in one day. The day after I warm them up with microwave or oven and they become soft again (few seconds are enough).
Otherwise I place them into a ziplock bag and freeze them. So when you crave them, they'll be there in the freezer for you!
Gradually defrost them, then warm them up and you're good to go!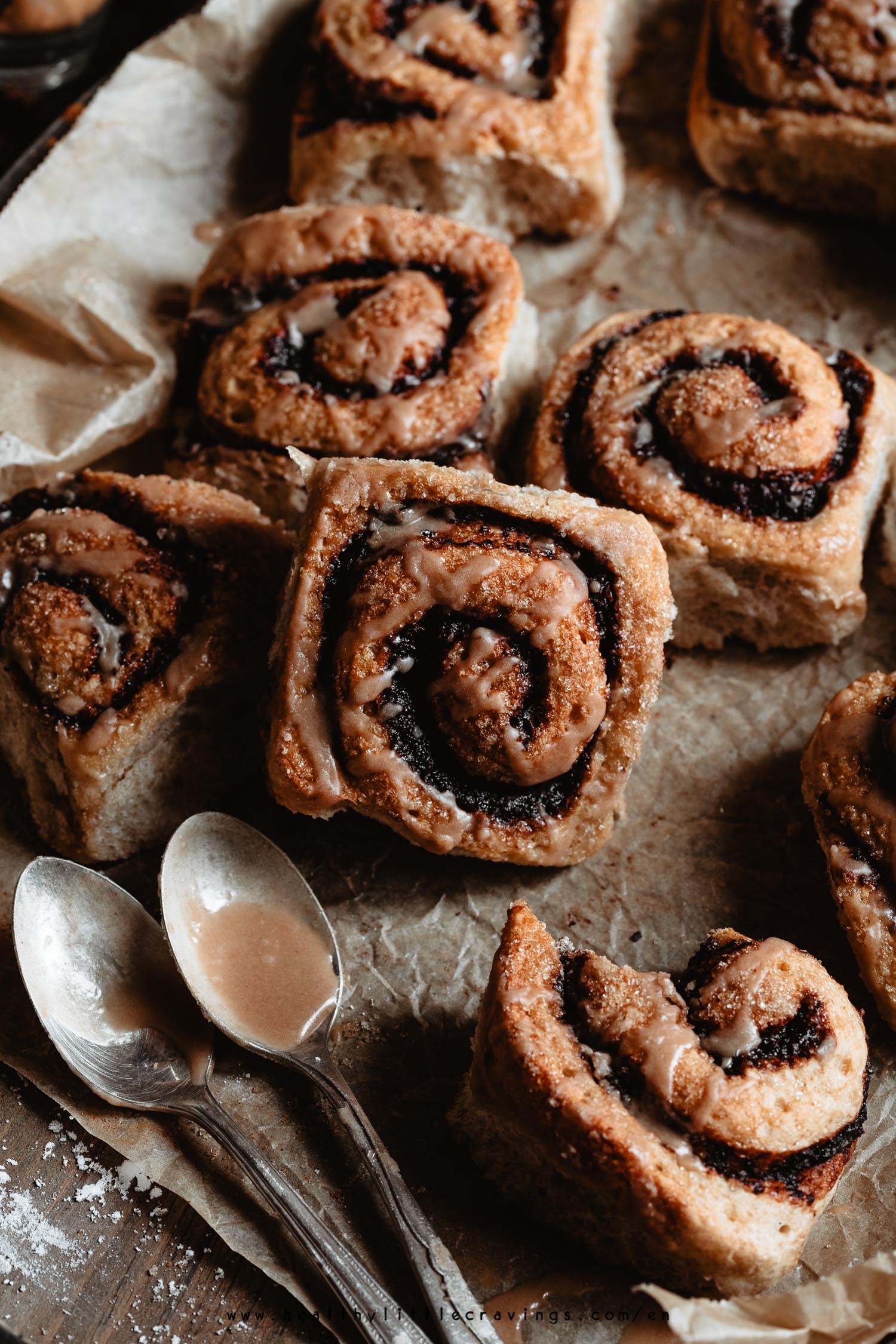 ---
Do you have other questions?
It's not easy to answer all the questions you may have, so PLEASE leave a comment below and I'm glad to reply! Thank you.
---
If you make this recipe, please be sure to give it a rating and leave a comment! It would make me so happy! 🙂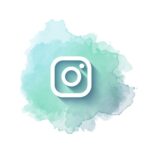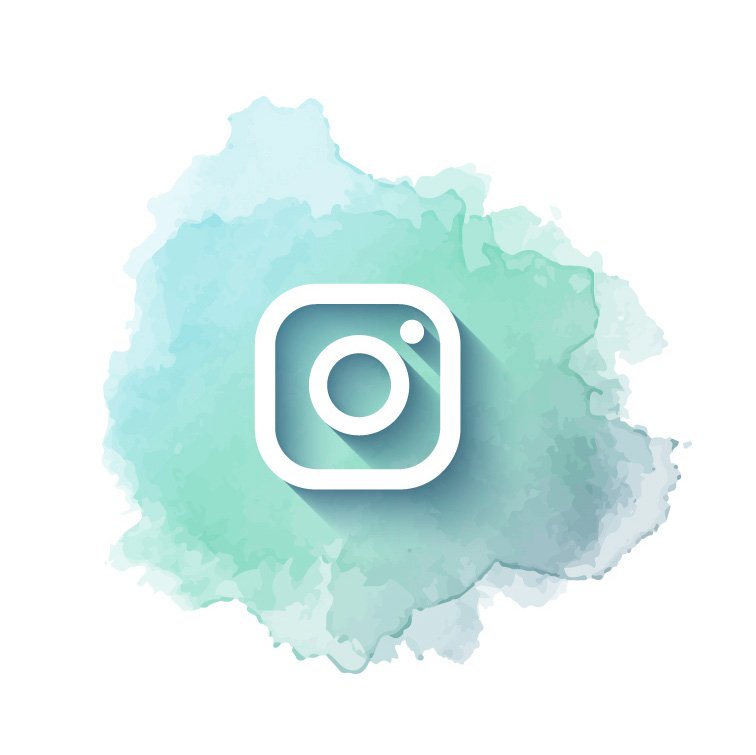 Remember: if you try one of my recipes, tag me on Instagram or DM me the photos!
---
Don't forget to pin and share this easy and delicious recipe!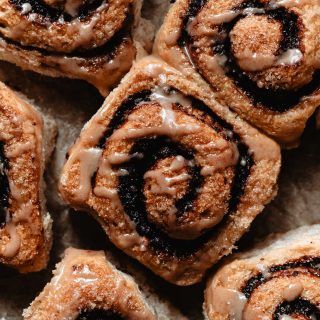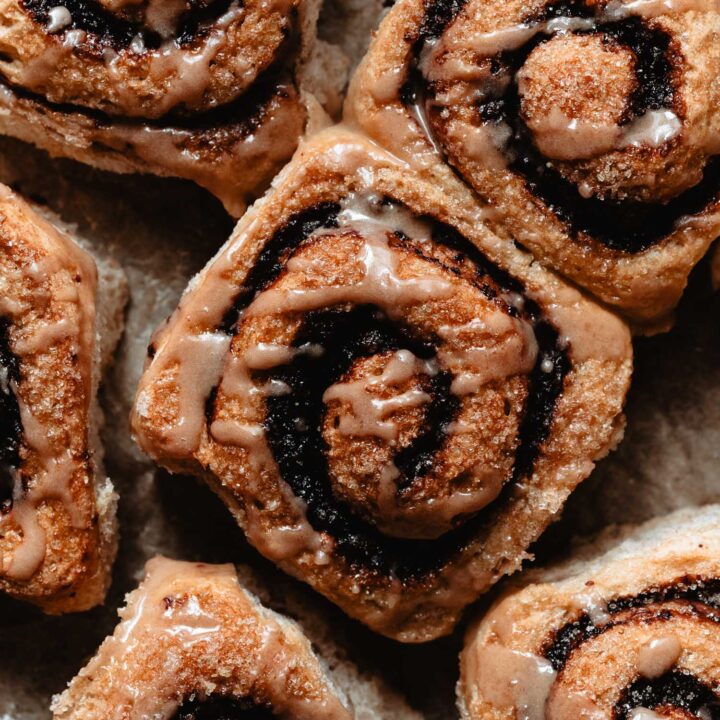 VEGAN HEALTHY CINNAMON ROLLS
The healthy and vegan version of the famous cinnamon rolls, with chocolate and orange filling!
Print
Pin
Ingredients
Dough:
100

gr

Lukewarm water

7

gr

Dry yeast

4

teaspoons

Raw brown sugar

80

gr

Whole wheat flour

260

gr

All purpose flour

85

gr

Homemade applesauce

55

gr

Almond milk (unsweetened)

20

gr

Extra virgin olive oil

1

teaspoon

Salt
Filling:
2

tablespoons

Applesauce

20

gr

Unsweetened cocoa powder

50

gr

Raw brown sugar

Zest from

One organic orange

Cinnamon powder

-

to taste

Vanilla extract

-

(optional)
Instructions
In a stand mixer's bowl, combine water, sugar and yeast. Activate the machine.

Gradually add flours and let incorporate.

Add applesauce, milk and oil and let combine for a few seconds until it comes together and it pulls away from the sides of the bowl.

Add salt then let knead for about 10 minutes.

Let it double for 1/1.5 hours a warm place.

NOTE: mine took only one hour to rise because I let it chill into my oven at 30°C (86°F).

Make the filling by combining all the ingredients into a small bowl. Let it chill in the fridge.

After the dough has doubled in size, transfer it to a floured surface. Roll it out into a 12 x 16 inches rectangle (40 x 30 cm)

Spread the filling over dough, leaving a ⅓ of an inch at the edges.

Roll the dough up, from the longer side.

Cut into 12 or 13 rolls. TRICK: use a cotton yarn to "cut" the rolls.

Place the chocolate cinnamon rolls in a greased round 9 inch cake pan or square pan. Cover with plastic wrap and let rise again for 30 minutes.

Preheat oven to 175°C (350° F).

When the rolls have doubled, brush with almond milk using a cooking brush. Bake them for 30 minutes.

Optional: sprinkle with brown sugar.

Let them cool down and eat!

If you want to make a glaze: I've used icing sugar, a tiny bit of maple syrup and a small amount of water.

Store them in the fridge, into an airtight container.
Notes
To make homemade applesauce, click here. As usual, I've used my small food processor (find it here)
P.S. You can make the recipe by hand. 
---
If you liked this recipe I think you will love my healthier cardamom buns! Look at them!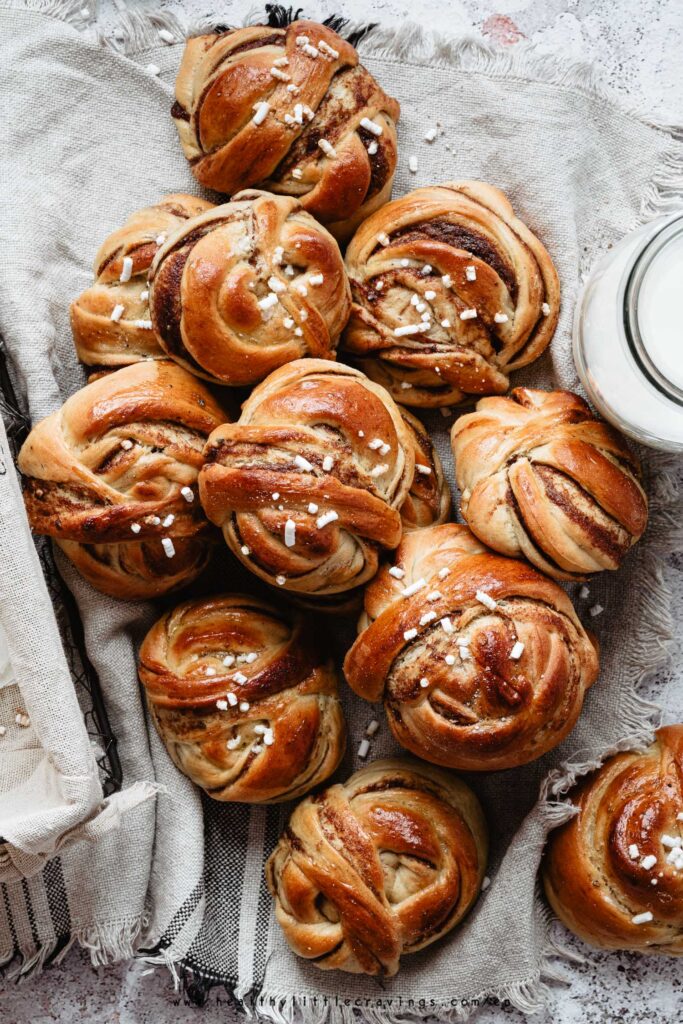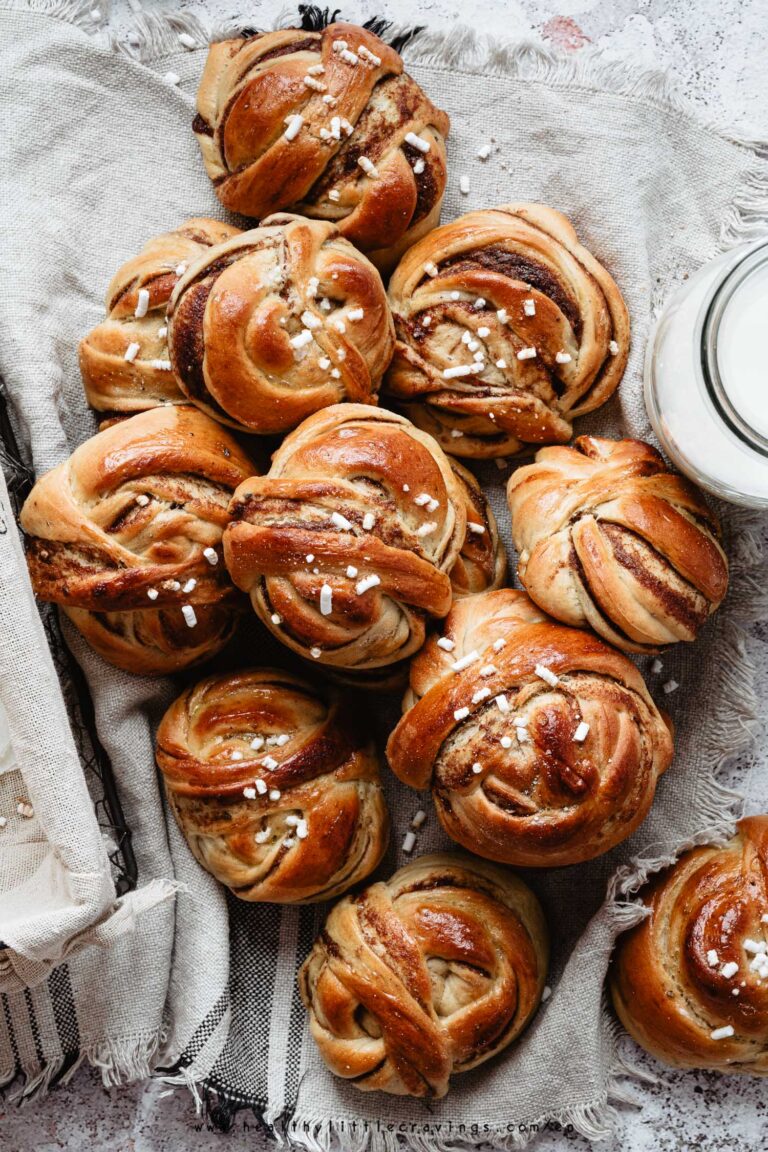 ---
© Healthy Little Cravings – Roberta Dall'Alba.
I own all content and photos' copyright.
Before using my photos and recipes, please email me.
If you would like to republish a recipe, please link back to this post and re-write the instructions in your own words.