Extremely easy to make, this velvety potato leek soup, a.k.a "White Christmas" soup, will save your Xmas lunch!
---
Ok, it's the 1st of December, the month of Christmas. Don't panic, don't panic! Ok, these last two days I panicked. I have my December recipes' schedule ready and I had to post a savory phyllo pie today, but it didn't turn out the way I wanted. It's pretty...and festive...but something is missing. So I'll test it again and THEN I'll share it with you.
Same thing happened for a sweet phyllo strudel today (do I have phyllo obsession?). I'll re-test that for the third time next week.
Luckily, this amazing velvety soup saved me (and maybe will save you too!)
A velvety potato leek soup that will warm up your heart...
I've never EVER liked soups, least of all minestrone soups. My mom used to serve minestrone to make me and my sister eat vegetables when we were little, but I just loathed it (sorry mom).
Growing up, I knew I had to find a solution: I should have started eating vegetables, otherwise...well, you know what happens in case of lack of fibers, vitamins etc.
I found the solution in / *confession time*/ store-bought dry soups (ok, now I'm feeling ashamed). Luckily, to me that was the turning point: from that moment on, I started eating soups. And guess the first soup's flavor: yup, potatoes and leeks!
Later on, when I started attending university, I began making soups from scratch (great strides!) and how could I not make my beloved velvety potato leek soup in the first place?
So I googled it and found hundreds of recipes. Unluckily 80% of those called for heavy cream. Honestly, I didn't  like the idea of "overloading" an healthy meal, especially soup. That's the reason why I've always used some "basic" milk, or ricotta, instead of cream.
As time passed, I've perfected my velvety potato leek soup and today I'm gonna share it with you.
This soup is perfect if you're looking for a first course for you Christmas menu and you have some "heavier" main meals after the entrée. As a matter of fact, I've called it "White Christmas Soup", thanks to its color!
Note: ALWAYS try a recipe before "the big day", otherwise you'll risk a failure. Even if the recipe is tested multiple times, maybe there are some adjustments you have to make! So, test it yourself first.
Remember: if you try one of my recipes, tag me on Instagram or send the photos to [email protected]
---
NOTE: This post contains affiliate links which means I make a commission off of the links below with no additional cost to you. Thanks for supporting me!
---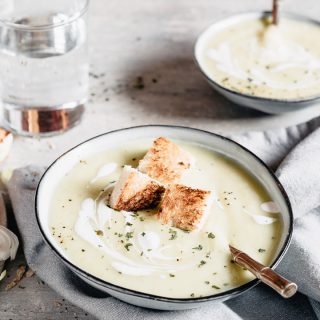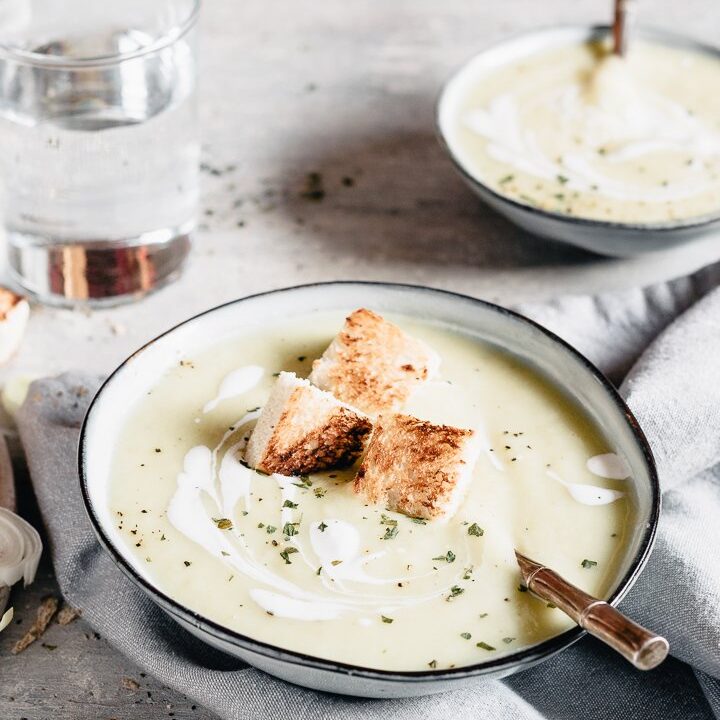 VELVETY POTATOES LEEK SOUP
Extremely easy to make, this velvety potato leek soup, a.k.a "White Christmas" soup, will save your Xmas lunch!
Print
Pin
Ingredients
350 gr

Peeled potatoes

2

Leeks

-

(Approximately 350 gr)

a drizzle

Extra virgin olive oil

Salt, to taste

Black pepper, to taste

500

gr

Water

100

gr

Milk or plant milk
To garnish (optional):
Extra virgin olive oil

Robiola (soft cheese)
Instructions
Wash and peel your potatoes then chop them in small cubes (so they'll cook rapidly).

Clean you leeks: cut the top green part, remove the outer leaf and cut off the base of the leek. Then slice them.

Put leeks and potatoes in a large deep pan - mine looks like a wok - then add a drizzle of extra virgin olive oil and let cook for approximately 5 minutes, at medium high heat.

Add salt, pepper and water and lower the heat. Cover and let it boil for 30 minutes. Stir every now and then.

After 30 minutes the potatoes should be soft (same for the leeks).

Add the milk (at room temperature) and stir. Heat it up if you don't want a warm soup.

If you want to garnish the soup use some cream cheese (I've used 'robiola' diluted with some water, in my photos).