I fell in love with Sweden the moment I set foot in it, back in April.
I think I mentioned it in my last buns recipe (here): the thing I love most is their baked goods obviously, especially cardamom buns.
So, today I'll share with you the perfect Christmas cinnamon rolls (or buns, whatever you want to call 'em) recipe, with Lingonberry jam and pistachios. VERRRY Swedish!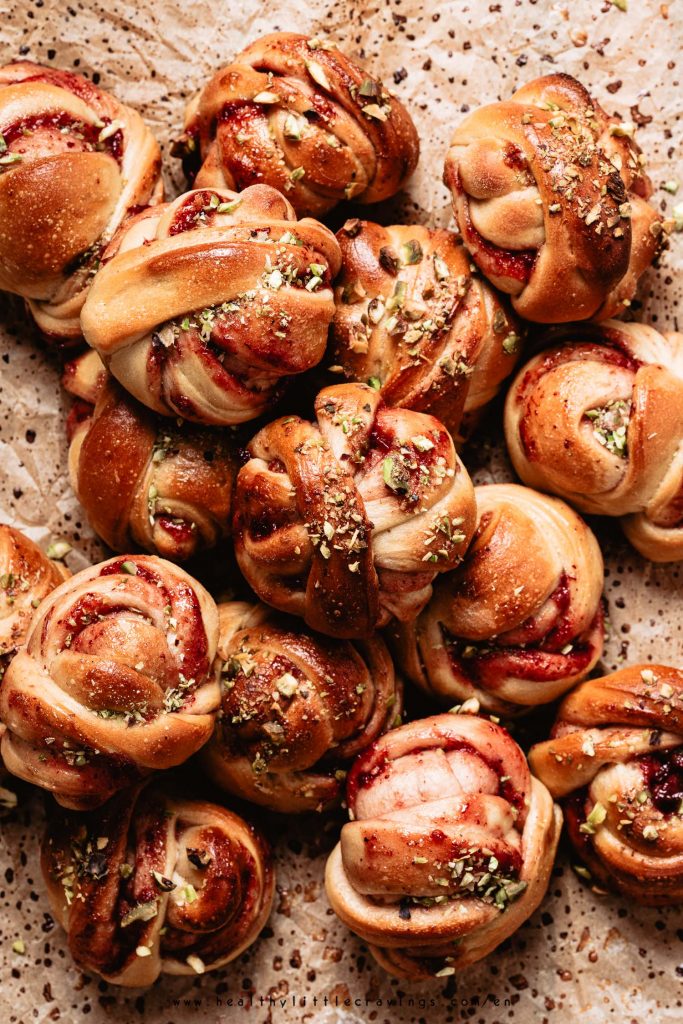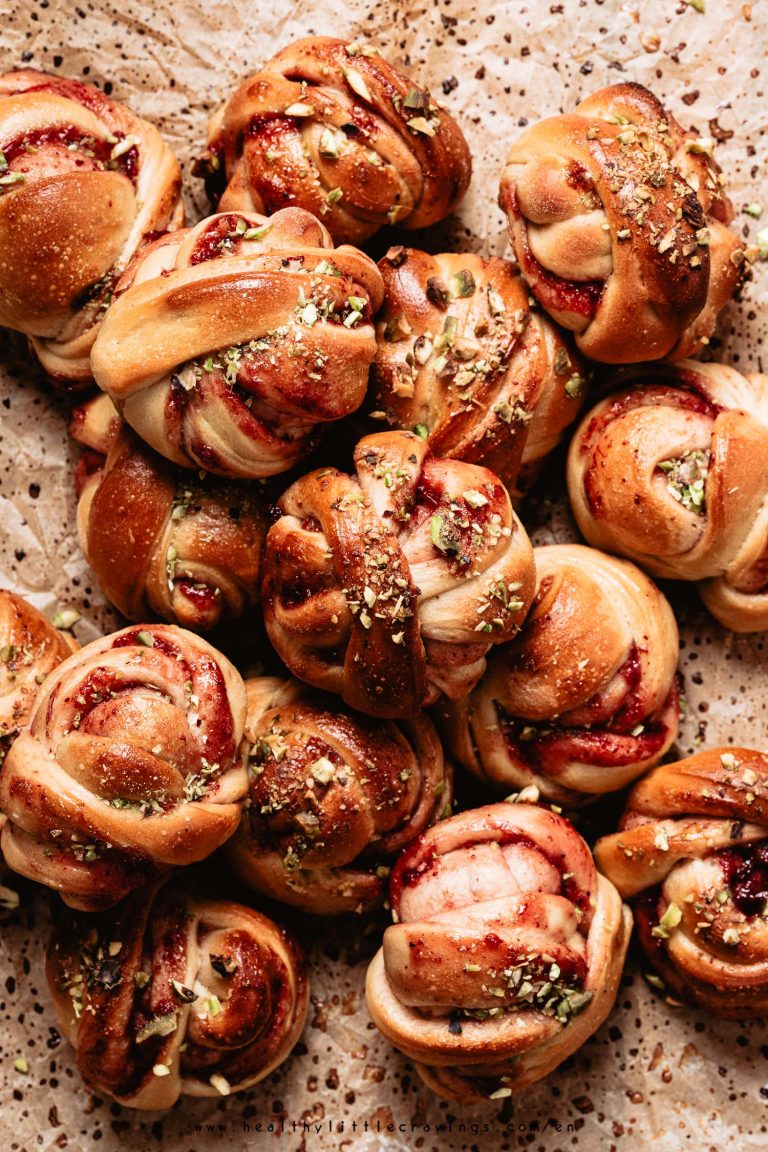 Christmas cinnamon rolls: your December 25 breakfast 🎅
Me and boyfriend really enjoy eating buns/rolls for breakfast every once in a while.
And these... OMG, just look at them. Don't they look like the perfect Christmas breakfast to share with your loved ones? They do, let me tell you.
Right now, I'm picturing myself at my parents' house, in the kitchen eating these sweet buns with them, boyfriend and nephews. That is the meaning of this feast day, to me.
As I mentioned in my latest post, Christmas to me has never been stressful. It doesn't mean 'gifts', it has always meant family and joy.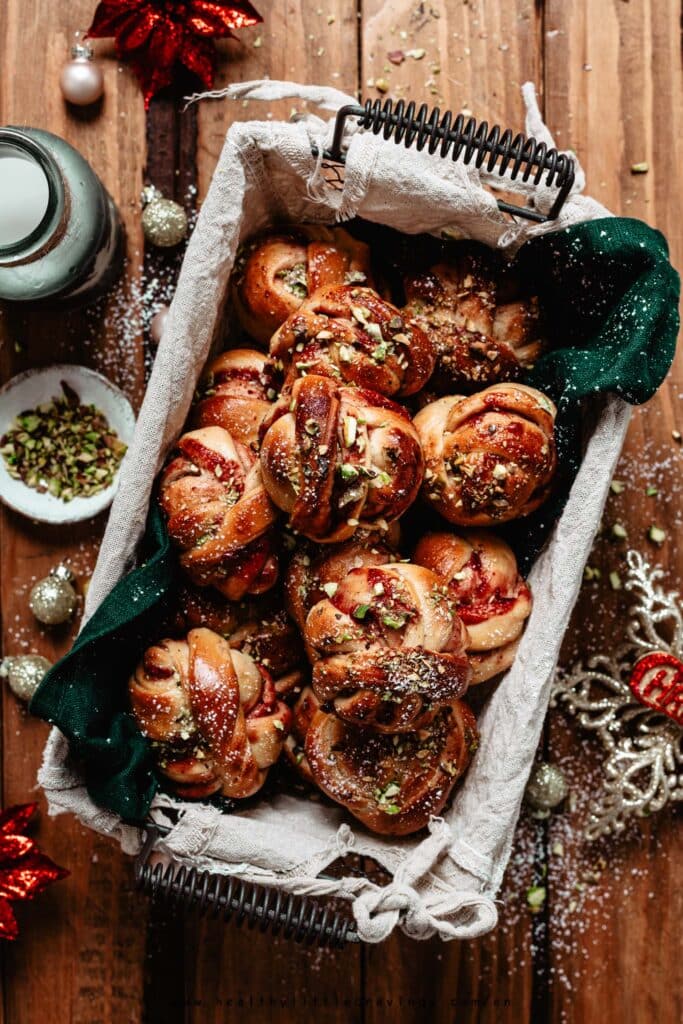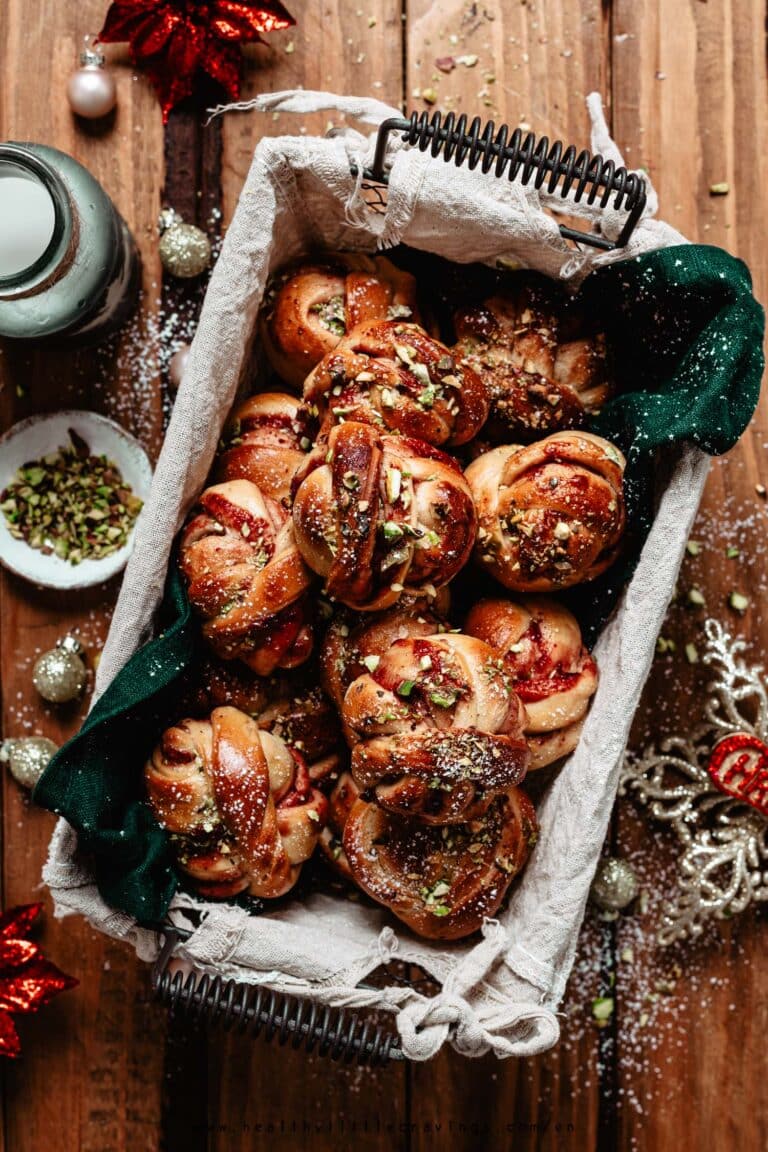 You can also "veganize" them....
Back to these Christmas cinnamon rolls...
The recipe is adapted from this one I developed for Sister Mag back in March 2019. That dough was almost vegan, except for the honey.
This time I've used egg instead of applesauce and plain milk instead of almond's, so it's definitely not vegan.
BUT... if you want to "veganize" it check out the recipe I've linked above and swap honey for brown sugar. Easy, uh?
For the filling, instead of using raspberry jam I've used lingonberry. The initial idea was to use fresh cranberries, but I had no luck. Couldn't find them anywhere!
I thought "Ok, let's find cranberries' jam" - Ditto. No luck.
So, they ended up being lingonberry jam buns. Oh, well...not bad. Way more Swedish!
P.S. you have to try that recipe I developed for Sister Mag, it was to die for!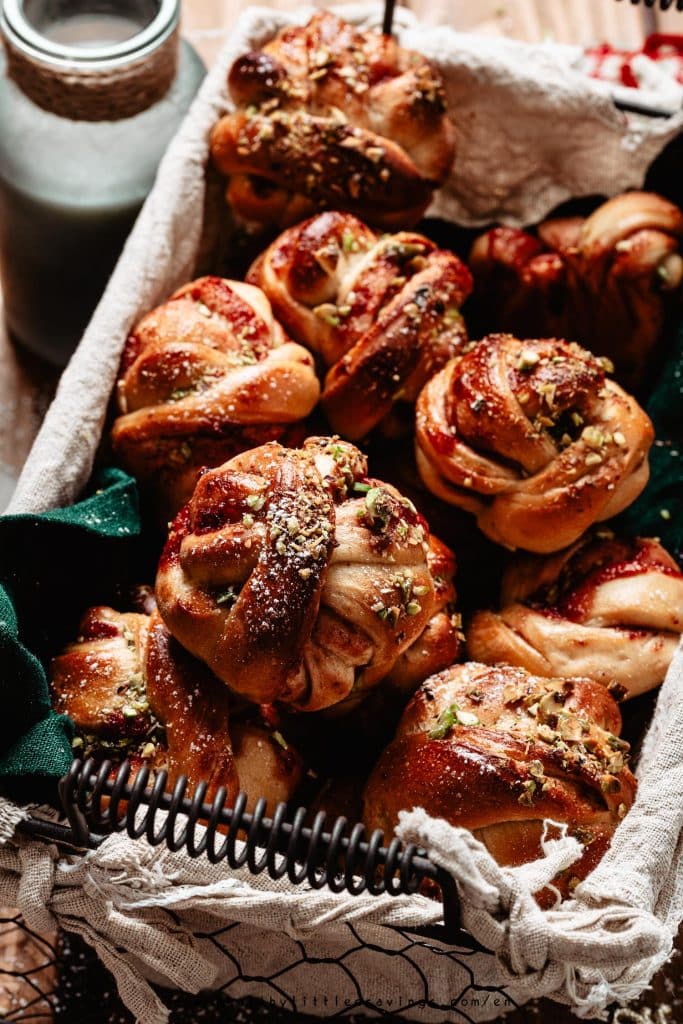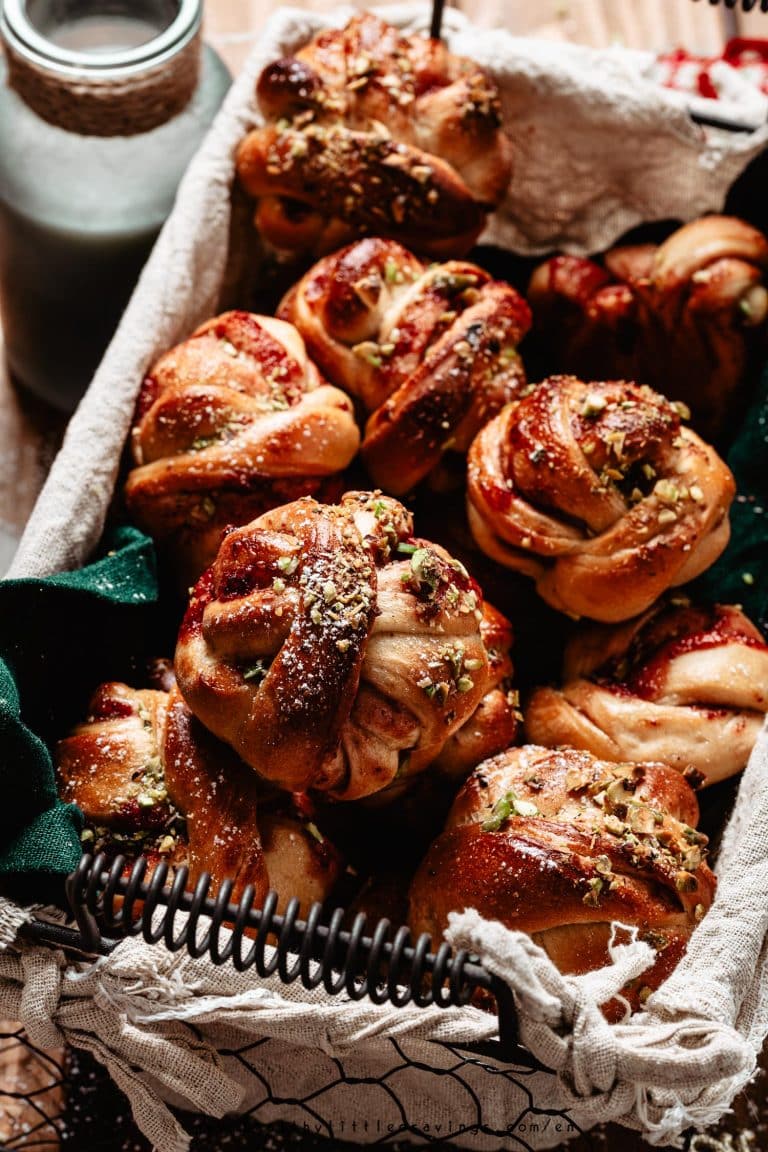 Can you substitute lingonberry for cranberry?
Of course you can! As I mentioned above, at first I wanted to make these Christmas buns with cranberries, then with cranberry jam. So if you can find them - I'm sure in the U.S. you can - try!
Yes, I didn't test the recipe with it, but these two fruits are easily interchangeable.
These two berries belong to the same family and they have a slightly sour and sweet taste. Delish!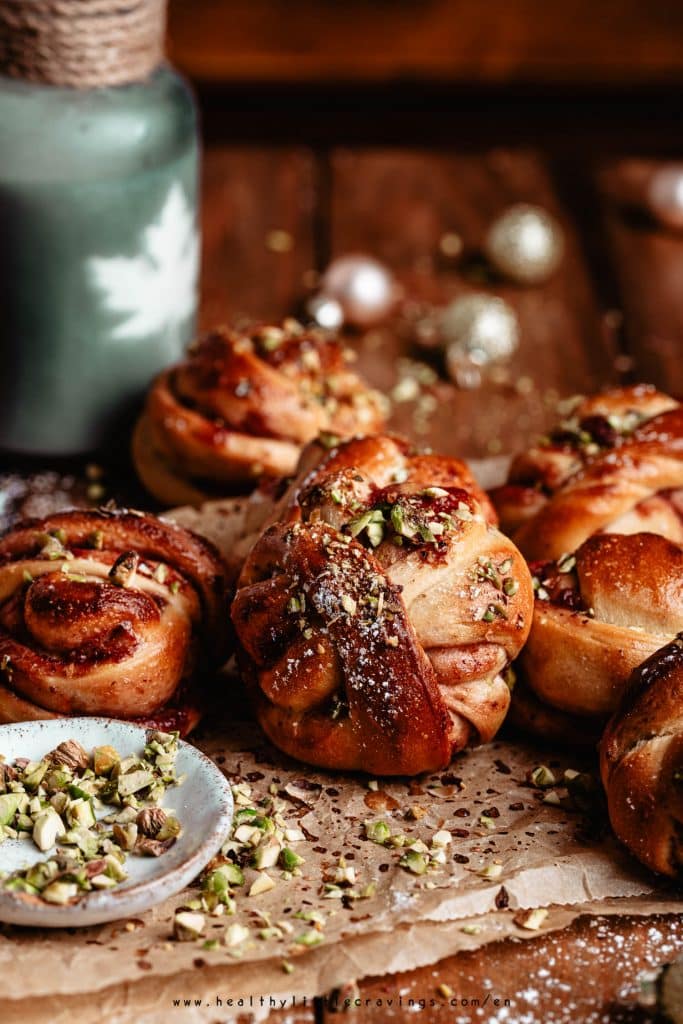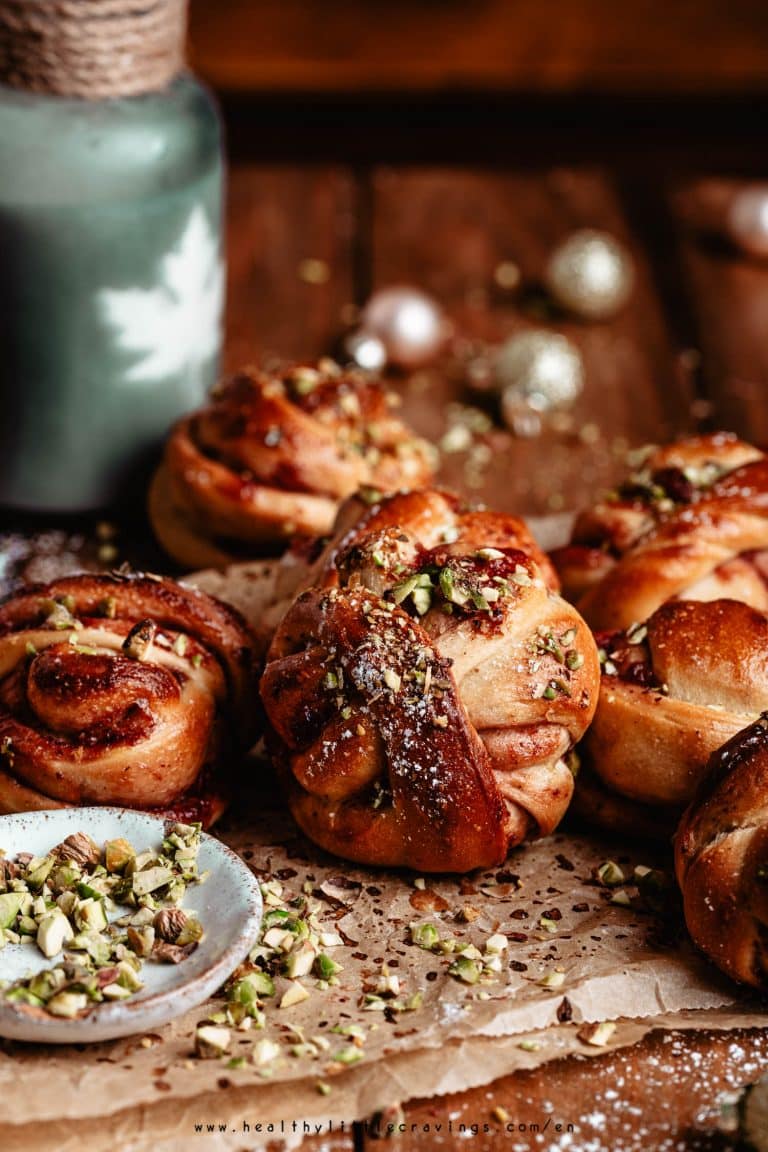 What goes well with lingonberries?
In this recipe I've topped my buns with ground pistachios for 2 reasons:
To add a slightly nutty flavor;
To add a green touch and make these more Christmassy 🌲
Lingonberries, in Sweden, are used both in sweet and savory food. Swedishfood website says these berries "are considered to be an essential accompaniment to many Swedish dishes - such as - köttbullar (meatballs), kåldomar (stuffed cabbage rolls) and raggmunk (potato pancakes). (...) Their bitterness and sweetness go well with meat, game, fish and several desserts."
Want to try them? Do it. I seriously L-O-V-E lingonberry sauce with meatballs (thanks Ikea).
P.S. they're also packed with benefits!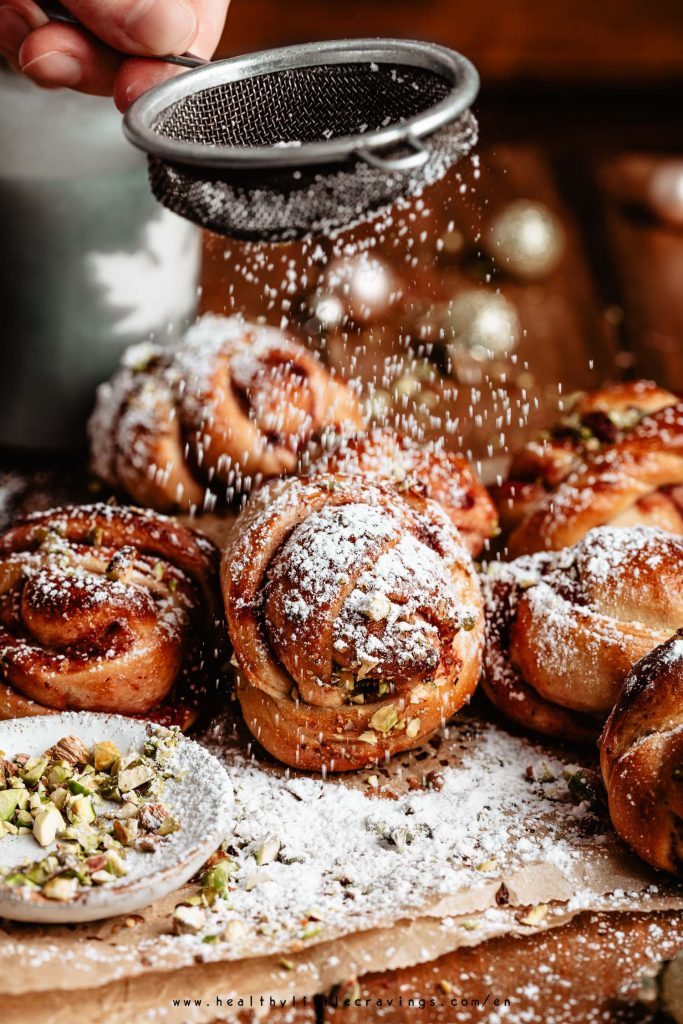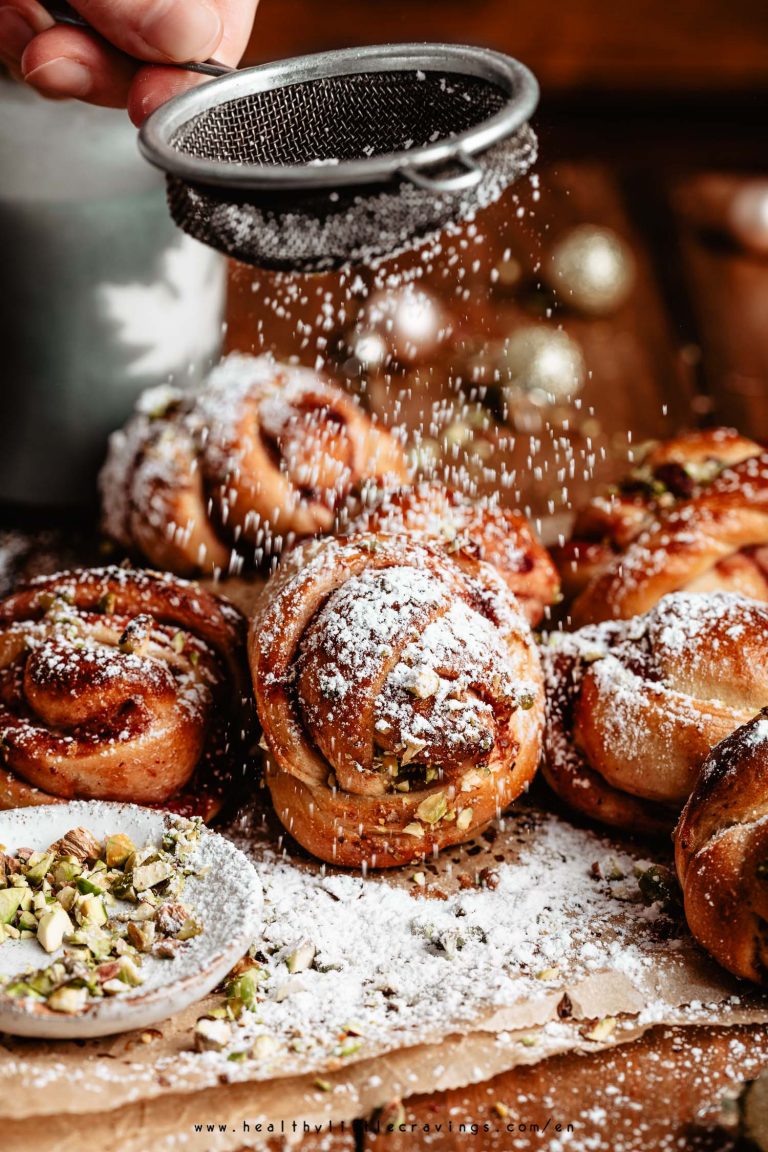 Wait, is it a bun or a roll?
Ok, this is something I'm asking YOU. Do you call these "buns" or "rolls"?
I use these two terms as synonyms.
I found on a website that Tom Lehmann - a source at the American Institute of Baking - says "the term 'roll' is generally applied to filled products, especially those that are formed by sheeting and rolling-up or folding the dough" (...) Buns instead are generally more bread-like in shape and typically do not contain a filling."
What do you say? I say let's eat, regardless the terminology lol
---
If you make this recipe, please be sure to give it a rating and leave a comment! It would make me so happy! 🙂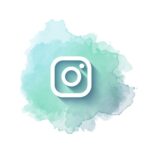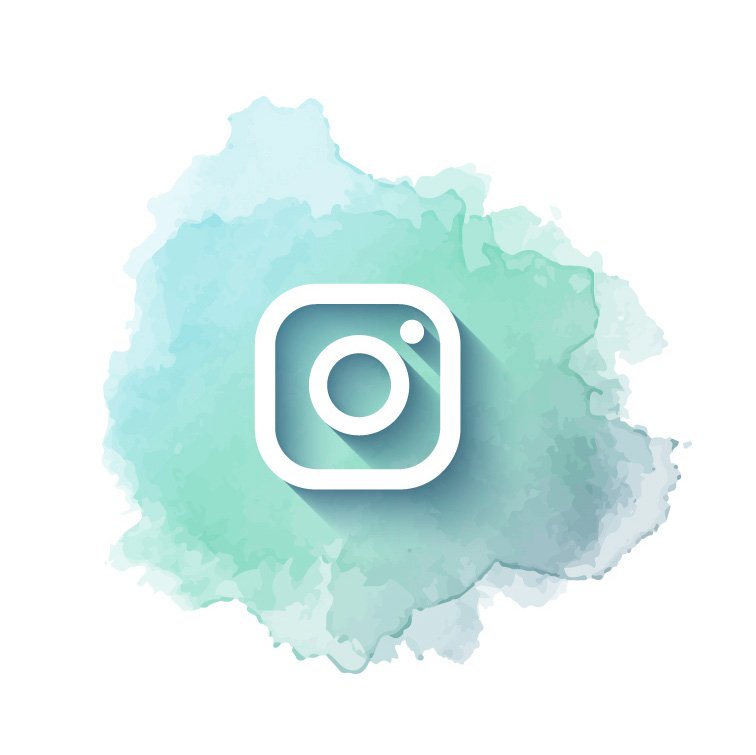 Remember: if you try one of my recipes, tag me on Instagram or DM me the photos!
---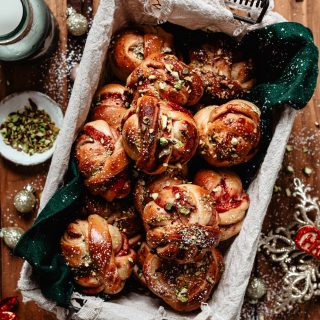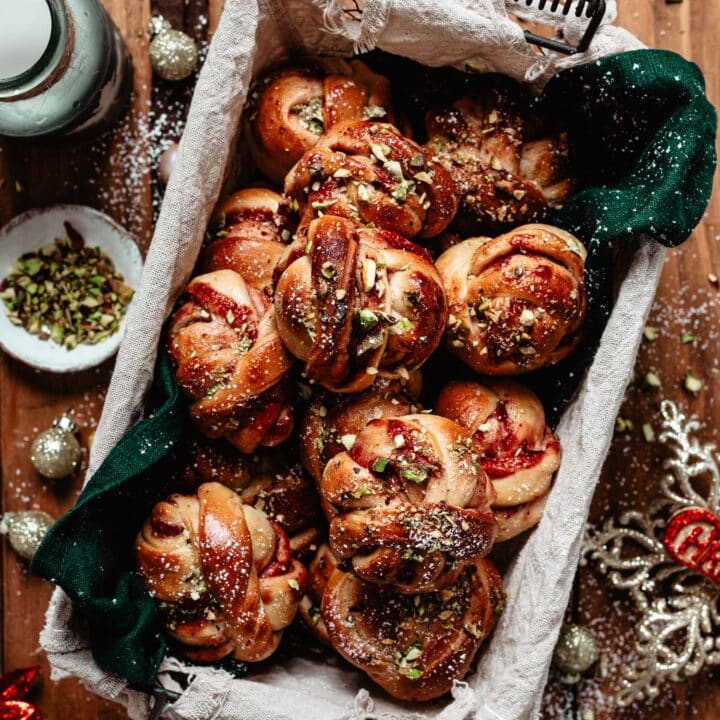 Ingredients
For the dough:
87

gr

Milk

-

lukewarm

12

gr

Fresh yeast

-

(or 4 gr of dry)

1

teaspoon

Brown sugar

1

Egg

-

at room temperature

270

gr

Bread flour or white spelt flour

-

plus extra for dusting

32

gr

Extra virgin olive oil

1

tablespoon

Water

-

at room temperature

20

gr

Raw brown sugar

5

gr

Salt
For the filling:
120 gr

Lingonberry or cranberry jam

approx. one teaspoon

Raw brown sugar

a sprinkle

Cinnamon powder

one teaspoon

Cardamom powder
Instructions
To make the dough: (**see notes)
Into the stand mixer bowl combine lukewarm milk, yeast, sugar and let melt. Activate the stand mixer at low speed.

Add the egg (at room temperature) and gradually sift the flour into the bowl.

Add EVO oil and water, and let fully absorb.

Now add brown sugar and salt, and let knead for 15/20 minutes, until you get a nice and smooth (slightly sticky) dough.

Put the dough into a bowl, cover, let it rise in a warm place for about 2 hours or until doubled.

Prepare the filling by combining jam, sugar, cardamom and cinnamon.
Prepare the rolls:
Roll out the dough to be about 30 x 40 cm (40 x 50 is even better), on a floured surface.

Spread the filling all over using a spatula or a tablespoon.

Fold the dough in two, lengthways (at this point you should have a rectangle).

Starting from the long side of the rectangle, and using a pizza cutter, cut 16 strips of dough.

Place the rolls spaced well apart on a baking sheet, cover with a cloth and let rise for about 30 minutes or untile doubled (in a warm place).

Preheat your oven at 200°C / 390° F.

When the buns have doubled in volume, brush them with egg yolk + a drop of milk, sprinkle some pistachios on top, then bake for 15 minutes.

Let them cool and eat them immediately, or freeze them.

You can also eat them the day after: simply store them into an airtight container.
Notes
**I've used a stand mixer, but you can also make this by hand.
---
Don't forget to pin and share this easy and delicious recipe!
---
Liked this recipe?
Try these healthier cardamom buns (delish!)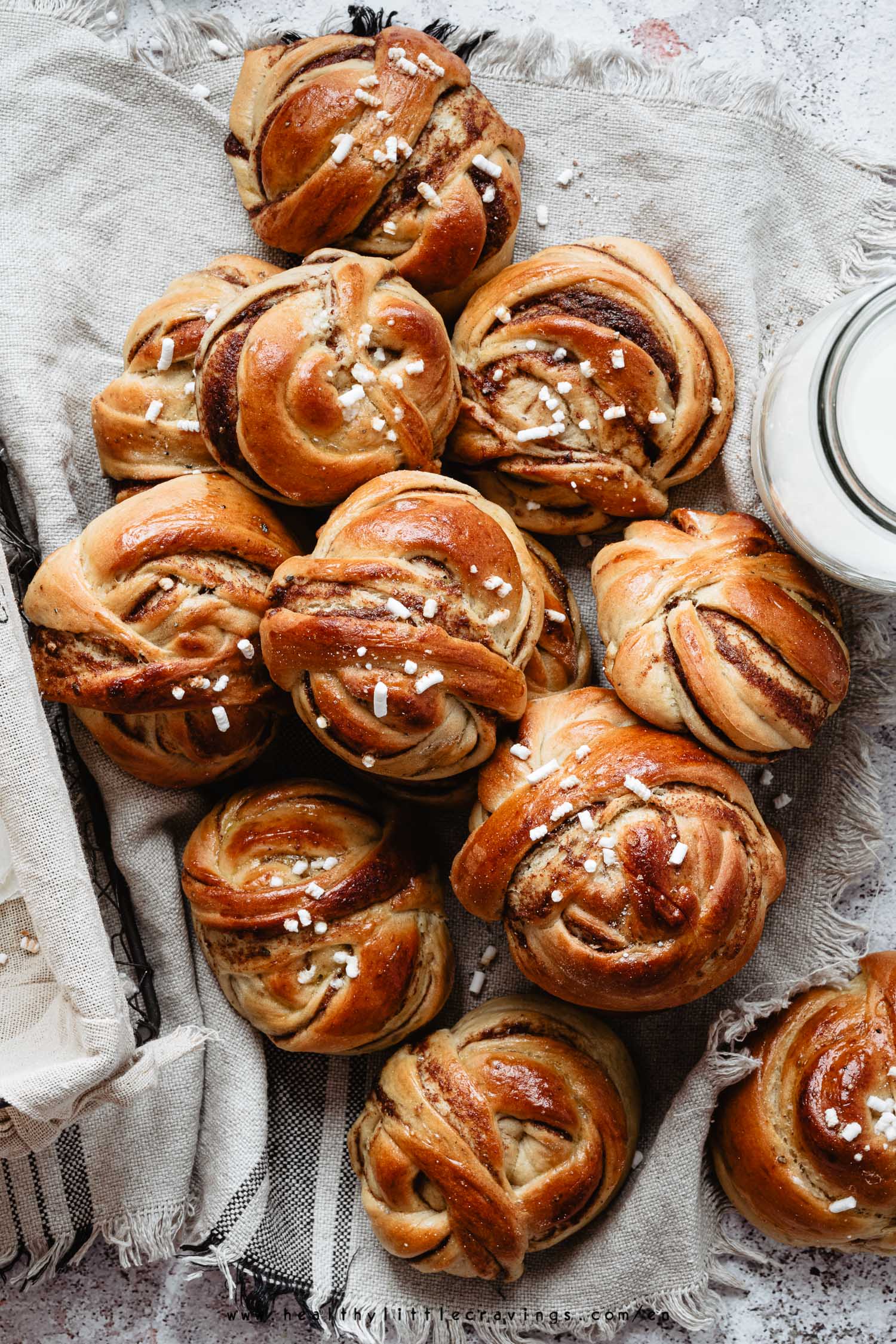 ---
© Healthy Little Cravings – Roberta Dall'Alba.
I own all content and photos' copyright.
Before using my photos and recipes, please email me.
If you would like to republish a recipe, please link back to this post and re-write the instructions in your own words.