A festive - and not only - savory phyllo tart with red onions, soft cheese and thyme. An healthy and tasty appetizer! 
---
What is Christmas to you? Is it about family? Is it about gifts? What about the Christmas movies, that hot beverage you crave when you feel cold, the lights around the city? Isn't it all magical?
To me Christmas has ALWAYS been about being with my family around the table of our basement room, eating good food and sipping some quality wine. Laughing, talking, eating...
In these last 26 years of my life, I've been lucky enough to spend every single Christmas with my family, and my mother always took on the responsibility of cooking. One of my favorite food she always makes is a sweet and sour sauce made with sausage, pine nuts, candied citron and other ingredients. It's that one thing you eat once per year because it's a bit "heavy", but it's sooooo good.
Since my mom was the one in charge, I've never had the chance to cook something for this special day, but I want to share with you some ideas anyway - from appetizers to desserts - they might be useful to those of you who cook.
So here's the second idea - after last week's velvety potato leek soup - for your Christmas menu!
This savory phyllo tart: the perfect appetizer...
This savory phyllo tart is for those of you who were looking for a yummy, nutritious, delicious, healthy appetizer for Christmas dinner/lunch or New year's eve. Oh, actually, you can make it all year round because onions can be found in every season (duh).
When I had the idea to test this, I had a clear flavor in mind: I wanted to really feel the flavor of the onions in my mouth and I also wanted a slightly caramelized flavor (that's why I added a sprinkle of brown sugar).
Not too sweet, though, and not too sour (just a tiny bit of vinegar). I added some creamy cheese - in my case, Italian goat robiola - to "contrast" the crispiness of the phyllo crust (which by the way, it's SO CRISPY). Final touch: thyme and some red peppercorn. SO so festive!
One important thing: give the shape you want! My initial idea was to make a rectangular tart (like this, to be precise) but I didn't have the mold, so I opted for my round pie pan, a vintage one I bought on Etsy for photography purposes. Another amazing idea is to make mini tarts using a muffin tin, the perfect finger food that your guests can eat while standing and talking to each other.
Give it a try, and let me know if everyone loved it!
Remember: if you try one of my recipes, tag me on Instagram or DM me the photos! 
---
NOTE: This post contains affiliate links which means I make a commission off of the links below with no additional cost to you. Thanks for supporting me!
---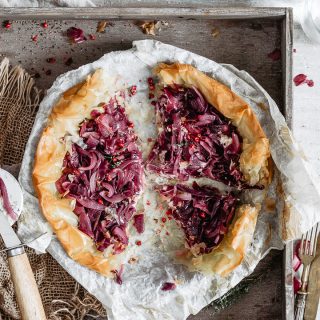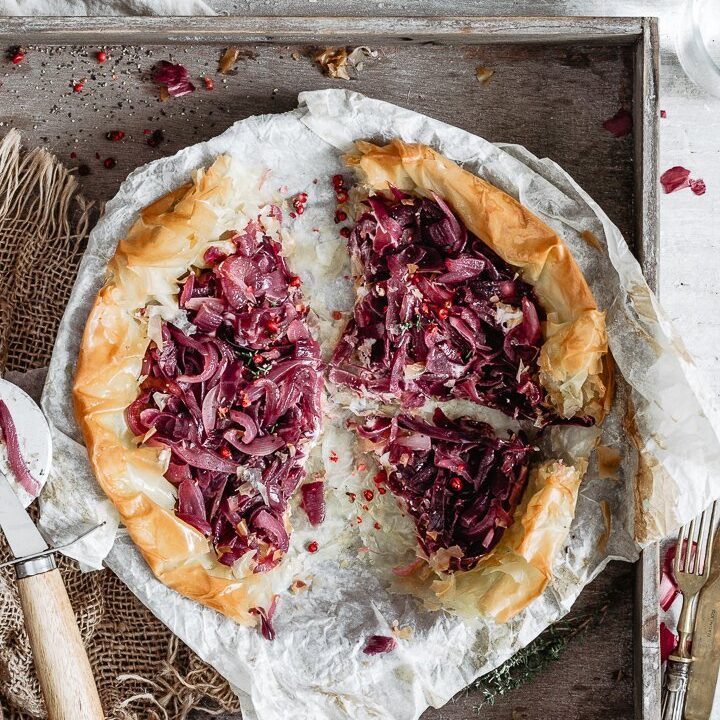 SAVORY PHYLLO TART WITH ONIONS
A festive savory phyllo tart with red onions, soft cheese and thyme.
Print
Pin
Ingredients
3

Red onions

a pinch

Salt

a pinch

Pepper

a pinch

Raw brown sugar

a pinch

Dry coriander

a tablespoon

Vinegar

-

(I've used red wine vinegar but you can also use apple cider's)

Extra virgin olive oil

5

Phyllo sheets

-

(rectangular: 23 x 34 cm)

100

gr

Robiola (or other cream cheese)

Thyme

-

to taste

Red peppercorn

-

( optional )
Instructions
Peel the onions and slice them.

Put them into a pan with a drizzle of extra virgin olive oil. Let them cook at medium heat for a couple of minutes (but keep stirring with a wooden spoon).

Add salt, black pepper, dry coriander, a pinch of brown sugar, a tablespoon of vinegar and let cook for 10 minutes at low heat (covered) until they soften. Then turn the heat off.

In the meantime, preheat the oven at 200°C (390°F).

Soak a sheet of parchment paper and squeeze. Line a round pan with the paper.

Note: my pie pan has a diameter of 17 cm on the bottom and 22 cm on the top (approximately 7 & 9 inches). It's very similar to this one.

Place a sheet of phyllo onto the pan and brush with olive oil, then layered another sheet and brush. Repeat with all the sheets except the fifth one. For this last layer: fold the sheet in half, then layer it and brush it with oil.

Bake the crust for 20 minutes until golden brown and very crispy. TRICK: if it seems TOO golden brown, cover it with aluminum foil and keep baking. It is important for the

bottom to cook.

Let it cool down for a few minutes then spread the robiola cheese (or other soft cream cheese).

Put the onions over the cheese and garnish with thyme and red peppercorn to make it more festive!