This is the post you were waiting for if you follow me on Instagram. This is the softest bread EVER. Ladies and gentlemen: I think you should try my Hokkaido milk bread recipe to make the softest of the softest breads!
Now, everybody: let's thank MILK for this extra fluffiness please.
Milk works its magic here, if you keep reading this post you'll learn why!
So, friend, if you were looking for a sweet - but not too much - breakfast or snack ('cause I loooove it as a mid-morning snack), here's your fluffy goodness! (Or, try my chocolate chips buns!;))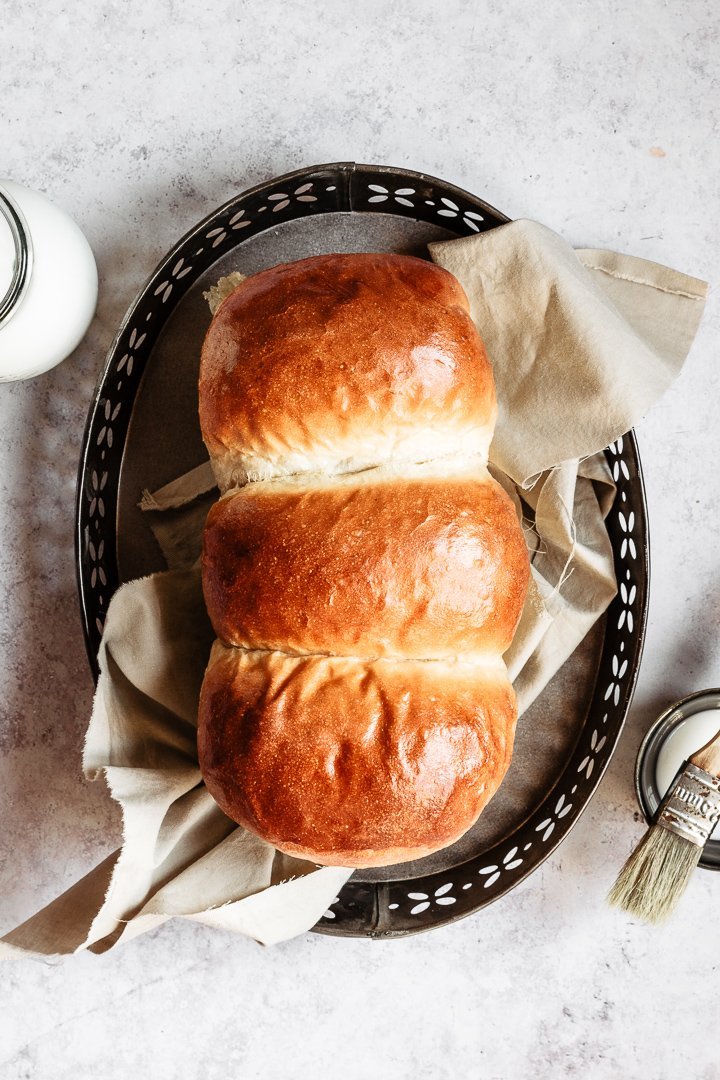 Cotton-soft Hokkaido milk bread recipe
I think it was on January of this year, I was scrolling through my YouTube feed and I saw this video on a Japanese channel. The first 5 seconds, the first few frames completely blew me away. Jaw-dropping! [go watch the video now!]
Imagine: what if a carb and baked-goods lover like me accidentally comes across a video like that? Can she dampen her enthusiasm?! OH NO. I had to make it!
From that moment I kept thinking about him (ehm, it). Like I always do when I find a new recipe, I started searching for all the variations on the Web to compare them.
Problem: most of them called for milk powder (because that's actually how Hokkaido milk bread is done). Ok, let's try to find it, I thought. I looked through all the supermarkets here but couldn't find it.
So I decided to test it without it, and it came out good. But then I had a stroke of genius: I'll try to use condensed milk instead!
Mouthwatering. The smell in my kitchen, actually my whole house, was MOUTHWATERING. Condensed milk is made of milk and sugar so it gave a nice sweet milky touch to my loaf. I couldn't be happier!
You could complain saying that the quantity is irrelevant, but believe me: it made a slight difference!
You ready to try the most amazing Hokkaido milk bread recipe?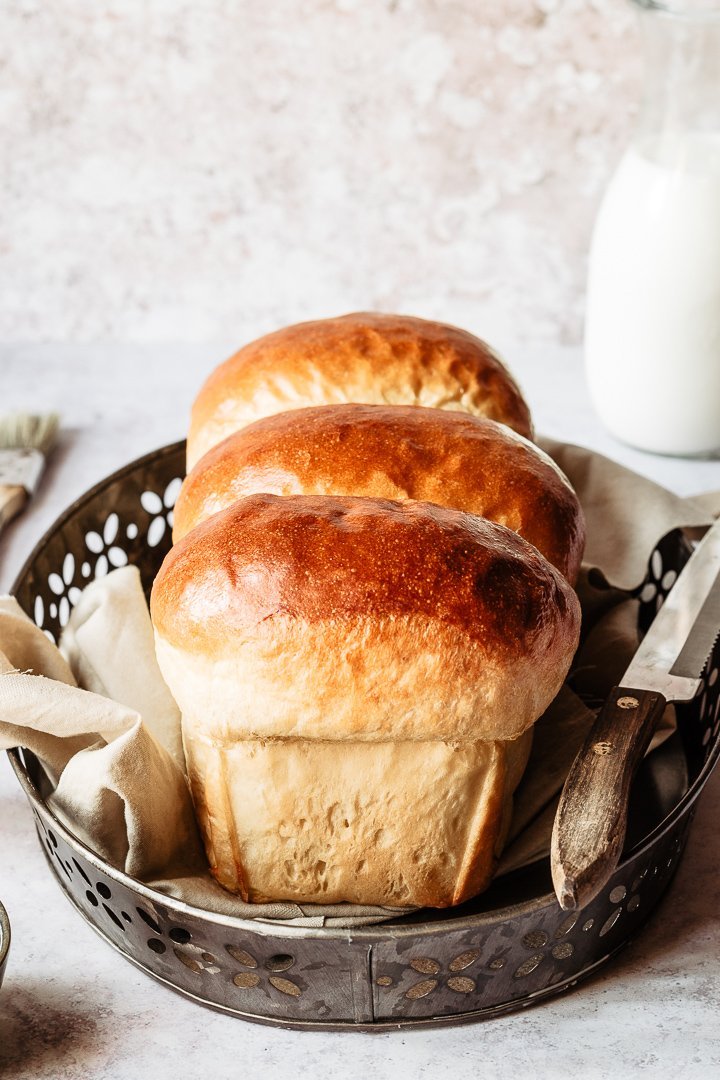 About the flavour...OMG!
When I bake something, I NEVER wait until it cools down (bad, you should) and I immediately bite a piece of whatever I just baked. Same happened with this bread. As soon as I took it out of the oven, I bit it and it felt like taking a step back in time, when my mom used to buy me and my sister milk buns at the bakery. Ahhh, sweet memories.
It is so milky, slightly sweet and just...perfect to eat for breakfast!
P.S. A few days ago, I found the milk powder in another supermarket a few km from where I live. Too late, but I'll try it in the near future.
P.P.S. I thought I had a stroke of genius but some people before me actually used condensed milk instead of powdered.
In 2019, don't expect to invent anything.
P.P.P.S. I'm now testing mini milk buns with chocolate chips using this recipe, I'll let you know how they turn out. (they turned out amazing!)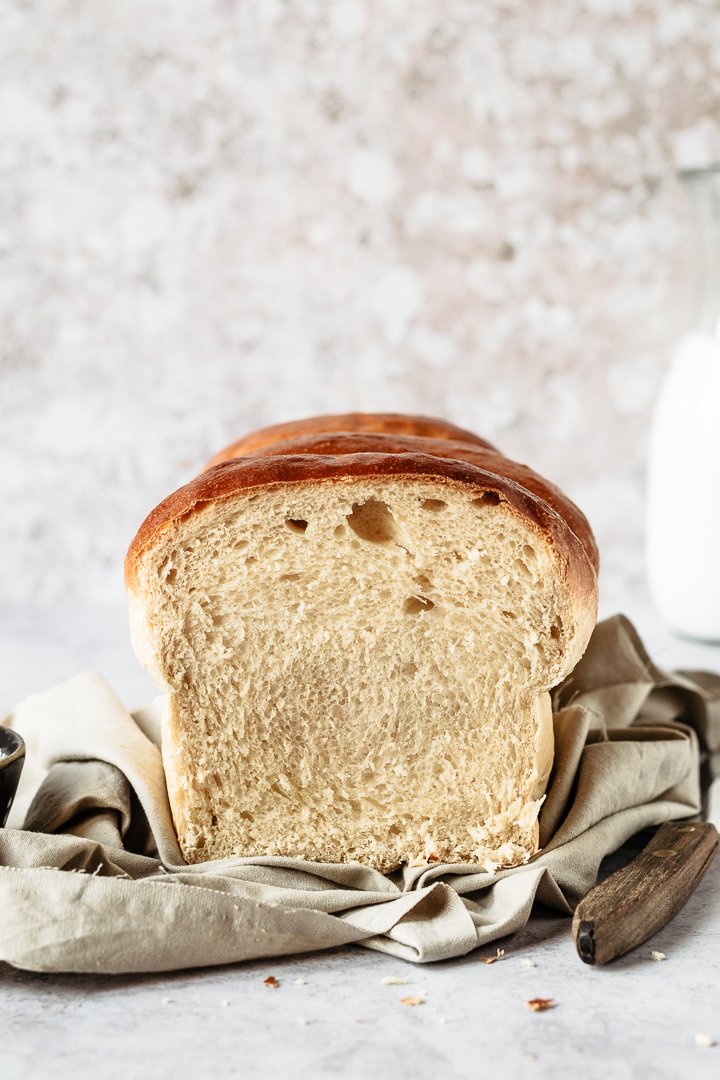 Japanese milk bread FAQs
If you have some doubts, read this section before proceeding!
What is the Tang zhong method? (water roux)
The Tangzhong method consists of combining flour and water (or milk) and heating it up until it reaches 65°C|150°F, so the starches in the flour gelatinize and the mixture thickens. This gel, added to the rest of the ingredients, should make a uniquely soft textured bread, and should make your bread last longer (for daaays) than bread without roux.
Why does the water roux make the bread soft?
In simple terms: the flour + water gel will hold onto water and, because the liquids won't evaporate, you'll end up with a higher moisture into the bread.
Best part? The water will create internal steam while baking, so you'll see the bread rising into the oven! So SATISFYING!
What ingredient makes bread soft?
Ditto. In this case, the water roux of course!
What does milk (or milk powder) do in bread dough?
Milk (and/or milk powder) allows you to achieve a much softer loaf, with a delicious milky sweet flavor and will make your crust look evenly golden brown!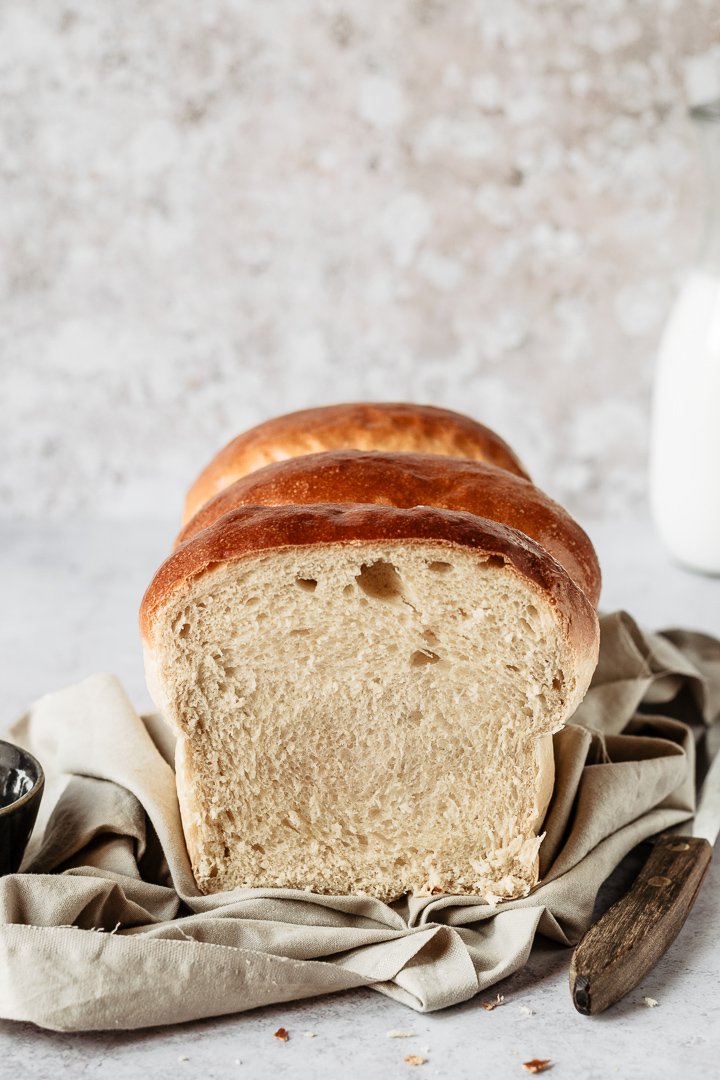 The 2 most important steps that will make your Hokkaido milk bread extra soft
Now, I made this bread a few times and I noticed that 2 steps are essential to make an extra soft loaf:
Do not skip the Tangzhong method: this is the key to get a fluffy bread and it will make it last soft for days!
Brush it with milk as soon as you take it out of the oven: this will add an extra milky touch and it will make the surface soft.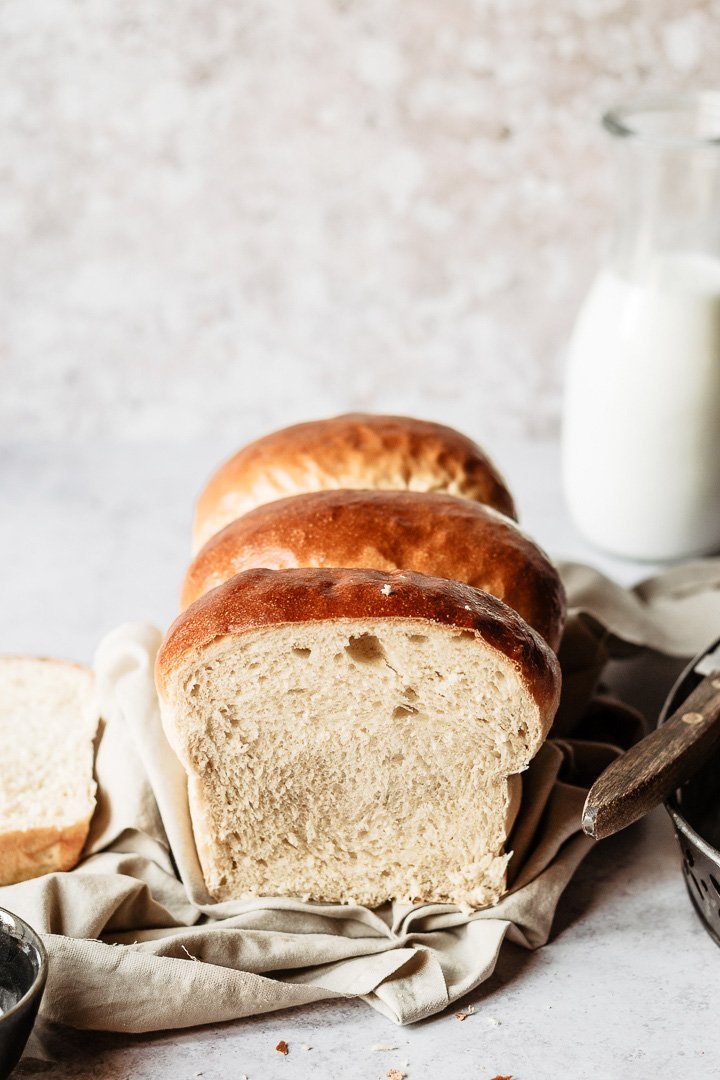 ---
Suggested pan & thermometer
The following are affiliate links which means I make a commission off of them with no additional cost to you. Thanks for supporting me!
I used to use an ordinary loaf pan to make my bread (and babka), but I recently started using paper pans and I must say they're so handy! You don't have to grease it and the bread comes out perfect.
You can find it here: HERE.
For the thermometer: this is a tool you'll need in the kitchen, it's inexpensive but very useful. THIS is mine! I've been using it for years to make meringue, cook meat etc
---
If you make this recipe, please be sure to give it a rating and leave a comment! It would make me so happy! 🙂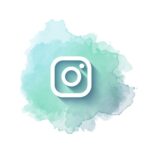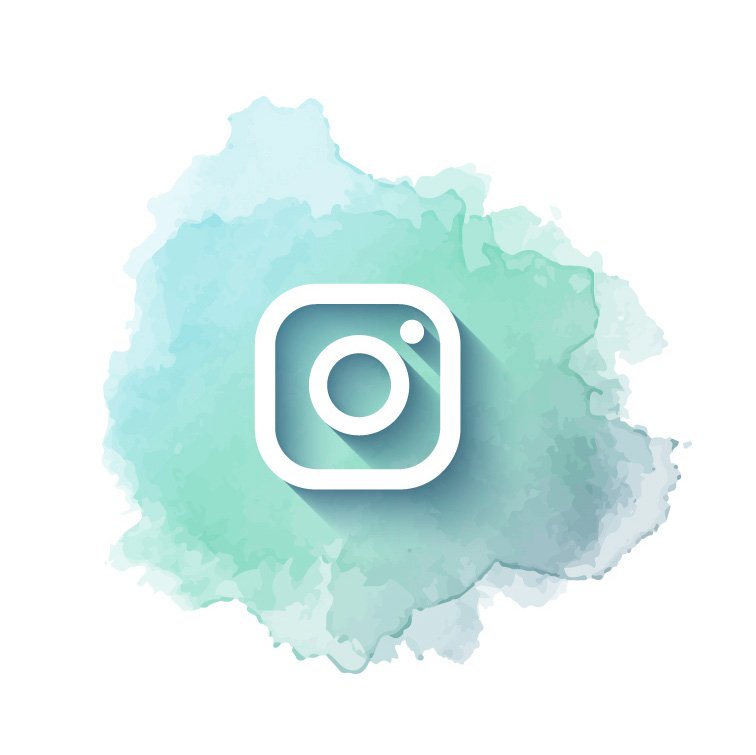 Remember: if you try one of my recipes, tag me on Instagram or DM me the photos!
---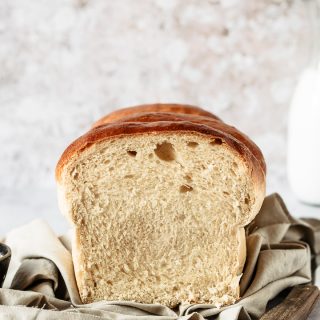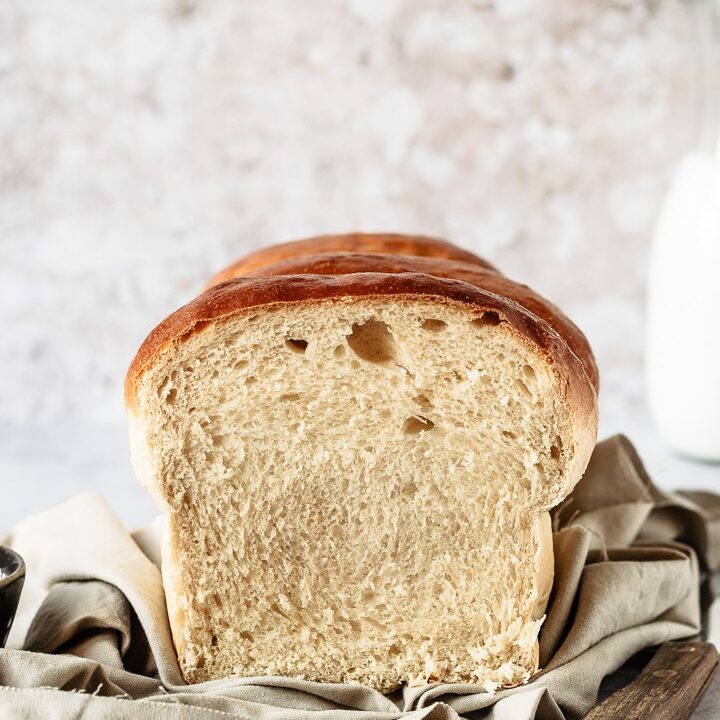 Hokkaido Milk Bread Recipe
The softest bread EVER: Japanese Hokkaido milk bread using a touch of condensed milk!
Print
Pin
Servings:
1
loaf (or 8/10 buns)
Ingredients
For the Tangzhong (water roux):
3

tablespoons

Bread flour

-

25 gr

3.5

fl. oz

Water

-

100 gr
For the bread:
1 ⅔

cup

Bread flour

-

320 gr

1.5

tablespoon

Brown sugar

-

30 gr

1

teaspoon

Salt

-

5 gr

2.5

teaspoons

Dry yeast

-

5 gr

⅔

cup

Warm milk (at 35-40° Celsius)

-

120 gr

1

tablespoon

Condensed milk (or milk powder)

-

(optional) - 5 gr or more

Half

Beaten egg

-

25 gr

2

tablespoons

High quality butter (softened, not melted)

-

25 gr
Instructions
For the Tangzhong (water roux):
In a pan, combine water and flour and whisk. Then place it over medium-low heat on the stove and keep whisking with a spatula, until you get a thick gel-consistency mixture (and it reaches 65°C which is 150°F)

Pour it onto a plate, cover with plastic wrap and let it cool at room temperature.
For the bread:
Into your stand mixer's bowl, combine flour, sugar, salt and activate. Then add yeast and warm milk  (ideally at 35-40° C / 95°-104°F).

Gradually add the beaten egg, condensed milk (or powdered), Tangzhong and let everything incorporate.

Add the softened butter and let knead for about 20 minutes.

Place the dough into a bowl and cover with plastic wrap, let it rise for 50 minutes in a warm place.

After the dough has doubled in size, gently press it to degas it.

Divide it into 3 equal pieces and roll them into balls (like this). Cover and let them rise for 15 minutes.

After 15 minutes, take the 3 balls and roll them like Umi does in this video (it's easier for you to watch this rather than reading how to do it!)

Put the balls into a loaf pan (grease it if necessary. I used a paper pan, so I didn't grease it) and let rise for 40 minutes.Want to make buns? Instead of dividing in 4 balls, divide it into 8/10 balls, then let rise for 45 minutes.

Preheat the oven at 180°C (350°F).

Combine milk and egg, then brush the your bread and bake for about 20 minutes or until it gets puffy, and golden brown.

As soon as you take it out of the oven, brush it with more milk.

Let it cool down onto a cooling rack.

This bread surprisingly lasted a few days and it was so good after 5 days! Store it in an airtight container.
Notes
** Recipe adapted from Umi's Baking recipe. Check out his recipe for a milk powder version.
WANT TO MAKE BUNS? Divide the dough into 8 little balls, instead of making one big loaf. Bake, let cool. Freeze them and then defrost them when you need them.
Nutrition
Nutrition Facts
Hokkaido Milk Bread Recipe
Amount Per Serving (1 loaf)
Calories 1975
Calories from Fat 396
% Daily Value*
Fat 44g68%
Carbohydrates 323g108%
Protein 69g138%
* Nutritional information is only an estimate. The accuracy of the nutritional information for any recipe on this site is not guaranteed.
---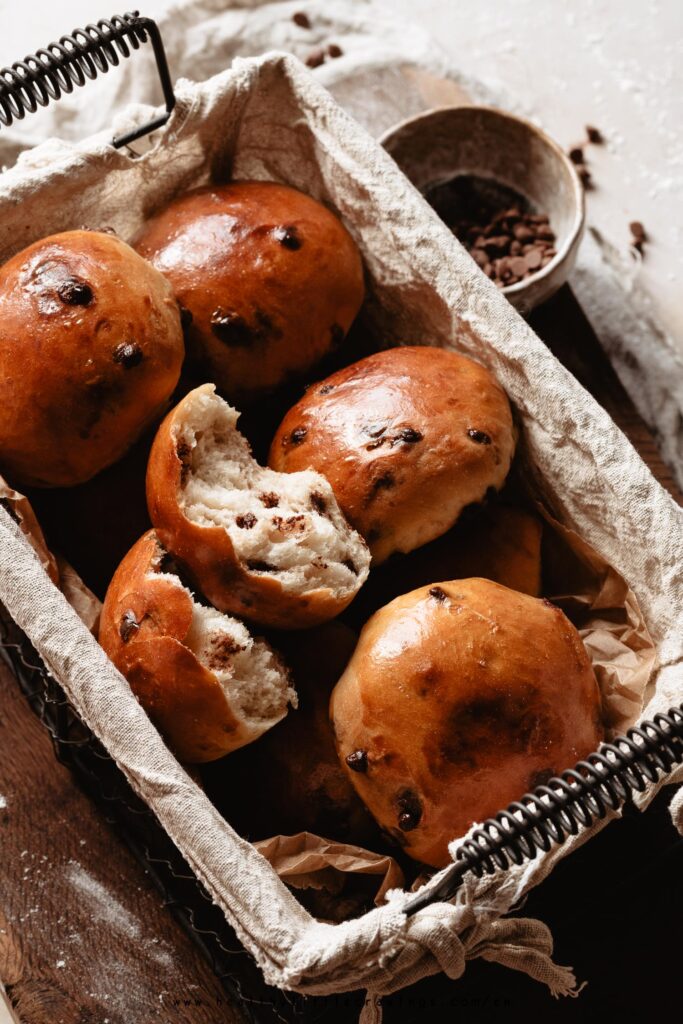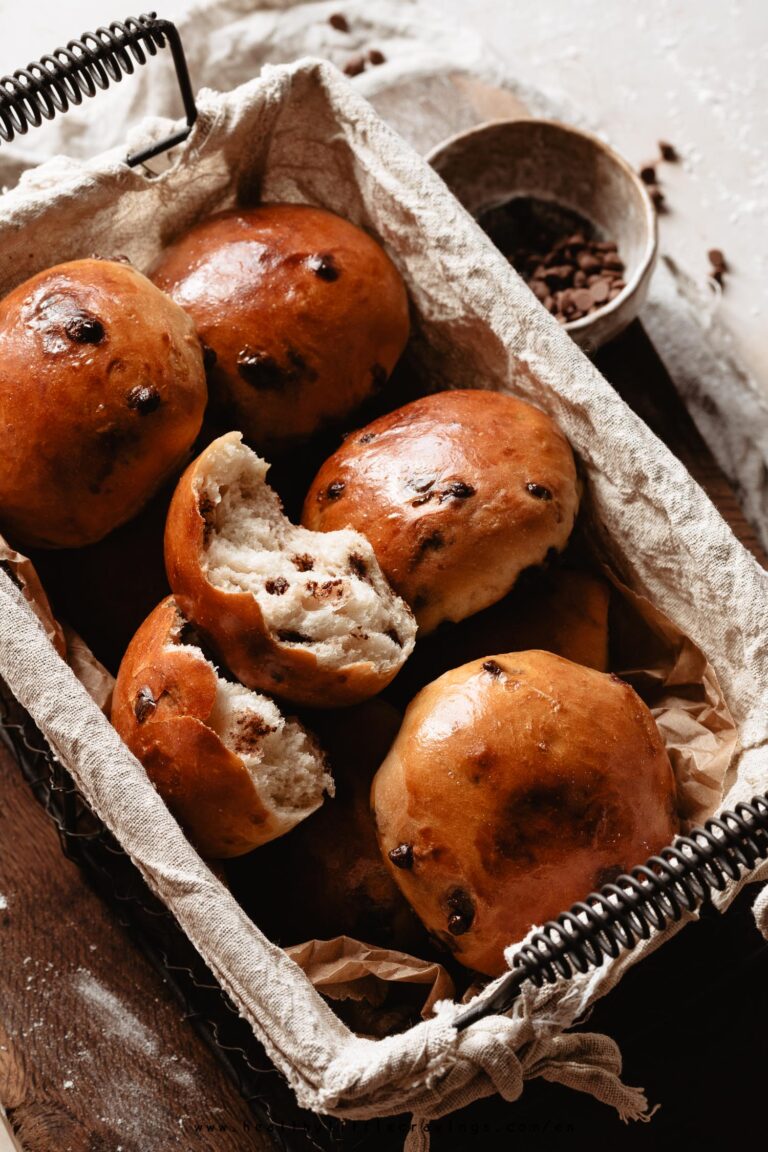 ---
© Healthy Little Cravings - Roberta Dall'Alba.
I own all content and photos' copyright.
Before using my photos and recipes, please email me.
If you would like to republish a recipe, please link back to this post and re-write the instructions in your own words.