It all started with me craving... (French) onion soup. Duh
The problem was, in that moment, I didn't want to make bone broth or buy it, and I also wanted to make it really simple (suitable for all), but mouthwatering.
So, are you ready to dive into this easy vegetarian French onion soup? (my version)
If you're craving some comforting hygge food this is definitely what you should eat!
And I promise, it's not difficult at all! Just follow all the steps.
---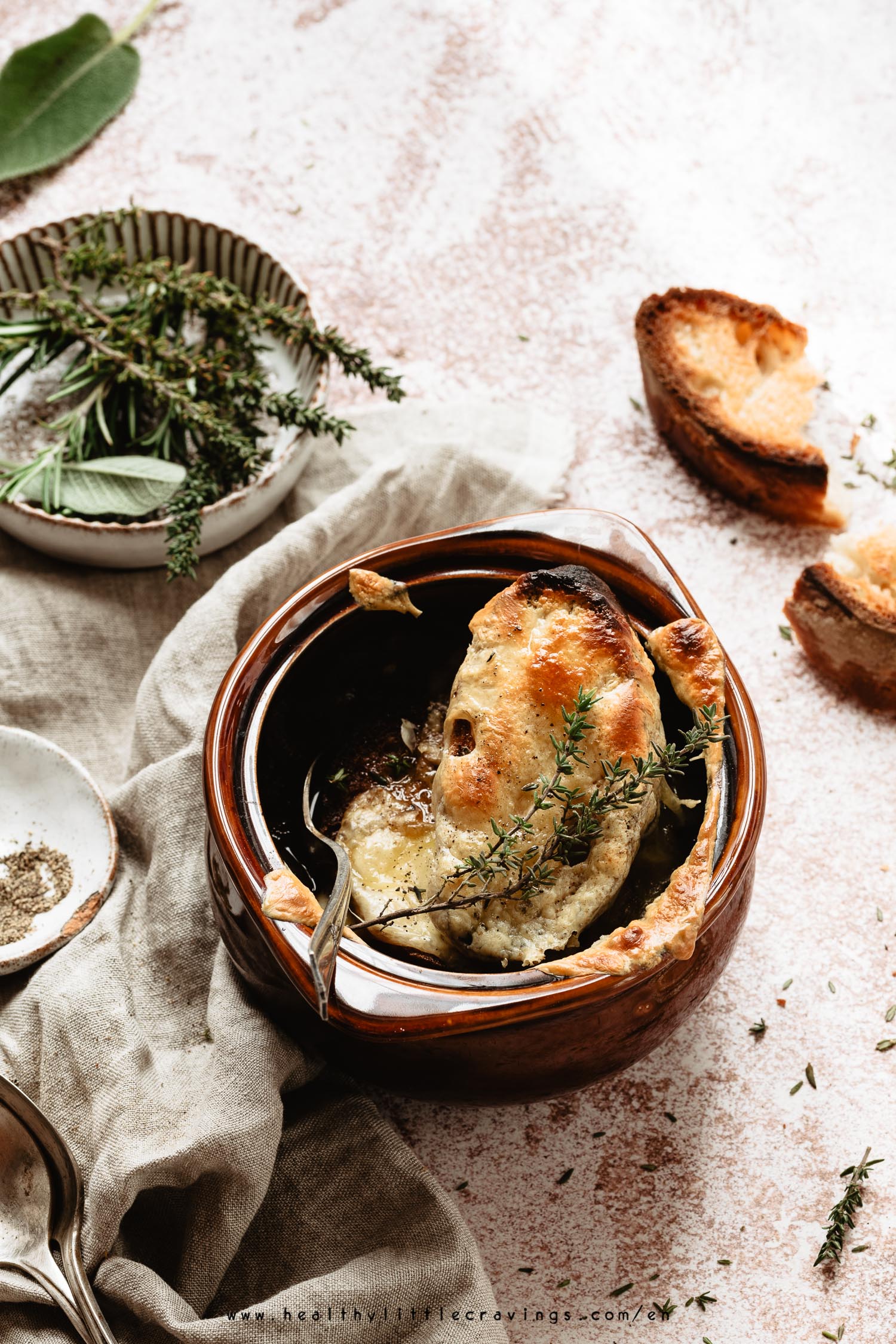 I wanted this french onion soup to be easy...
Honestly, I have so much respect for slow cooked food.
In fact, right now, I'm making a 3-hours ragù alla bolognese. Yesterday I made a 4-hours bone broth.
I have so much respect also for traditional recipes.
The problem is, I couldn't share a recipe that took 4 hours to make, you know.
That's a thing I would do, because I work from home and I have the chance to control food (you can't leave your pot on the stove when you work in an office, I think you know it lol).
[Although you can make this on Sunday!]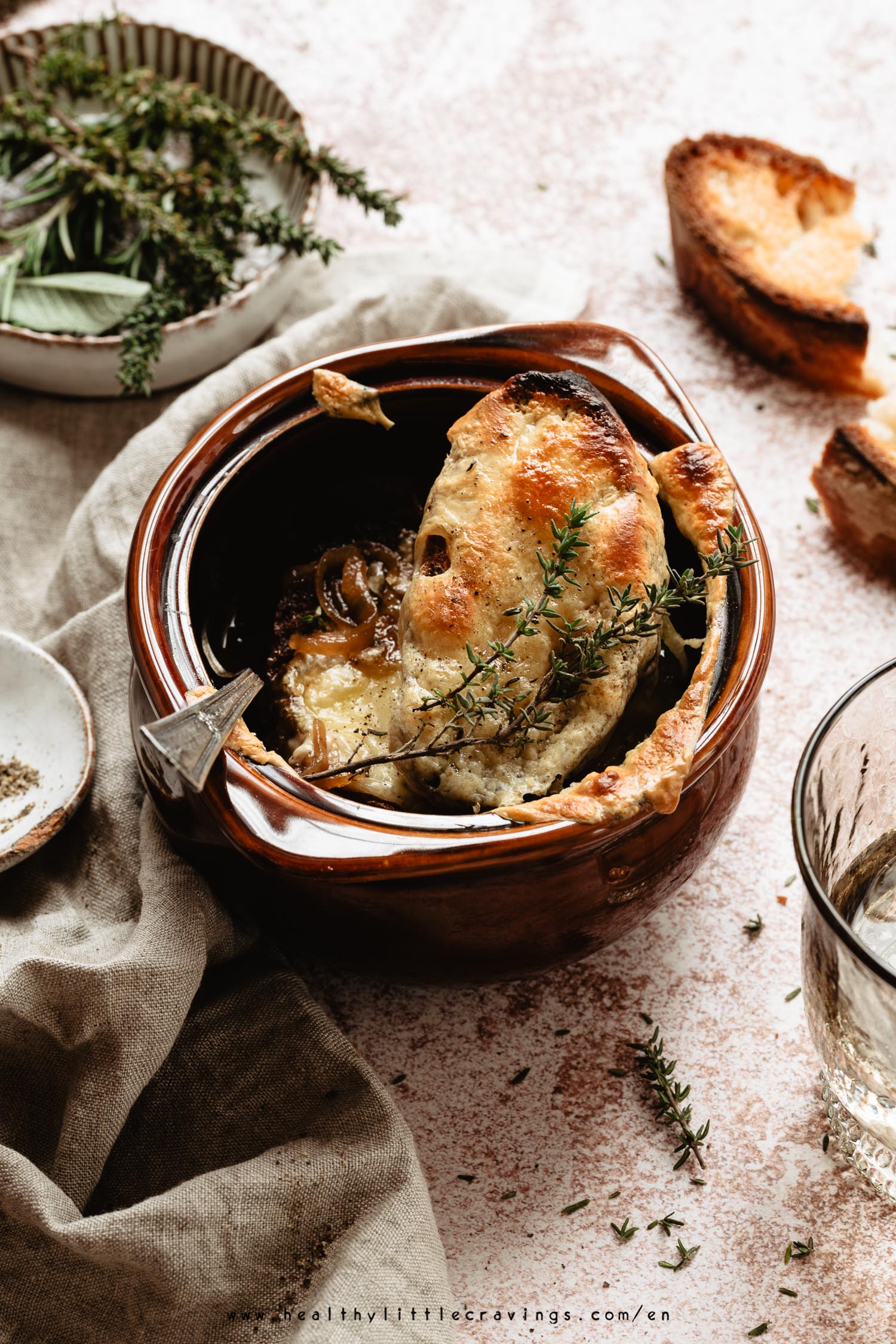 What makes traditional French onion soup a slow cooked meal? Well, you start with a good beef broth, you caramelize the onions (the longer, the better), then you make it simmer to thicken it.
Broil to make that cheese bubble and you're done.
Takes time.
Let's give a twist to traditional recipe
We just mentioned this kind of soup is slow cooked and calls for beef broth, brandy or sherry, slow caramelized onions etc
BUT. I know you're craving this comfort food, this vegetarian French onion soup, and you want an easier version, so here are my substitutions:
Vegetable stock
As I mentioned above, instead of using beef stock I've used a veggie one. This makes it a vegetarian French onion soup! Easy peasy.
Some people also use mushrooms broth.

Caramelized onions
Ahem, there's no substitute here obviously. BUT, instead of caramelizing your onions for 40-45 minutes, you can decrease time and make this in 20-25 minutes.
Of course the slower the better, but I guarantee: it's delicious anyway.

Balsamic vinegar or wine
I don't have alcohol at home. Well, I only have a liquor that was gifted to me last Christmas, and a bottle of Marsala wine that I bought to make a client's recipe.
So, I needed to find a replacement: instead of Brandy or sherry I've used balsamic vinegar and a pinch of sugar (to balance, but it also depends on the sweetness of onions).
I've also tried Marsala and it was so good.

Swiss cheese or no cheese at all
I'm not a cheese lover (read below), but I've tried Emmental for the first time when eating this soup (yay!)
If you don't like it, use parmesan, provola or skip it!

Bread
Use the bread you like most.
I was so proud of my first ever homemade sourdough baguette that I had to use it!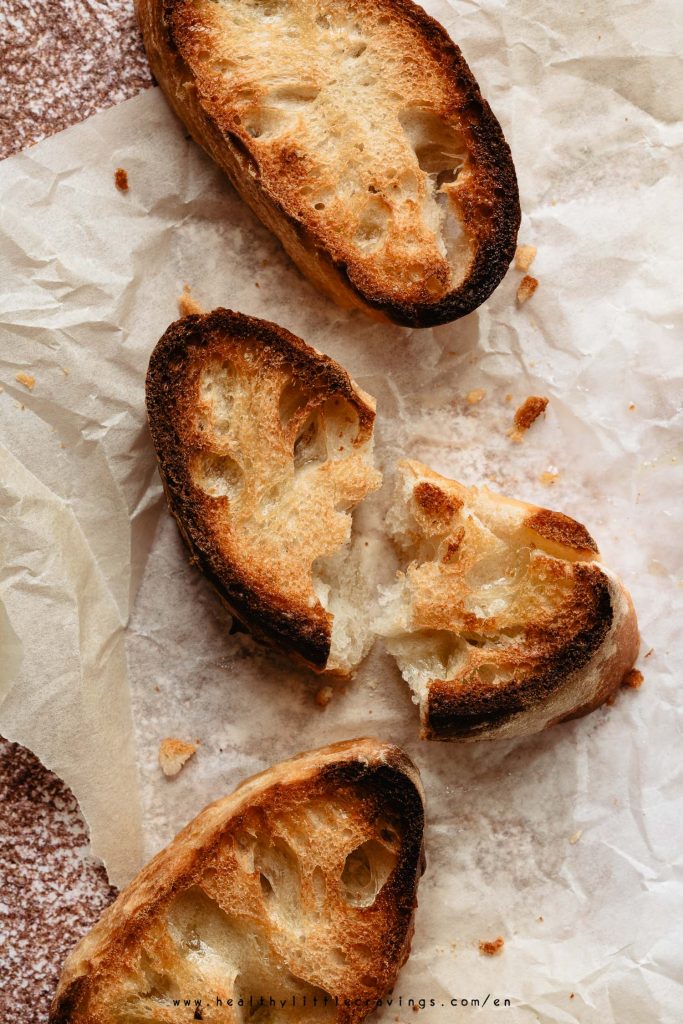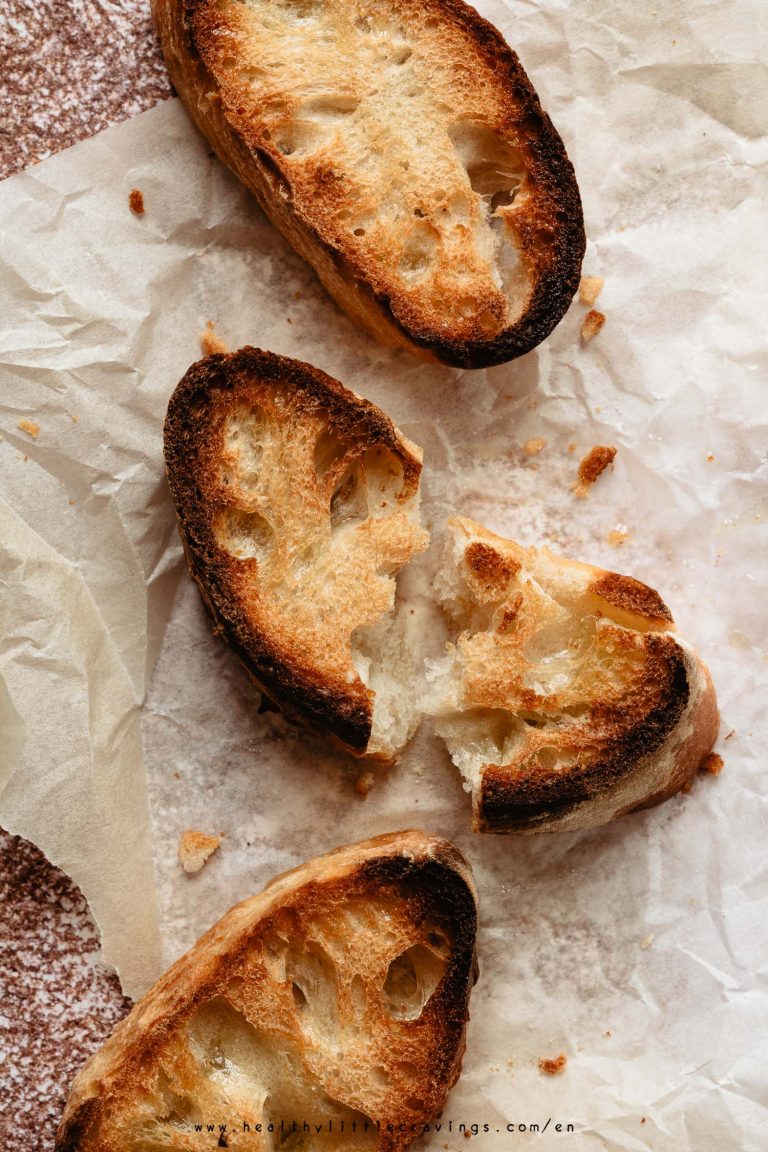 How to make this French onion soup, step-by-step.
You know that I always like to guide you through the process of making some recipes.
So here's how to make this delicious and comfort hygge food.
A good onion soup starts with...the onions
Choose yellow ones.
Cut them "against" their rings, to have nice slivers (in this video, Joshua explains it perfectly).
Anyway, I don't mind have bigger ones, so...do whatever you prefer.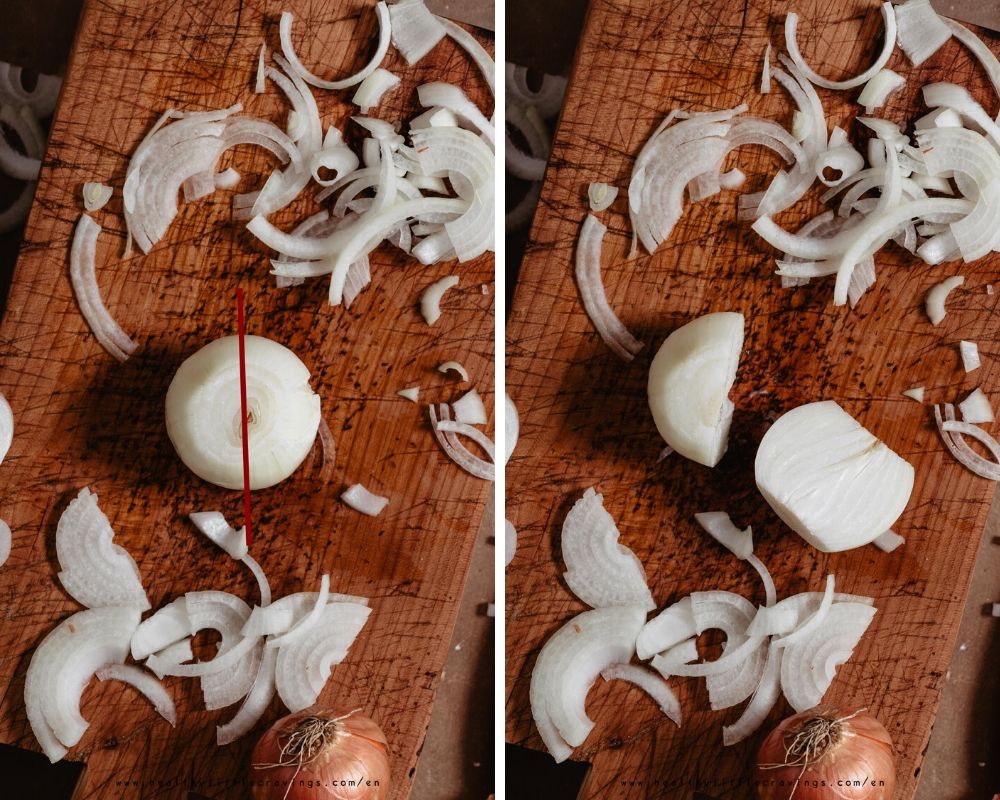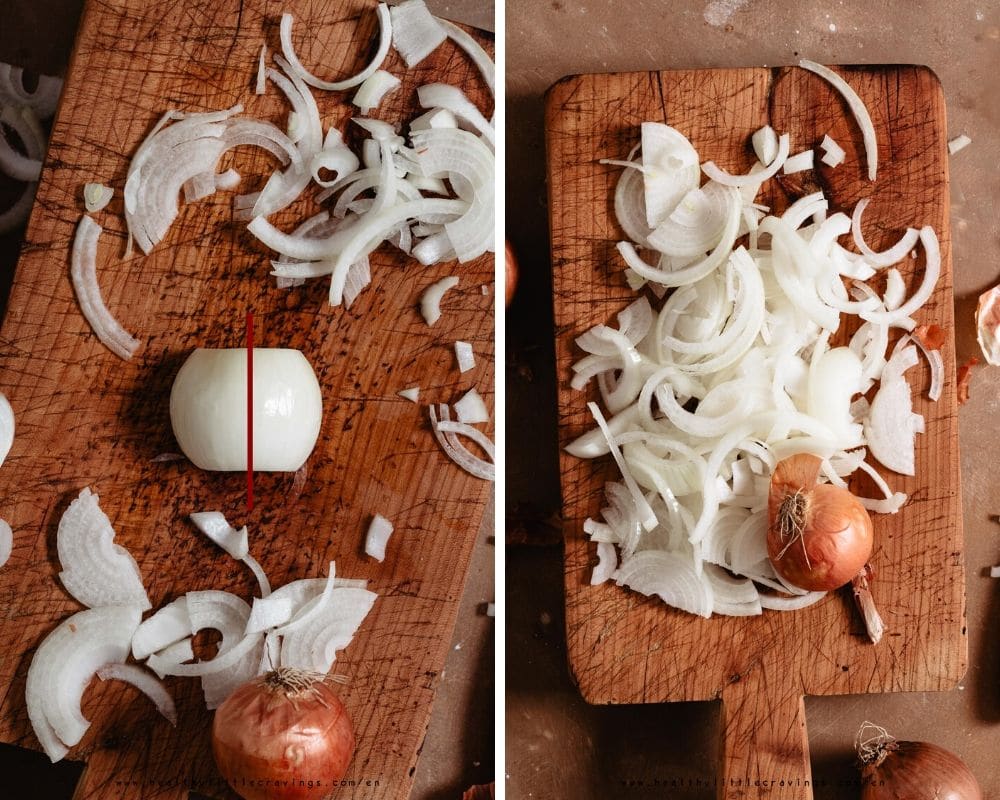 Caramelize
Key here is to let them brown, then give a stir, let brown, stir, and so on. If you keep stirring, they won't brown.
Of course, watch them closely or they will burn!
I keep my heat to medium high, then I lower it if needed.
My favorite recipe for caramelized onions is this (even though it takes more time).
Look at their beautiful brown color.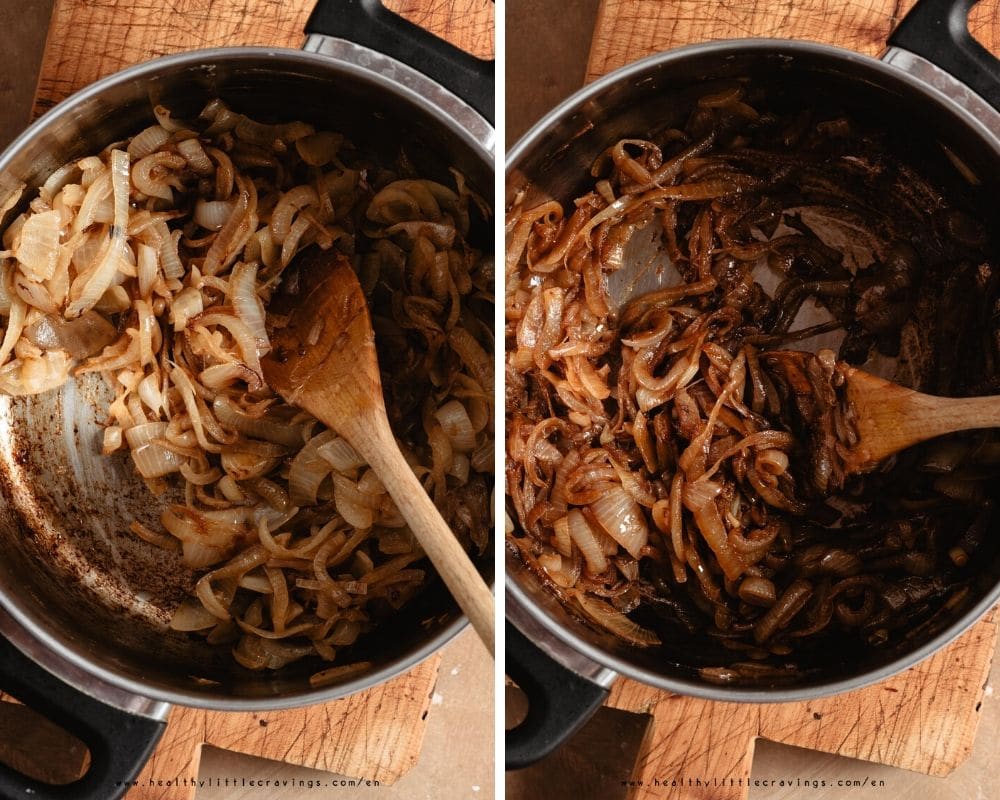 Deglaze
When onions are ready, add balsamic vinegar or other liquid (I've tested Marsala wine and it's so good!) to deglaze.
[Deglazing means to add a liquid to the pot to stir those bits off the bottom and enhance the flavor of the dish.]

Add stock, let simmer
At this point, add your vegetable stock (possibly homemade, check out here how), salt, pepper, bay leaf and sage leaves/thyme (optional). Lower the heat and simmer for 20 minutes.

Broil
Pour soup into a cocotte and add one or two slices of baguette 🥖 and two slices of cheese. Broil for ⅔ minutes.
If you don't have cocottes, broil bread + cheese, then add it on top of your soup!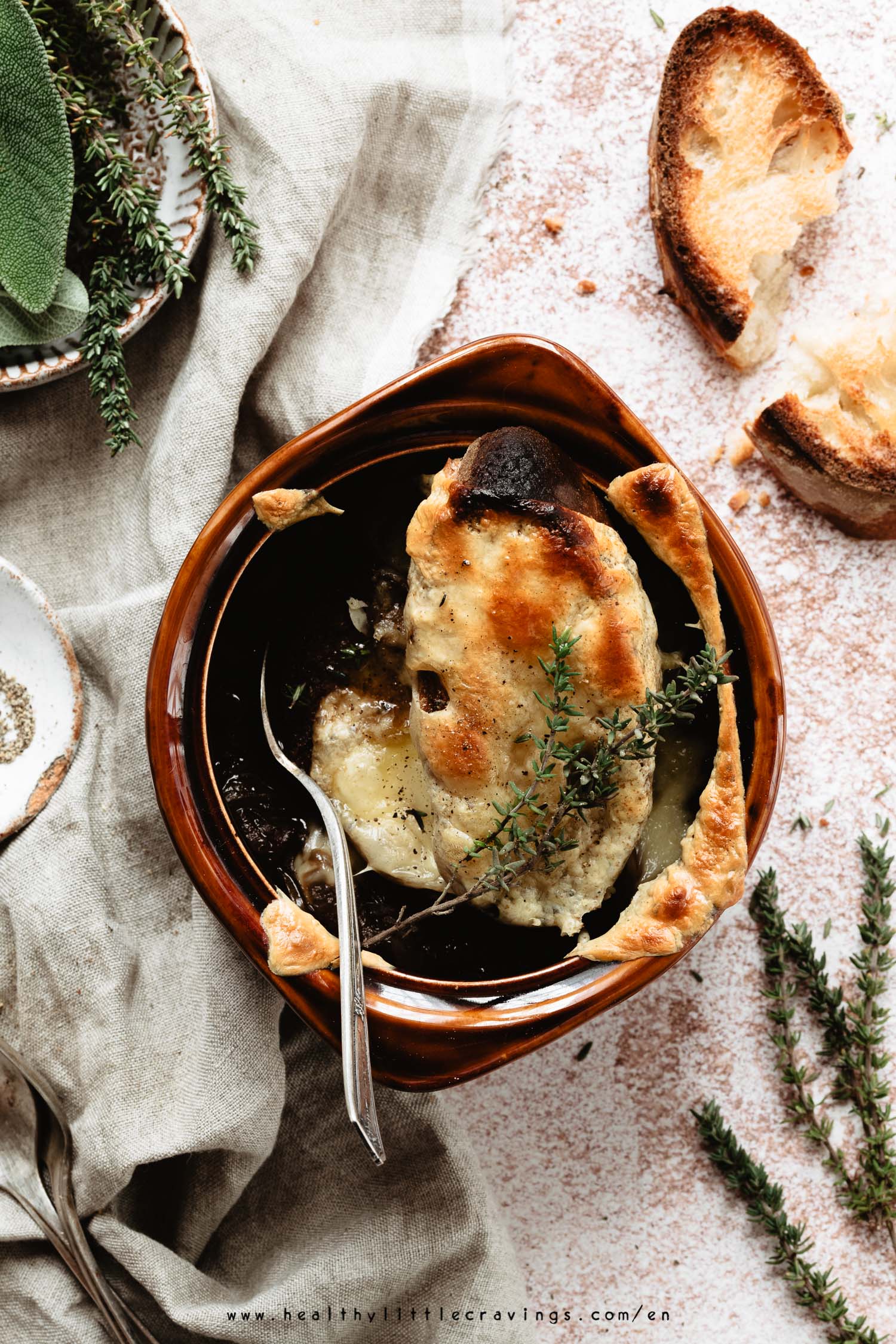 ---
And now, a few questions answered...
---
What is French onion soup made of?
Original French onion soup is made with onions (no kidding!), butter, beef broth, Brandy or sherry, basic ingredients like herbs, salt and pepper.
Some people also add a bit of flour to thicken it.
On top of it, you find a crouton and melted Comté cheese.
Want a lighter version? Check the substitutions above!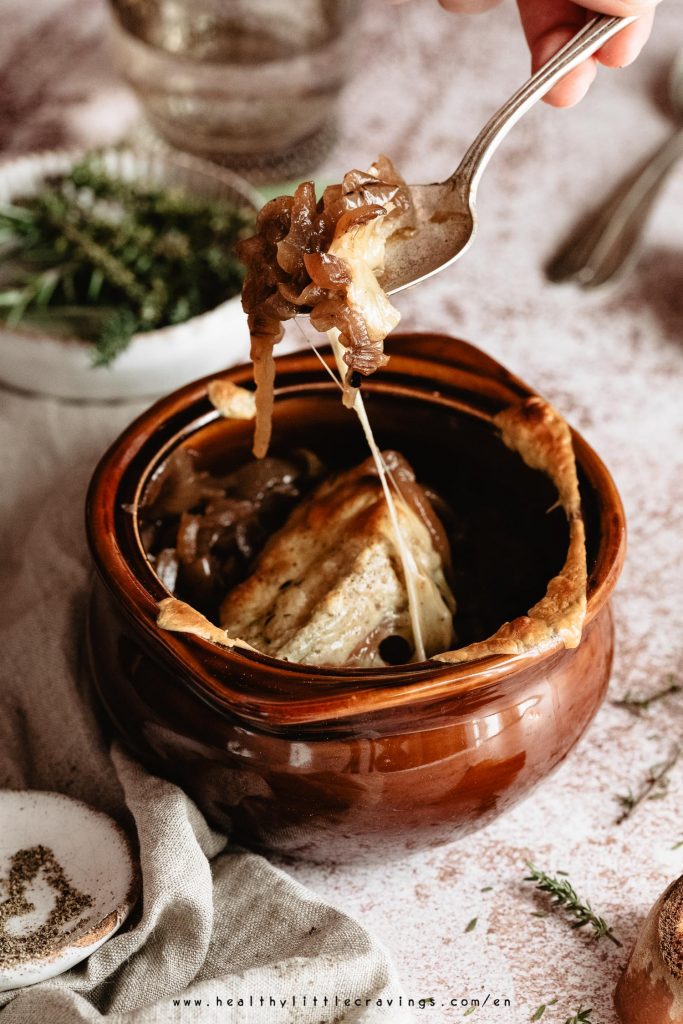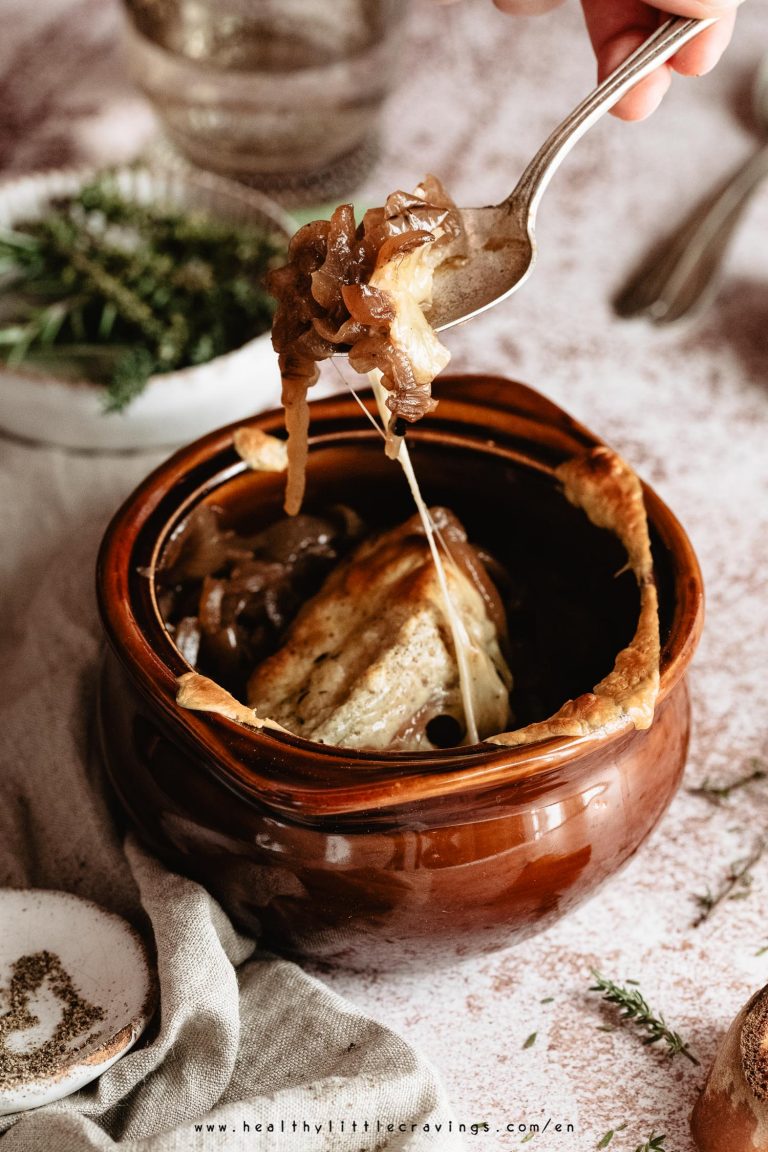 What can I use instead of Gruyere cheese in French onion soup?
This is definitely a question for me, a true cheese lover lol
Just kidding, I'm the opposite of a cheese lover actually (I like ricotta, mozzarella and other fresh cream cheeses, like robiola, goat cheese etc but don't try to give me a piece of Parmesan 'cause I'll be mad at you forever - fun fact: I live in Parma).
Plus, you know what? I've never tried Emmental before.
Last week though I decided to give it a try (and I honestly...kinda...liked it).
Back to our question: they say original French soup is made with Comté cheese.
People though have been using Gruyere, Swiss cheese like Emmental, provolone, Parmesan, Jarlsberg...
Anything that balances the sweet flavor of our onions.
For a lighter version, just skip cheese.
And enjoy your meal!
P.S. FOR A VEGAN and/or GLUTEN FREE VERSION:
Use vegan cheese and gluten free bread.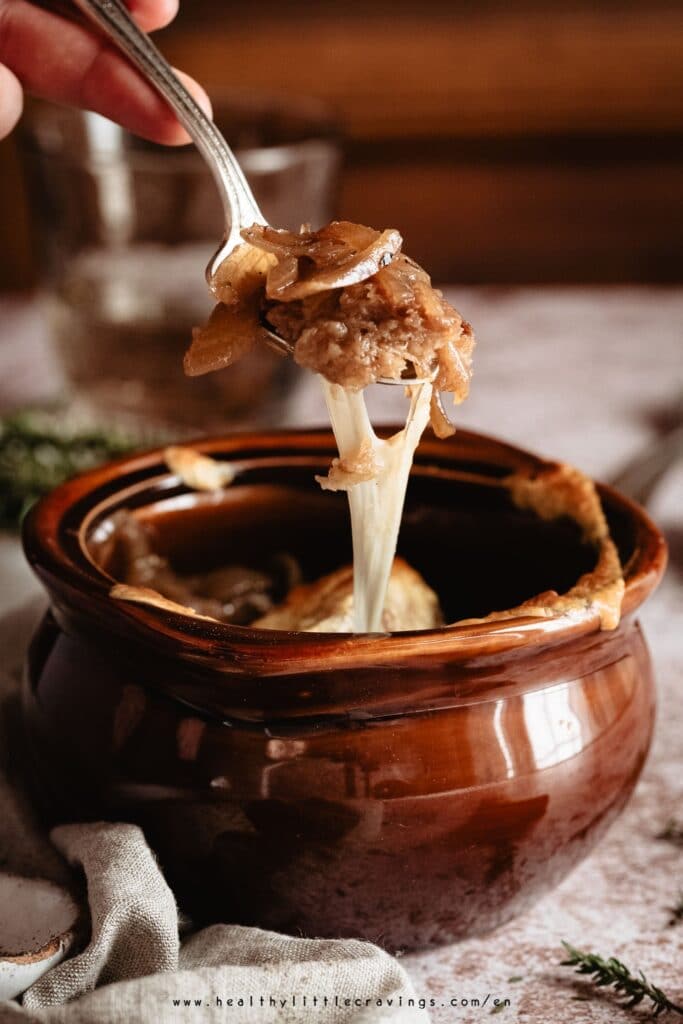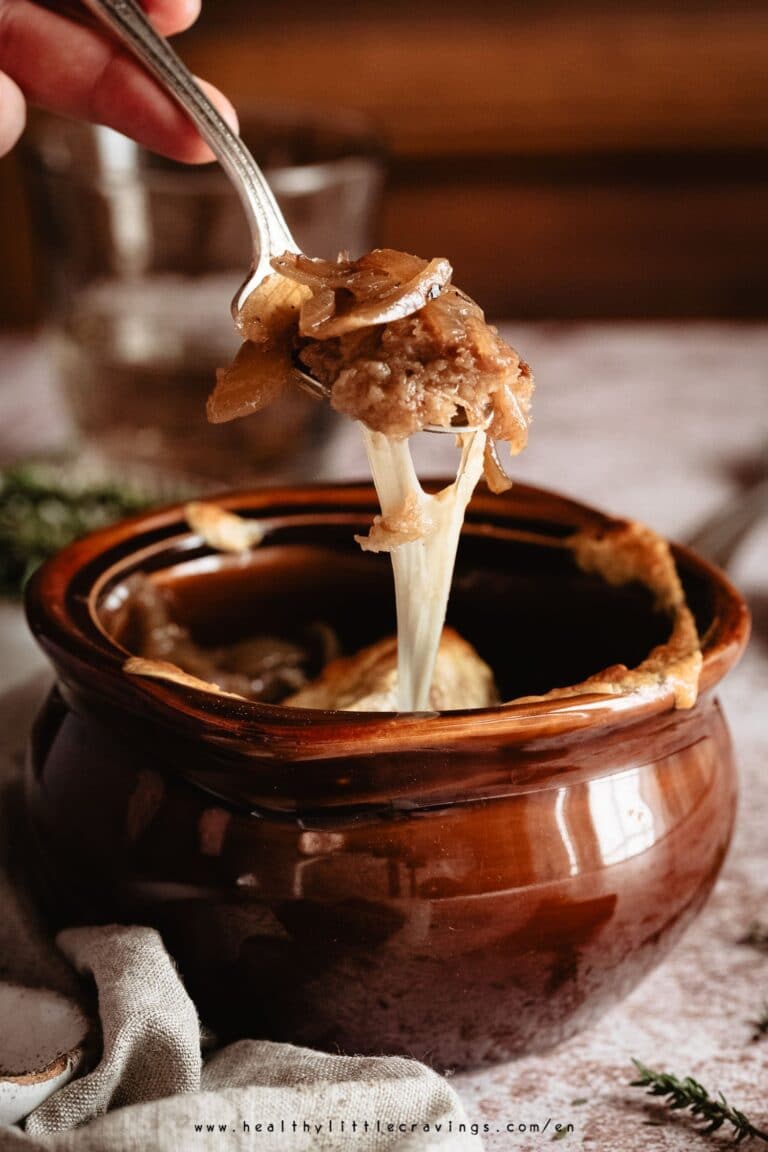 ---
If you make this recipe, please be sure to give it a rating and leave a comment! It would make me so happy! 🙂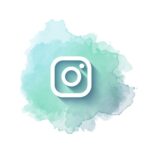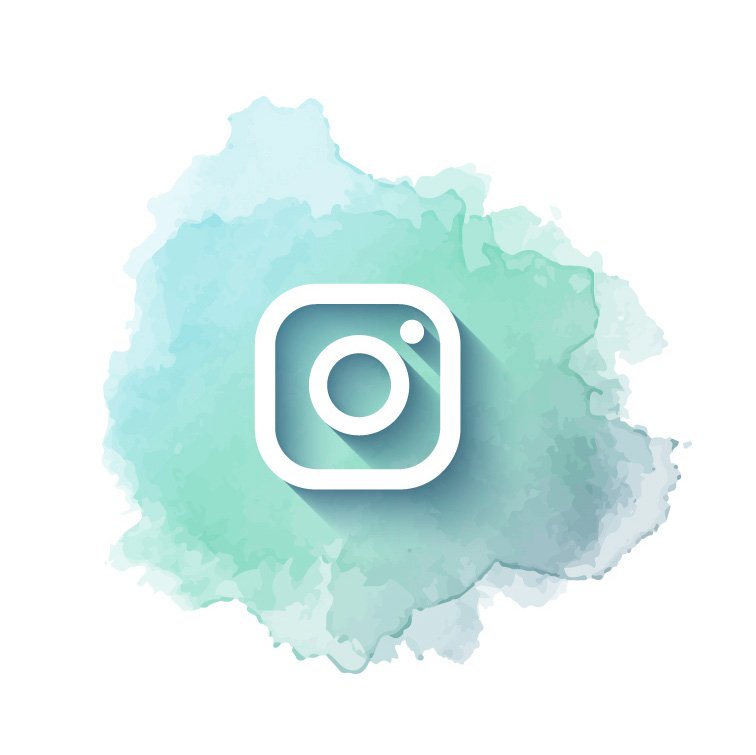 Remember: if you try one of my recipes, tag me on Instagram or DM me the photos!
---
Don't forget to pin and share this easy and delicious recipe!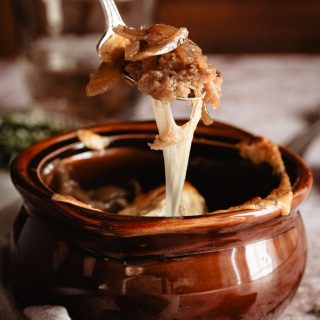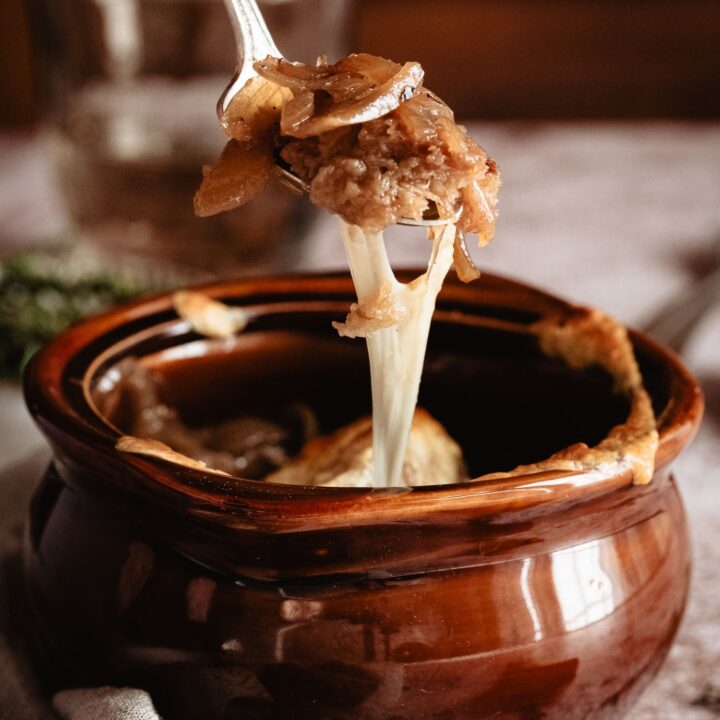 VEGETARIAN FRENCH ONION SOUP
A vegetarian version of the classic French onion soup with veggie stock instead of bones broth. It will delight your palate!
Print
Pin
Ingredients
500 gr

Yellow onions

-

(approx 3 big onions)

10 gr

High quality unsalted butter

10 gr

Extra virgin olive oil

⅔ tablespoons

Balsamic vinegar or Marsala wine

a pinch

Brown sugar (if using balsamic vinegar)

500 gr

Homemade vegetable stock

1

Bay leaf

a few leaves

Sage or thyme

-

(optional, but recommended )

a pinch

Salt

Black pepper

4 slices

Emmental

-

(read post for more information )

2-4 slices

Homemade (or not) baguette

-

(I've used homemade sourdough baguettes)
Instructions
First, remove skin from onions, cut bottom and top, then cut in half.

In a pot, let butter and oil melt (pay attention not to burn them).

Add onion slices and give a stir. Keep at medium heat.

IMPORTANT: in order to make them caramelize, you don't have to keep stirring! You just have to let them brown on the bottom then stir, let brown and stir and so on.

Caramelization takes about 25 minutes. Adjust heat if necessary.

If they seem burnt, reduce heat.

Deglaze (read post to see what this means) using balsamic vinegar (for alcoholic substitution, please read the post).

Add vegetable stock to the pan, also add sage leaves, bay leaf, salt and pepper and lower the heat at minimum.

Let simmer for about 20 minutes.

Turn on the broiler at 250° C (480° F).

Pour the soup into two cocottes, add one/two slices of baguette and two slices of cheese (or grated) on top.

Bake until cheese is bubbly and slightly golden brown.

If you don't have cocottes: place baguette and cheese on a baking tray, and let melt using broiler. Then put the bread slices on top of your soup.

P.S. YES, you can enjoy your French onion soup without cheese:)
Nutrition
Nutrition Facts
VEGETARIAN FRENCH ONION SOUP
Amount Per Serving (2 people)
Calories 286
Calories from Fat 117
% Daily Value*
Fat 13g20%
Carbohydrates 34g11%
Protein 10g20%
* Nutritional information is only an estimate. The accuracy of the nutritional information for any recipe on this site is not guaranteed.
---
Liked this recipe?
If you're a soup lover (and vegetarian), I think you will love this easy miso soup!
---
© Healthy Little Cravings – Roberta Dall'Alba.
I own all content and photos' copyright.
Before using my photos and recipes, please email me.
If you would like to republish a recipe, please link back to this post and re-write the instructions in your own words.