Oh boy, it's hard to get back on track!
It's been 3 weeks since I posted the last recipe here on the blog, I've also been MIA on social media.
But I'm back with a yummy easy recipe: this vegetarian miso soup with eggs, shiitake mushrooms and a delicious broth enriched with ginger!
You ready to get back to the "good old healthy habits"? After the heaviness of holiday food, this is what you need!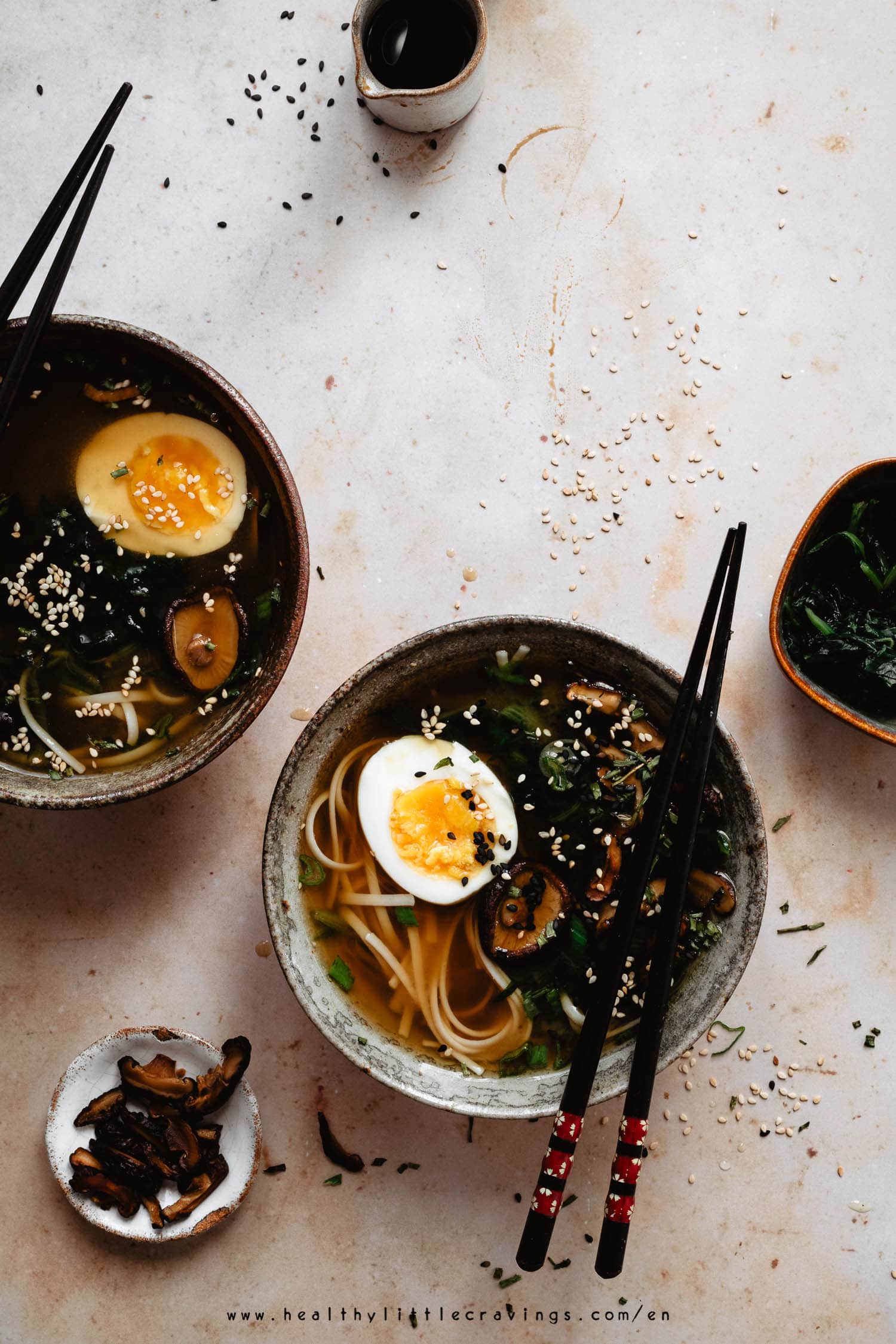 What is miso soup?
When I first learned about miso soup, more than one year ago, I thought it was a complicated dish. Well, I was wrong. I was so wrong.
Of course it depends on how you make it, because you can basically prepare it using whatever you want as long as you use miso paste into the broth (dashi, in Japanese).
Since I don't want any Japanese readers out there to feel offended (because my recipe isn't exactly like the original) I will briefly explain - at least I'll try - what this soup is made of.
The authentic Japanese miso soup is made with dashi, a basic stock made with kombu and bonito flakes (dried, smoked bonito fish).
As a vegan option, they usually consume shiitake dashi made from dried shiitake mushrooms (for more, consult Just One Cookbook blog).
To the stock, you then add ingredients like eggs, tofu, wakame, mushrooms, noodles and/or other ingredients.
My version instead is more "westerly". In fact, I'm using a simple vegetable stock made with onion, carrot and celery, a basic broth that I also used in my previous miso soup post last year. But this time it's enriched with...fresh ginger!
Let's see how to make it.
---
Tip: Eat it with chopsticks!
Even though you're not familiar or used to eat with chopsticks, try, it's so fun!;) in my case, it also "slows the process" of eating (and you know that eating slowly is always better).
I've bought mine on Amazon, you can find so many options here.
---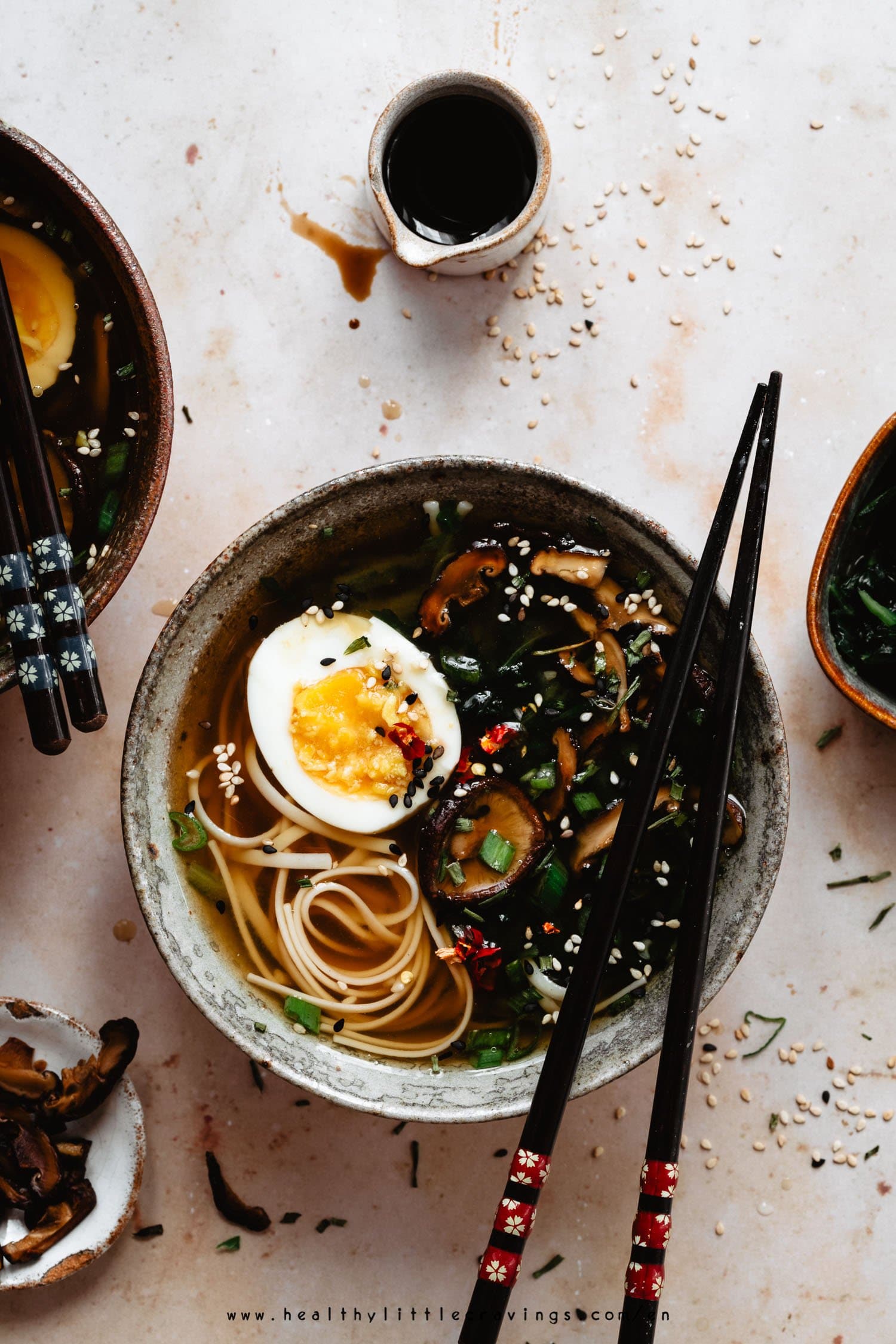 How to make an easy and delicious vegetarian miso soup in a few steps
Told you: making this vegetarian miso soup is definitely not difficult.
If you organize everything in advance, you can make this in about 35-40 minutes.
This recipe could seem long and laborious, but it's not. While your broth is simmering, you can prepare both the eggs and the shiitake mushrooms.
First, let your mushrooms rehydrate
Let shiitake soak in hot water for about 20-30 minutes.

Start with a delicious stock
Carrot, celery, onion, a piece of ginger. Bring to a boil and let simmer for 20/30 minutes at low heat. The secret here is that ginger: slice it and leave to infuse!

Boil the chicory
No need to waste another pot full of water. I've boiled my frozen chicory leaves into the broth (remember to remove celery, carrot and onion first). 8 minutes and it's done!
Don't have chicory? Use spinach.

Boil the eggs
Add your 2 eggs to cool water then bring to a boil and let cook for 4 minutes (I want my yolk soft). Put them into cool water to cool down then peel them.

In the meantime, sauté your shiitake
Heat a small pan, then sauté sliced mushrooms in a bit of oil. Add a touch of salt and garlic powder and cook for a few minutes (max five).

Boil the noodles then add miso
Cook the noodles - into the broth - following the instructions on the packet.
Turn off the heat and add miso paste.

Now assemble the bowl
Pour broth + noodles + chicory into two bowls, add the eggs, mushrooms, spring onion and sesame seeds. If you want it spicy, add chili pepper.
P.S. you could also consider boiling noodles and chicory (or spinach) together. My noodles here took about 4 minutes to cook so they would have been overcooked.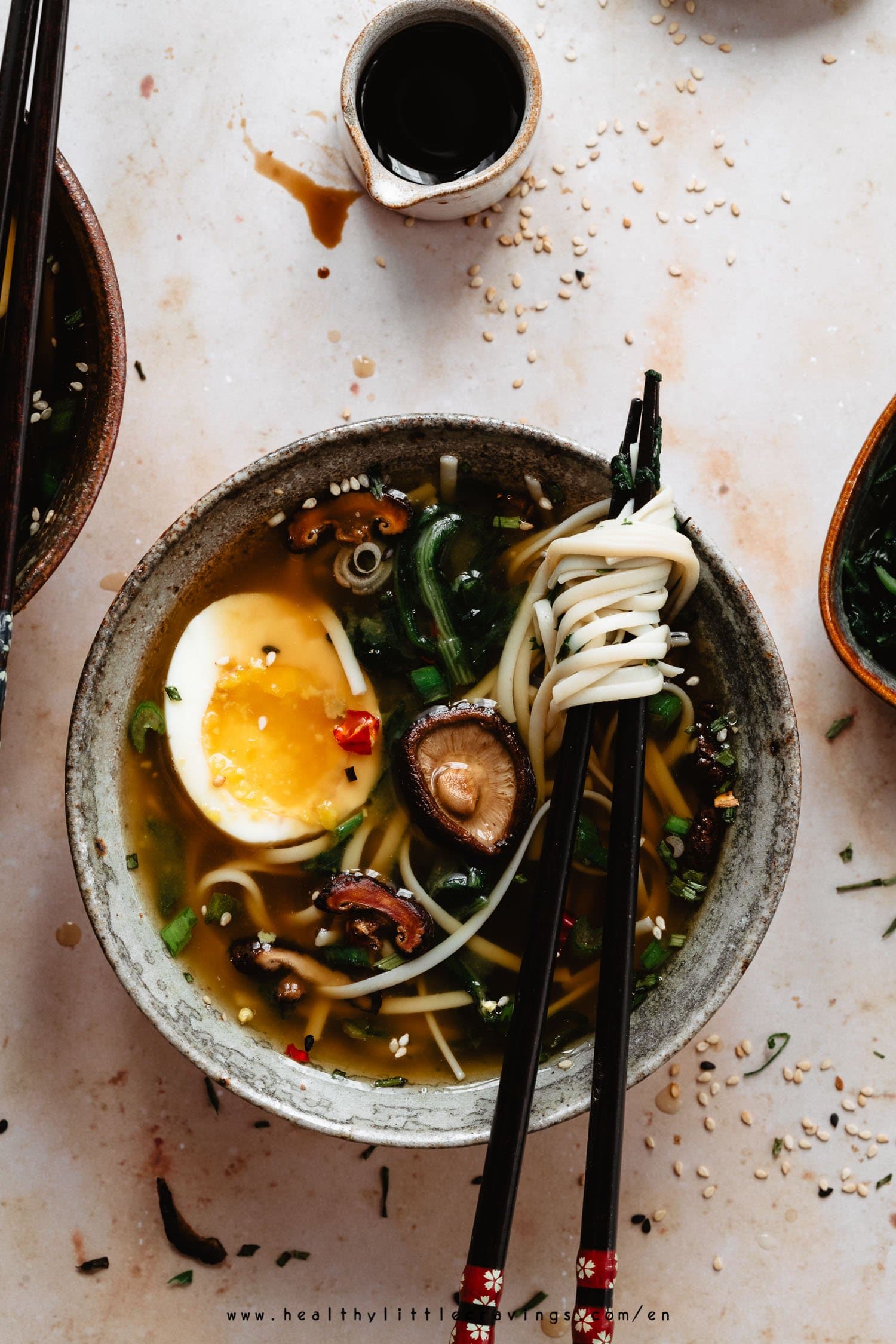 Is miso soup vegan friendly?
It is!
As I mentioned above, authentic miso soup is made with dashi, a fish based stock. BUT, if you are vegan you can always use a simple vegetable broth like I have done in this recipe.
For the rest, add tofu and veggies. And don't forget herbs and/or spices, they add so much flavor and can completely change your dish.
What is miso good for?
I want to take a minute to talk about the benefits of this ingredient.
I did a bit of research, because I myself wanted to know more about this "magical" paste.
Miso is basically a paste made from fermented soy beans and grains (even though there are tons of varieties - made with rice, barley, rye, buckwheat...)
This ingredient is largely used in Japan. It contains SO MANY benefits: it's a source of copper, manganese, vitamin K, protein, and zinc.
Being a fermented food, it's also packed with beneficial bacteria (probiotics) that usually helps with health issues, and digestion, absorption and assimilation of nutrients.
To sum up, it's an elixir, the perfect healthy soup that will keep company this Winter!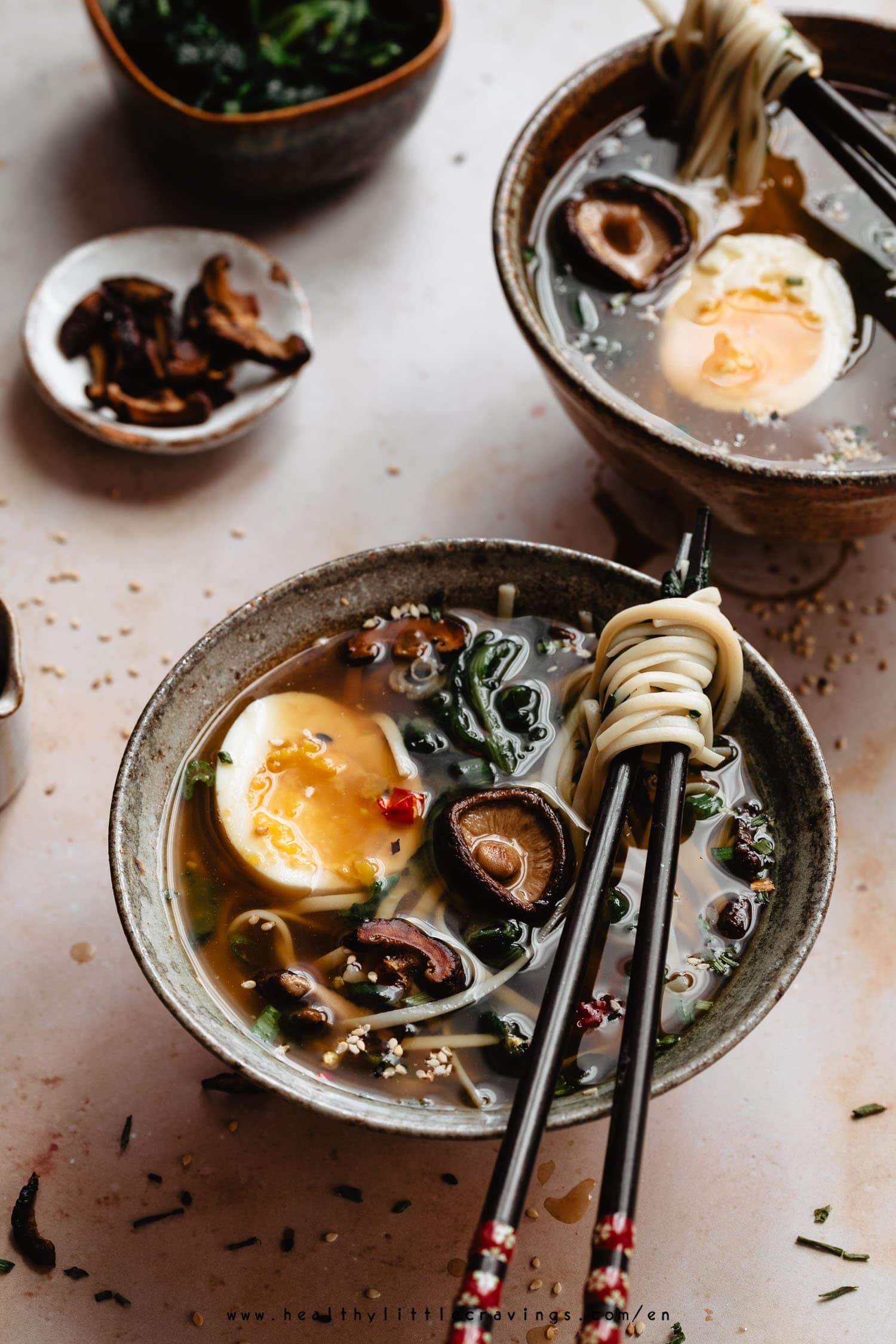 ---
If you make this recipe, please be sure to give it a rating and leave a comment! It would make me so happy! 🙂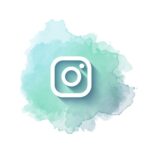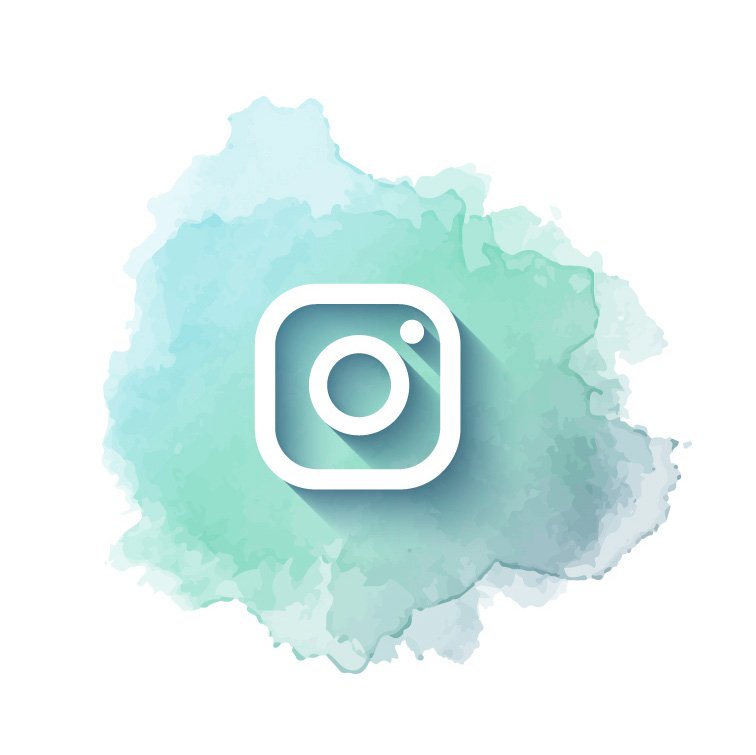 Remember: if you try one of my recipes, tag me on Instagram or DM me the photos!
---
Don't forget to pin and share this easy and delicious recipe!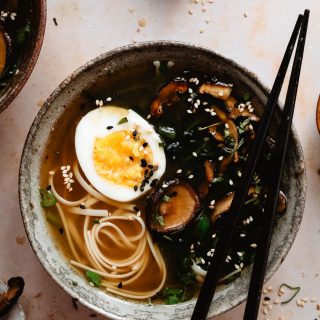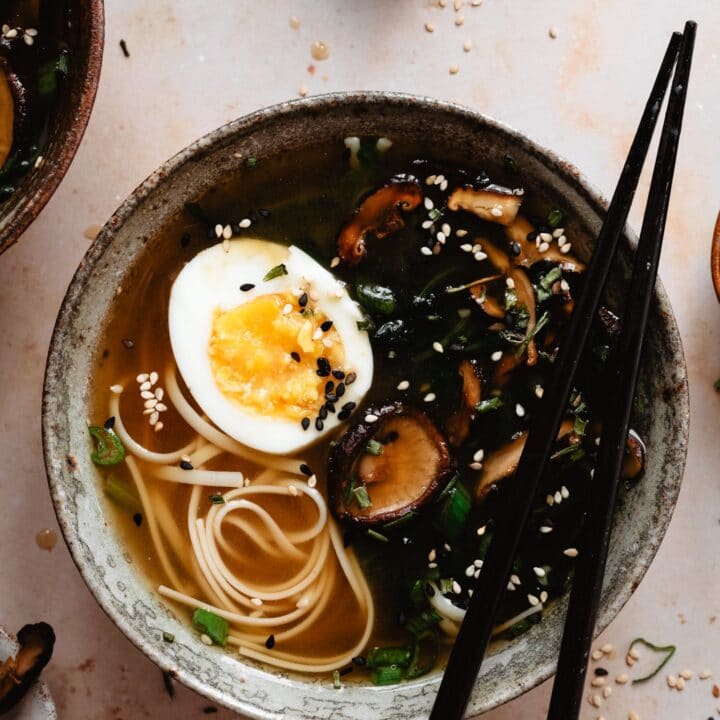 VEGETARIAN MISO SOUP
An easy and delicious Winter soup with a veggie broth enriched with ginger, shiitake mushrooms and perfectly cooked eggs.
Print
Pin
Ingredients
For the homemade vegetable broth:
1.5 liters

(50 fl.oz)

Water

1 small

Onion

1 small

Carrot

1 small

Celery stick

a big piece

Ginger

-

(slice it)

¾ teaspoon

Salt
For the shiitake:
10 gr

Dry shiitake mushrooms

Oil

Garlic powder
Other ingredients:
95 gr

Frozen Chicory

-

(you can use spinach instead)

50/60 gr

Noodles (gluten free noodles are ok)

-

(increase if you like more noodles into your soup)

2

Eggs

40 gr

Miso paste

-

(I've used rice miso but you can use another kind of miso)

one small

Spring onion
Instructions
Make a basic vegetable broth:
Add a small onion, small carrot and a piece of celery to 1/1.5 liters of cold water, add a piece of ginger, then bring to a boil. Let simmer for 20 minutes.

In the meantime: put your shiitake mushrooms into a bowl and rehydrate them by adding some hot water. Let sit for at least 30 minutes. Strain the water.
To make the shiitake mushrooms:
Slice them. Add a small quantity of oil into a pan then sauté your mushrooms for a few minutes. Add a pinch of garlic powder and salt.
For the eggs:
Put the eggs into cold water, bring to a boil and cook for 4 minutes.

When done cooking, immediately put them into a bowl full of cold water. Peel.
For the cichory:
Boil it into the broth for about 8 minutes or until cooked.
For the noodles:
Boil into the broth for about 4 minutes (depends on the kind of noodles, follow the packet instructions)

Let cool down a bit then add miso paste.
Assemble the bowl:
Divide broth + noodles + chicory into 2 bowls.

Add eggs, mushrooms, spring onion and sesame seeds (also chili pepper if you want).
---
Don't forget to pin and share this easy and delicious recipe!
---
Liked this recipe?
I think you'll love this easy vegan miso soup then!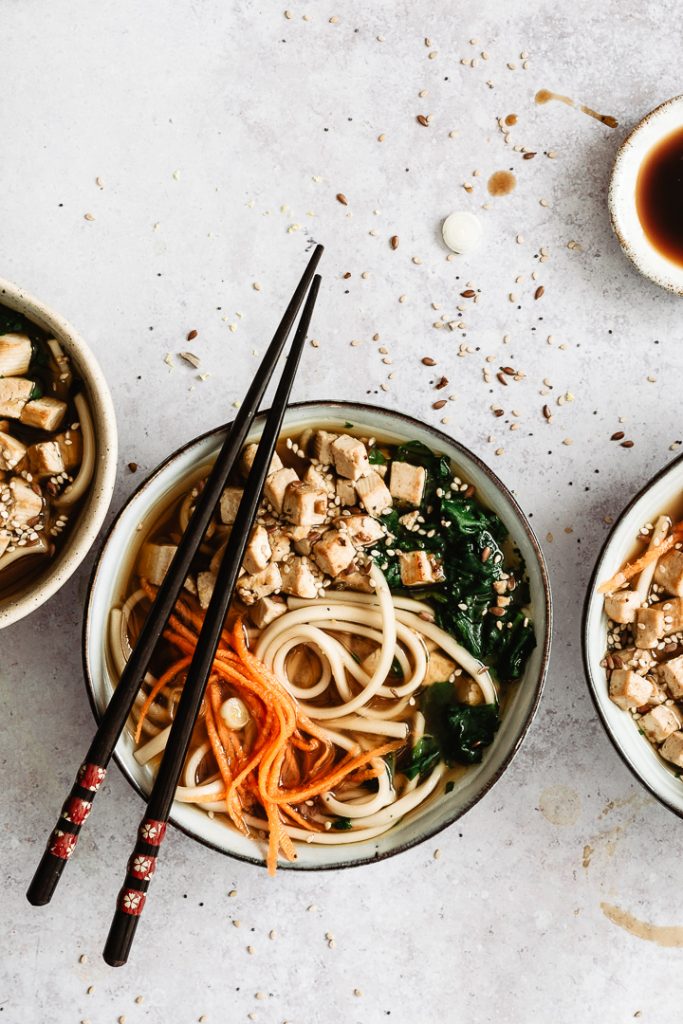 ---
NOTE: This post contains affiliate links which means I make a commission off of the links with no additional cost to you. Thanks for supporting me!
---
© Healthy Little Cravings – Roberta Dall'Alba.
I own all content and photos' copyright.
Before using my photos and recipes, please email me.
If you would like to republish a recipe, please link back to this post and re-write the instructions in your own words.