Imagine: Sunday afternoon, you crave pizza, you have a few hours before evening comes. I mean, you're REALLY craving pizza. [This is basically my family during the weekend]. So, what do you do in this situation? You make this easy homemade pizza dough of course! Made in less than 3 hours. Follow this step-by-step guide for perfect pizza!
Delicious. Simple. Definitely our favorite way to wind down during the weekend!
This post is sponsored by Samsung Home Appliances. All opinions expressed in this post are based on my personal view only.
Take a look at what Samsung has on the website (ovens, refrigerators, microwaves, cooktops...), you may find something really interesting!
Thank you for supporting Healthy Little Cravings!
---
Why You'll Love My Mom's Easy Pizza Dough Recipe
First let me say: I'm in love with my mom's easy pizza dough recipe. Actually, not only me. Every time I have guests for dinner, I know that if I'll prepare this pizza it'll be a total success.
Not joking. Every time I serve pizza made with this dough, my friend, throughout the dinner, keep saying "Oh gosh, this is... DELICIOUS!". Basically a trip to pizza heaven.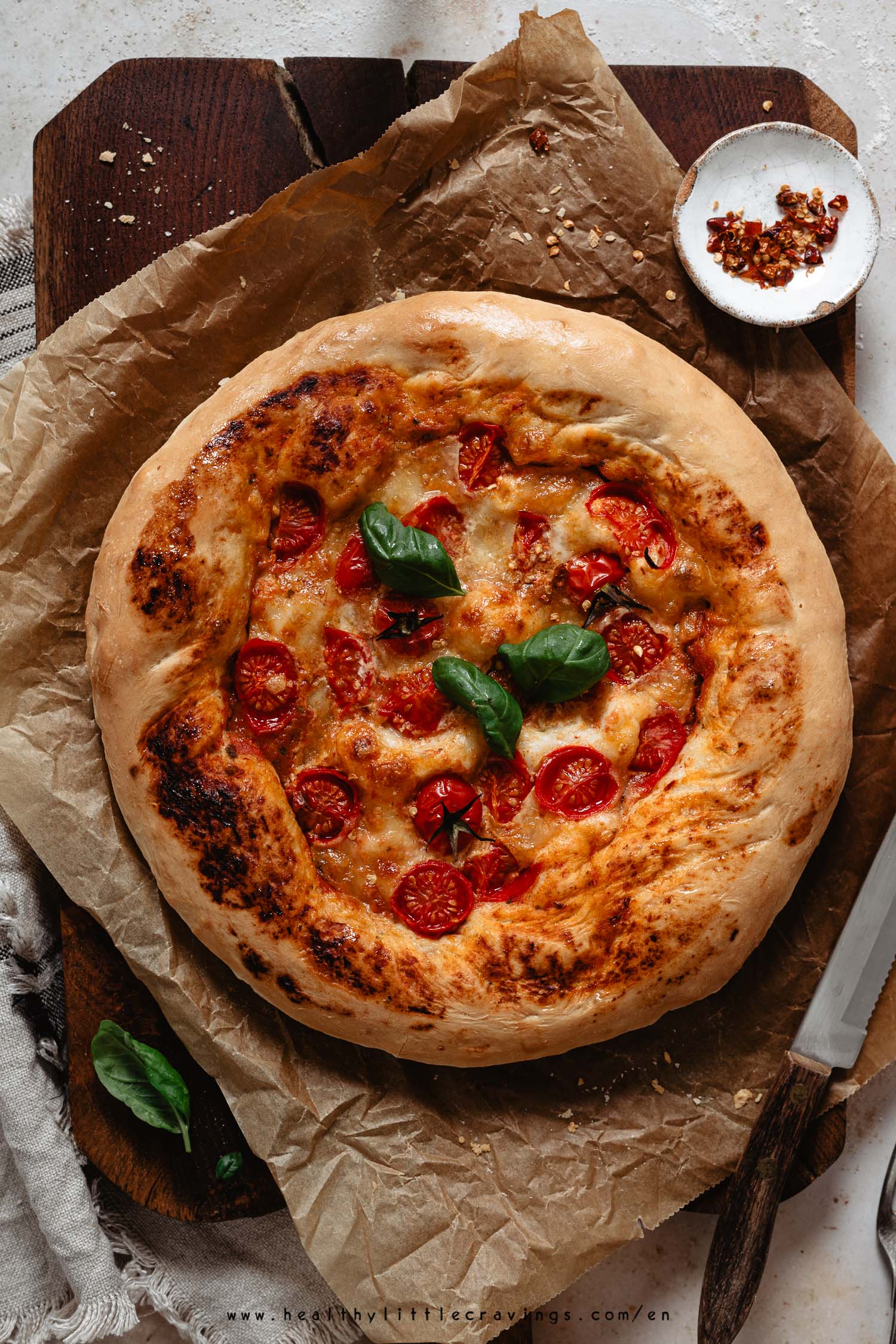 I called this 'easy pizza dough recipe' because it really is easy. All in all, it's also quick. Now you may think "But it still takes 3 hours, you can't say it's quick". Yes it is. And I'll tell you why.
I'd normally prefer longer proofing, that way you can use a very tiny amount of yeast and prolong rising time. But, when I crave pizza "at the last minute", I know that I can use mom's recipe.
This easy homemade pizza dough calls for one whole little packet of dry yeast, which in Italy is 7 grams (I think in the U.S too). Given that we'll be using a high amount of leavening agent, this pizza will rise in less than 3 hours. And that's the main reason why I call it 'quick'.
Plus, you could also skip the last 30-45 minutes of rising (but, my advice: if you really want it soft and puffy, make it rise!).
How Do You Make Pizza Dough Step By Step?
So, in order to make the perfect pizza dough (either by hand or using a stand mixer), you have to: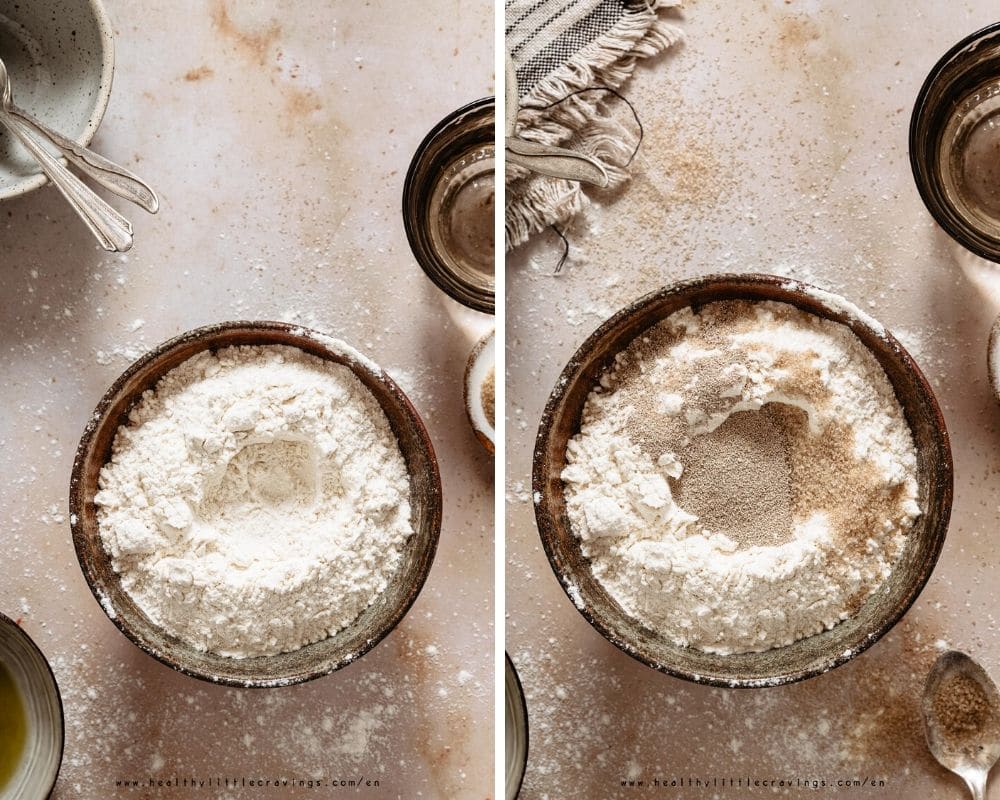 Combine dry
First of all, combine flour (I use organic 00 flour), sugar and yeast.
DON'T add the salt now: it doesn't kill the yeast entirely, but it will affect proofing.
Warm water up
Warm water up: perfect temperature should be between 105°F and 110°F for dry yeast (40°-43° C).
I usually warm it at 95-100° F (35-38° C)
Let absorb
Activate stand mixer, pour the water in a couple of times and let absorb entirely.
Add salt and oil
Now it's time to add salt and let incorporate.
Then add oil and let absorb again.
Let knead
Now let knead at medium speed for about 10/15 minutes or until you get a smooth dough.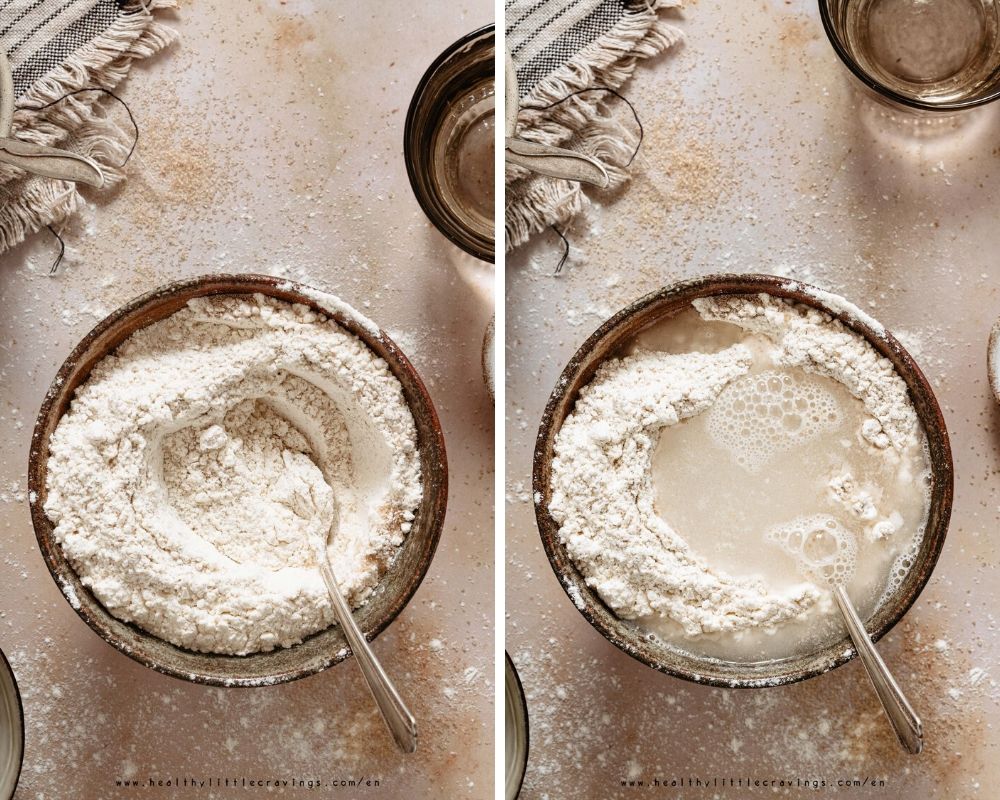 And now...
Time to rise!
Let it rise - in a warm place, covered with plastic wrap - for 1.5/2 hours or until doubled in volume.
My new oven (below you'll find more information) reaches and maintain a temperature of 30° C (86° F), which is perfect for proofing.
Roll out (and let rise again)
Form pizza into the desired shape: this recipe makes one rectangular or 2 round pizzas (serve 4 people anyway).
Roll out pizza dough using your hands. Put it on a greased baking sheet.
Now I like to let it rise again (for approximately 30-45 minutes)
Add toppings and bake
Preheat your oven at 430° F (220° C) convection (or 480° F - 250° C conventional).
Add toppings and bake for about 15/20 minutes (depends on your oven!) or until golden brown both onto and under pizza.
---
Tips
If using a moist mozzarella, prepare it about 20/30 minutes before baking pizza: "crumble" it and put it on a drainer so it'll lose extra "juices". If you don't want to overcook it, add mozzarella halfway through while baking.
FOR A VEGAN VERSION:
Use vegan mozzarella
---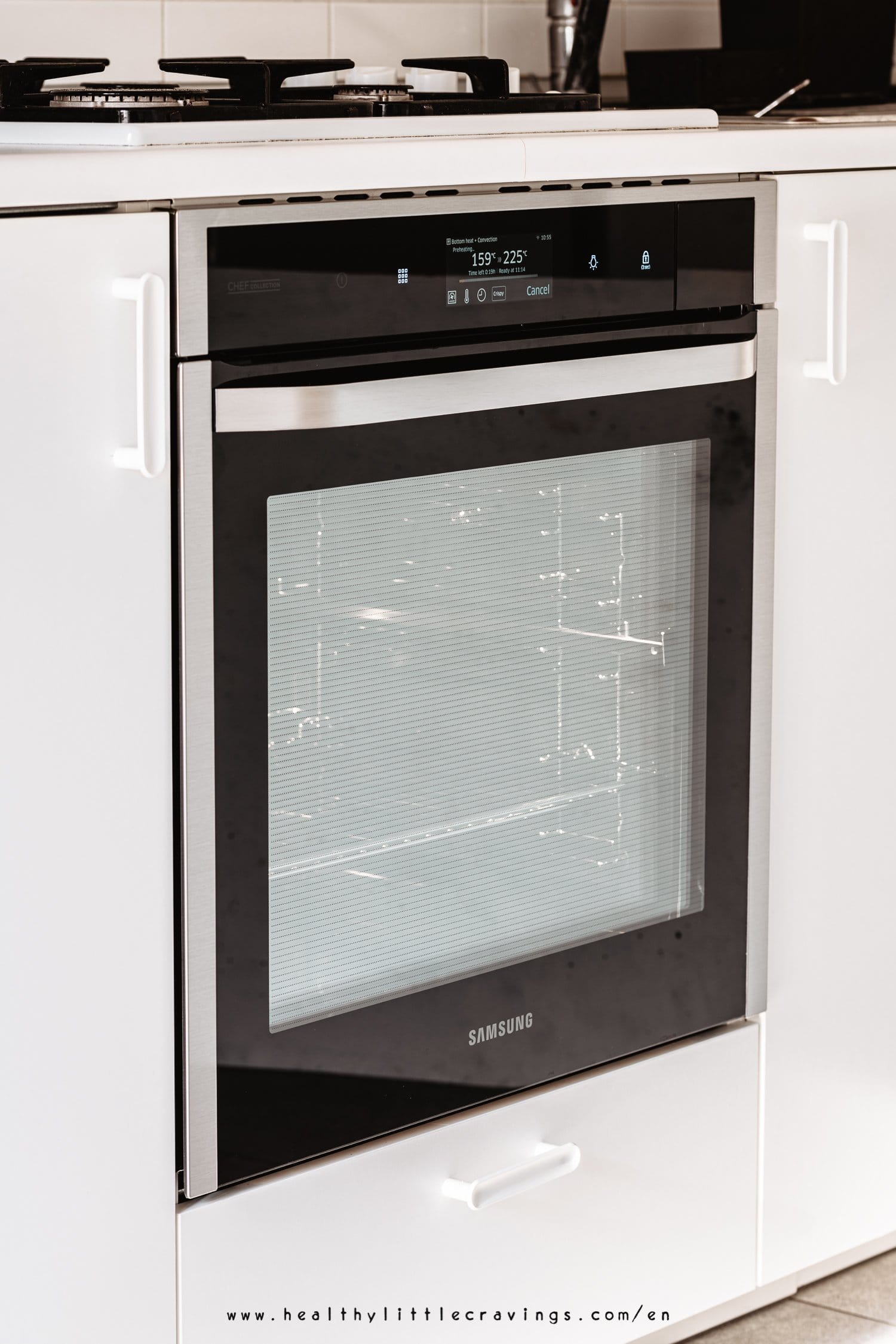 Thank you, Samsung oven! (the latest addition in my kitchen)
If you follow me on Instagram, you already know what I'm going to talk about.
Friend, let me introduce you the latest addition in my kitchen: my new Gourmet Vapour Cook Samsung oven!
This new appliance only arrived recently but I already tested it and I. LOVE. IT. There are a few reasons why I find it super cool.
Samsung Gourmet Vapour Cook favorite features
First one? It has Wi-Fi, that's like a dream for me! This way I can control my oven from another room (and even when I'm away). So useful if I'm relaxing in the bedroom and my oven is working.

Second: it has so many programs and auto programs. That means that if I want to bake croissants, I can select the option 'Croissants' in the menu and it'll tell me what to do.
(And this was just an example, because it has 80 other auto-programs!)

My absolute favorite feature: 'prove dough'. I love baking and I do it several times a week. So, I always need a warm place where I can make my baking goods rise. The prove dough setting allows to maintain a constant temperature of 30° C (85° F). How cool is that?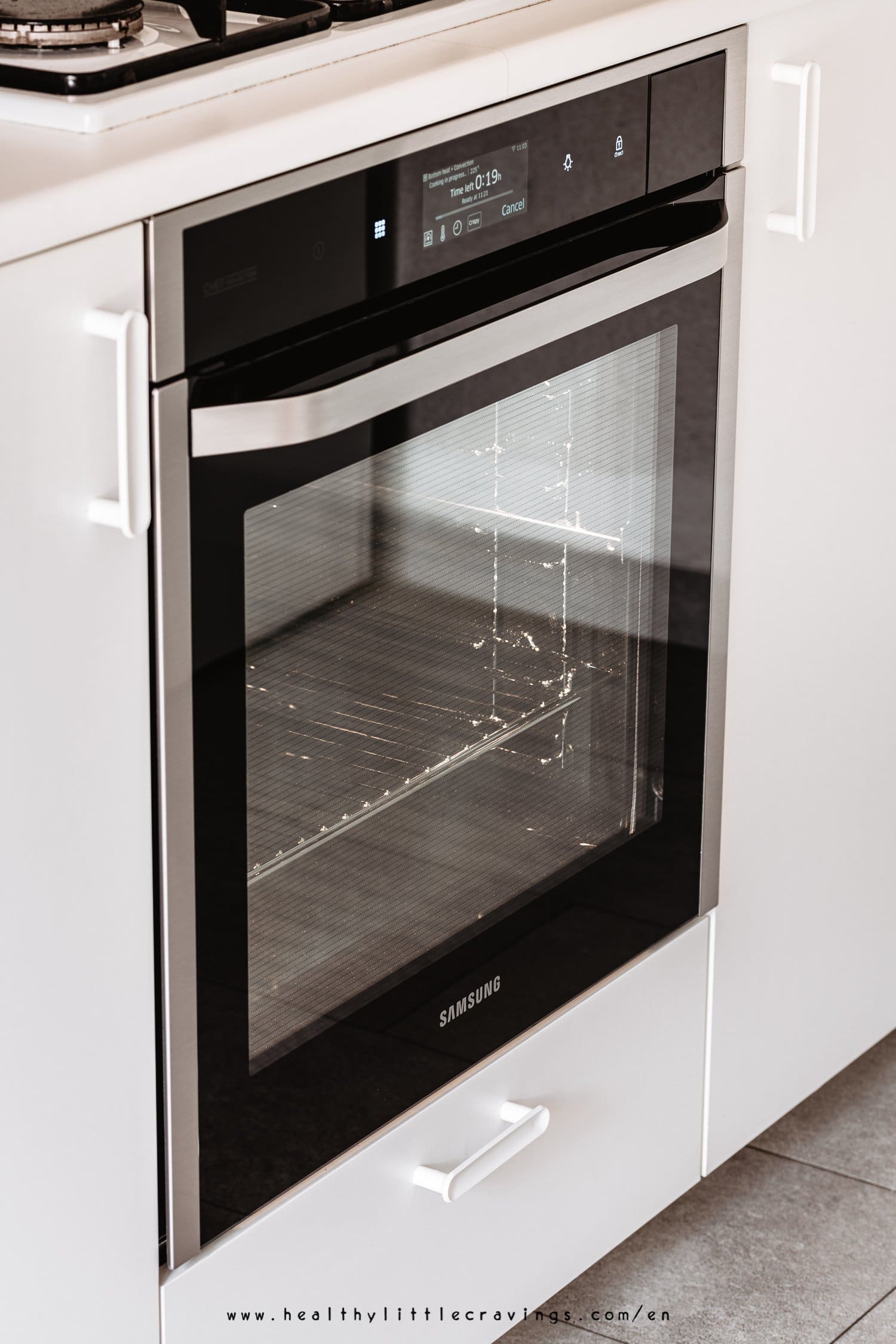 There's more...
I love how quick it reaches the desired temperature: this was something that surprised both me and boyfriend. It's true, we had a basic oven before (nothing compared). But this speed is unbelievable. The other day, in 7 minutes it reached 180°C.

I can bake on one or more levels. That means, if I have two batches of cookies, I can bake them in once! (that was a big problem for me with my old oven)

It has cleaning programs: pyrolytic and steam cleaning. Extremely useful if you want to clean the oven properly (I definitely don't want to ruin it!)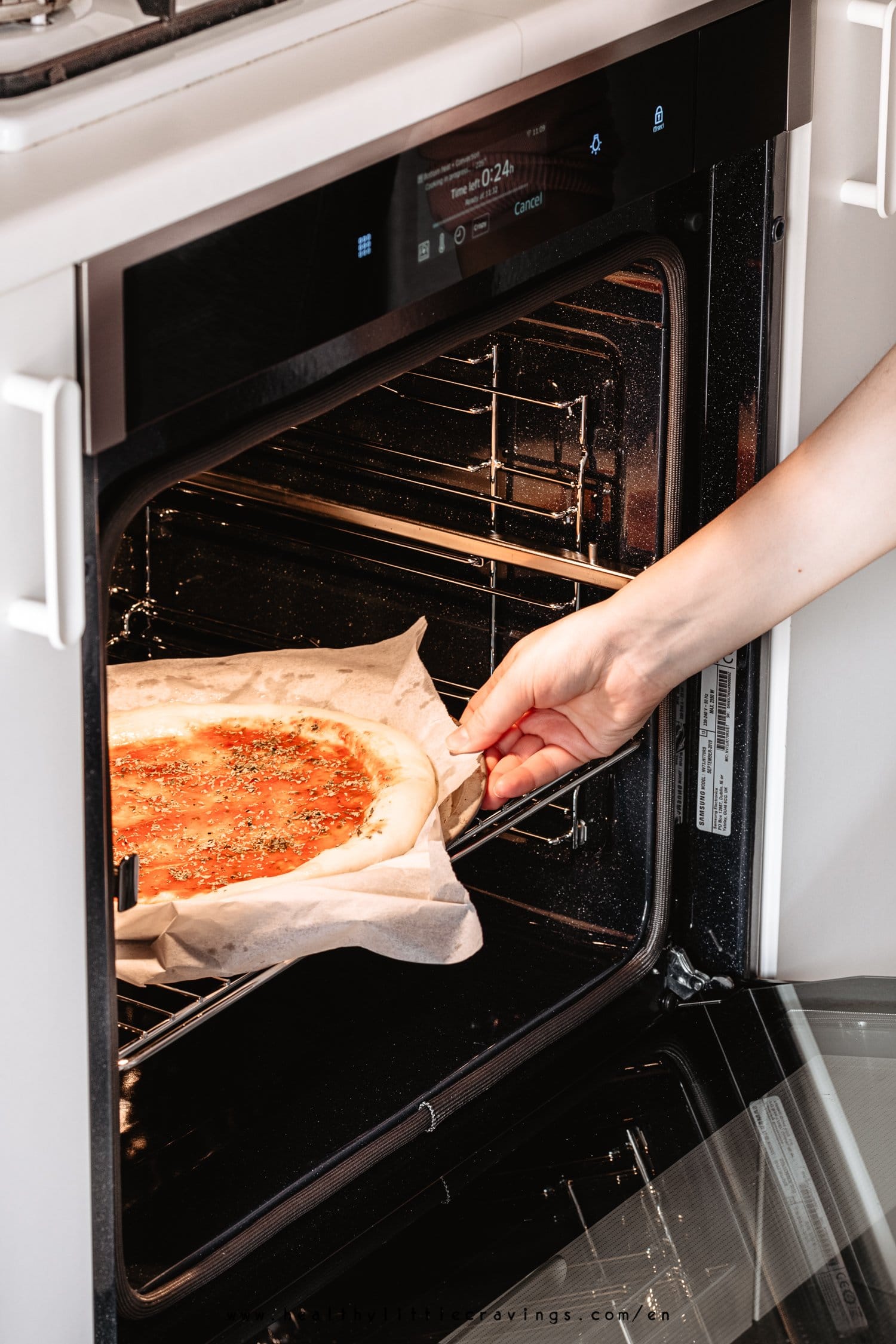 For now these are my favorite features, but don't worry, I will talk about this oven for a looooong time still (even in not-sponsored posts).
A thought I have to share: the price of this oven is quite high, it's (right now) 1.892,22 € (approx 2000 $). You may think "It was gifted to you, but would you have bought it?"
My answer? Considering I bake basically every day (it's part of my job) and ovens last years, definitely YES. It's a really good investment. My mom had her oven for 30 years, it casually broke (the glass) about two years ago. If I think my new oven could last 30 years, well...do the math.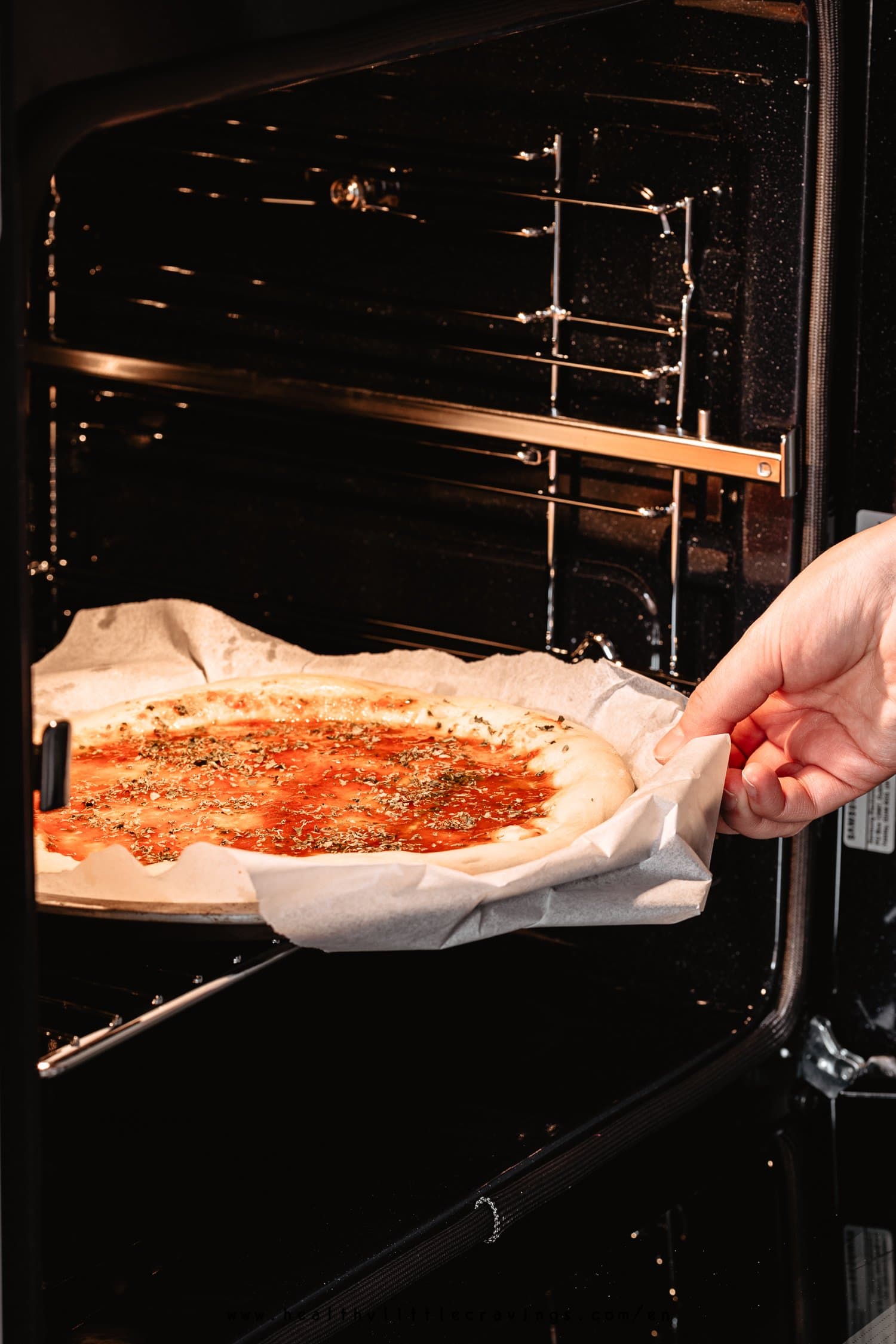 ---
And now, a few questions answered...
---
What Is The Best Flour To Use For Pizza Dough?
To the best of my knowledge, the more refined it (the flour) is, the shorter the proofing can be. A short premise: the most refined, here in Italy, is called "00" (Doppio zero) flour, similar to all-purpose. The "00" is the softest, finest flour and with basically no bran and germ (that's why it's not very nutritious).
For this recipe, since I don't need to make it rise for many hours, I like to use an organic "00" flour (locally produced) or a "0" flour (similar to bread flour).
So the answer is 'yes', you can make pizza with all-purpose (00 flour).
In case you want to use less yeast and prolong proofing, then try to use a less refined flour.
Just experiment!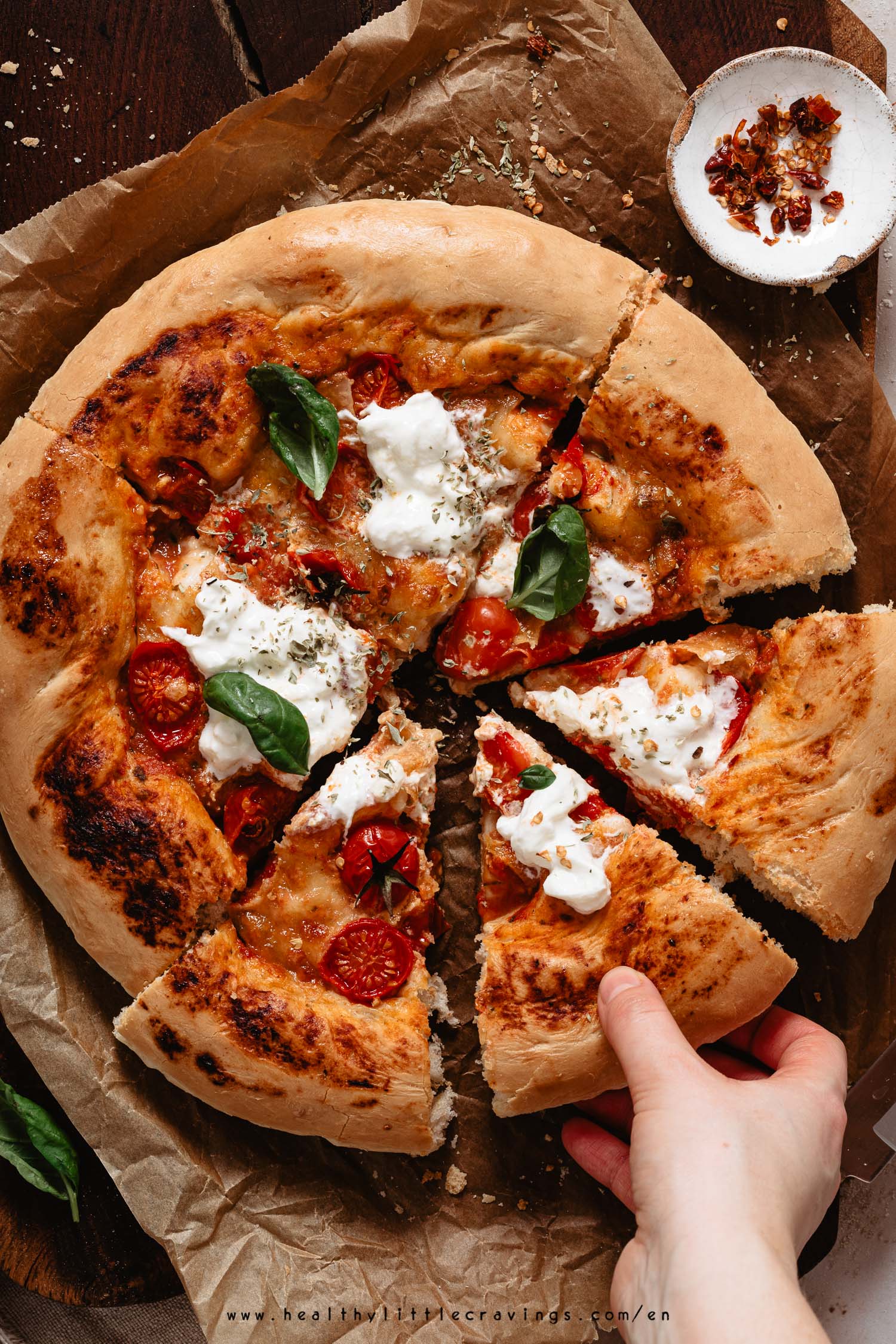 What Temperature Do You Cook A Homemade Pizza?
Interesting question. The answer is "it depends". In this case, I've used the "Bottom heat + convection" setting, at 430° F (220° C). Samsung Vapour Cook oven also suggests the "Vapour bottom heat + convection" setting. When I was using conventional, I used to bake my pizza at 480° F (250° C).
Best thing? Bake it at the highest temperature (for a shorter time) to simulate wood oven. Possibly on a pizza stone (I bought mine on Amazon).
You ready to make the best pizza ever?
---
If you make this recipe, please be sure to give it a rating and leave a comment! It would make me so happy! 🙂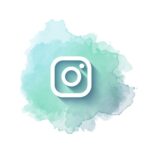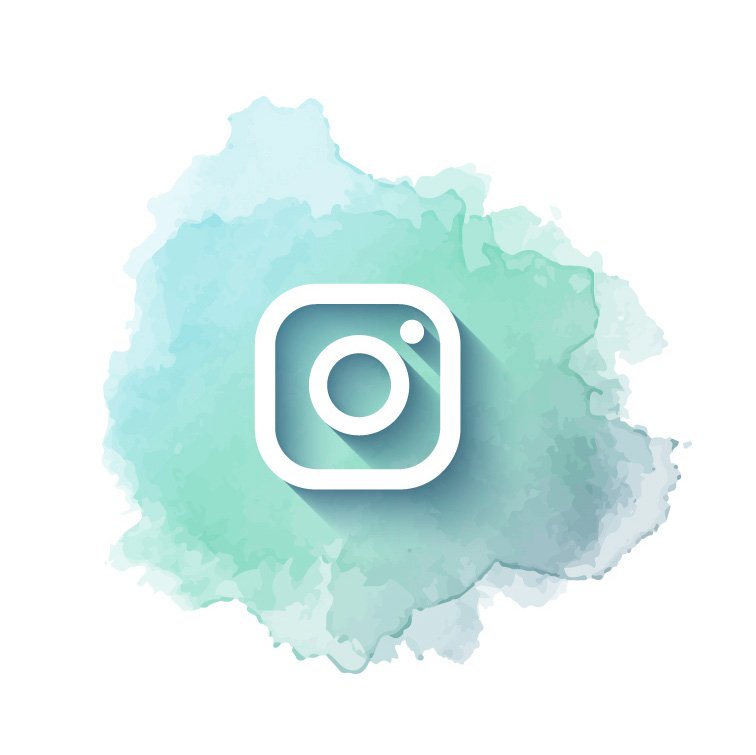 Remember: if you try one of my recipes, tag me on Instagram or DM me the photos! 
---
Don't forget to pin and share this easy and delicious recipe!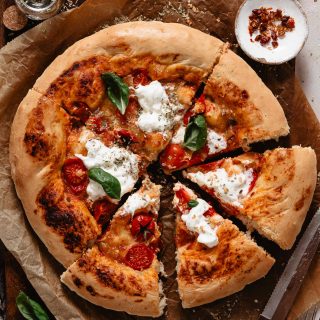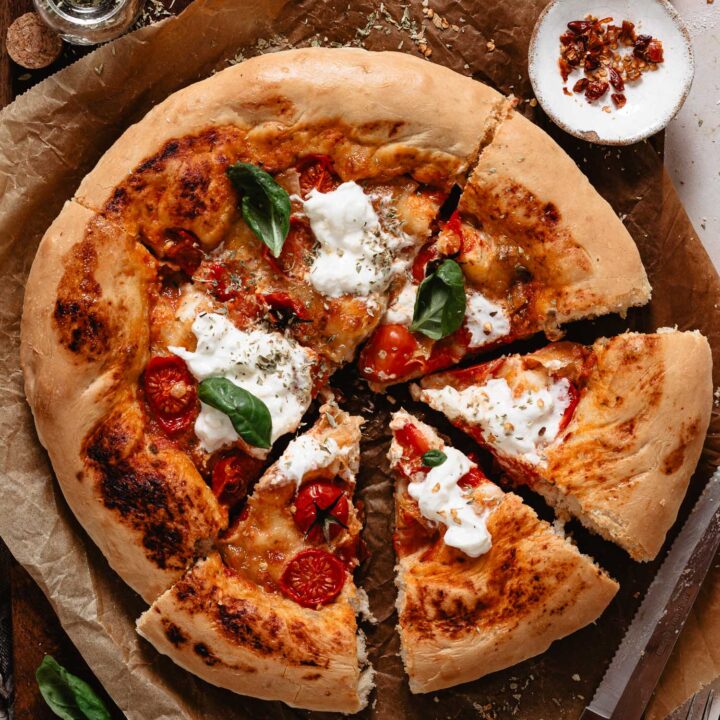 Easy Pizza Dough Recipe
An easy and failproof pizza dough (seriously, never fails): made with a few simple ingredients.
Print
Pin
Ingredients
480/500 gr

Organic 00 Flour

-

(or all-purpose)

300 gr

Lukewarm water

2 teaspoons

Sugar

7 gr

Active dry yeast

1 teaspoon and a half

Salt

4 tablespoons

Extra virgin olive oil
To garnish:
200 gr

Mozzarella Fiordilatte

-

(I'd normally use 400 gr but I also have stracciatella cheese here)

Approximately 8 tablespoons

Tomato sauce

200 gr

Cherry tomatoes

130 gr

Stracciatella cheese or burrata

Fresh basil leaves

Chili pepper (optional)

Oregano
Instructions
You can do this by hand or using a stand mixer. My mom uses a bread machine with 'dough' setting on.

If using a stand mixe with dough hook attachmentr: in the bigger bowl, combine flour, sugar and yeast and give a quick stir at low heat.

Add half of lukewarm water and let absorb, then add the rest.

When absorbed, add salt, then oil.

When it's fully incorporated, let knead for 15 minutes or until you get a nice and smooth dough.

In the meantime, I activated my oven with 'Prove dough' function, so it reaches and maintain 30° C (85° F).

Cover the bowl with plastic wrap  and leave the dough prove for about 1.5 hours or until doubled.

After rising, gently deflate it. Now you have 2 options: roll the dough on a rectangular baking tray and make one pizza (for 4 people), or roll it on 2 round baking trays. This time I've chosen the second option.

Whatever you choose: grease the tray with oil** (see notes below), then roll the dough using your hands (not a rolling pin).

In the meantime, I re-activated my oven with 'Prove dough' function.

Cover pizza(s) with a cloth or plastic wrap and let rise for 30-45 minutes (always depends on the temperature).
Prepare ingredients:
"Crumble" the mozzarella fiordilatte and put it on a strainer: you will allow the extra moisture to drain.
Let's make pizzas:
Take rising pizzas out of the oven, now bring your temperature to 430° F (220° C - convection oven) or 480° F (250° C - conventional oven).

If using Samsung Vapour Cook oven, use the "bottom heat + convection" setting.

Top your pizza with tomato sauce, cherry tomatoes, mozzarella or whatever you like, then bake for about 20 minutes or until the crust is golden brown both on top and underneath.

Add basil and stracciatella cheese after pizza has been baked.
Notes
My trays are a bit ruined, so what I do is: I slightly grease the pan, the line with parchment paper and grease again, the roll out the dough.
Thanks mom for the tip!;)
---
Liked this recipe?
If you're a carb lover like me, then you should try this focaccia barese!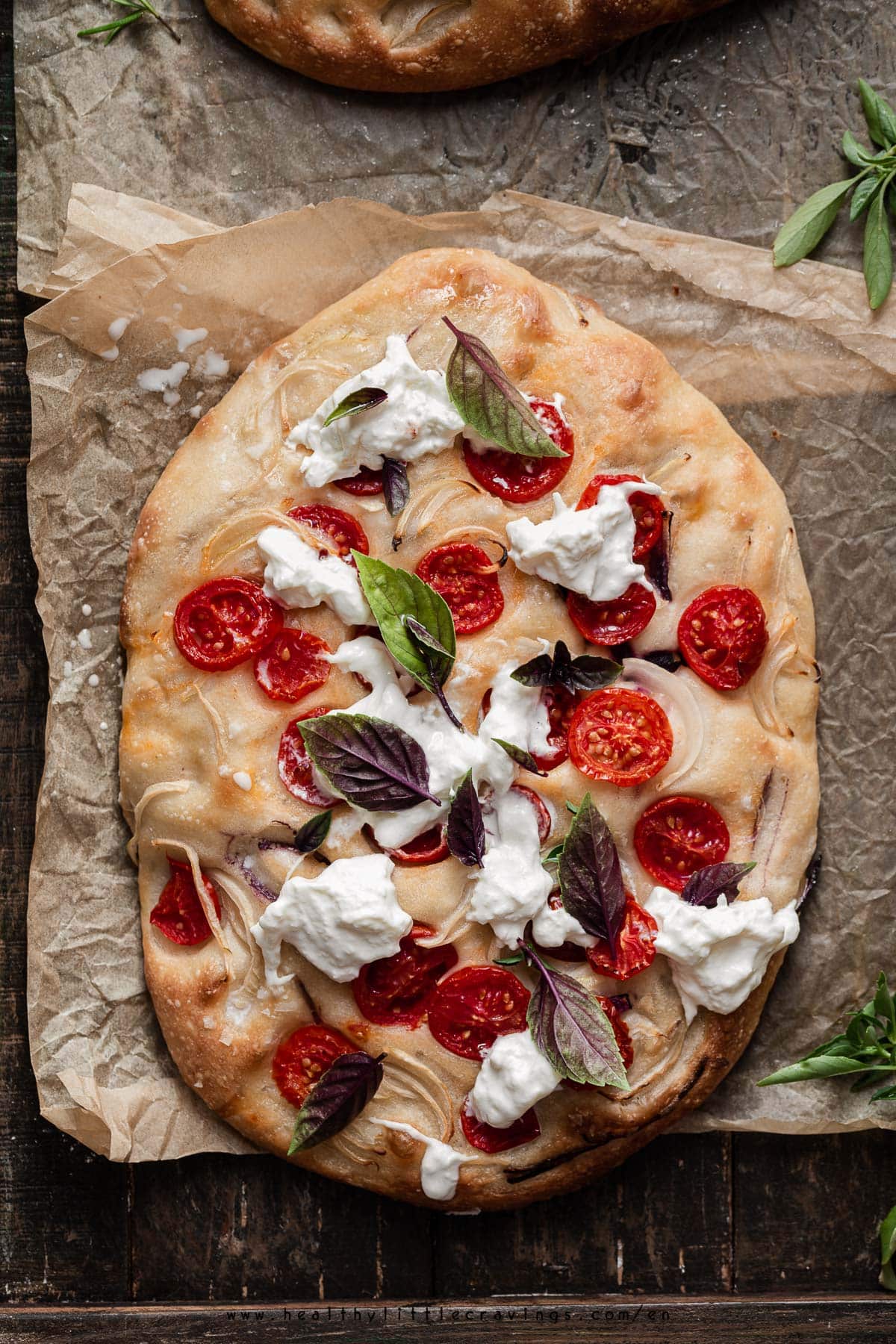 ---
© Healthy Little Cravings – Roberta Dall'Alba.
I own all content and photos' copyright.
Before using my photos and recipes, please email me.
If you would like to republish a recipe, please link back to this post and re-write the instructions in your own words.