How can something be so delicious?
I'll tell you: these chicken potstickers are so easy (the filling has just a few simple ingredients!) and so tasty that you will never buy take-away food again!
They're the perfect combination of spicy, savory, sweet. The cherry on top is that dipping sauce (again, EASY).
If I can do it, you can do it!
[they're even more simple if you buy wrappers]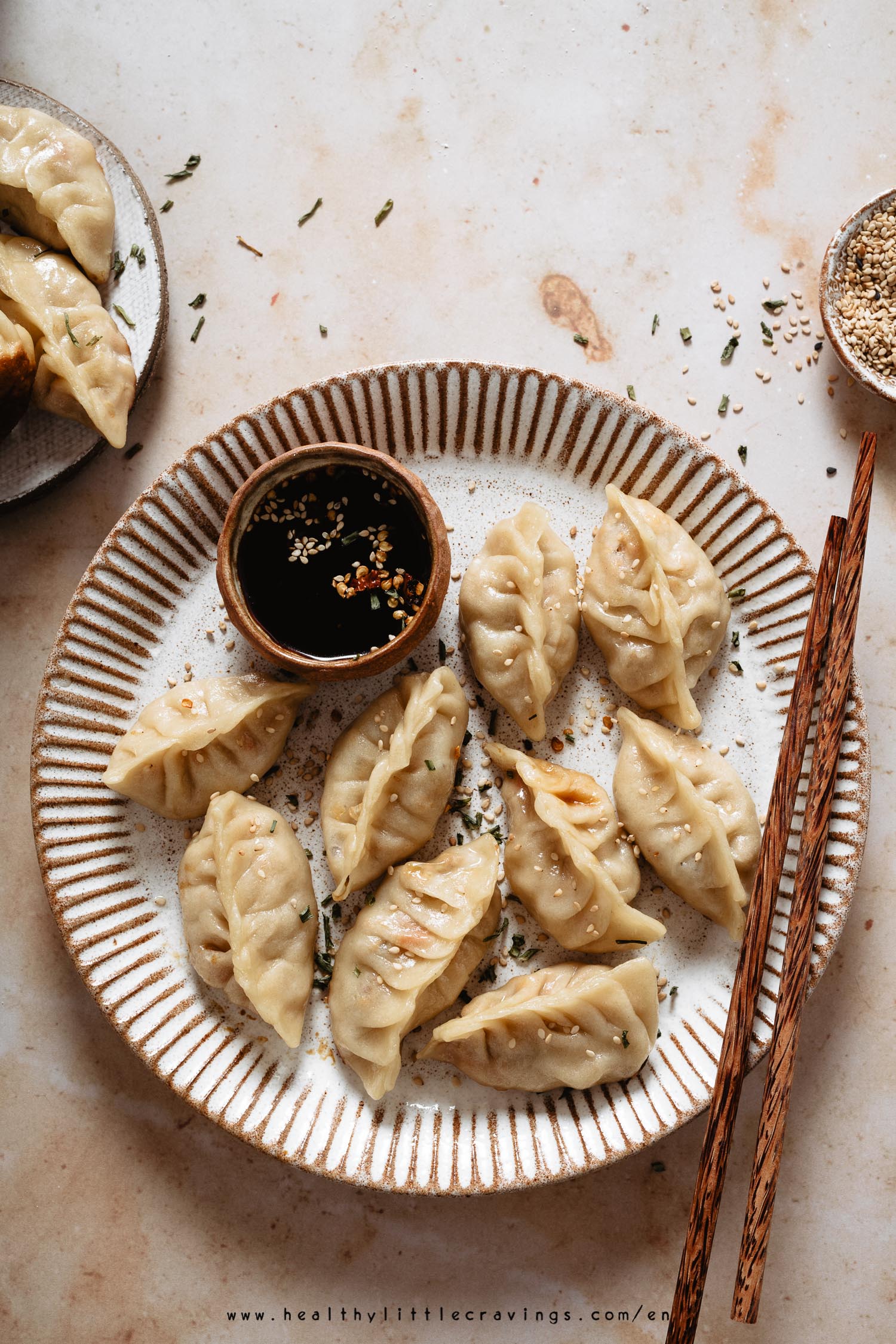 Are these chicken potstickers easy for real?!
I hear you saying "Roby, you said they're easy, but they look way too difficult to me to make!"
I thought that too when I made them for the first time, don't worry.
Good news though. They're not difficult I promise.
Dough is made with flour and water, then rolled out with a rolling pin (nothing fancy!).
Filling is just a combination of simple ingredients (leek, carrot, chicken...)
The cooking method is reeeeally simple (I'll explain that in a bit!)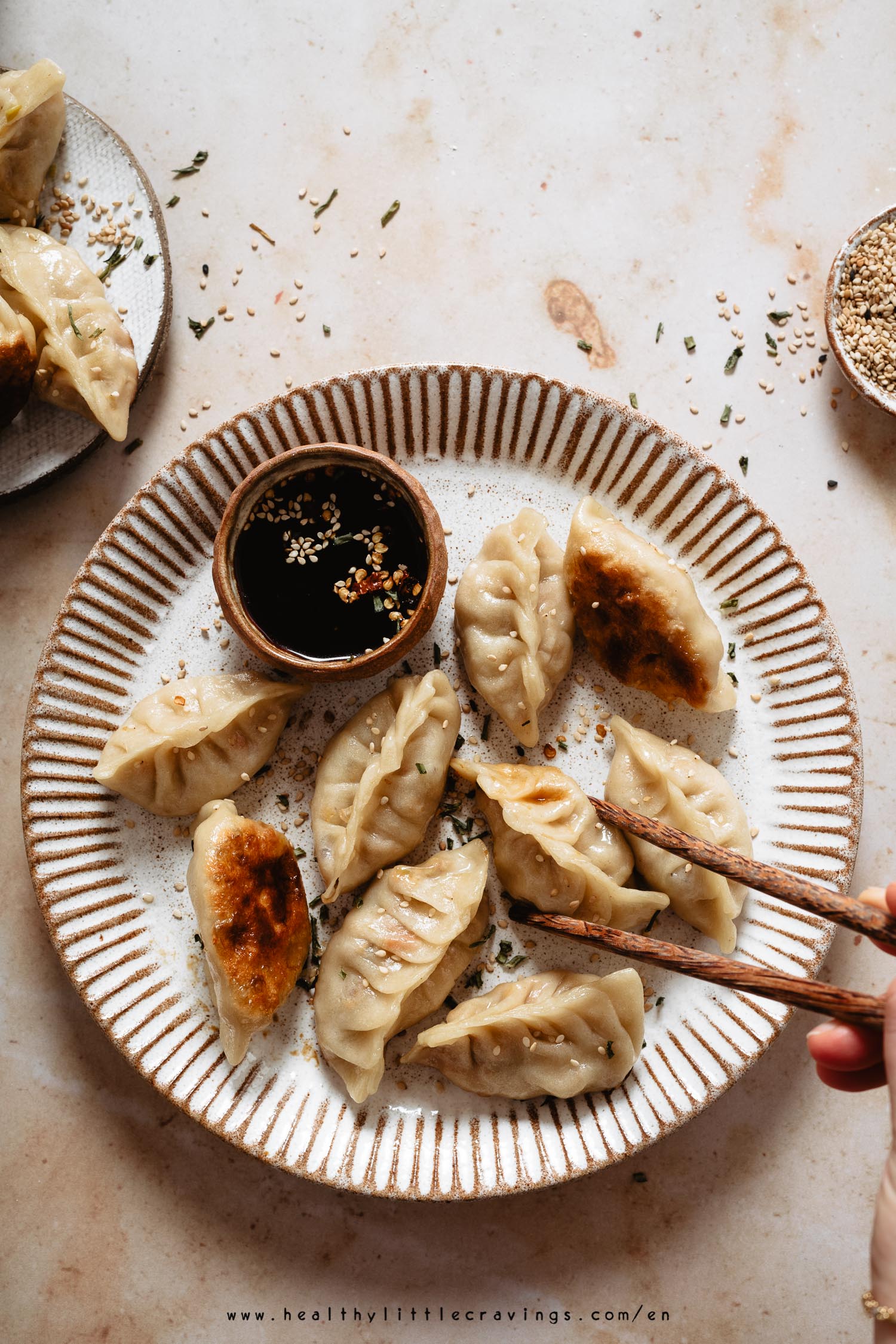 The tricky part may be the wrapping moment. But it's all about practice (as usual).
One year ago I made them to then share them on the blog, and it was my first time. Who knew they would have turned out that cute (check them out)?
How to make dumpling dough
I've said these chicken potstickers are really easy, and they're even more simple if you buy wrappers.
That being said, it's also EASY (recurrent word, uh?) to make them from scratch.
Add hot water to your flour and stir with a spoon (to prevent burning);
Put the dough on a working surface and knead it until you obtain a smooth ball;
Let the dough rest at room temperature covered with a damp cloth (very important!);
After one hour, divide it into 20 balls (15 gr each);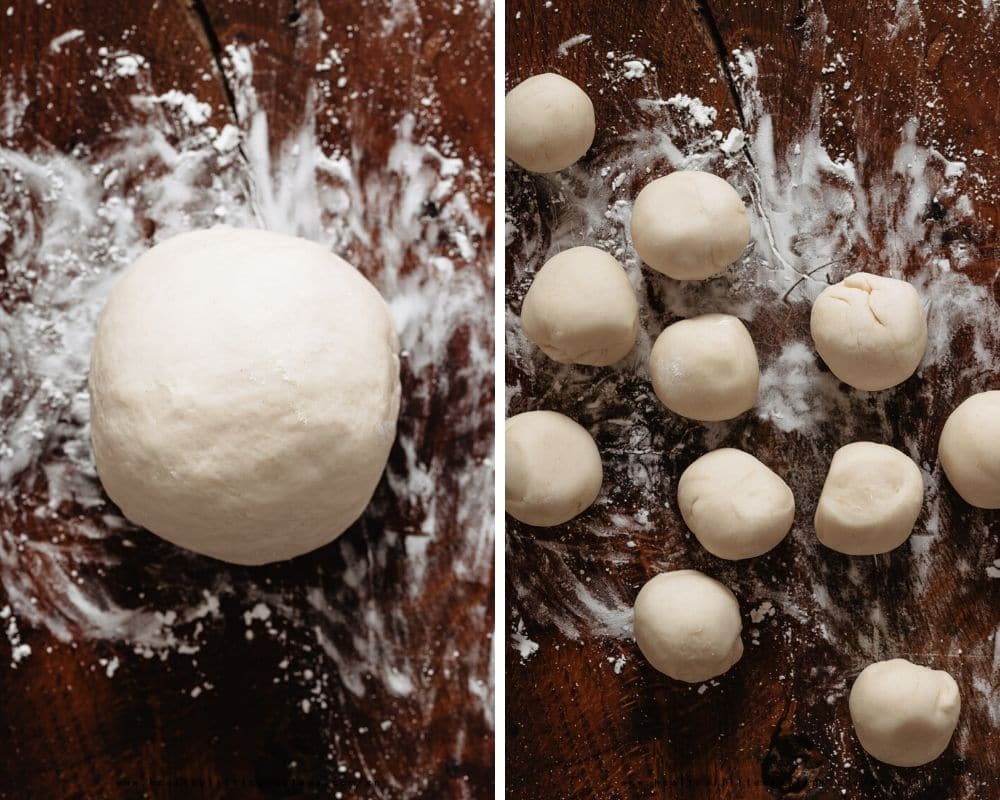 How to wrap dumplings
I mentioned before this could be the tricky part of the recipe.
Luckily for you, there are thousands of videos out there that show how to wrap them and make those cute patterns.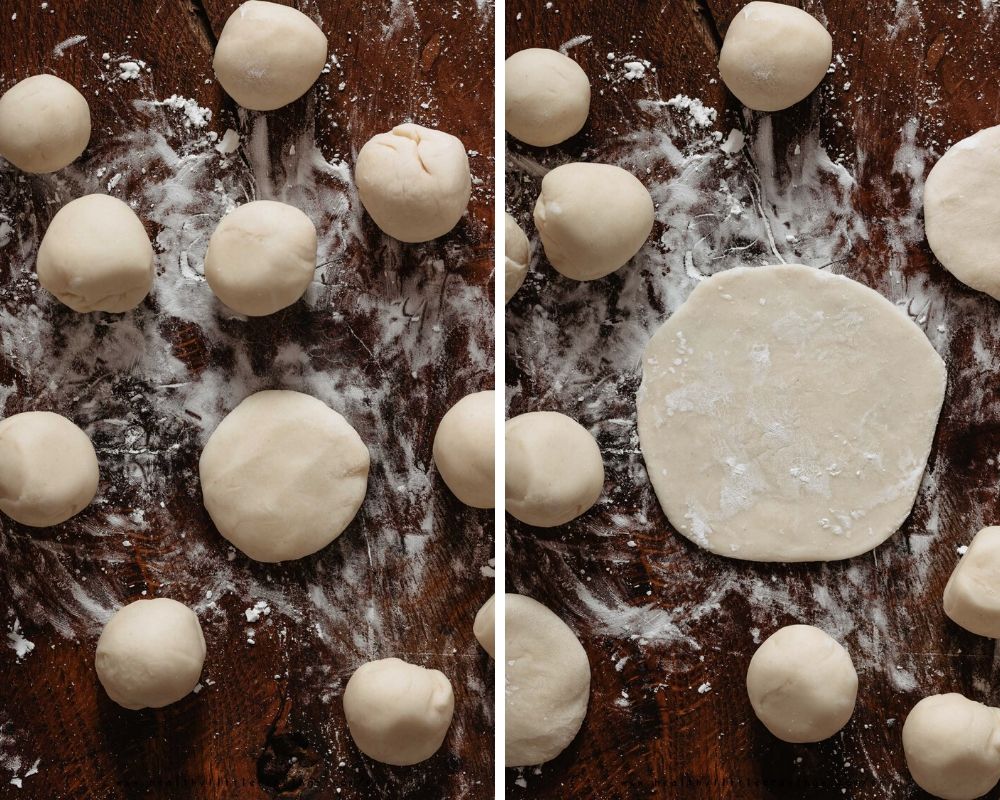 My advices:
1. Start with an easy one (the one I've used for my vegan potstickers for example);
2. I found that, by studying the movements these people made in those videos, it was more difficult for me to learn. Instead, I carefully studied the pattern and it was incredibly easier!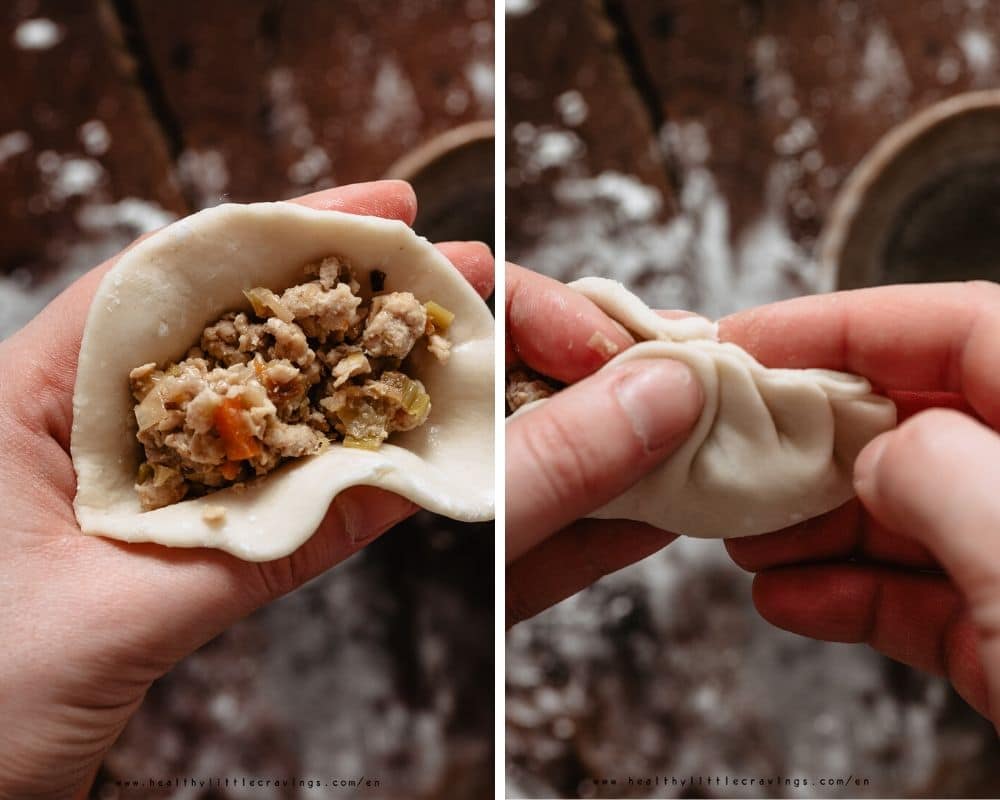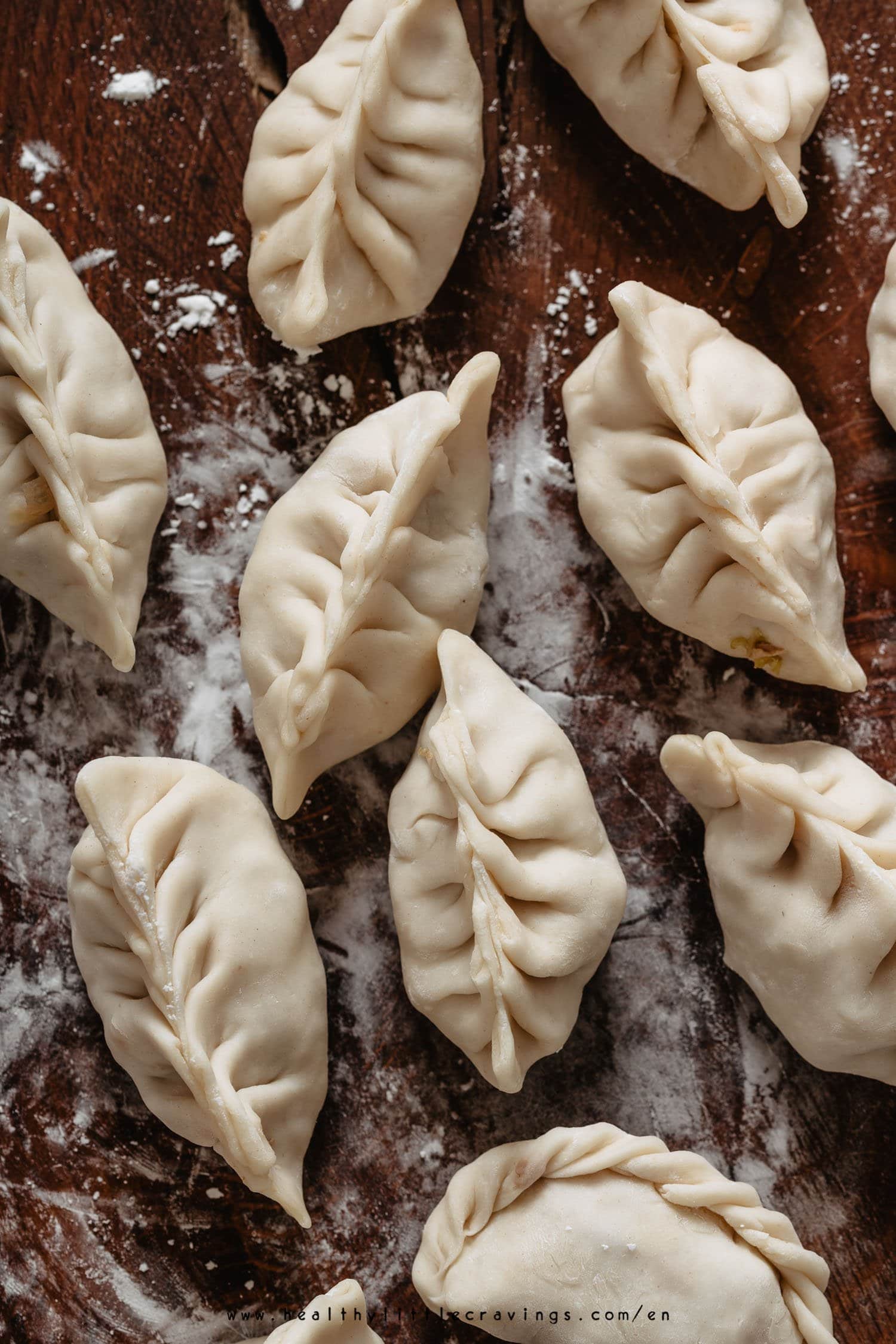 How to cook potstickers
Potstickers are just dumplings being cooked with the "fry-steam-fry" method (as cookbook author Andrea Nguyen says).
The method is really easy:
Heat a bit of oil into a non-stick pan or cast iron pan;
Take your freshly made dumplings and make their bottom brown;
When browned, pour enough water, immediately cover with a lid and let steam so the raw filling can cook;
After a few minutes, approximately 7-8 minutes, uncover and let the rest of the water to evaporate.
DONE!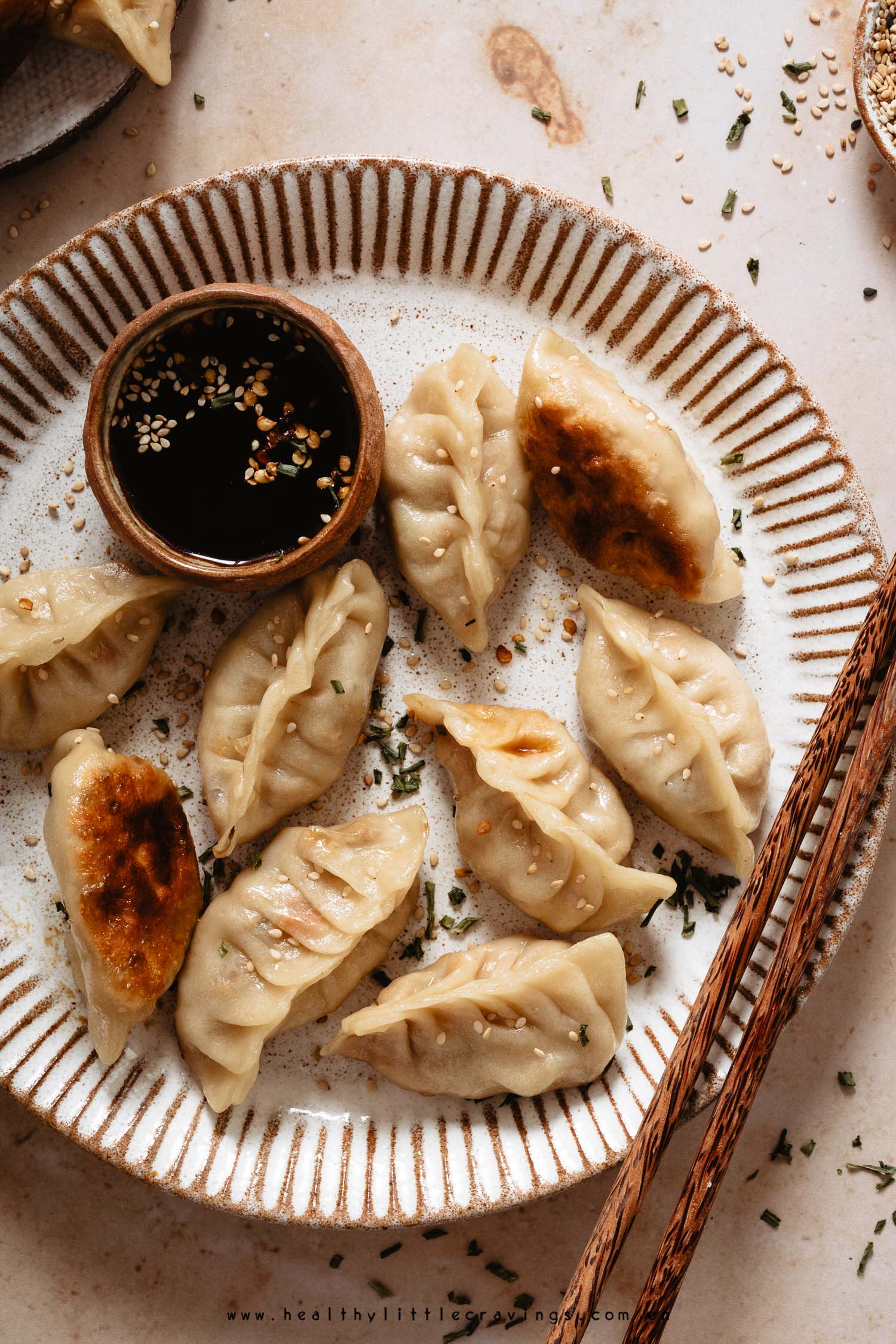 DO'S and DON'TS
I know that if you are making these for the first time you may have some doubts. So, here are some "do's and don'ts".
Please though, if you have any question, comment below or feel free to reach out via mail or DM.
DO cover the dough (while it rests) with a damp cloth or it will dry and believe me, you don't want that. Dry dough would be difficult to work;
DO use cornstarch to avoid dough from sticking. If you want to stack wrappers (see photo below) use just a tiny bit of starch between the layers;
DON'T roll them out too thinly otherwise they will break while cooking;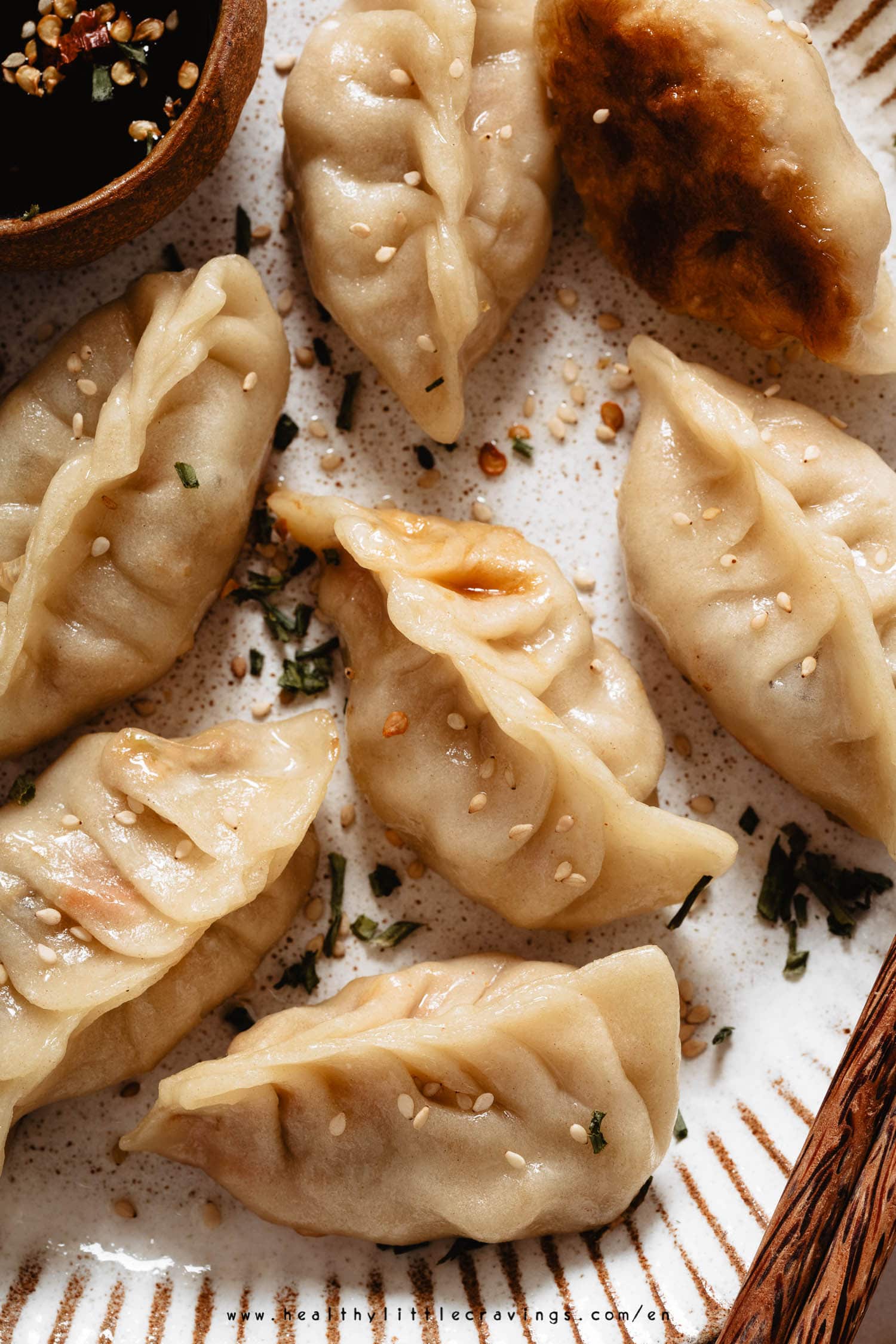 DO use a raw meat filling if you want, but make sure to properly cook it (you don't want raw chicken, never);
DO seal them well or they will open (duh);
DON'T use the refrigerator to store raw dumplings, otherwise dough will soak juices and they will break while cooking. So...
...DO freeze if you don't use them immediately!
DON'T defrost your dumplings before cooking. You can throw them into your pan still frozen.
DO make that dipping sauce, it complements the potstickers! If you don't want it, make sure to add more soy sauce to the filling.
---
If you make this recipe, please be sure to give it a rating and leave a comment! It would make me so happy! 🙂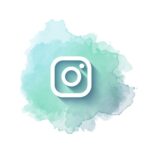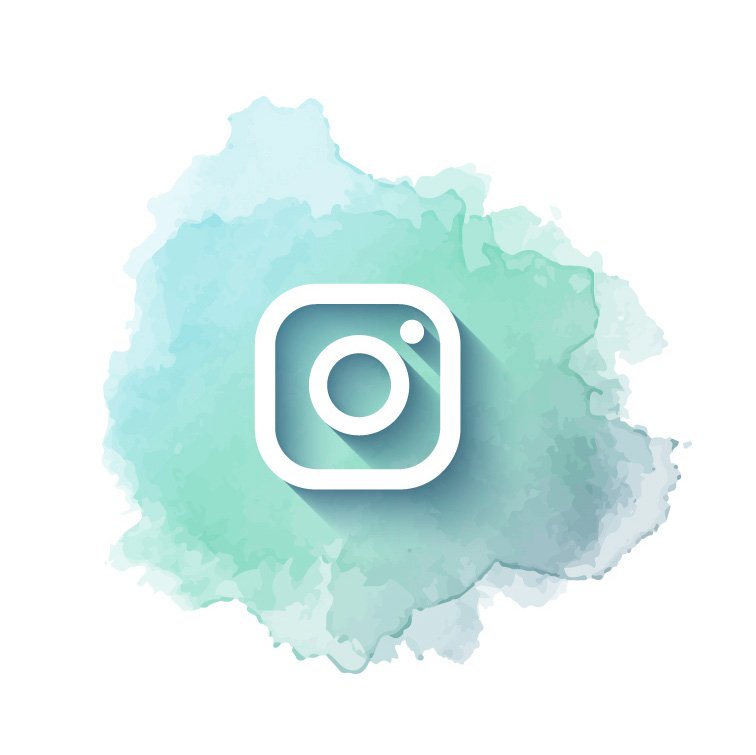 Remember: if you try one of my recipes, tag me on Instagram or DM me the photos!
---
Don't forget to pin and share this easy and delicious recipe!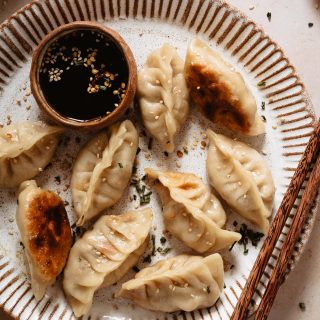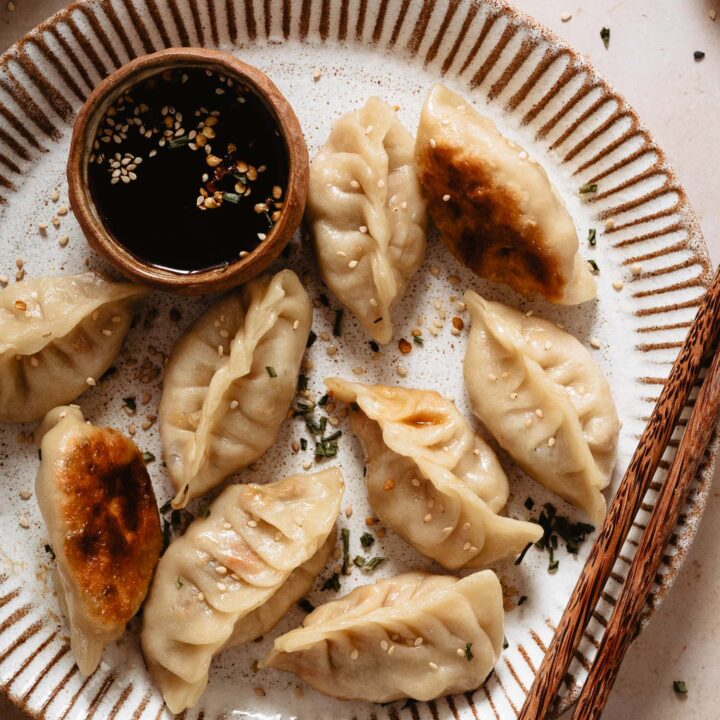 EASY CHICKEN POTSTICKERS
A deliciously delicious way to eat dumplings: slightly spicy chicken filling, a sweet and savory dipping sauce. What more could you want?
Print
Pin
Servings:
20
dumplings (2 or 3 people)
Ingredients
For the wrappers:
200

gr

All purpose flour

110

gr

Hot water

Cornstarch (to help yourself rolling the wrappers)
For the chicken filling:
2

tablespoons

Sesame oil

5

gr

Garlic (peeled and minced)

10

gr

Fresh ginger (peeled and minced)

130

gr

Leek (sliced) - approx 1 leek

45

gr

Carrot (cut into small chunks) - approx 1 carrot

2

tablespoons

Soy sauce

300

gr

Ground chicken
For the dipping sauce:
2

tablespoons

Soy sauce

1

teaspoon

Rice vinegar

2

teaspoons

Brown sugar

half a tablespoon

Sesame oil

Chili flakes (optional)

Sesame seeds
Instructions
First, read the post (paragraph 'do's and don'ts' especially) if you have any doubt.
Make dumplings wrappers:
Add hot water to flour and knead (with a spoon first, then with your hands*) until you get a nice and smooth ball.

*you won't burn yourself if you stir with a spoon first. The dough is easy to work.

Let it rest into a bowl - at room temperature - covered with a damp cloth, for 1 hour.
In the meantime, make the filling:
In a pan, heat 2 tablespoons of oil.

Sauté minced garlic and ginger for 1 minute at medium heat.

Add sliced leek and carrot and cook (covered) at medium-low heat until they look tender. Stir every once in a while.

Add soy sauce and turn off heat. Let it cool.

If you want to make a raw filling (it will cook together with your potstickers): add leek mixture to your ground chicken and stir. The filling is ready to be used.

If you want to make a cooked filling (this is what I've used): add ground chicken to the pan and cook at low heat - covered - until cooked. If necessary add other oil to keep it moist (ground chicken breast is usually dry).
Let's roll out dumplings:
Dust your countertop with cornstarch to prevent the dough from sticking.

Divide the dough into 20 balls.

Flatten each ball, then roll them out into circles with a rolling pin.

DO NOT make them too thin or they will stick on the pan while cooking.
Let's fill the dumplings:
Add approximately one teaspoon of filling (raw or cooked) to a wrapper, wet the edge (about half an inch in), then seal it as suggested into the post (watch video I've linked)

Freeze them or cook them immediately.
If cooked immediately:
Add about 1 (max 2) tablespoons of oil into a pan. When hot, add dumplings and let them brown on the bottom.

Check if the bottom is golden brown and add enough water to cover the bottom of the pan.

Cover with a lid and let steam until cooked, it takes just a few minutes (try one!)
If cooking frozen dumplings:
Follow the same steps, but let them cook for more minutes.

If they're cooked but you still have water in the pan, let it evaporate.
To make dipping sauce:
Simply combine all ingredients into a mini bowl.
Notes
NOTE: you will probably have some chicken leftovers. Heat them up!
Nutrition
Nutrition Facts
EASY CHICKEN POTSTICKERS
Amount Per Serving (1 dumpling (with no dipping sauce))
Calories 61
Calories from Fat 9
% Daily Value*
Fat 1g2%
Sodium 7mg0%
Potassium 68mg2%
Carbohydrates 8g3%
Protein 5g10%
* Nutritional information is only an estimate. The accuracy of the nutritional information for any recipe on this site is not guaranteed.
---
Liked this recipe?
Check out these vegan potstickers, give them a try! Spoiler: they're delish.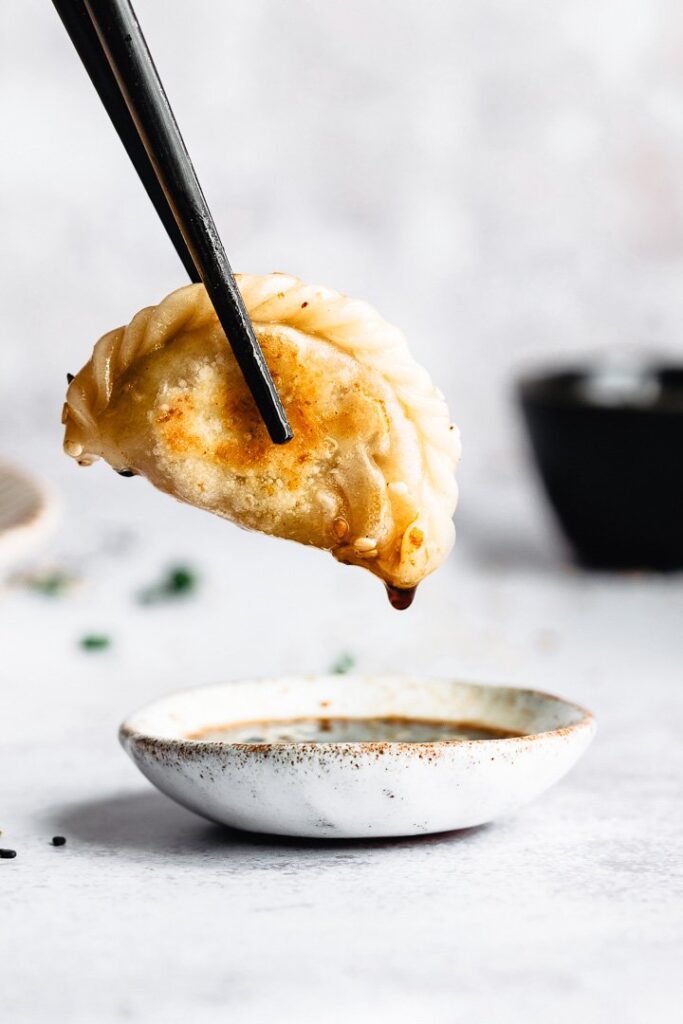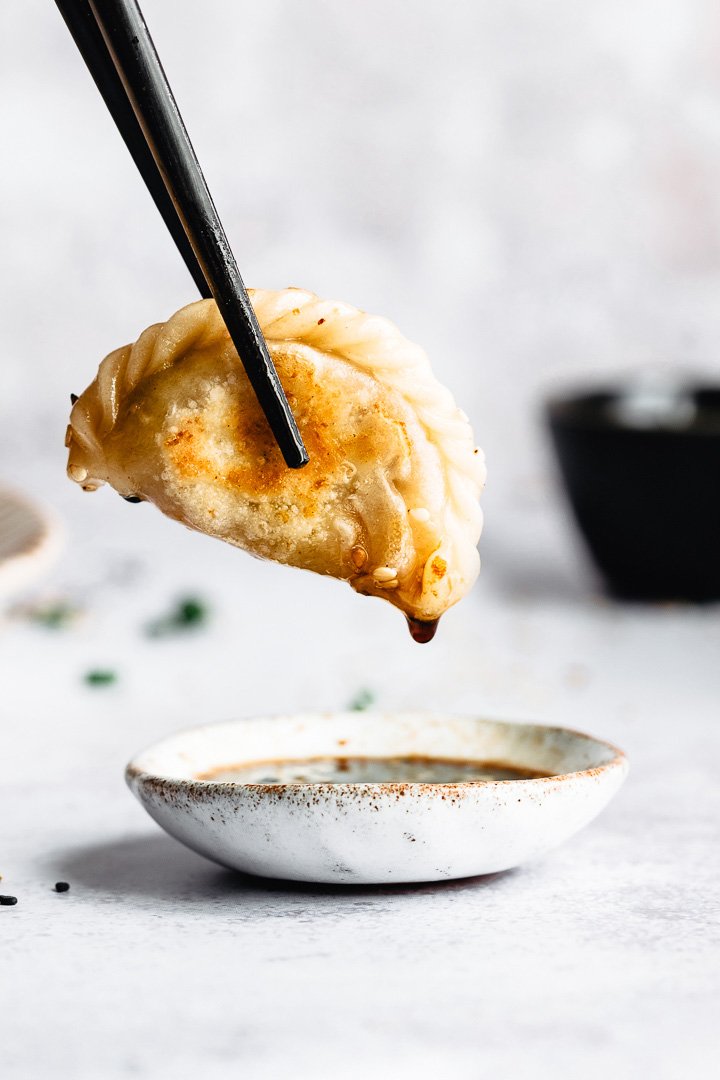 ---
© Healthy Little Cravings – Roberta Dall'Alba.
I own all content and photos' copyright.
Before using my photos and recipes, please email me.
If you would like to republish a recipe, please link back to this post and re-write the instructions in your own words.