As I mentioned a few posts/weeks ago, I don't know why but I feel I want to go back to basics.
Oatmeal has been a staple here, for years. From when I started eating healthier, about 5 years ago. And...it's a basic recipe.
I'm always looking for new flavors though because oats themselves are not that tasty.
This maple vanilla strawberry oatmeal? Tastes almost like a dessert and it's one of my favorites!
Try it and lemme know!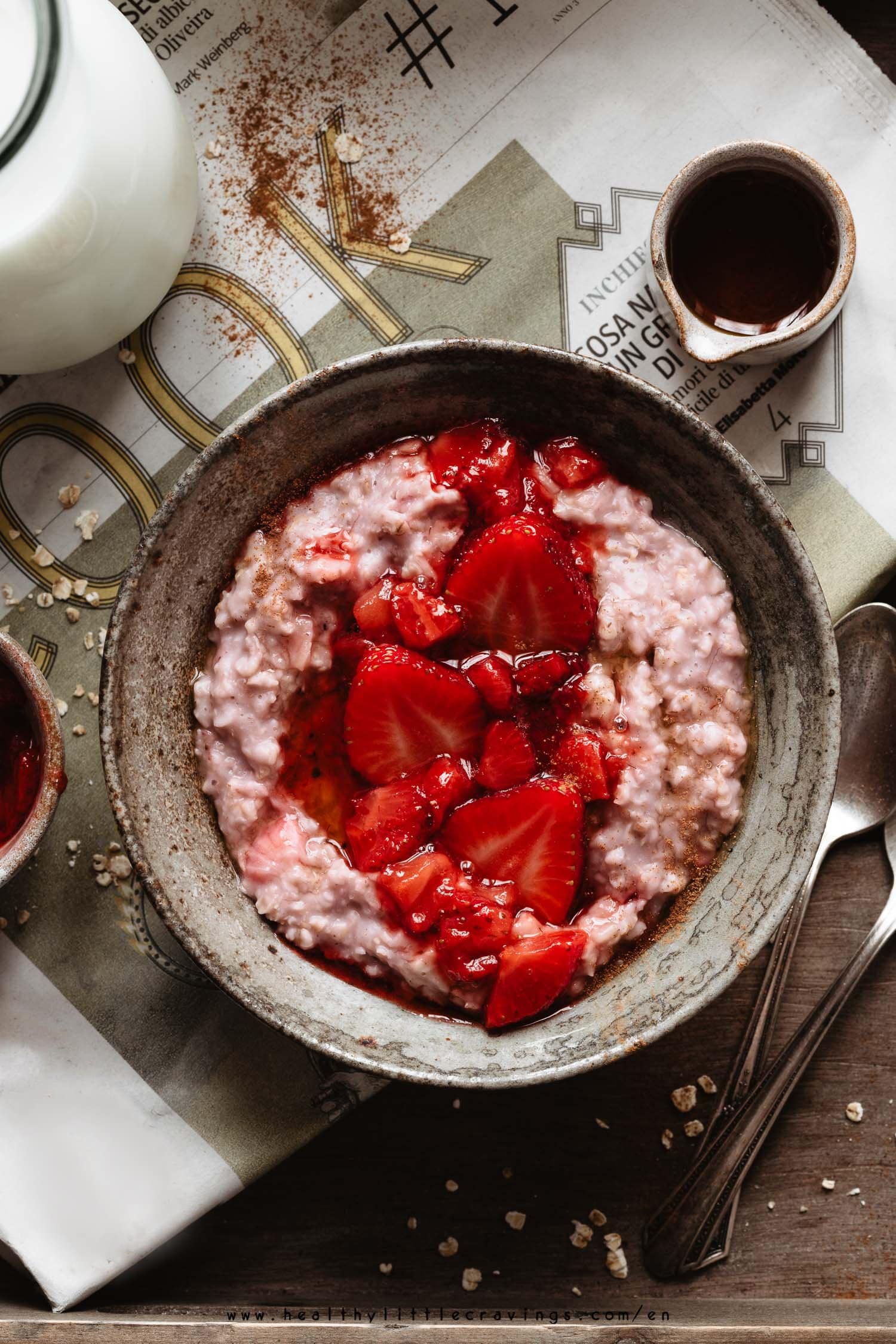 How to make the perfect CREAMY strawberry oatmeal
I could spend thousands of words describing how to make the perfect oatmeal, and...bore you.
Good news though: last year I shared a detailed post on how to make oats, step-by-step with all the secrets.
So, if you want, go read that first.
At the end of the day, making the perfect creamy strawberry oatmeal is really simple. You just have to:
Combine 1 part oats and 3 parts water, a pinch of salt (IMPORTANT), vanilla extract and chopped fresh strawberries;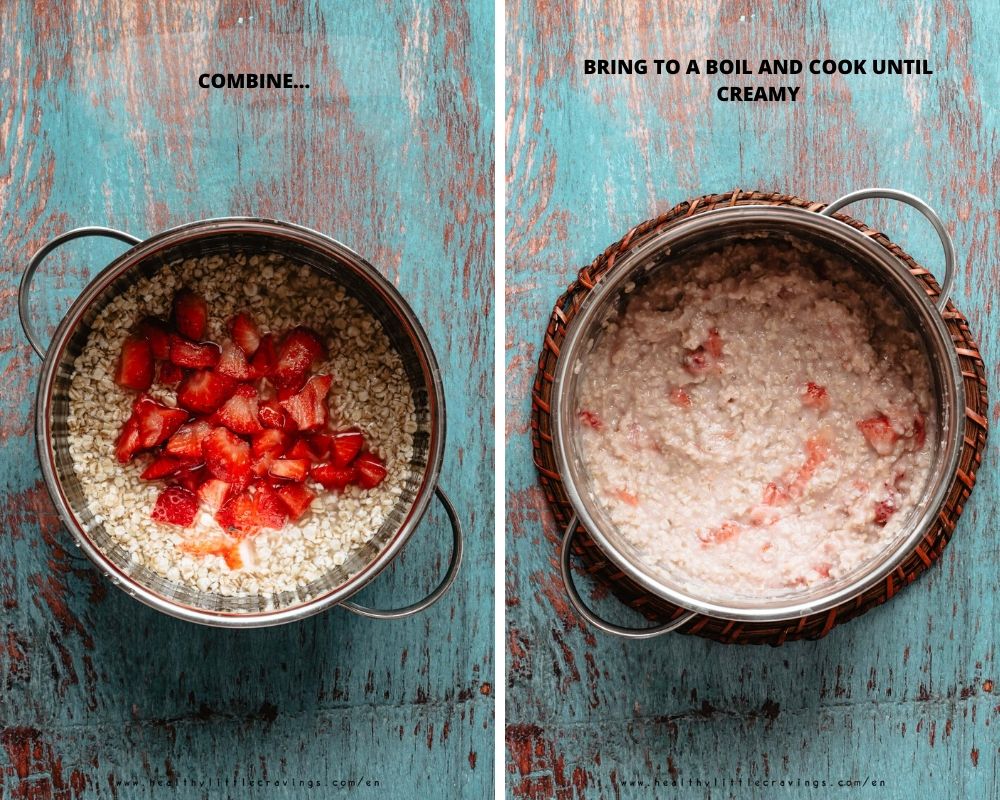 Stir, and cook until creamy: if you're using rolled oats instead of instant, it'll take a few more minutes.
Remember to keep stirring!
And it's done! See how creamy?
It almost tastes like a dessert...
OMG. I swear, this strawberry oatmeal almost tastes like a dessert!
And since you cannot have dessert every single morning (duh), this is definitely a nice alternative (plus, there are no refined sugars!)
I think it's because of the vanilla-strawberry-maple syrup combination.
See those juicy syrupy strawberries on the surface (look at the picture below)?
I simply caramelized them with some maple syrup (you can use honey, if you're not vegan), in a small pan. In a couple of minutes your instant "jam" is ready and it's freaking delicious.
[Final touch: a sprinkle of cinnamon, which pairs amazing with this fruit]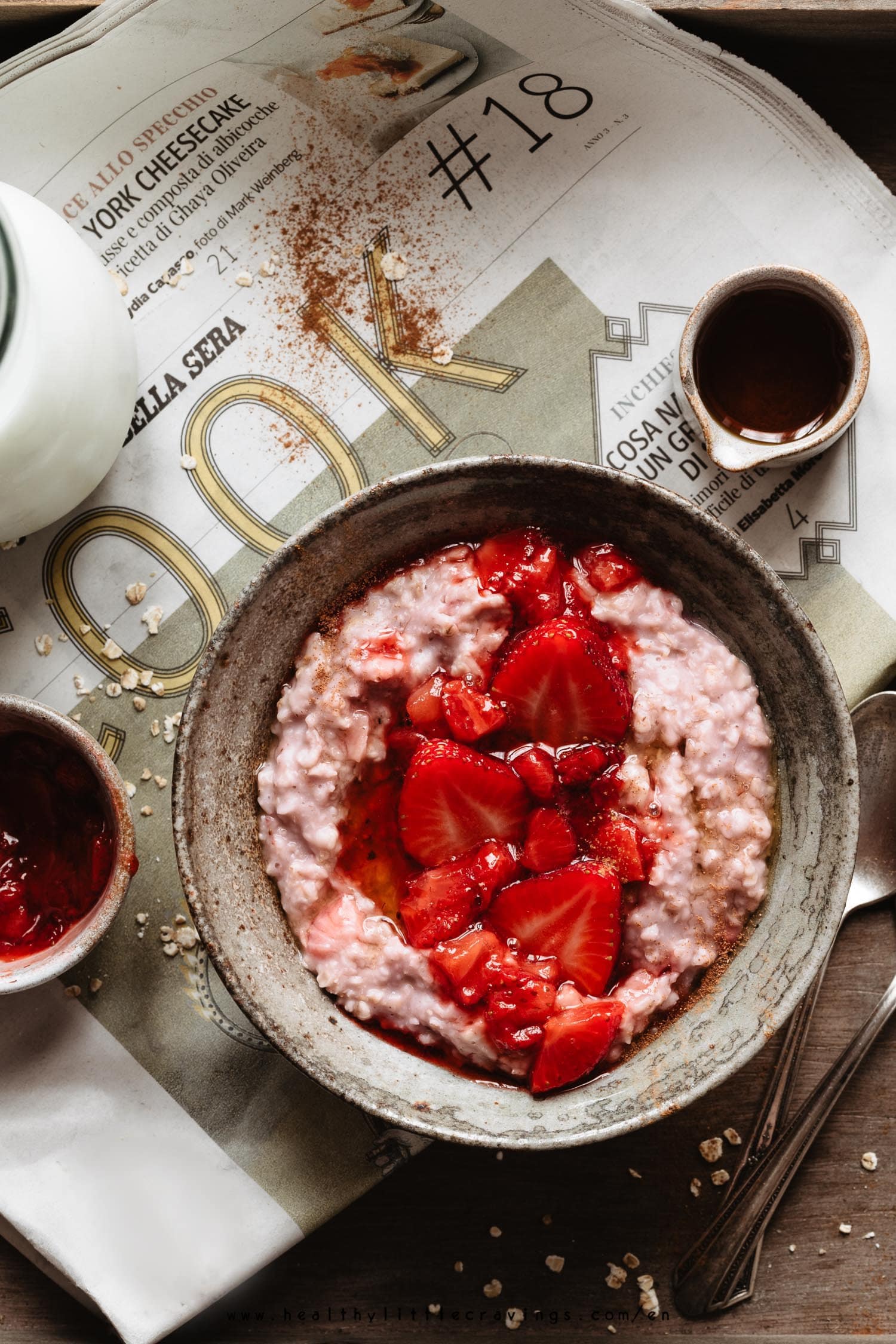 As I mentioned above, there are no refined sugars and the only ones here, except for the strawberries inside, are on top (maple + fruit), so it's your choice to put more or less.
So, you ready to brighten up your day with this nutritious and delicious breakfast?
Which oats are the healthiest?
When it comes to oats, there are different varieties you can choose from: whole oat groats, steel-cut oats, rolled oats, instant oats...
And you may wonder: which ones do I have to pick? Which of these are healthiest?
The answer to the first question is pretty simple: for this recipe you should use rolled or instant oats.
Regarding the second question, short answer is: no oats are healthier than others.
Or, better say: all of them contain benefits (fibers, vitamins, minerals...).
Whole oat groats are the least processed, but they take longer to cook (not ideal for a quick breakfast). They have more of a nutty flavor.
Rolled and instant are more processed (but not in a "bad way"), and they contain basically the same nutrients.
So, choose what you like most!
Personally, I love using organic instant oats OR rolled oats that I previously ground using my food processor.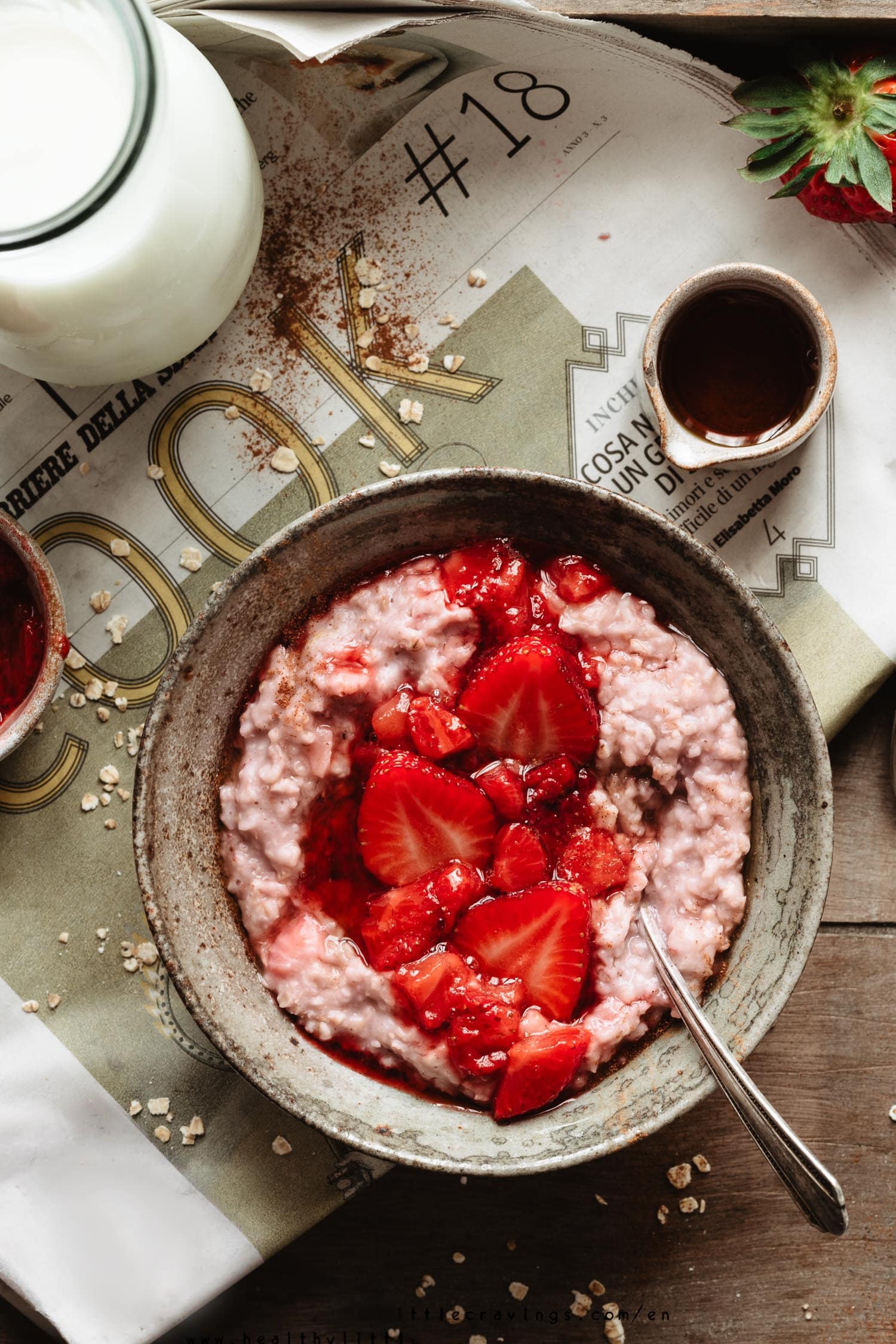 Can I make this oatmeal with other fruit?
Of course! You can use other berries, for example.
Or peaches, apricots and other Summer fruit when in season.
But also pears, apples, oranges (and chocolate *drooling*).
Just try different combinations!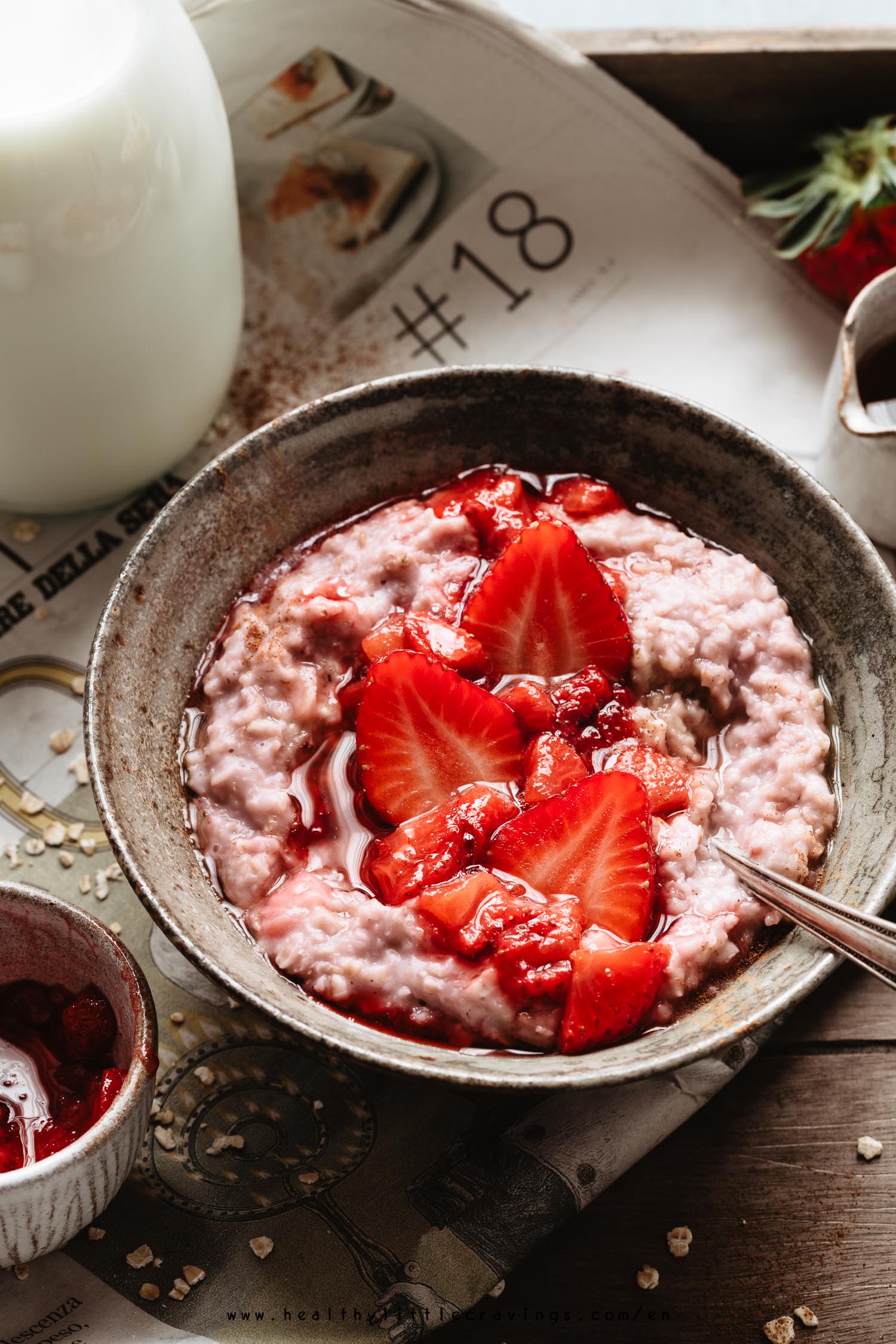 Can I store this oatmeal with strawberries in the fridge?
ABSOLUTELY YES! I made this around 11 am to take photos, then I put it into a jar, covered and stored it into the fridge.
Confession: I also forgot about it and I ate it two days later!:)
You can basically transform it into a sort of 'overnight oats'.
And, if you add milk or plant milk, you can then blend it and obtain a smoothie! Awesome, uh?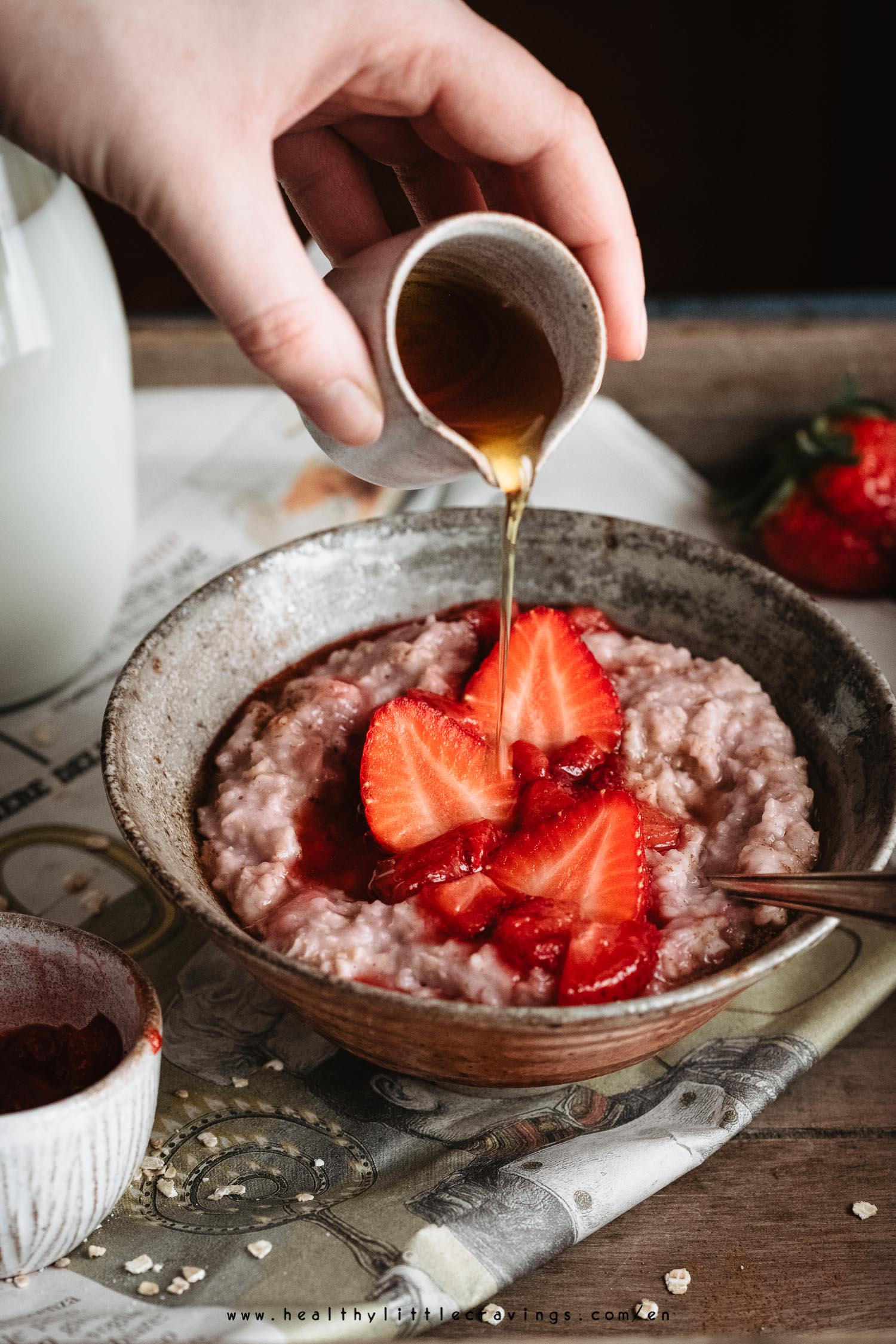 ---
Do you have other questions?
It's not easy to answer all the questions you may have, so PLEASE leave a comment below and I'm glad to reply! Thank you.
---
If you make this recipe, please be sure to give it a rating and leave a comment! It would make me so happy! 🙂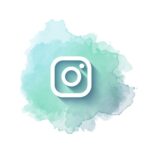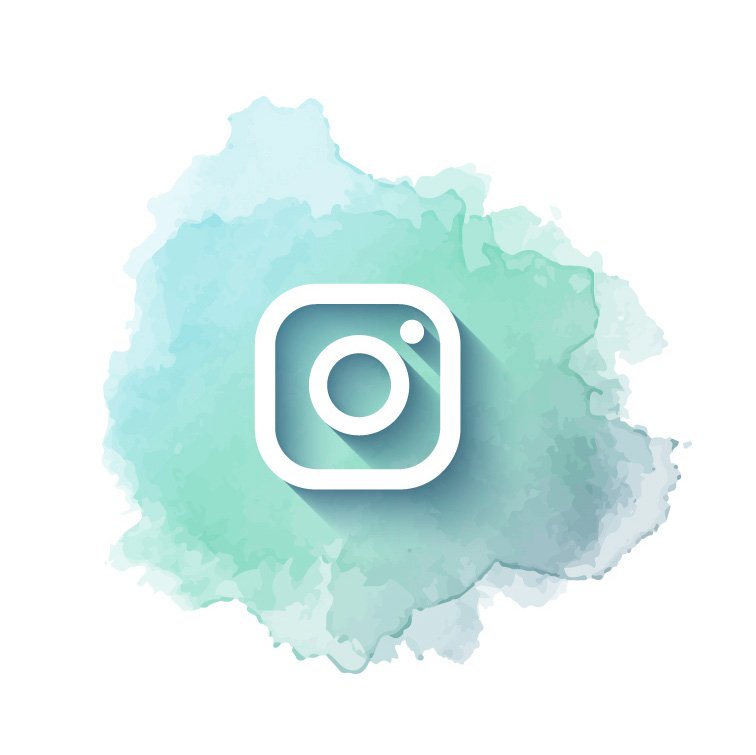 Remember: if you try one of my recipes, tag me on Instagram or DM me the photos!
---
Don't forget to pin and share this easy and delicious recipe!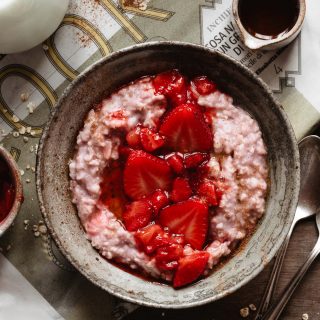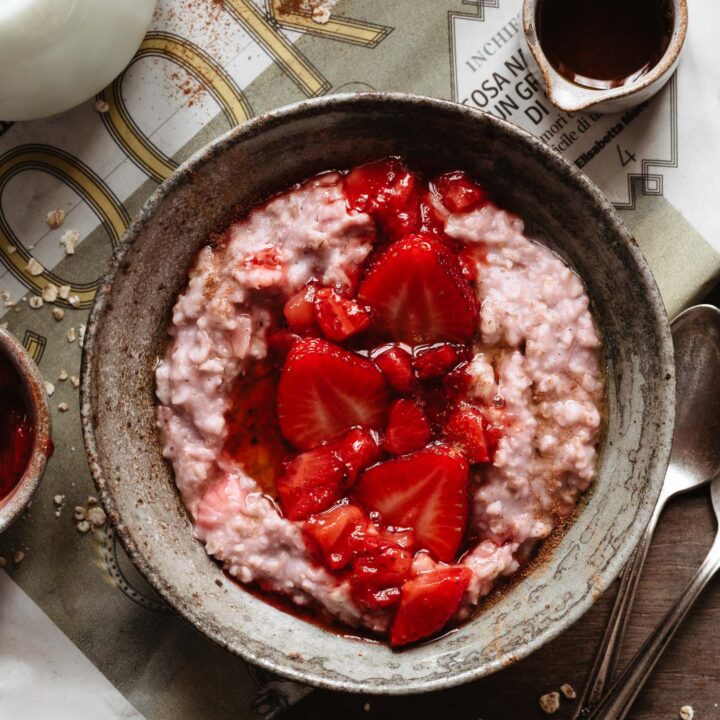 Vanilla Strawberry Oatmeal
A delicious breakfast that almost tastes like a dessert: strawberry oatmeal with vanilla extract and maple syrup!
Print
Pin
Ingredients
60

gr

Fresh (or frozen) strawberries

-

(you can vary the amount to taste)

60

gr

Oats (I've used instant oats, but I love using rolled oats as well)

-

(with NO ADDED sugars inside!)

180

gr

Water

a pinch

Salt

1

teaspoon

Vanilla extract

Maple syrup

Cinnamon powder
Instructions
Combine all the ingredients except for the maple syrup. Stir.

Bring to a boil and cook on low heat until creamy (about 3 minutes) - watch the video in the post above.

Garnish with fresh strawberries, maple syrup and a pinch of cinnamon powder.
Nutrition
Nutrition Facts
Vanilla Strawberry Oatmeal
Amount Per Serving (1 person)
Calories 274
Calories from Fat 36
% Daily Value*
Fat 4g6%
Carbohydrates 47g16%
Protein 9g18%
* Nutritional information is only an estimate. The accuracy of the nutritional information for any recipe on this site is not guaranteed.
---
You what you could use on top of this oatmeal? My easy peasy roasted strawberries!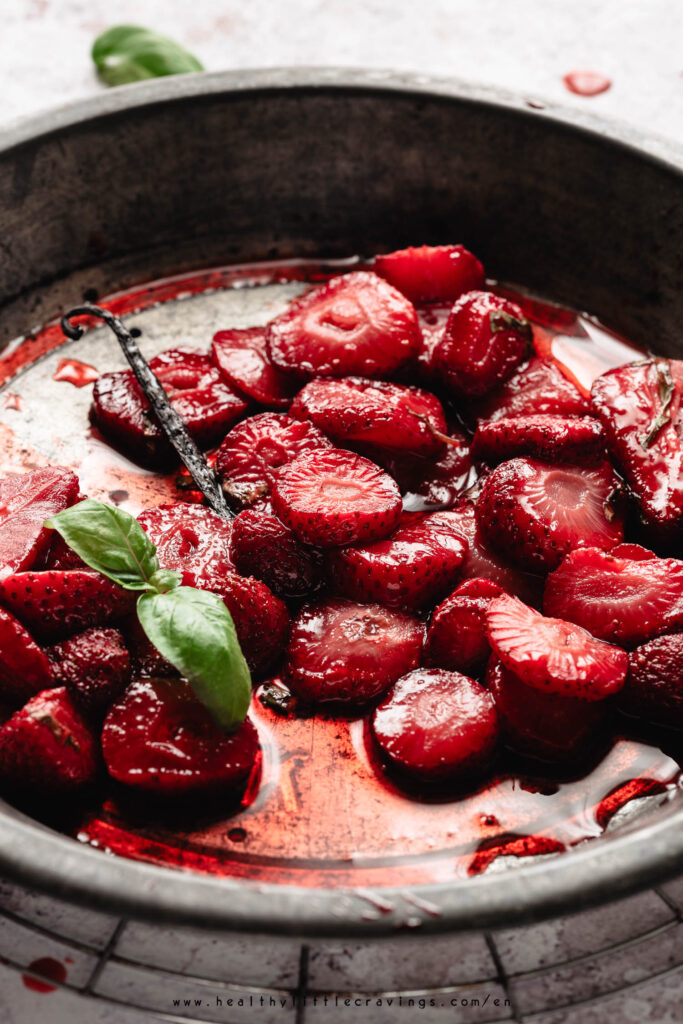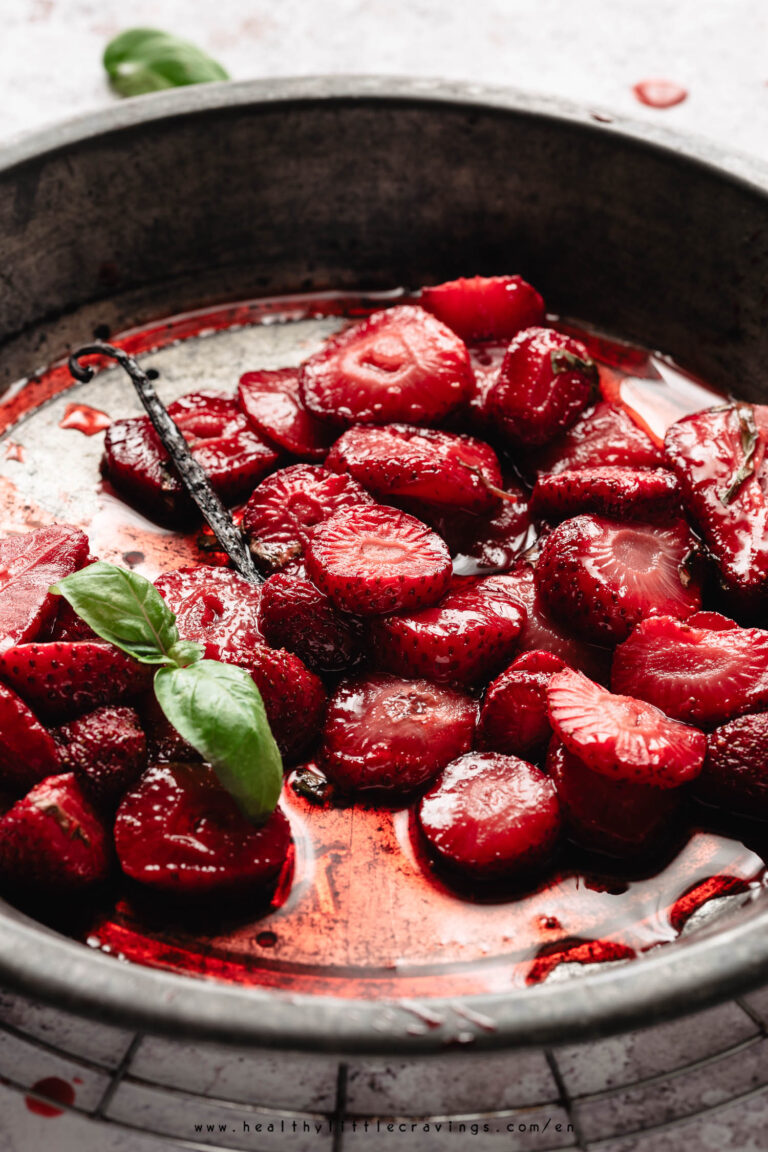 ---
© Healthy Little Cravings – Roberta Dall'Alba.
I own all content and photos' copyright.
Before using my photos and recipes, please email me.
If you would like to republish a recipe, please link back to this post and re-write the instructions in your own words.