Spring arrived one month ago (oh wow, already?!) and with it the beautiful fruit and veggies that we have been dreaming about all Winter long. With their amazing bold colors and their sweet flavor.
So today, allow me to teach you how to roast strawberries [with basil and vanilla! yum] and use them to give a twist to your recipes, from oatmeals to ice-cream and cakes. Cuz they're oh-so-versatile (and juicy...and delish)!
Are you as excited as I am? Prepare strawberries, honey (or maple syrup), some fresh basil leaves, vanilla, a pan and ...your oven!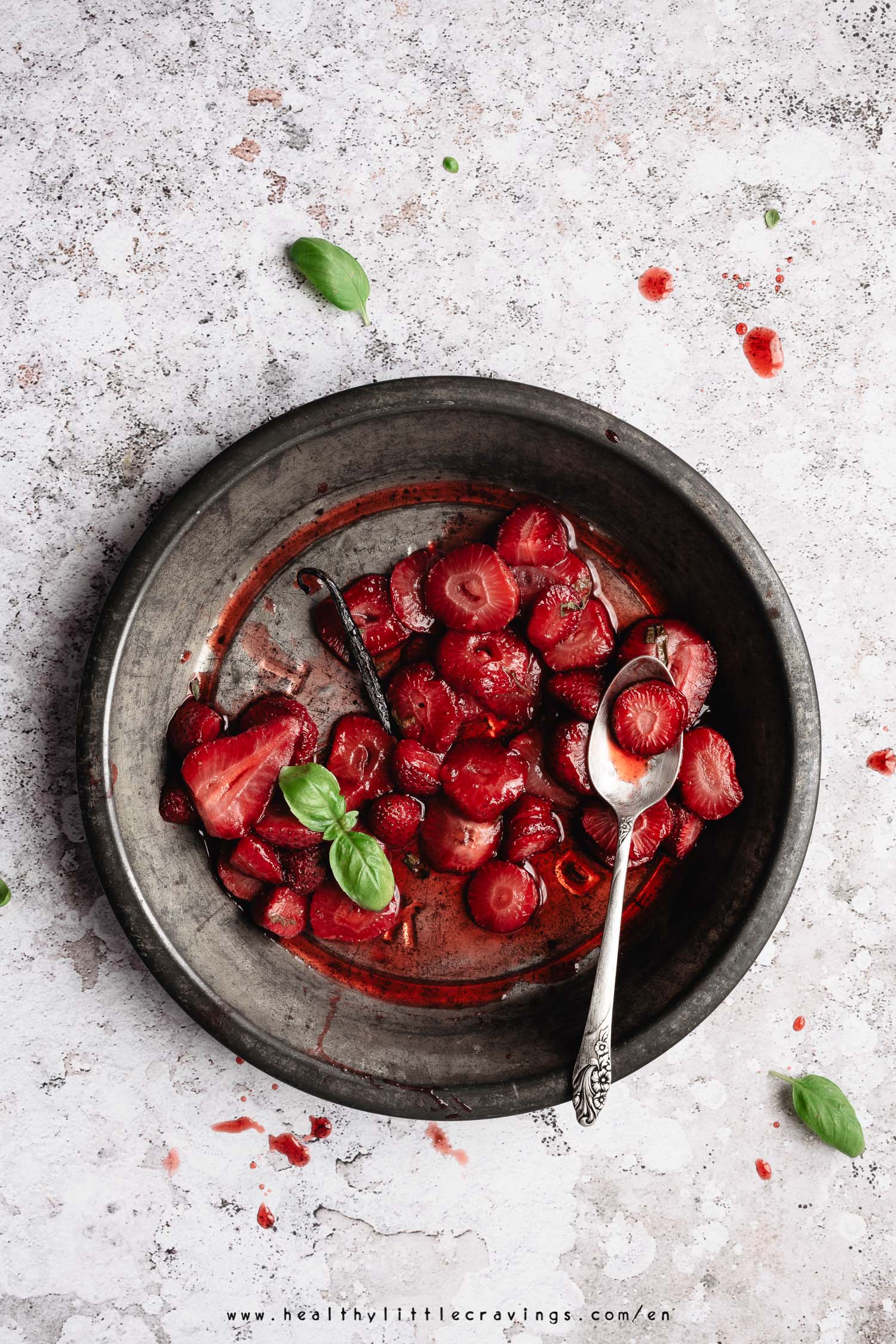 How to roast strawberries (without sugar)
When I saw them on the counter at the grocery store, a couple of weeks ago, I thought I couldn't leave them there.
They were bold red, plump and beautiful (and Italian, essential for me). These strawberries really caught my attention.
Not all that glitters is gold though! Being the first of the seasons, they were a bit too sour than I expected. Happened to you too, right?
Don't panic though, there's a cooking method that always, ALWAYS, save bland food: roasting (let's call it the "solution", shall we).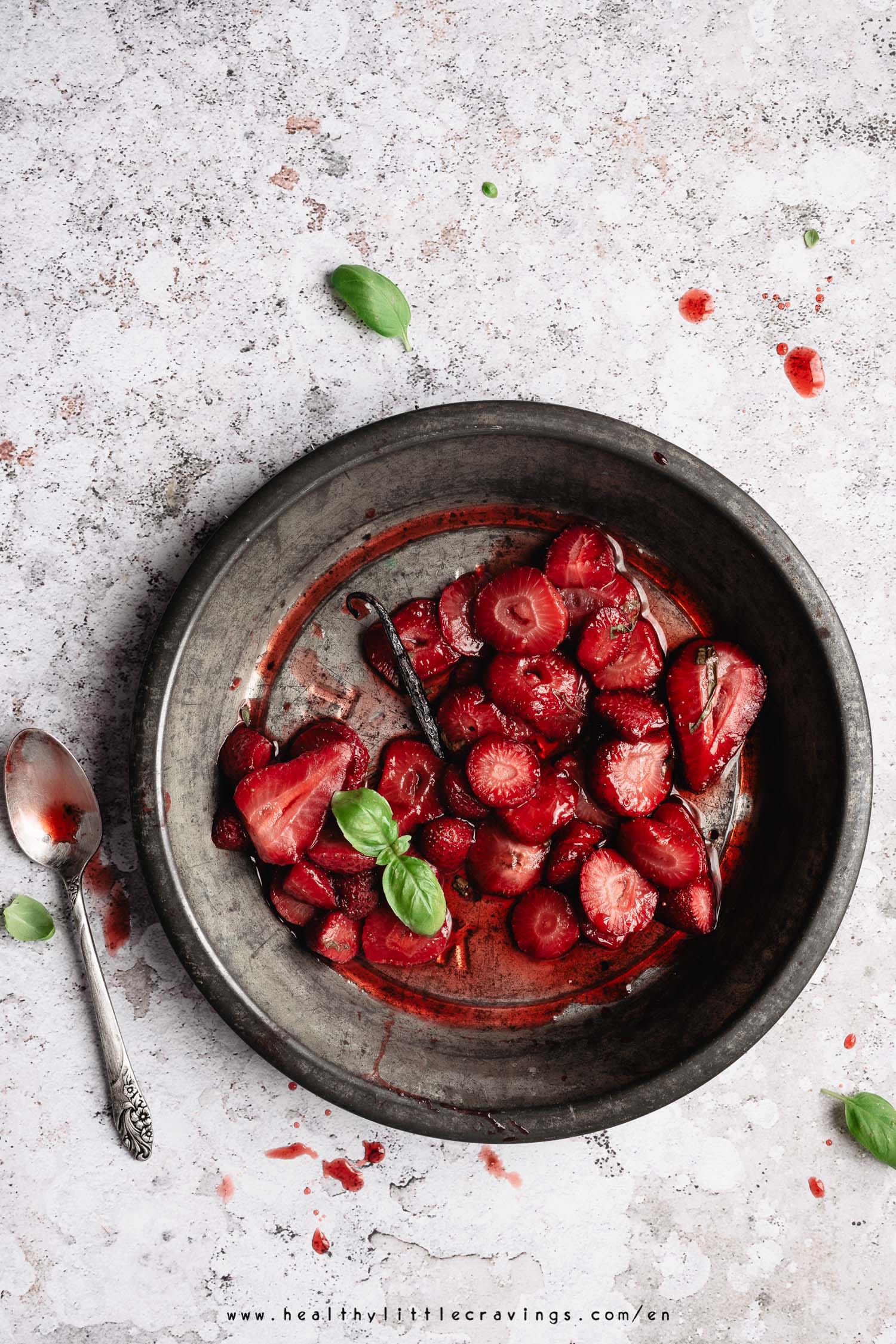 Roasting (sour & underripe) strawberries is your chance to make them taste AMAZING!
I'm a HUGE fan of roasting, I think I already told you a few months ago when talking about these roasted vegetables.
Roasting enhances the flavors through Maillard reaction (if there's also protein) and caramelization (of the sugars). I love roasting veggies and fruit for this reason! Remember when I grilled pears for my oatmeal? Well, I was "using" this reaction (caramelization) to make them taste incredible. Spoiler: slow roasted strawberries are the best.
The marvelous thing about these roasted strawberries is that they won't become mushy, instead they'll become soft without losing their shape.
The smell? Kinda reminds strawberry jam's.
Not to mention the syrup: while roasting, the strawberries will release their juices that, together with honey or maple syrup, will form a thick and sweet syrup.
Ok, this description is making my mouth water!

---
So, how to roast strawberries perfectly?
(store them in the fridge until you're ready to use)
Clean them well: wash them under running water (do not soak);
Dry them with a cloth;
Remove the stems;
Slice each strawberry in half (or in small pieces) and put them into a bowl;
Add honey/maple syrup (or nothing, if they're flavorful), vanilla, basil leaves (optional);
Toss well;
Arrange them onto a lined baking tray;
Bake;
ENJOY!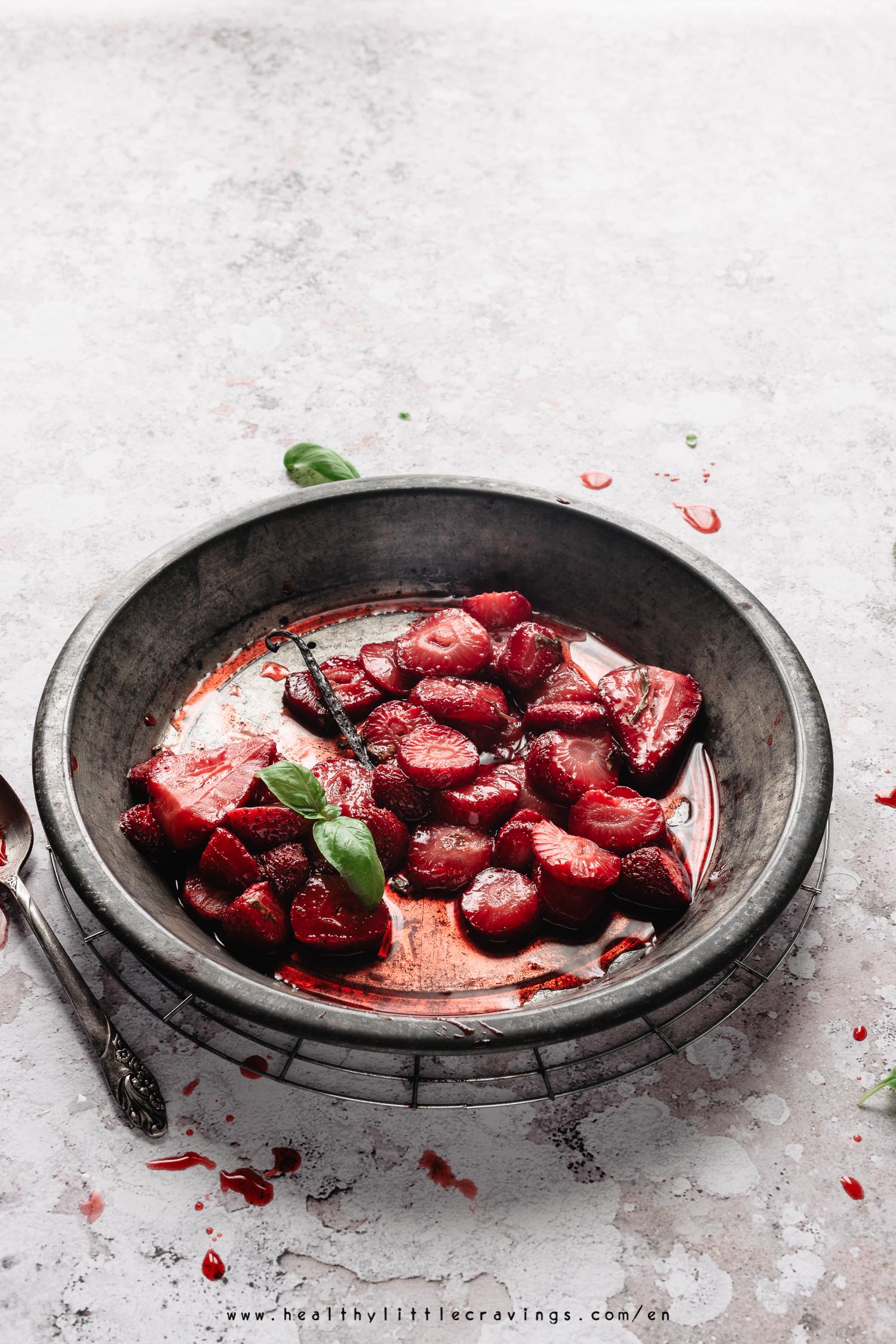 Is there something that is holding you back? FAQs
I know you're thinking this may be a "waste". I mean, why roasting a delicious fruit, right? Well, I'm here to answer some of your questions. Cuz, friend, it would be a "shame" if you didn't try these, trust me.
---
Why should you roast strawberries?
As I mentioned above, roasting enhances the flavors through the Maillard reaction (see next question) and caramelization. Roasting brings out their sweetness and juiciness!
My advice? If your strawberries already taste good, eat them as they are or roast them without adding any sweetener.
Instead, roast them if they're a bit underripe or if you went strawberry picking with friends and fam and now you have tons.
One more reason: the liquid sweetener will form a thick syrupy that is delish, almost caramel-ish!
What's the Maillard reaction? Is it different from caramelization?
The Maillard reaction is a chemical reaction between amino acids and reducing sugars that gives the food a distinctive flavor.
This reaction occurs when both protein and sugars are present at 300° F (150° C). Caramelization instead at 320°F (160° C) when only sugars are present.
Both the reactions involve color change and change of flavors.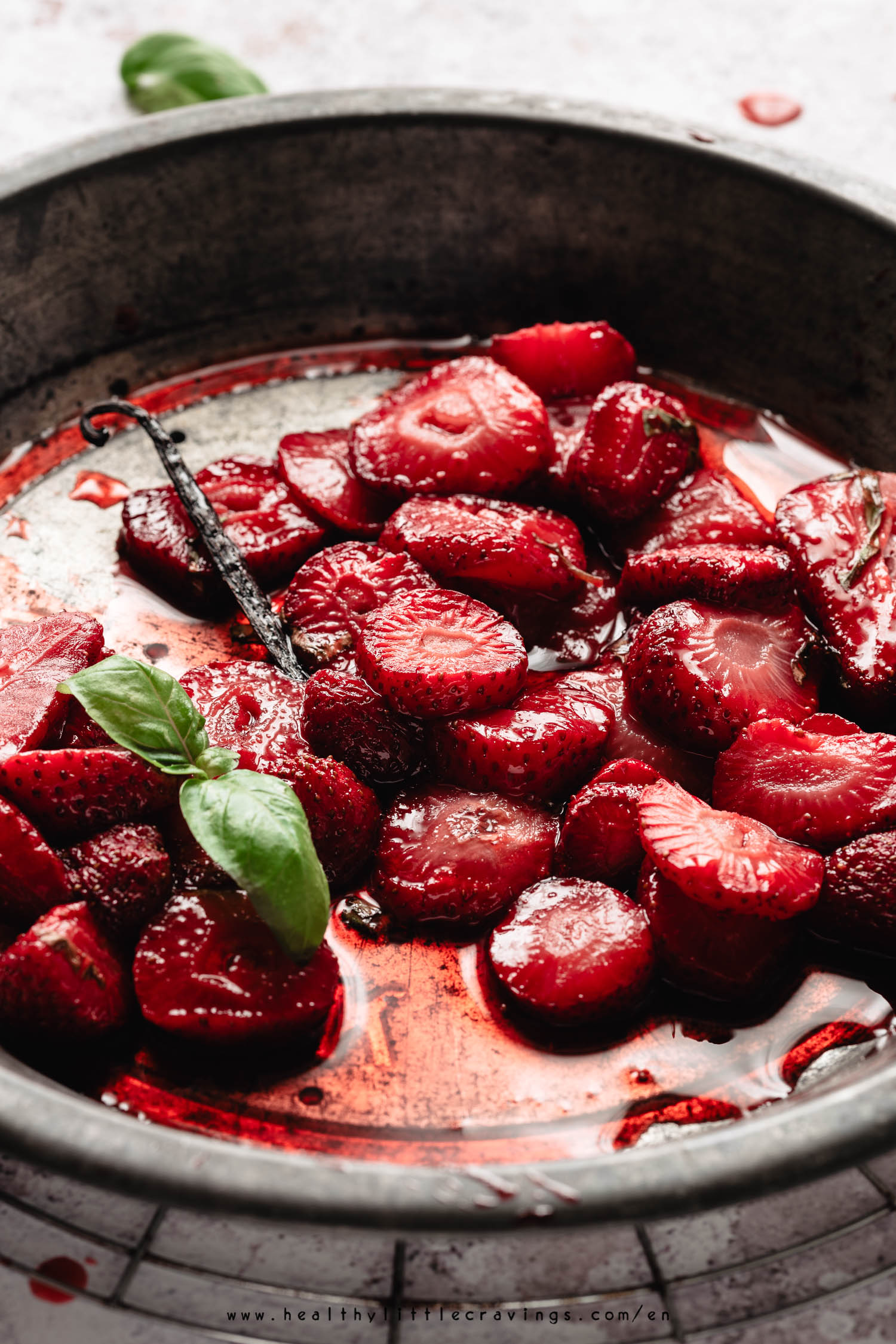 How can you use these delicious roasted strawberries?
Here comes the fun part. These roasted strawberries taste like jam: they're sweet and syrupy. Perfect with both sweet and savory.
You can use them to:
- garnish on your oatmeal, yogurt or ice-cream;
- top pancakes, waffles and french toasts;
- make a delicious bruschetta (and don't forget to drizzle some balsamic vinegar);
- enrich smoothies;
- make amazing nice-cream;
- on top of custards;
- decorate cakes, pavlova and cheesecakes;
...let the imagination run wild!
What pairs well with strawberry?
In my experience, strawberries pairs well with: basil, mint, thyme, vanilla, rose water, other berries, rhubarb (of course), chocolate (OMG *drooling*), ricotta, feta, cream, balsamic vinegar, some veggies...
You can put strawberries into salads, on bruschetta (yup) and risotto (ever tried it? I love it).
Strawberry's sweet but slightly sour natural flavor complements other richer and complex foods. Try and experiment!
In conclusion, well...I have no more words to say. Now all that's left for you is to enjoy these!
---
If you make this recipe, please be sure to give it a rating and leave a comment! It would make me so happy! 🙂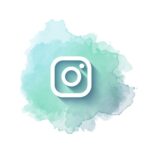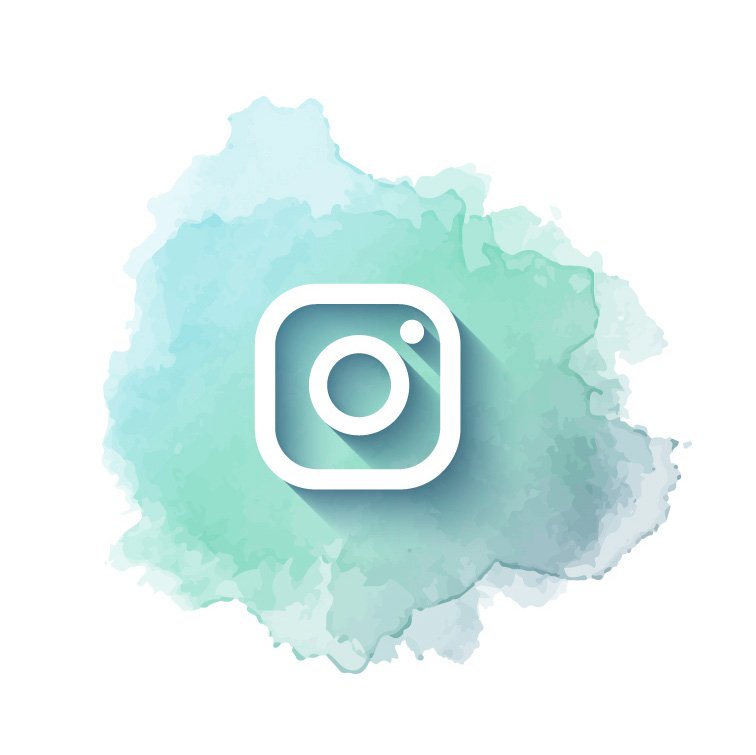 Remember: if you try one of my recipes, tag me on Instagram or DM me the photos!
---
Don't forget to pin and share this easy and delicious recipe!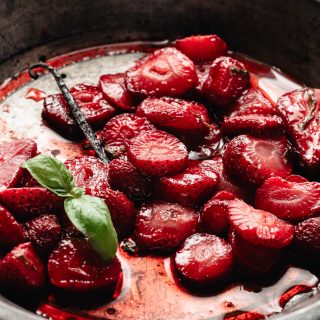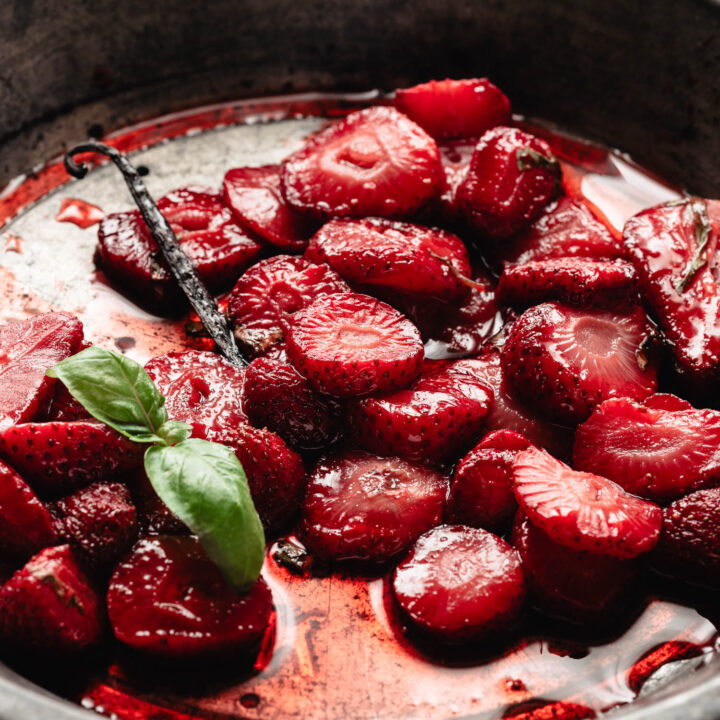 HOW TO ROAST STRAWBERRIES
Delicious, juicy roasted strawberries: ready to eat or to use on your yogurt, ice-cream or cakes!
Print
Pin
Ingredients
250/300 gr

Strawberries

1 tablespoon

Honey or maple syrup

2 teaspoons

Vanilla Extract

Basil leaves

-

(optional)
Instructions
Preheat the oven at 175°C (350°F).

Clean your strawberries and cut the leaves.

Slice them straight into a bowl, then add honey (or maple syrup), vanilla extract and chiffonade some basil leaves (chiffonade = roll leaves into a "cigar" and slice into ribbons using a knife)

Toss well, arrange them onto a lined baking tray.

Bake for about 20/25 minutes until the juice comes out and thickens.

Optional: add some other basil leaves.

Store into a airtight container.
---
Do you like roasted strawberries? Try to add them on top of these no-baking-powder waffles!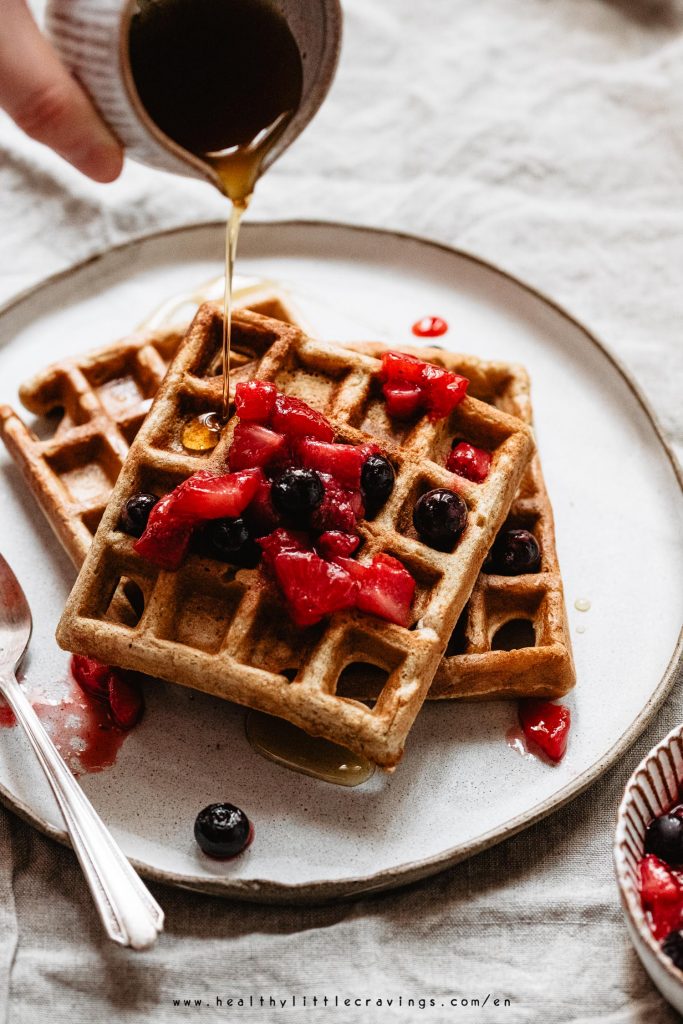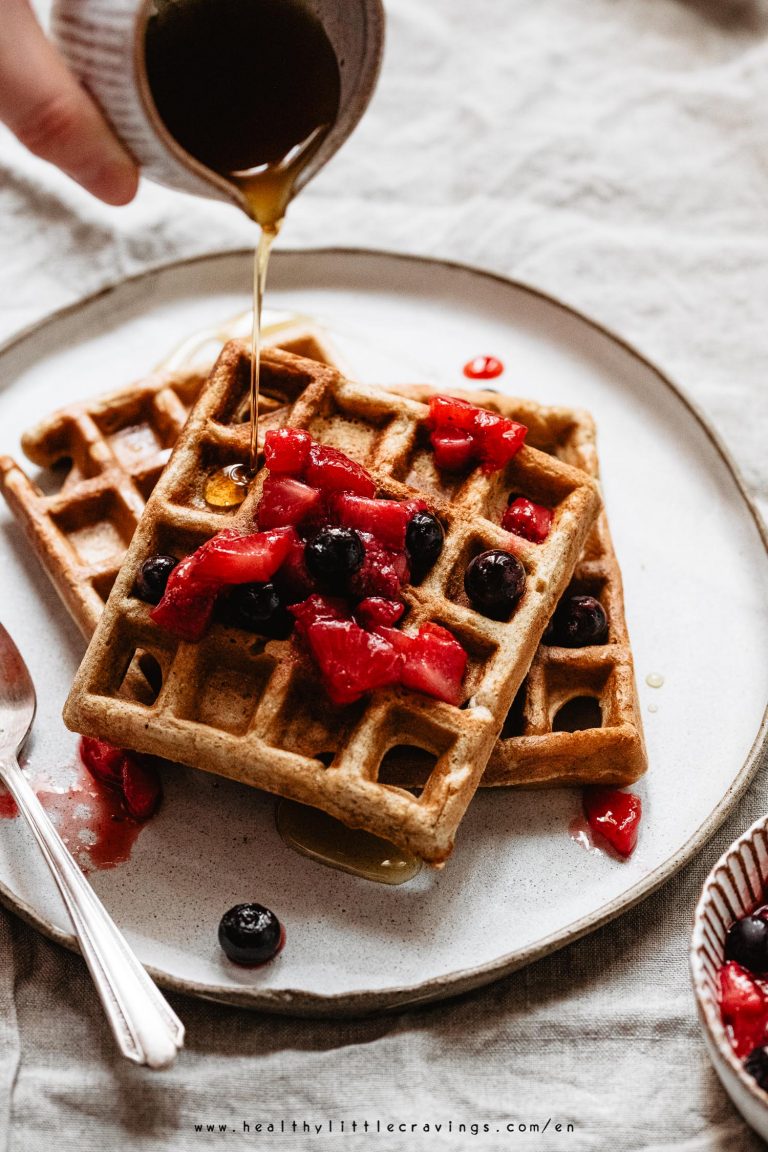 ---
© Healthy Little Cravings – Roberta Dall'Alba.
I own all content and photos' copyright.
Before using my photos and recipes, please email me.
If you would like to republish a recipe, please link back to this post and re-write the instructions in your own words.