Guess who's obsessed with grilled peaches (and grilled fruit in general)? Me.
And guess who's obsessed with burrata? ME.
Now guess who, one day, thought that a grilled peach salad with burrata for lunch would have been perfect? Also me.
This salad is something I can't describe with words (I'll try in the post though). You should just give it a go!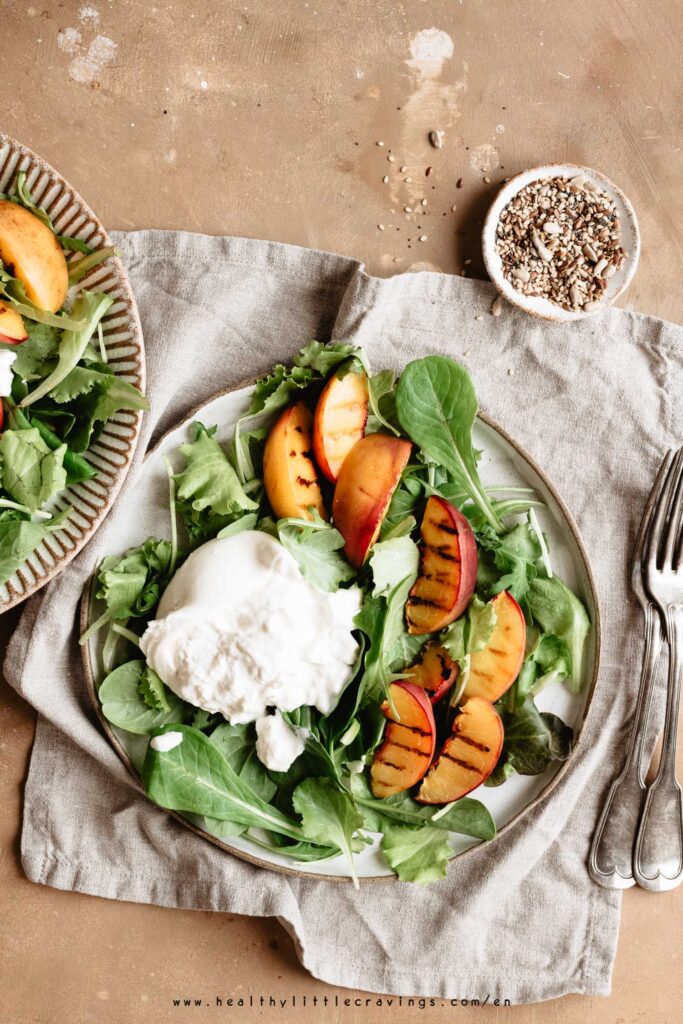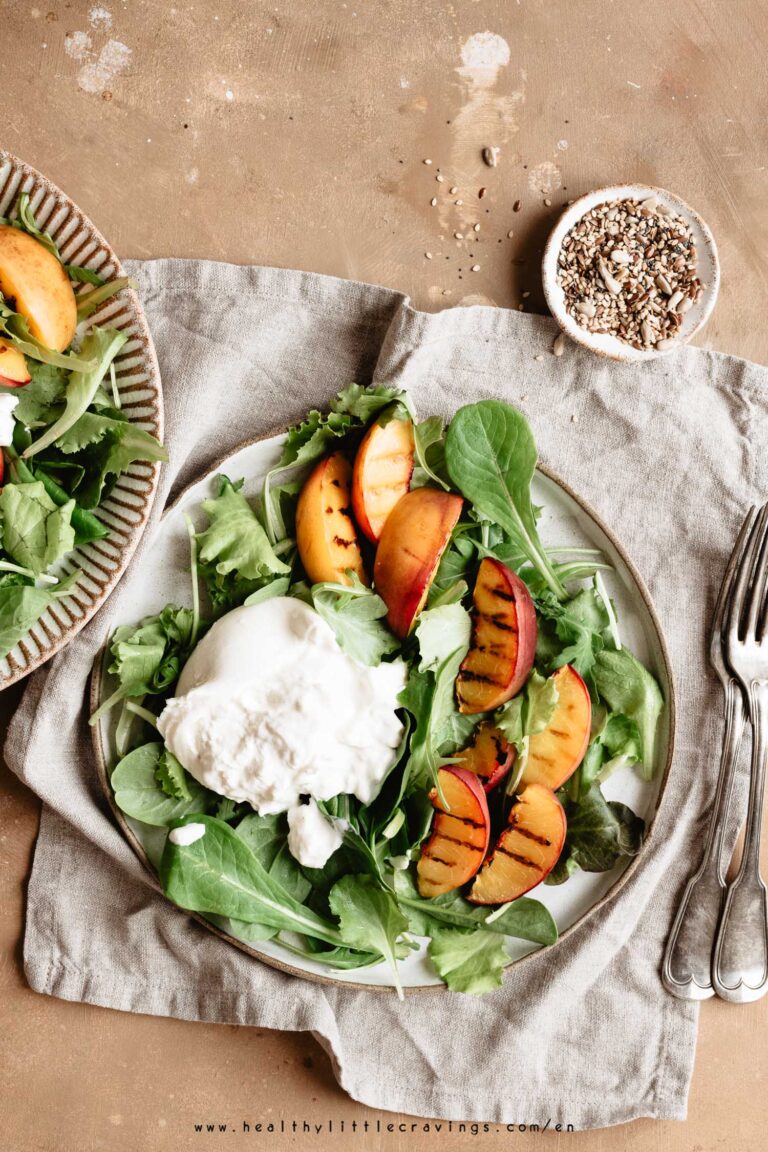 Grilled peach salad, the ultimate summertime side.
Less than a month and we will welcome Fall, cozy blankets, hot beverages, red foliage.
I'm not sure how I feel about this Summer. I mean, I don't know if it seems like it started yesterday or if it seems an eternity passed. Dunno.
Anyway, we're still in time to eat a grilled peach salad with burrata. Well, if it wasn't for peaches being out of season in Fall/Winter, I'm sure this would be perfect all year round.
This salad is the ideal if you're looking for something fresh, filling, satisfying and delicious. Close your eyes, think about it: those grilled peaches are juicy and sweet, and that burrata OMG is so milky and it melts in your mouth and takes the salad over the top.. The seeds give that crunchy note. And the vinaigrette complements the sweet and savory dish.
Just perfection.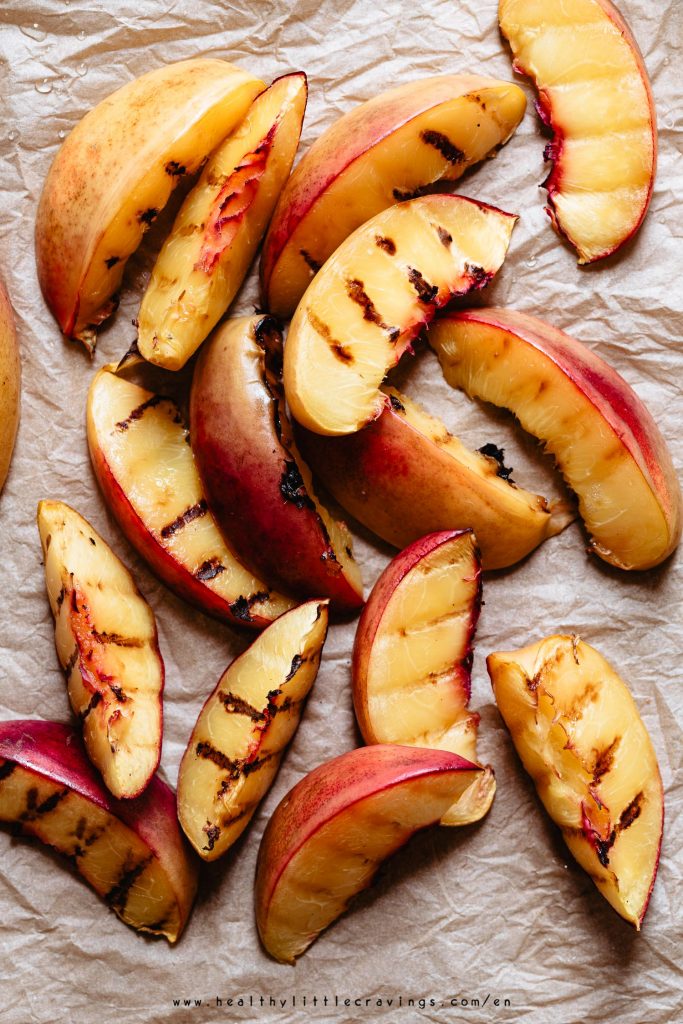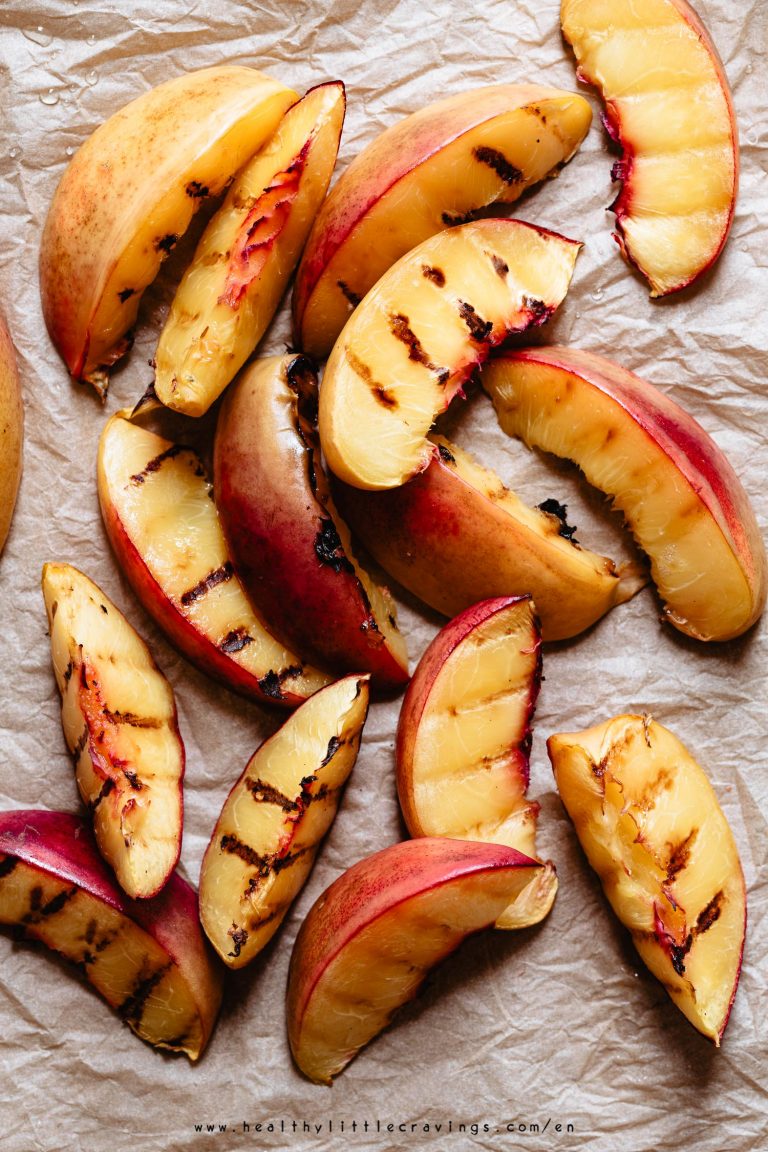 Burrata cheese and...peaches?
Oh yeah, Summertime in a plate, my friend.
I'm sure people are divided in two groups: those who already know and are obsessed with this combo and those who have never heard about it.
If you're in group n.2 then you'll definitely need to find a solution (solution = try this grilled peach salad!)
Burrata - "buttery" in Italian - looks like a normal fresh mozzarella cheese, from the outside.
But then you take a knife, you cut it and...SURPRIIIISE! A soft, creamy, buttery, milky (still savory) interior is waiting for you.
Grilled peaches roasted on a grill pan become caramelized, sweet and juicy.
---
ABOUT THE PEACHES: to grill them, they don't have to be too ripe or too underripe. They need to be ripe but firm, so they won't turn mushy while grilling.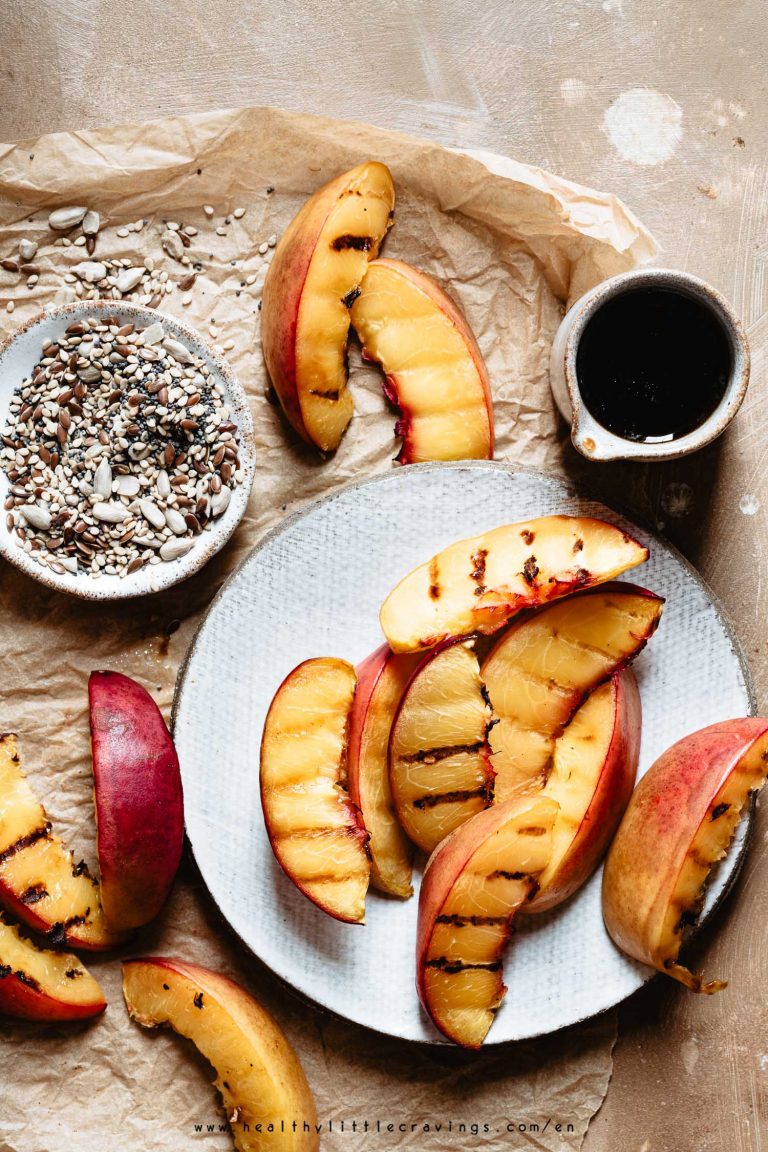 ---
Think about it: they pair deliciously together because they complement each other with their sweet and savory flavors.
On top of that, I added a nutty and acidic note: respectively from the seeds and the vinaigrette.
For the greens: I've used salad but arugula, with its spicy touch, is the best option!
Did I convince you? Wait, one more thing.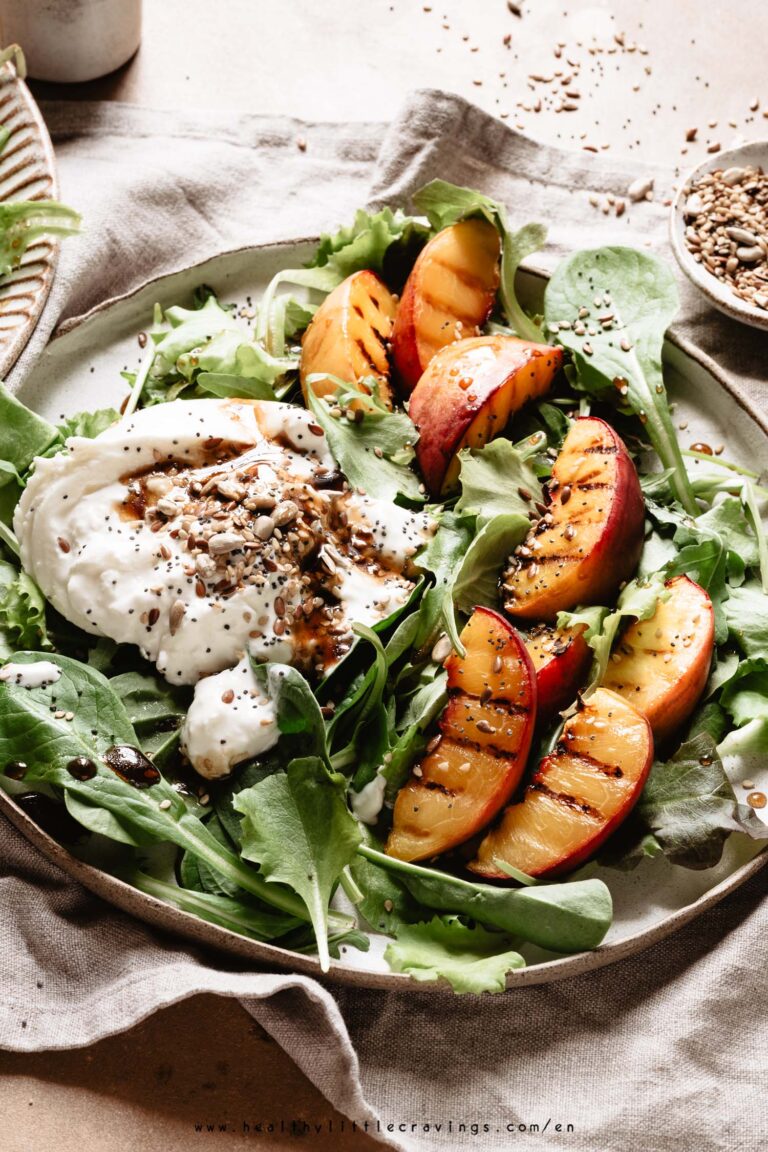 This peach burrata salad couldn't be easier to make.
Seriously, look at the recipe card below: in basically 2 steps you'll obtain the ideal salad for you and your partner (or friends and family, but make sure to triple the amounts).
First grill those peaches:
I noticed that the secret to perfect grilled peaches is the hot pan and the medium-low heat while cooking.
Slice them and then grill!
Burrata cheese is quite a "heavy" cheese, it's fatty and filling. So, 100 gr of burrata for one person I think it's definitely enough.
Gently put the burrata cheese on top of mixed salad greens, add the grilled peaches wedges and garnish with seeds and vinaigrette.
Easy, uh? Now go, grab the ingredients and get ready to amaze everyone!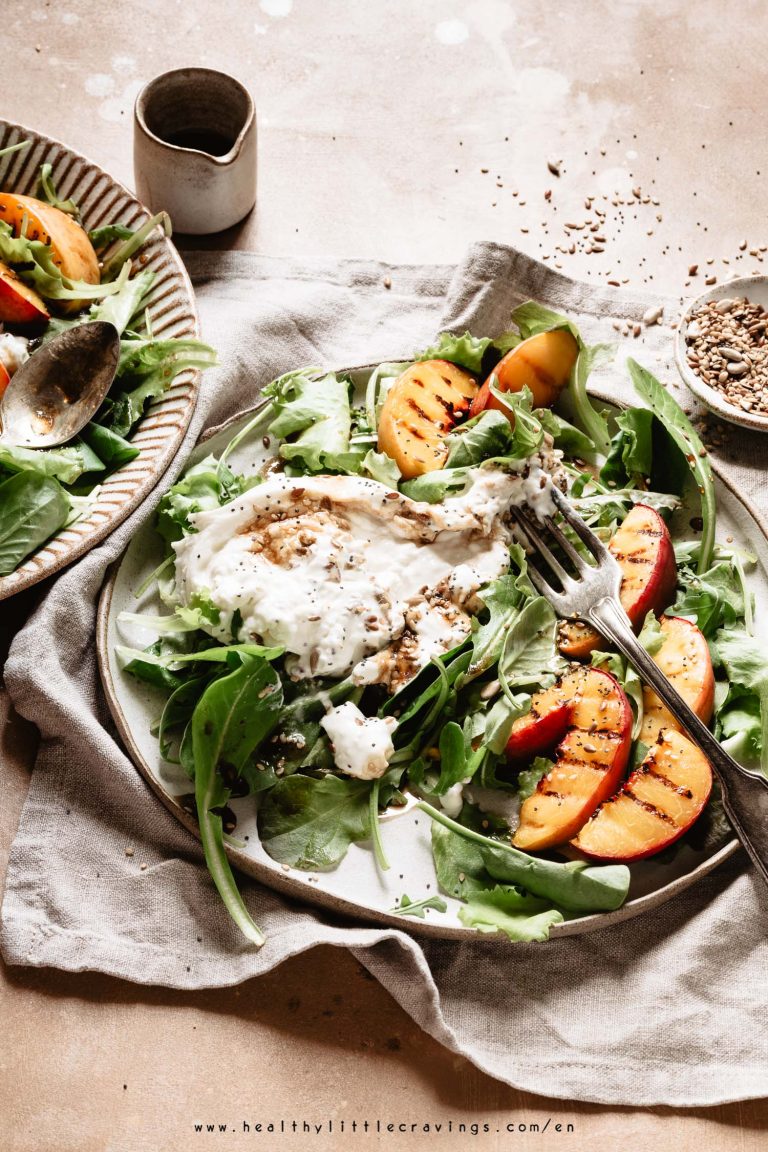 ---
If you make this recipe, please be sure to give it a rating and leave a comment! It would make me so happy! 🙂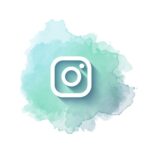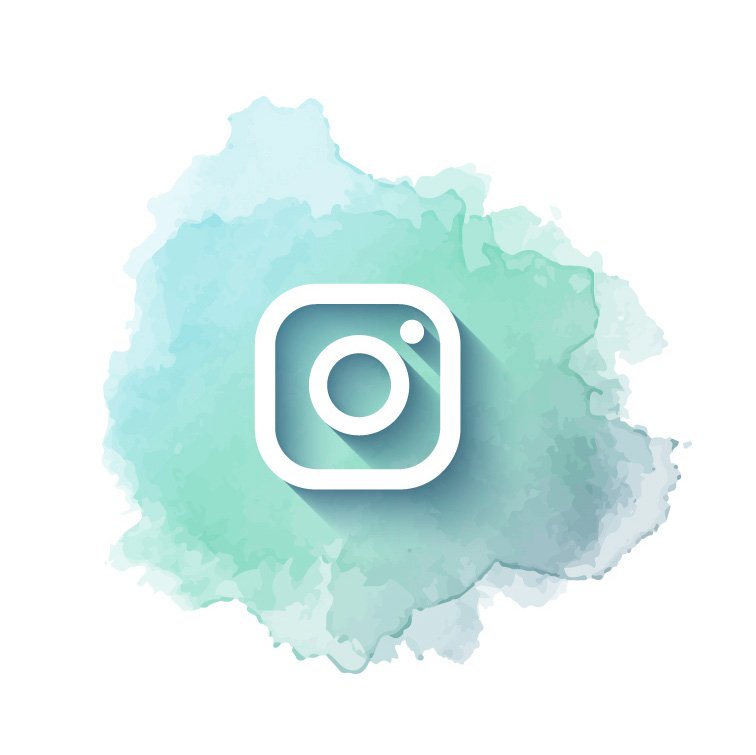 Remember: if you try one of my recipes, tag me on Instagram or DM me the photos!
---
Don't forget to pin and share this easy and delicious recipe!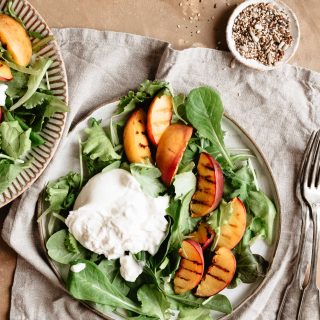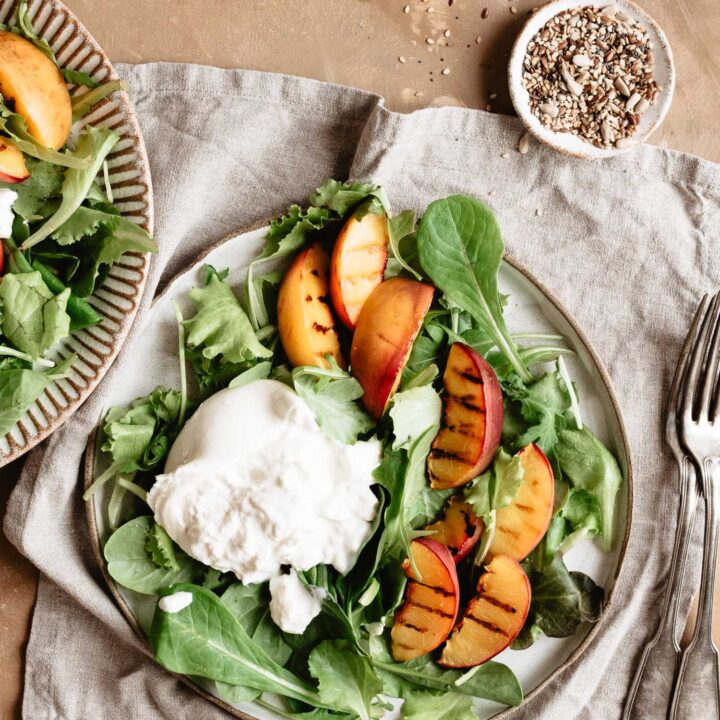 GRILLED PEACH SALAD
A Summer salad with delicious flavors: burrata, grilled peaches, seeds and vinaigrette!
Print
Pin
Ingredients
2

Peaches

200 gr

Burrata

approximately 100 gr

Clean mixed salad greens

Vinaigrette

-

to taste (see recipe linked below)

Seeds

-

to taste
Instructions
How to grill peaches:
Heat up a grill pan at medium/high heat.

In the meantime, clean and cut your peaches into wedges.

Lower the heat to medium/low and arrange all the wedges on the grill pan.

Grill one side and then the other.
Assemble the salad:
Arrange the salad on a plate, garnish with peaches, burrata, seeds and vinaigrette.
---
Loved this recipe?
Check out my favorite Fall/Spring salad: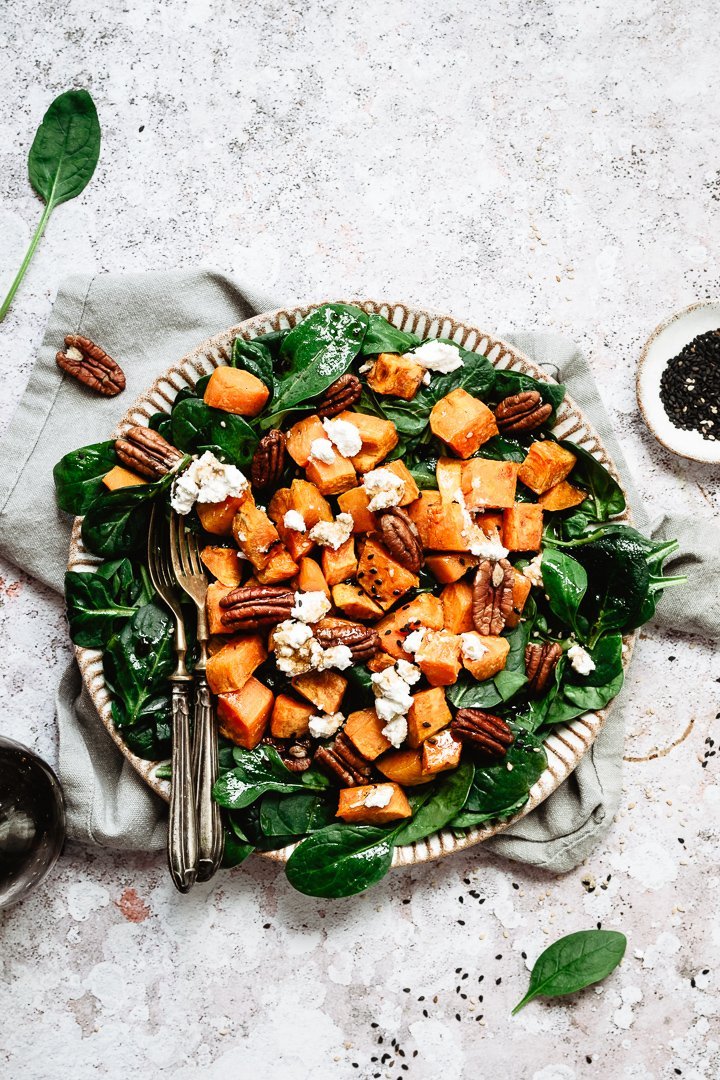 ---
© Healthy Little Cravings - Roberta Dall'Alba.
I own all content and photos' copyright.
Before using my photos and recipes, please email me.
If you would like to republish a recipe, please link back to this post and re-write the instructions in your own words.