The best combo and the best breakfast: chocolate pear oatmeal!
---
In these last days, the air is crispier, both in the morning - when I wake up at 7.30 in the morning - and on late afternoon when I go biking and I almost have to wear a cardigan to cover myself.
I'm appreciating this slooow transition to Fall.
It's almost here...
In 4 days, there will be the autumnal equinox. We finally can go back wrap up ourselves with cozy blankets while watching Netflix or reading a book while sipping a delicate infusion.
My Pinterest homepage is already full of Fall pictures - you know the algorithm chooses based on your interests, well Pinterest saw I'm interested in Fall in these days - and I already shot some autumnal photos.
Oh, and we will go back eating oatmeal!
Even if, honestly, I never really abandoned it. In fact, during Summer I still enjoy it - not boiling hot maybe - especially in its cold version, overnight oatmeal.
Now we can officially start welcoming autumnal flavors: apple + cinnamon, pear + chocolate, pumpkin, grapes...
Are you as excited as I am?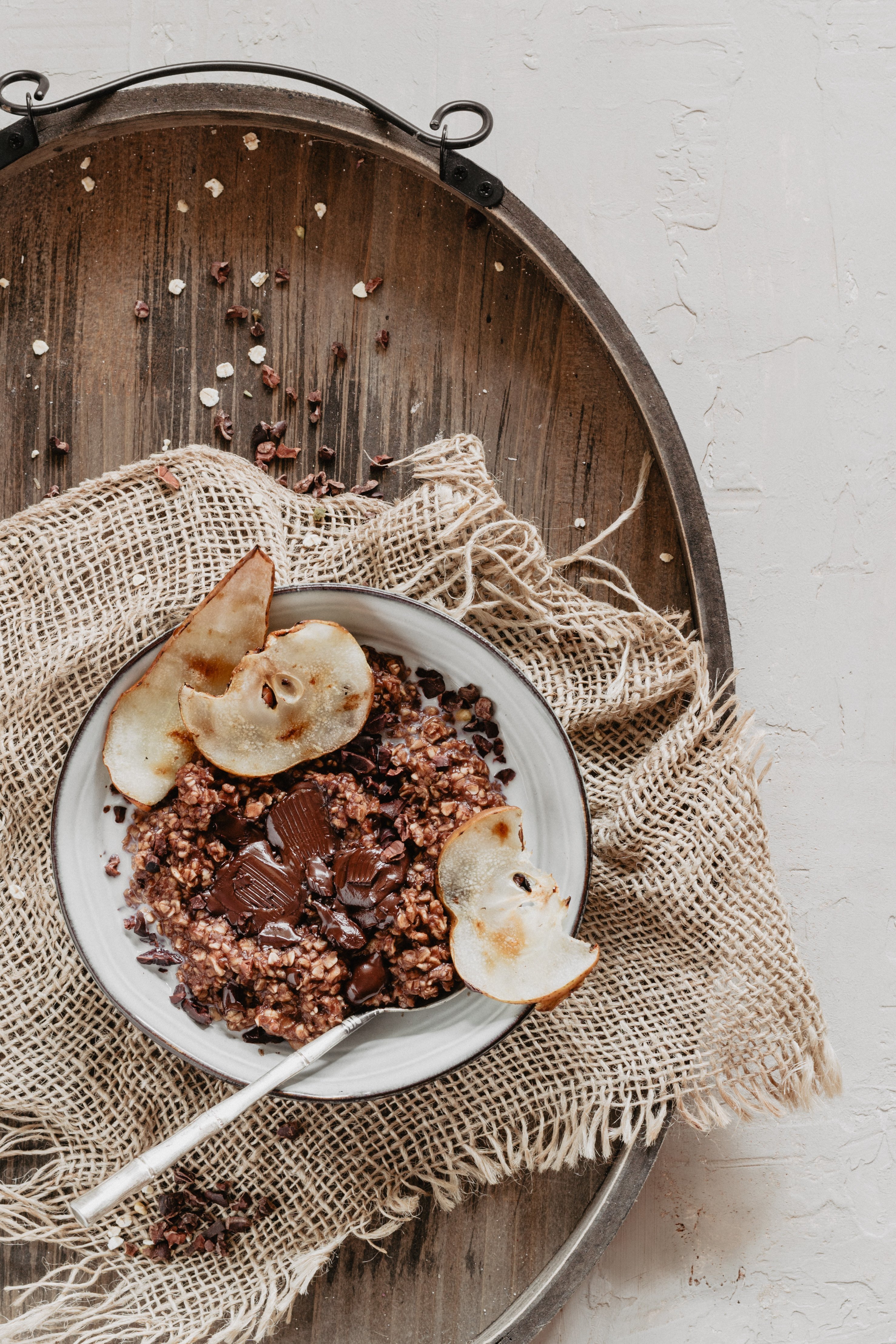 Pear and chocolate, DUH!
You may think pear and chocolate combo is overrated. Hell no. Well, maybe yes. Just to be sure, let's eat this chocolate and pear oatmeal!
I'm not used to sweeten my oatmeal, to make up for it I usually "throw" some fruit and/or chocolate pieces. And when pears' season comes, I'm all about choco + pear!
But wait: have YOU ever tried grilled pears? To me, they were quite a revelation! I discovered them about two years ago - when I shared this post - and it was love at first bite!
If you've never tried them, it's time to! The pears while grilling also caramelize and bring out that typical caramel sauce flavor that will make you go crazy! Cherry on top: a few pieces of bitter dark chocolate... to die for!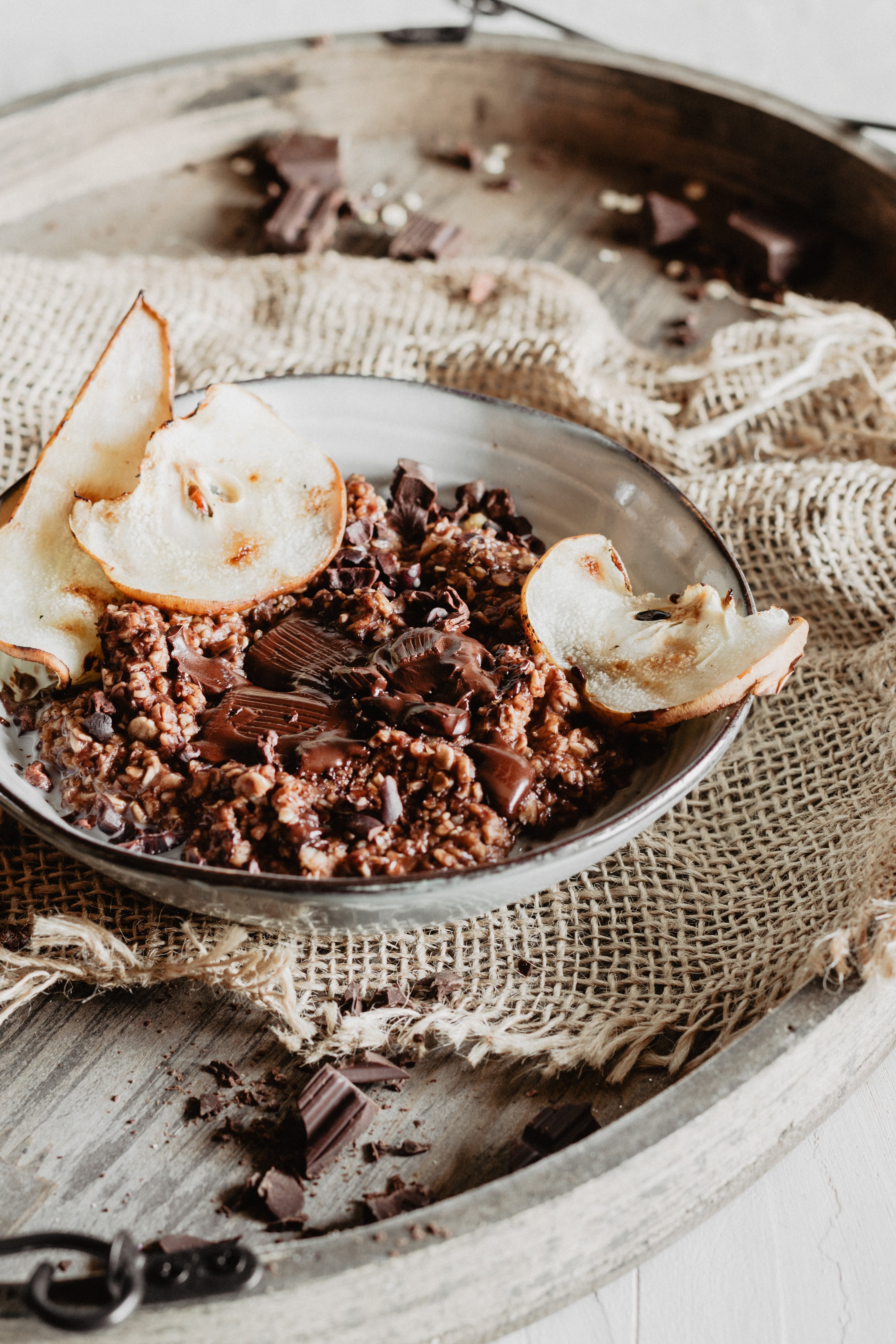 ---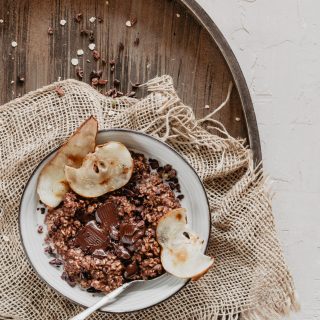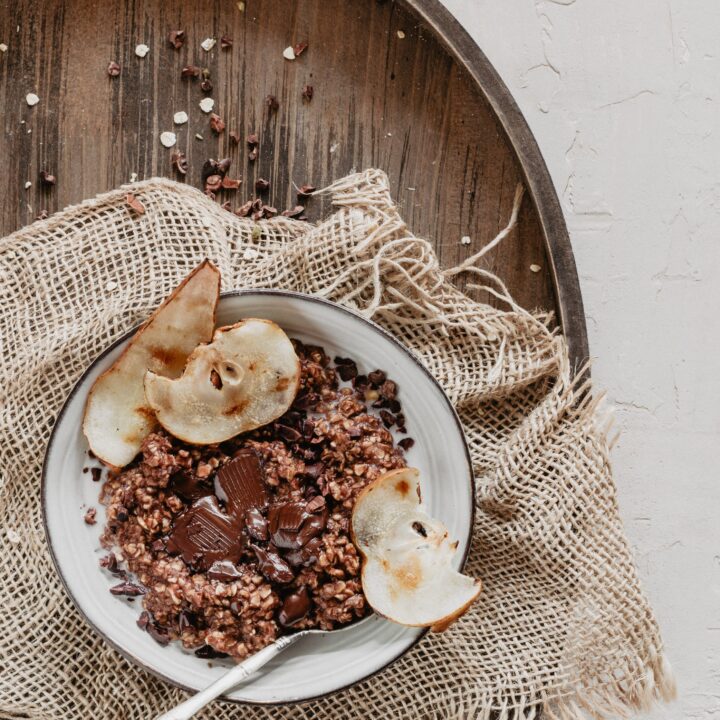 Ingredients
40

gr

Oat flakes

120

gr

Water, milk or plant milk

some

Pieces of

Dark chocolate

1

Ripe pear

1

teaspoon

Unsweetened cocoa powder

-

optional

A pinch of salt
Instructions
Heat up a cast iron grill pan.

Clean and slice your pear, then grill the slices on both sides. Pay attention not to burn them.

Meanwhile in a pan, add your oats, water/milk, a pinch of salt and the cocoa powder.

Cook at low heat until it gets creamy. Keep stirring to prevent sticking.

Garnish with chocolate pieces - that will melt with heat - and the grilled caramelized pear.