Sometimes I stop and wonder "what would life be without good carbs and good fats?"
I am serious, I love them too much.
And from now on, I am sure you'll say "What would life be without this focaccia recipe?"
They're actually mini focaccias but you can make a big one too. It's so good, crunchy on the outside but soft like a pillow inside.
Ready to try?
---
P.S. it's a recipe I saw a couple of weeks ago on @cooker.girl Instagram profile.
---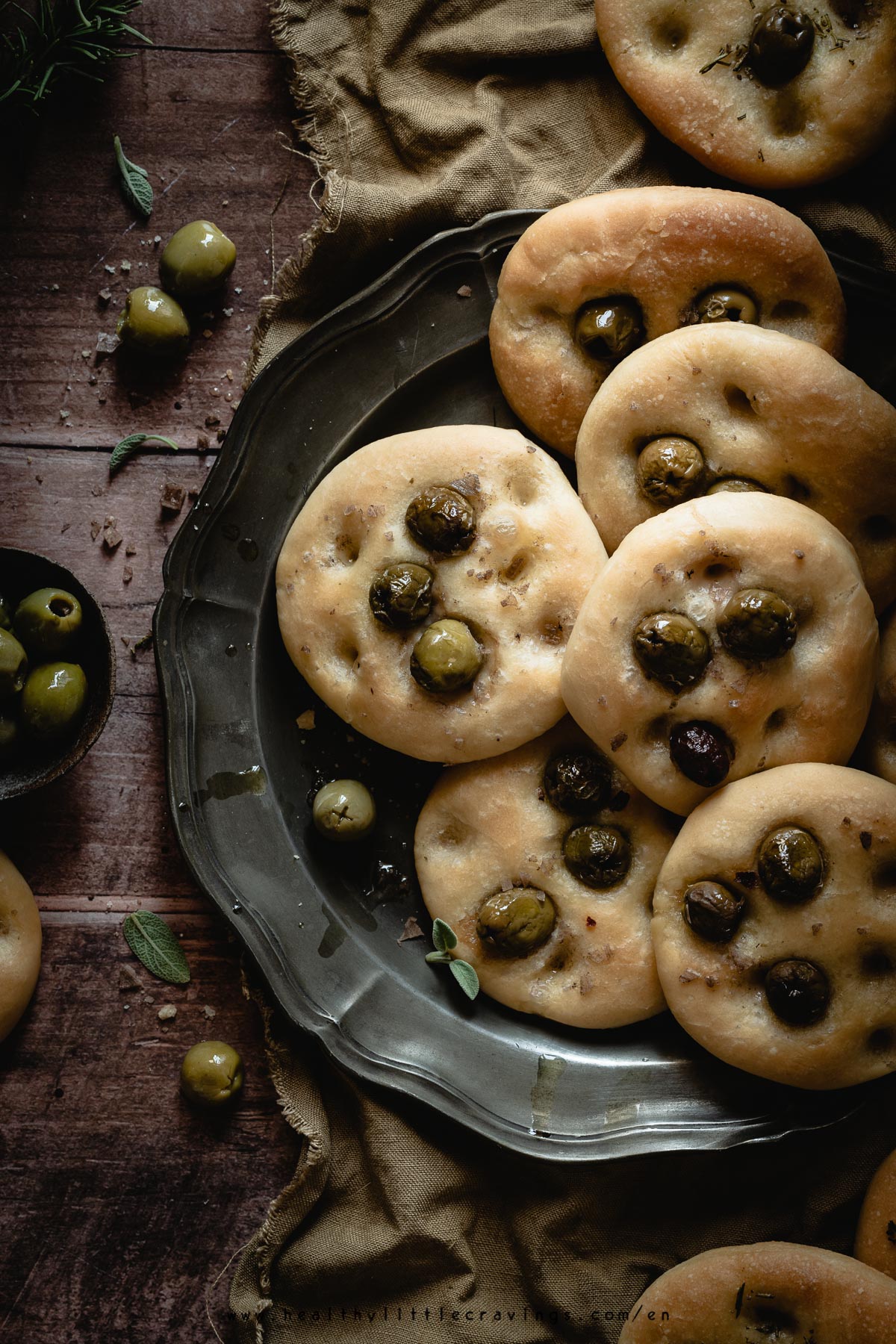 EASY

to make focaccia recipe

Making focaccia and yeast leavened recipes in general takes a bit of time. We already have to suffer because it's not ready in minutes, so at least let's make sure it's easy to make, right?! You just need to knead-proof a couple of times-bake!

So yes, this Italian focaccia recipe with olives is easy. Yes, even if you don't have a stand mixer. Let's see the basic steps:
Prepare the dough, give it some love!
I know many people think the preparation of a dough can be a bit boring, especially if you knead by hand.
But I think it's the most important phase, the one in which you give love to the dough and yes, I firmly believe that it can "feel" it;)
Whenever I "mistreat" my dough or don't have enough patience, result is not the same.
So first step is placing bread flour and durum wheat semolina flour (it's called farina di semola rimacinata here in Italy), into the large bowl of a stand mixer.
NOTE: if using active dry yeast, combine it with 1.5 cups lukewarm water and a teaspoon of sugar. Let proof until bubbly, then add yeast mixture to flour.
If using instant yeast instead you can immediately add it to the flour. Then combine water and activate your stand mixer to low speed (or start kneading by hand).
I usually begin with the flat attachment.
After a minute or so, add salt and, when incorporated, also add extra-virgin olive oil.
In case you don't have a stand mixer (or bread machine) you can knead by hand. Either way, you have to give the gluten time to develop. So right after EVO oil absorbed, let it knead at medium speed for about 10 minutes (this is when I use my dough hook attachment).
After that, take the windowpane test: take a tiny piece of sticky dough, gently stretch it with your fingers. If it doesn't immediately tear, it's ready to be proofed.
Cover bowl with plastic wrap or a reusable silicone lid (that's what I use).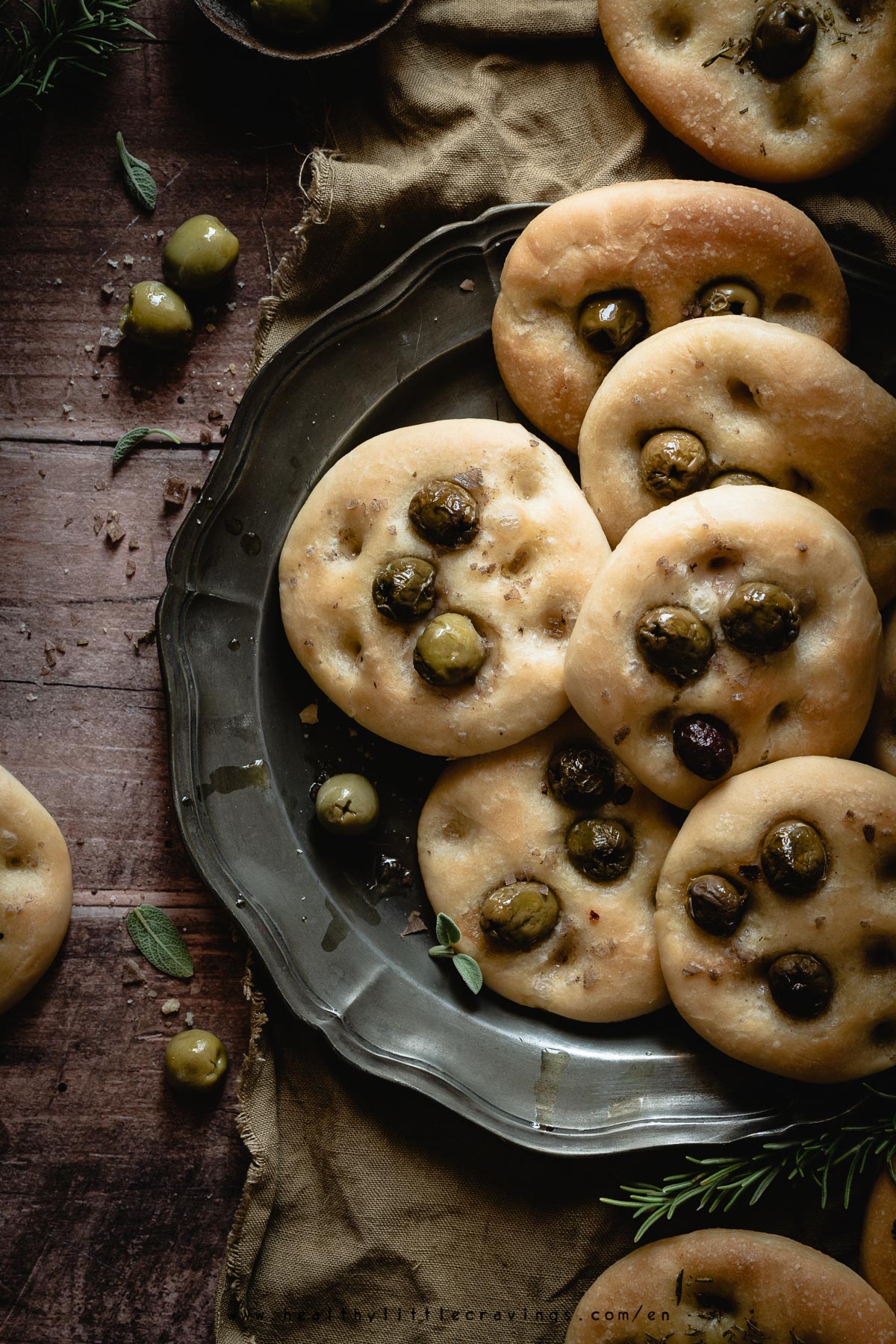 First Proof
Dough proof's time here depends on the temperature in your room. I recommend placing the bowl in a warm place (like your oven with lights on). Wait until dough rises, about 2 hours. It has to double in volume.
Form focaccia(s) & second proof
Dust some all purpose flour on a work surface then roll out the dough first using your hands, then a rolling pin.
Cut the mini focaccias using a round cutter (diameter: about 4 inches).
Place them on a prepared pan (lined with parchment paper - tip: use extra olive oil on the paper).
Cover with plastic wrap or damp cloth. Let proof for about 30 minutes to 1 hour (they will look puffier) in a warm place.
Prepare emulsion
The emulsion is key, you can't skip it.
While dough proofs, combine cold water and approx. 3 tablespoons of olive oil (to be precise, EVO oil), then shake. It should look smooth and almost creamy.
Now use your fingers to poke deep dents all over the surface of the focaccias and drizzle the emulsion.
Add flaky salt, fresh rosemary leaves and/or olives.
P.S. extra-virgin olive oil needs to be HIGH QUALITY!!! Makes the difference.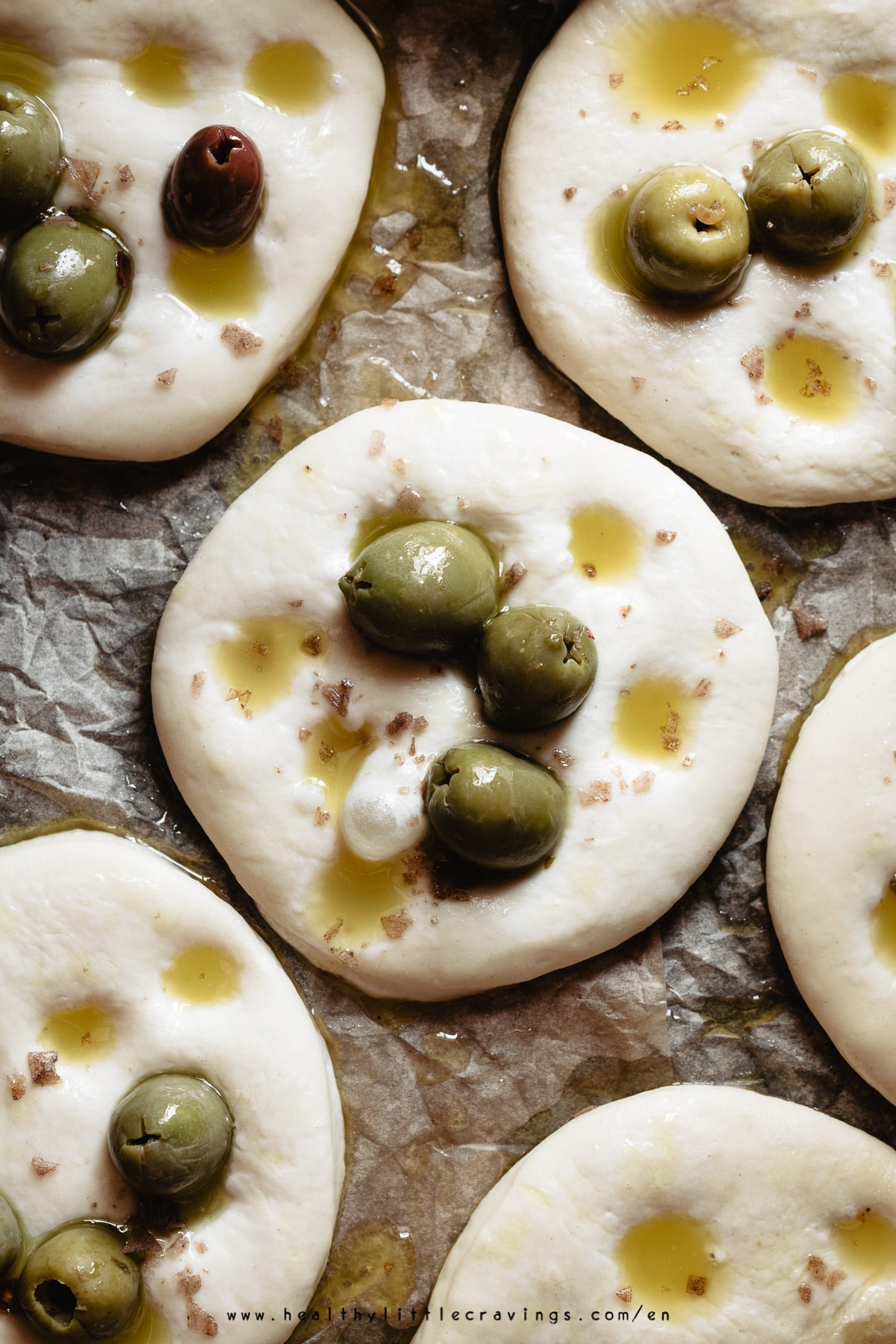 Last step of this focaccia recipe... Bake of course!
Bake the focaccia at 190° C/375° F for about 25 minutes. Time depends on your oven. Always keep an eye on it and check every once in a while.
When done, I like to spray some water on top. Let cool on a cooling rack, but not completely...enjoy warm;)
What does focaccia go well with?
Personally, we love to eat it in place of bread.
We like to always vary our sources of carbs during the week, but we always eat some homemade bread. And to be honest, these were just a fabulous alternative.
We ate them together with ricotta, but also with prosciutto crudo (and veggies, of course).
It's also a great recipe idea for aperitivo/appetizer. Pair it with other olives, marinated artichokes, cold cuts, cheese...
What to top focaccia with?
Possible variations of this focaccia recipe.
I usually put olives and fresh herbs on top of my mini focaccias (actually, I've only used fresh rosemary leaves here, but you can also use others like thyme).
I would recommend sticking to simple flavors (fresh garlic - into the emulsion - can be an idea too, or fresh cherry tomatoes), just because you want to taste that DELICIOUS extra virgin olive oil. It's IRRESISTIBLE!!!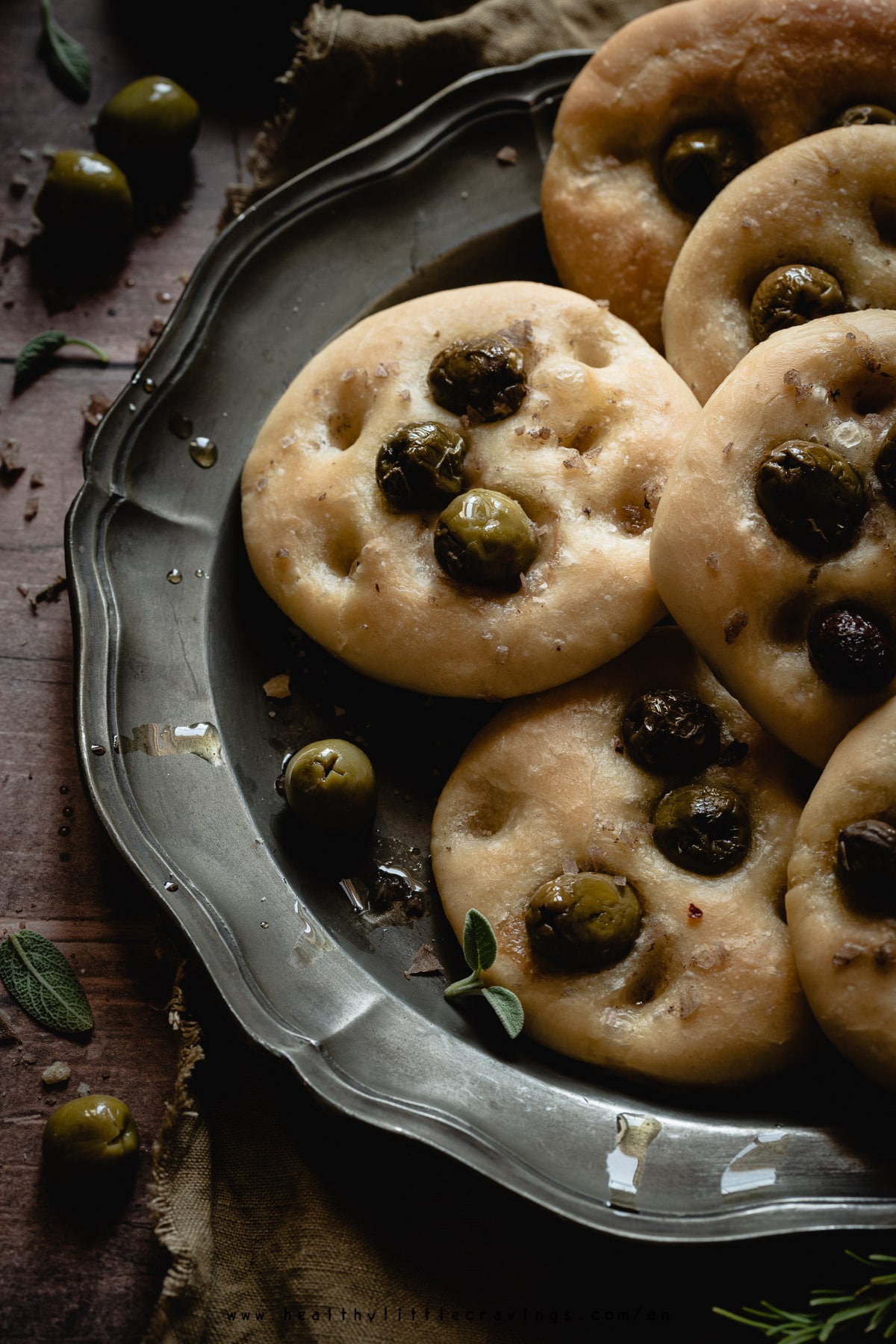 How to store focaccia?
My advice usually is to freeze the ones that you don't plan to eat, right when they cooled down.
Normally I pack mine with tinfoil or plastic wrap, then freeze (or I put them into a ziploc bag).
Next time you want to eat it, you just take it out of the freezer, let it thaw at room temperature OR into the microwave for a few seconds. We also like to slightly toast it onto a hot pan (or into the oven on a baking pan). SO GOOD.
Hope you'll love this Italian focaccia bread recipe as much as we did!
Lastly let me say, this is the easy version of homemade focaccia bread. Then, I personally also like to make the one with a longer fermentation and a method called "poolish". That is full of air pockets inside. Maybe I'll share the recipe soon!;)
---
If you make this recipe, please be sure to give it a rating and leave a comment! It would make me so happy! 🙂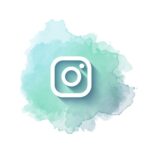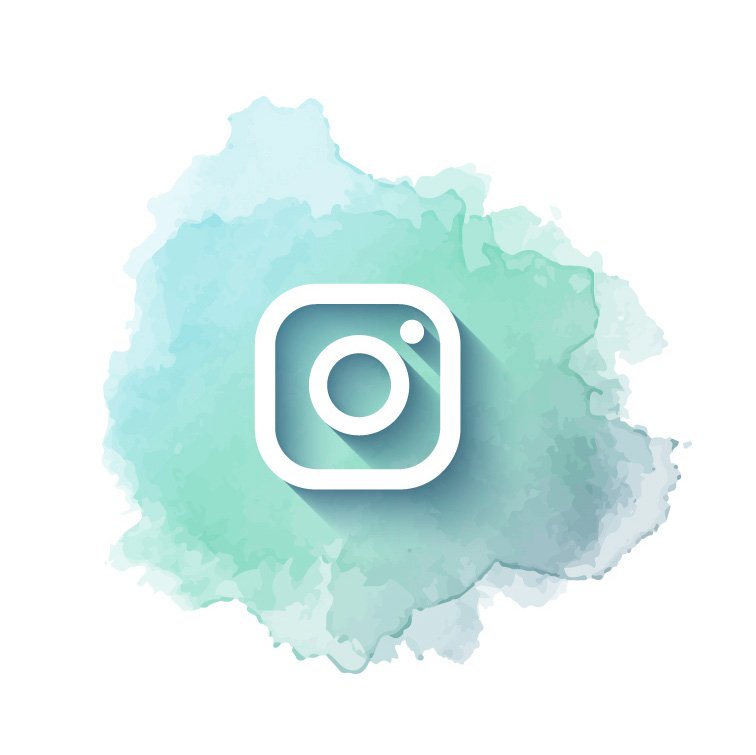 Remember: if you try one of my recipes, tag me on Instagram or DM me the photos!
---
Don't forget to pin and share this easy and delicious recipe!
Italian Focaccia Recipe
No matter the shape (mini focaccia or big one?), the flavor is awesome! Crunchy on the outside, soft on the inside!
Original recipe from @cooker.girl on Instagram
Print
Pin
Servings:
10
mini focaccia or 1 big one
Equipment
Baking pan

Rolling Pin

Round cookie cutter (3 or 4 inches)
Ingredients
For the dough: (I recommend ALWAYS using a scale)
2 + ⅓

cup

Bread flour

-

400 g

¾

cup (approx)

Durum wheat semolina flour

-

100 g

1.5

cups

Water

-

300 g

1

tablespoon

Extra virgin olive oil

-

15 g

2

teaspoons (approx)

Salt

-

12 g

1.5

teaspoons

Dry yeast

-

3 g (if active dry yeast, activate it with a teaspoon of sugar and a % of the water in the recipe)

Salamoia
Emulsion:
3

tablespoons (approx.)

Extra virgin olive oil

-

50 g

2

tablespoons

Water

-

30 g
Toppings:
Olives, flaky smoked salt or regular flaky salt
Instructions
For the dough:
Into the bowl of a stand mixer, combine flour, semolina, yeast and water. Mix at slow speed.

Add salt and keep mixing at medium low speed.

Add EVO oil and mix until incorporated, and until gluten forms (about 10 minutes of kneading).

To understand if it's ready, take the windowpane test: take a small piece of dough, then gently stretch it with your fingers. If it doesn't tear immediately, then it's ready.

Let it double in volume for about 2 hours.
Form the focaccia(s):
Roll out the dough then form your mini focaccias (using a round cutter) or one big.

Put them on a baking tray (lined with parchment paper), then cover with plastic wrap and let proof again for 30-60 minutes or until they look soft.

Preheat the oven at 190°C (375°F).
Prepare the emulsion:
Mix oil and water and shake until you get an emulsion.

Use your fingers to poke deep dents all over the surface of the focaccias.

Drizzle the emulsion (abundance is key), then add flaky salt, herbs and/or olives.

Now bake for about 25 minutes (depending on your oven).

More details about storing in the post.
---
You know what you could try next? 🙂 this pizza bread *drooling*
---
© Healthy Little Cravings – Roberta Dall'Alba.
I own all content and photos' copyright.
Before using my photos and recipes, please email me.
If you would like to republish a recipe, please link back to this post and re-write the instructions in your own words.