In this post you will find the most amazing recipe for this healthy raspberry granola!
---
Yes, it's good to be back with new recipes. FINALLY!
If you follow me consistently, you know that I've been sharing some older recipes lately, just because I had to re-shoot them (I would love to give a cohesive look to my blog, how many times did I say that?!). Plus, these last weeks, I've been so busy. I mean, I've been busy swimming, eating good food, laughing, visiting markets with my Sicilian family.
I call it 'family' because I'm lucky enough to say that I found another beautiful fam in them. They're so kind and big-hearted I can't even. I'm so deeply grateful for them.
So if you're wondering if I had fun, well...you know the answer.
It's a period of "adjustment"...
I've got to be honest with you. When I was on vacation, I inevitably had some time to rest and...think. Think about so many things.
One day I told my boyfriend 'You know, I don't know if I'll be blogging for a long time still'.
Oh, don't get me wrong. I'll keep blogging and sharing my recipes, but I don't think I'll do it for a lifetime. I highly doubt blogging will be a thing in 15/20 years though. Or maybe it will? We will see...
I've only realized there are so many blogs out there that me and my colleagues with small blogs, we will never have the right exposure. I mean, I know pretty talented people out there. Believe me, they are SO talented. But we won't make a living with a few thousands visits per months (this is real life). Do you relate?
I'm in a period of adjustments. Work is definitely going towards food photography, it became a passion in these last years and I can count on something when all this will come to an end. Does it make sense?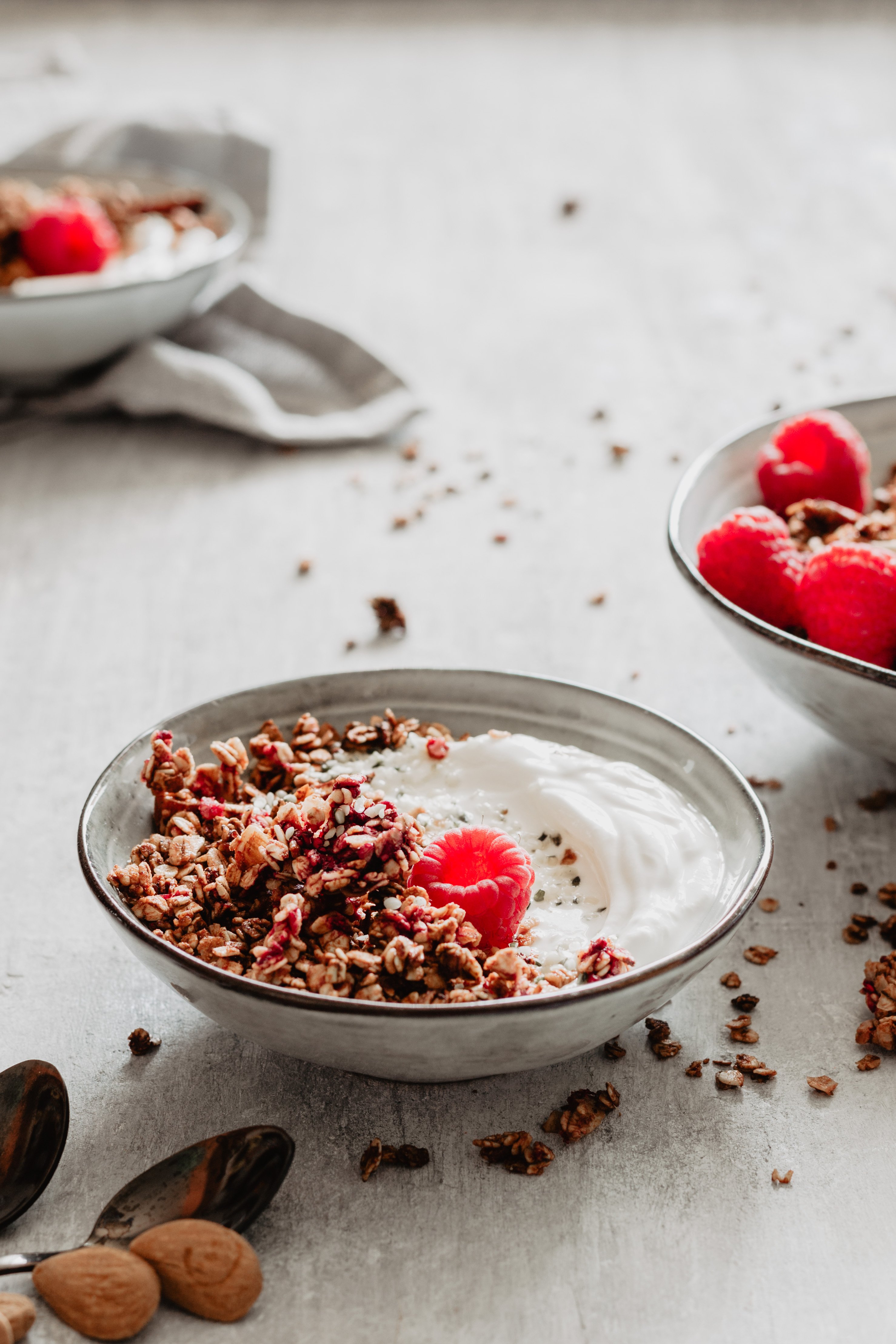 Creating recipes and this fabulous healthy raspberry granola...
If the world of blogging is giving me worries, the world of recipe development is definitely not. Passions are passions. When you love REALLY something, you don't doubt. You go for it!
The idea for this healthy raspberry granola "came out" naturally. I wanted to try the combo raspberries + cardamom and I thought 'Well, they'll be amazing into a granola mixture'. Bingo! They are!
Oh this was also an excuse to try, for the first time, baking with the date syrup I bought a while ago (if you don't have it, go with agave or maple). Date syrup has 66 gr of sugars every 100 gr. I put only 45 grams of it, so connect the dots. Plus there's just a tiny amount of oil to make it crunchier and make the typical granola clumps. Could it be healthier?
Enjoy my granola and every bad thought will go away (at least for 10 minutes!;))
P.S. remember not to make your 5-years-old nephew smell the cardamom, otherwise she'll say 'It smells like herbal mosquito repellent' - real story happened a couple of days ago.
P.P.S check out this amazing microwave granola too...it'll become an addiction!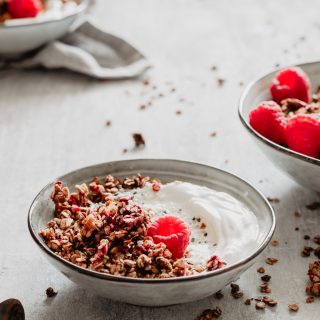 Ingredients
85

gr

Frozen raspberries

150

gr

Oat flakes

45

gr

Date syrup

1

teaspoon

Ground cardamom

1

tablespoon and a hal

Oil

-

or coconut oil

Almonds
Instructions
Preheat the oven at 175° C.

Slice your almonds and combine all the ingredients (except almonds) into a bowl. Use your hands to stir (the mixture will be sticky).

Spread the mixture onto a baking tray lined with parchment paper.

Bake for 10 minutes. Turn on the fan-assisted option and bake for 20 minutes more. STIR every once in a while to prevent burning.

Once cooled down, it will become crunchier. Add almonds.