Want to know how to make bruschetta bread and win everybody's heart? Check this out.
---
They say (and I confirm) that "the most simple things can bring the most happiness". Well, as mentioned above, this recipe (can we call it recipe?) will win everybody's heart.
You know that some people can cook, some others simply don't (or can't, or don't want to). But let's be honest: bruschetta is something everybody can do. So it's time to learn all the tips and tricks!
Let yourself (and others) be conquered...
Bruschetta bread is the most perfect way to enjoy the freshness of Summery materia prima. Tomatoes and fresh basil leaves are the kings of Summer!
Did you know that the word 'Basil' comes from Latin, basilius, and Greek basilikón phutón and it means...royal plant? Yup!
They are everywhere. Look at these tomatoes I found at the local market when I was in Sicily, a few weeks ago. Aren't they beautiful? Pulpy and juicy.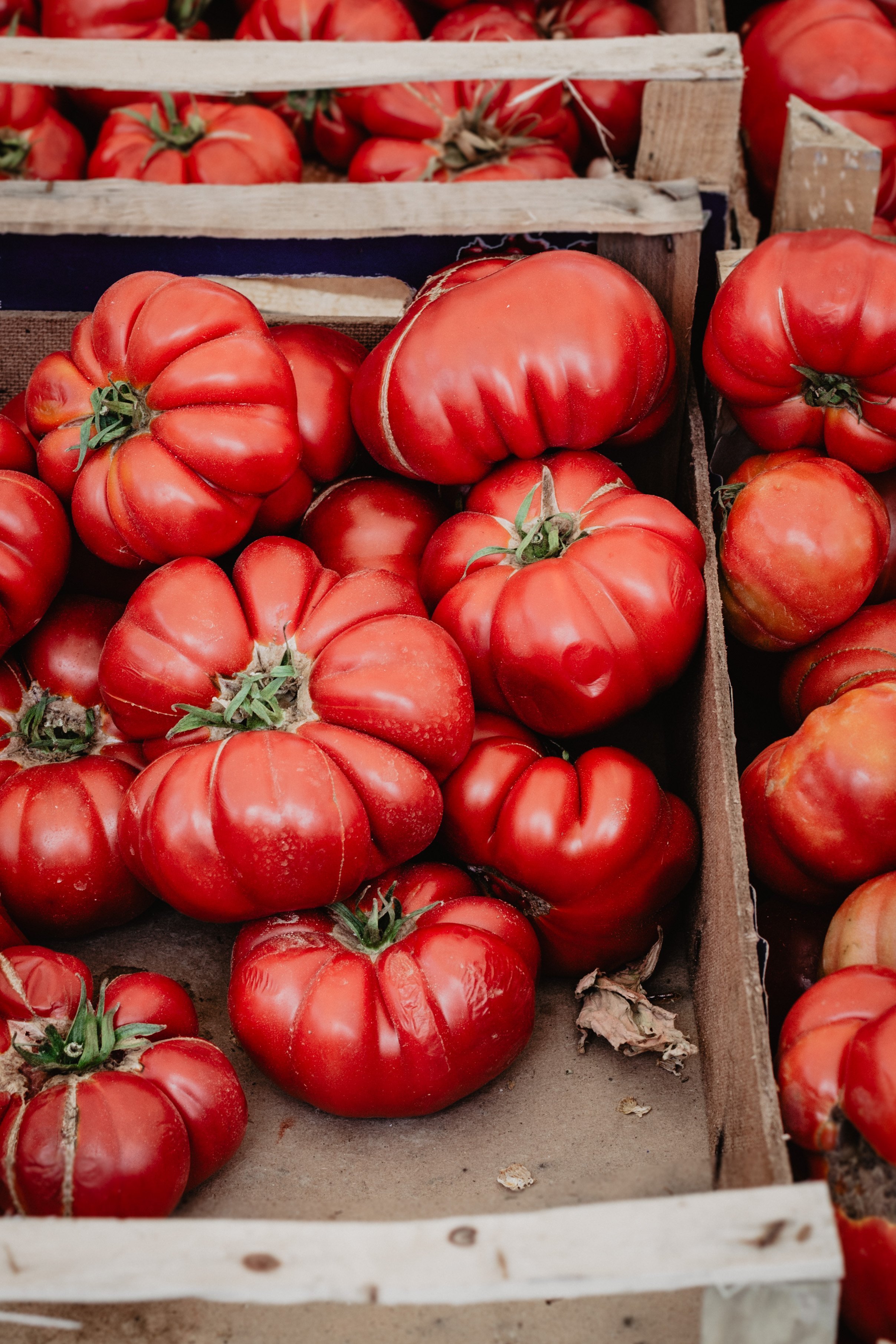 One of the "plus sides" of bruschetta is the crunchiness of the bread combined with the softness and juiciness of the tomatoes. Isn't it the best?
Bruschetta can be eaten as an appetizer (small slices of bread) or main meal (with a protein food), it's pretty filling itself!
This recipe is perfect for those evenings when you decide to eat dinner al fresco with your friends and you don't want to cook fancy dishes.
Now, the moment you were waiting for: let's see how to make bruschetta bread and all the tips and tricks!
Mistakes, tips & 5 steps towards perfection...
The easiest recipes are often the most tricky ones, because if you get one thing wrong you potentially can ruin the overall flavor.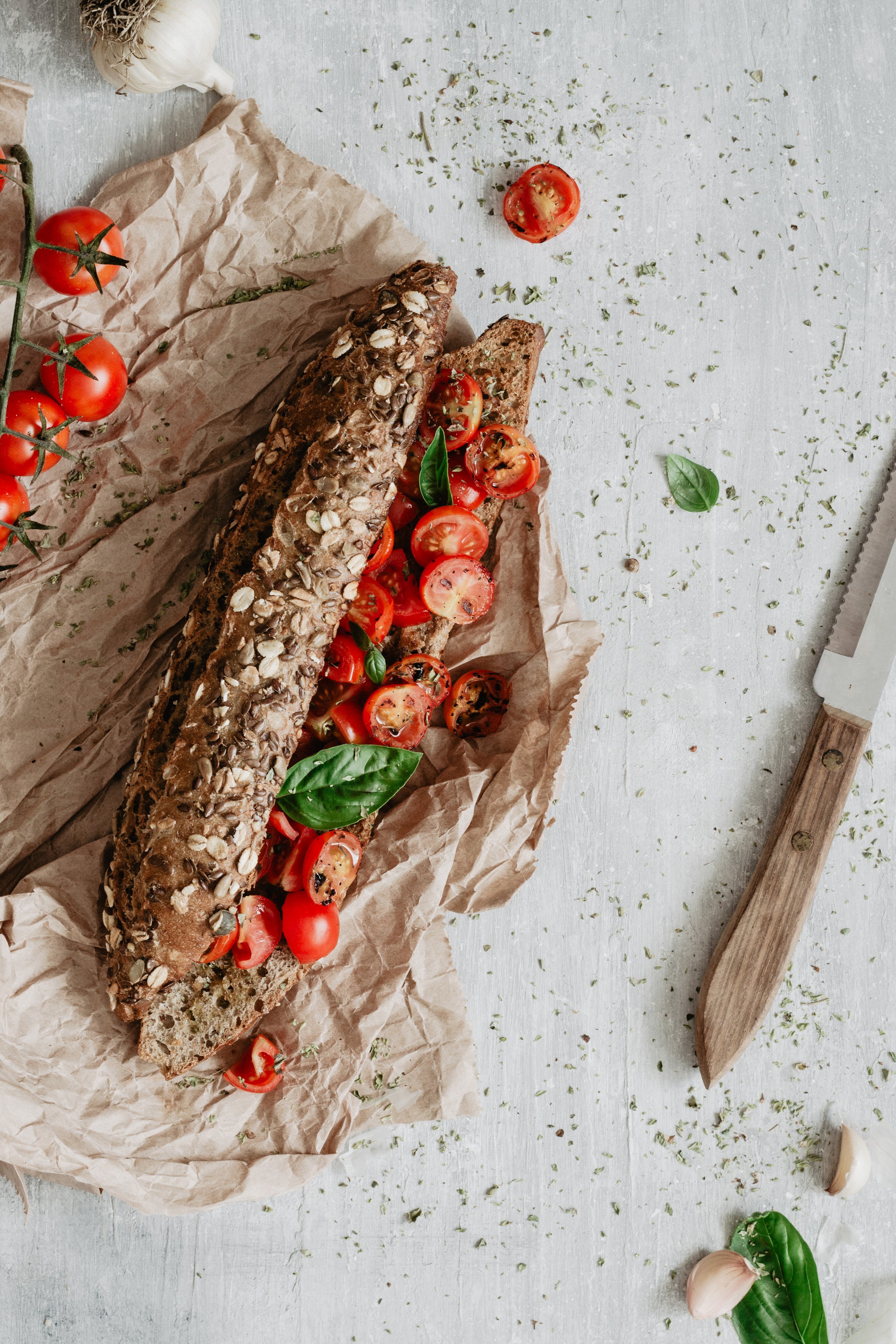 No #1 one mistake you could incur is the lack of balance of flavors. Cooking is all about balancing, you know. Imagine if you put too much garlic. Big no-no for me. That's why I don't like putting already minced garlic!
Instead - tip #1 - my advice is to gently 

rub the clove

over the bread. You'll thank me!
Tip number #2: preheat the pan, it has to be very very hot, and

then

turn off the heat. The bread will slowly toast.
Tip number #3: instead of slicing the basil (some people use the chiffonade technique), stack a couple of leaves and roll them tightly. Then rub this 'roll' over the bread so the essential oils can emanate.
Advice no #4: don't drizzle the oil straight onto the bread. Instead, use a pastry brush and brush it evenly all over the slices.
Final tip, the most important: only use HIGH QUALITY ingredients (especially the extra virgin olive oil). You can't make something extra delicious withouth an extra delicious materia prima.
The five steps towards perfection:
Whenever you'll want to make bruschetta, just remember these 5 steps:
Heat (the cast iron grill pan)
Toast (the bread)
Rub  (basil and garlic)
Brush (the oil)
Top (with fresh tomatoes)
Easy, uh?
P.S. Mine here seems more like a panini. You can eat it like this or like the classic bruschetta.
---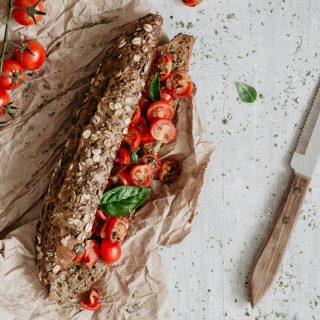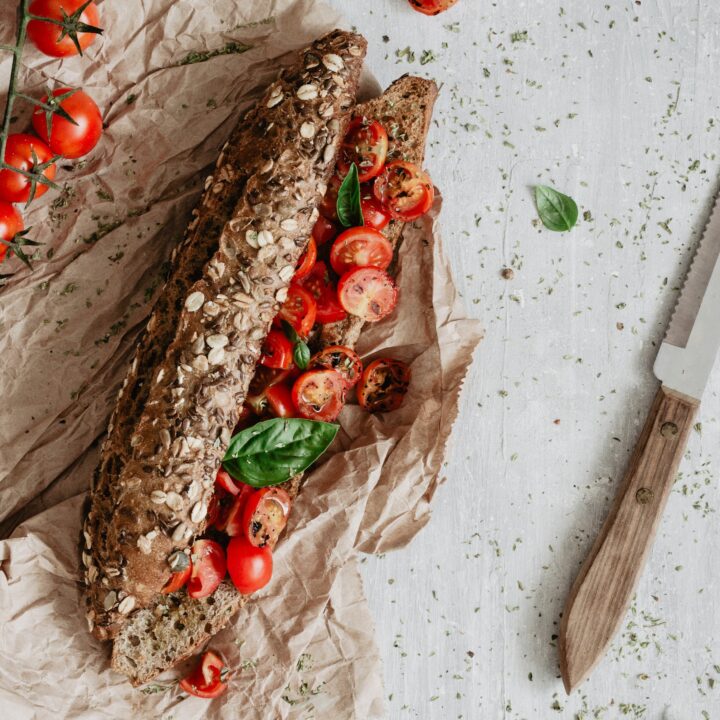 Ingredients
1

Loaf (or baguette)

Tomatoes or cherry tomatoes

-

(based on the bread's size)

Fresh basil leaves

-

to taste

Extra virgin olive oil

-

to taste

1

clove

Garlic

Salt

-

(optional)
Instructions
Preheat an iron grill pan (over high heat), it has to be very hot.

Slice your bread (about 1.5 cm thick). Now set the stove to low heat and toast your slices.

After one minute, take every slice and rub a clove of garlic (cut in half) over it.

Same with basil: take a basil leaf and gently rub it over the bread (don't worry if it breaks)

Brush some extra virgin olive oil over the slices and toast until golden brown.

Meanwhile, chop your tomatoes/cherry tomatoes. Remove the seeds if they bother you (I like them, they soak the bread).

When the bread is ready, top with tomatoes and basil leaves (and a pinch of salt if you want).