I promise, I promise, I promise: the following are the best extra CRISPY roasted potatoes... the crispiest, EVER!
And if you know me you know that I'm not kidding: when I tried them for the first time a long time ago, my face was like that scream emoji 😱. Same for my boyfriend. Incredible.
It takes time to reach perfection. It takes time to find THE recipe. But you are lucky: you just found it!
---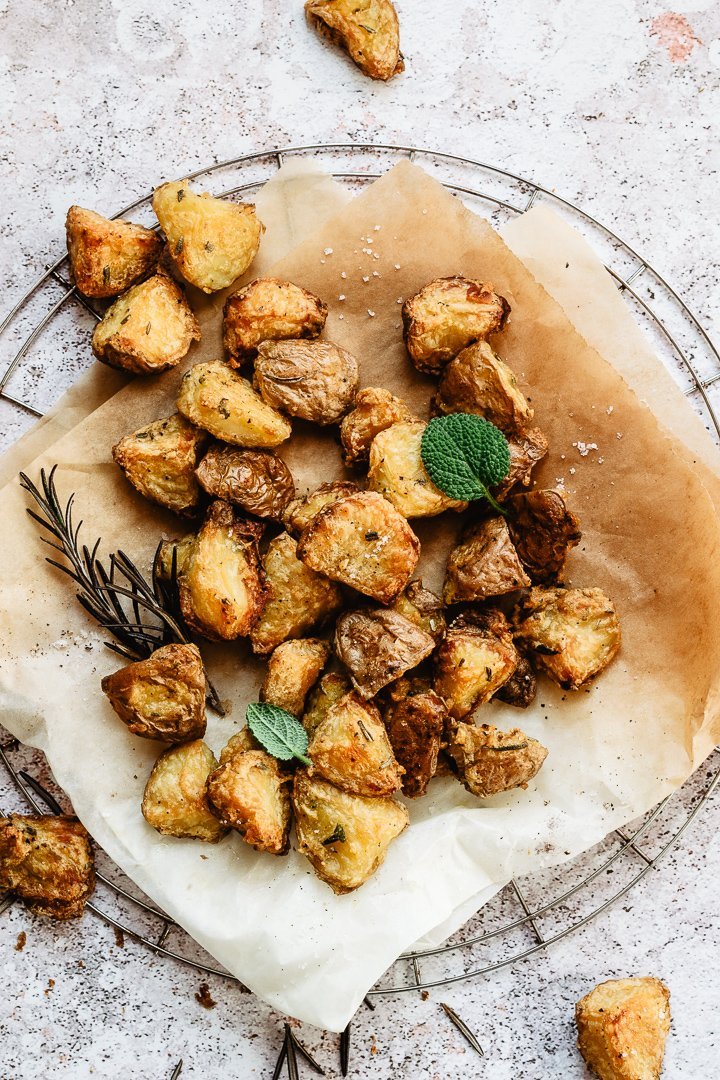 Why these are the best crispy roasted potatoes
First let me make it clear: I won't take credit for this, it wouldn't be fair. I discovered the method to make super crispy roasted potatoes more than one year ago, casually scrolling through my Youtube feed. I was simply looking for a baked potatoes recipe and then...this appeared. The video I'm talking about is this one by SeriousEats. I immediately tried the recipe and when I took a bite, as soon as I took them out of the oven (as usual, duh), it was a party for my palate!!!
But do you know specifically WHY this is a killer recipe? Because we're going to use alkaline water to boil the potatoes before baking. Apparently - as SeriousEats write on their website - alkaline water "breaks down the potatoes' surfaces, creating tons of the starchy slurry that leads to an extra-crisp exterior". At SeriousEats they found out that "the higher the pH of the water (so, the more alkaline), the faster the surface breaks down". Isn't all this so interesting? I love science behind food!
I think at this point all you can do is experiment you yourself and have fun watching what happens when you boil potatoes in baking soda water (and enjoy these beauties!)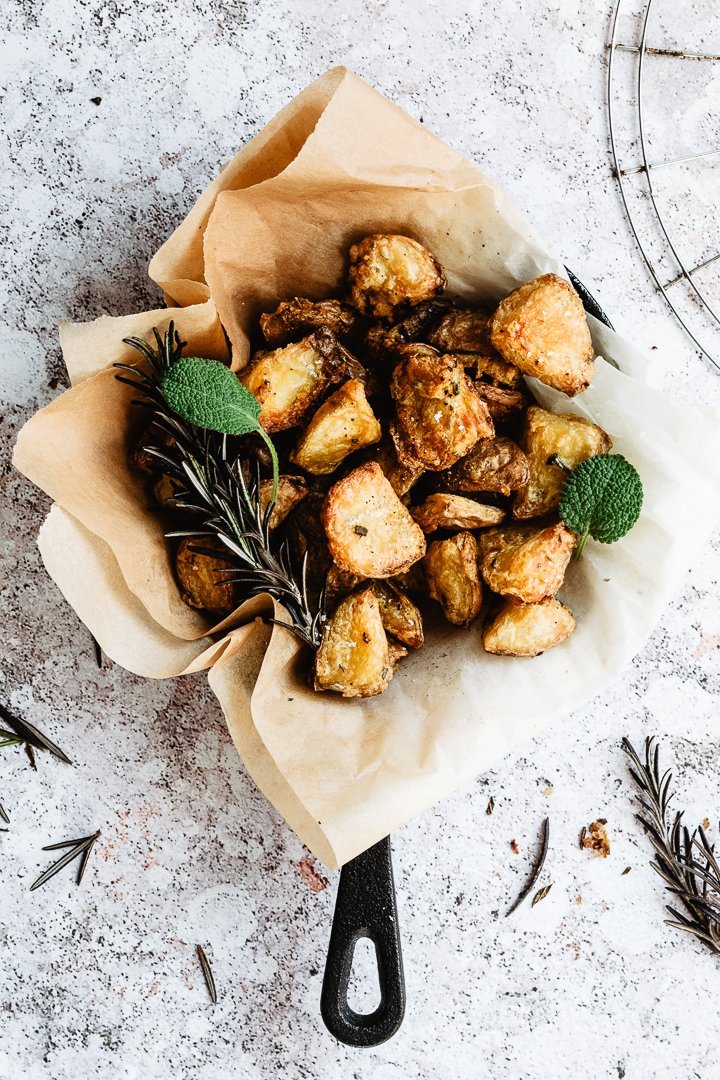 Roasted potatoes FAQs
Should I leave skin on potatoes?
This is up to you! I personally love potato skin. Besides, it also contains so many nutrients like B vitamins, vitamin C, iron, calcium, potassium and others. It also contains a good amount of fibers.
Be careful though: if the skin of your potatoes is green, peel it away! And remember to wash and brush the potatoes very well.
Can I roast potatoes without boiling?
Of course you can! However, in this case, this step is essential! The alkaline water will break the surface of the potatoes so a sort of mashed potato–like paste will build up on the outside and then ...the magic will happen in the oven!
How do I keep potatoes from sticking to the pan?
You'll see I don't use parchment paper (I only used it in photo), but I bake them straight onto the tray. The potatoes are coated with oil, and this will prevent them from sticking.
Can I cook roasted potatoes and then reheat?
You can, but they won't be as good as the fresh-out-of-the-oven ones!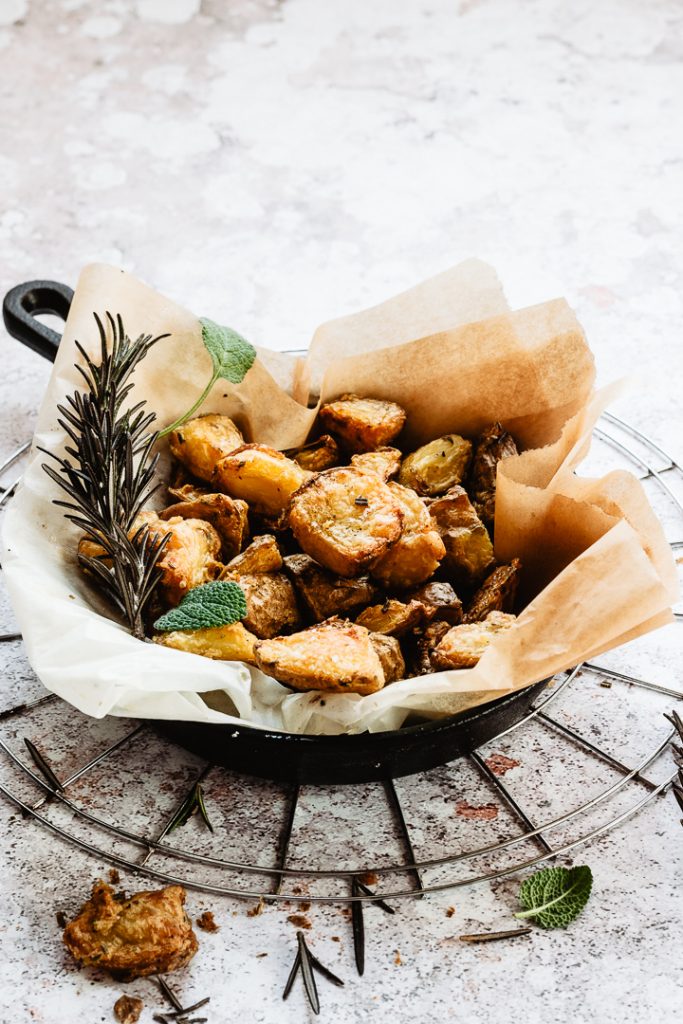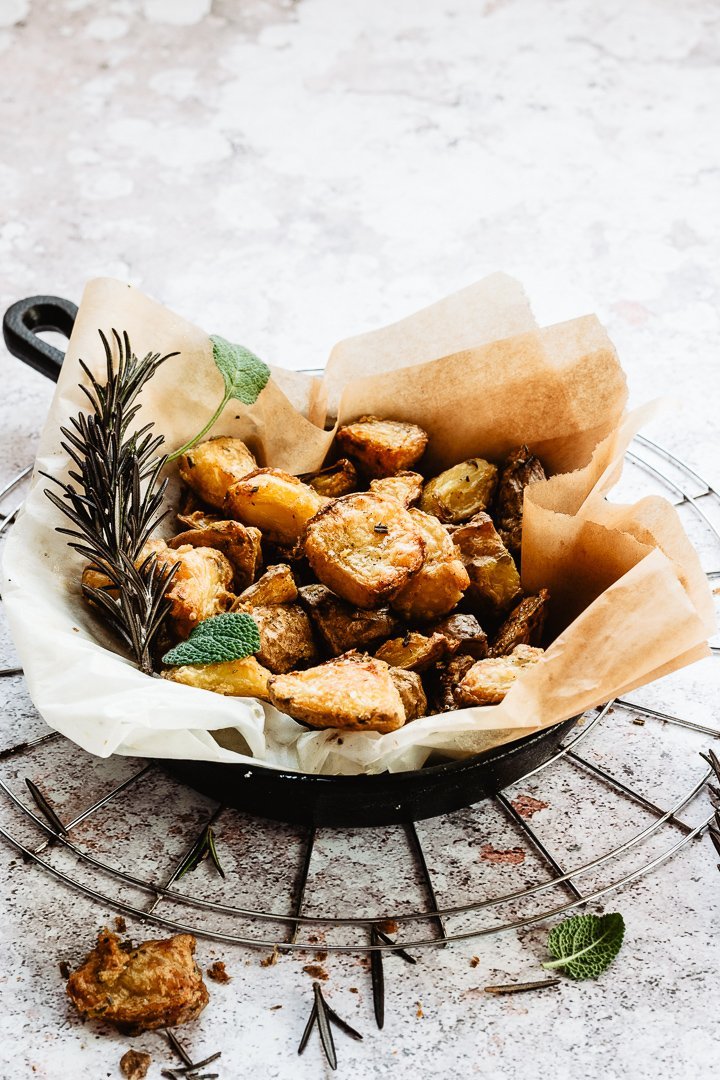 How to: crispy potatoes in 3 easy steps
To have an amazing result, in this case, you'll only need to:
Boil your potatoes - with or without skin - in alkaline water: add salt and baking soda to boiling water and throw your potatoes in, then let them cook until they're soft (but not too much!). Let the excess steam to evaporate and put them into a bowl.
Leave the herbs of your choice to infuse in hot extra virgin olive oil (don't fry them though!). Pour the oil on the potatoes, toss until they're well coated.
Time to bake, no rush! Place your potatoes wedges onto a baking tray with no parchment paper, then bake for 45/50 minutes! Enjoy!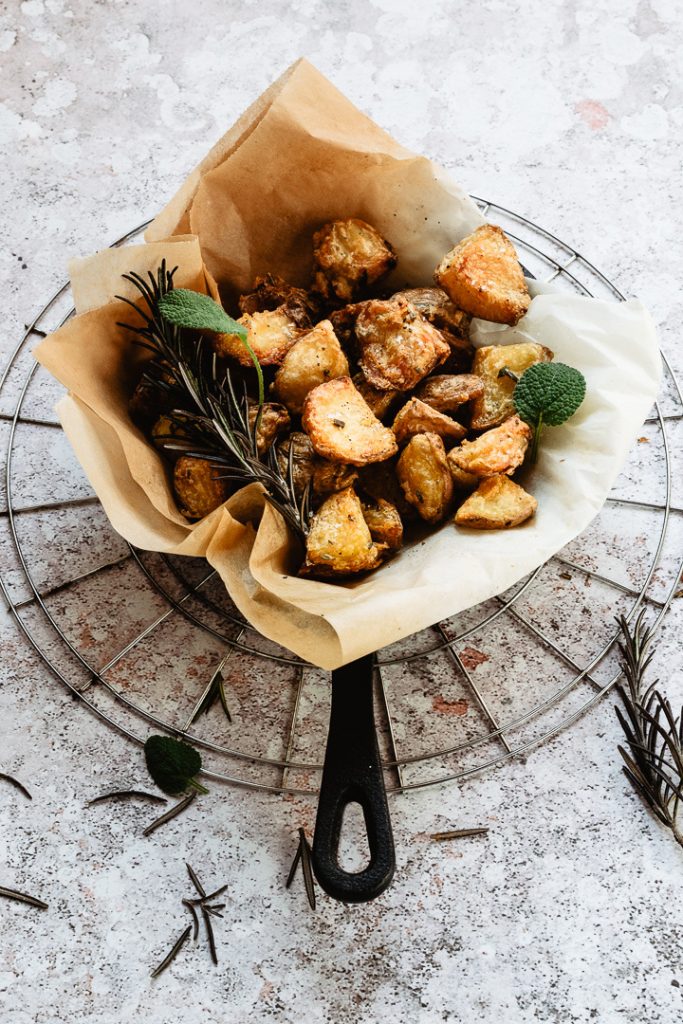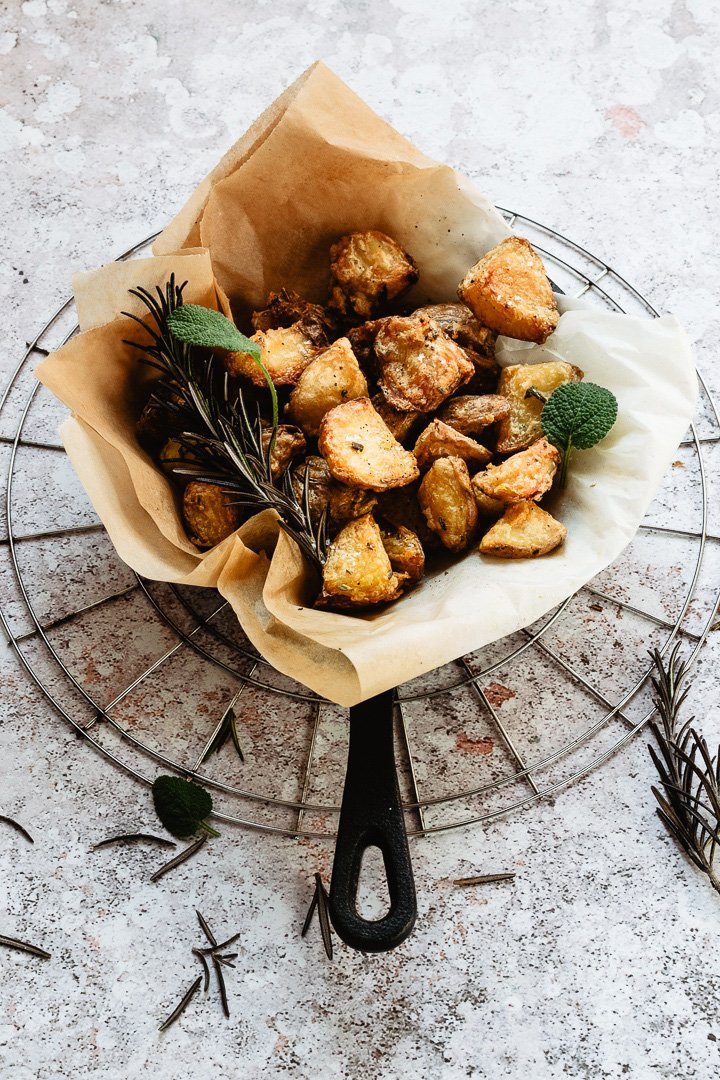 ---
You may need...
The following are affiliate links which means I make a commission off of them with no additional cost to you. Thanks for supporting me!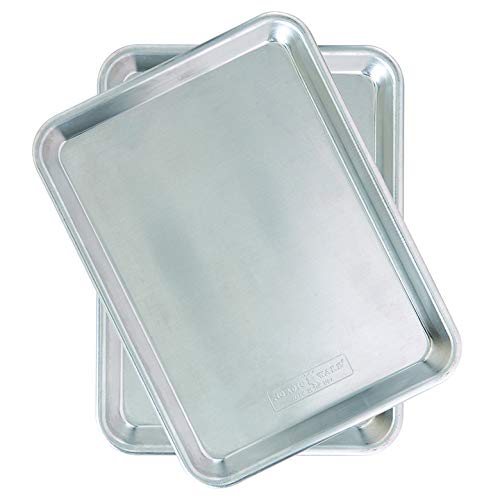 Make sure you bake your potatoes onto a proper baking tray (like these): even if they are coated with oil, the right baking sheet will help you even more to prevent from sticking!
---
If you make this recipe, please be sure to give it a rating and leave a comment! It would make me so happy! 🙂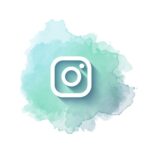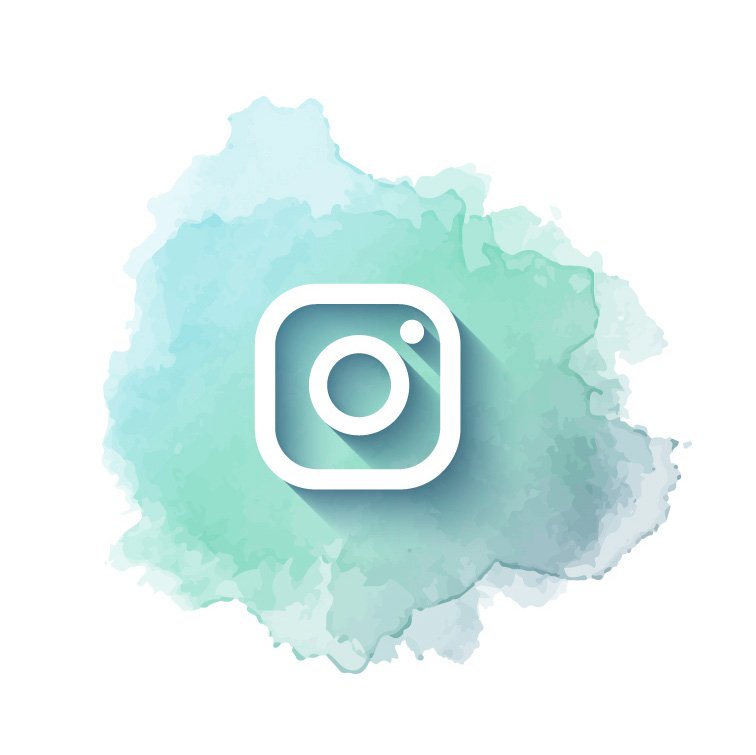 Remember: if you try one of my recipes, tag me on Instagram or DM me the photos! 
---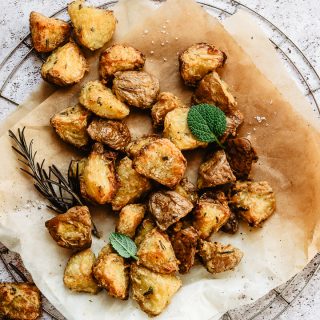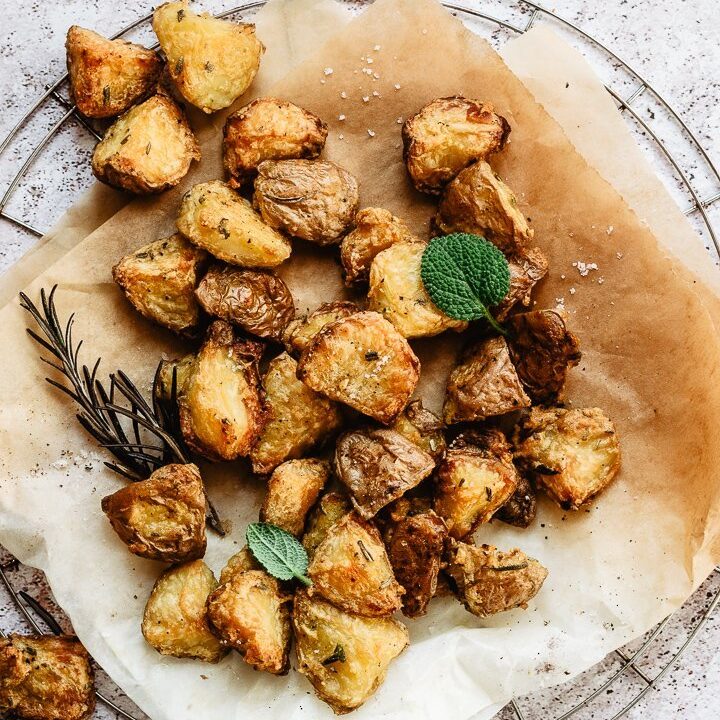 Best Crispy Roast Potatoes Ever
The crispiest ever oven roasted potatoes wedges made with baking soda method! You ready to fall in love?
Print
Pin
Ingredients
400

gr

Potatoes

2 tablespoons

Extra virgin olive oil

some sprigs

Rosemary

a couple of small leaves

Sage

Garlic powder

Salt

Black pepper
To boil the potatoes:
2 liters

Water

4 gr

Baking soda

25 gr

Salt
Instructions
First: did you know you can BOOKMARK this recipe and others so you can find them more easily?:) Takes seconds: you can log in (also w/ gmail) via that small icon on the right bottom corner.
To make these potatoes:
Rinse and scrub the potatoes, then peel them if you don't want to eat the skin (I love it!). Cut them into large chunks.

Bring up a large pot of water (2 liters) to a boil and add salt and baking soda. When it boils, throw the potatoes in.

Pierce them to check if they're ready: they are when the knife meets some resistance. Drain and let them chill into the pot for a minute so the excess steam goes away.

In the meantime heat some extra virgin olive oil with minced sage and rosemary and let it "infuse" for ½ minutes (pay attention not to burn them). Add garlic powder (or fresh one). Turn off the heat.

Preheat oven to 220° C (430° F).

Place potatoes in a large bowl, add the infused oil, salt and pepper then toss until a sort of mashed potato–like paste has built up on the outside.

Spread out potatoes in a single layer on a baking tray and bake for 25 minutes.

After 25 minutes lightly shake the tray and turn potatoes, then bake for 25/30 minutes more or until golden brown.
---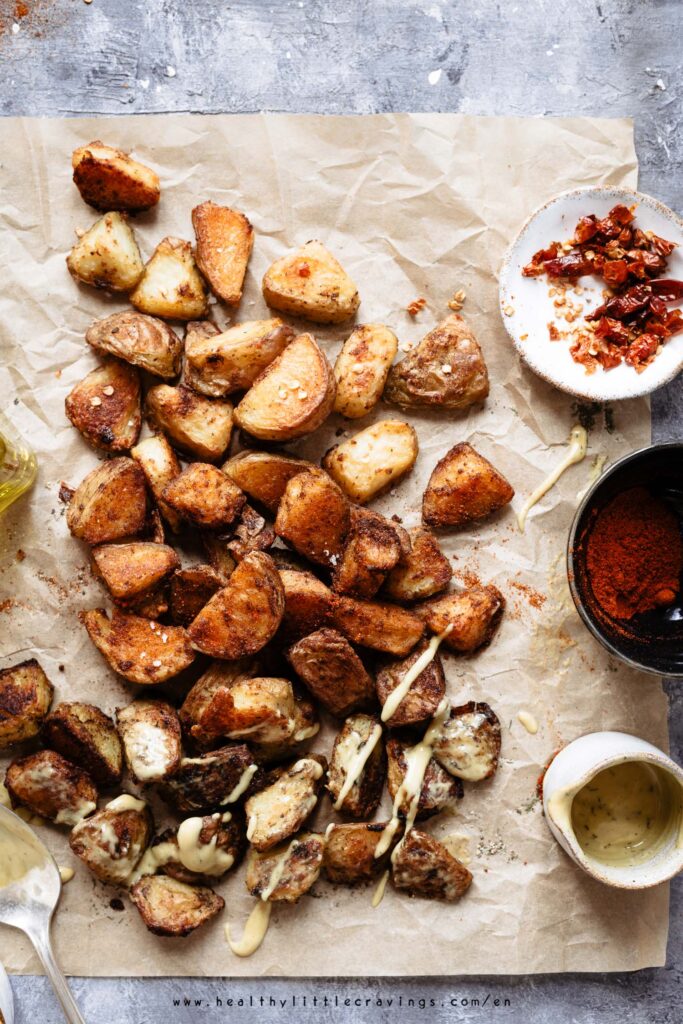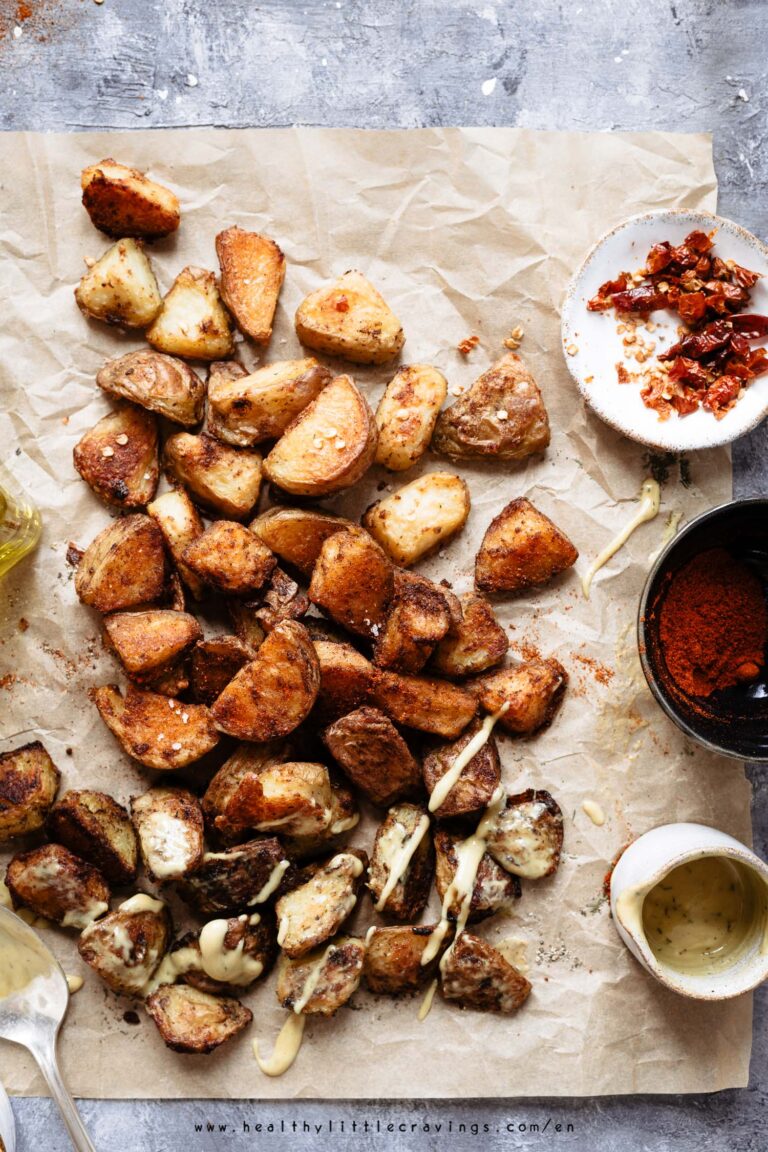 ---
© Healthy Little Cravings - Roberta Dall'Alba.
I own all content and photos' copyright.
Before using my photos and recipes, please email me.
If you would like to republish a recipe, please link back to this post and re-write the instructions in your own words.