To have a nice start of the day you need an excellent breakfast. Do you agree with me? Well, if you answered 'yes', this caramelized pear, almonds and cinnamon french toast recipe is perfect for you! Imagine: soft and sweet caramelized pears and crunchy toasted sliced almonds over a fluffy french toast spiced with cinnamon powder. Ahhhh, you need this!
This pear, almond, cinnamon french toast recipe is what you need in the morning...
Seriously though. Isn't breakfast the "sacred" moment of the day? To me it's even more: it's a moment I can take for myself, in complete quietness. I love waking up in the morning, open the shutters and staring at the dawn, that beautiful morning light. It fills up my heart.
French toast is the king of breakfasts. As I mentioned in a previous post, when I think about them my mind goes straight to the breakfast room of a Parisian luxury hotel. Is it the word 'french' that tricks me? Maybe. But, no matter how, I think of something sumptuous, luxurious. A royal breakfast!
And this pear, almonds and cinnamon french toast recipe certainly is the king (or queen) of breakfast. Just look at them: aren't they almost majestic, with those pears standing on the top? They'd just need a crown.
About the flavor: how can I describe it? The caramelized pears are everything here. Unlike the other recipes I posted in the past, this time, to obtain caramelized pears, I did not grill them. I literally cooked them in caramel. The result? An amazing sweet topping. I didn't use any sweetener in the batter for this reason!
The almonds instead give a nutty touch, perfectly perfect in this case.
Have some questions about french toasts?
Let me say, french toasts are extremely easy to make, in my opinion. But you may have some questions about them:
Why is my french toast soggy?
If you don't want to get a soggy french toast you should pay attention to the heat. Use medium heat to make sure they cook evenly. Also do not use too much milk, 50/65 gr for one egg is ok!
Is French toast supposed to be gooey in the middle?
The perfect french toast - at least for me - has to be crispy on the outside and a bit gooey in the inside. Otherwise, if it's all crispy, it's like a normal toasted piece of bread.
As you can see from the photos, I decided to use normal white bread this time, but if you really want perfection use a thicker bread (ideally 2 cm thick).
How do I know when my French toast is done?
Easy: when they're golden brown on both sides!
---
You may need...
The following are affiliate links which means I make a commission off of them with no additional cost to you. Thanks for supporting me!
To  prevent from sticking, make sure you use the right non-stick pan. Like this, for example!
---
If you love French toasts or caramelized pears, then check out these recipes:
---
If you like the recipe, please give it a 5 star rating: I'd be so happy!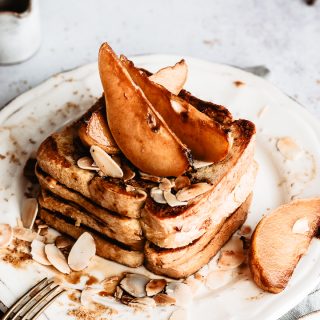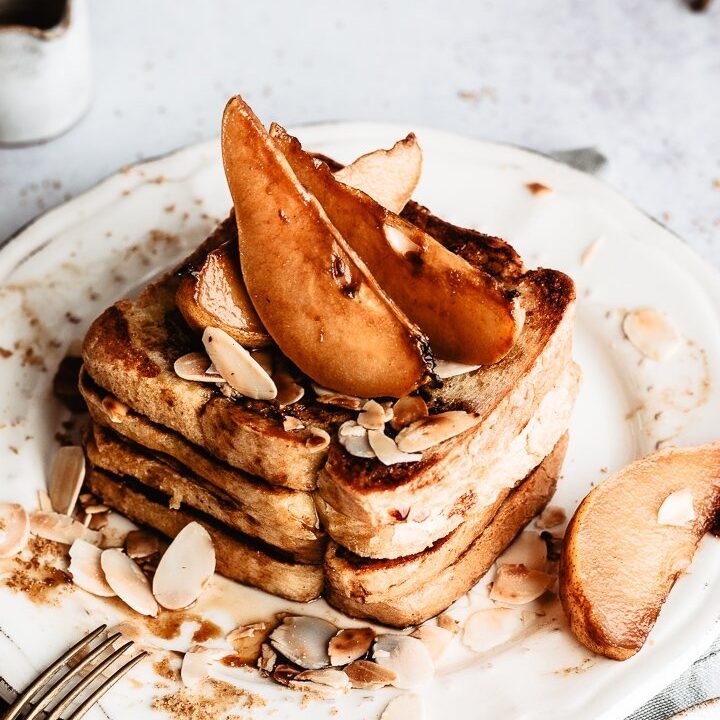 PEAR ALMOND CINNAMON FRENCH TOASTS
A delicious start of the day with this pear almond cinnamon french toast recipe!
Print
Pin
Ingredients
4

Bread slices

1

Egg

50/65 gr

Milk or plant milk

a pinch

Cinnamon

1 teaspoon

Vanilla extract
For the caramelized pears:
half

Williams Pear

1 teaspoon

Coconut oil

1 teaspoon

Milk

1 tablespoon

Raw brown sugar

a pinch

Salt

-

optional
To garnish:
Sliced almonds (toasted)

Maple syrup

-

optional
Instructions
Start by caramelizing the pears: in a pan let the sugar melt at medium-low heat, then add a teaspoon of coconut oil and one of milk (also a pinch of salt if you want). Wait until you obtain a thick caramel sauce (keep stirring with a spatula).

Caramel half pear (or one) into the sauce (5 minutes should be enough)

Set aside to cool down and in the same pan toast the sliced almonds for a minute or so.
To make the french toast batter:
In a bowl combine egg, milk, cinnamon and vanilla extract. Whisk.

Grease a pan with some coconut oil.

Soak the each slice of bread then cook them at medium heat for about 1 or 2 minutes each side or until golden brown.

Garnish with pear, almonds and, if you want, maple syrup.