Cause there's nothing carbs can't fix, that's how I started one of my latest posts on Instagram this week.
And that is what I am claiming today, because...well, you see the baked potatoes below right?!
They honestly are the best roasted potatoes and I'm ready to list all the reasons WHY they actually are. Challenge accepted, my friend!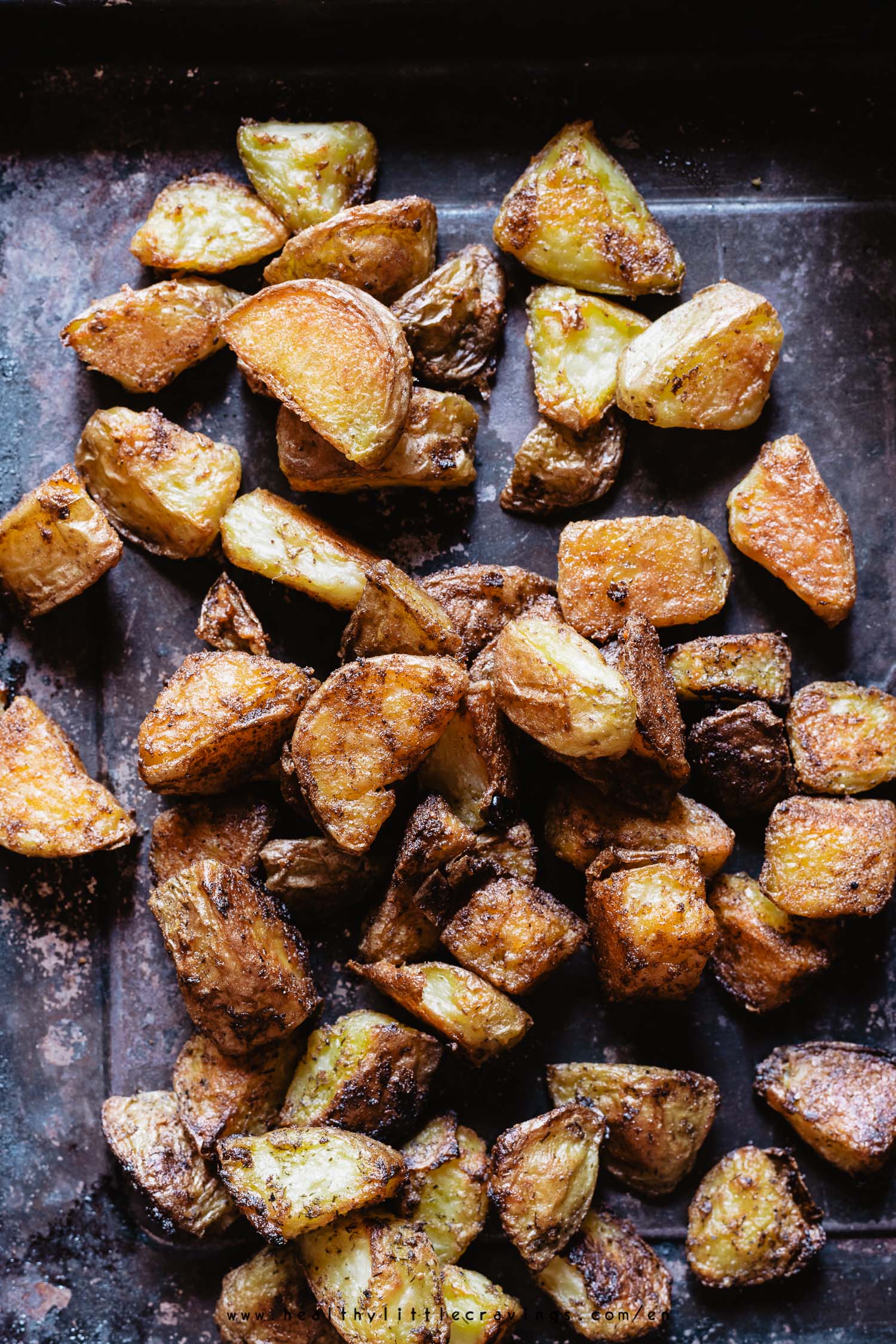 Best roasted potatoes and no I'm not kidding.
Every single person that already have tried this recipe I posted back in February for my EXTRA crispy roasted potatoes told me "OMG, they're delicious 😮 ". And I'm not kidding. I can show you screenshots, if you want!
My friend Alessandra here says:
Robiii! I made your potatoes!
Most delicious ever!
*photo*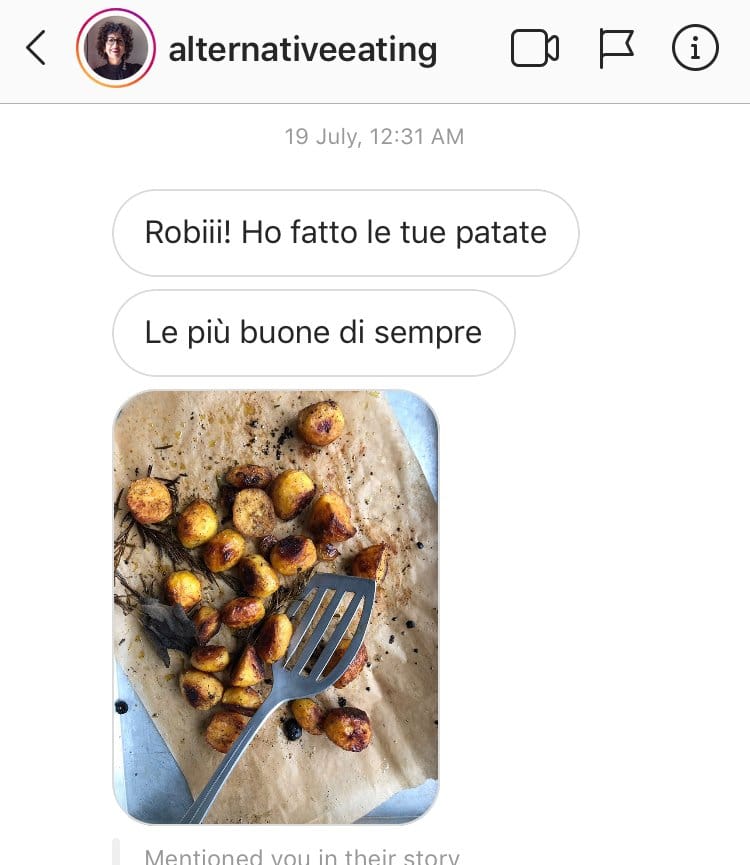 No wonder they're the MOST clicked recipe on the blog (on the English website, to be precise).
I think I know the main reason why everyone loves these: these are extra crispy potatoes. And the secret is all in the boiling + baking phases.
But let's see in detail.
(anyways, these photos speak!)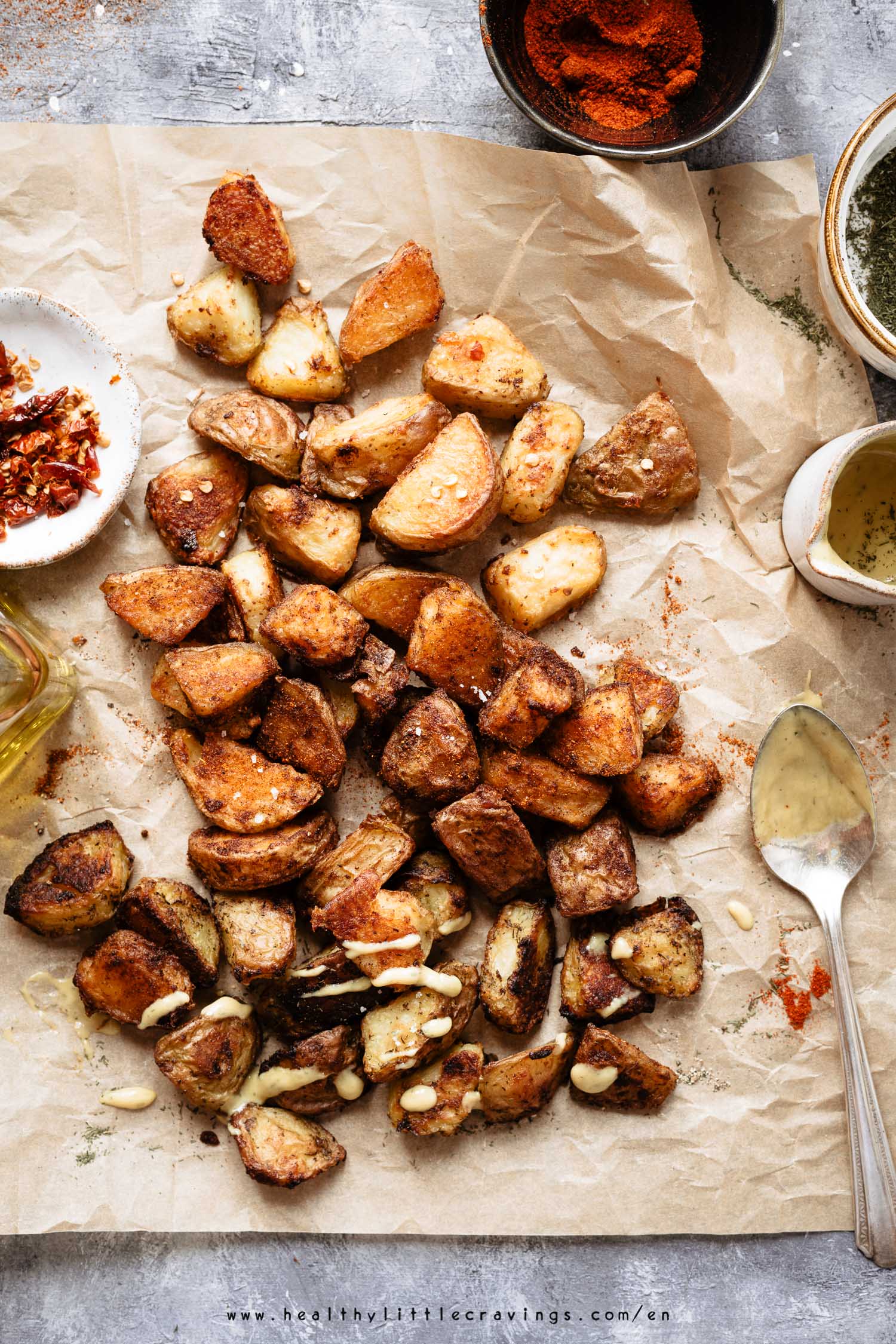 WHY these are the perfect roast potatoes:
I love lists (do you?!) so, let me list all the reasons why these are the best roasted potatoes you'll ever have (so I can convince you!)
You don't need to peel them (unless the skin is something that bothers you, clearly)
Boiling phase only takes approximately 15/20 minutes (and you don't need to watch them while they're boiling, obviously)
No salt needed: infused oil gives SO MUCH FLAVOR. Want to know a secret? When I made them the first time, I forgot the salt. But I only realized that after finishing the whole plate. And I was like... Whaat?! Why did they taste salty? - the salt in the boiling water + infused oil make a difference!
They're crunchy & soft: super crispy on the outside but so soft and almost creamy in the inside. That alkaline water works wonders!
---
About the alkaline water
I talked about this topic, and why boiling potatoes in baking soda is key, in the main post back in February so make sure to check it out!
---
They're so flavorful: again, that's the oil. A high quality extra virgin olive oils is essential here.
They're versatile. In this recipe, I shared how to make baked potatoes 3 ways, but you can "customize" them: you don't like garlic? Omit it. You don't like spicy food? Then don't make those chilli potatoes.
Let your imagination go!
Few suggestions: onion potatoes, parsley garlic potatoes, curry cumin potatoes... Try them all!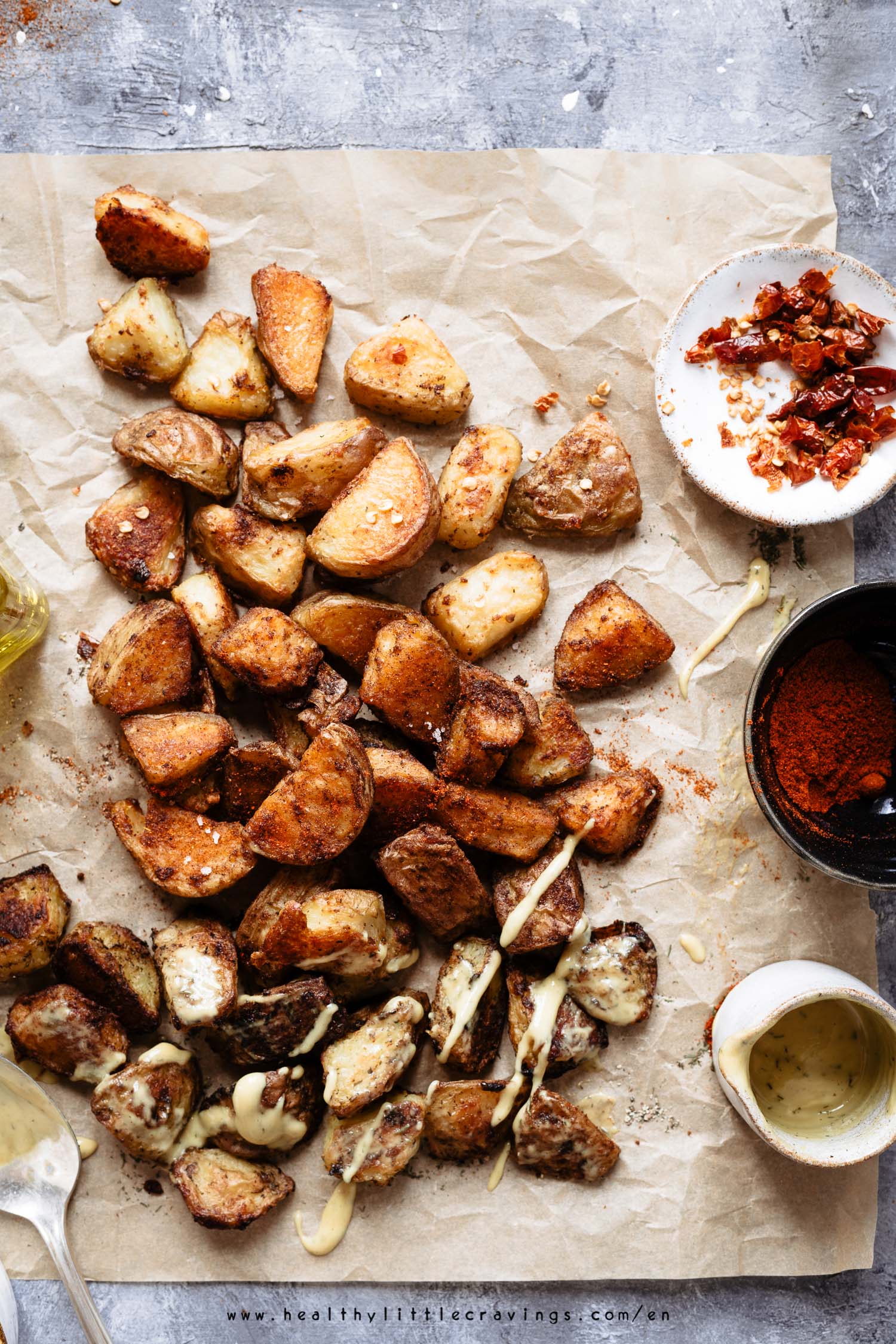 Roast potatoes 3 ways
So this time I decided to season them with 3 different flavors. They're all so tasty and no need to add salt (I explained this above).
Wanna know me and boyfriend's favorite? The dill and mustard potatoes with a touch of honey! We're obsessed with this sauce!
These are inspired by a famous fast food company twisty fries: when I still used to go eating fast food yeeeears ago, I was obsessed with these. Unluckily, I've never found out how they were made (obviously). Over time, I've tried to reproduce the flavor and these are slightly similar (just slightly, because honestly it's been a while and I can't remember distinctly. Anyways, they're so good).
A simple but effective combo, perfect for spicy food lovers!
Have you ever been to Ikea? Well, Ikea sells a very flavorful (ingredients are meh) mustard sauce with mustard (duh) and dill.
Potatoes are perfect with mustard so no wonder these are our favorite! TRY THEM!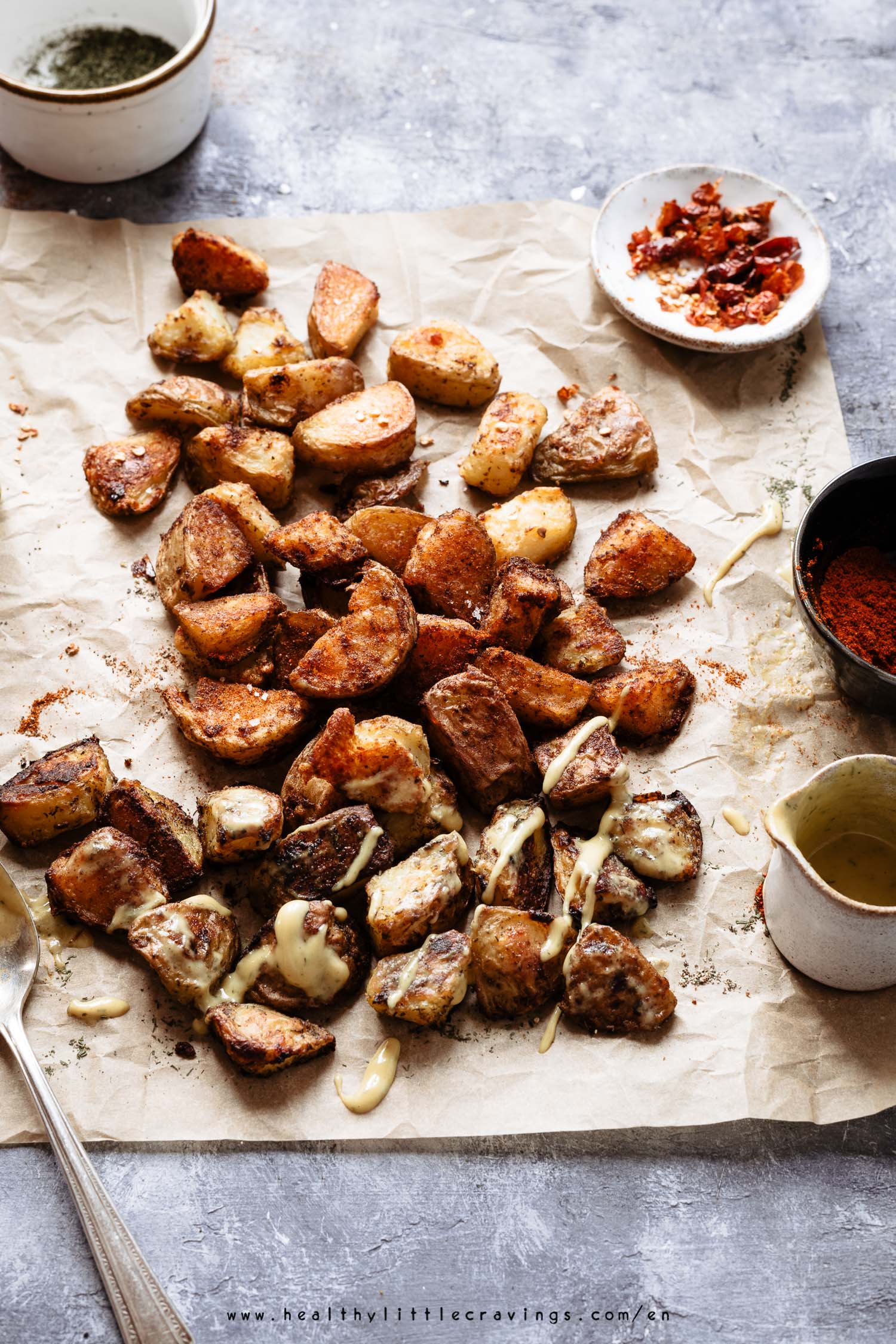 Are these potatoes good for roasting?!
Have you ever wondered which variety of potatoes is good for roasting? Friend, let's talk potatoes.
Are white potatoes good for roasting?
White flesh potatoes are considered "all purpose" potatoes so yes, you can use them.
Are yellow potatoes good for roasting?
Yes, yellow potatoes - like Yukon Gold potatoes, with light yellow pulp and yellowish-white skin - are good for roasting! Go for it!
Which variety of potato is best for roasting?
Ok, the cornerstone: the most important property is the "age". The newer the potatoes, the better.
Why? Because - unlike older potatoes that have more starch - these have a think skin and crisp texture, and they keep their texture once cooked (in fact, they're perfect for salads too).
Russet or Yukon Gold are a classic choice!
And if you were still wondering, my friend: yes, this is a veeery good recipe for baked potatoes. Give it a try!
---
If you make this recipe, please be sure to give it a rating and leave a comment! It would make me so happy! 🙂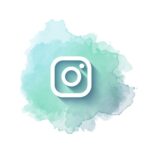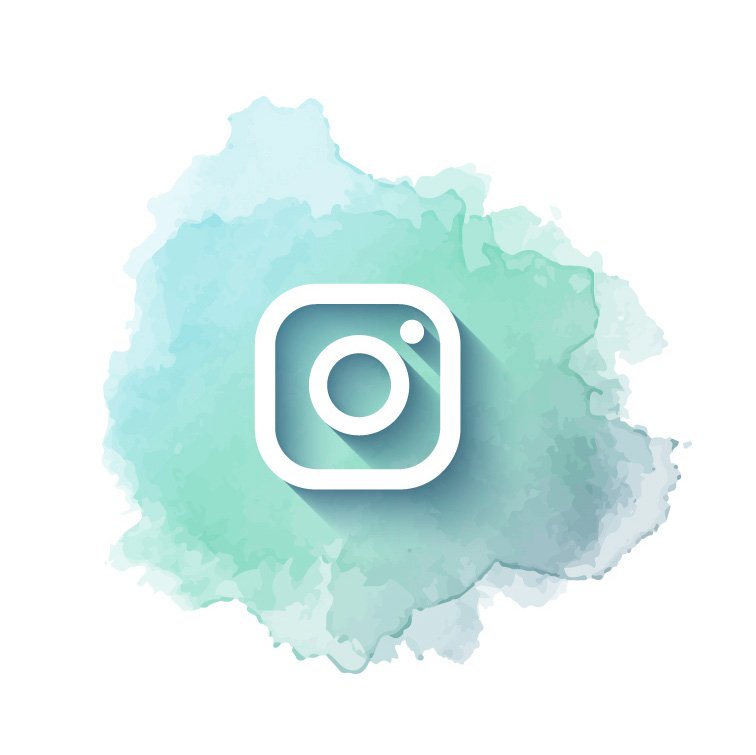 Remember: if you try one of my recipes, tag me on Instagram or DM me the photos!
---
Don't forget to pin and share this easy and delicious recipe!
---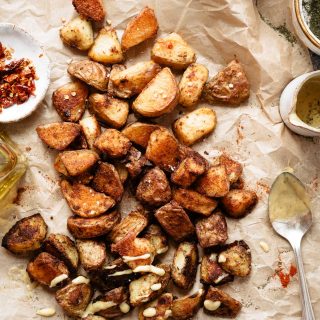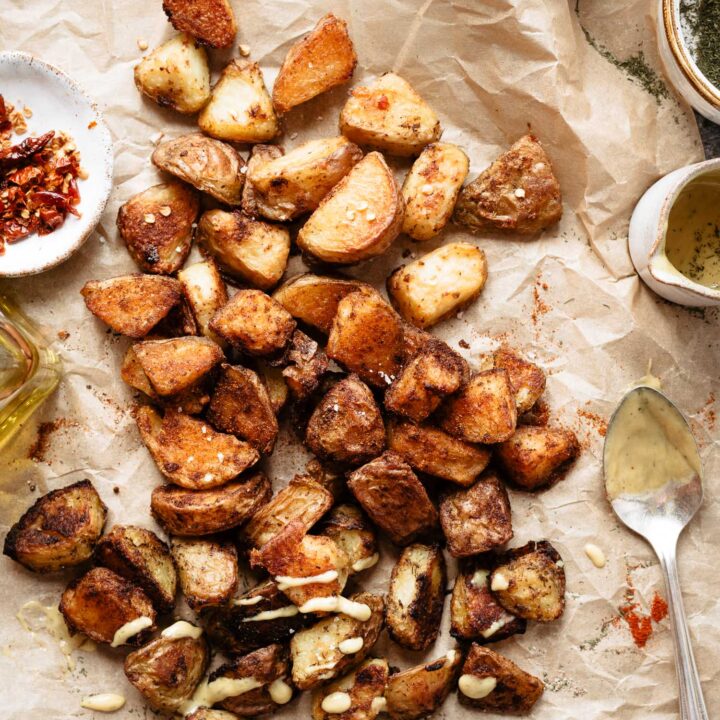 BEST ROAST POTATOES
3 ways to season the best baked potatoes: double paprika, dill and mustard, chili pepper and garlic. NO SALT!
Print
Pin
Ingredients
For the double paprika potatoes:
10

gr

Extra virgin olive oil

half a teaspoon

Sweet paprika

half a teaspoon

Smoked paprika

a small pinch

Garlic powder
For the chili garlic potatoes:
10 gr

Extra virgin olive oil

¼ teaspoon

Chili flakes or powder

¼ teaspoon

Garlic powder
For the dill and mustard potatoes:
half a teaspoon

Dill powder

one teaspoon

Dijon mustard

half a teaspoon

Honey
To boil the potatoes:
2

liters

Water

25

gr

Salt

4

gr

Baking soda
Instructions
If you want to eat your potatoes with their skin on, then rinse and scrub them well. After that, cut into large chunks.

Bring up to a boil a large pot with 2 liters of water. Add salt and baking soda, then throw the potatoes in to cook.

After 15/20 minutes, pierce them to check if they're ready: if the knife meets some resistance (but not too much!) they're ready.

Drain and let them chill into the pot for a minute so the excess steam goes away.

Preheat oven to 220° C (430° F).

In the meantime heat 10 grams of extra virgin olive oil, throw in the garlic and chili powder and turn off the heat to avoid the garlic to burn. Set aside.

Repeat the process with oil + paprika and oil + dill.

Divide the potatoes into 3 parts and put them in 3 bowls.

Add the infused oil to each, then toss until a sort of mashed potato–like paste has built up on the outside.

Add mustard and honey to the oil + dill potatoes and toss again.

Spread out potatoes in a single layer on a baking tray and bake for approximately 25 minutes.

After 25 minutes turn the potatoes using a spatula, then bake for 25/30 minutes more until golden brown.

Serve immediately! THEY ARE SUPER CRISPY!
---
Loved this recipe? Check out the MOST CLICKED recipe ever on the blog: CRISPY ROASTED POTATOES!
---
© Healthy Little Cravings - Roberta Dall'Alba.
I own all content and photos' copyright.
Before using my photos and recipes, please email me.
If you would like to republish a recipe, please link back to this post and re-write the instructions in your own words.