There are recipes that you can make in literally five minutes and some others that takes time and become almost therapeutic. It has to be said, these dumplings (to be precise, they're potstickers) actually are one of the best pastimes in the kitchen, especially if you're making them for the first time!
Today I'm sharing with you my easy vegan potstickers recipe with a light ginger & cabbage filling. The final touch? A delicious soy, vinegar & sesame sauce.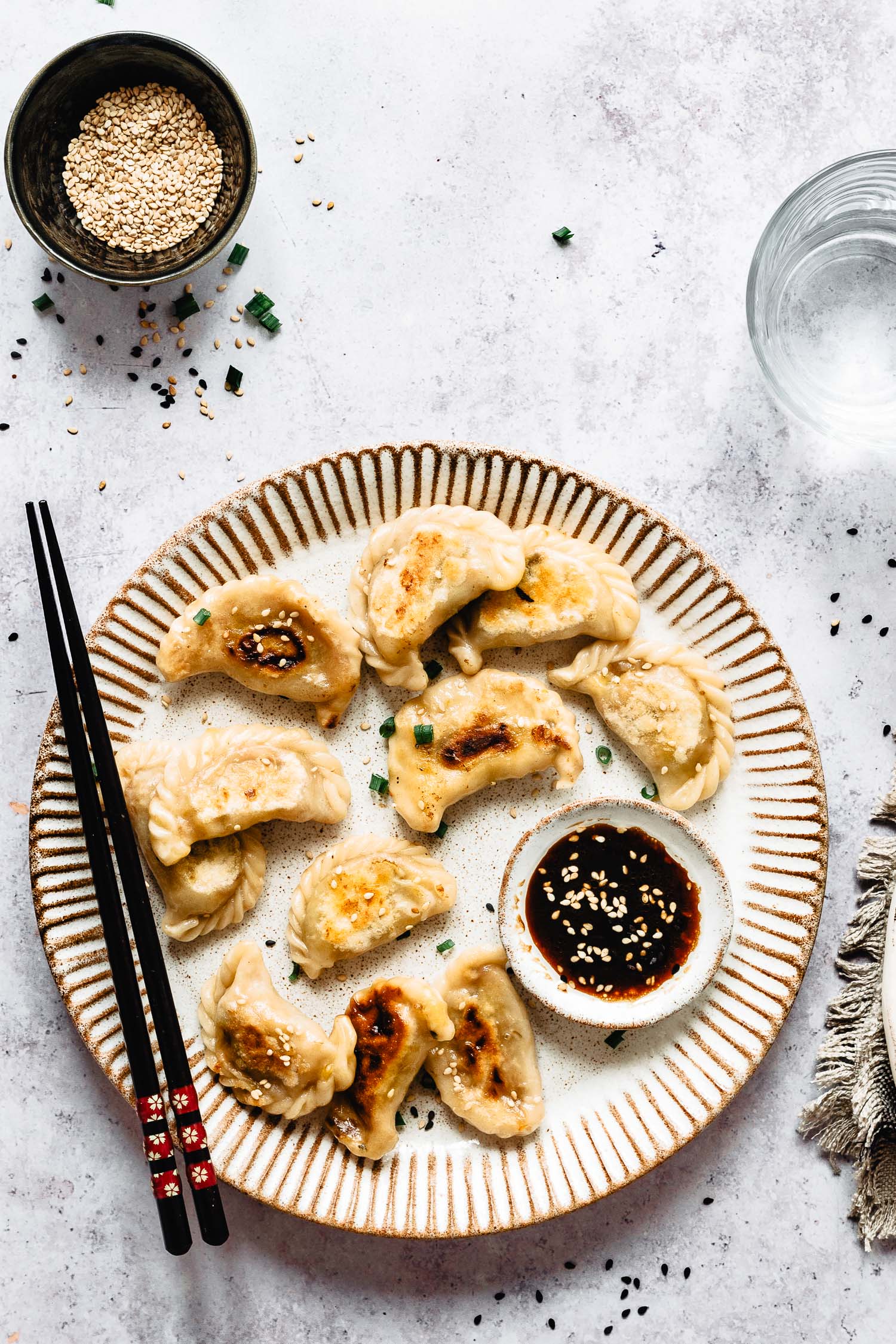 Foolproof vegan potstickers recipe
I've got a confession to make: this was the very first time for me face to face with potstickers.
Some recipes, though, are just so perfect that they don't need any more tests. And this vegan potstickers recipe, dear friend, is one of them. MY boyfriend [yeah, you already know he's the official taste-tester here] LOOOOOOOOVED them. I wish I could show you his reactions!
I know maybe I'm becoming a bit boring with these sentences: "my boyfriend loved this, my boyfriend loved that" but that's reality.
I'm here to reassure you: they're easy. The dough is like any other pasta dough out there, just a combination of wheat flour and water (hot, in this case). Knead, knead, knead, let it rest and it's ready to be used.
The filling is super easy but so flavorful: I've cooked the cabbage with aromas to enhance its flavor. Ginger, chives and garlic are just perfect here.
No salt needed, soy sauce does the work!
Not to mention that dipping sauce: so tasty! I "italianized" it by using balsamic vinegar of Modena, but you can use rice vinegar as well (actually, it will be more asian-style).
Did I convince you to try them?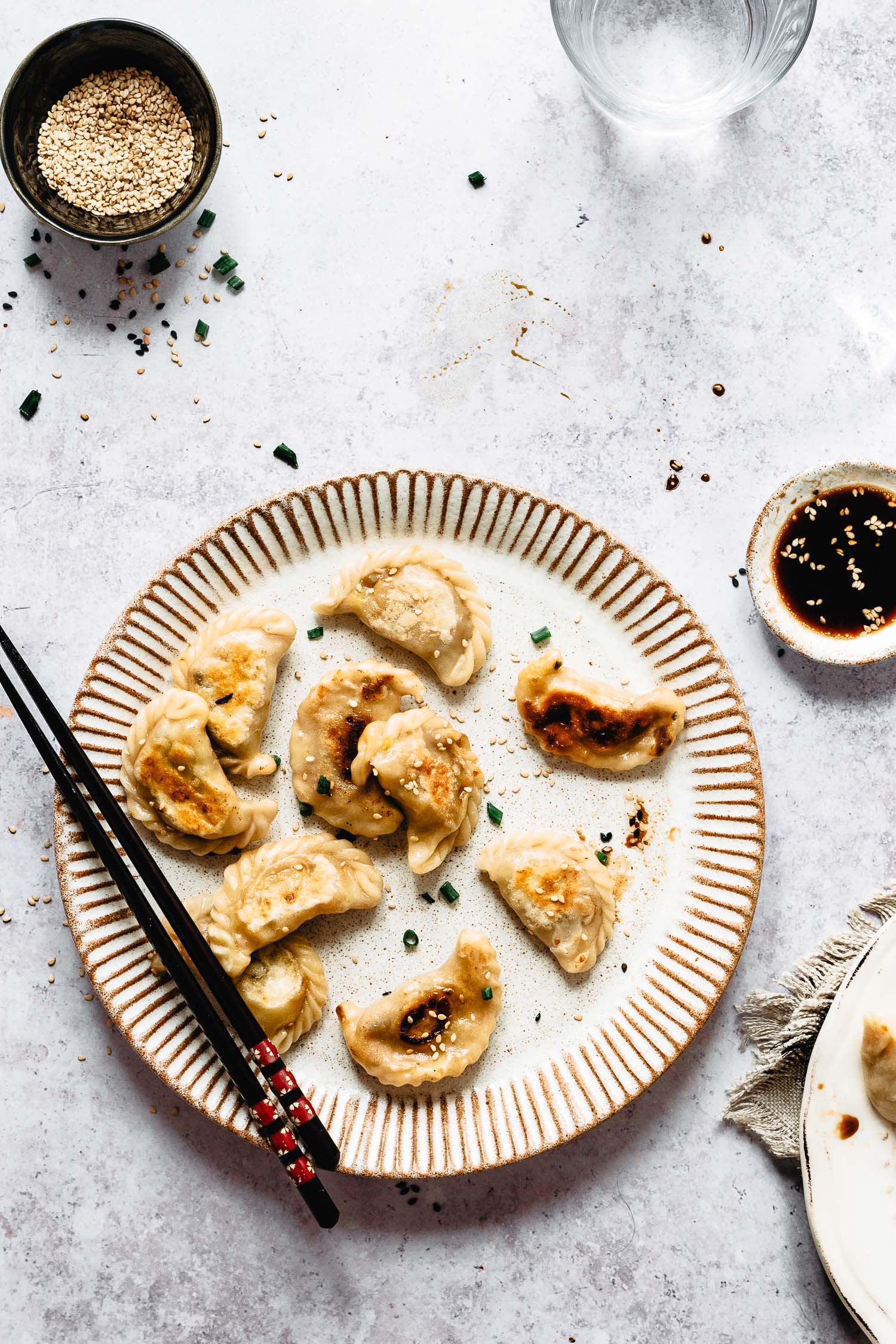 Potstickers and dumplings FAQs
When I started doing a little bit of research on dumplings, gyoza, potstickers and counterparts, I had some doubts and maybe you have them too. So I'm here to answer some questions:
Are dumplings and potstickers the same thing?
From what I've learned, "dumplings" can be considered the macro-category. So, won tons, potstickers and gyoza are all different kinds of asian dumplings.
Why are they called "pot stickers"?
Guess what: because they "stick" to the pan (not literally luckily). They are first browned in oil, then steamed to cook the filling, then fried again until crispy on the outside.
Cookbook author Andrea Nguyen, call this the "fry-steam-fry" method.
How do you cook frozen potstickers?
As I mentioned, I pan-fried them in a bit of oil until golden brown, then steamed, then stir-fried. Nothing different from the not-frozen ones.
Can you freeze potstickers?
Yes. Actually, the ones you see in these photos were previously frozen (raw), then fried and steamed. They were amazing!
To freeze them: line a tray with parchment paper and place the dumplings onto it paying attention not to make them stick one to each other. Freeze. When frozen, you can put them into a plastic bag.
How long does it take to steam potstickers?
It doesn't take too long, but it depends. Pour enough water to fill the bottom of your pan, cover and let evaporate at medium heat.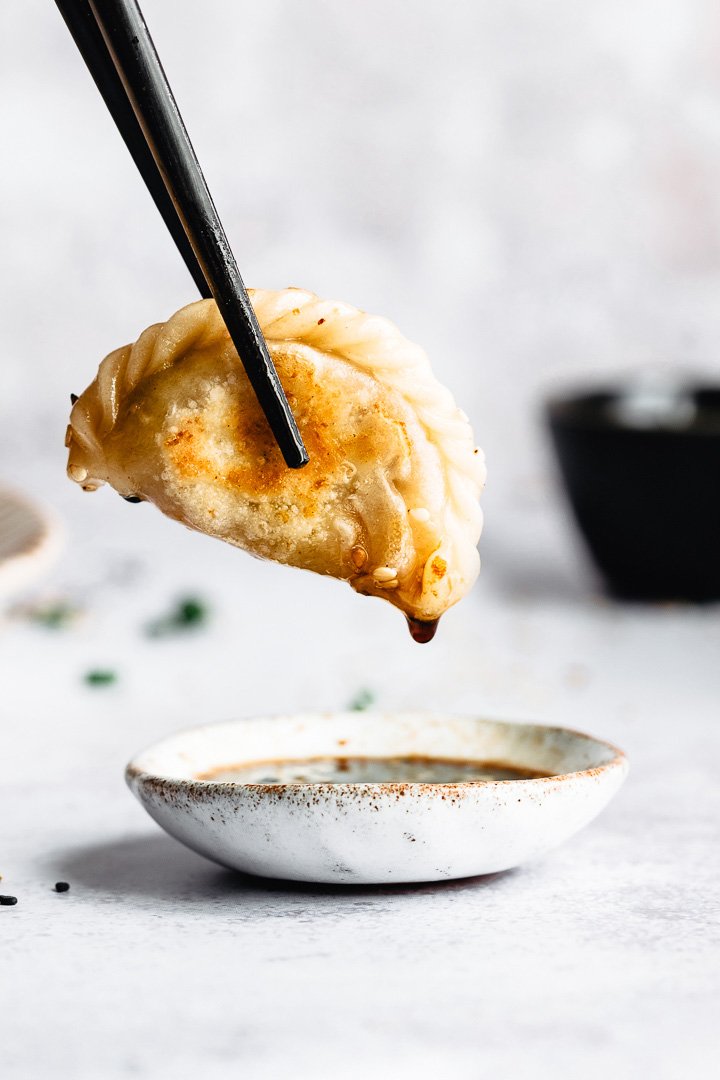 How to fold dumplings:
Ok, maybe this is the most difficult part. But I swear that once you learn how to make them, it will become therapeutic and your favorite pastime lol
There are several creative ways to fold dumplings, choose your favorite. The essential steps are:
Place about a teaspoon of filling in the center of the dough disc
Dip your fingers in water and water the edges of the disc (just half of it)
Pinch the edges to seal them (first choose your favorite pattern!)
It's hard to explain with words so to learn HOW-TO create the pattern, please watch this video, I found it extremely useful.
This time I chose the easiest one, the half-moon!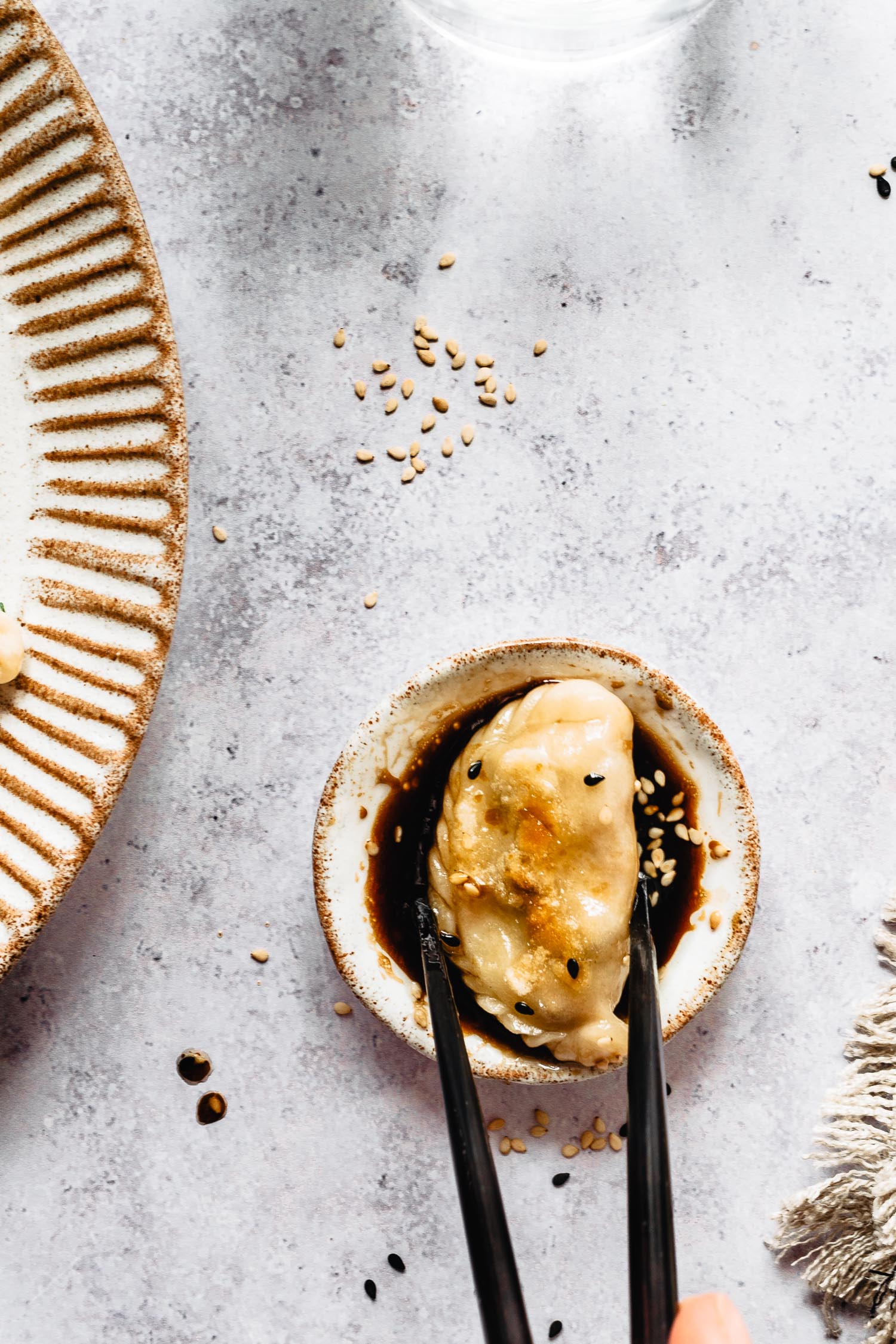 If you make this recipe, please be sure to give it a rating and leave a comment! It would make me so happy!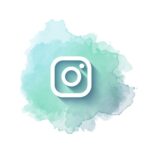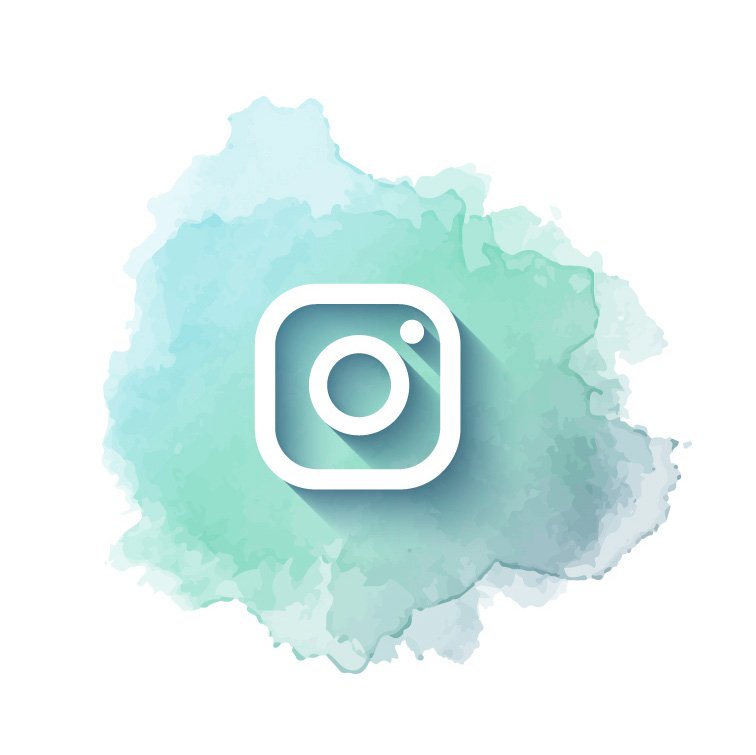 Don't forget to share your photos with me on Instagram: tag me or send a DM!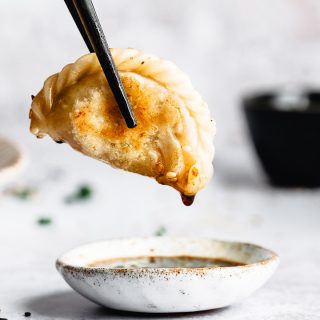 Ingredients
Makes 30 potstickers (for 2 or 3 people):
For the dumpling dough:
200

gr

All purpose flour

100

gr

Hot water
For the filling:
1

Spring onion

-

(50 gr)

one small

Carrot

a small clove

Garlic

300

gr

Cabbage

1 tablespoon

Grated fresh ginger

2 tablespoons

Soy sauce

4 gr or more

Dry shiitake mushrooms

Chives

-

to taste
For the sauce:
2 tablespoons

Soy sauce

1 teaspoon

Rice vinegar (I used balsamic to "italianize" it)

2 teaspoons

Brown sugar

Half a tablespoon

Seeds oil

1 tablespoon

Water

Sesame seeds
Instructions
To make the dough:
You can make it by hand or with a stand mixer.

As usual I use my bread machine with the 'kneading' setting on.




Add the flour to the bowl and activate the machine. Then pour the hot water and let knead for about 10/15 minutes until the dough is smooth.

Now let it chill for 30 minutes into the fridge.
In the meantime, let's prepare the filling:
Soak your shiitake mushrooms in warm water.

Mince your spring onion, carrot and garlic and stir fry them into a pan with a tablespoon of oil, at medium heat.

Add the shredded cabbage and let cook for a couple of minutes. Cover with a lid.

Strain the shiitake mushrooms and chop them.

Add grated ginger, soy sauce, fresh or dry chives to taste and shiitakes. Stir and let cook - covered - for about 10 minutes or until the cabbage is soft.

Set aside and let cool down.
Let's make the dumplings:
Dust your counter top with cornstarch.

Divide the dough into 30 little balls and roll out each ball into a disc.

Wrap about one teaspoon of filling then seal the dumpling. It's harder to explain it so please check out the video I linked in the post (read the FAQs)

Repeat with each piece of dough.
To cook the potstickers:
In a pan, heat a couple of tablespoons of oil then place your potstickers and fry for a couple of minutes or until the bottom is golden brown (at medium heat)

Add enough water to cover the bottom of the pan, close the lid and steam until the water has evaporated.

Open and let cook for another couple of minutes or until crispy (taste one)
For the dipping sauce:
Combine all the wet ingredients then add the sesame seeds.