I can't get enough of oatmeal. It's definitely my go-to healthy breakfast and I want it to be yours too. So, here I am with a quick and easy coffee oatmeal recipe (with the addition of coconut milk), which also happens to be vegan. YAY! P.S. perfect for coffee lovers of course.
---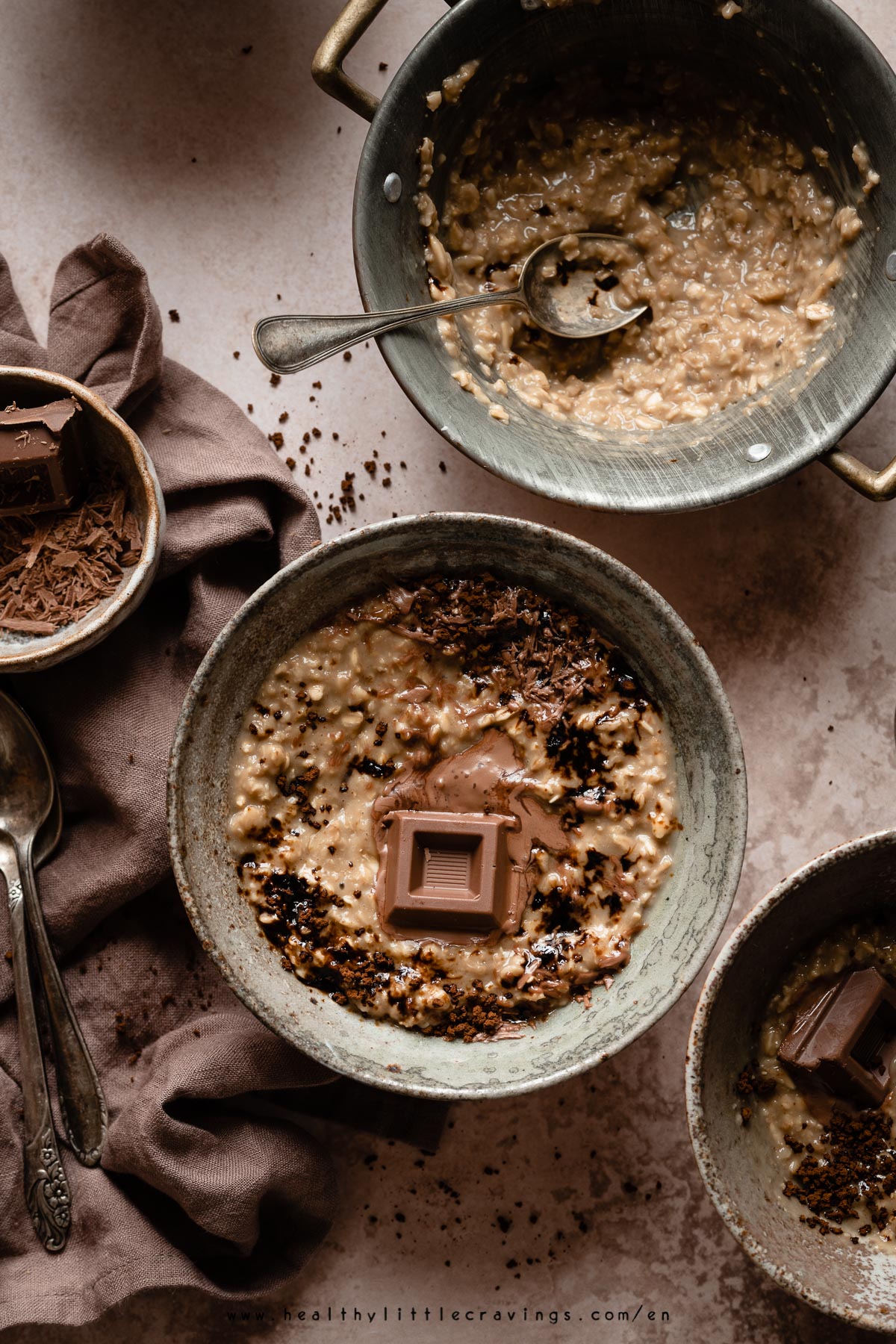 The essentials - recipe ingredients
Ok who am I kidding. Everyone knows how oatmeal is made, but I want to list the ingredients anyway so I can explain what I've used to make this delicious coffee oatmeal.
Oats
Usually, I use the small-sized ones that I can find here in Italy (for reference, these), and I think I can compare them to instant/ quick oats (but high quality). When I cannot find them I buy old fashioned and just grind them to a smaller size, using a food processor.
I've never tried oatmeal using steel-cut oats instead.
Liquids (which coconut milk should you use?)
In this coffee oatmeal recipe I ended up using three types of liquids. I usually use a ratio of 1:3, meaning 1 part of oats and 3 parts liquids. Same thing here.
I decided to add a part of water, an espresso shot and then coconut milk. The coconut milk I've used here though is not the full fat one. It's the "light" one, that we can compare to oat milk, almond milk etc.
The one I've used is made with water, only 4% of coconut paste, bit of cane sugar, cornstarch and salt. Try to find something similar or use regular or soy milk instead.
Lastly, don't forget about the pinch of salt to balance flavors.
No sugar? No vanilla?
I usually prefer not to add sugars inside my oatmeal, instead I sweeten it with garnishes: chocolate (like in this case) or maple syrup. But feel free to add a bit of brown sugar if you want.
I also don't use vanilla extract in this recipe because it would be pointless (we want to taste coffee right?)
What kind of coffee should I use?
In this recipe we need a shot of espresso, alternately use instant coffee granules for a deep coffee flavor.
For extra nourishment
If you want to make your oatmeal extra nutritious I recommend using some chia seeds or flax seeds INTO the oatmeal (so they soak the liquids and form a gel). Both are great sources of nutrients.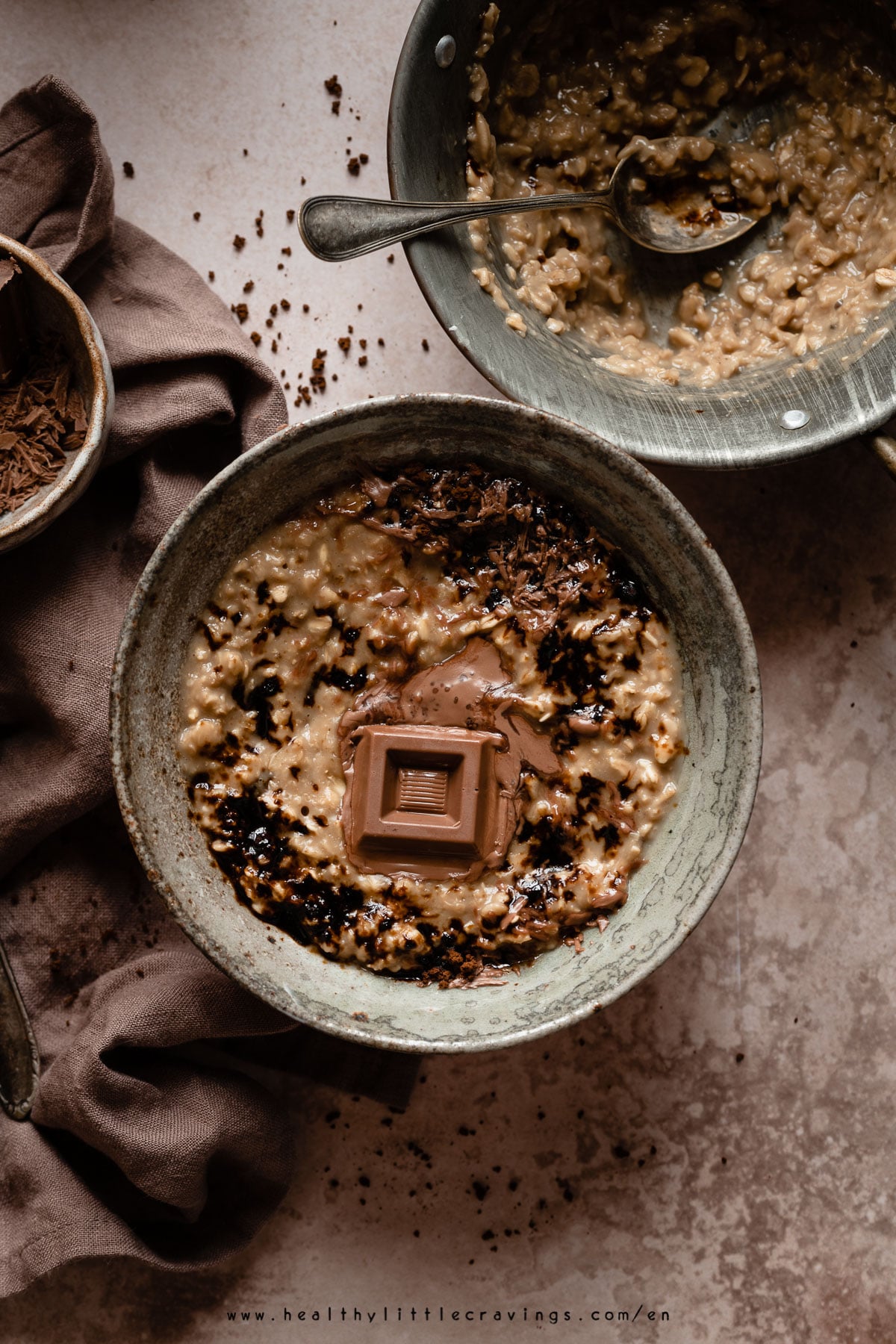 Step by Step: let's make a delicious healthy coffee flavoured breakfast
Like I said above, oatmeal is my go-to breakfast and I think the reason is: it's simple and very quick to make, plus it has so many benefits. Probably everyone knows how to make it, but I know some people struggle with making an oatmeal that is actually delicious.
Combine oats and liquids into a pot/small pan. Roughly mix then bring to a boil, at medium heat.
Lower the heat and keep stirring every once in a while untile you get a creamy consistency (take a look at the video on this page to see how it should be). For a thicker oatmeal you can use a little less liquid or let cook a tiny bit more.
Garnish with chocolate chips or chunks (or cacao nibs!)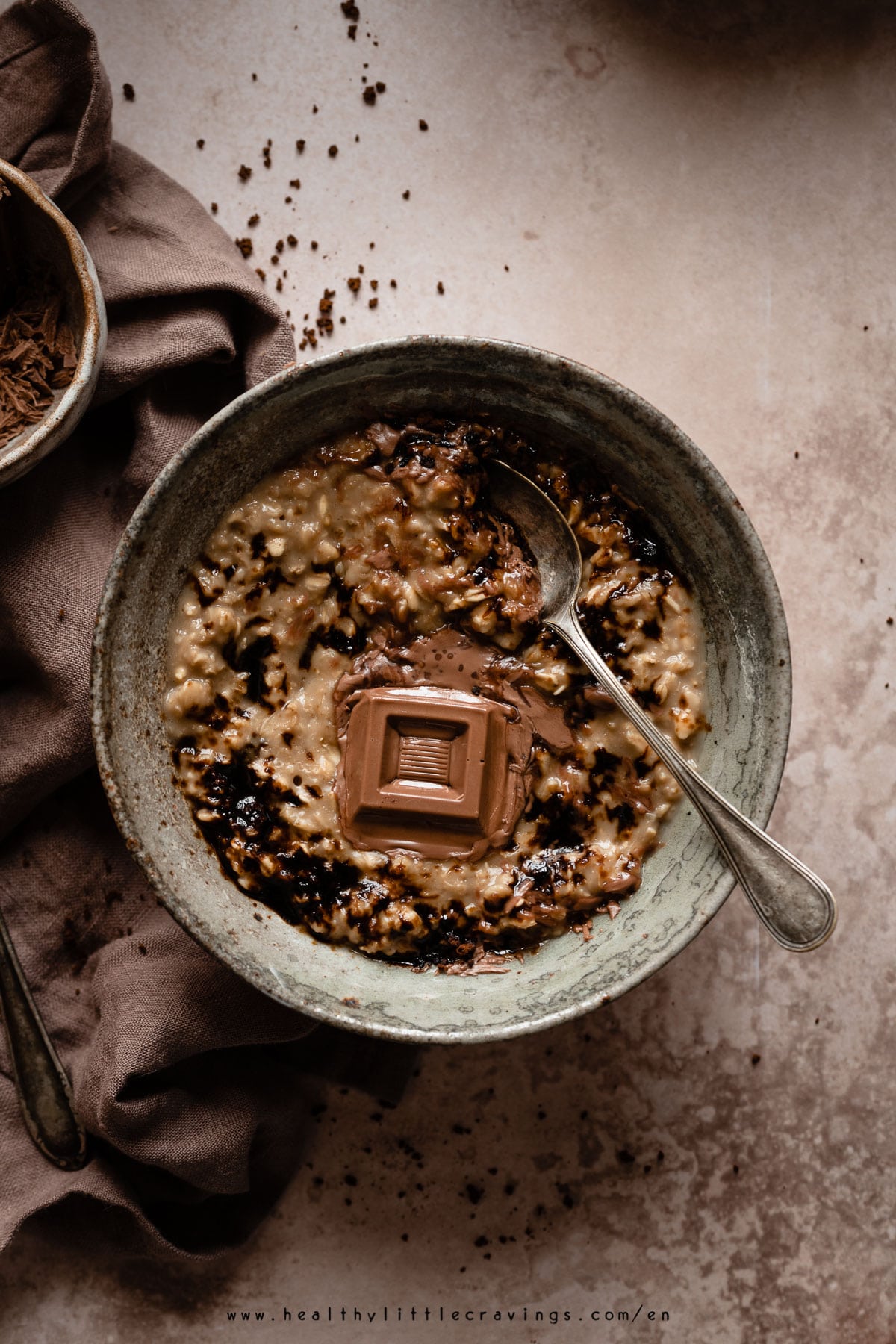 Tips & Tricks - "Can I make overnight oats?"
As usual here is a couple of tips and tricks for you, to make the most delicious healthy breakfast.
Salt: never skip salt. I know people tend to forget about this, but remember this is a sweet recipe after all so we need to balance flavors, actually bring out the sweetness. Don't forget it.
Oats: the fastest way to make this coffee oatmeal is by using quick oats or, like I said before, grind old fashioned. It will take you one minute with a food processor.
For a refreshing make ahead breakfast: you can TOTALLY make this in advance. There are two ways to achieve coffee overnight oats: 1. follow this recipe then refrigerate; 2. alternatively combine all the ingredients into a mason jar or multiple glass jars (add some chocolate too), close it, shake and refrigerate overnight. Voilà, breakfast is served.
Proteins: I usually try to have balanced meals. If a meal lacks a bit of protein though (like in this case), I am not usually too worried about it. I am going to eat more of what is lacking later. In case you want to "compensate" for this though, you can use protein powder (which I never use because I prefer "natural" food), or mix this with coffee Greek yogurt or regular yogurt.
Healthy fats: ditto. This lacks a bit of fats. So in case you want something more filling, use almond butter. I wouldn't use peanut butter because it's going to cover the coffee flavor.
I am 100% confident you're going to love this nutritious breakfast, especially if you love the taste of coffee like me. It's like drinking your morning cup of coffee (well, kinda).
---
If you make this recipe, please be sure to give it a rating and leave a comment! It would make me so happy! 🙂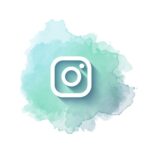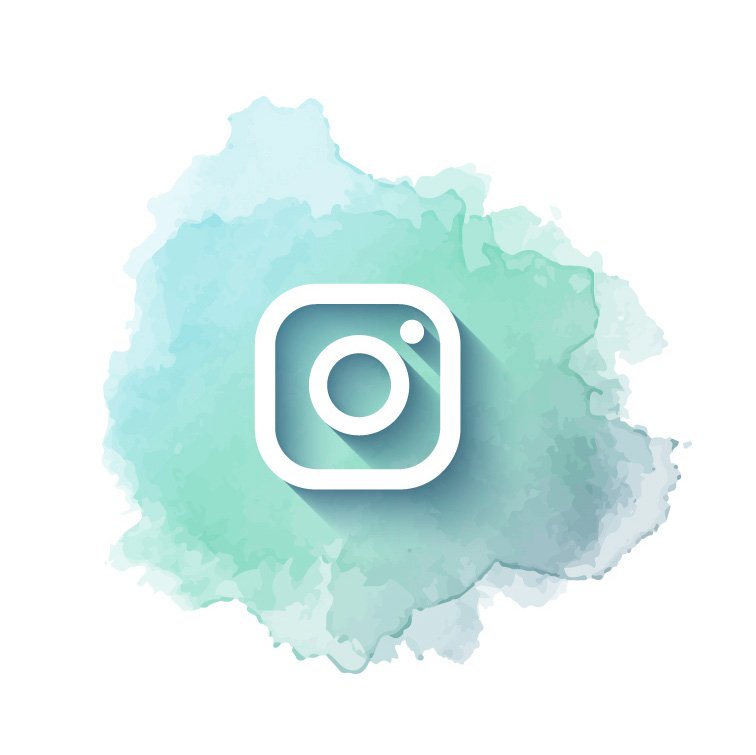 Remember: if you try one of my recipes, tag me on Instagram or DM me the photos!
---
Delicious Vegan Coffee Oatmeal
Coffee oatmeal with a twist: oatmeal with espresso and coconut milk!
Print
Pin
Ingredients
⅓

cup

Oats (instant or old fashioned)

-

50/60 g

¼

cup

Water

-

60 g

½

cup

Coconut "milk"

-

120 g

1

Espresso shot

-

or coffee granules, to taste

Pinch of salt
Garnishes:
Coconut cream or chocolate
Instructions
Add oats, water, coconut milk and coffee into a pan/pot. Whisk then bring to a boil.

Decrease heat and cook for ⅝ minutes, depending on the size of your oats. Add a pinch of salt.

Garnish with more coffee and chocolate/coconut whipped cream.
Don't forget to pin and share this easy and delicious recipe!
---
In love with coffee? Try these recipes ☕️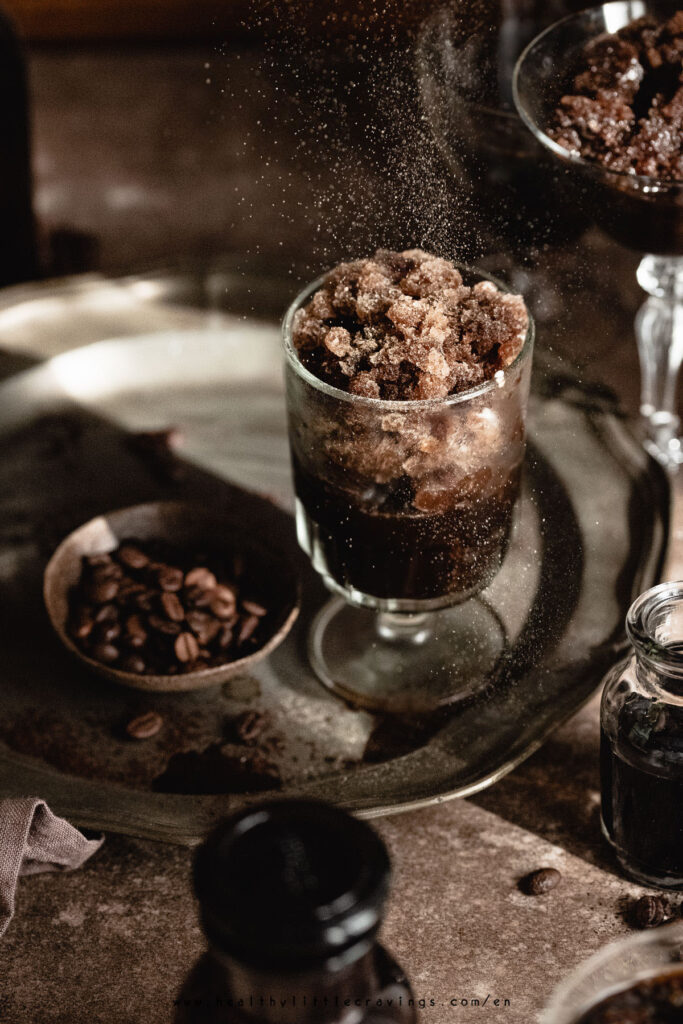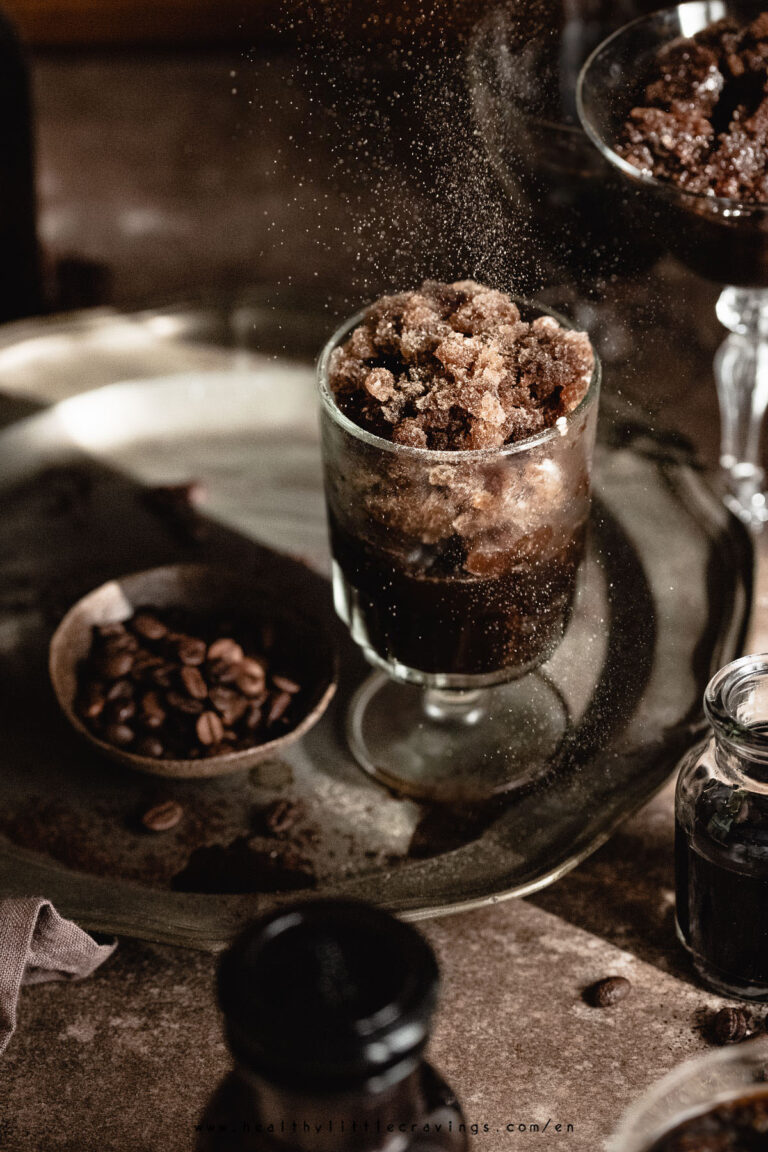 ---
© Healthy Little Cravings – Roberta Dall'Alba.
I own all content and photos' copyright.
Before using my photos and recipes, please email me.
If you would like to republish a recipe, please link back to this post and re-write the instructions in your own words.