Technically, it's almost Summer. I mean, just a couple of weeks separates us from the "bella stagione" (that's what we call Summer - and also Spring, actually - here in Italy).
Oh but you can still make this asparagus tart with creamy ricotta and mint filling. It's the perfect appetizer, lunch or dinner to prepare when you lack ideas!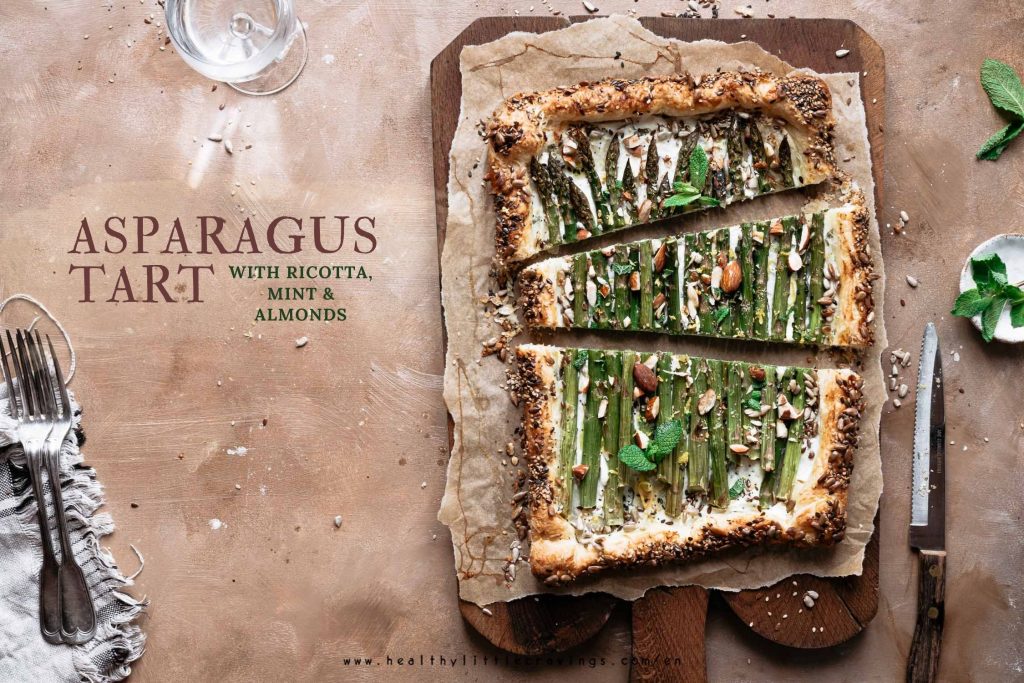 This asparagus tart is the perfect "complete" dish for Spring/beginning of Summer!
First of all, let me say, this asparagus tart is perfect for when, in Spring/Summer, your mind is like *ahem, what should I make today?!*
As I mentioned previously here on my blog, me and my boyfriend love planning our meals for the week, on Sunday night.
We are not nutritionists, nor dietitians or whatever.
Despite this, we have a basic knowledge (especially me, because I love the subject) of what a meal should look like.
No, we don't track macros.
Yes, we eat intuitively.
Why this tart is "complete"
Every meal should** include fats, carbs, proteins and then the micronutrients from veggies.
And this asparagus tart with ricotta, mint and almonds has everything you need, that's why I'm telling you it's complete.
The flaky puff pastry has carbs and fats, the filling is made with ricotta so proteins, also the almonds contain healthy fats. Finally, the asparagus provide micronutrients.
What more could you ask for?
---
**I'm talking about healthy people that don't need to lose weight/gain muscles or whatever.
In that case, you should consult an expert.
---
Therefore, friend, this was the perfect lunch to us.
Instead of the "same" pasta, potatoes or rice with veggies, a protein source and extra virgin olive oil, we've decided to have this "complete dish" instead.
Oh, remember you can also serve it as an appetizer for your guests!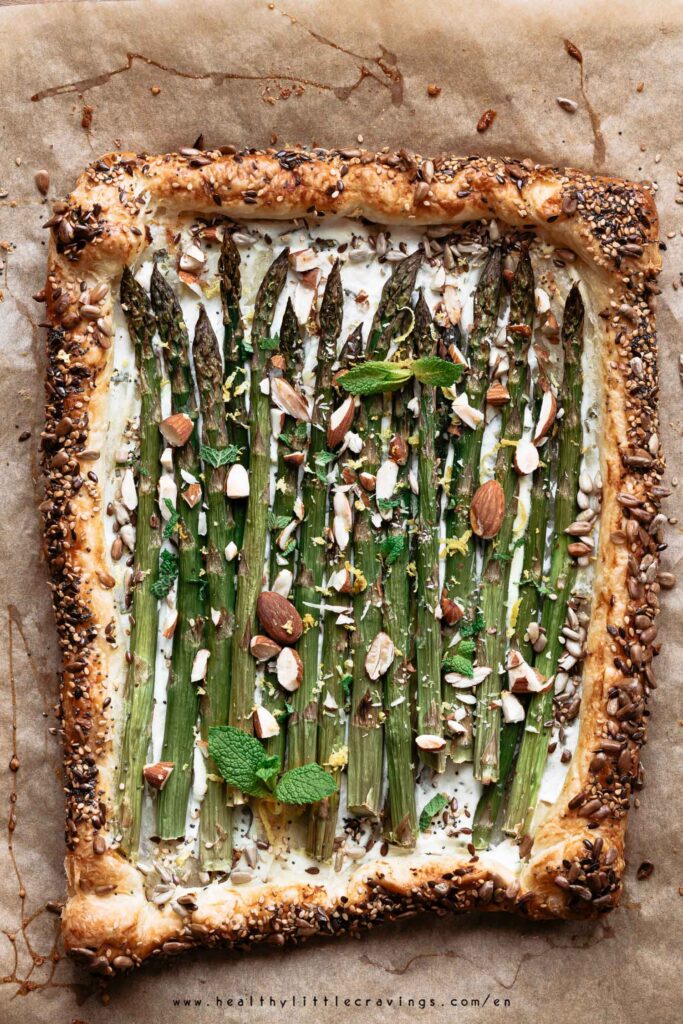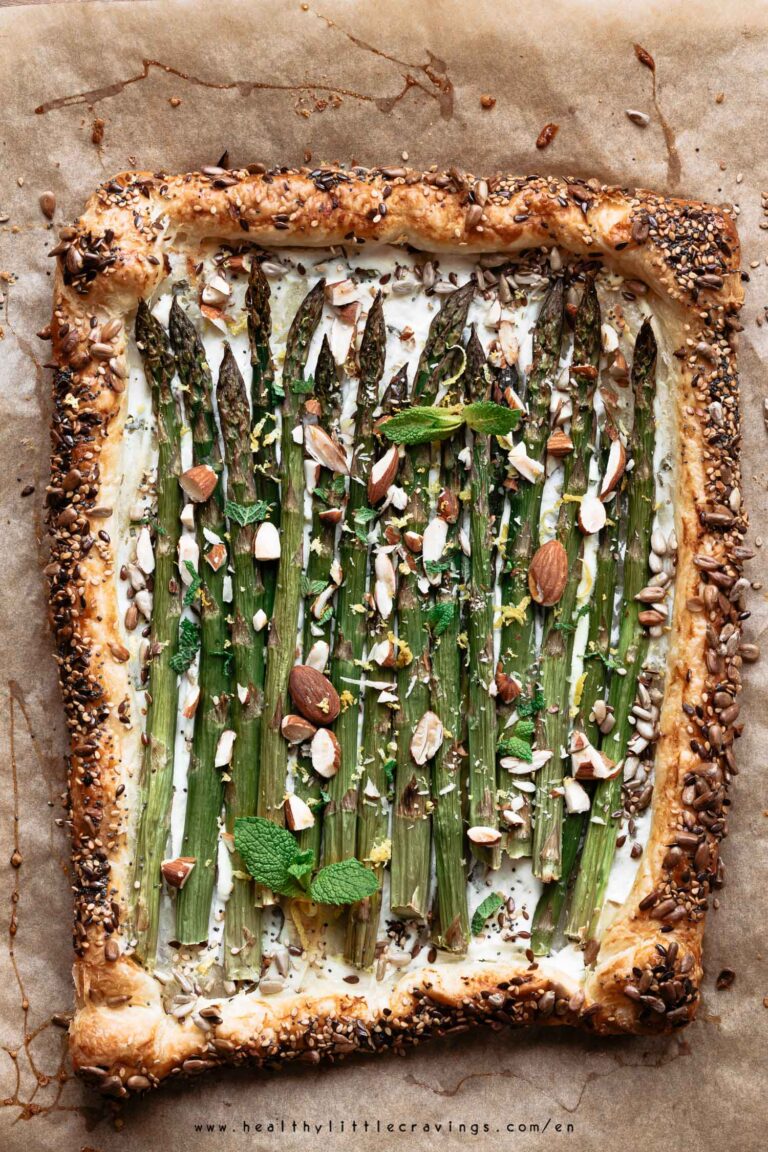 A delicious savory tart in 3 steps
Now, if you look at the recipe below you'll see it will take you approximately 45 minutes to make it. That's an estimate, obviously.
Even though you could think this is a lot of time for a tart, believe me, it's not. In fact, 35 minutes are just for baking.
So you can prepare it in 10/15 minutes then let it cook, and you're done!
Let's see the 3 steps to make the asparagus tart
Puff pastry: roll it out and fold the edges (if you prefer, though, make the puff pastry from scratch!);
Filling: combine ricotta, mint and a pinch of salt;
Topping: clean the asparagus (as suggested here) then place them onto the tart, top with almonds and...bake!
Oh, also: I've used egg on the edges of my puff pastry to make sure that the seeds could stick.
I was inspired by @bealubas photo (love her!)
I've used it also to give a golden brown color and a nice shine to the crust! This happens thanks to the protein and fats into the egg.
[If you want to read more, check this post by FineCooking]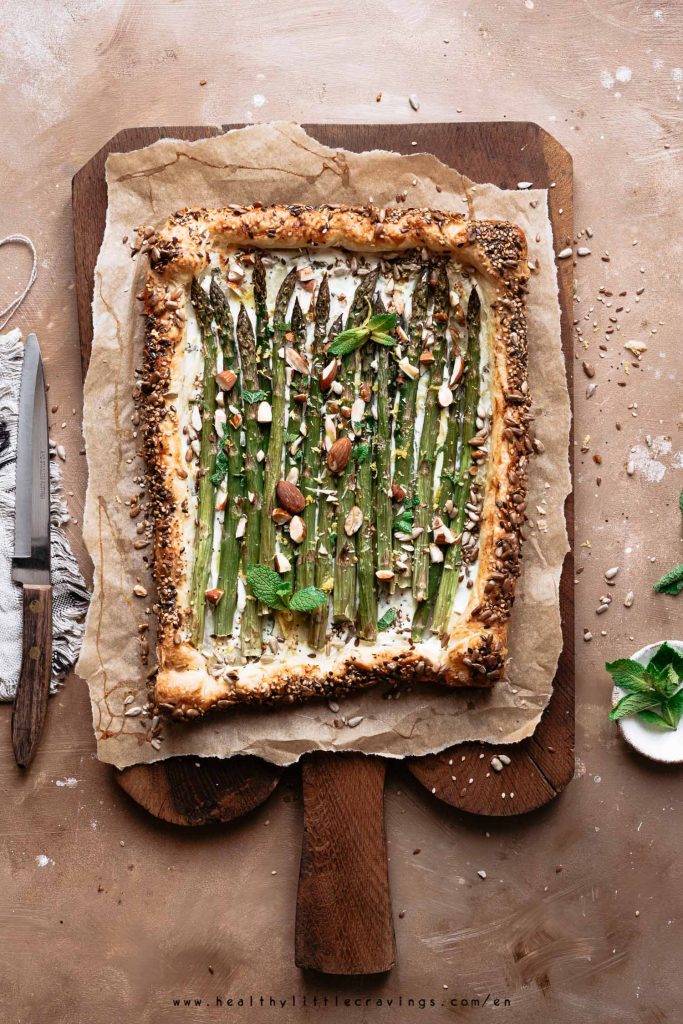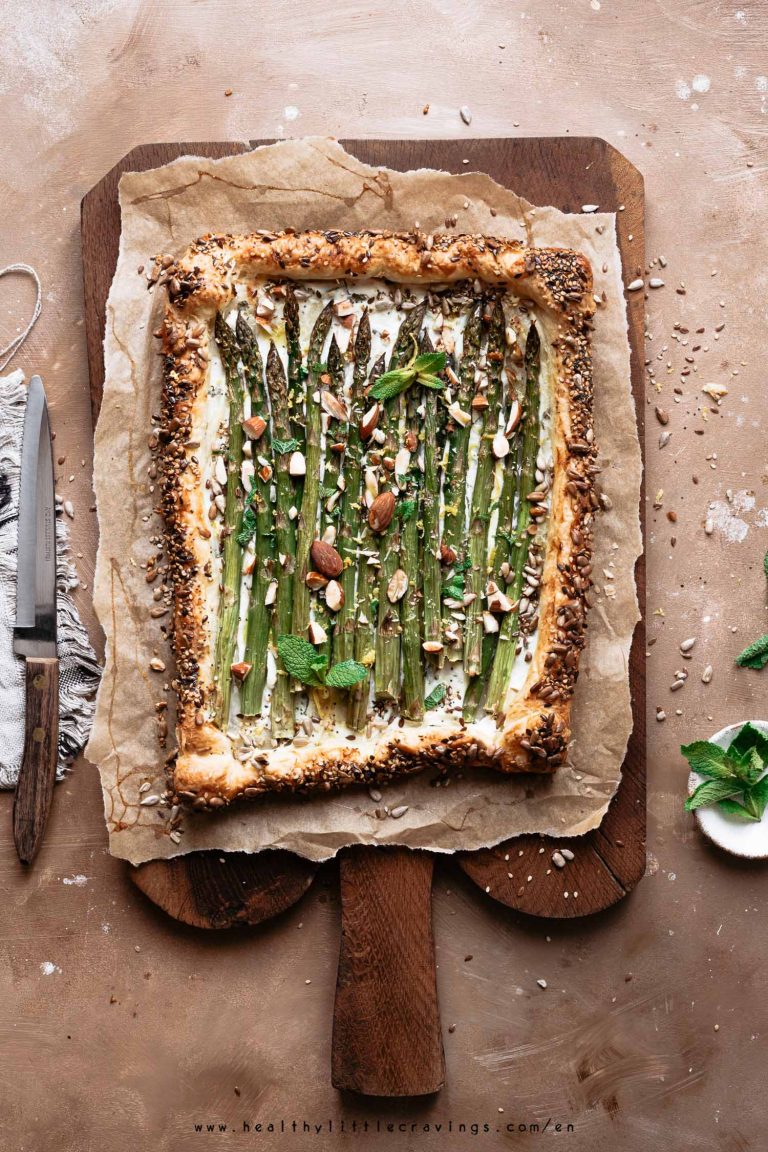 How do you keep puff pastry from getting soggy?
I was afraid that the ricotta filling would have made my pastry wet and soggy but it actually didn't!
In this case, to prevent sogginess, try to use a "drier" ricotta cheese (with less liquid)
The filling of my asparagus tart, in my case, was creamy but not runny. Aim for that!
Can you blind bake puff pastry?
Yes, you can. Especially if you make this the day before and you want to fill it later.
Make sure you cook your asparagus aside (you could stir fry them for example) and toast your almonds.
To blind bake it: fold the edges, use a fork to prick the center so it won't rise too much, then bake it.
How do you store puff pastry after baking? How long will it stay crisp?
This won't last, you'll eat it immediately because it's too delicious!
In case you want to store it, though, I would suggest to freeze it or put it in the fridge for max one day.
Puff pastry is at its best when eaten fresh out of the oven, and it won't be extra crispy the day after, so try to heat it in the oven for a few minutes (avoid too high temperature).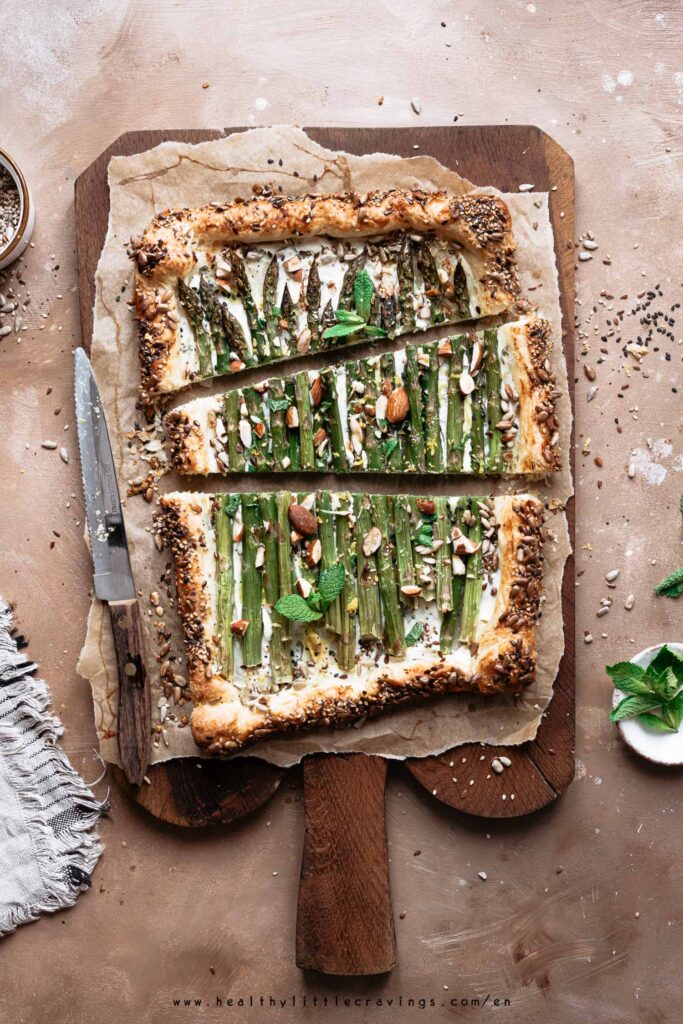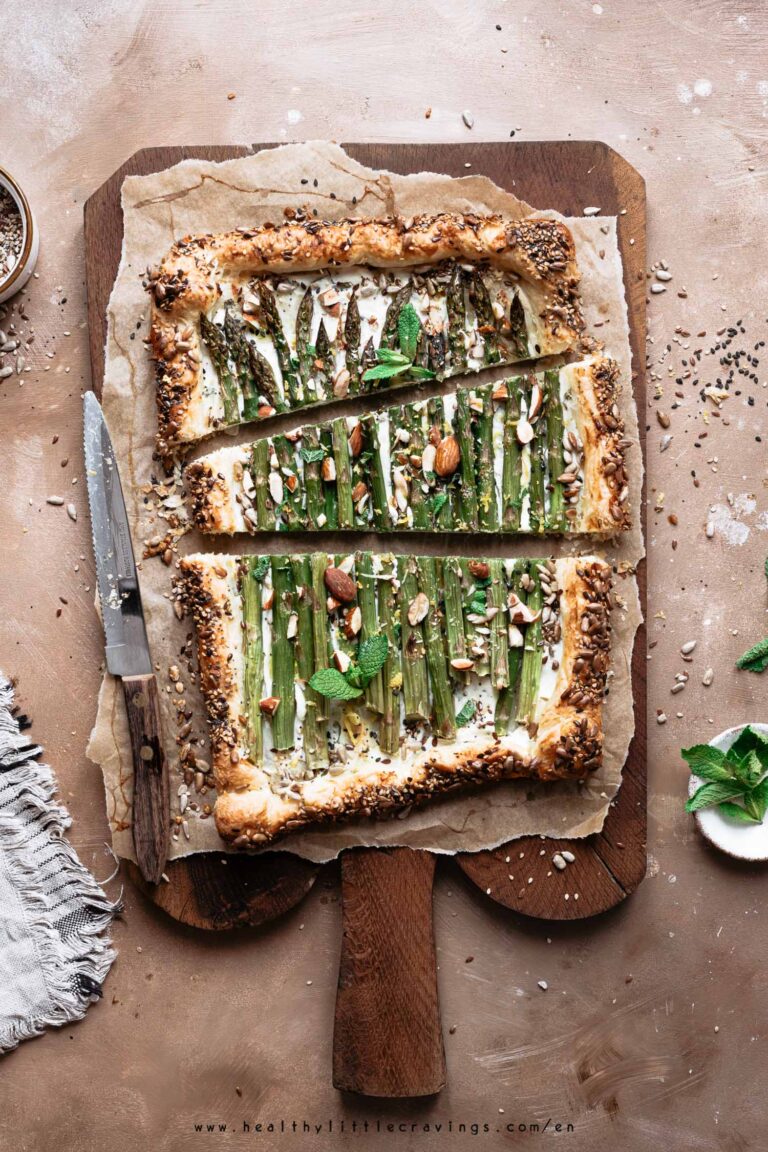 ---
If you like the recipe, please give it a 5 star rating: I'd be so happy!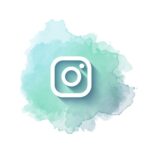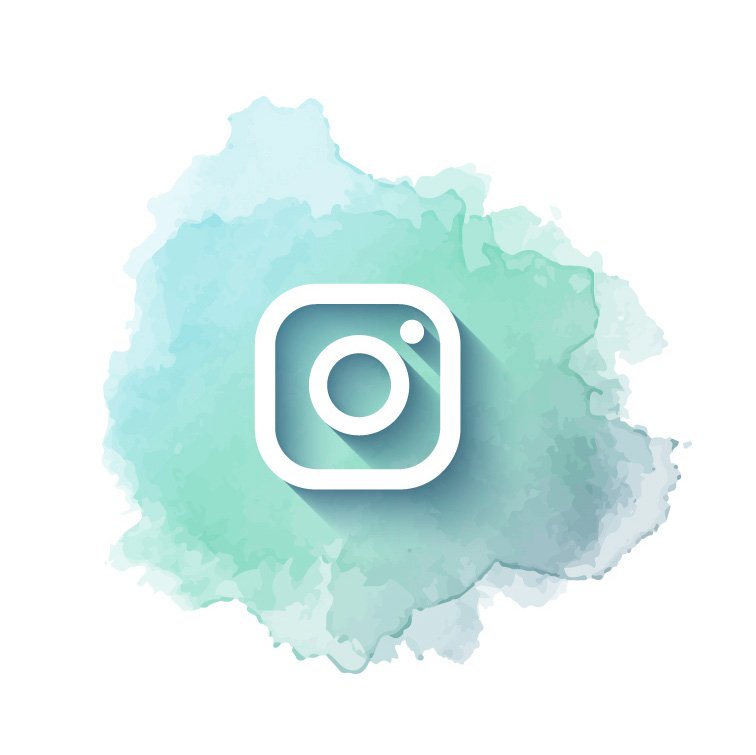 Remember: if you try one of my recipes, tag me on Instagram or DM me the photos!
---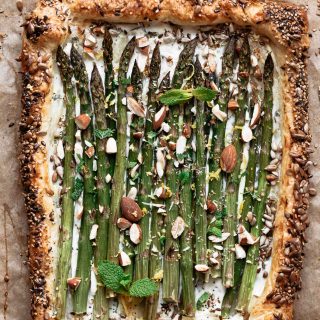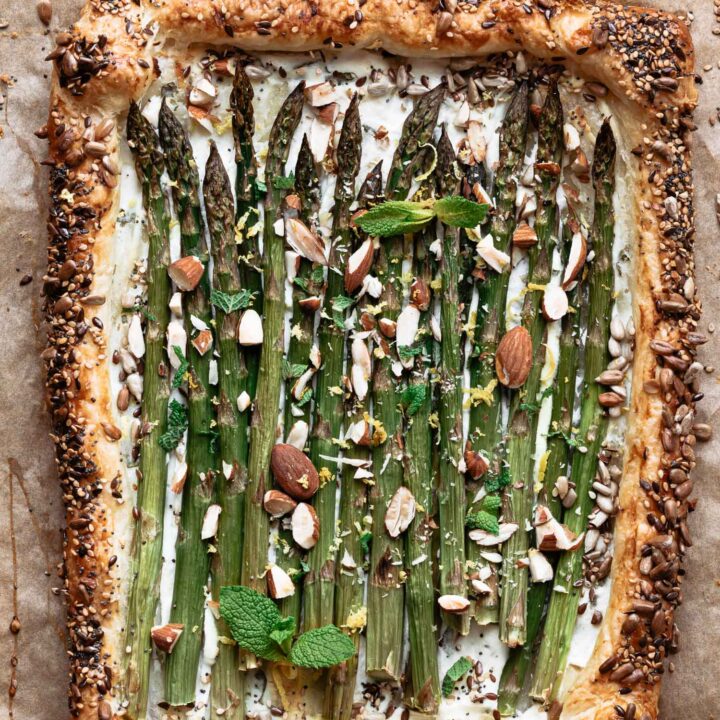 ASPARAGUS TART WITH RICOTTA, MINT AND ALMONDS
A delicious Spring tart, perfect as appetizer/lunch: asparagus tart with a creamy ricotta filling, mint and almonds!
Print
Pin
Ingredients
265 gr

Rectangular puff pastry

-

30 x 35 cm (approx. 12 x 14 inches)

300 gr

Fresh asparagus

125 gr

Ricotta cheese

a couple of leaves

Mint

a pinch

Salt

15 gr

Sliced almonds

1

Egg

Seeds

Lemon zest
Instructions
Preheat your oven at 200° C (390°F)

Line a baking tray with parchment paper and place your rectangular puff pastry onto it.

In a bowl, combine ricotta, mint leaves and salt. Set aside.

Clean the asparagus - follow the directions here.

Fold the puff pastry to form a thicker edge.

Spread the ricotta in the center, then top with the asparagus and almonds.

Brush the edges with egg and cover them with seeds.

Bake for about 30-35 minutes or until golden brown.

Decorate with some other mint leaves and a tiny bit of lemon zest.
---
© Healthy Little Cravings - Roberta Dall'Alba.
I own all content and photos' copyright.
Before using my photos and recipes, please email me.
If you would like to republish a recipe, please link back to this post and re-write the instructions in your own words.