It's gloomy and rainy outside, the weather is telling me to share this extra velvety cream of asparagus soup with milk (and NO heavy cream!)
I hear you saying 'Oh no, I would never eat soup in Spring!'. Well, you know what the best thing is? This velvety creamy asparagus soup is amazing both warm or cold! Literally, the perfect spring dish. What more could you ask for?
If you're still skeptical, I'm here to change your mind!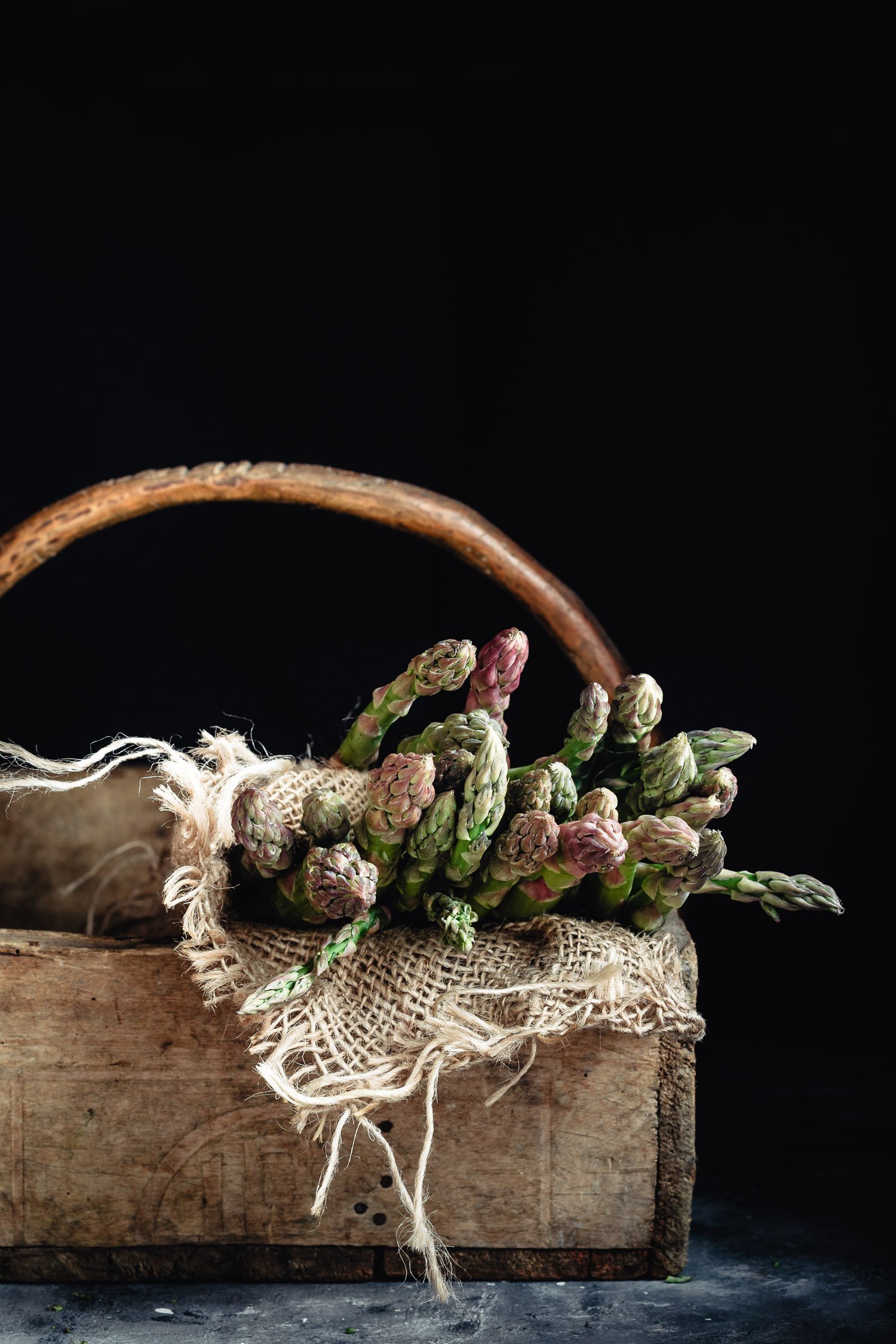 Cream of asparagus soup with milk and NO heavy cream at all…
At this point, I think that I'm synchronized with the weather, you know. As I'm writing this, it's gloomy and rainy outside. Definitely not spring-like, uh? Seems like Fall here, the perfect weather for this soup. Don't worry though, as I mentioned above, this will be amazing both cold or warm.
Despite the weather, I like to call this "Spring soup" because the flavors are so springlike. I mean, asparagus is a byword for Spring, right?
I talked about them last year, on my friend Gina's blog, when I shared an amazing Asparagus pesto pasta (btw, go check it out!)
Food brings back such good memories. I live in Northern Italy, in a small town in the province of Vicenza (region of Veneto, the same as Venice, to be clear).

In this area, we grow an amazing asparagus variety – from Bassano del Grappa – that my mom always buys to make a wonderful risotto: they're big and white, basically because they are never exposed to sunlight (check this still life by painter Francois Bonvin!).
My town and Bassano del Grappa are just 35/40 km distant and, when Spring begins, you'll start noticing all these vendors with their little trucks that start to pop up on the roadside from my town to Bassano. In fact, the vendors sell these big white asparagus I just mentioned!

Asparagus always brings back this memory, I love how food can do this!
Memories aside, I absolutely love how this simple soup turned out. I tested it several times before posting and my taste tester – a.k.a boyfriend – loved it too! You can trust him! 😉
The soup has a perfect balanced flavor, not too strong, not too delicate. You can taste the asparagus but it is not dominant and potatoes give a wonderful touch to the texture.
Plus, there's just a drizzle (well, 200 gr) of milk and no heavy cream at all.
In conclusion: if you're looking for something yummy, creamy, extremely healthy and versatile, then run to your fridge and grab all the ingredients to make this!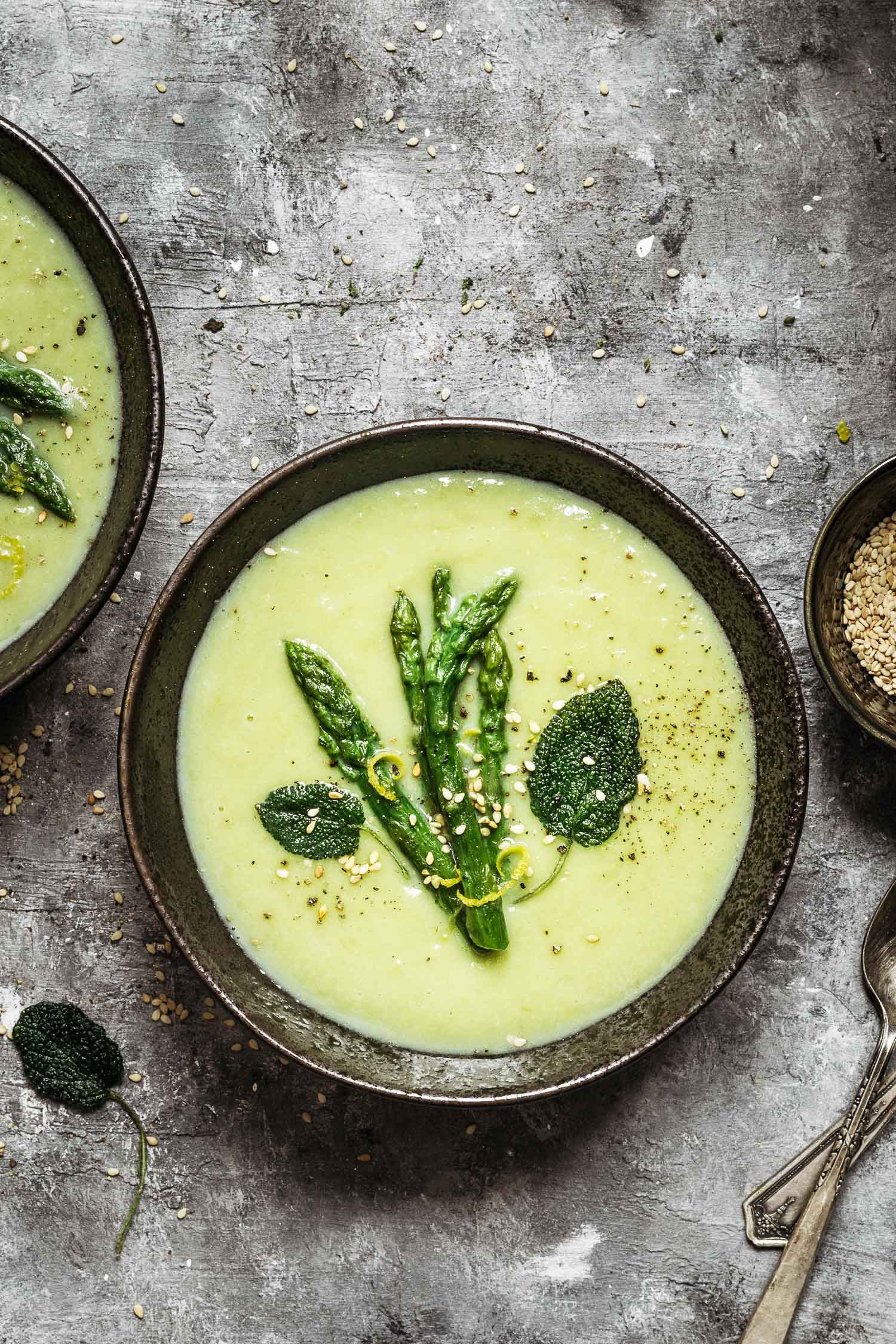 Asparagus FAQs
If this is the first time you cook asparagus, maybe you have some questions:
Can you eat all of asparagus?
You can eat heads and bodies. Remember to chop off the bottom of the stalks, they're too tough.
Should you peel asparagus before cooking?
Yes, especially if your asparagus are thick.
Use a potato peeler: run it from below the head all the way to the bottom.
Do you cut off the end of asparagus?
Yes, the ends are woody and tough, cut them off!
Can you freeze raw asparagus?
You can! My in-laws usually harvest wild asparagus and freeze it, so they can cook it out of season (their asparagus' frittata is delish!)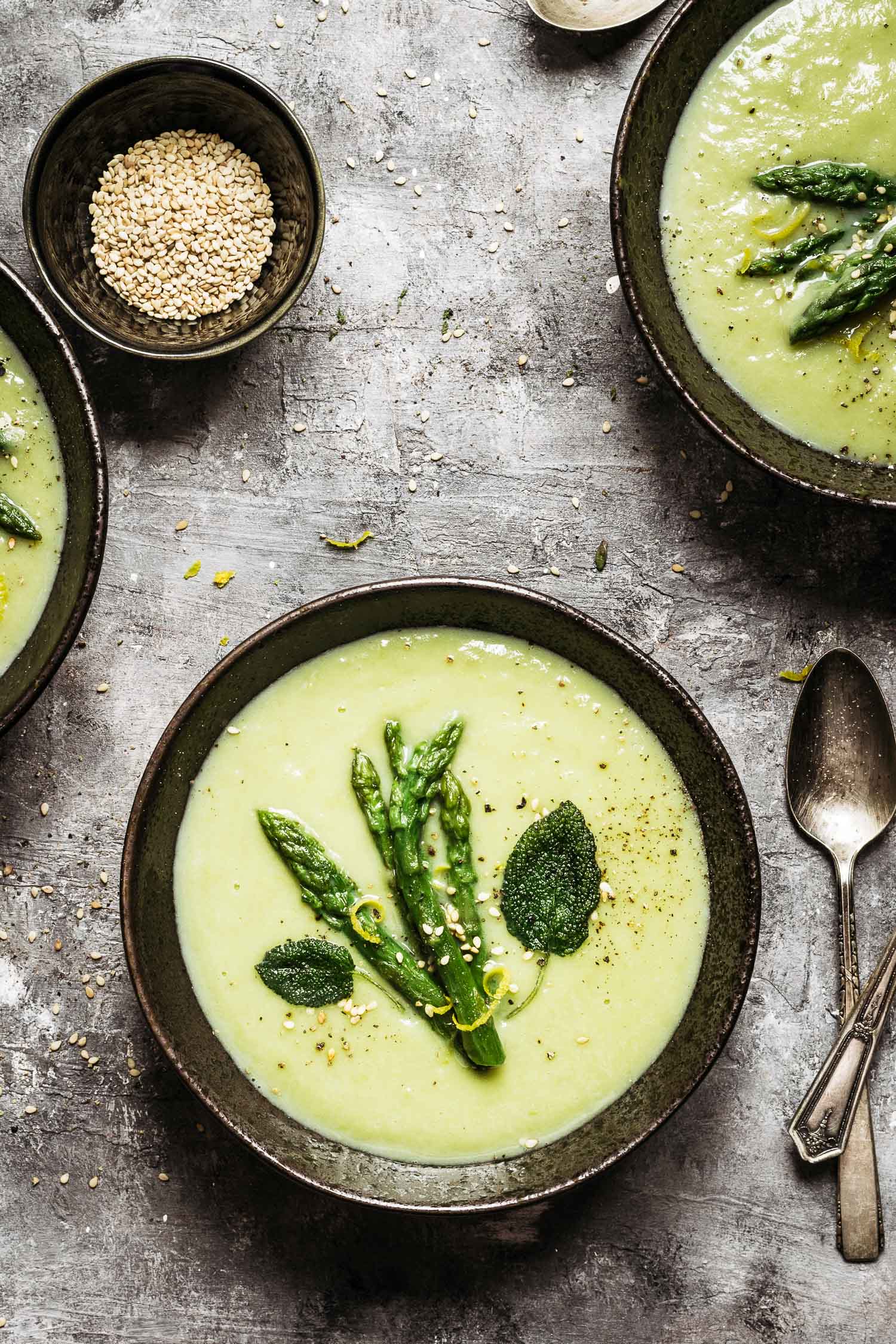 Why you so damn good, dear asparagus?
I started eating this amazing veggie when I was at Uni. When I prepared them the first time, with fried eggs, I thought 'Was I missing out this deliciousness?'. Yup.
But I'll tell you exactly WHY I love them (and YOU will too):
They're flavorful: asparagus are not a dull veggie. If you buy them in season, they taste SO GOOD.
They have so many benefits: asparagus are a nutrient-packed veggie. They're a source of vitamins A, C, E, K, folate, iron, copper and calcium. They just have 30 grams of calories every 100 grams of product with a good amount of proteins (3.6 gr) and just a few carbs (3.3 gr). The perfect meal.
They're so quick to prepare: asparagus don't like to be slow cooked. Boil them for a few minutes in hot water and sauté them with a bit of butter/oil and salt! In my Asparagus soup recipe, you'll have to cut the potatoes in small chunks so they'll cook evenly in a short time.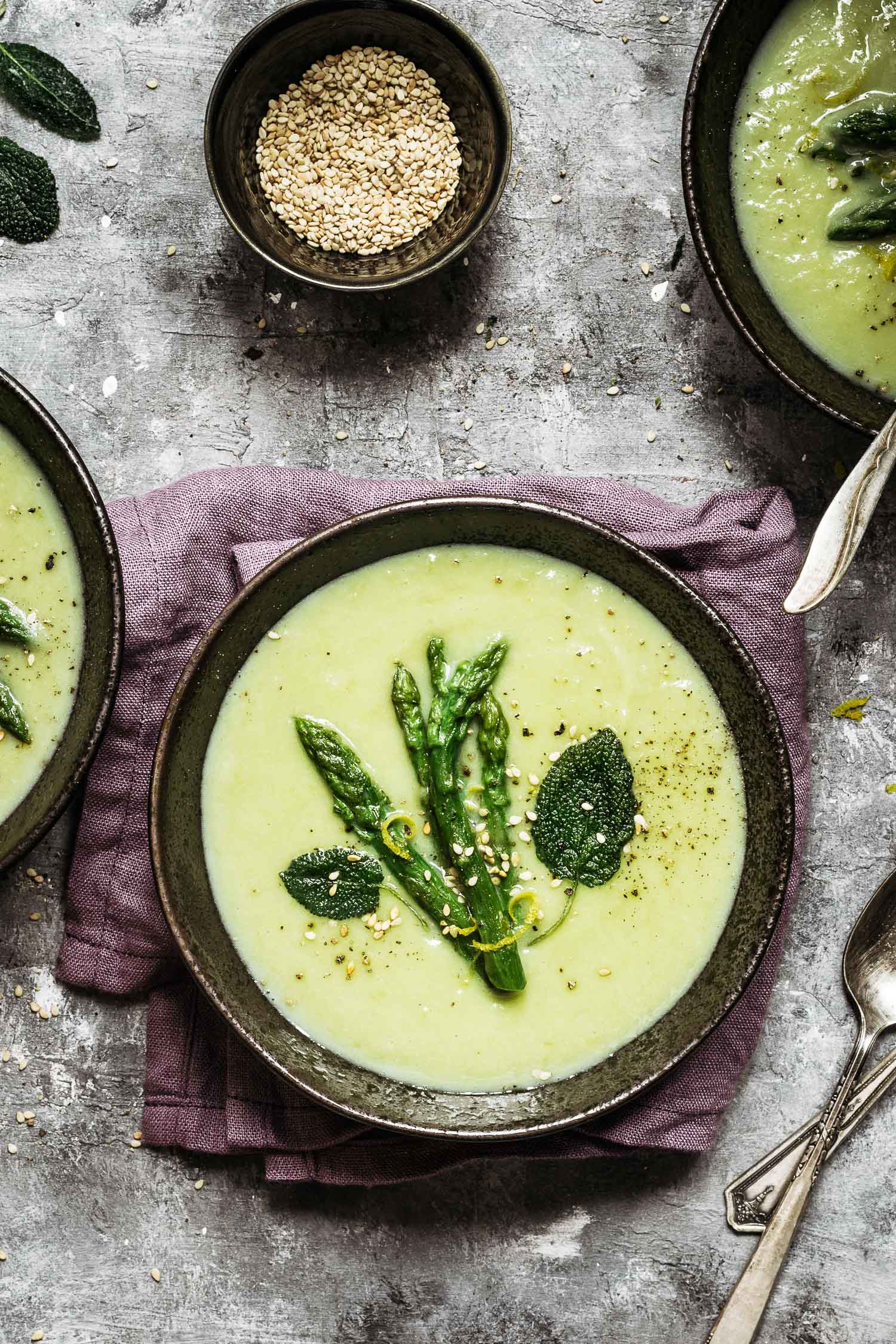 ---
WHAT I RECOMMEND: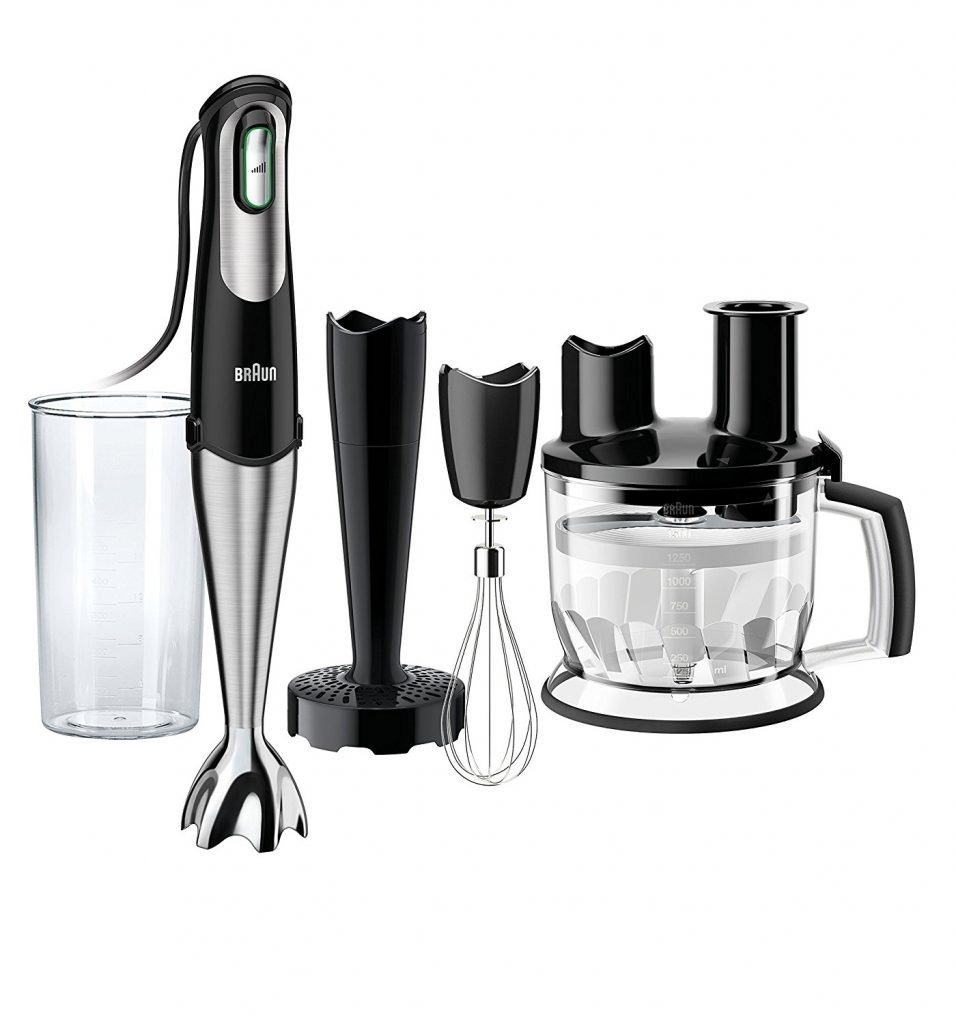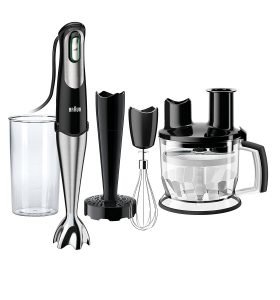 You can find my favorite food processor (the above) here: CLICK.
You know it's my favorite and I always recommend it. To make this soup I first used the bigger bowl and then the immersion blender.
---
IF YOU LOVE SOUPS, THEN YOU MAY ALSO LIKE: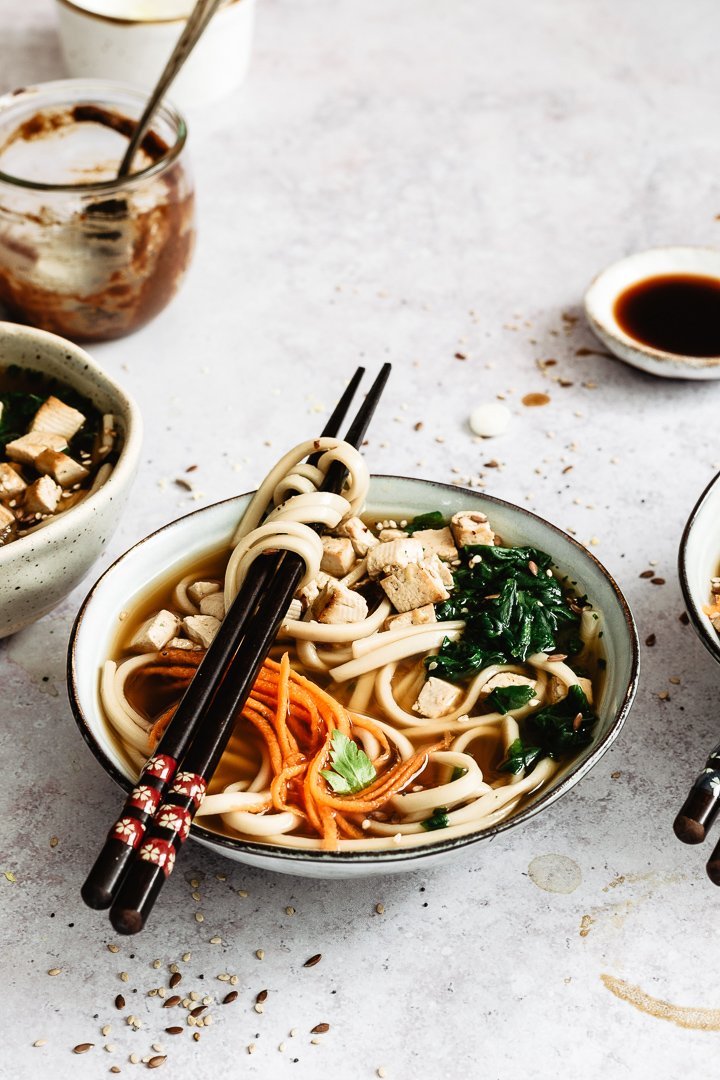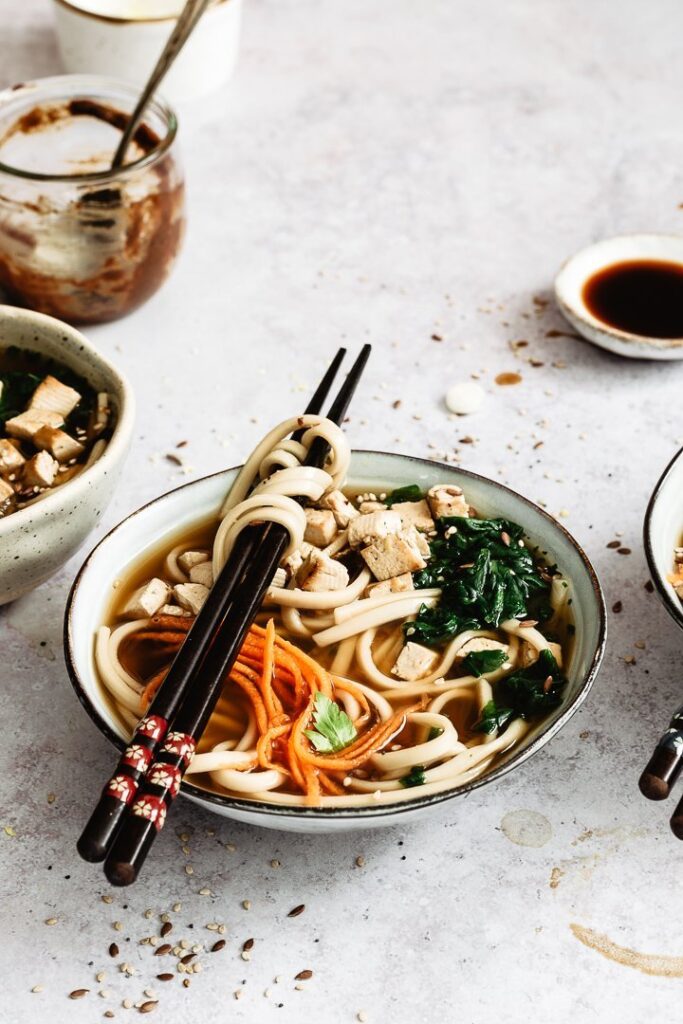 ---
If you make this recipe, please be sure to give it a rating and leave a comment! It would make me so happy!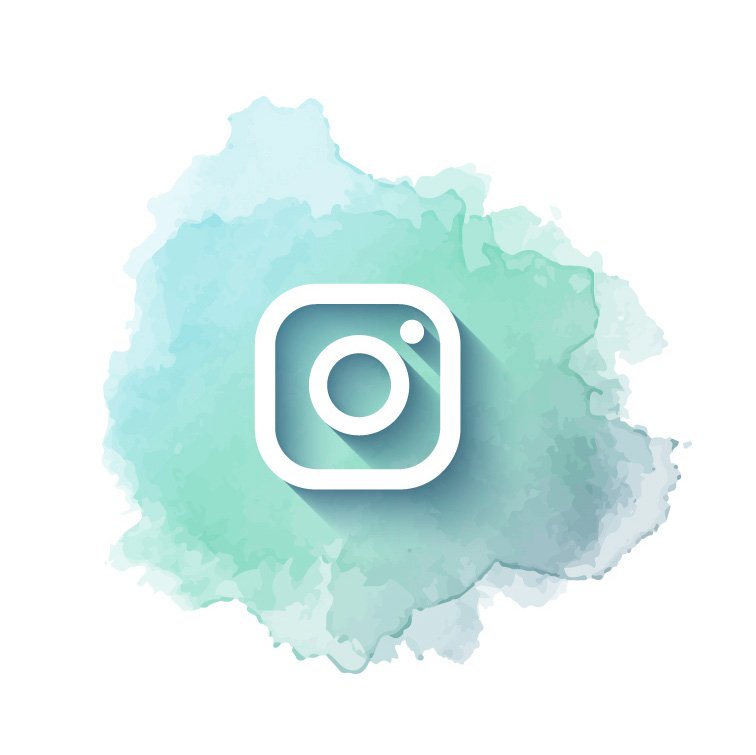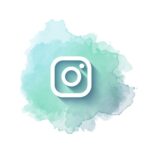 Don't forget to share your photos with me on Instagram: tag me or send a DM!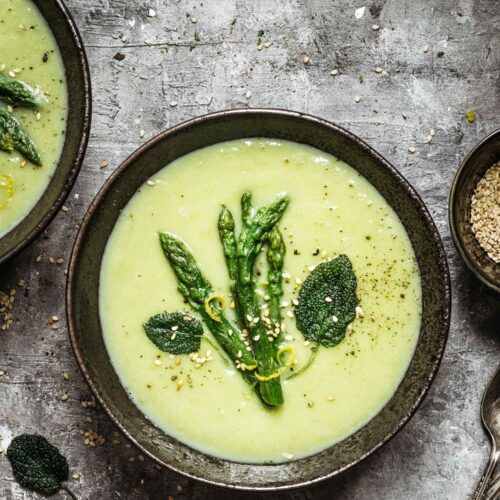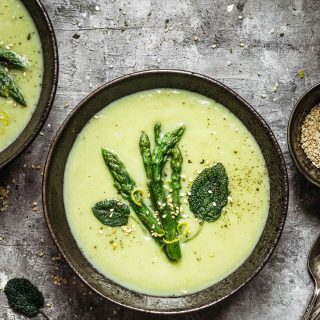 Ingredients
500

gr

Green asparagus

2/3

small

Potatoes

–

(approximately 230 gr)

1

Shallot

Oil

Salt

Pepper

200

gr

Milk or plant milk

1

teaspoon

Ginger powder

–

optional

Sesame seeds

–

optional

Lemon zest

–

optional
Instructions
To clean the asparagus:
Gently rinse them under running water.

Using a knife, chop off the woody ends (about a couple of centimeters/1 inch) and the heads (set these aside, reserve for garnish).

With a potato peeler, peel off the outer part of the asparagus then cut

the 'body' in small pieces.

Bring a pot of water to a boil and cook the heads for about 3 minutes. Drain (but save the water) and season them with butter/oil and salt (also lemon juice, if you want). Set aside.
To make the soup:
Rinse and peel your two small potatoes. Chop them into small chunks.

In a pan, stir-fry a small shallot with a drizzle of oil, add the asparagus (except for the heads) and the chopped potatoes. Cook for about 5 minutes, keep stirring.


Add 250 gr of the water you used to boil the asparagus, cover and cook until the potatoes and asparagus are tender.

Add salt, pepper, ginger powder and milk and blend using a food processor.

Garnish with sesame seeds and lemon zest (optional).