This almond vegan french toast recipe will light your morning up!
---
Yes. I'm gently passing through this (almost) end of Summer by sprinkling some cinnamon here and there. Remember my single-serving cinnamon dutch baby pancake with peaches? Isn't cinnamon the most autumnal spice? I can't wait to fill my home with its delicious scent. Apple, cinnamon, cloves, nutmeg... All shades of orange, brown... Ahhh, #autumniscoming.
Vegan french toast recipe, a royal breakfast
Breakfast is my favorite meal of the day. It makes me feel lucky and grateful. I mean, don't you feel so lucky to wake up in the morning and find a meal on your table? A glass of milk? A bowl of oatmeal? Well, I do. We should all feel like that.
Another thing I love is preparing breakfast for my beloved ones: my boyfriend for now, and my kids in the future.
I consider french toast the king of breakfasts. Whenever I hear the words 'french toast' my mind goes straight to the breakfast room of a downtown Parisian luxury hotel. Ok, maybe it's the word 'french' that tricks me, but I think of something sumptuous, luxurious. A royal breakfast.
[I'm also the flights of fancy's Queen, you know.]
Anyway, French toasts are not even french. They're called pain perdu ("lost bread") or pain doré (golden bread) in the french cuisine and they're more of a peasant dish made with stale bread. Also, not considered a breakfast at all, rather a dessert.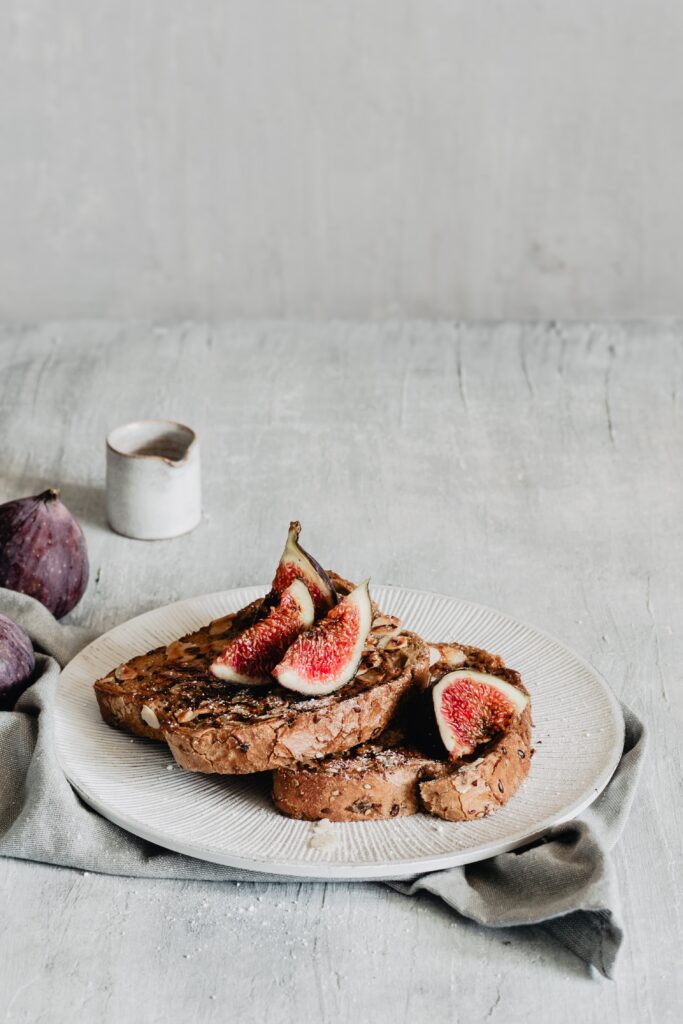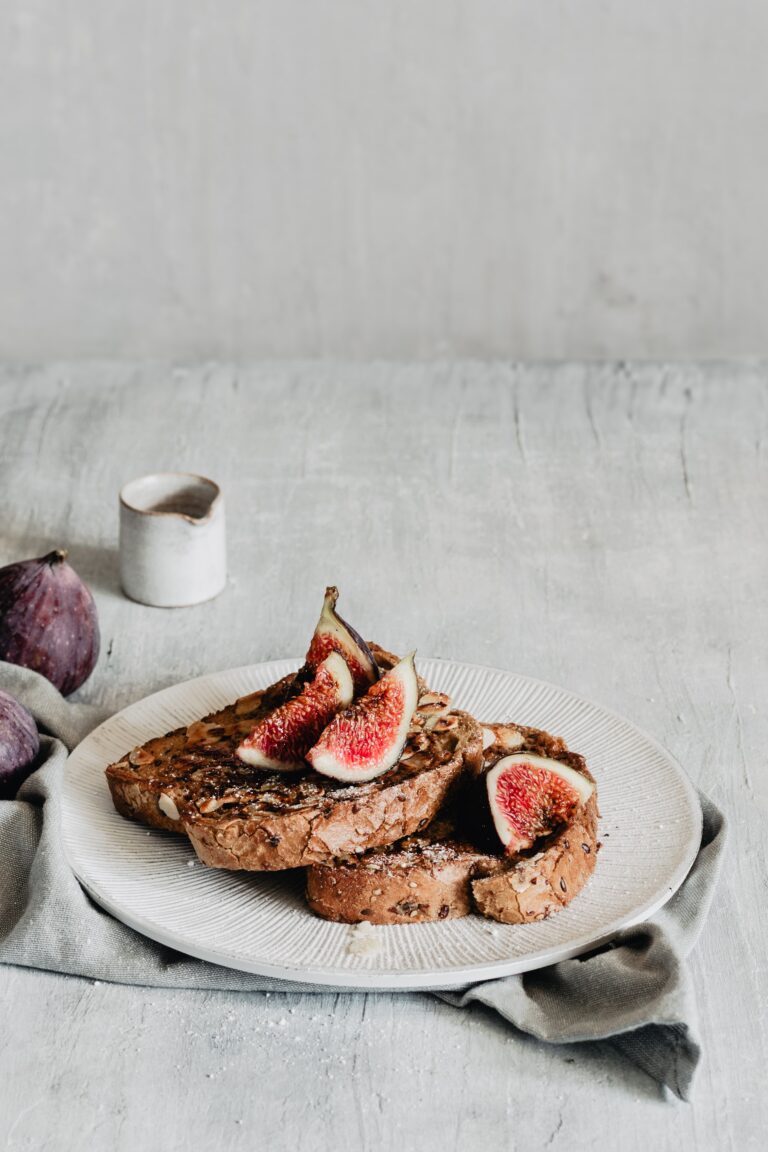 These almond vegan french toasts are the perfect breakfast...
So let's talk about these almond vegan french toasts. Why vegan, if french toasts are an 'eggy bread'?! Well, you know I love giving a twist to original recipes (and do things my way, always). Last week I was craving a comfort food for breakfast, I've opted for french toasts. I didn't want to use a whole egg, though. So I soaked my loaf pan into soy milk and cinnamon. Stir fried them with a touch of oil (minimum requirement) and decorated with fresh organic figs that my grandma gave me. And here they are...
Let's consider these almond vegan french toasts a comfort "transitional" food to slide towards the cooler season with calm. No rush. A touch of Autumn (a.k.a cinnamon), a pinch of Summer (sweet figs) and your morning will be lightened!
Hugs,
Roberta
---
If you make this recipe, please be sure to give it a rating and leave a comment! It would make me so happy! 🙂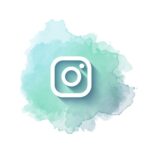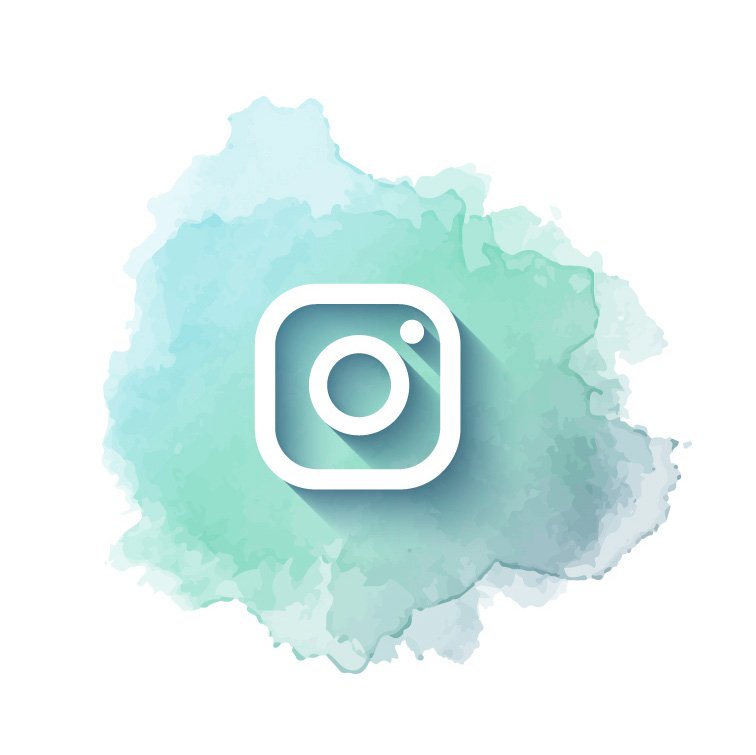 Remember: if you try one of my recipes, tag me on Instagram or DM me the photos!
---
Don't forget to pin and share this easy and delicious recipe!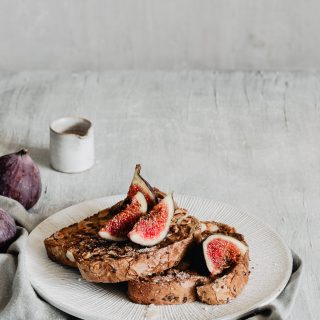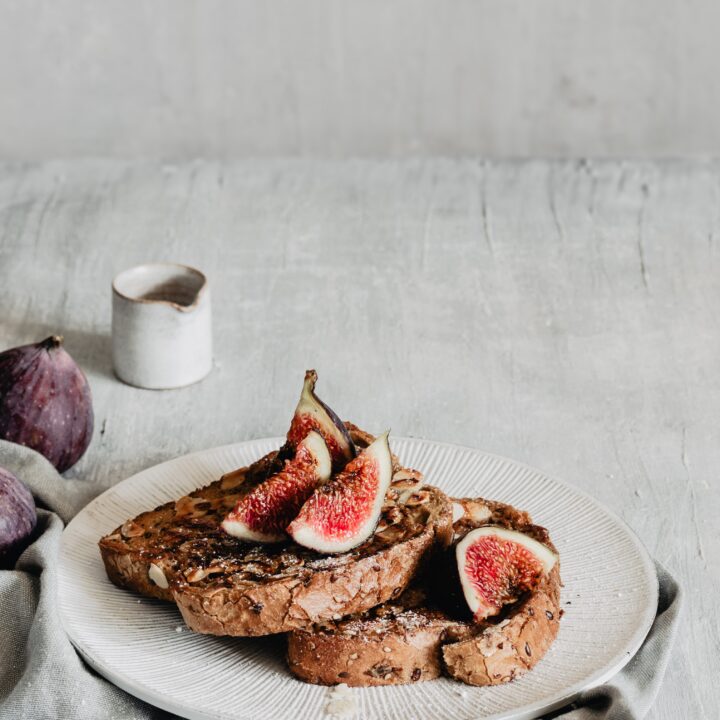 ALMOND VEGAN FRENCH TOAST
Simple and quick almond vegan french toasts with a sprinkle of cinnamon!
Print
Pin
Ingredients
100

gr

Soy or almond milk

3

teaspoons

Flaxseeds

2

slices

Loaf bread

Sliced almonds

Cinnamon to taste

2 or 3

Figs
Instructions
In a bowl or a (soup) plate, combine your milk and the seeds. Whisk and let chill for about 15/20 minutes.

Heat up a pan with just a tiny bit of coconut oil (or other oil).

On a plate, spread your sliced almonds.

Soak one of the bread slices on both sides, for a few seconds. Then put it onto the sliced almonds and 'coat' it with them.

Add the bread slices to the pan and cook at medium/low heat until golden brown. NOTE: pay attention not to burn the almonds.


Decorate with fresh figs.
---
Loved this sweet breakfast? Try this healthy sweet oatmeal with apples!
---
© Healthy Little Cravings – Roberta Dall'Alba.
I own all content and photos' copyright.
Before using my photos and recipes, please email me.
If you would like to republish a recipe, please link back to this post and re-write the instructions in your own words.