Read the post and you'll fall in love with this single serving cinnamon dutch baby pancake!
---
So remember last week - read the post - I told you I was home alone? Well, for this reason, I had plenty of time to test out some recipes. This is my favorite part of my job. There's no such thing as come up with an idea and then make it come reality. Of course sometimes you take inspiration from others, but some others you literally invent "on the go".
Like I told you on Instagram a few days ago, as far as I'm concerned, I've always found developing recipes easy. Plus, I've always been lucky enough not to waste that much stuff.
But this one, OH THIS ONE!
Can you believe I've tested it four times, with different flours and the result changed every single time? It drove me crazy.
First time: all purpose flour + baking powder, it didn't raise;
Second: all purpose flour and no baking powder, perfect result;
Third: oat flour, it didn't raise (I think it was too clumpy);
Fourth: whole wheat, ditto;
Fifth (wait, so I've made this 5 times!): the perfect one, it raised (and deflated after a few minutes because I had to shoot a couple of pictures).
So every single time, as soon as I put the batter into the pan and then in the oven, I sat down and stared at it hoping it grew. 13 long minutes. Waiting.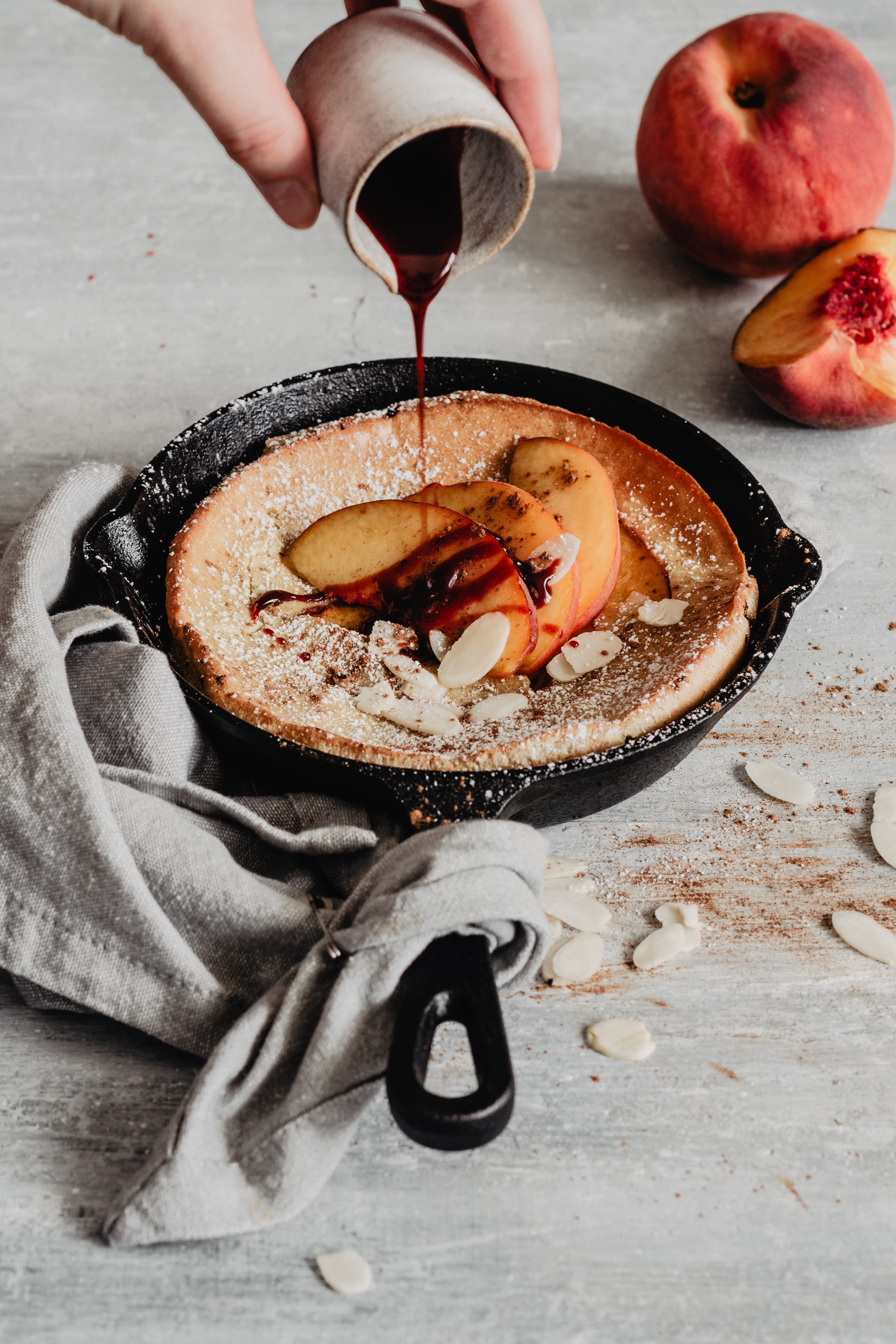 A dutch...baby? What?!
I've heard so many people saying 'What the h*ck is a dutch baby pancake?'. I mean, I could have expected this from my Italian fellas, but I didn't think that this kind of pancake were not that popular internationally.
Dutch baby pancakes are not 'dutch' as you would probably think. They derived from the German Pfannkuchen (pfanne 'pan' and Kuchen 'cake') and they basically are a hybrid of a pancake, a Yorkshire pudding and a crepe.
So I've been wanting to develop this recipe for a long time and last week I finally came up - after those numerous tests - with this gorgeous and delicious single-serving cinnamon dutch baby pancake with peach and almonds! YAS!
The strong point about this recipe...*drum roll*
You probably know that I still live with mom and dad (but in a few months - actually one, I think - I'll move in with my boyfriend), so - in theory - I could share this food with them.
Unluckily, they eat more traditional stuff and don't have my tastes, so I can't share everything I eat.
Luckily, in this case, the only cast iron pan I own is 15 cm in diameter.
Here's the strong point then! Being a small pan, it's perfect to make a single-serving cinnamon dutch baby pancake! Therefore, if you don't have anyone to share your 'baby' with.
Plus, it's an amazing and healthy breakfast. Take a close look to the ingredients: one egg, a bit of flour, a splash of milk, fruit and the spices/vanilla. That's it! It's like a pancake, but so much cuter.
Will you make it? Let me know in the comments!
---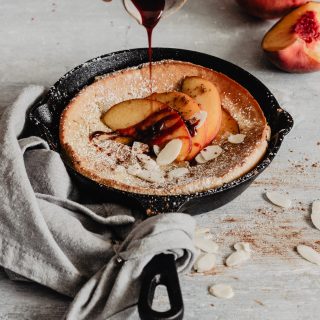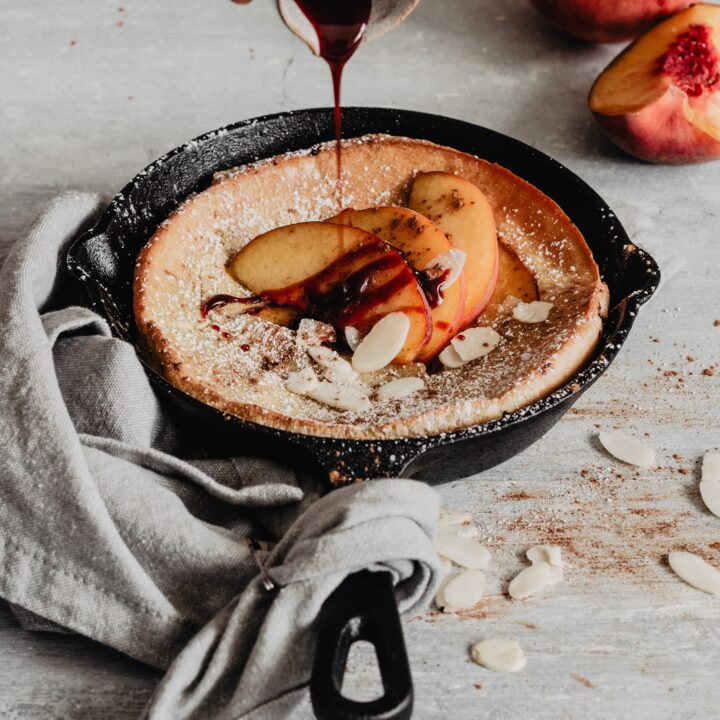 CINNAMON DUTCH BABY PANCAKE
When pancakes meet the oven...dutch baby pancakes comes out!
Print
Pin
Servings:
1
serving (15 cm diameter)
Ingredients
1

Egg

-

at room temperature

30

gr

Milk

-

at room temperature

40

gr

Organic all purpose flour

a

sprinkle

Cinnamon

few

drops

Vanilla extract

a

pinch

Salt

1

Peach

Butter or coconut oil

-

to grease the pan

Almond slices

-

optional

Date syrup

-

optional (highly suggested)
Instructions
Immediately put into the oven your cast iron pan (mine was 15 cm in diameter) and preheat the oven at 225° C (the pan will heat up gradually)

In a bowl, slightly whisk egg and milk at room temperature.

Add sifted flour, cinnamon, a few drops of vanilla, salt and whisk again. NOTE: the batter should not have any lumps.

Slice one peach (with skin on).

Carefully take out the pan from the oven (it will be boiling hot) and grease with a bit of butter or coconut oil.

Pour the liquid batter into it and a couple of peach slices onto it.

Bake for 13 minutes or until it puffs up.

Serve it as soon as it comes out of the oven or it will naturally deflates.

Top with the rest of the peach slices.