The sweetness of fresh ripe strawberries, the almost peppery flavor of arugula, the saltiness of feta cheese. Not to mention the delicious balsamic vinaigrette.
Pure JOY for our mouth.
Want to bring some Spring on your table? Then you definitely need a arugula strawberry salad... today!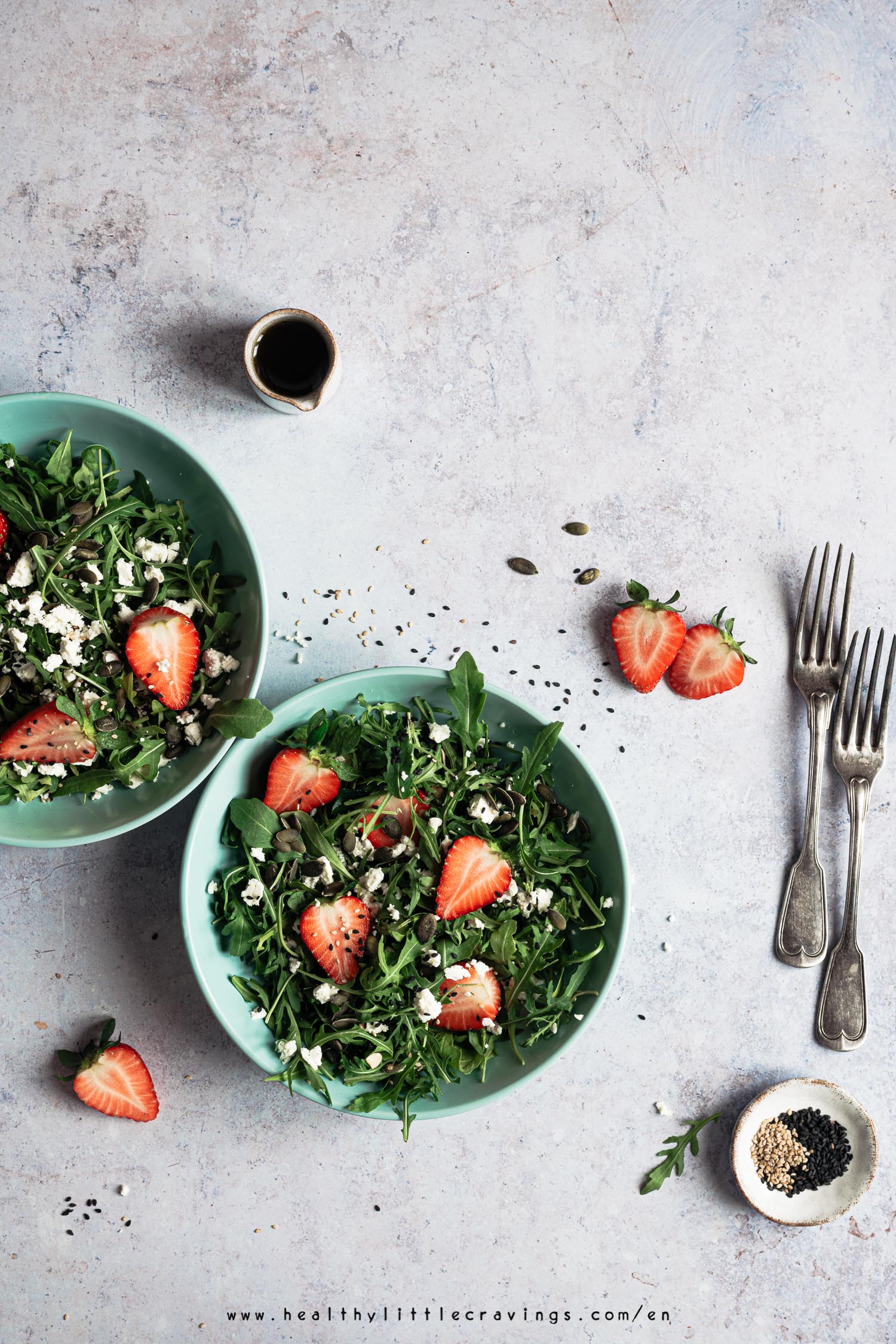 Arugula strawberry salad to bring some Spring into your life!
I'm always excited when Spring's food comes. It's fresh and it's what our body need in this particular period.
This year, apparently, Spring decided to be late, at least here in Italy. We just had an HORRIBLE weekend: sky full of grey clouds, rain, hailstorms, rain, rain...
Yeah, I would appreciate this weather... in November though! sigh
Because I wanted to bring some Spring into our days, last week I decided to make this strawberry arugula salad for me and my boyfriend.
Remember when I shared with you my heavenly sweet potato, pecans, spinach salad back at the beginning of March? Remember that I told you I prepared it right before lunch, then put it into an airtight container and boyfriend brought it at work?
Well, same happened last week. And bf said it was DELISH (almost 7 hours later)!
Therefore, once again, you can consider it a perfect meal to "meal-prep". Like I said two months ago, though, if you prepare it in advance avoid combining immediately feta cheese and vinaigrette, otherwise the greens will "dunk". Season it right before eating it.
Why is this arugula strawberry salad so special?
I mean, look at the colors. Close your eyes. And imagine the flavors. It's a party - a festival! - for our mouth! The Coachella of the salads! lol
Read the next paragraphs, you'll never again have a dull salad!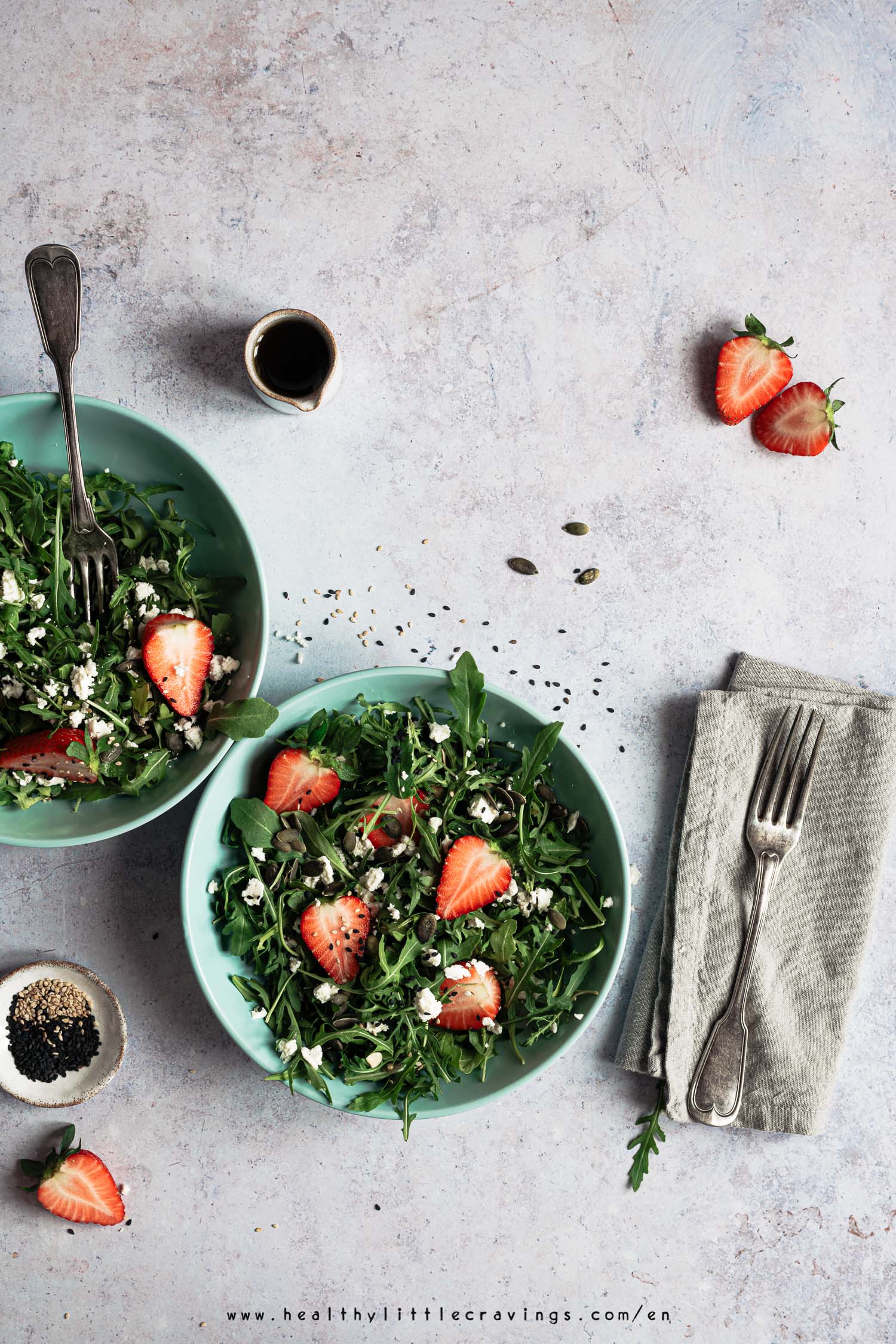 The 5 essential steps to create the perfect salad:
The only way not to have a boring salad - who wants a dull salad?! duh - is to combine each of the macronutrients (like I mentioned 2 months ago) and each of the five flavors that our taste buds are able to perceive: saltiness, bitterness, sourness, umami and sweetness.
Choose your greens: there are so many you can use - spinach, lettuce...
Add some carbs: potatoes, barley, spelt or... fruit!
Now add fats: extra virgin olive oil? Avocado? Cheese?
Don't skip proteins: vegan or not, protein are essential!
Last but not least, think about the flavor of the food you've just chosen: is it sweet? Savory? Sour? Bitter? Try a mix of them!
Playing with the "flavor star" allows you to create a balanced dish. Think about it: every flavor counteracts the other.
In this salad:
The arugula is bitter,
The feta is salty,
Strawberries are sweet,
The vinaigrette is sour.
Perfection!
P.S. since I don't know how ripe your strawberries will be, or how sour the vinegar you're using is, my advice is: take my recipe as a reference and then adjust it.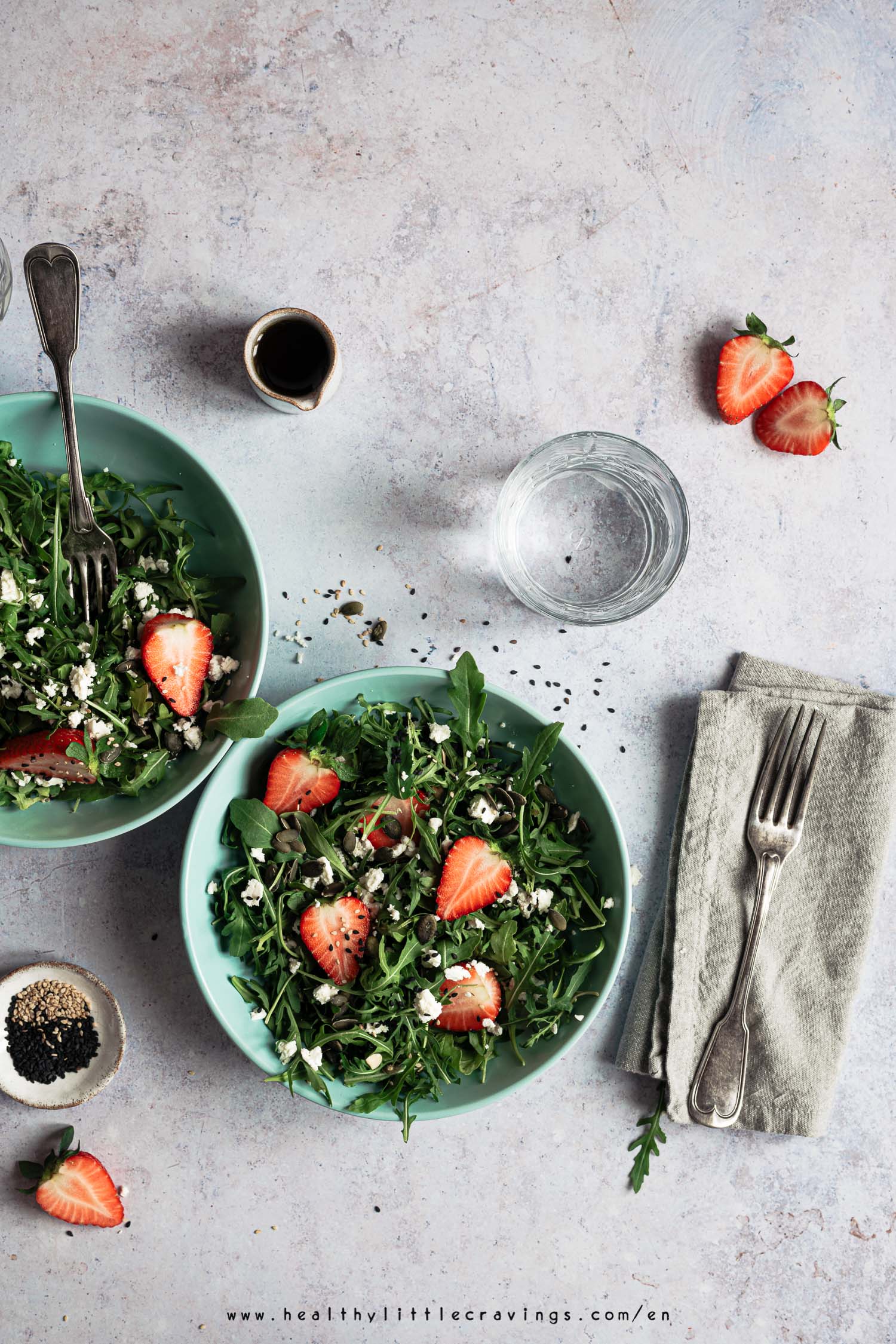 Why should I make this salad?
Ok, ok, you're right: you need some valid reasons to eat a salad.
Actually, I don't know why there's all these preconceptions about salads. Poor them!
If you combine the right flavors together, salads can actually be a super interesting dish! So...
How do you make a salad less boring?
Well, check out the ingredients below and look at the photos. In my opinion, the answer is: combine sweet and savory together!
Strawberries and feta? A delightful combination! Adding balsamic vinegar? That extra [amazing] touch!
Want to make it super fancy and more juicy? Try to use my roasted strawberries instead of fresh ones! Why not?
How can you spice up your salad?
Apart from combining sweet and savory, strawberries and feta in this case, you can also add nuts: in this recipe, almonds give the perfect nutty note. Roast and salt them and you're good to go!
What is the best salad dressing in this case?
Since strawberries and balsamic vinegar blend together, the best dressing here is balsamic vinaigrette with a touch of sweetness like honey or maple. Unbelievably delicious!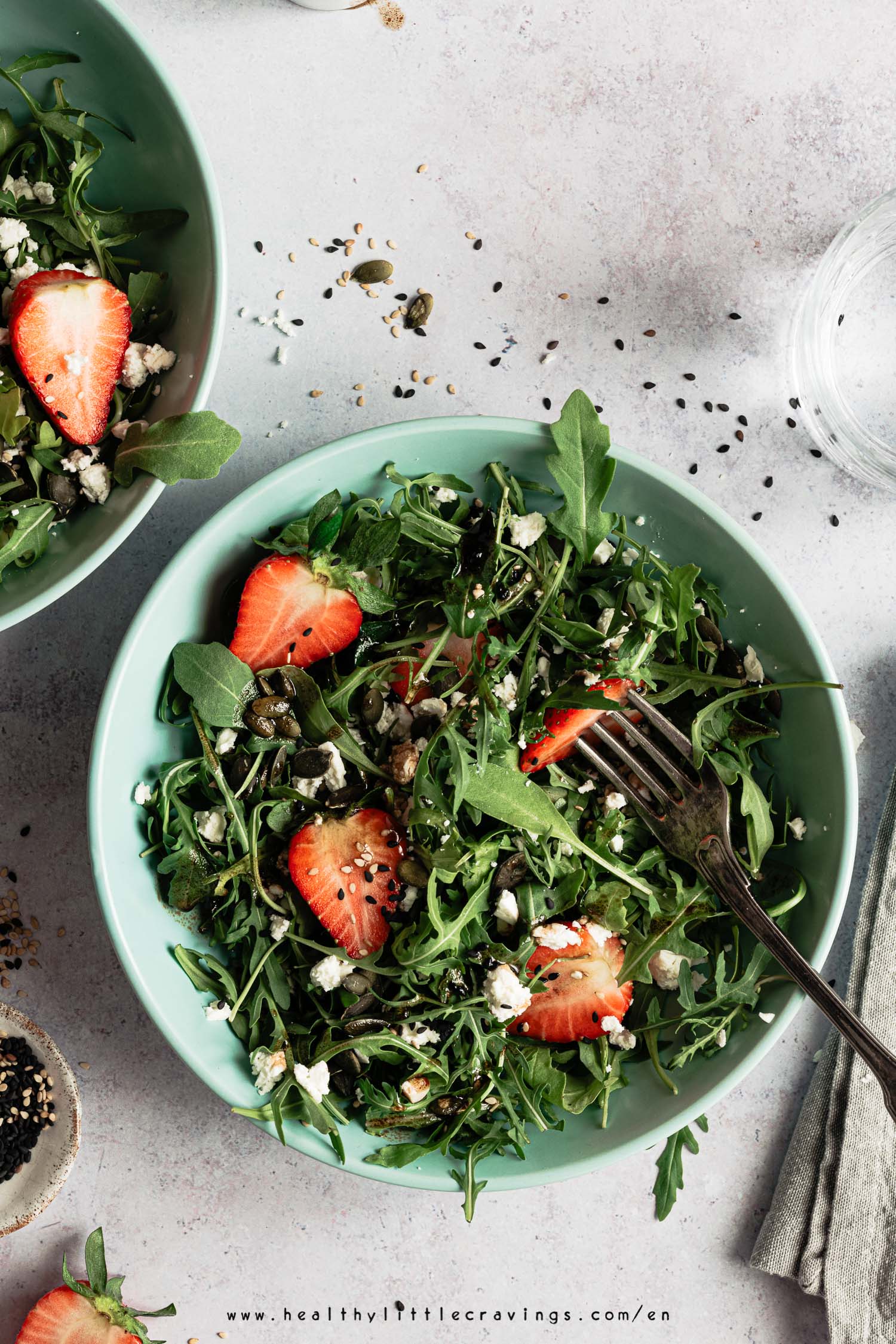 ---
If you like the recipe, please give it a 5 star rating: I'd be so happy!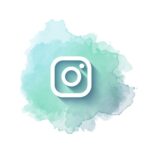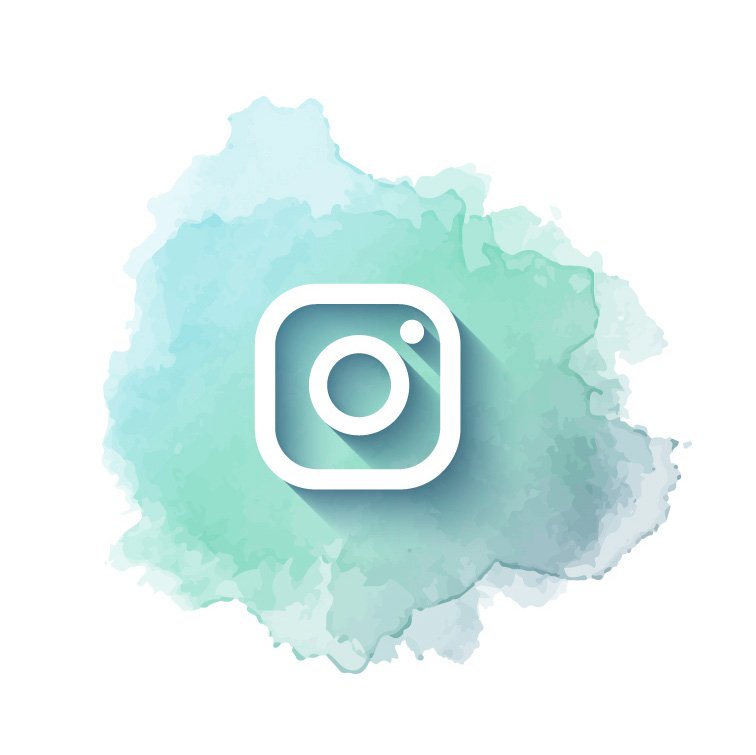 Remember: if you try one of my recipes, tag me on Instagram or DM me the photos! Oh, and use the hashtag #healthylittlecravings !
---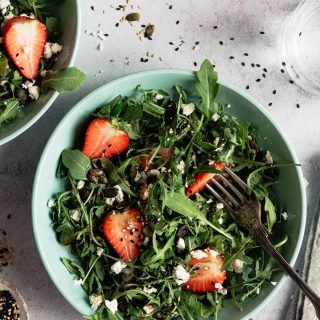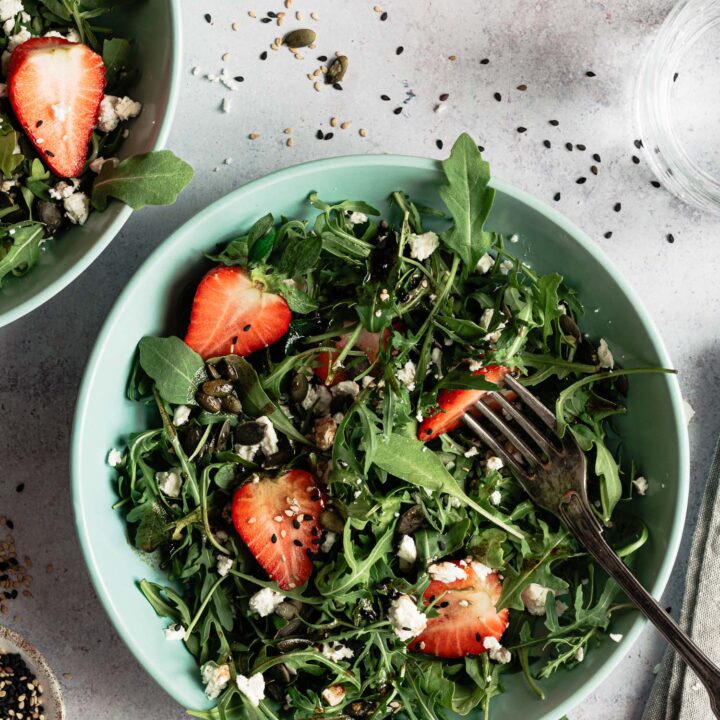 STRAWBERRY ARUGULA SALAD
A 4 ingredient salad perfect for Spring, with sweet and savory notes.
Print
Pin
Ingredients
150/200 gr

Ripe strawberries

80 gr

Feta cheese

100 gr

Arugula

Seeds of your choice
Instructions
Clean your strawberries and fresh arugula.

Assemble the salad: put arugula in a bowl, slice strawberries on top, crumble some feta and add seeds of your choice.

Season with maple balsamic vinaigrette (follow instructions here), salt and black pepper.
Nutrition
Nutrition Facts
STRAWBERRY ARUGULA SALAD
Amount Per Serving (1 serving)
Calories 228
Calories from Fat 153
% Daily Value*
Fat 17g26%
Carbohydrates 11g4%
Protein 13g26%
* Nutritional information is only an estimate. The accuracy of the nutritional information for any recipe on this site is not guaranteed.
---
If you liked this healthy salad, I think you'll love this one! Summery and delicious: peach burrata salad.
---
© Healthy Little Cravings - Roberta Dall'Alba.
I own all content and photos' copyright.
Before using my photos and recipes, please email me.
If you would like to republish a recipe, please link back to this post and re-write the instructions in your own words.