This post is also available in:

Italiano
The healthy and vegan version of the famous cinnamon rolls!
---
I was listening to Kimberly's (@thelittleplantation) podcast a few days ago (and I finished it yesterday). It was about "Intuitive eating", special guest Christy Harrison, intuitive eating coach and self-proclaimed anti-diet dietitian (love this definition).
I sincerely loved it, so I wanted to share my opinion with you (and invite you to listen to it!). Thought-provoking podcasts are my absolute favorite and this was extremely thought-provoking.
In 50 minutes,  Kimberly and Christy talked about a lot of things, and also shared their thoughts on "why sharing your positive health and food journey may actually not be as helpful as you think" ("you" = bloggers & instagrammers). 
Let me say: on my IG profile, I always try to post a mix of healthy food & treats because that's my lifestyle looks like. I eat healthy (namely, balancing between all macronutrients) 80% of the times, and indulge in what I crave (pizza, cookies, cake etc) for the other 20%.
But then I thought: do my followers feel insecure when they see my posts/stories? Do they think I am perfect (spoiler: no one is)? Maybe they think I always eat healthy or that I am "on a diet".
Well, I'm not sure about the answers, YOU have to tell me. What I'm certain about, though, is I FELT INSECURE, in the past, due to other Instagrammers I follow. And it still happens every now and then. Don't get me wrong, I'm not saying I follow people with a bad influence. It really depends on the moment. Some days I feel more vulnerable and watching someone working out & eating a salad, can be discouraging. Makes sense?
Let me know your opinion on this please (write me in the comments or DM me on Instagram).
Now let's move on and let's add some sugar to our day!
Healthy vegan cinnamon rolls with a delicious filling: what else?!
Oh my gosh, where do I start from? They're too delicious to describe! Ahem, ok ok the flavor: these cinnamon rolls were so scrumptious that I wanted to eat half of the batch. Luckily I still have some self control and I only ate two (ops).
I don't know if you have ever tried chocolate & orange combo. In case your answer is 'no', you have to make up for it and try these (it's bomb, trust me).
Here in Italy, in the supermarkets, you can find a snack produced by Ferrero called Fiesta. The Internet describes it as "Sponge Cake filled with Orange Cream and covered with Chocolate". Let me tell you: these healthy vegan cinnamon rolls tastes almost like that snack, but my treat is better than ever (and healthier because it's not processed).
To make the filling I simply mixed sugar, cocoa powder, orange zest and… applesauce. Yes, applesauce! It was actually an experiment because I thought it would have tasted like apple, instead it turned out amazing (and no apple flavor).
Regarding the softness: despite the presence of whole wheat flour, they still are so fluffy!
When an experiment turns out amazing I'm always so freaking happy, and I can't wait to see your photos!
Now go and grab some flour, chocolate and orange and make these babies! Oh don't forget to make homemade applesauce (click here to know how!)
Remember: if you try one of my recipes, tag me on Instagram or DM me the photos!
---
NOTE: This post contains affiliate links which means I make a commission off of the links below with no additional cost to you. Thanks for supporting me!
---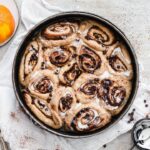 VEGAN HEALTHY CINNAMON ROLLS
The healthy and vegan version of the famous cinnamon rolls, with chocolate and orange filling!
Rising time
2
hours
30
minutes
Ingredients
Dough:
100

gr

Lukewarm water

one packet

( 7 gr )

Dry yeast

180

gr

Whole wheat flour

180

gr

All purpose flour

4 teaspoons

Raw brown sugar

1 teaspoon

Salt

75

gr

Homemade applesauce

55

gr

Almond milk (unsweetened)
Filling:
2

tablespoons

Applesauce

20

gr

Unsweetened cocoa powder

60

gr

Raw brown sugar

Zest from

One organic orange

Vanilla extract

(optional)

Cinnamon

to taste
Top with glaze (optional) and/or chocolate chips
Instructions
In a cup, combine water and yeast. Stir and let sit for a few minutes (5 to 10) to activate.

Using a stand mixer (or a brand machine, like I always do) mix flours, sugar and salt. Let combine for a few seconds.

Add yeast+water, applesauce and almond milk, and let combine until the mixture comes together (and it pulls away from the sides of the bowl) - approximately 15 minutes.

Let it double for a couple of hours in a warm place.

NOTE: mine took only one hour to rise because I let it chill near the stove where it was warm.

After the dough has doubled in size, transfer it to a floured surface. Roll it out into a 14 x 10 inches rectangle (35 x 25 cm)

Make the filling by combining all the ingredients into a small bowl.

Spread the filling over dough, leaving a 1/3 of an inch at the edges.

Roll the dough up, from the longer side.

Cut into 12 or 13 rolls. TRICK: use a cotton yarn to "cut" the rolls.

Place the chocolate cinnamon rolls in a greased round 9 inch cake pan. Cover with plastic wrap and let rise again for 30 minutes.

Preheat oven to 175°C (350° F).

When the rolls have doubled, brush with almond milk using a cooking brush. Bake them for 23/25 minutes.

Let them cool down and sprinkle some chocolate chips on top (optional) and some more orange zest.

You can make a glaze with icing sugar and almond milk.

I store them in the fridge, into an airtight container.
Note
To make homemade applesauce, click here. As usual, I've used my small food processor (find it here)
P.S. You can make the recipe by hand.