This post is also available in:

Italiano
In this post you'll find the most amazing – I PROMISE – coffee ice cream: coffee mocha nice cream!
---
You know, some days it happens that you really want something, but you can't have (ehm, eat) it. I mean, you reeeeeally crave it.
Take me, for example: I want ice cream so badly in these days, but you can't eat ordinary ice cream every day, right? Well, you could but it's unhealthy because it's processed and usually packed with fats and sugars. Another option is buying it chez one of those artisanal ice-cream parlor where it's made with high quality ingredients and lots of love.
Good news for those of you who don't want to buy ice cream: there's a cheaper and healthier option (for us with a sweet tooth)!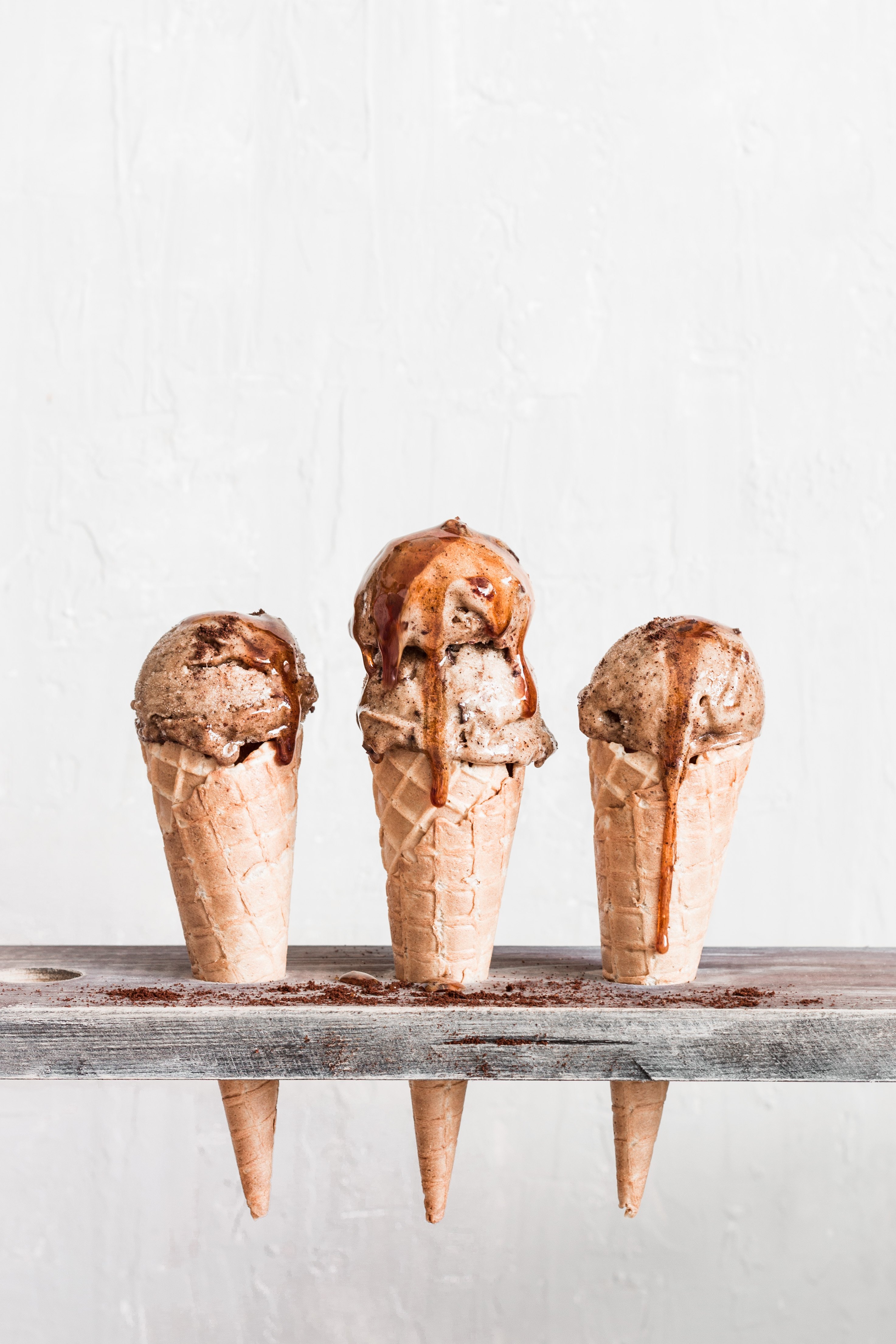 Nicecream
Yup. Once again, nicecream is the answer!
Oh, you don't know what nicecream is? Nice cream = banana ice cream. Basically frozen bananas, blended and flavoured with…everything you can imagine! Matcha tea, coffee, chocolate, fresh fruit, dry fruit, mint, cocoa powder, coconut, yogurt, vegan yogurt… The only thing you need  is imagination!
There's ONE reason why I deeply love nicecream (except it's delicious and nutritious obviously): you can make it and immediately eat it! That's a dream right?
Of course you can also store in the freezer. However, you will have to take it out of the freezer some minutes before serving so it will melt a bit and be of the right consistency.
Coffee mocha nice cream, BEST. NICECREAM. EVER.
Me and coffee, did you know we're a couple? We love each other so much.
Ok, ok, joking aside… I usually take coffee for breakfast and after lunch, around 3 p.m. I only drink espresso, not American coffee (sorry guys I don't like it, I love strong flavors!). There's a BIG problem: during Summer I almost "hate" boiling hot espresso. So I have two options: blending it with lots of ice and make iced coffee OR blend some bananas, add coffee and make a dellllicious dessert aka this coffee mocha nice cream.
One year later: I re-tested this nicecream…
This recipe was my favorite from last Summer. When I've tried it for the first time, I was like '😳😳😳🤩🤩🤩'. Yes, these emoji perfectly describe my face when I ate a spoonful of this deliciousness again.
If you've been following me for a while you know I've been re-shooting old recipes. Yesterday I decided to re-test this recipe (and then take photos of it) and oooooh my gosh. I immediately realized why this was my favorite.
You guys, sometimes it's impossible to use words to describe something so SCRUMPTIOUS so please TRY IT and lemme know!
COFFEE MOCHA NICE CREAM / VEGAN, GLUTEN FREE AND LIGHTER
If you're on a diet and you love ice cream and coffee, well you know you have to try this coffee mocha nice cream!
Ingredients
2

Frozen bananas

two

2

teaspoons

Instant coffee

or 5 tablespoons of espresso coffee (liquid)

2

Medjool dates

1

teaspoon

Vanilla extract

(optional)

20

gr

Chopped dark chocolate
Instructions
First and only step: blend the frozen banana (always keep in the freezer some bananas!) with dates, coffee and vanilla. Blend until it gets to the perfect consistency and serve with some chopped dark chocolate.

The necessary ingredients to make this coffee nicecream are obviously banana and coffee, better if you use instant coffee so you won't have any liquid that will ruin the consistency (EDIT: I've tested this also with liquid espresso and it's sooooo good, not ruined by the liquid!)

You can skip dates or substitute with honey or agave/maple syrup. Vanilla extract give an extra touch but it's not essential.

Enjoy your nicecream! Don't thank me!

I have noticed that, to get the perfect nicecream, it's better to use a very powerful blender. The more powerful it is, the less it will take to blend and the less it will melt, instead it will have the perfect nicecream texture. If it melts, you can obviously put it in the freezer for some minutes until it's firm.