I am not gonna lie: this cucumber feta tomato salad is the BEST. SALAD. I'VE. EVER. MADE.
It takes a lot - at least to me -to describe a salad as DELICIOUS (I mean, I like veggies but sometimes they can be boring). But THIS, oh this is out of this world. And I couldn't be happier to share it with you because let's be real, in Summer we all crave refreshing meals!
Enjoy it!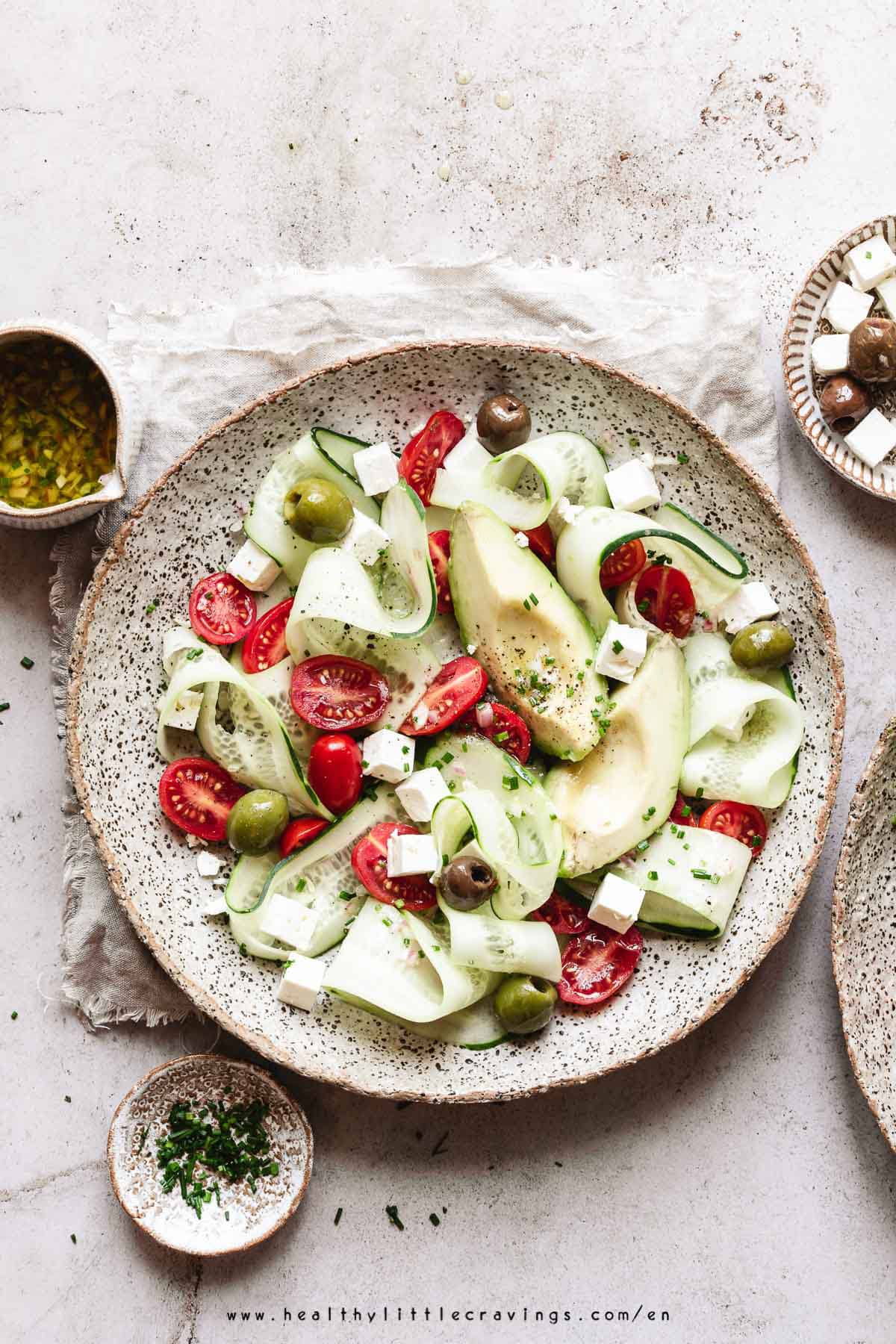 The perfect cucumber feta tomato salad is all you need this Summer
Like I said in the introduction, this is SO. DELICIOUS.
I've never thought I could consider a salad delicious but it happened and I have my theory on why this happened (read next paragraphs).
I don't know about you but Summer is all about fresh meals that don't need to be cooked on the stovetop.
I still love making baked goods (indeed I have a couple of recipes that I will share soon). But luckily, when I do, I can prepare the dish, put it into the oven and then leave the kitchen (and close the door) so it can bake and I avoid the heat to kill me.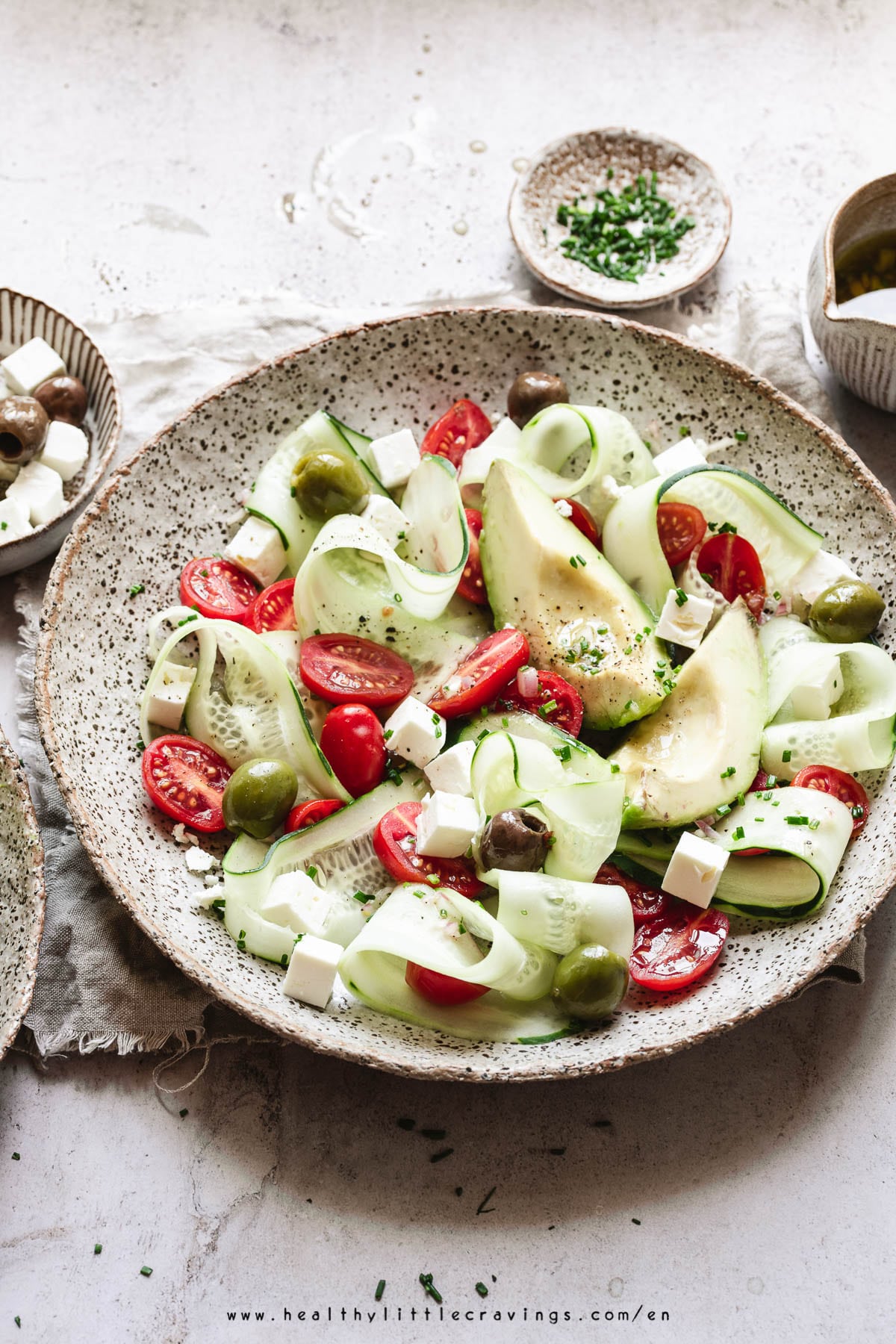 Anyway, back to the refreshing meals: last week I was, as usual, planning my weekly menu and I was looking for new ideas.
A couple of months ago I bought "Salt, Fat, Acid, Heat" by Samin Nosrat, and that quickly became my point of reference. Same happened this time.
Samin, in her book, has a series of salad dressings that to be honest I couldn't wait to try. Not to mention all the salads (and, well, the other recipes).
So I decided that the first one has to be the Greek salad made with Persian cucumbers, tomatoes, garlic, olives, feta cheese and macerated onions.
Of course I ended up making my version, adding avocado (and skipping onions and garlic), and this is how this cucumber feta tomato salad was born. YOU. NEED. IT
How can you make salad taste better? Samin Nosrat's red wine vinaigrette is to die for
I told you, I have my theory about WHY this salad is so good and you know what? It's all in the dressing. This vinaigrette is so good I can't stop thinking about it (I'm serious).
Original recipe by Samin called for red wine vinegar but unluckily I didn't have it so I've used apple cider vinegar instead, but it was amazing anyway (and you can use this substitution too).
So simple, with only 5 ingredients and the secret in my opinion is the...shallot.
Yes, the macerated shallot here gave that extra touch. I mean, otherwise it would have been a regular vinaigrette.
In case you don't like it, then at least add onions or garlic into the salad.
Try it!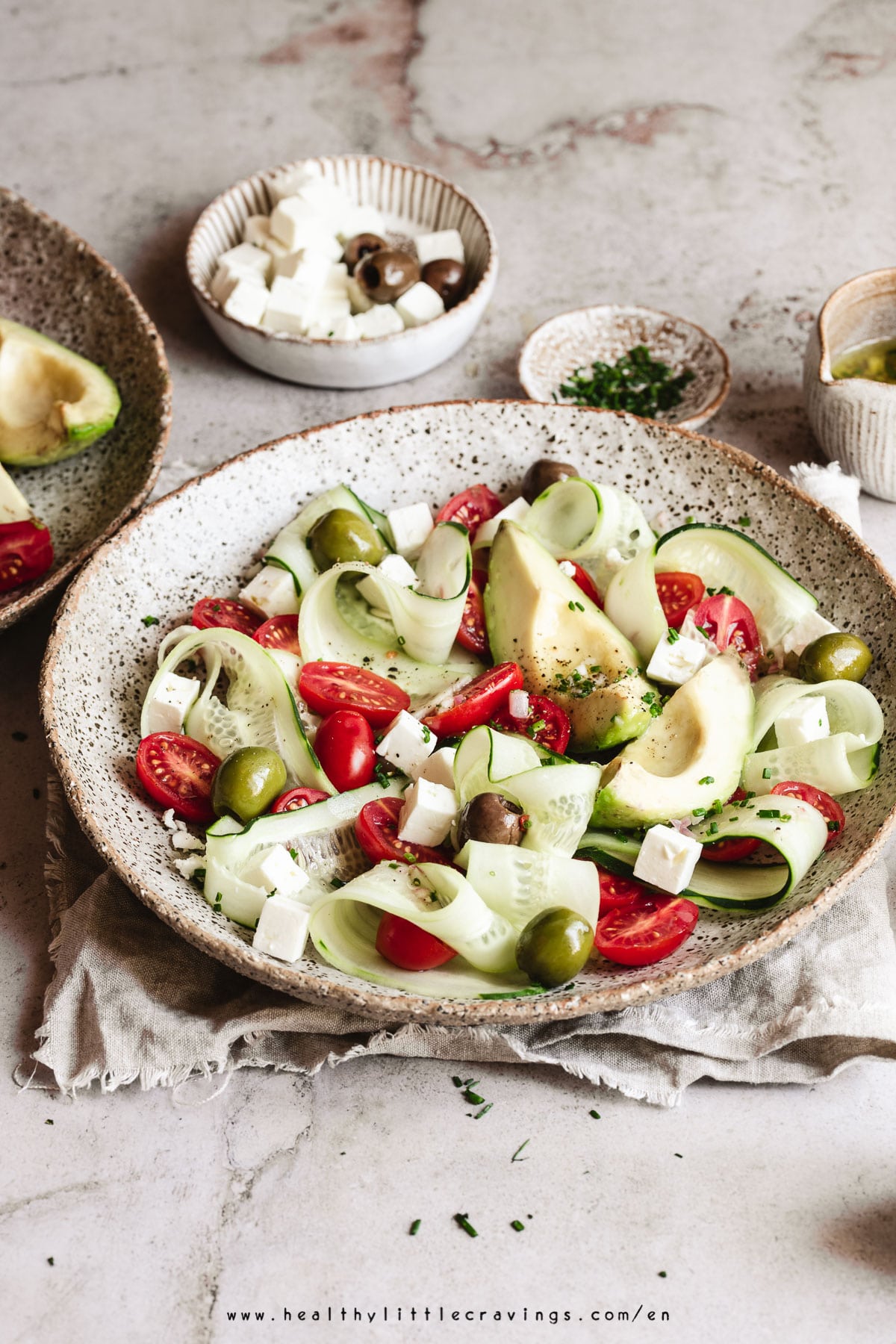 How do you present a nice salad?
Summer is the perfect occasion to invite family and friends over for dinner (especially to have this refreshing cucumber feta tomato salad;))
With the pandemic almost over (fingers crossed), we can finally feel a bit more free to have them for a nice meal together (in safety, remember!)
Now, if you want to serve this recipe to your guests, since it's very simple and quick, I highly recommend at least to make it look nice.
As a food stylist, I have 3 main tips when it comes to serving a good looking salad:
Play with shapes
Notice how I cut my avocado in cute quarters (instead of halves, but these are ok too).
Then sliced my tomatoes both horizontally and vertically to create movement.

What about those nice cucumber ribbons? Very "sensual" and aesthetically pleasing.
I then cubed my feta instead of crumbling it. The olives? You can cut them or leave them as they are.

I also paid attention to how I minced the shallot for my vinaigrette (no one wants big pieces into their mouths)
Choose fresh ingredients (and buy more than needed)
Something we food stylists always do is to pay attention to how fresh our ingredients look and buy more than needed, just in case.

In this case, what could go "wrong"? When you open the avocado you find out it's overripe and/or has brown spots. Then I recommend to buy it on the same day, or one day in advance (but keep it in the fridge).

And if you're wondering how to buy the perfect avocado: gently squeeze it, it should be slightly soft but not mushy.
About the cucumber: please don't serve a soft cucumber, it has to be crunchy (quite the same with tomatoes)!
Season right before serving
Seasoning my salad at the last minute is something I usually do for the sole purpose of food styling and photography, but it's actually a smart choice when you have to serve it to people.

That is because the oil into the vinaigrette may be too heavy and make your veggies "collapse".
So, hope this helps and of course let me know!;)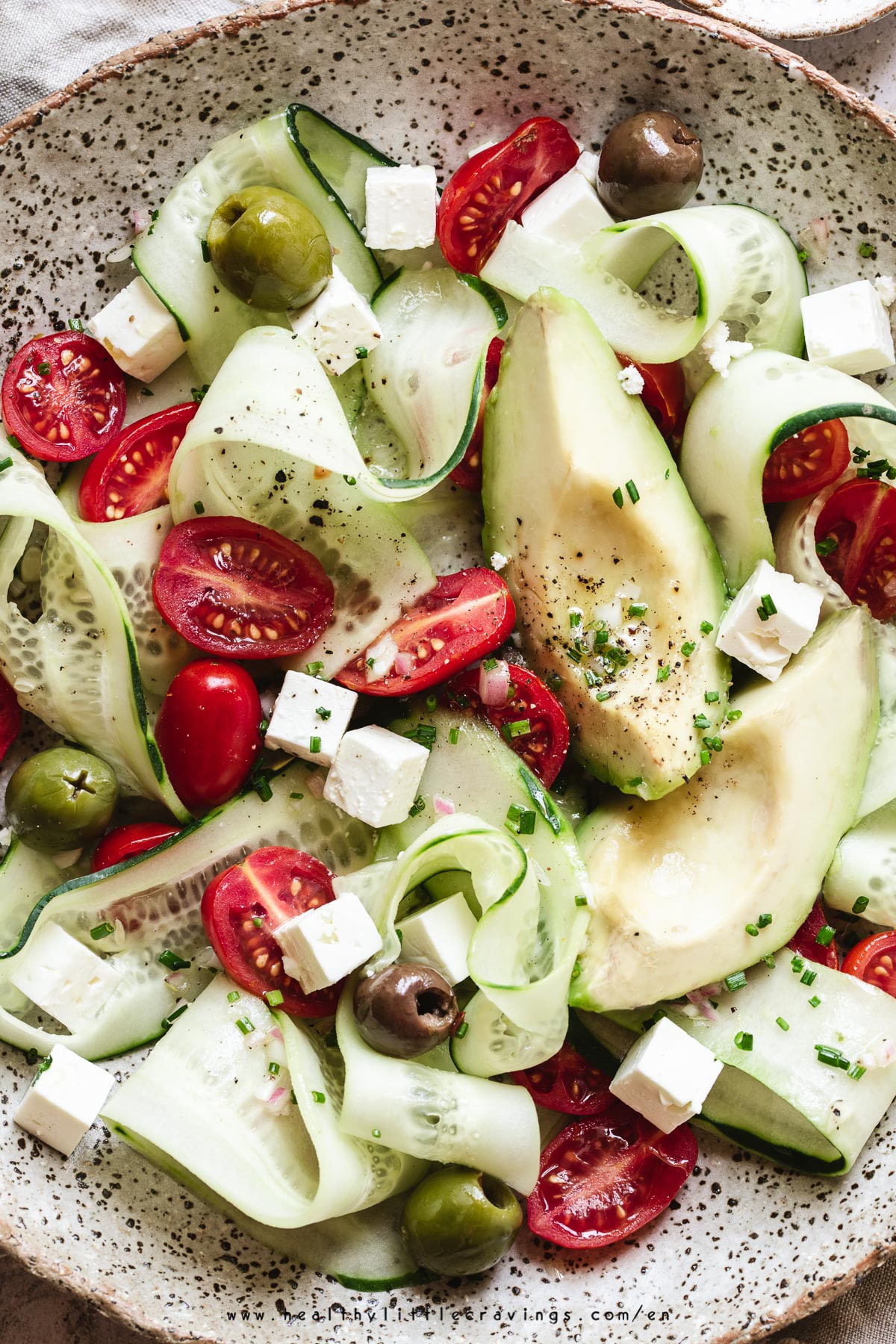 ---
If you make this recipe, please be sure to give it a rating and leave a comment! It would make me so happy! 🙂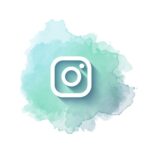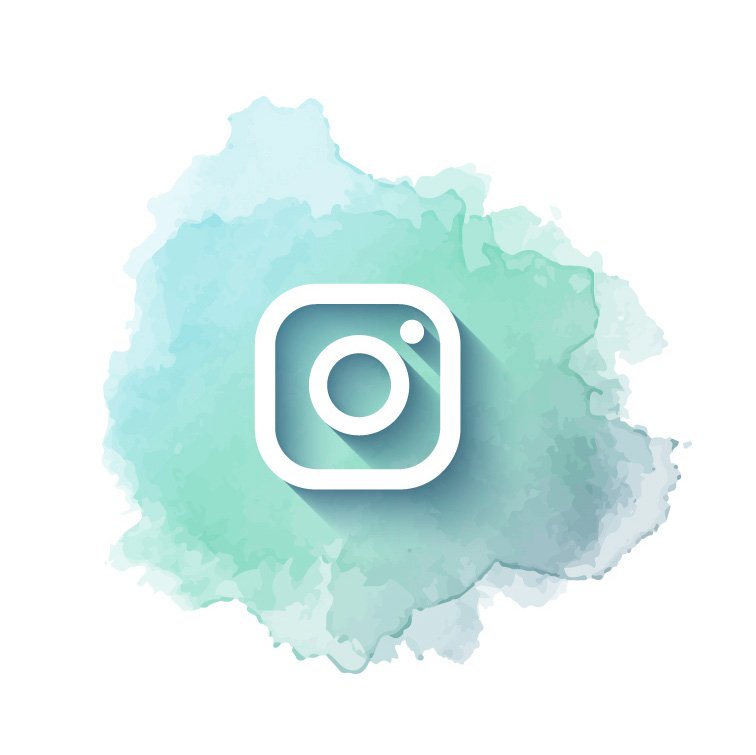 Remember: if you try one of my recipes, tag me on Instagram or DM me the photos!
---
Don't forget to pin and share this easy and delicious recipe!
---
CUCUMBER FETA TOMATO SALAD
A delicious and refreshing salad, definitely NOT BORING: rich in flavour and benefits!
Print
Pin
Ingredients
1

Peeled cucumber

400

g

Cherry tomatoes (I used datterini)

-

(14 oz)

1

Avocado

200

g

Feta cheese

-

(7 oz)

Olives (to taste)

Fresh chives
For the vinaigrette:
½

tablespoon

Finely diced shallot

1

tablespoons

Apple cider vinegar (or red wine)

3

tablespoons

Extra virgin olive oil

Salt and pepper
Instructions
For the vinaigrette:
Dice the shallot very finely then let it sit with vinegar for about 10-15 minutes. In the meantime prepare your salad.

Add Extra virgin olive oil, salt and pepper. Mix well.

Samin recommends to take a piece of lettuce, pour a bit of vinaigrette on top, taste and then adjust.
For the salad:
Wash tomatoes and cucumber.

Peel the cucumber and slice it (or make ribbons).

Cut the avocado in 4 parts.

Add cucumber, tomatoes, avocado, feta, olives (to taste) and fresh chives into a bowl.

Season with vinaigrette and toss.

Serve immediately (or store it into the fridge, but eat it ASAP)
---
If you're a salad lover, try this Summery one: caprese with burrata!
---
© Healthy Little Cravings – Roberta Dall'Alba.
I own all content and photos' copyright.
Before using my photos and recipes, please email me.
If you would like to republish a recipe, please link back to this post and re-write the instructions in your own words.