Look who's back! I know, I know I shared a post a couple of months ago, but I feel that that almost doesn't count. The "busyness" of life got in the way and I wasn't able to prioritise my blog. I am not gonna say I didn't have the time. I just couldn't prioritise it. But now, I have a loooooong list of recipes that I want to test and share with you guys, and the first one is this AMAZING sour cherry pie with a very simple pie crust!
So, if you love the tartness of this fruit, perfectly balanced by some vanilla ice cream, keep reading!
---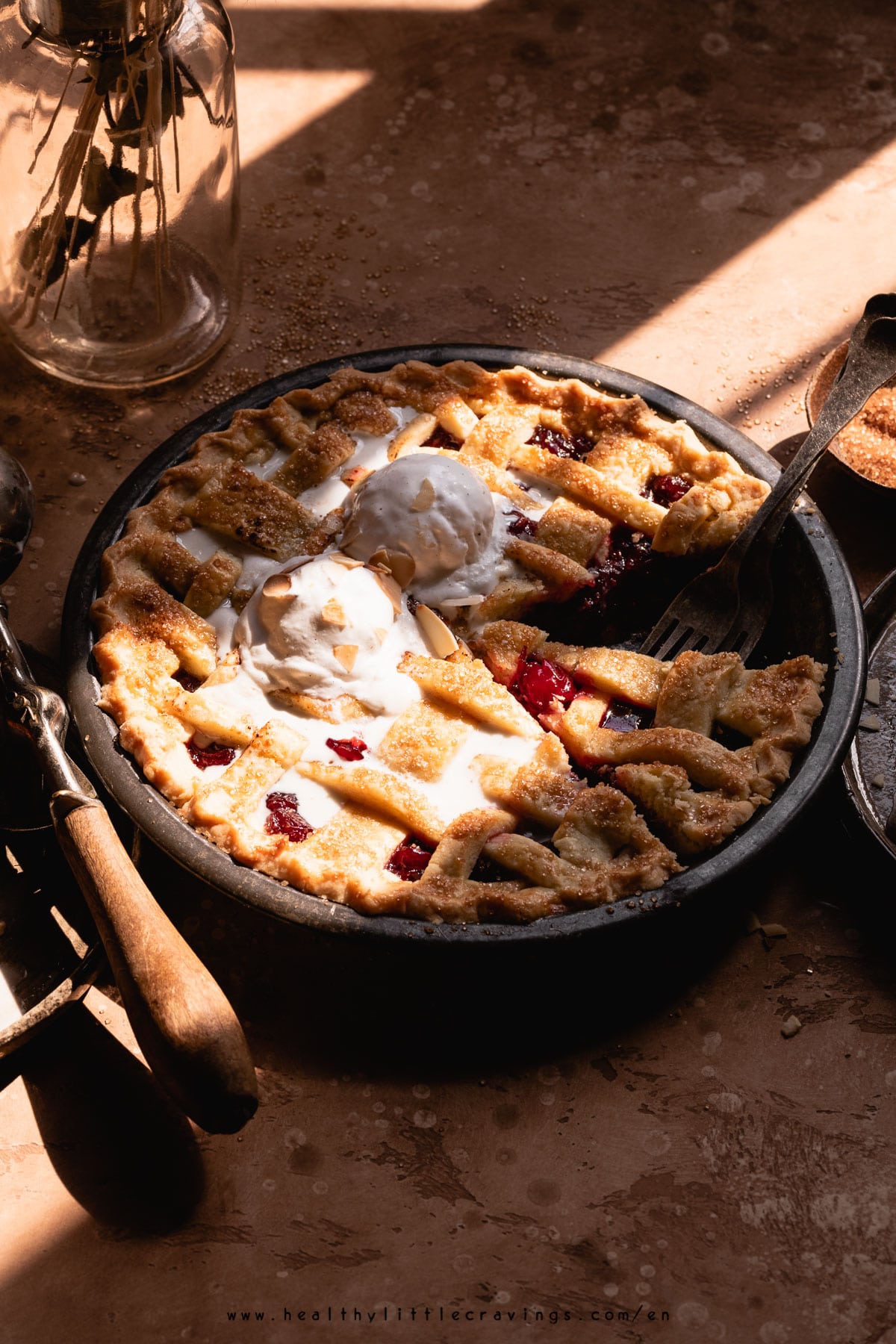 Juicy sour cherries perfect to make an easy sour cherry pie
So, here I am, sharing this very simple and delicious sour cherry pie with a touch of nutmeg and a sprinkle of cardamom, because...that's my style. I like simple with a touch of something.
This pie has a story (I'll be short, I promise!).
Last year, one of my boyfriend's coworkers gave us some beautiful homegrown sour cherries. The ones in the photo below.
How cute are these?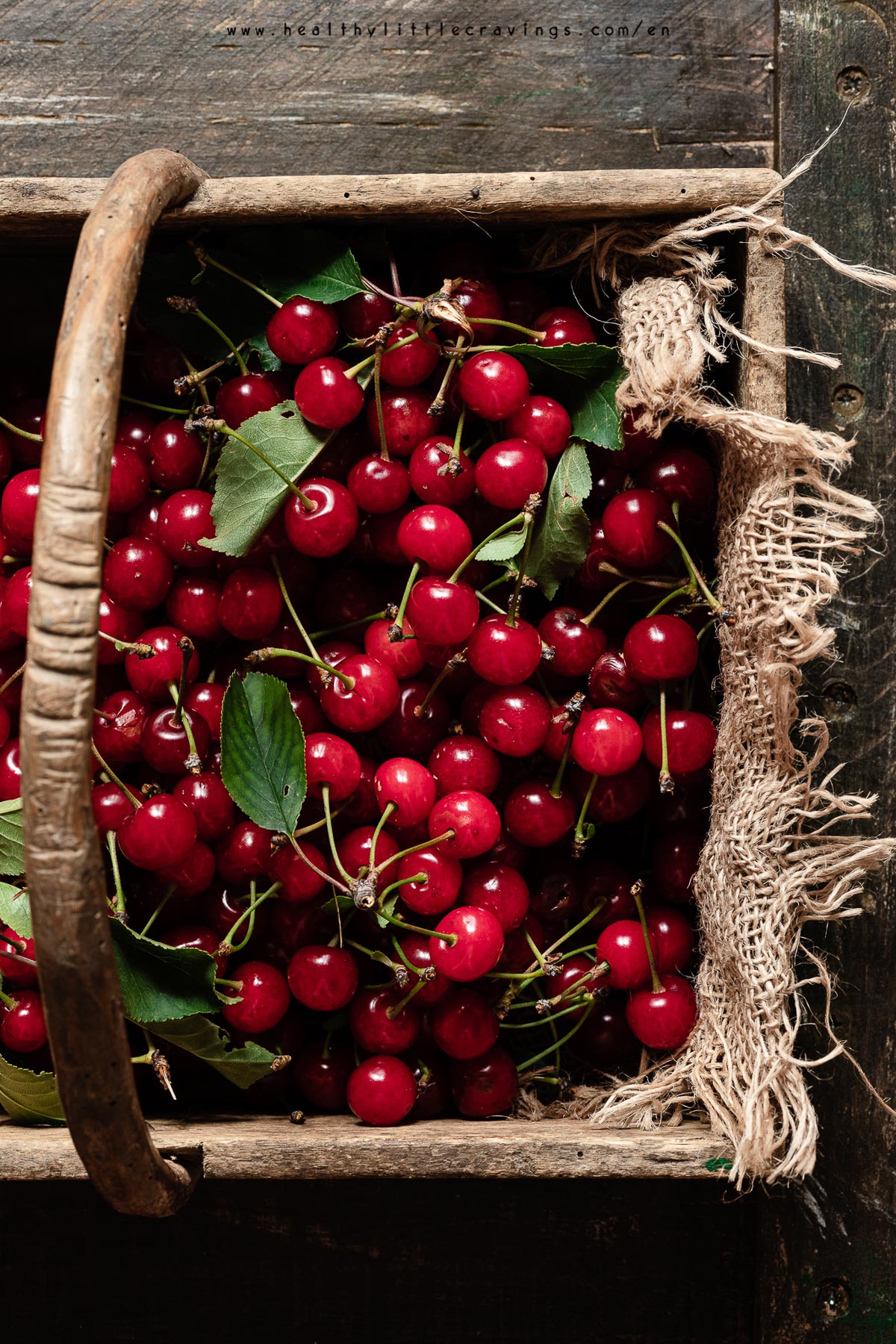 Now the problem is they have a STRONG flavour. They're sour cherries after all. So I made jam, but it ended up being too sweet (I used 1 part of cherries and 1 of sugar) and difficult to consume.
This year he gave us another 2 kg (about 4.4 pounds).
Oh but this time I was prepared. When I made preserve, I cut the amount of sugar and used about 400/500 gr for the 1.5 kg of pitted fruit.
Now it had the perfect amount of sweetness and tartness. Still a bit "too much" to eat as a jam on toasted bread.
So, I made...pie!
A simple pie using my mom's pie crust recipe, which I adapted to make it less sweet and balance flavors.
DELICIOUS.
It's even more balanced if you serve it with vanilla ice cream and toasted almonds. In fact, the fat contained in them acts as "counterbalance". Give it a try!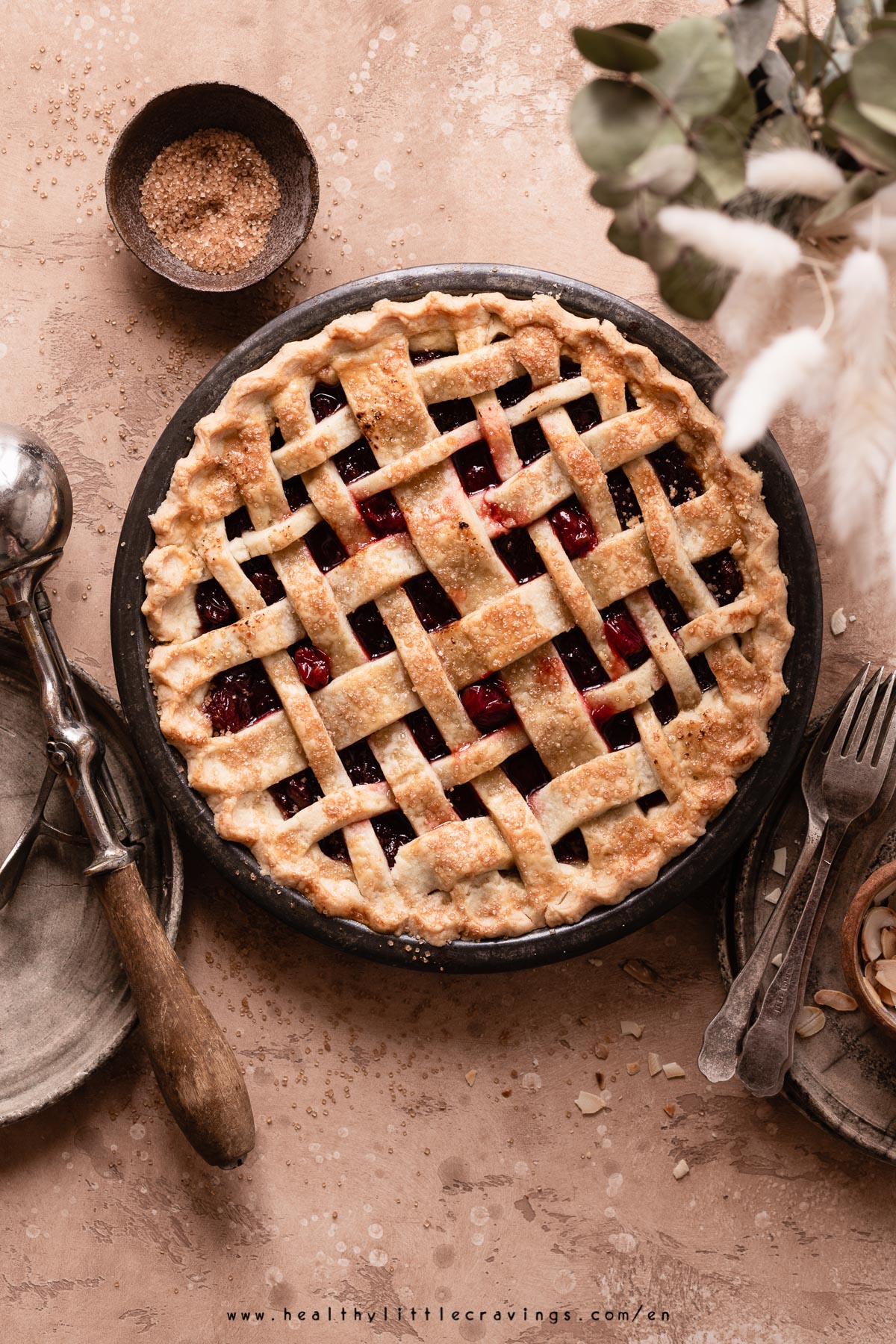 5 minute pie crust (+ should you chill pie dough or not)
This pie crust is magical. It's "foolproof". I never failed (except when I changed some ingredients, like raw sugar instead of regular sugar. Don't try.)
It's based on my mother's recipe (the one you can also find here), but I adjusted it to, like I said above, make it less sweet and balance flavours.
This recipe is super simple since you can prepare it using a food processor or a stand mixer. You just have to combine all the ingredients and you're done.
At this point you can make it chill (that's what I usually do and I prefer it) or skip this "chill time" like mom does.
In this case you have to be VERY quick when you roll it out.
I told you, this crust is easy, the only thing is that: heat is the enemy.
I recently read "Salt, Fat, Acid, Heat" book (highly recommend) by Samin Nosrat, where she shared a bunch of tips to make pie crust and seek flakiness (page 92)
The goal would be to have a cold environment, cold ingredients and cold tools. And in general, to work quickly to preserve those small pieces of fat, so then the water can evaporate while baking (so we can have flakiness).
Anyway, read that book, it's gold!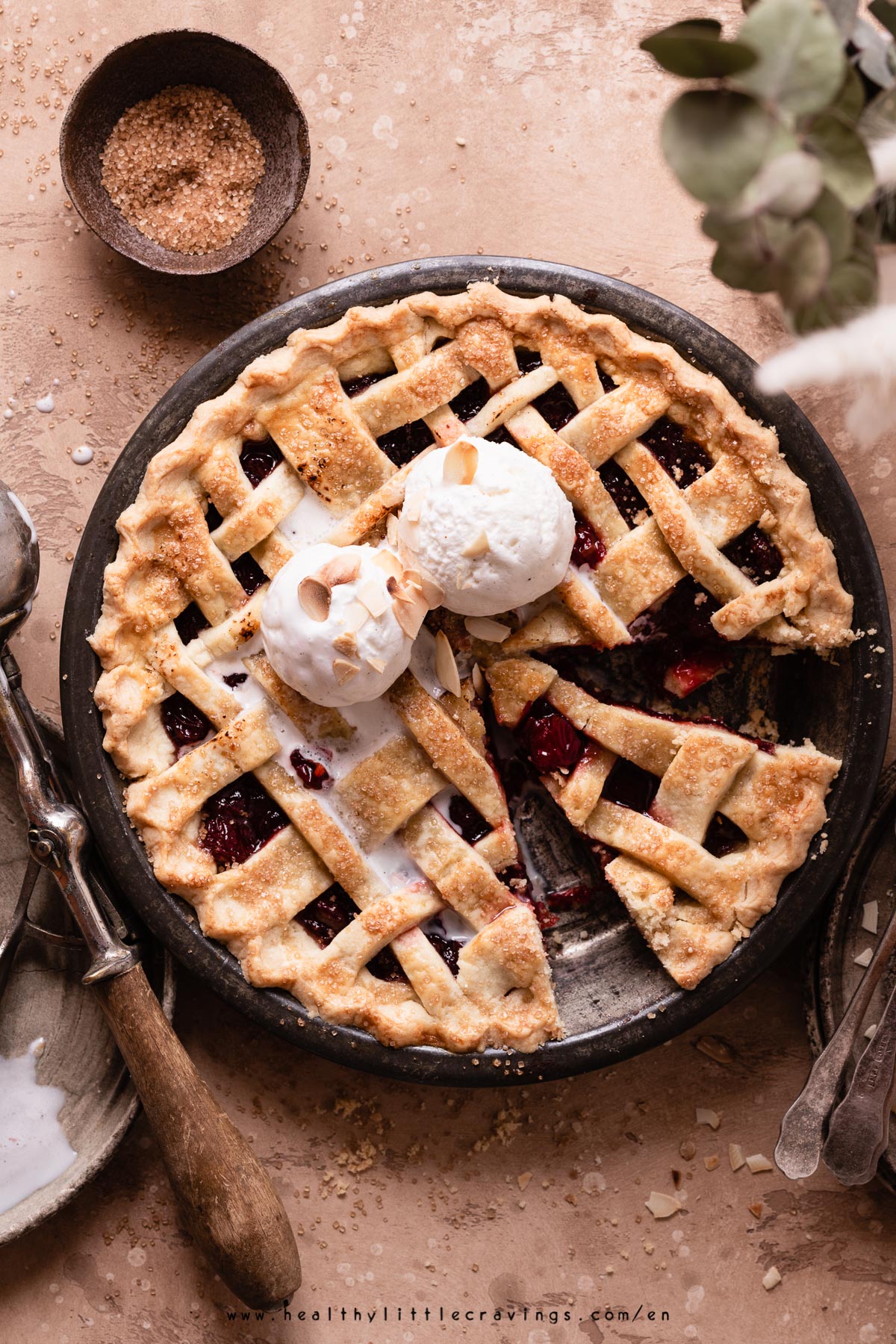 Can I use regular cherries instead?
I haven't tried but my idea is that yes, you can try with cherries. Remember to adjust the flavours (and maybe try to follow this cherry galette recipe I shared a few years ago).
Can I use another pie crust recipe?
I know the temptation to combine recipes is high, but try to resist. I developed this recipe with "balancing flavors" as my ultimate goal. So, try to follow the recipe as much as possible.
How can I store this sour cherry pie?
I kept mine in the fridge because I melted the ice cream while taking the photos. But technically you can store it into an airtight container at room temperature for 2-3 days (that is what mom does!)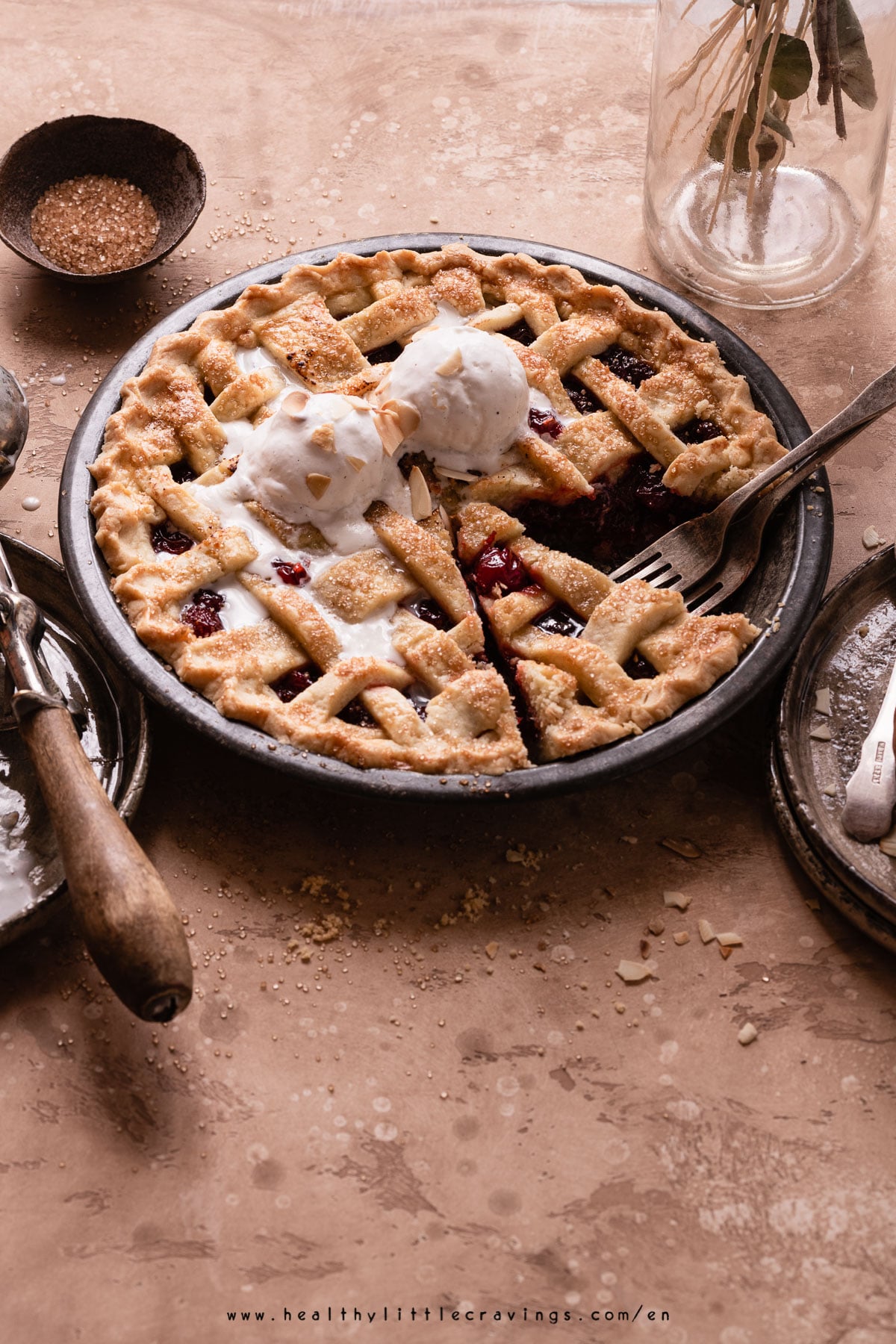 ---
If you make this recipe, please be sure to give it a rating and leave a comment! It would make me so happy! 🙂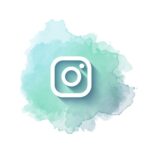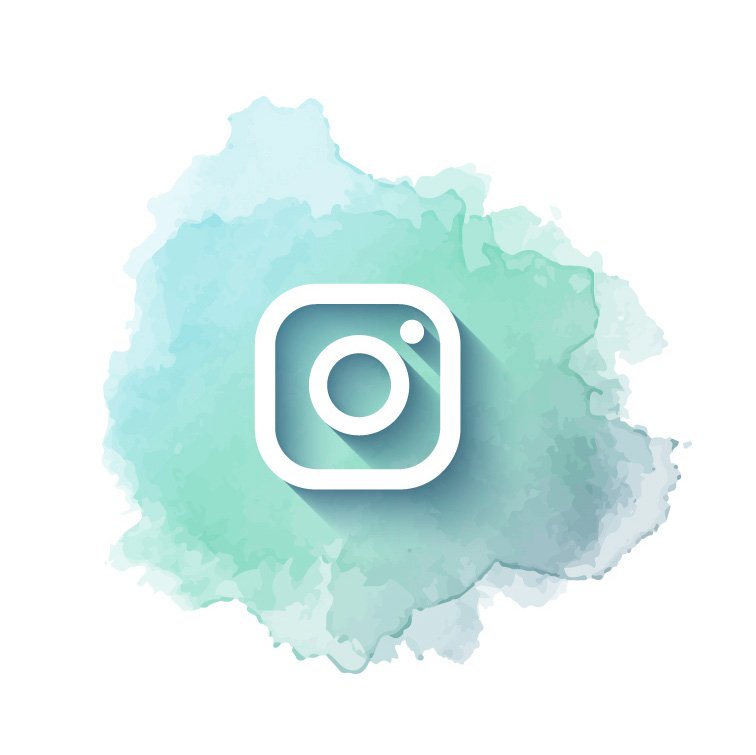 Remember: if you try one of my recipes, tag me on Instagram or DM me the photos!
---
Don't forget to pin and share this easy and delicious recipe!
---
Sour Cherry Pie
A delicious and well balanced sour cherry pie, enriched with ice cream and toasted almonds!
Print
Pin
Servings:
10
slices (approximately)
Ingredients
360

g

All purpose flour (00 flour)

2

tablespoons

White sugar

200

g

Cold unsalted butter (cut in very small pieces)

1

Egg

2

g

Salt

1

tablespoon

Lemon juice

1

teaspoon

Vanilla extract (optional)
For the filling:
450

g

Sour cherries preserve (recipe below)

a pinch

Cardamom

a pinch

Nutmeg
To make sour cherry preserve: (this makes more than needed)
1.5

kg

Sour cherries (pitted)

-

(about 3 pounds)

400

g

Sugar

-

(about 2 cups)

Vanilla extract (to taste)
Serve with:
Vanilla ice cream

Toasted almonds
Instructions
First make the sour cherry preserve: (I recommend doing this in advance)
Into a large pot, add pitted sour cherries and sugar.

Stir then let cook until the sugar becomes syrupy. Add vanilla extract halfway through.
For the pie crust:
Add flour, sugar, butter, egg, salt and lemon juice to a food processor, pulse until you get a nice dough. Flatten it so it will be easier to roll.

Cover with plastic wrap and let it chill for about 30 minutes. This is optional: my mom doesn't make it chill, instead I do.
Let's make the sour cherry pie:
Preheat the oven at 180°C (355°F).

Remove the dough from the fridge and let sit at room temperature for 5 minutes.

Lightly flour work surface and top of the dough, then roll ⅔ of the dough using a rolling pin.

Transfer it into the pie pan then gently press it into dish. Place it into the freezer while you prepare the rest.

Into a bowl, add sour cherry preserve, a pinch of nutmeg and a pinch of cardamom. Mix and set aside.

Now roll out the remaining dough, and cut it into strips. Use your fantasy here: make them all of one size or different sizes.

Take pie out of the freezer, fill it with sour cherry preserve and start laying the strips vertically and evenly spaced, then horizontally. (check out this video)

Brush with egg wash and sprinkle some sugar.

Bake for about 30 minutes (keep an eye on it because time depends on your oven)

Serve warm, with toasted almonds and vanilla ice cream
---
If you think you could love this sour cherry pie, then I think you will be OBSESSED with this strawberry pie too (it's mom's recipe!)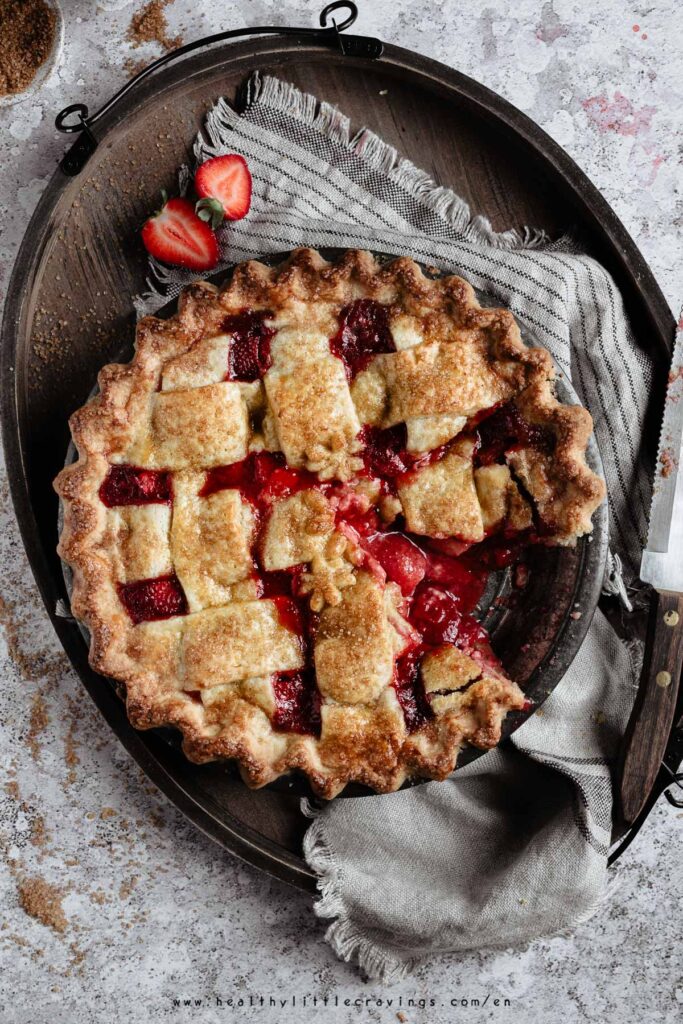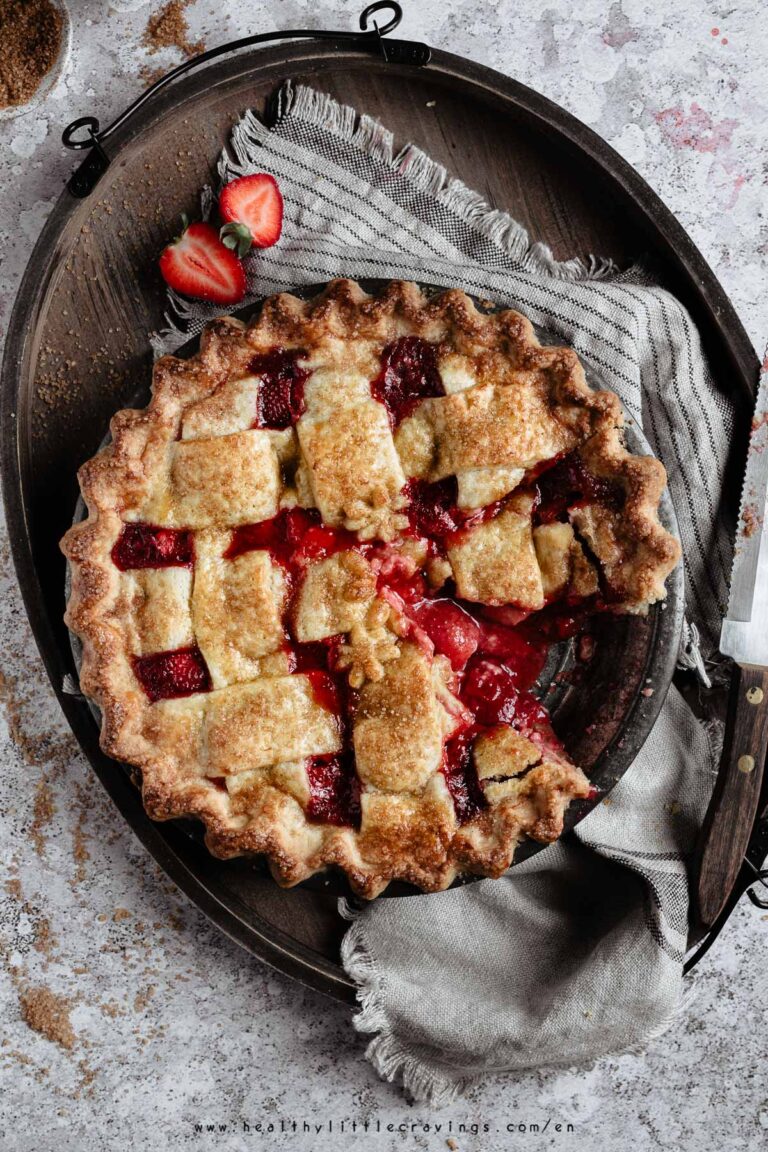 ---
© Healthy Little Cravings – Roberta Dall'Alba.
I own all content and photos' copyright.
Before using my photos and recipes, please email me.
If you would like to republish a recipe, please link back to this post and re-write the instructions in your own words.