The fact that we finished these shortbread cookies with chocolate chunks in 2 days says enough about how IRRESISTIBLE they are. And it's just me and my boyfriend. They are buttery, loaded with chunks of chocolate and crunchy on the outside. Just delicious.
Psss! Don't tell anyone 🤫 but these are also perfect to create your own cookie box (check out this post to learn how to create your box!)
---
Check out the other 3 recipes from Christmas 2022 series: chocolate orange shortbread cookies, lemon shortbread cookies & double hazelnut shortbread cookies.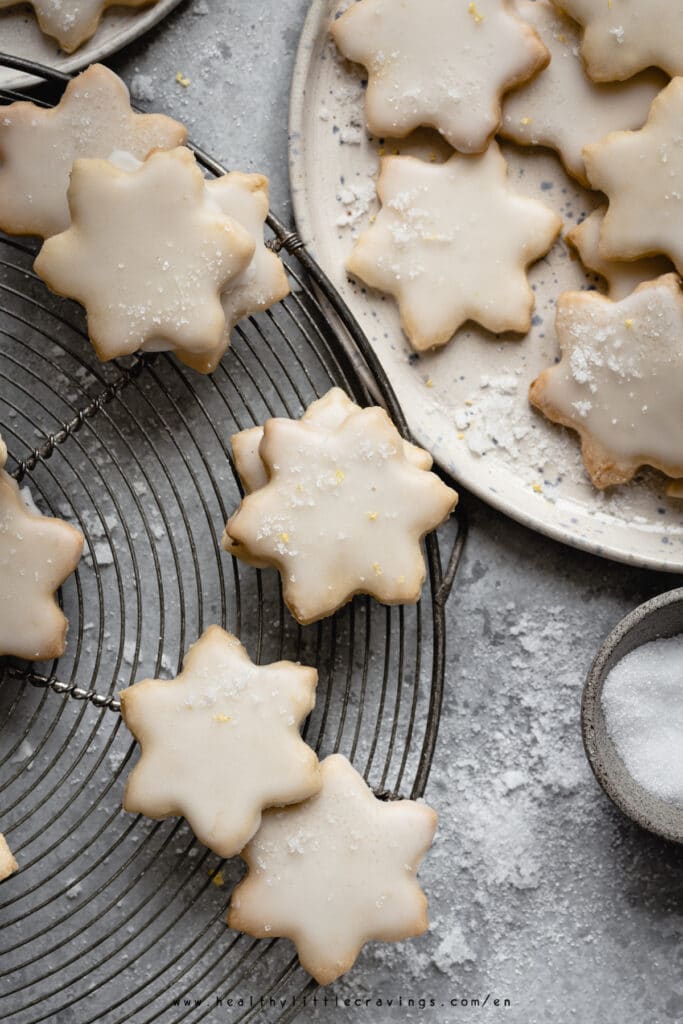 Also check out what I made in 2019 (Christmas Cookie Box) and 2020 (peppermint chocolate cookies, caramel coffee cookies, strawberry dried figs cookies)).
---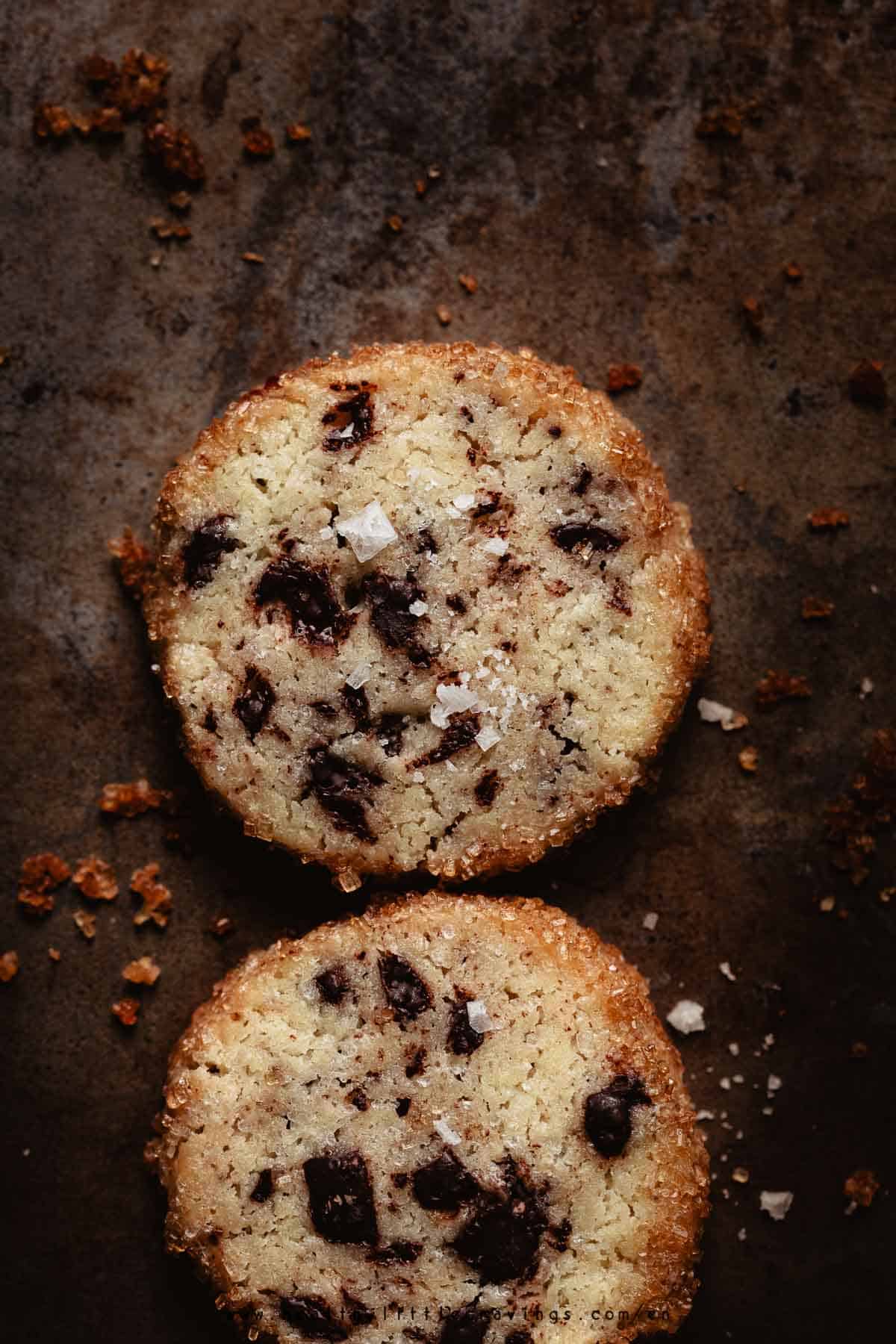 These shortbread cookies with chocolate chunks are perfect for you if...
Oh my friend, I am biased because WE LOVED THESE, but these shortbread cookies with chocolate chunks are ideal in case you were looking for a buttery and chocolatey cookie with crunchy edges, and you were looking for a recipe that doesn't call for rolling out the dough.
These indeed are "slice and bake", meaning you form the logs, let chill and then slice and bake. No need to re-roll out the dough (which is often what bothers me. You too?).
The recipe was inspired by this one by NYT cooking, which has thousands and thousands of nice reviews. Now, I haven't tried theirs, and mine is slightly different because it has an egg in the dough. But I am sure theirs is delish too!
Recipe ingredients: what you'll need
When I make shortbread cookies I always start from my "base" recipe, which you can find here. It's a simple one and contains basic ingredients, just like this one that you're reading (but it changes a bit). You'll need:
Flour. Like I always say, I live in Italy and use 00 flour, but you can use all purpose and it's ok. 00 is just finer.
White sugar. I normally use powdered sugar for my shortbreads, but here I wanted a more rustic look and feeling in my mouth too. So I've used regular white sugar (which I recommend).
Butter. I recommend using unsalted to have a better control of the amount of salt you are using.
Egg. A large egg (should be around 50 grams). Normally classic shortbreads only have flour, butter and sugar as the ingredients, but I like mine rich:)
Chocolate. You can use your favorite dark (or milk) chocolate. You can use Chocolate chips as well.
Demerara Sugar. It is used to coat the cookies (the edges), and it gives a beautiful crunch.
(and salt)
No vanilla? Nothing? - you may ask. Nope, not here. You can add a bit but not too much because the liquids will change the consistency. Instead you can add (actually I recommend:)) orange zest. Try it! (zest from 1 orange should be enough)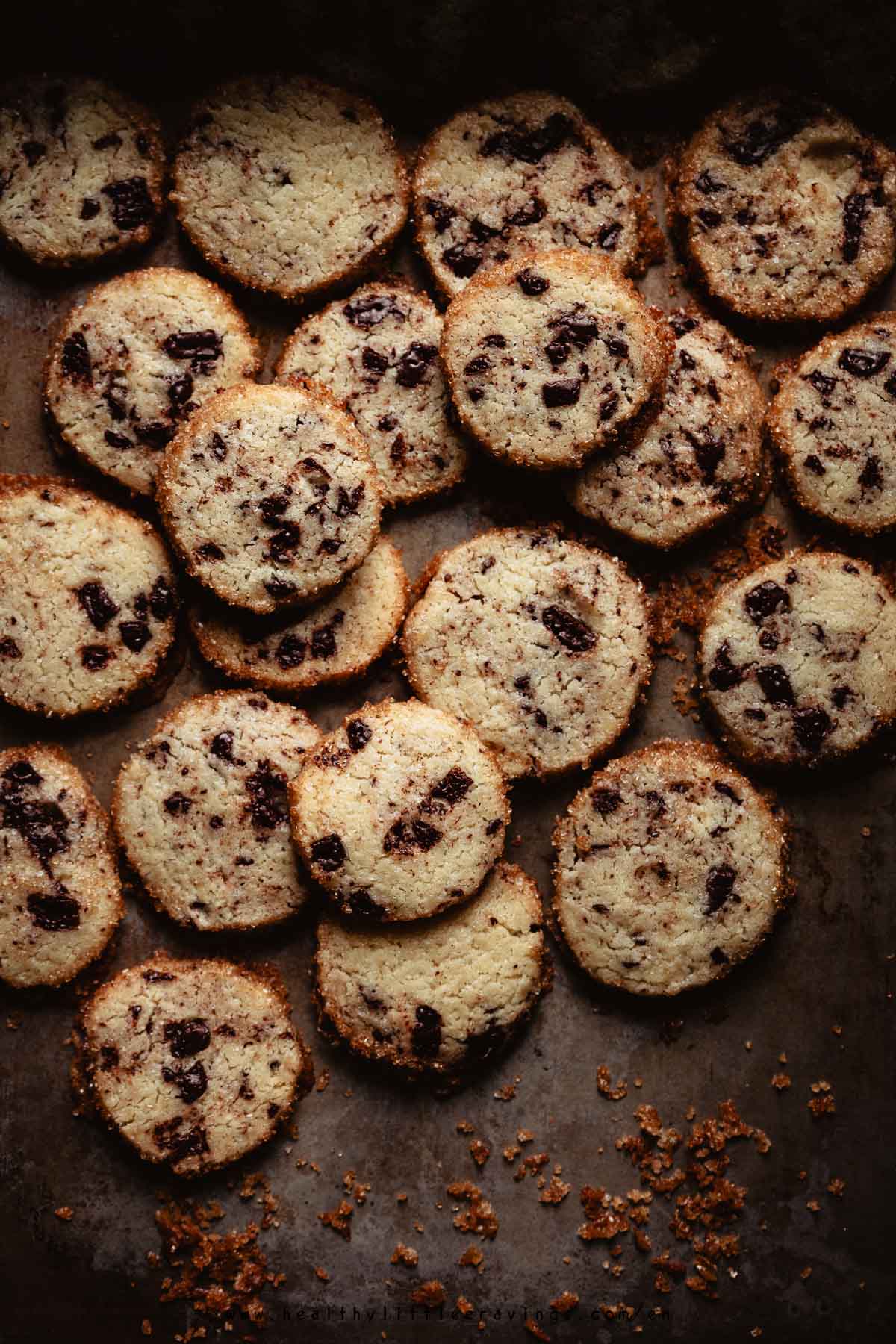 How to prepare them (very easy:))
Like I said before, these shortbread cookies with chocolate are VERY EASY because the recipe doesn't call for rolling the dough out. They're slice and bake!
Prepare dough and let chill
I normally prepare my shortbreads with a stand mixer or a food processor. In this case I've used the latter.
Add all the ingredients except the chocolate chunks, and pulse until you get a nice and malleable dough. Then add the chunks and pulse once more just to incorporate.
Turn out the dough on a floured surface (it's a bit sticky but don't worry too much) to form the logs: I shaped the dough into TWO compact logs, diameter 2 inches / 5 cm (approximately). Wrap tightly with plastic wrap then let chill for 2 hours.
Slice and bake!
Time to first preheat the oven to 355°F / 180° C, then place the chilled logs on the floured surface and brush them with some beaten egg. You only need a tiny amount, just to make the sugar stick.
Coat the logs evenly with Demerara sugar, then using a sharp knife slice** into ½ inch cookies, and place them on a lined baking sheet. I've only used one sheet because I placed them 1 inch apart since they won't spread that much.
At this point just bake them for 13-15 minutes: they're done when the edges are slightly more golden brown. Let cool on a cooling rack then sprinkle with flaky salt.
**if your cookies break while cutting, just use your hands to put them back together. It's a forgiving dough.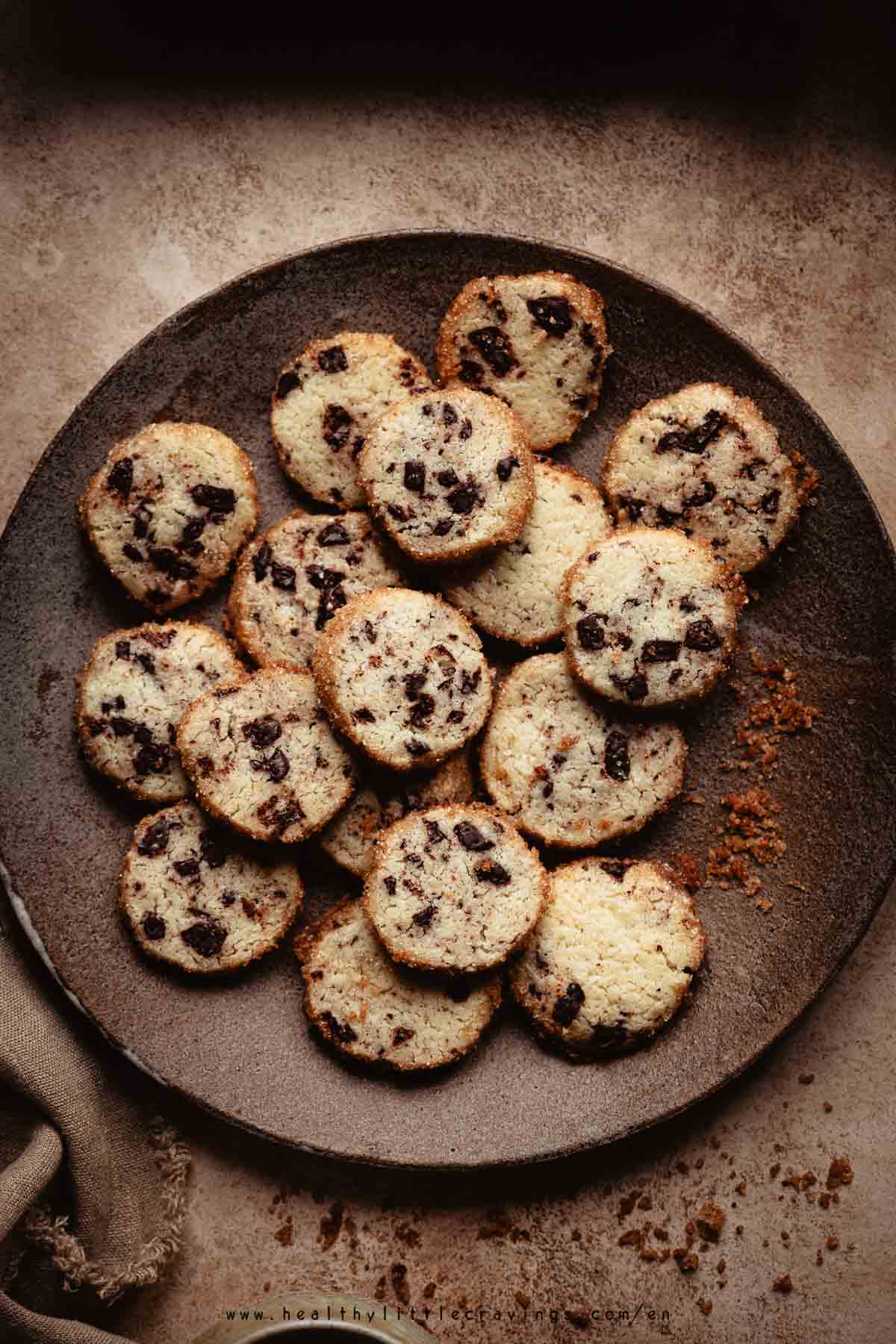 How to store these shortbread cookies with chocolate chunks
They didn't last that much here eheh. To store them, place them into an airtight container. They should last long! (must be honest, they always finish quickly here)
Frequently Asked Questions (Read and find answers here!)
If you cannot find the answer to your question here, please leave a comment. Constructive criticism is always welcomed (and very useful to other readers too!)
Can I prepare these cookies in advance? Can I freeze my cookie dough?
You can absolutely prepare these in advance. I would recommend to freeze the dough logs. Then take them out of the fridge to soften slightly, then slice and bake.
If you plan to make them during the day, same thing: prepare the dough in the morning, form the logs and wrap in plastic wrap, store in the fridge, then take the dough out of the fridge and slice.
Can I make shortbread cookies with chocolate chips instead?
Yes absolutely! Shortbread cookies with chocolate chips are delicious as well. If the chips are big, cut them into smaller chunks. If, while cutting, you hit a chocolate chunk cut gently back and forth (try with a serrated knife as well).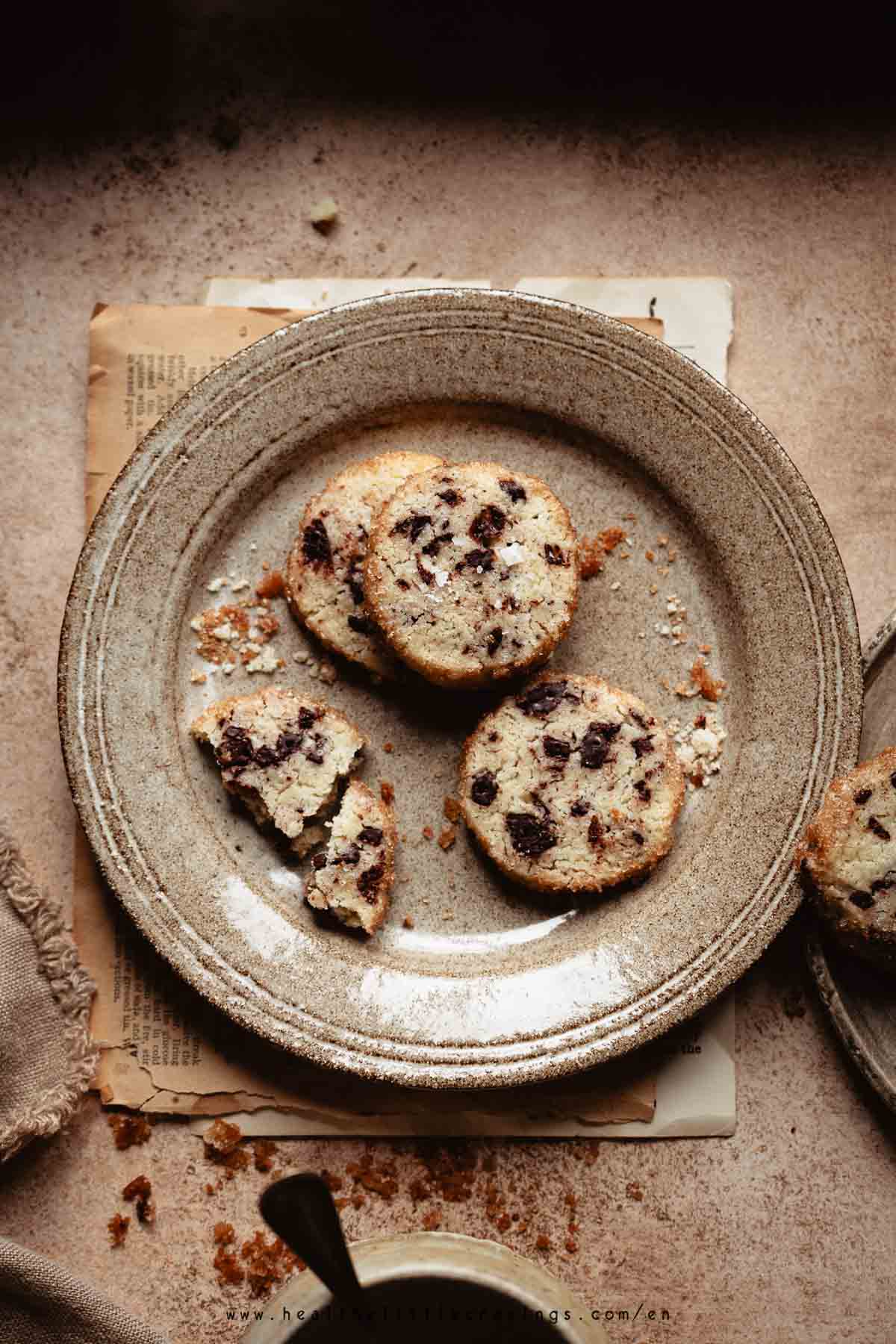 Can I use cookie cutters?
Absolutely yes: roll out the dough on a floured surface, and cut your cookies with your favorite cutters. The thing is that it's way easier if you form the logs and then slice 🙂
Should shortbread cookies be crunchy or soft?
I'm going to use Nigella's words to explain it: "Shortbread should always have a tender, melting texture, but be slightly crisp when you bite into it."
How long do they last?
Shortbread cookies can last for days, but I always recommend to make them before eating or, if you need to add them to a cookie box, make them as close to the "date of the gift" as possible.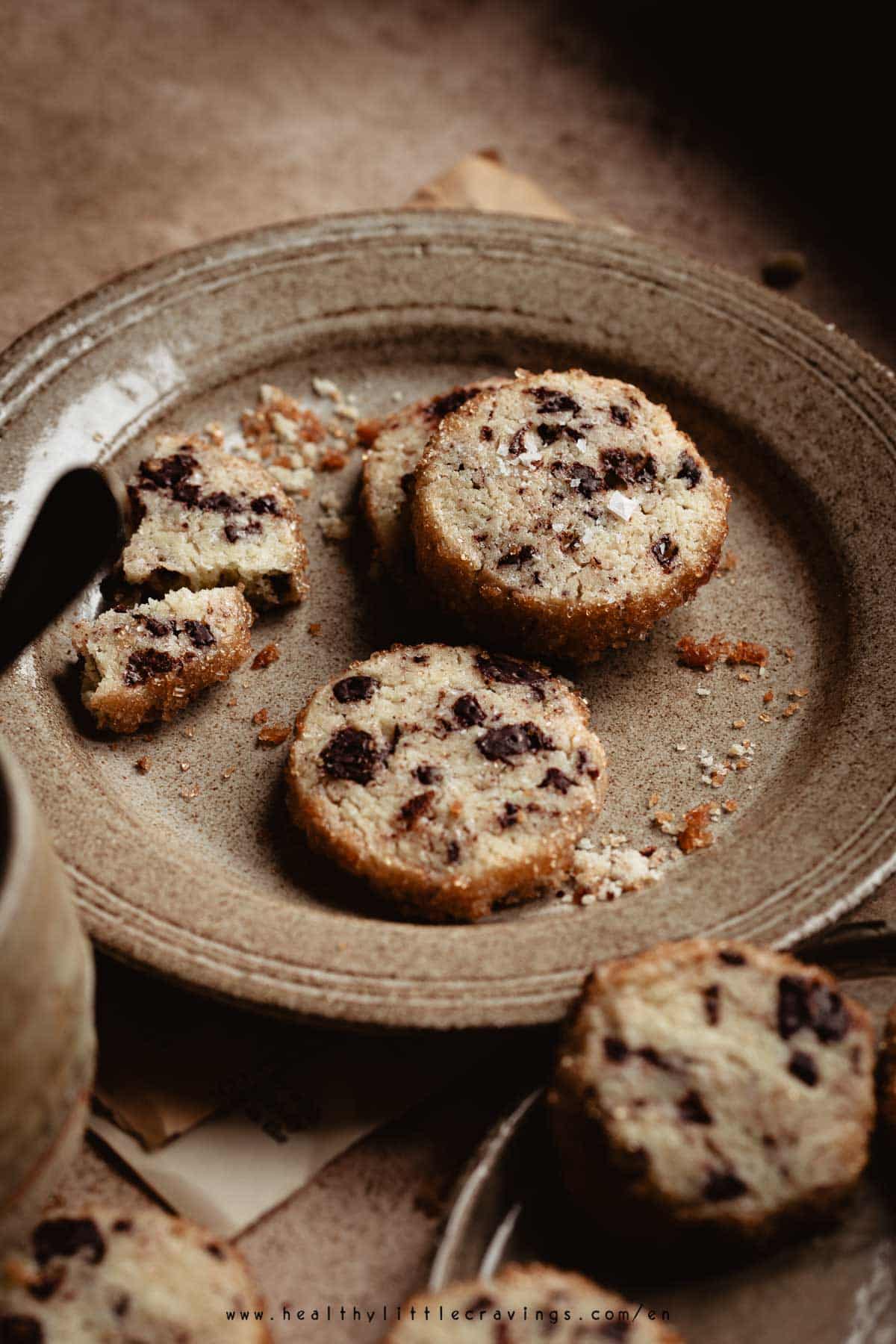 ---
If you make this recipe, please be sure to give it a rating and leave a comment! It would make me so happy! 🙂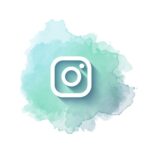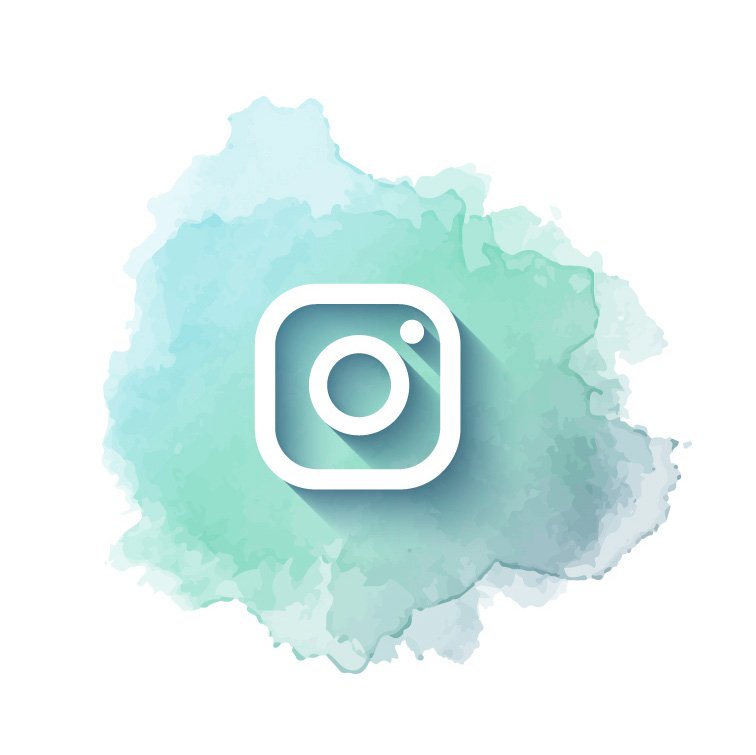 Remember: if you try one of my recipes, tag me on Instagram or DM me the photos!
---
Don't forget to pin and share this easy and delicious recipe!
---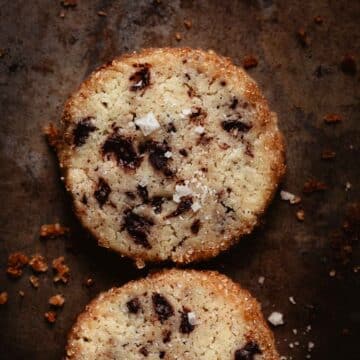 Slice And Bake Shortbread Cookies With Chocolate Chunks
Buttery, rich, chocolatey and delicious: these rustic looking cookies are all you need during the holidays (but throughout the year really)!
Print
Pin
Servings:
25
thick cookies (approximately)
Ingredients
2

cups

All purpose flour

-

250 g

½

cup

White sugar

-

100 g

⅓

teaspoon

Salt

-

2 g

¾

cup

Unsalted butter

-

175 g

1

Large Egg

½

cup

Dark chocolate chunks or chips

-

75-85 g

Egg + Demerara sugar

Flaky salt
Instructions
Add all your ingredients into a food processor ( or use a stand mixer): flour, sugar, salt, cubed room temperature butter and egg. Pulse until you get a nice malleable dough (it should be/feel like play dough), then add chocolate chunks and pulse for a few seconds just to incorporate (not for too long or it will melt).

Turn the dough out onto a floured work surface, divide it into 2 parts. Shape each into a 2 inches / 5 cm (in diameter) compact log. Wrap (tightly) with plastic wrap, let chill for 2 hours in the fridge.

Preheat the oven at 355° F / 180° C.

Place the logs on the floured work surface, slightly brush with beaten egg (you'll have leftovers) and evenly coat with Demerara sugar.

With a sharp knife (or serrated), slice the logs into ½ inch cookies. Place them on a lined baking sheet, about 1 inch apart (they won't spread that much)

Bake for 13-15 minutes, let them cool on a cooling rack, then sprinkle with flaky salt.
---
If you love shortbread cookies and you have a sweet tooth, try one (or all!) of these: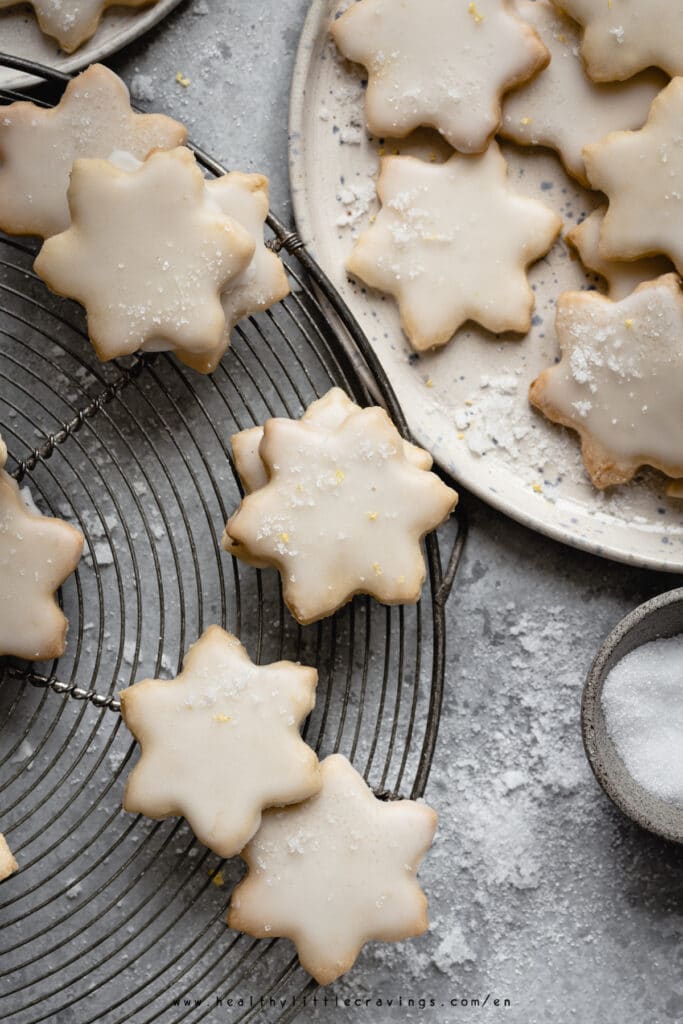 Or try these savory shortbread cookies with rosemary instead:
---
© Healthy Little Cravings – Roberta Dall'Alba.
I own all content and photos' copyright.
Before using my photos and recipes, please email me.
If you would like to republish a recipe, please link back to this post and re-write the instructions in your own words.